As summer approaches, the anticipation for themed events and gatherings grows, with one of the most popular being the "White Party." This event is characterized by a dress code that exclusively calls for all-white attire. Originating from the Mediterranean region and inspired by Ibiza festivals, the color white is heavily featured in both clothing and the architecture along the coast.
A White Party can range from a sophisticated family-hosted gathering to a large-scale fundraiser organized by prominent charitable organizations. Guests attending these events are required to wear white from head to toe, regardless of the style, creating an elegant and visually striking atmosphere. The appeal of an all-white party lies in its simplicity, which allows for creativity and unity among attendees while fostering a sense of community among diverse groups of people.
Over time, White Parties have gained significant popularity across various cultures, becoming a fixture especially in Black culture. These events serve as an opportunity for people to express their unique style within the constraints of a monochromatic palette. With the increasing prevalence of White Parties, it is essential to understand their origins, significance, and the essential elements required to host a successful event.
The Concept of a White Party
A white party, also known as an all-white party, is a themed event where the dress code exclusively requires attendees to wear white attire from head to toe. This concept does not impose any specific style of dress, as long as it is white. White parties have become a popular fixture across various cultures and occasions.
The origins of white parties can be traced back to the Ibiza festivals, inspired by the Mediterranean region's affinity for white color in both clothing and architecture. Much like their inspiration, these events grew in popularity over the years, celebrating the simple elegance and style that white-colored clothing offers. The rise of white parties is also attributed to their embodiment of a summertime atmosphere, with many events held during this season.
White parties encompass various themes, such as beach parties, wedding receptions, and New Year celebrations. A notable attribute of these gatherings is the choice of light, flowing linen as the preferred fabric among attendees. The crisp and clean aesthetic of an all-white attire not only creates a visually cohesive atmosphere but also highlights individuality, as a wide array of different styles can be incorporated into the dress code.
In addition to their visual appeal, white parties are esteemed for their universal appeal, transcending various cultures and social settings. The communal nature of these events fosters a sense of unity and camaraderie among attendees, further contributing to their popularity.
To sum up, a white party refers to a stylish and elegant event where the dress code exclusively features white clothing, inspired by Mediterranean culture and the relaxed vibe of summertime celebrations. These gatherings play an essential role as a social and cultural cornerstone, bringing people together to enjoy a shared experience in a visually striking and harmonious environment.
History of White Parties
White parties trace their origins back to the late 1800s, when Archduke Ludwig Salvator of Austria-Tallin began hosting elegant, white-clad events. These gatherings were primarily held by the upper and middle classes in Europe to demonstrate their sophistication and exclusivity. As time went on, white parties evolved to become more widespread, eventually reaching various cultures and settings.
In the United States, New York played a significant role in popularizing white parties. The Hamptons, a popular summertime destination for affluent New Yorkers, became a hotspot for these sophisticated events. By the 1980s, white parties had extended to other communities, most notably within the LGBTQ+ scene. These annual celebrations, often held during Pride events, embraced the all-white dress code and festive atmosphere to promote unity, diversity, and camaraderie.
Another variation of white parties is the Dîner en Blanc – an outdoor dining event where attendees are required to wear all white and bring their own white tablecloths, table settings, and food. This unique and fashionable picnic-style affair, which originated in France in the 1980s, has since blossomed into a global phenomenon, with cities across the world embracing the tradition and hosting their own renditions.
Overall, the history of white parties is a testament to their enduring appeal and adaptability. As these events continue to evolve and permeate different cultures and locations, they remain a symbol of elegance, sophistication, and celebration.
White Party Themes
A white party is an event characterized by a predominantly white decor, dress code, and ambiance. These unique gatherings are often held during the summer season, but can be adapted to any time of year to create an elegant and sophisticated atmosphere.
One popular white party theme is the beach party. This theme works particularly well during the summer months and compliments the all-white dress code. Guests can enjoy the sun, sand, and sea, all while being surrounded by crisp, clean white decorations, attire, and accessories. With a beach-themed white party, hosts can incorporate elements such as white seashells, white beach umbrellas, and white linens into the decor.
Wedding receptions also make for a beautiful white party theme. In many cultures, the color white symbolizes purity, innocence, and new beginnings, making it an ideal choice for celebrating a couple's union. White floral arrangements, table settings, and party favors can transform a reception venue into a breathtaking white wonderland.
New Year's Eve parties are another popular occasion for white-themed events. The color white is often associated with fresh starts and renewal, so it is fitting to usher in the new year with a stylish, all-white celebration. Elegant table settings, white balloons, and an all-white dress code can add a touch of class and reflect the spirit of the holiday.
Finally, incorporating a white party theme into birthday parties can elevate the occasion and make it feel even more special. From white balloons and streamers to all-white outfits, a birthday white party adds sophistication and creativity to the celebration. Hosts can consider using white flowers, candles, and even snowflake-like decorations for a truly magical feel.
In conclusion, white party themes are versatile and can be used for various occasions, including beach parties, wedding receptions, New Year's Eve celebrations, and birthday bashes. The color white adds elegance and sophistication to any event, making it a timeless and adaptable choice for memorable gatherings.
White Party Dress Code
A white party is a themed event where attendees are required to wear all white, creating a sophisticated and elegant atmosphere. The dress code can range from formal to casual, depending on the specific event. In this section, we will discuss various outfit options that adhere to the white dress code and suit different occasions.
For formal white parties, attendees can opt for suits or elegant dresses in white. Men can choose to wear a white suit with a crisp white shirt, while women have multiple options, such as a white dress, a white maxi dress, or a dress with ruffles for added flair. In more casual settings, men can wear white jeans with a white shirt, while women can opt for a simple white sundress or a blouse with white shorts.
Some popular outfit choices for white parties include:
White Bandage Dresses: These dresses fit snugly, providing support and showcasing feminine curves.
White Maxi Dresses: Maxi dresses offer an elegant, floor-length option for formal occasions, while lighter fabrics can make them suitable for casual events as well.
White Jeans and Shirts: A popular choice for men attending casual white parties, pairing white jeans with a white shirt creates a relaxed yet stylish look.
White Suits: Perfect for formal events, white suits can be tailored or off-the-rack, ensuring that individuals look polished and refined.
When attending a white party, it is essential to adhere to the dress code by wearing all white, from head to toe. However, within the restrictions of the white dress code, there is still room for individual expression and creativity. By choosing the appropriate clothing style for the event, whether formal or casual, attendees can showcase their personalities while respecting the event's theme.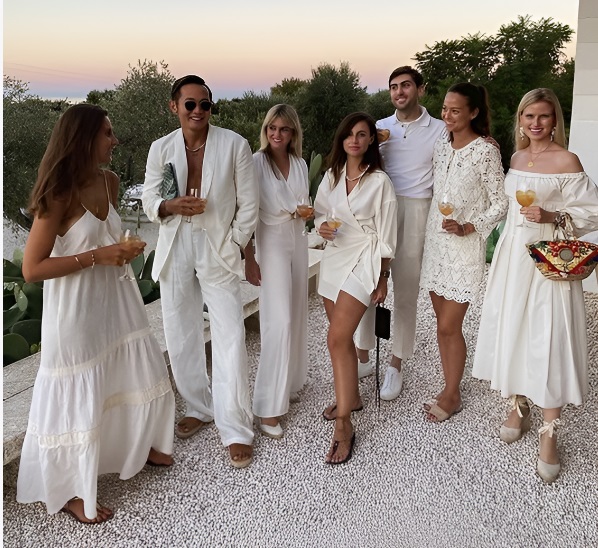 Outfit Inspiration for White Parties
A white party is a stylish event where guests are required to attend dressed head-to-toe in white, showcasing elegant and sophisticated attire. Embracing this all-white theme is key to capturing the essence of the party and elevating the overall atmosphere. In this section, we will provide some outfit ideas to help you slay the white party dress code with confidence.
A white maxi dress can make a stunning statement at a formal white party. Choose one with delicate straps or an off-the-shoulder design to create a timeless look. Pair this outfit with neutral accessories and strappy sandals to enhance the elegant aura of the dress.
Another excellent option for a white party is a jumpsuit. A tailored white jumpsuit with a cinched waist showcases not only style but also a cool and contemporary vibe. For a more personalized touch, opt for one with unique details like a deep V-neck or ruffled sleeves. Complete your look with statement earrings and stiletto heels.
Separates can work well for a sophisticated white party outfit. Combining an off-the-shoulder blouse with wide-leg trousers creates an effortless ensemble. The loose-fitting silhouette is both comfortable and chic. Elevate the look further with statement accessories such as a bold necklace and a pair of strappy sandals.
When considering white party outfits, think creatively—mix and match textures and fabrics to showcase your personality. For instance, you could wear a white lace top with a white silk skirt. This variation adds depth to your monochrome ensemble while maintaining the white party aesthetic.
In conclusion, for a white party, selecting an outfit that embodies elegance, sophistication, and style is essential. There is no shortage of fashionable options to choose from, so explore the array of white party outfits to ensure you flaunt your best look at your next event.
White Party Decor Ideas
A white party is an event where the guests and decorations are dressed in white from head to toe, creating a sophisticated monochromatic ambiance. When it comes to white party decor, there are several ideas to choose from that will enhance the overall atmosphere of the celebration.
One of the key elements in decorating for a white party is the use of white tablecloths, chair covers, and other linens. These items help to set the stage for a pristine and elegant environment. Additionally, white flowers such as lilies, roses, or hydrangeas can be used as centerpieces or arranged throughout the party space. Not only do they add a touch of natural beauty, they also contribute to the monochromatic theme.
Incorporating candles, particularly white candles, is another effective way to create elegant illumination at a white party. These can be placed in various sizes and shapes throughout the venue, either on their own or mixed with white flowers. The soft glow of the candles will provide a romantic and welcoming atmosphere while adhering to the color palette.
To complement the white decor, it is a good idea to introduce metallic accents in gold or silver. These can be incorporated through accessories like napkin rings, charger plates, or even tableware. Silver accessories work particularly well with the cool-toned white color scheme, while gold adds a touch of warmth and luxury to the overall setting.
In conclusion, achieving a memorable white party requires careful attention to detail in the selection and arrangement of decor. By focusing on elements like white linens, flowers, candles, and metallic accents, it is possible to create a striking, sophisticated, and cohesive look that guests will appreciate and enjoy.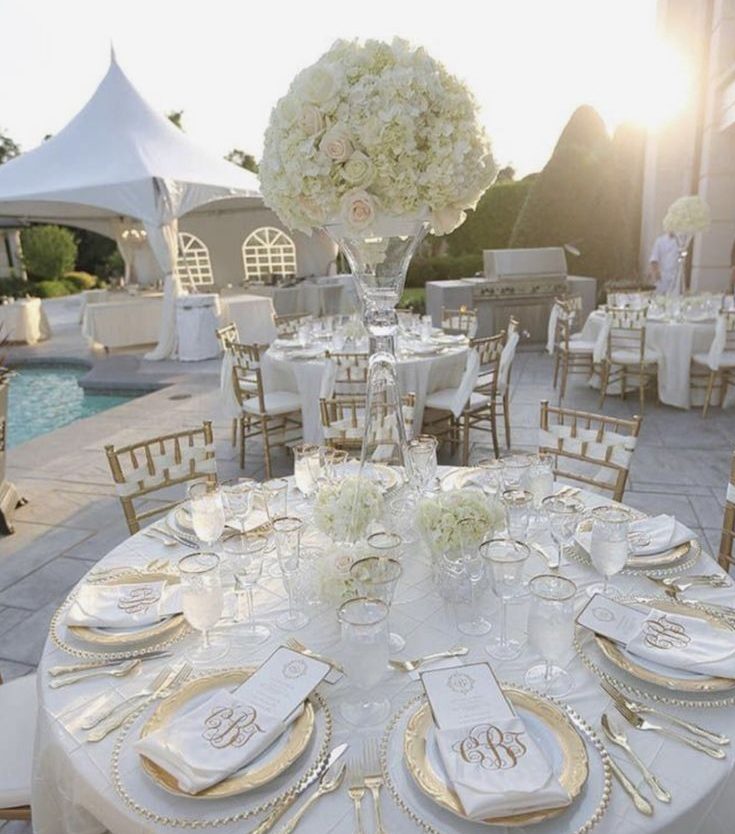 Setting the Mood at a White Party
A white party is a themed event where guests are required to wear all-white attire. This unique party atmosphere can be elevated during the summer months, giving off a fresh and sophisticated vibe. To set the mood at a white party, consider some of the following elements.
First, select an appropriate venue that complements the theme. Choosing a location with an outdoor space, such as a backyard or park, allows guests to bask in the warm summer air. For a touch of elegance, consider renting a venue where you can bring in your own white décor.
Next, be sure to focus on white decorations. This includes table covers, chair covers, and white flowers, which are essential for creating a cohesive and visually appealing atmosphere. The all-white aesthetic will reflect the summer sun and truly make your party shine.
In addition to the décor, encourage guests to stick to the dress code by wearing white outfits with white accessories like shoes, hats, and scarves. This will help enhance the overall atmosphere and result in a sea of unified, chic attendees.
Lastly, don't forget the darker half of the summer day: the night sky. Incorporate elements of the stars into your party's setting, whether through decorations, like fairy lights and lanterns, or through utilizing a clear night sky as your natural backdrop. This can create an enchanting atmosphere that ties in the season's beauty.
Incorporating these elements into your white party will not only set the perfect mood for a memorable summer event, but also create an elevated and stylish atmosphere that will leave a lasting impression on everyone in attendance.
Food and Drinks for a White Party
When hosting a white party, it is essential to have a selection of food and drinks that align with the event's theme. Both the presentation and the ingredients should showcase the color white, creating a cohesive and elegant atmosphere for your guests.
For dinner, a buffet-style serving can give your guests the opportunity to choose from a wide variety of white-themed dishes. Some popular options include creamy pasta dishes, such as fettuccine Alfredo, and roasted chicken or fish with white sauce. To accompany the mains, consider serving cold salads like cauliflower salad or a caprese salad with a white balsamic vinaigrette.
Incorporating a variety of white appetizers or finger foods will ensure that there is something for everyone. You can opt for mini sandwiches with white bread, various cheeses, and white crackers or chips. Marshmallows or yogurt-covered pretzels can also be a sweet addition to the table.
Desserts play a vital role in any party, and a white party is no exception. A classic choice is vanilla ice cream, which can be served alongside a white chocolate fondue for dipping. Other dessert options include white chocolate mousse, coconut macaroons, or a white cake with a light-colored icing.
Cocktails are an essential part of any successful party and help to set the mood for the event. At a white party, consider offering martinis with a white tequila base, such as a white cosmopolitan or white margarita. For a non-alcoholic option, white grape or cranberry mocktails can be a refreshing and delicious choice.
White Party in Different Cultural Contexts
White parties have emerged as a popular social occasion in various cities and cultural contexts. In American cities like Los Angeles, Miami, and Chicago, these events often take place during the summertime and feature attendees dressed in all-white attire. These gatherings are not only a fashion statement but also symbolize elegance and sophistication.
In weddings, an all-white dress code may be requested, emphasizing the purity and unity of the newlyweds. This tradition has deep roots in many cultures, where white clothing symbolizes a fresh start and a commitment to their new life together.
Catholic First Communion ceremonies often require children to wear white garments, as the color represents purity and innocence. This significant religious event celebrates the spiritual milestone of young believers as they fully embrace their faith and become more involved in church life.
Funerals, on the other hand, may adopt an all-white dress code to symbolize the deceased's transition to the afterlife. In some cultures, such as those in Asia and certain African communities, wearing white during funeral services signifies respect for the deceased and is believed to bring peace to their spirit.
In Turkey, the Hıdırellez festival, which marks the arrival of spring, also sees participants dressed in white. This color choice symbolizes purification and renewal, as well as the hope for a prosperous year ahead.
Across various cultural contexts, white parties serve different purposes – from demonstrating social status to marking religious milestones. Regardless of the occasion, the prevailing theme remains consistent: the color white as a representation of purity, unity, and a fresh start.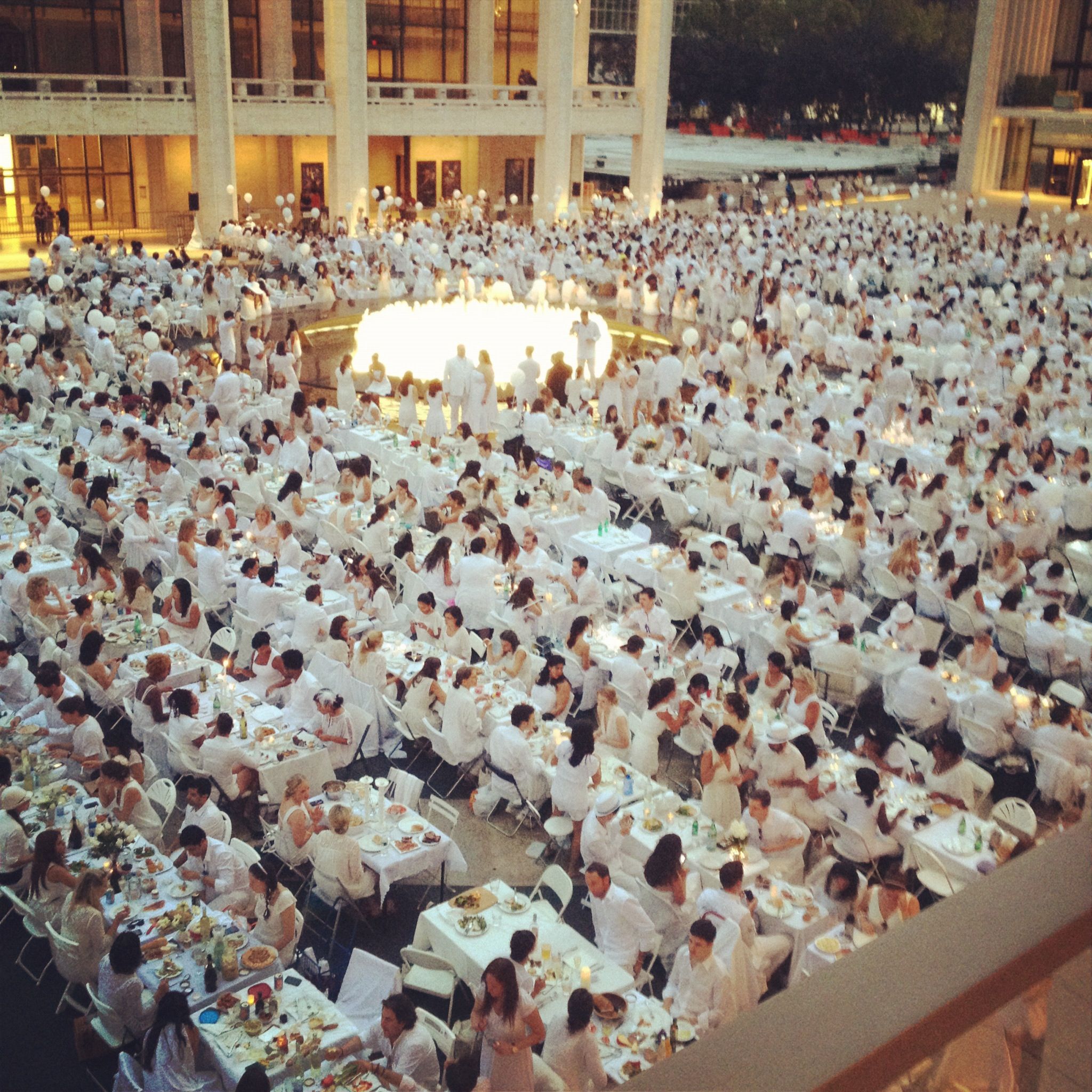 White Parties and Charitable Causes
White parties have become a popular and stylish event where attendees wear all-white outfits and enjoy a lively atmosphere. These events originated in the upper and middle classes of Europe during the 1930s as a symbol of sophistication and exclusivity. As these events evolved over time, they began to be associated with charitable causes, particularly those related to HIV/AIDS.
In the 1980s, white parties became a tradition in the LGBTQ+ community, further solidifying their connection to HIV/AIDS causes. At the time, the HIV/AIDS epidemic was a crucial issue within the community, and white parties provided a celebratory space to raise funds and awareness for the cause. These gatherings became a symbol of hope and unity, emphasizing the importance of coming together to address the challenges posed by the epidemic.
Today, white parties continue to be significant events in the LGBTQ+ community and beyond, often serving as a platform for HIV/AIDS fundraising and education. By maintaining a connection to these causes, attendees can celebrate life while supporting the ongoing efforts to fight HIV/AIDS. Through this meaningful engagement, these events also encourage a broader understanding of the significance of HIV/AIDS awareness and advocacy.
In summary, white parties have not only been a testament to style and elegance but also have served as important fundraising events in the fight against HIV/AIDS. The longstanding tradition of white parties creates a lasting impact in the lives of those affected by HIV/AIDS and continues to bring light to the ongoing battle against this life-altering disease.