Sonic the Hedgehog has been a beloved video game character since the early 1990s, and with the recent success of the live-action movies, the blue speedster continues to win hearts of children and adults alike. It's no surprise that a Sonic-themed birthday party has become a popular choice for fans who want to bring the excitement of the video game world to their special day. With some creative ideas and a touch of DIY magic, a Sonic birthday party can be an unforgettable experience for everyone involved.
One of the first key elements to consider when planning a Sonic-themed celebration is the decor, which should incorporate the iconic blue and red color scheme, as well as recognizable Sonic characters and symbols. The party atmosphere can be further enhanced by using printable decorations and game props that add a unique touch to the event. Besides the visuals, it's essential to plan entertaining activities and games that will keep guests engaged, while offering a taste of Sonic's high-speed adventures.
To get started, consider incorporating ideas from various sources like Etsy for unique decoration items, or Party Like a Cherry for DIY projects that can add a personalized touch to your celebration. Drawing inspiration from the games themselves, as well as the movies, can help you craft a memorable Sonic birthday party experience for your little one and their friends.
Sonic-Themed Invitations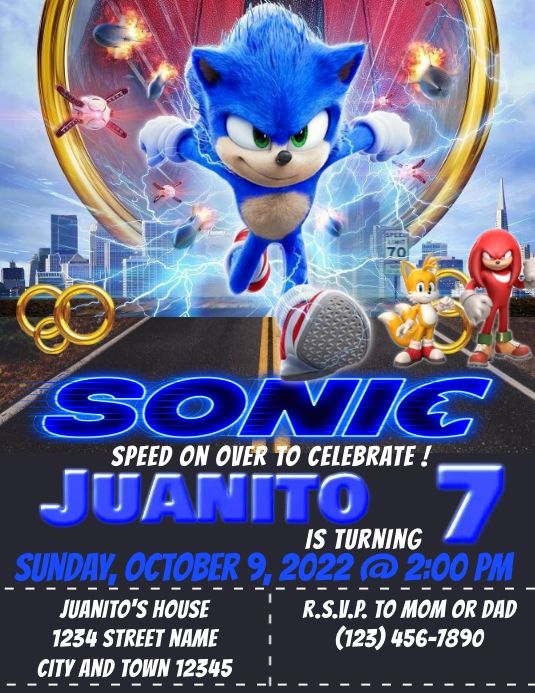 A Sonic the Hedgehog party starts with the perfect, eye-catching invitations. Many customizable Sonic-themed invitations are available on Etsy, featuring a wide range of designs, colors, and characters from the beloved franchise. Choose from popular characters such as Sonic, Tails, Knuckles, and Amy Rose to capture the essence of the game and excite the party's guests.
Digital invitations can also be an excellent, eco-friendly option for a Sonic the Hedgehog party. Many editable Sonic-themed invitation templates can be found online, such as the ones available on Canva. These allow for personalization and easy sharing through email or social media platforms.
Incorporating elements from the Sonic games can make the invitations even more appealing. Including the iconic rings or emerald gems as design elements can add a touch of authenticity and excitement. Alternatively, Sonic the Hedgehog movie posters or iconic scenes from the games can serve as the invitation background, further igniting anticipation for the celebrations.
To make the invitations truly stand out, consider utilizing Sonic's signature colors – blue and yellow – in the design. This bright and contrasting color scheme will not only grab the attention of the guests but also set the tone for a fun and energetic Sonic-themed birthday party.
In conclusion, Sonic-themed invitations are an essential part of setting the stage for a memorable and exciting Sonic the Hedgehog party. By selecting unique designs, incorporating game elements, and choosing between digital and physical invitations, hosts can ensure guests eagerly anticipate the upcoming celebrations.
Sonic Birthday Decorations
Sonic the Hedgehog has been a beloved video game character for decades, and it's no surprise that many kids and adults alike are drawn to this speedy blue hero for their birthday parties. When planning a Sonic-themed birthday celebration, incorporating themed decorations is essential to create an immersive atmosphere.
Start by choosing tableware featuring Sonic and his friends. You can find Sonic-themed paper plates, cups, and napkins to set the stage for your party. To further enhance the look of your table, consider adding a tablecloth showcasing the colors of the Sonic world, like blue or green, to mimic the iconic Green Hill Zone from the game.
Given that balloons are a staple at any birthday gathering, integrate Sonic-themed balloons into your party decorations. Look for mylar balloons with Sonic's image, or consider choosing latex balloons in Sonic's signature colors such as blue, red, and yellow.
While banners and backdrops play a significant role in setting the party scene, you can consider using a Sonic-themed birthday banner that is either personalized or featuring images from the game. Place the banner in the primary party space, like above the food table or on a focal wall to draw attention.
DIY elements can add a personal touch to the party decorations. Visit websites like Etsy for printable templates and inspiration to create your Sonic-themed party elements, such as cupcake toppers, game labels, and juice drink labels.
Incorporating various party favors and trinkets can also further immerse guests in the Sonic universe. Options may include Sonic-themed felt masks or even small Sonic toys that children can take home and enjoy after the festivities.
With a little creativity and attention to detail, your Sonic birthday party decorations will help create a memorable experience for all your guests while celebrating the birthday child's love for the iconic gaming character.
Sonic-Themed Birthday Cake and Party Foods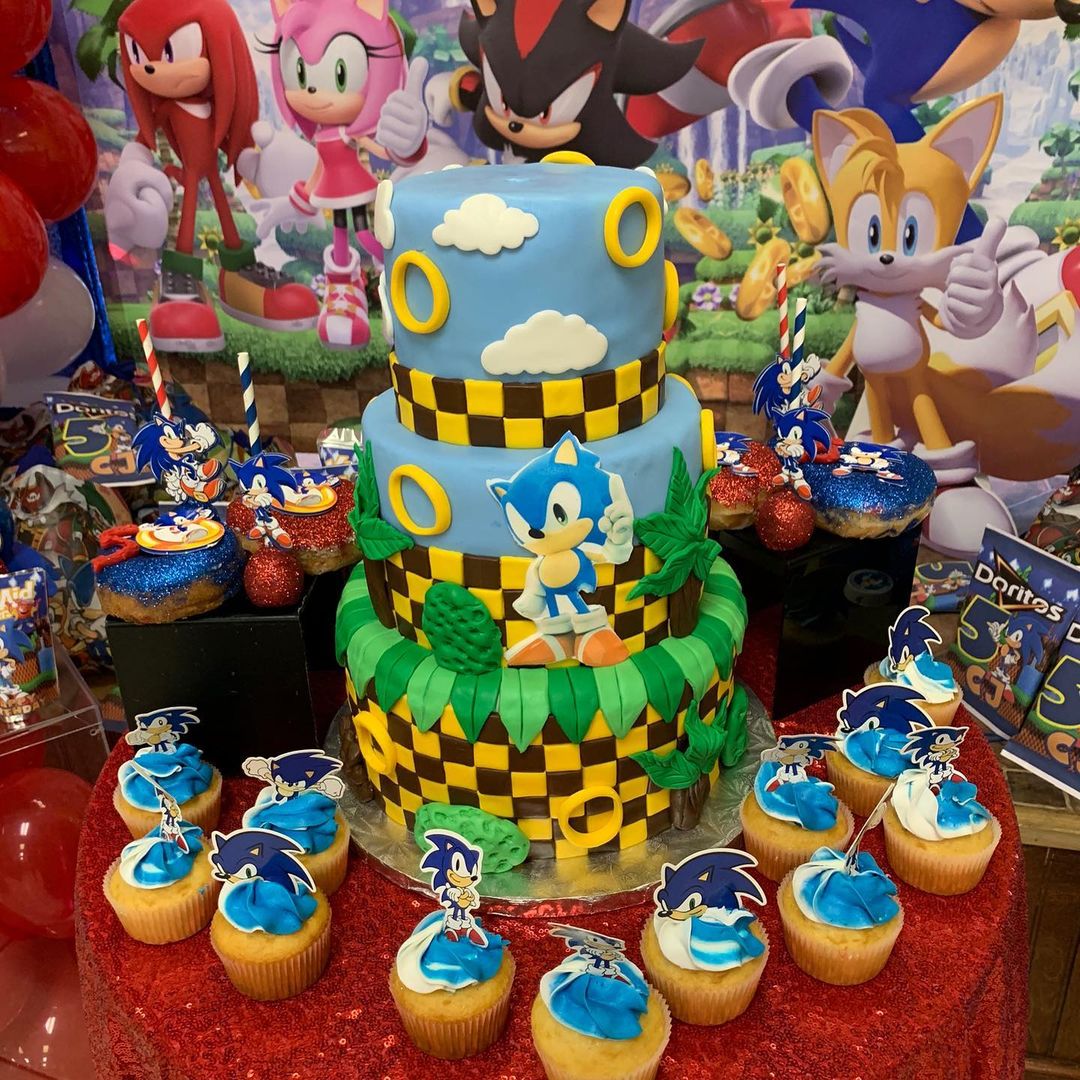 A Sonic the Hedgehog themed birthday party is incomplete without a stunning and mouthwatering Sonic-themed cake. You can find a variety of Sonic birthday cake ideas online, ranging from simple designs featuring Sonic's face to more elaborate cakes showcasing iconic elements from the game, such as rings, chaos emeralds, and other favorite characters.
When it comes to party foods, creativity is key. Prepare an assortment of Sonic-inspired treats that are not only delicious but also visually appealing. You can make use of blue colored icings or toppings to match Sonic's color scheme. One popular idea is to create "Chaos Emerald" cookies using sugar cookies and colored icing in the shades of the emeralds from the game. Similarly, you can serve "Golden Rings" made of onion rings or even donuts with gold-colored sugar sprinkles.
Themed drinks also add a nice touch to the party. You can serve a refreshing Sonic-inspired blue punch, made of blue fruit punch, lemon-lime soda, and some blue food coloring. This drink can be garnished with lemon slices or served with fun Sonic-themed straws.
Finally, don't forget about the snacks! Set up a snack table with a mix of healthy and indulgent options. You can include Sonic-themed popcorn, with blue popcorn kernels and edible gold glitter on top to resemble the rings. Add a healthy twist by offering fruits cut into shapes that resemble some of the iconic elements from the game, such as stars ormushroom.
All these food and drink ideas will surely impress your guests and make your Sonic the Hedgehog birthday party an unforgettable experience.
Sonic Party Games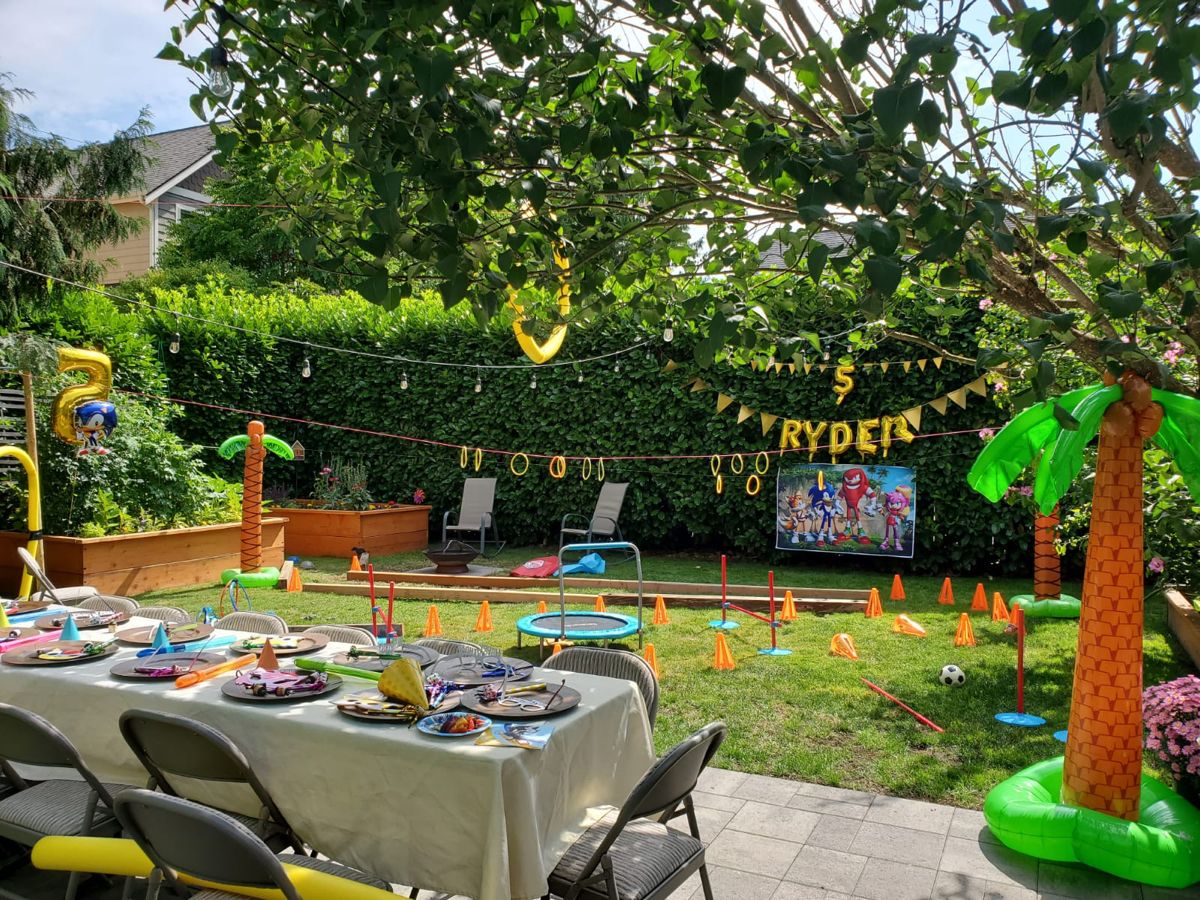 One of the best ways to entertain guests at a Sonic the Hedgehog-themed birthday party is by incorporating Sonic party games. These games will bring excitement and fun while staying true to the theme of the party. Here are some of the top picks for Sonic party games that children will love.
The first game idea is a Sonic-inspired scavenger hunt. To set this up, hide Sonic-themed items such as rings, plush toys, and stickers throughout the party area. Each child can be given a checklist of items to find, and the first one to collect all the items on their list wins a prize. This game is not only fun, but it also encourages teamwork and keeps the kids engaged.
Another great game option is a Sonic obstacle course. Create an obstacle course in the backyard or a spacious indoor area. The course should feature elements from the Sonic video games, such as tunnels, ramps, and wavy paths. Children will take turns racing through the course, trying to complete it as quickly as possible. This activity promotes physical activity while capturing the essence of Sonic's high-speed adventure.
For those looking to incorporate video games into the party, set up a gaming station with the attendees' favorite Sonic multiplayer games. This will allow the children to enjoy some friendly competition while staying true to the Sonic theme.
A creative game option is the design-your-own Sonic character contest. Provide each child with construction paper, markers, and other art supplies. Ask them to create their unique Sonic-inspired character. Once all the masterpieces are complete, have a small panel of judges select the most creative and original design. The winner receives a Sonic-themed prize to take home.
In conclusion, there are countless ways to integrate Sonic party games into your child's birthday celebration. By choosing games that align with the theme and engage the attendees, you can ensure a memorable and exciting Sonic the Hedgehog party experience.
Favor Ideas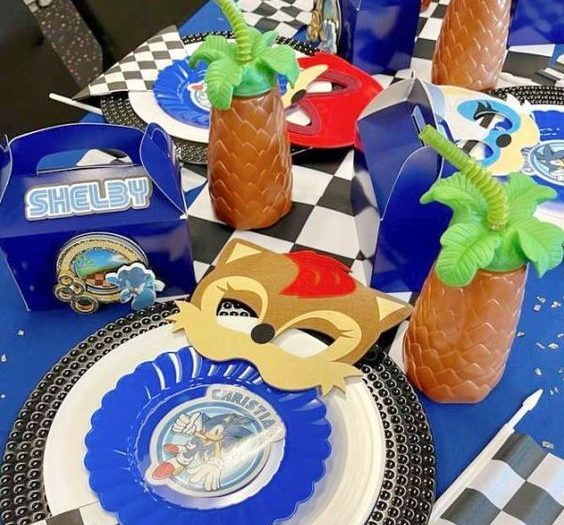 Creating memorable Sonic the Hedgehog-themed party favors is a fantastic way to ensure your child's birthday party leaves a lasting impression on their guests. There are countless options for unique and exciting Sonic-themed favors that will delight young fans of the iconic blue hedgehog. Here are some ideas to help you get started.
One popular option is to create Sonic party favor bags. Fill these bags with Sonic-themed items, such as stickers, keychains, button pins, and bracelets. For an even more personalized touch, consider adding customized Sonic coloring pages. These can be tailored to include the birthday child's name, providing an engaging souvenir for guests to take home and enjoy.
Another fantastic idea is to create Sonic-themed masks for the children to wear during the party. These masks, which can be made from felt, are not only unique, but they also make for great photo opportunities and can be worn as part of a costume or for pretend play long after the party has ended.
For those looking for a more edible treat, consider Sonic cake toppers as a party favor. These can include Sonic character figurines or laser-cut designs featuring the iconic Sonic elements like the rings or the Green Hill Zone. Simply add these toppers to cupcakes or small cakes that the kids can take home and enjoy.
For an interactive and engaging favor idea, consider Sonic blowouts. Children can have fun making noise during the party and can take these home as keepsakes from the celebration. This favor is especially suitable for younger guests who may enjoy the simple amusement of creating sound with the blowouts.
Remember, the key to choosing the perfect Sonic-themed party favors is to select items that are fun, memorable, and in line with the interests of the birthday child and their guests. With a bit of creativity and thoughtful planning, you can create an unforgettable celebration that will be cherished by the birthday child and guests alike.