An Arabian Nights theme party offers an enchanting experience that transports guests to a world filled with opulence, magic, and exotic charm. Drawing inspiration from the classic tales of "One Thousand and One Nights," this theme is perfect for those looking to create a memorable and mesmerizing event. From lavish decorations to captivating entertainment, an Arabian Nights party is sure to be an unforgettable night for all who attend.
The key to a successful Arabian Nights party lies in its intricate details and immersive atmosphere. Transform your venue with rich fabrics, jewel tones, and gold accents to evoke the luxurious ambiance of an Arabian palace. Draping, magic carpets, and gold lanterns will further enhance the visual appeal of the celebration. Encourage guests to embrace the theme, too, by donning costumes inspired by the iconic characters of Aladdin, Jasmine, and other legendary figures.
Entertainment is an essential aspect of any Arabian Nights party, with traditional music and dance performances taking center stage. Consider hiring talented performers, such as belly dancers or snake charmers, to captivate and delight your guests. Interactive elements, such as a fortune teller or henna tattoo artist, can also add an extra layer of excitement and engagement to the festivities. With careful planning and attention to detail, your Arabian Nights themed event will be a magical and memorable affair.
Choosing the Perfect Venue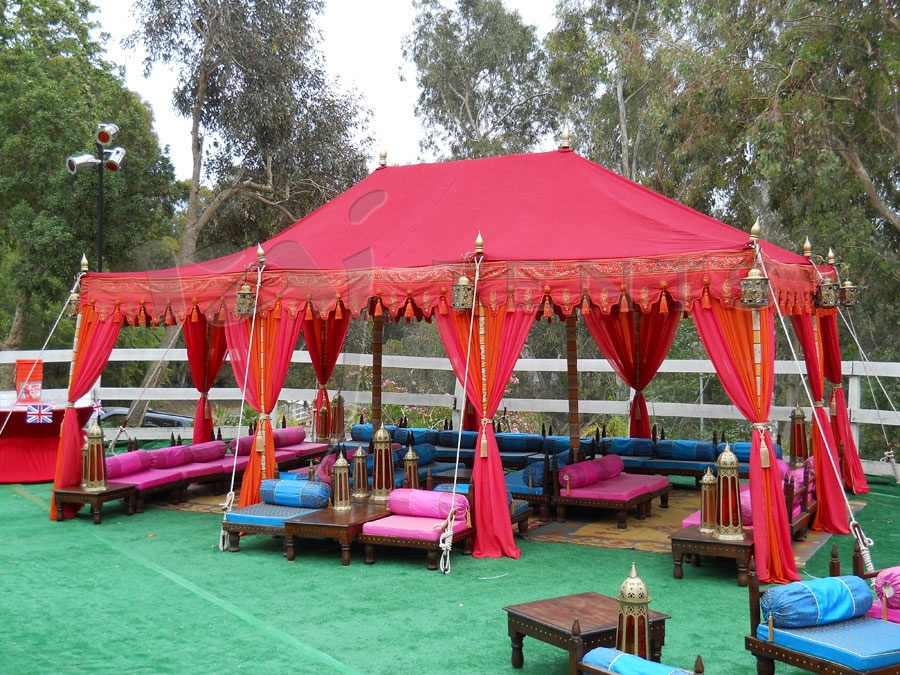 Choosing the Arabian Tent
Finding the right venue for an Arabian Nights themed party starts with selecting an appropriate Arabian tent. First, think about your guest list and the size of the space you'll need. For smaller gatherings, a Yurt or dome tent might suffice, while larger parties might benefit from a more spacious stretch tent. Your choice of tent should reflect the desired atmosphere and provide enough room for guests to fully immerse in the event.
Finding a Suitable Marquee
If you're planning to use a more traditional structure, a bespoke marquee tailored to your event is an excellent choice. You can customize the marquee according to the size of your guest list and the layout of your event. Consider hiring an Arabian Tent Company that specializes in Arabian Nights-themed events to ensure you have the perfect marquee for your party. They should be able to advise you on the best setup for your event.
Creating Authentic Atmosphere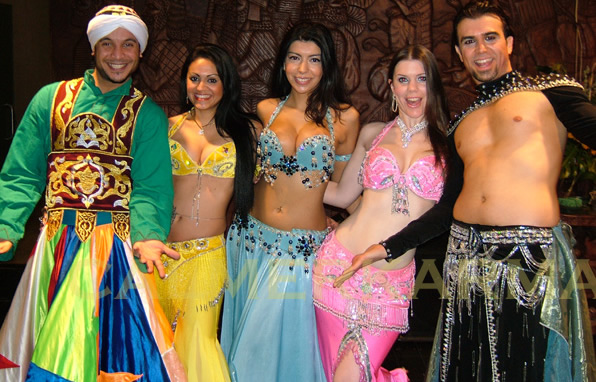 Once you have selected the right venue or tent, it's time to focus on the details that will make your Arabian Nights-themed party truly unique. Use rich colors like gold, deep red, and purple to set the mood and mimic the feeling of an enchanting Middle Eastern setting. Incorporating elements such as opulent textiles, exotic lanterns, and decorative furnishings will bring your theme to life.
Additionally, consider hiring entertainers to perform traditional Arabian dances or live musicians playing Middle Eastern music. This added touch will create an engaging atmosphere and ensure a memorable experience for your guests.
Decor Ideas and Tips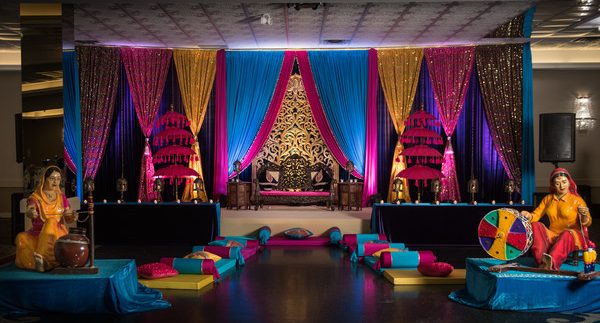 Colour Palette Inspiration
An Arabian Nights theme party offers a mesmerizing array of rich and vibrant colours. Start by choosing a colour palette that best reflects the opulence and warmth of Arabian culture. Think of deep burgundy, burnt orange, fuchsia pink and gold as primary colours, with accents of turquoise, royal blue, and emerald green.
Key Arabian Decor
To truly immerse your guests in the Arabian Nights ambience, consider incorporating key decorations such as billowy drapes, elaborate rugs, and patterned cushions. Transform your venue into a luxurious tent by using swathes of luxurious fabric for the walls and ceilings. Decorate the floor with authentic-looking rugs and floor cushions, creating cozy seating areas for your guests. For a more immersive experience, consider using a small tent at the entrance or set up a photo booth area inside a tent.
Trinkets and Accessories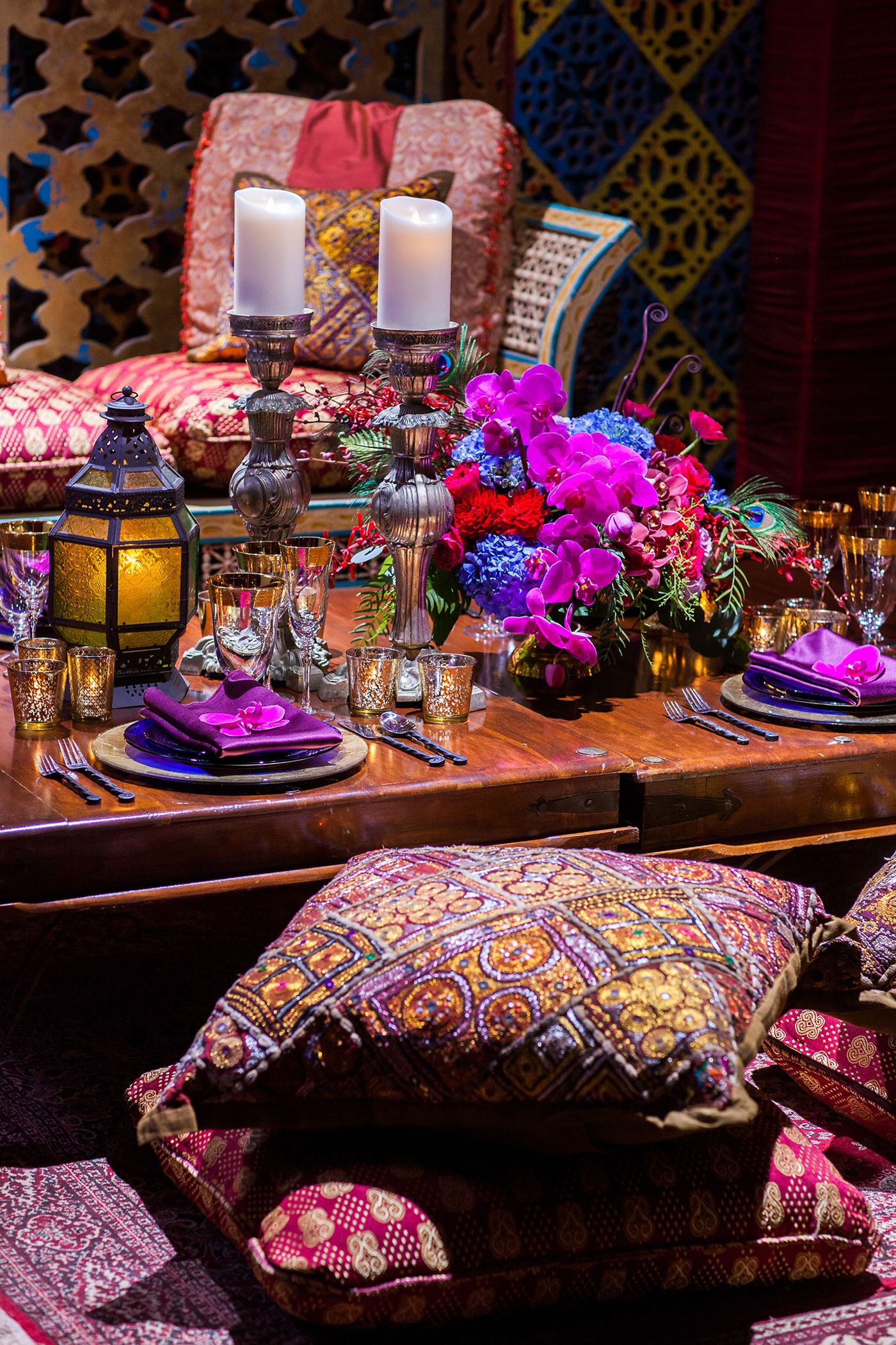 Complete the look of your Arabian Nights theme party by adding intricately designed trinkets and accessories. Here are a few ideas to make your party truly enchanting:
Lanterns: Illuminate your party space with a mix of hanging and tabletop lanterns in different shapes and sizes.
Moroccan tea set: Serve your guests traditional Moroccan tea, complete with authentic glass tea cups and a silver tea tray.
Brass ornaments: Add touches of brass through ornaments, vases, and candle holders for a touch of opulence.
Silk cushions and throws: Incorporate luxurious silk cushions and throws to create a sensual and inviting atmosphere.
By combining these decor ideas and tips with carefully chosen colours and trinkets, you can create a mesmerizing and unforgettable Arabian Nights theme party.
Incorporating Arabian Nights Theme
Dressing in Aladdin Style
To truly capture the essence of an Arabian Nights themed party, encourage your guests to dress up in Aladdin-inspired outfits. For both men and women, consider wearing Harem pants and silk bottoms to bring a touch of the Middle East to the event. Makeup is another essential element, as bold eyeliners like Kajal can accentuate the eyes and create a striking look.
Making of Magic Carpets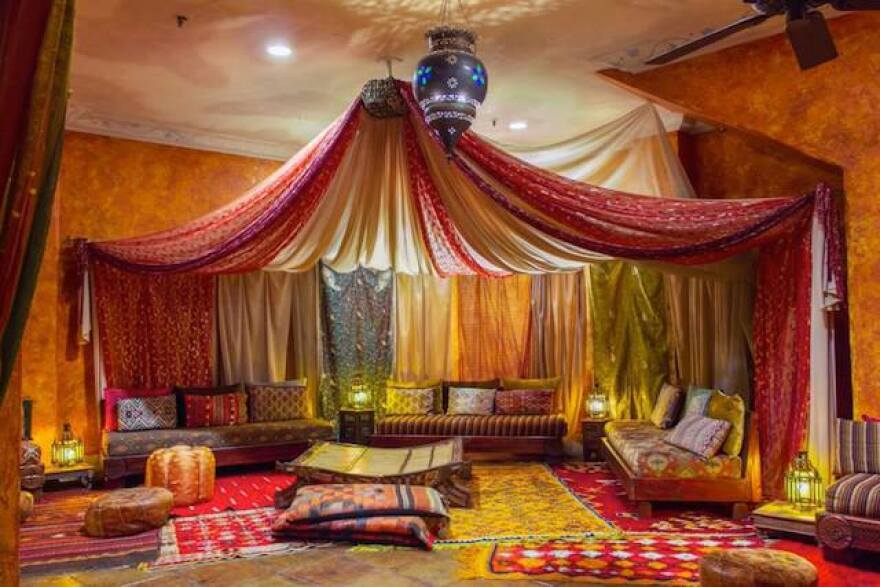 No Arabian Nights theme party would be complete without the inclusion of magic carpets. You can create the illusion of these enchanted rugs by using colorful fabrics or actual small-sized carpets as table runners or even as floor seating options. Scatter cushions and floor pillows around these carpets to add a touch of comfort and to create a warm, inviting atmosphere.
Use of Kobba Lanterns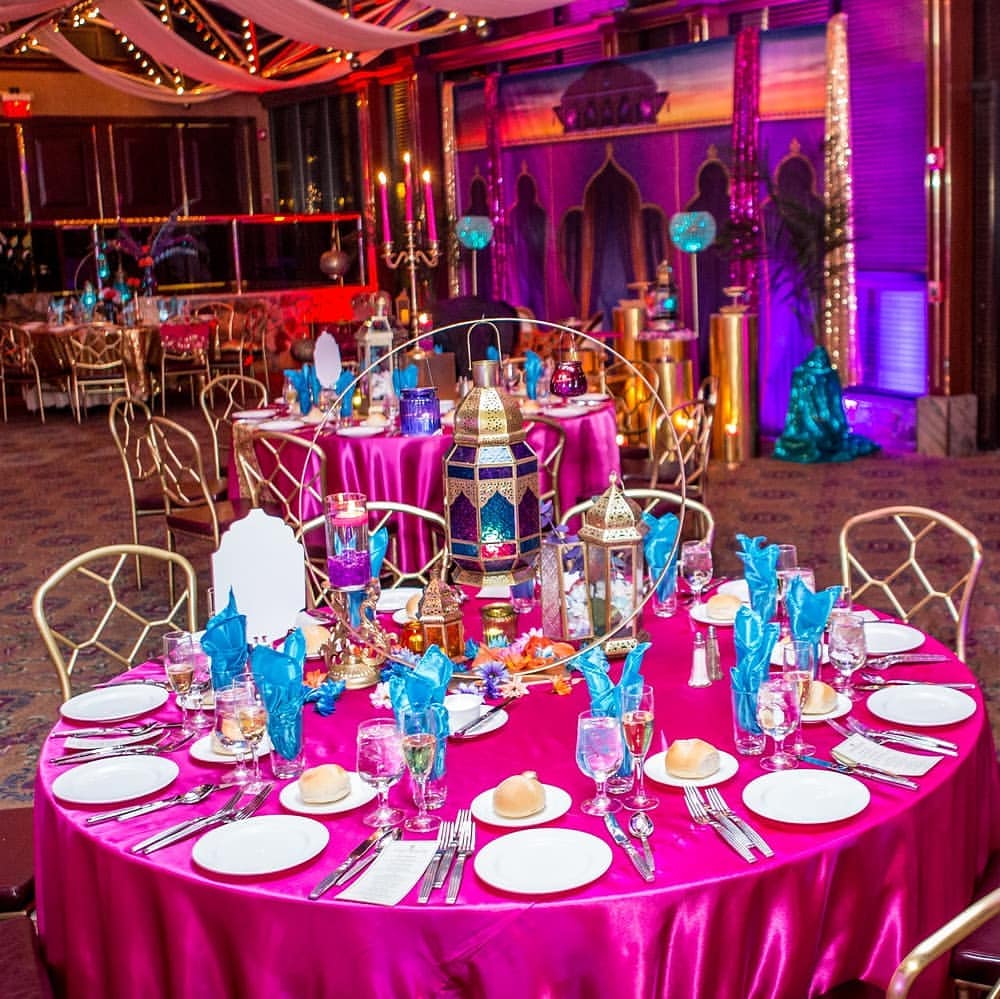 Lighting plays a crucial role in setting the tone for your Arabian Nights themed party. Kobba lanterns are a perfect choice to illuminate your event while staying true to the theme. These intricate, metal lanterns cast beautiful shadows and create a warm, ambient glow. Pair them with colorful, vibrant drapery and other Middle Eastern-inspired decorations to transform your space into a captivating Arabian Nights experience.
Food and Drinks for the Party
Catering the Arabian Way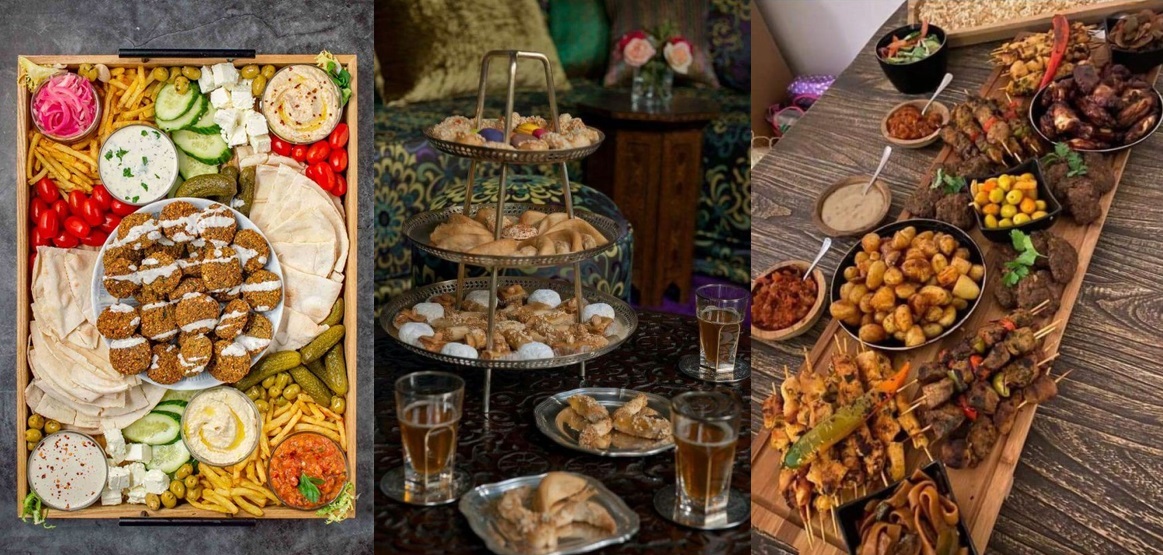 An Arabian Nights theme party is incomplete without incorporating the rich and exotic flavors of Middle Eastern cuisine. To truly immerse your guests in the experience, consider serving dishes such as Hummus, Batata Harra, Mansaf, and Falafel1. Other popular options are Moroccan tagines and koftas, as well as Lebanese street foods. A great way to engage guests in an interactive dining experience is to set up grilling stations for marinated meats.
Drink Ideas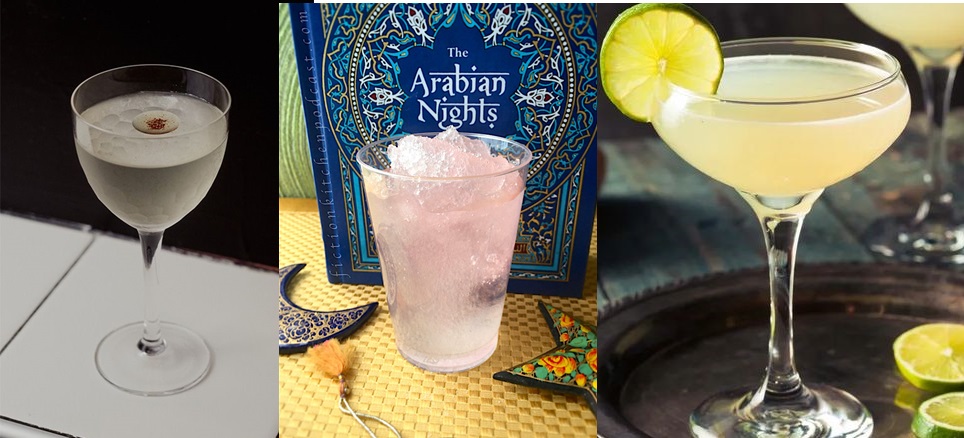 To elevate the atmosphere of your Arabian Nights theme party, you should also consider offering unique and exotic drink options. Some popular Middle Eastern beverages to include in your menu are mint tea, Arabic coffee, and fruit juices, especially those that have unique flavors, such as pomegranate and apricot. For a more sophisticated touch, introduce cocktails with an Arabian twist, such as a drink made with rose water and a "Marakesh Blazer" that combines Dates, Ron Zacapa Rum, Don Julio Reposado Tequila, Johnnie Walker Gold label, and Chocolate bitters.
Final Touches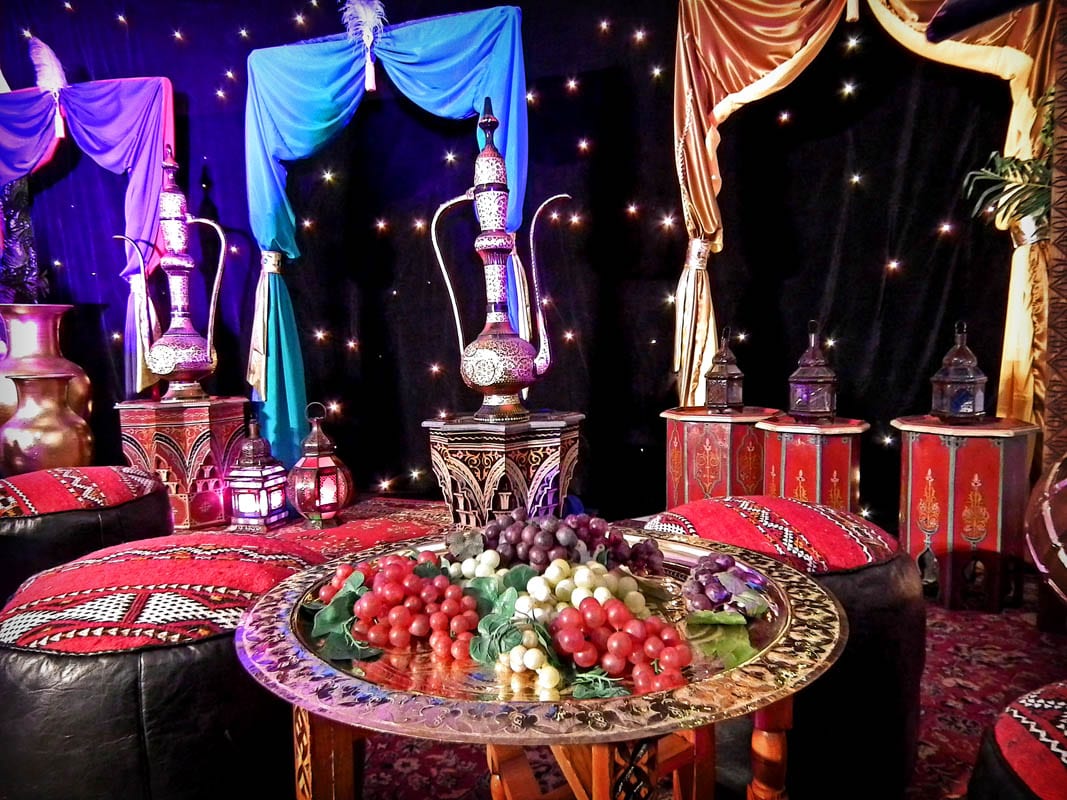 Arrangement of Chests
While planning an Arabian Nights theme party, incorporating various elements and decor items that truly reflect the essence of the theme is crucial. One such item is the arrangement of chests, which adds an authentic and vibrant touch to the whole setting. These chests can be used creatively in various aspects of the party.
Firstly, consider using chests as storage for party favors. Fill them with small trinkets, scented candles, or traditional Middle Eastern sweets, such as baklava or dates, to provide a welcome surprise to your guests. You can place these chests near the entrance or exit so that guests can easily take them upon arrival or departure.
Another approach is using chests as decorative table centerpieces. Place a chest in the center of each table and surround it with stacks of colorful cushions, lanterns, and flower arrangements. This setup can create a cozy and eclectic vibe, making guests feel as if they've stepped into a scene from Arabian Nights. Don't forget to use bold colors like fuchsia, burnt orange, or decadent reds to give a dramatic contrast to the chests' appearance.
In addition, arranging chests to create stunning photo booths or backdrops can make for memorable pictures. You can stack the chests against a wall or arrange them in unique patterns, decorating them with vibrant fabrics, lights, or ornaments. Guests will love posing for pictures in front of such a unique and eye-catching scene.
Incorporating chests into your Arabian Nights party can elevate the festive atmosphere and contribute to an immersive experience. Utilize them creatively and watch your guests revel in the magic of the enchanting world you've created.