The mysterious and dark charm of Wednesday Addams from the classic Addams Family series has piqued the interest of many fans who wish to host a themed birthday party in her honor. Wednesday Addams' distinct personality, combined with the eerie atmosphere of the Addams Family, offers a unique and memorable birthday party theme for children and adults alike. In this article, we will explore some key elements to create a chilling yet delightful celebration that captures the essence of Wednesday Addams.
To throw a remarkable Wednesday Addams birthday party, it is vital to incorporate thematic decorations and activities that encompass her ominous aura. Some essential components include gothic-inspired décor, custom invitations, and a sinister soundtrack. By bringing these elements together, the attendees will be immersed in the macabre ambiance and enjoy a birthday party like no other.
Alongside the party's visual aesthetics, it is crucial to serve fitting treats and arrange appropriate activities that will captivate your guests. Inspired by Wednesday Addams' interests, one can include games and crafts that capture her character's spirit. By ensuring these aspects are aligned with the theme, your Wednesday Addams birthday party will leave a lasting impression on your guests.
History of Wednesday Addams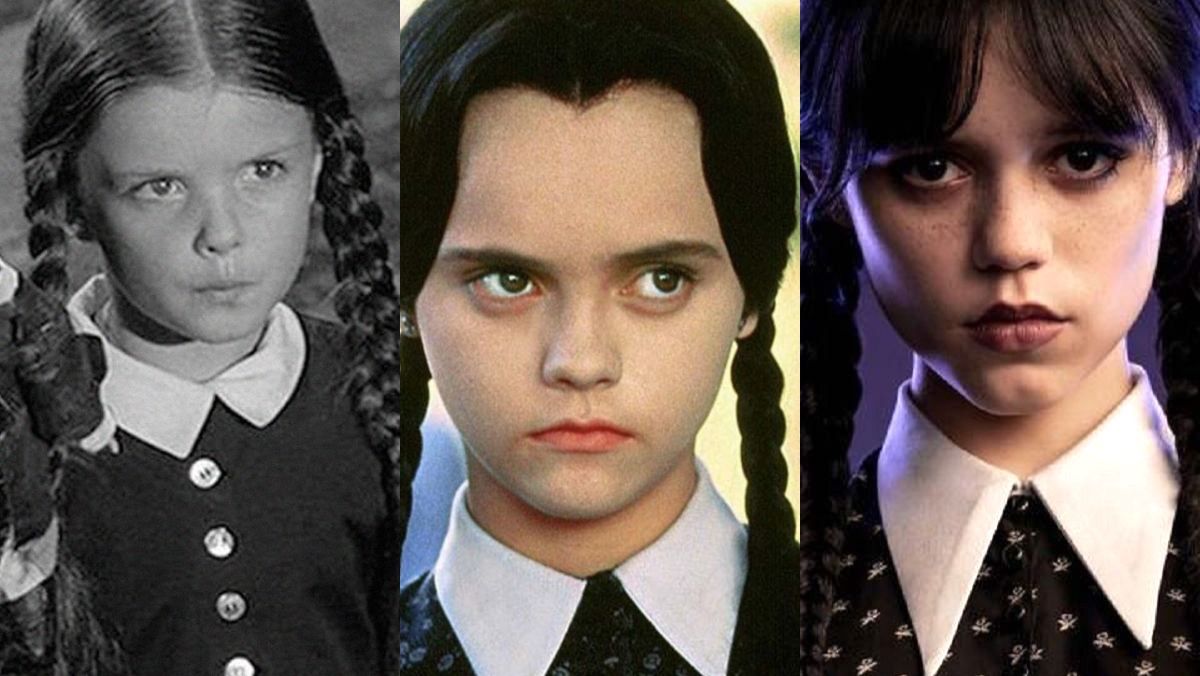 Wednesday Addams is a prominent character from the popular franchise "The Addams Family." She gained notoriety as the dark, morbidly humorous, and gothic daughter of Gomez and Morticia Addams. The character of Wednesday Addams, as well as the rest of her family, was originally created by American cartoonist Charles Addams and first appeared in The New Yorker in a series of cartoons in 1938. The family did not have names until they were adapted into a television series in 1964.
In the television show, Wednesday Addams is portrayed as a young girl with a signature deadpan expression, often dressed in a black dress with a white collar. Throughout the decades, the character has evolved across various media adaptations, including stage productions, animated series, and feature films. With each adaptation, Wednesday maintains her iconic characteristics including her fascination with macabre topics, morbid sense of humor, and gothic style.
One of the most memorable portrayals of the character was by Christina Ricci in the 1991 film "The Addams Family" and its sequel "Addams Family Values" in 1993, which made the character more popular and iconic than ever. The 1991 film adaptation reintroduced the character of Wednesday Addams to a new generation, and since then, she has been a favorite among fans who appreciate her dark, quirky charm.
More recently, Jenna Ortega took on the role of the famed character in the 2023 film adaptation, leading to a resurgence of interest in the character among a young audience. This renewed interest has resulted in an increase in Wednesday Addams-themed merchandise, costumes, and even birthday party celebrations.
While the character of Wednesday Addams may have started as a simple sketch in The New Yorker, she has since become an iconic figure in popular culture, inspiring a unique and eerie style that has been embraced by fans of all ages.
Creative Invitations
Organizing a unique and memorable Wednesday birthday party requires attention to various details, and one important aspect is your invitations. From thematic designs to DIY options, creating invitations that stand out is essential to set the tone for your party and get your guests excited about the event.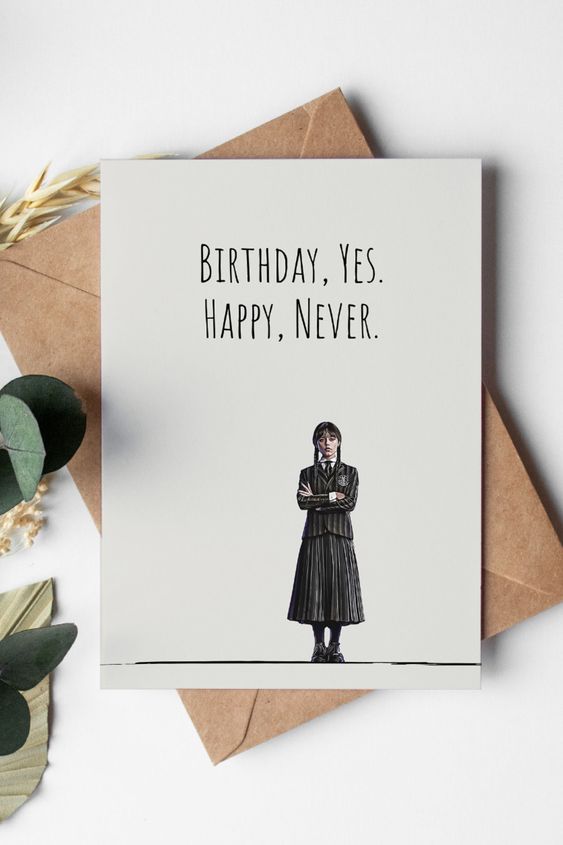 DIY Options
For those who want to create their DIY invitations, there are numerous platforms and tools available to help you design and print your own custom invitations. For example, you can use Etsy to find editable templates inspired by Wednesday Addams, a popular character that many people associate with the day Wednesday.
Another great platform for creating custom invitations is Canva, which offers an extensive collection of birthday invitation templates. You can easily customize and personalize these templates to match your specific theme or ideas, making it simpler to achieve the desired effect for your Wednesday birthday party invitations.
When designing your own invitations, keep in mind these tips:
Select a color scheme that complements the theme, and be consistent throughout the design.
Choose fonts that are easy to read while still reflecting the party's atmosphere.
Don't forget to include essential details like the date, time, and location.
Add personalized touches, such as a fun or inspiring quote, to make each invitation unique.
Using these DIY options allows you to unleash your creativity and produce one-of-a-kind invitations that your guests will appreciate and remember. Above all, have fun while designing your invitations and let your imagination guide your choices, ensuring a memorable Wednesday birthday party for everyone involved.
Party Printables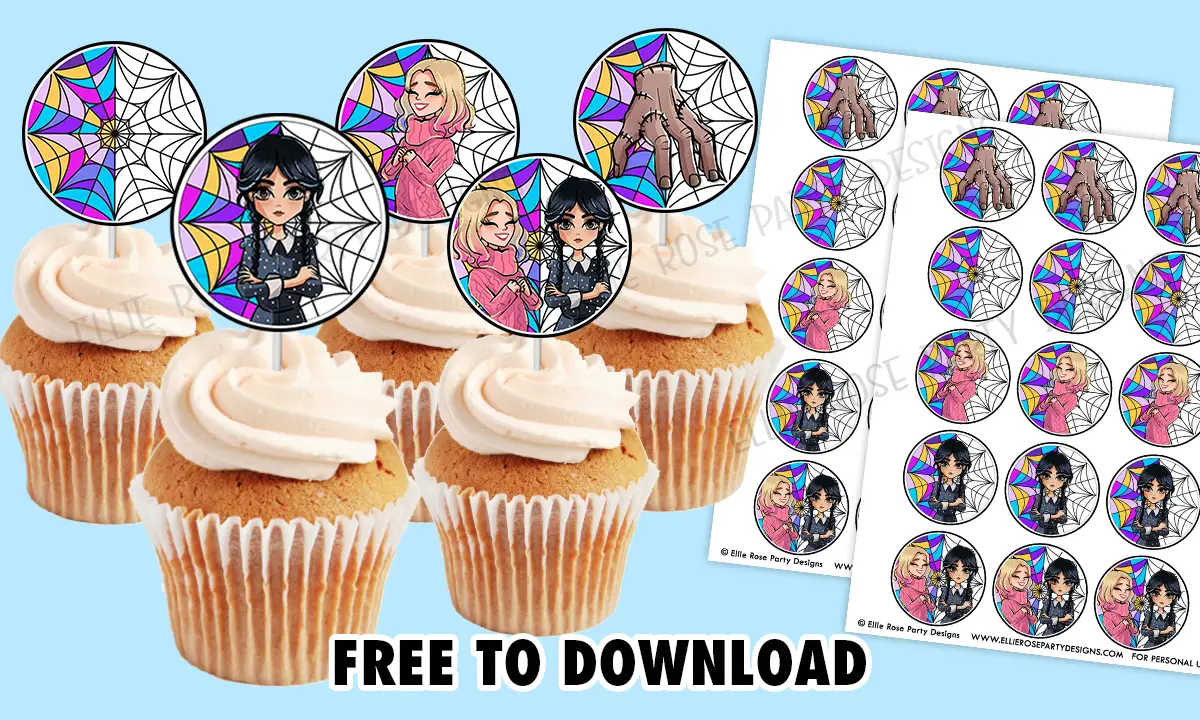 When planning a Wednesday Addams birthday party, incorporating themed party printables is an essential part of creating a cohesive and engaging atmosphere. With a range of free and editable printables for a variety of decorations, anyone can easily find the one that suits their needs and preferences.
One of the most important things to consider is invitations. A free Wednesday Addams party invitation template is available to help create personalized invites that set the tone for the event. Be sure to stick to a dark and haunting theme with fonts and colors that embody the essence of Wednesday Addams.
In addition to invitations, having Wednesday Addams-themed table settings can greatly enhance the party's ambiance. With professionally designed editable birthday printables, anyone can print out themed decorations for table settings, centerpieces, and even food labels. Consider using shades of black, white, and gray to maintain the eerie elegance synonymous with the Addams family.
Crafting a festive atmosphere is made simple by incorporating printables like banners and posters. These can be found at resources with Wickedly Wonderful Wednesday Addams Party Ideas. Make the most of your available wall space by displaying themed posters, while using banners with classic Wednesday Addams quotes or her iconic portrait to emphasize the theme.
Lastly, don't forget printable activities for guests to enjoy. Trivia games and quizzes centered around Wednesday Addams and the Addams family can be created and printed to keep guests engaged throughout the celebration. This will ensure an unforgettable event that captures the unique spirit of Wednesday Addams in every detail.
Stunning Decorations
Backdrop Creation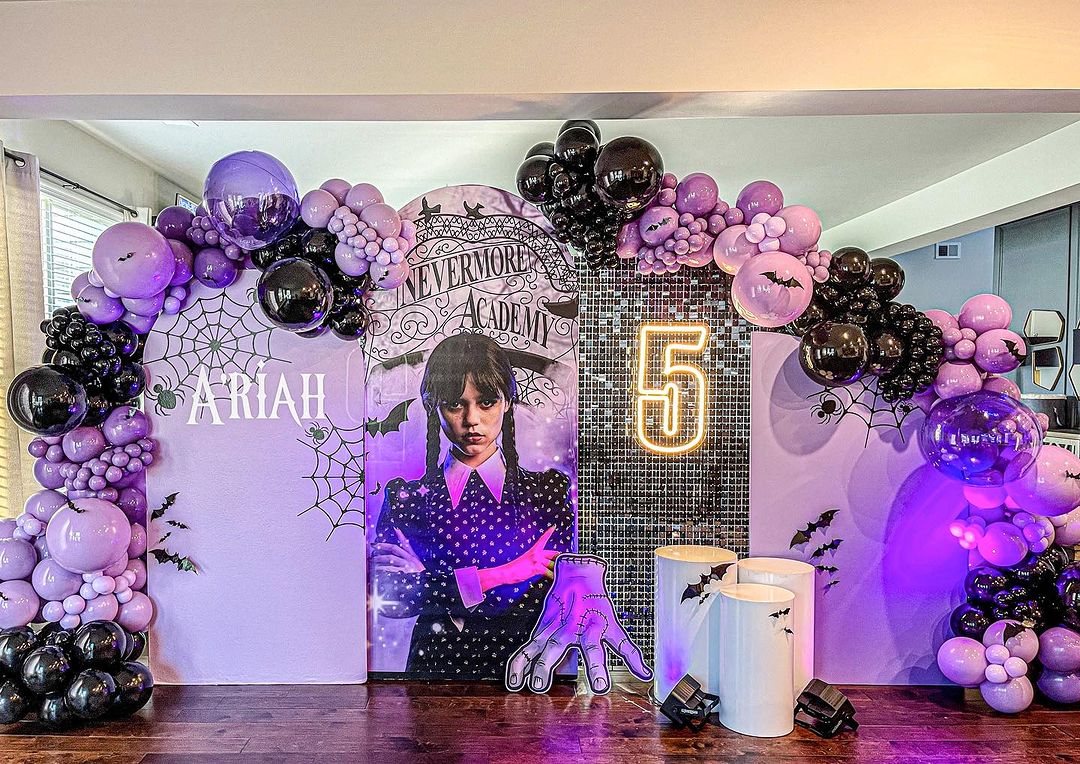 One of the essential elements for a Wednesday birthday party is an eye-catching backdrop that sets the tone for the celebration. A unique backdrop can be created using handmade pieces, such as large black and white striped or spooky-themed fabric panels, which can be hung vertically to serve as the base. It can be further enhanced by using other elements like fun banners, balloons, or even customized signs with popular quotes from the character.
Alternatively, consider selecting a pre-designed Wednesday Addams party supply that suits the theme, and adding your personal touch. For instance, you can complement the provided backdrop with art that depicts memorable scenes from the character's story or an array of themed props like skulls, cobwebs, or dark candles. The end result should evoke a sense of mystery and whimsy for the guests to enjoy.
Table Settings
No Wednesday birthday party is complete without well-coordinated table settings that continue the overall theme. Start with dark-colored tablecloths as the foundation for your place settings, and use contrasting plates and utensils to create a striking visual effect. To enhance the ambiance, consider incorporating decorative elements such as:
Centerpieces: Custom-made centerpieces inspired by the character, like a gothic-style vase filled with dark-colored flowers or a candelabra, can be an eye-catching focal point for the table.
Name cards: Creative and personalized place cards with intriguing fonts, designed with the guests' names, can add a unique touch while guiding them to their assigned seats.
Tableware: Black and white or themed-patterned tableware, such as plates, cups, and napkins, can subtly reinforce the theme while providing practical use for guests.
Additional Accessories: To bring your table settings to life, you might include small thematic items like skull-shaped salt and pepper shakers, gothic candle holders, or themed confetti sprinkled across the table.
Paying close attention to these details in your stunning decorations will ensure a cohesive and memorable Wednesday birthday party experience for all in attendance.
Spooky Food Ideas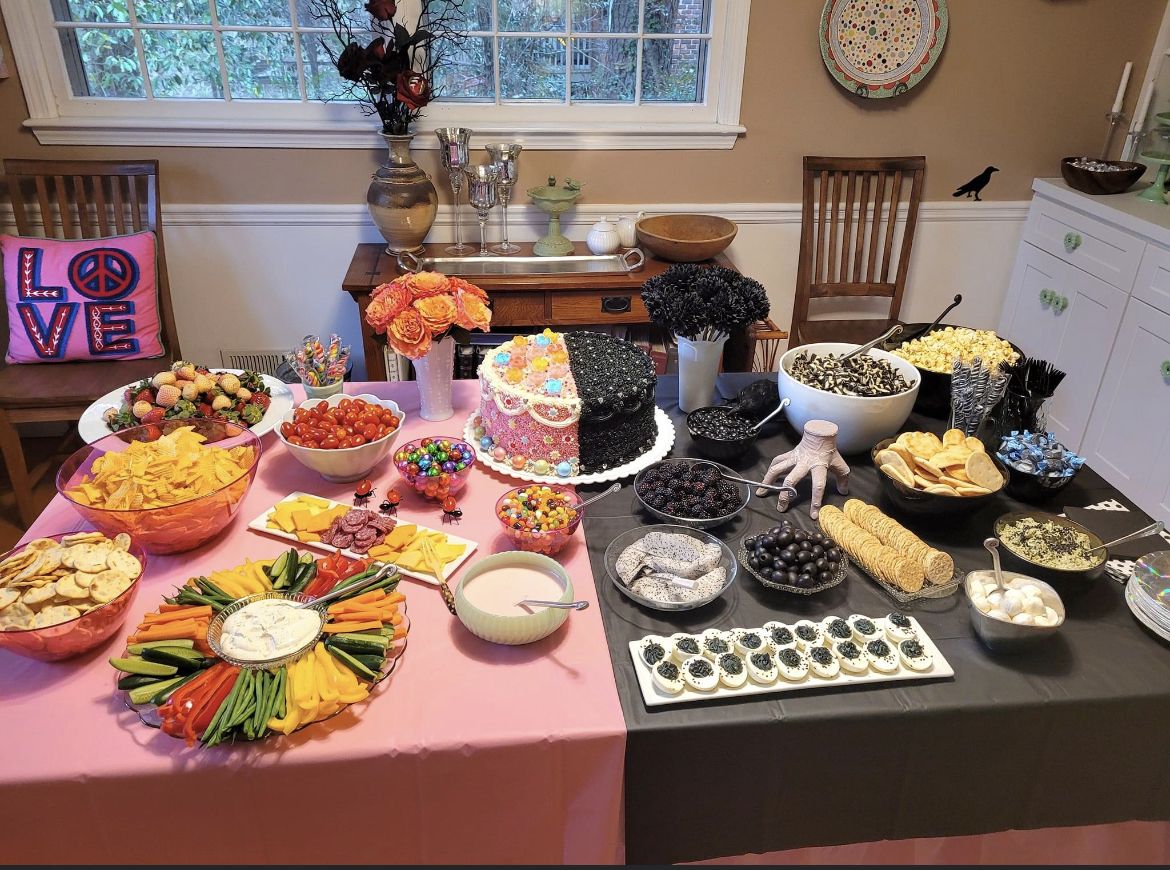 To intensify the spookiness of your Wednesday party, experiment with some black food recipes. Add mysterious vibes to the menu by incorporating ingredients like squid ink, black rice, or black sesame seeds. One enchanting option is black pasta, made with squid ink, and served with a garlicky black sauce. Another hair-raising dish is black risotto, prepared by using black rice and topped with a delicate garnish of edible black flowers.
Charcoal lemonade makes a perfect spooky beverage for your party, combining the detoxifying properties of activated charcoal and the tangy flavor of lemonade. To concoct this drink, simply mix a suitable amount of activated charcoal with fresh lemon juice, water, and sugar or a sweetener of your choice. Serve chilled in dark-colored glasses for the full effect.
Don't forget to incorporate black desserts into your menu. A rich dark chocolate cake or hauntingly delicious black velvet cupcakes, using black food coloring, will undoubtedly captivate your guests' taste buds. Black licorice, dark chocolate truffles, and black jelly beans are great additions as well, adding to both the aesthetic and flavor of your party's sinister sweets selection.
Activity Ideas
Include engaging activities that fall in line with the Wednesday Addams theme. You can have a costume contest, where guests vote for the best-dressed character inspired by the Addams family. Create a "spooky" scavenger hunt with hidden treasures such as plastic spiders or other Halloween trinkets around the party venue. Guests can participate in crafting activities, like making Wednesday Addams silhouettes or drawing their favorite moments from the show.
Riddles and Games
Organizing a few creative riddle-based games will make your Wednesday birthday party a lot more lively and engaging. You can start with the Saran Wrap Game, which involves wrapping small goodies in layers of plastic wrap. As guests unwrap the ball, they can collect the prizes, making for a fun and competitive activity. Additionally, you might want to consider hosting a Wednesday Addams Themed Party Game available as a printable download or a virtual trivia quiz to test guests' knowledge of the iconic character.
Introducing a variety of board games or even card games that suit the creepy and kooky vibes of Wednesday Addams can also be a hit. Classic games like Clue or Mysterium are excellent options that capitalize on the mysterious theme and can keep guests entertained for hours.
Wednesday Dance Tutorial
Add some fun to the party with a twist on the dancefloor! A Wednesday dance tutorial can provide an interesting and thematic group activity that engages everyone in the party. Guests can learn a dance routine inspired by Wednesday Addams or the Addams Family musical. This not only allows partygoers to bond over the shared experience but also acts as a delightful icebreaker for those who may be meeting for the first time.
Remember to choose age-appropriate dance moves and choreography for your guests so that everyone feels comfortable participating. Don't forget to play some fitting tunes from the Addams Family soundtrack or other spooky-themed music to create the perfect ambiance for your Wednesday dance tutorial.
Focusing on riddles, games, and a dance tutorial centered around the unique character of Wednesday Addams is sure to make your Wednesday birthday party a thrilling and memorable celebration.
Online Party Supply Resources
Etsy Sellers
Etsy is a global marketplace that offers a wide range of craft supplies and unique items for various occasions, including Wednesday Addams birthday party supplies. The platform is home to numerous creative entrepreneurs and small businesses that specialize in handmade, digital items, and vintage treasures for your celebration needs.
When searching for themed party supplies on Etsy, you can find a variety of sellers offering customized Wednesday Addams birthday invitations, and other unique items that can be tailored to your event. Often, these items feature an "Add Your Personalization" option on the listing page, which allows you to input specific details and preferences before placing an order. This made-to-order process ensures the handmade pieces you receive are unique and catered to your party theme.
Shipping Policies
While shopping for Wednesday Addams party supplies, it's essential to consider the shipping policies of the Etsy sellers and other online retailers. Although some vendors may offer free shipping on certain items, others may charge additional fees based on your location and the size or weight of the products. Make sure to review the individual seller's policies on their listing pages before making a purchase.
When planning your event, factor in the shipping timelines, as handmade or customized items may require extended production and delivery times. Ensure you allow for enough lead time so that your party supplies arrive well before your scheduled celebration.
Overall, purchasing Wednesday Addams birthday party supplies from online platforms like Etsy and other retailers can be a convenient and personalized way to make your celebration unique. By considering the variety of options, customizations, and shipping policies, you can find the perfect items to create a memorable event.
Dessert Table Setup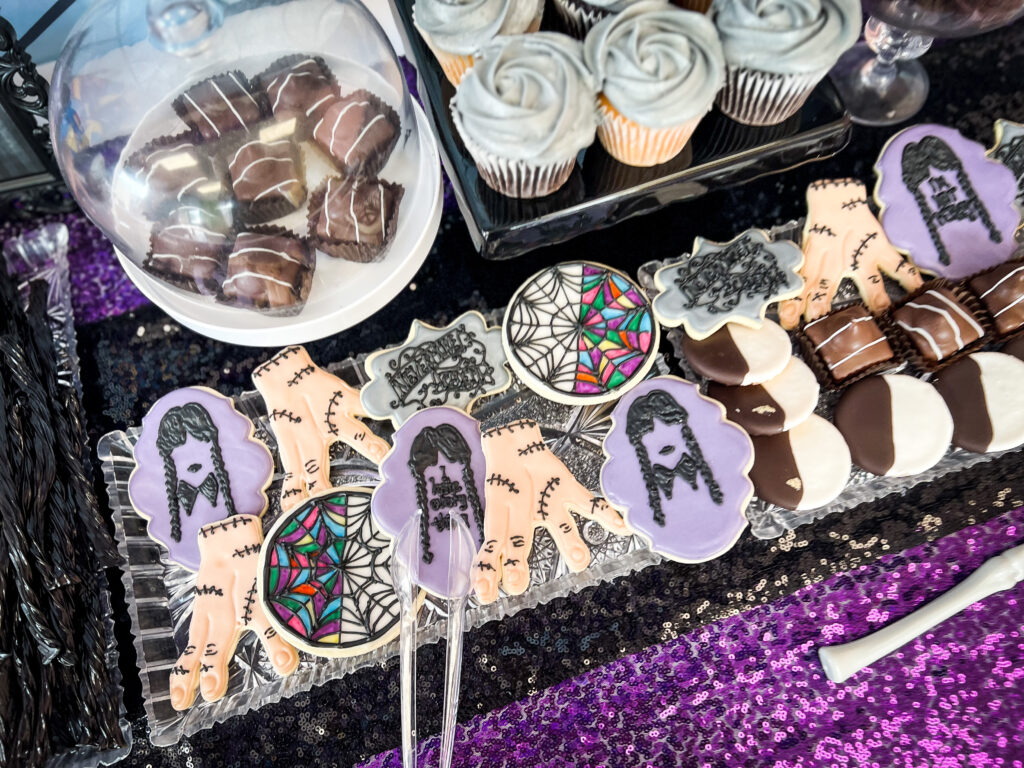 When planning a Wednesday Addams birthday party, the dessert table is a key component to creating an eerie yet elegant atmosphere. As opposed to bright colors and cheerful themes, opt for a darker, more Gothic-inspired palette.
Begin by choosing a tablecloth with a color that complements the macabre and mysterious theme, such as black or dark purple. Add candles, skulls, and other spooky accents to set the mood. To tie everything together, include dark flowers like black roses or deep purple calla lilies as part of the centerpiece.
Arrange desserts using different levels and heights to create visual interest. Utilize props like vintage books or ornate cake stands to elevate some of the display items. A stunning yet eerie dessert table should include delicious treats inspired by Wednesday Addams herself. Some options can be:
Stained glass Nevermore Academy cookies
White chocolate Thing lollipops
Raspberry-filled cupcakes
When arranging the desserts, balance bold and dominant centerpiece desserts with smaller, more delicate choices. Decorate the cupcakes, lollipops, and cookies with touches of white, gray, and silver to create a sophisticated and haunting look.
Finally, make use of a backdrop for the dessert table. This can be a simple fabric drape, or more elaborate with the inclusion of framed pictures, a faux spider web, or a personalized banner.
By following these tips and incorporating the right combination of dark and mysterious elements, the dessert table for a Wednesday Addams birthday party will undoubtedly leave guests captivated and intrigued.
Magic of Balloons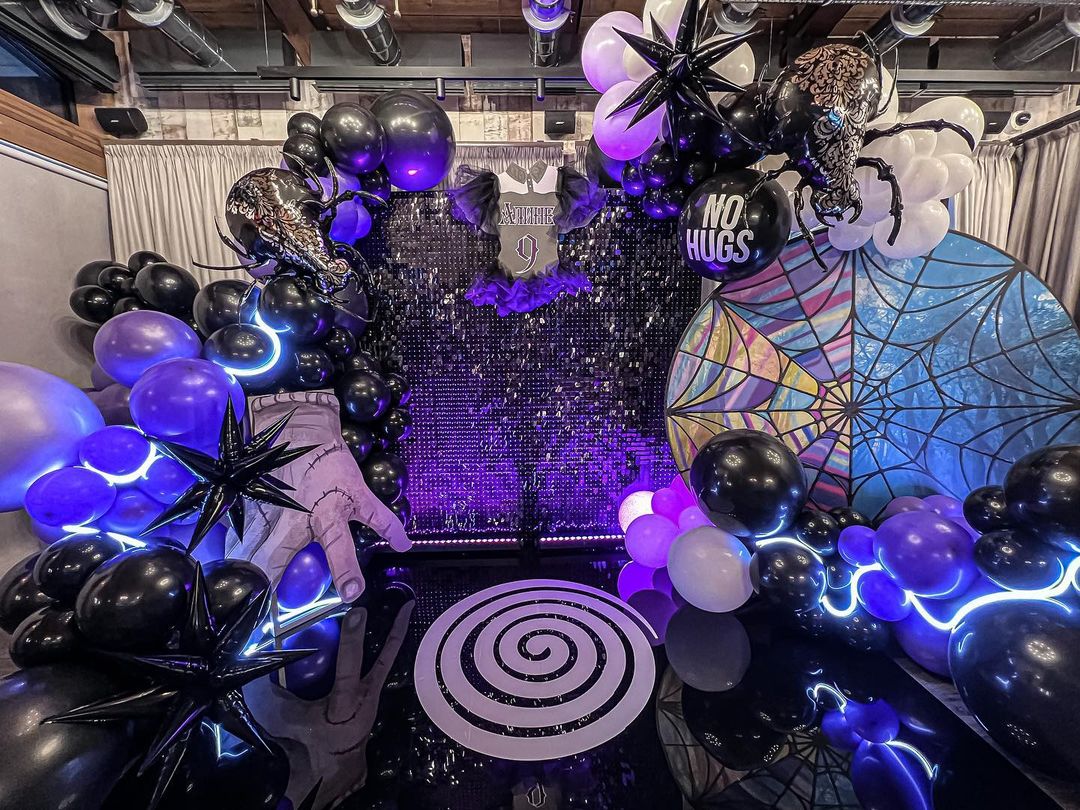 Balloons can play a crucial role in a Wednesday Addams birthday party, adding a bit of macabre fun and helping set the eerie atmosphere. With a confident and knowledgeable approach, it's possible to create a memorable event using balloons as a key decor element.
One of the options to consider is Wednesday Addams Balloons available on Etsy. These balloons come in various shapes, such as round and heart-shaped, and feature Wednesday-inspired designs. Incorporating these balloons into the party decor can enhance the thematic ambiance. Additionally, the balloons may come with stickers, allowing for customization in line with the party's theme.
When choosing balloons for a Wednesday Addams birthday party, it's essential to consider the color palette. Opt for darker shades such as black, purple, and deep red to maintain the eerie elegance associated with the character. These color choices will effectively convey the desired atmosphere while remaining visually appealing.
To further enhance the balloon decor at a Wednesday Addams party, consider using helium-filled balloons to create floating arrangements. This can be achieved by attaching strings of varying lengths, allowing the balloons to hover at different heights, creating an eerie floating effect.
Do not hesitate to explore creative ideas like assembling balloon garlands or clusters in strategic locations throughout the party space. These arrangements can act as focal points that anchor the theme and make a strong visual impact.
In conclusion, the use of balloons in a Wednesday Addams birthday party can transform the space, adding a touch of macabre whimsy. Through careful selection, placement, and arrangement of balloons, the party will be a memorable event that embraces the eerie elegance characteristic of the beloved character.
Conclusion
Creating a memorable Wednesday Addams birthday party can be both exciting and enjoyable. By incorporating the appropriate decorations and DIY crafts, one can truly capture the essence of the famous character and ensure a wickedly wonderful event for all guests.
Considering the recent popularity of Wednesday Addams, there is no surprise that children and pre-teens have taken to this eerily enchanting theme. As seen in the trending party theme, guests of all ages can revel in the macabre atmosphere while enjoying the fun and excitement of a birthday celebration.
In order to bring a Wednesday Addams party to life, it is essential to pay attention to the details. From personalized invitations and party decor to deliciously themed treats and cakes, every element contributes to an unforgettable experience.
In the end, a well-planned Wednesday Addams themed birthday party will certainly leave a lasting impression on both the birthday child and their guests. By embracing the eerie elegance and the spooky aesthetic, one can create a unique and visually stunning event that everyone will cherish.