Stepping into the past can be the perfect way to celebrate a special milestone, particularly for those who grew up in the 1990s. A 90s-themed birthday party is an outstanding way to relive the nostalgia of this eventful decade while marking the occasion with friends and family. Incorporating elements such as favorite movies, music, fashion, and games from this iconic era will set the stage for an unforgettable time.
Creating a 90s theme party requires thoughtful planning to ensure all aspects take guests on a trip down memory lane. For individuals who are celebrating their 30th birthday, this type of party can be particularly meaningful as it allows them to reconnect with their childhood memories and highlight the popular culture that shaped their formative years.
To organize a successful 90s-themed birthday party, start by focusing on the essential details such as decorations, food, entertainment, and outfits. This decade offers plenty of inspiration to pull from, ensuring your event will capture the essence of the 90s in a fun and engaging way. With a confident and knowledgeable approach to planning, your birthday celebration will undoubtedly be a memorable tribute to the decade that defined a generation.
90s Themed Party Overview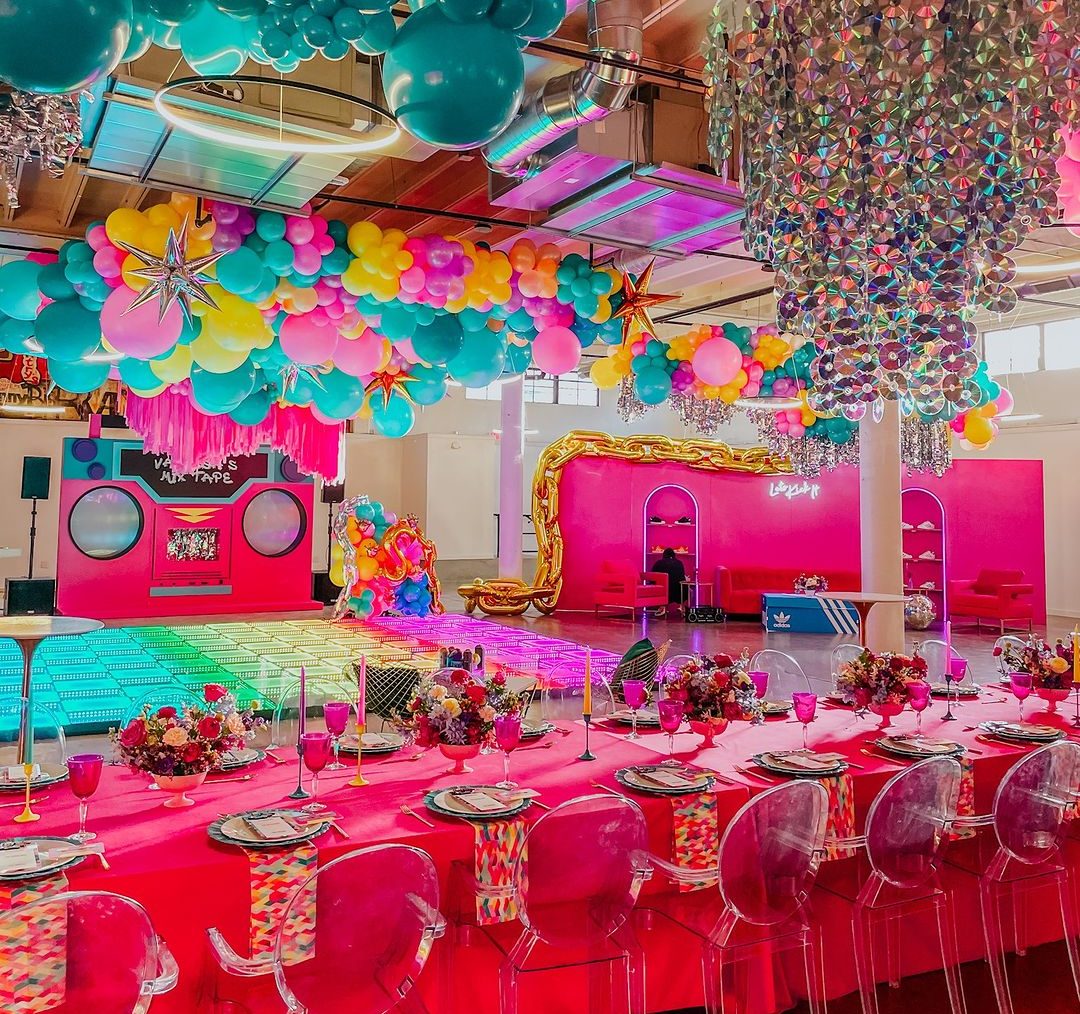 Why Choose a 90s Theme
The 90s were a decade filled with iconic fashion, unforgettable movies, and groundbreaking music, making it an exceptional choice for a theme party. By choosing a 90s theme, party hosts can impress their guests with a throwback to one of the most popular and nostalgic decades in recent history.
One of the most significant appeals of a 90s-themed party is the opportunity to mix different elements from that time, such as clothing and music, to create a memorable and enjoyable atmosphere. With themes like "Saved by the Bell," "90210," or "Clueless," guests can dress up in some of their favorite styles from the 1990s, such as bright-colored t-shirts, overalls, letterman jackets, and iconic animal prints.
In addition to fashion, well-curated playlists featuring popular 90s music can keep partygoers entertained and on the dance floor. The 1990s had a diverse range of sounds, including pop, rock, hip-hop, and electronic dance music, which gives plenty of options to suit every guest's taste.
Consider incorporating classic 90s decorations, such as inflatable furniture, lava lamps, and posters of popular bands and movies from the era. These elements will transport guests back to the 1990s, making the birthday celebration even more authentic and memorable.
Moreover, a 90s-themed birthday party allows hosts to serve nostalgic snacks and drinks that were popular during the decade. Think about offering Pop Rocks, Ring Pops, and Surge soda for a fun and tasty throwback experience.
In summary, a 90s theme party offers hosts a unique opportunity to revisit the fashion, music, and overall atmosphere that defined the decade. By focusing on these details and creating an authentic 90s experience, party planners can ensure that the birthday celebration will be a hit with guests of all ages.
Invitations and Decorations
Invitation Ideas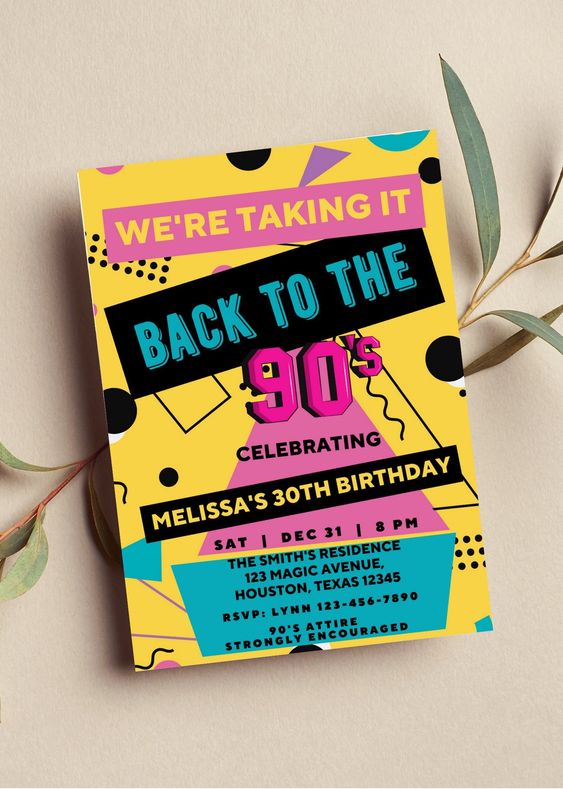 One of the key elements in organizing a 90s-themed birthday party is selecting the perfect invitations. A wide range of 90s party invitations can be found on Etsy. They offer various designs, such as:
Back to the 90s: This invitation design features bright colors, geometric patterns, and memorable motifs of the 90s.
Throwback House Party: A quirky design inspired by 90s house parties, incorporating elements like cassette tapes and boomboxes.
Neon Dance Party: Perfect for those who want to recreate the atmosphere of a 90s dance club, complete with neon lights and disco balls.
Decorating Ideas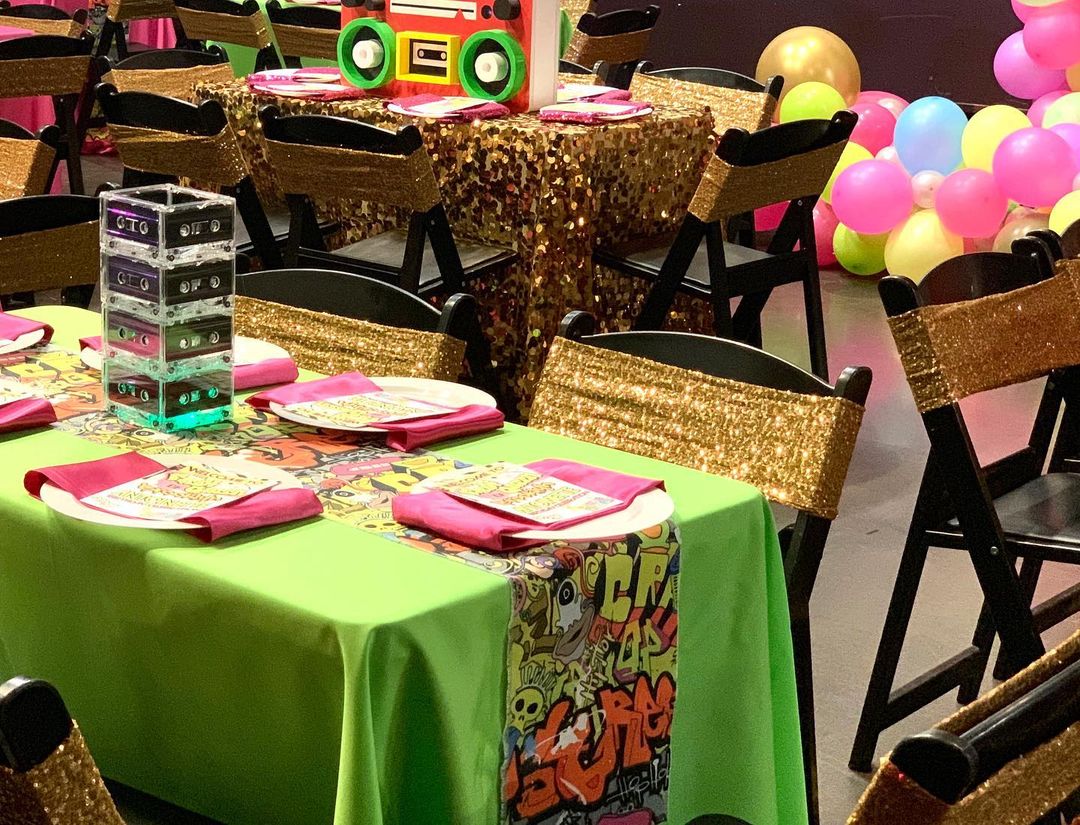 A 90s-themed birthday party isn't complete without nostalgic decorations. Here are some ideas to give your party the ultimate throwback vibe:
Party Props: Make sure to have some party props on hand to enhance the theme. Items such as inflatable boomboxes, neon sunglasses, and old school video game controllers will evoke fond memories of the 90s.
Slap Bracelets: These popular 90s accessories can be used as fun party favors or even as part of the decor. You can find a variety of slap bracelets on Etsy and incorporate them into table centerpieces or hang them on walls.
Color Palette: A 90s party calls for a vibrant color palette. Stick with bright, bold colors and patterns like neon, checkers, and geometric shapes. Consider using these colors in tablecloths, napkins, and other party decorations.
Themed Tableware: Complete your party decor with tableware items like cups, plates, and napkins featuring 90s-themed designs and motifs.
Fashion and Outfits
90s Fashion Trends
The 90s was an era of diverse fashion styles, reflecting various subcultures and attitudes. Grunge was a major influence, characterized by plaid shirts, oversized sweaters, and distressed denim. In contrast, bright colors, bold patterns, and shoulder pads defined the more upbeat, vibrant side of the decade. Preppy fashion, too, had its moment, with tailored blazers, pastel colors, and clean lines.
Accessories played a significant role in 90s fashion, with bucket hats, choker necklaces, and small backpacks being some of the most popular items. Overalls and plaid skirts were prevalent as wardrobe staples, often worn with crop tops and simple tees for a casual yet trendy look. Overall, 90s fashion was a mix of experimentation, nostalgia, and reinventing the classics.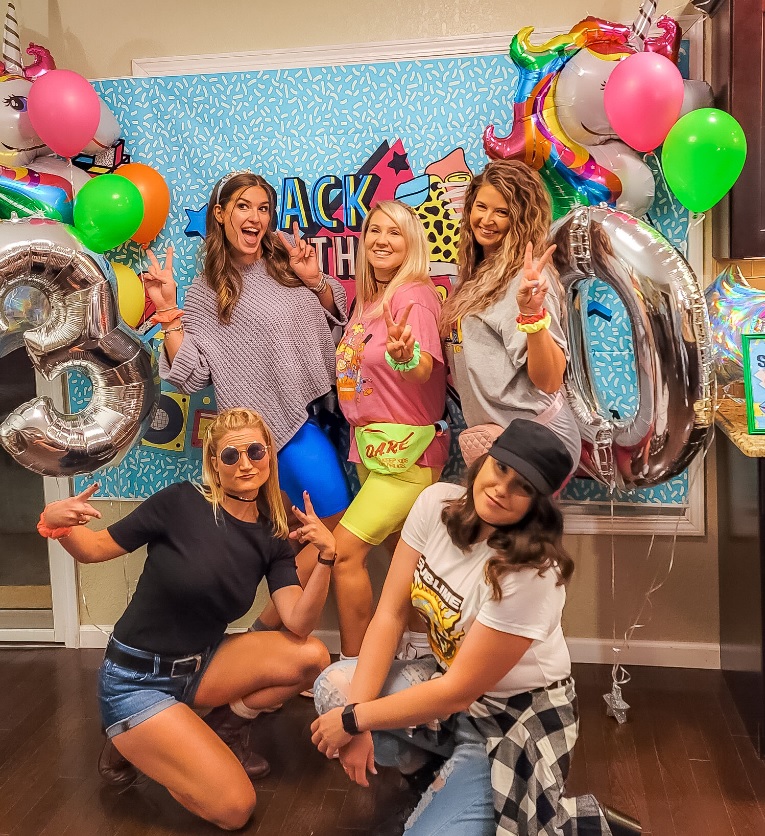 Outfit Suggestions
When planning a 90s-themed birthday party, there is no shortage of attire options for guests. Here are a few outfit ideas that capture the spirit of the decade:
Grunge: To achieve an authentic grunge look, pair a plaid flannel shirt with distressed denim and combat boots. Add a leather jacket or oversized sweater for additional layers, and accessorize with a beanie or chunky jewelry.
Bright Colors and Patterns: Embrace the decade's bright colors by wearing a vibrant tracksuit or windbreaker paired with cargo pants or wide-leg jeans. Complete the outfit with retro sneakers and a bucket hat.
Preppy: Channel your inner 90s prep with a crisp button-down shirt tucked into high-waisted trousers or a plaid mini skirt. Top it off with a tailored blazer, loafers, and a small handbag for a polished look.
Overalls and Plaid: For a more casual, everyday 90s aesthetic, opt for overalls worn over a crop top, graphic tee, or turtleneck sweater. Alternatively, choose a plaid skirt or dress and pair it with knee-high socks and platform shoes to achieve a playful yet nostalgic vibe.
Remember to have fun with your outfit selection and encourage guests to embrace their creativity and personal style when dressing for your 90s-themed birthday party.
Music and Entertainment
Creating a Playlist
A critical element for any 90s-themed birthday party is, of course, the music. The 90s were filled with iconic tunes that would get everyone nostalgic and dancing. Start by curating a playlist with some of the biggest hits of the decade, including tracks from artists like Backstreet Boys, NSYNC, Spice Girls, TLC, Boys II Men, and Mariah Carey. Don't forget to include iconic hip-hop and rap classics from artists such as LL Cool J, Salt-N-Pepa, and MC Hammer. You could also consider incorporating a boombox or a stack of cassette tapes to add an authentic 90s touch to your party.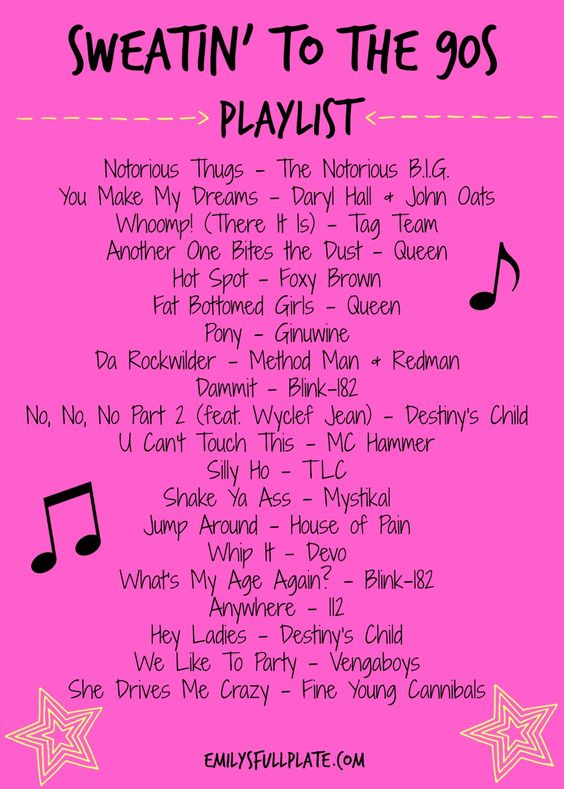 Setting Up a Dance Party
Once you have the perfect playlist, it's time to set up a dance party. This is where the boy bands, such as Backstreet Boys and NSYNC, as well as iconic pop acts like Spice Girls and Mariah Carey, come into play. Create a designated dance area and decorate it with retro 90s-themed items like disco balls, inflatable microphones, and neon lights. Encourage guests to come dressed in their favorite 90s attire to truly embrace the theme and let loose on the dance floor.
90s Trivia and Games
While music and dancing are key components of a 90s-themed birthday party, adding some interactive 90s trivia and games will provide plenty of entertainment for your guests. Organize a 90s music trivia game or a "name that tune" contest with popular songs from the decade. You could also create a 90s-themed scavenger hunt, where guests need to locate various iconic items from the era, such as slap bracelets, pogs, or butterfly clips. These fun activities will be sure to keep your guests engaged and entertained throughout the event.
Food and Drinks
90s Themed Snacks
The 90s offered several nostalgic snacks that can easily be incorporated into your 90s-themed birthday party. Ensure your guests are filled with nostalgia by serving up some pizza bagels, a favorite treat of the decade. You can also offer Fruit Roll-Ups and Gushers, popular fruity snacks that many 90s kids remember fondly. In addition, consider having a nachos station with cheese sauce for a classic 90s party snack.
Another delicious and iconic 90s snack is Fruit by the Foot. These long, enticing fruit snacks make for great party treats. Moreover, you can feature a mini-burger and sliders station, a popular finger food choice during the era.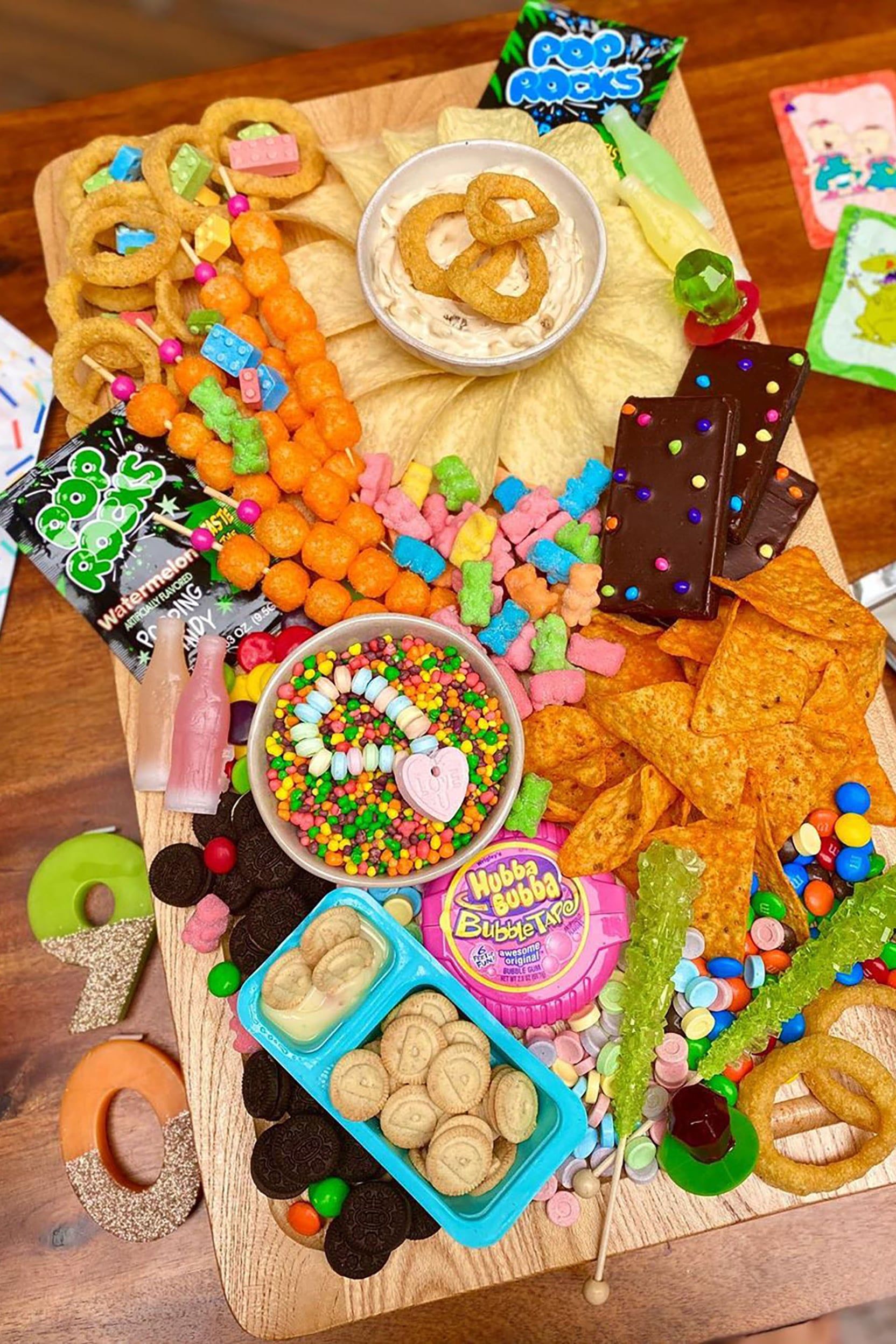 90s Style Drinks
When it comes to drinks, Capri Sun is a must-have for your 90s-themed birthday party. These juice pouches were a staple in many 90s kids' lunch boxes and offering them at your party will instantly transport your guests back in time.
In addition to Capri Sun, setting up a soda bar with an array of classic 90s sodas such as Surge, Crystal Pepsi, and Fruitopia will make your drink selection nostalgic and fun. For your adult guests, consider creating a cocktail menu with popular 90s drinks like the Cosmopolitan, the Lemon Drop, and the Blue Hawaiian.
Serving these carefully selected 90s-themed snacks and drinks will not only give your guests a taste of the decade but also create a memorable and authentic 90s birthday party experience.
Photography and Memories
Creating a Photo Booth
A photo booth is an essential part of any 90s-themed birthday party, providing a space for guests to take candid snapshots while dressed up in their best 90s outfits. Setting up the photo booth area is easy – simply find a well-lit spot in the room and hang up a backdrop with iconic 90s patterns or images, such as neon geometric shapes or a collage of 90s celebrities. Add some 90s themed props like:
Inflatable musical instruments
Colorful sunglasses
Fun wigs
Vintage cell phones
Encourage guests to take turns using their cell phones or a designated Polaroid camera to capture their memories instantly in true 90s fashion.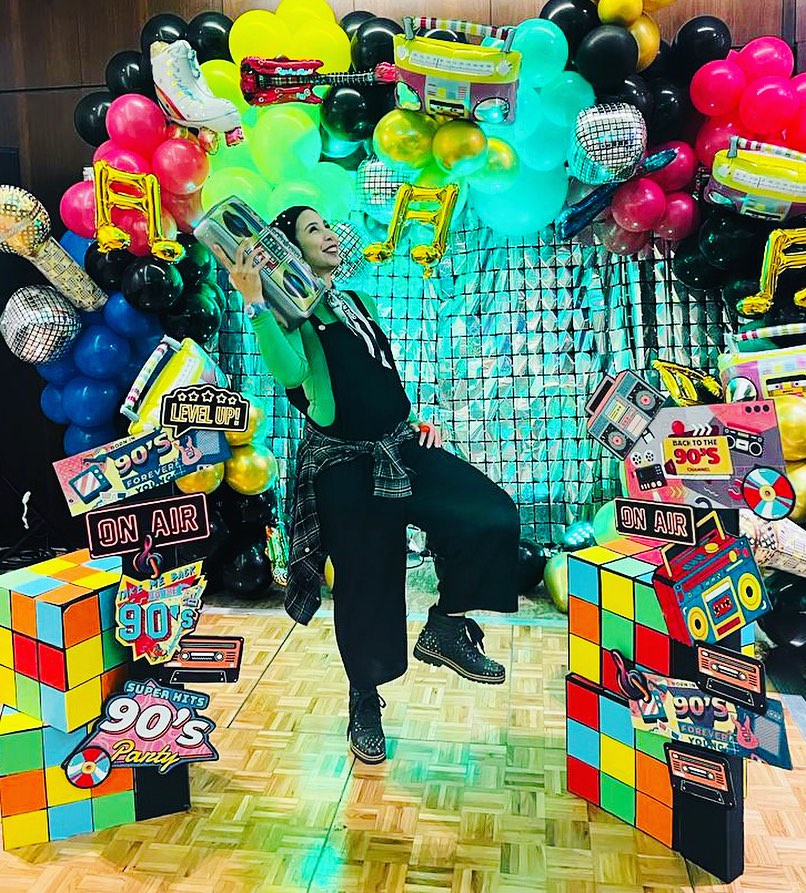 Using Retro Cameras
Incorporate a touch of nostalgia into your 90s theme party by setting out a few retro cameras for guests to use. A Polaroid camera is an iconic choice, allowing partygoers to snap instant photos with that classic, vintage look. Set out the cameras near the photo booth area, along with some extra film for guests to use throughout the party.
Pair the Polaroid camera with a guest book, allowing guests to place their printed snapshots inside and add personal messages or signatures. This not only keeps the memories alive but also creates a special keepsake for the birthday person. With these fun photo ideas, your 90s-themed birthday party will provide guests with an unforgettable, nostalgic experience.
Additional Ideas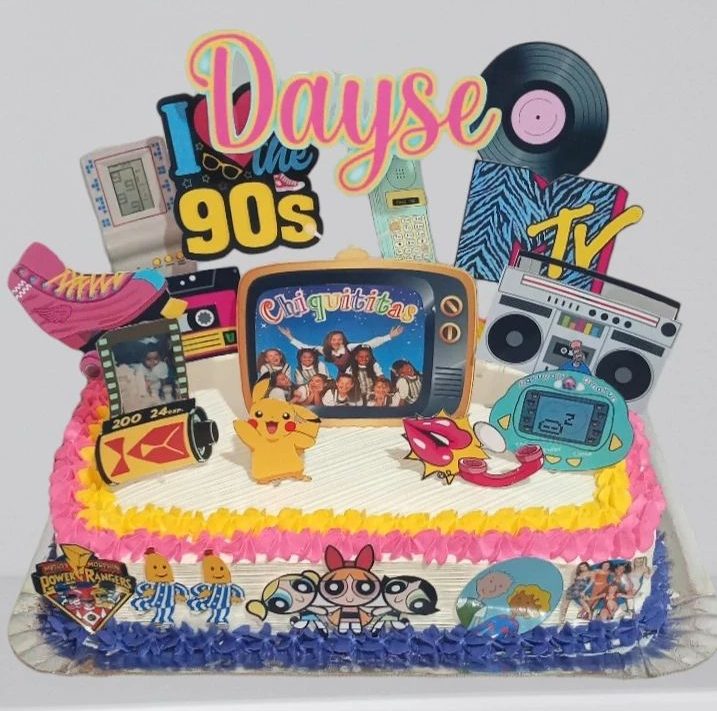 90s Themed Bachelorette Party
A 90s-themed bachelorette party offers a fun and unique twist to the usual pre-wedding festivities. Relive the nostalgia by incorporating popular 90s elements, such as Nickelodeon shows, retro video games, and Nintendo 64 consoles. Setting up a gaming station with classics like Donkey Kong can be a great icebreaker and conversation starter for the attendees.
Decorations inspired by shows like Friends and the golden era of MTV can create an authentic 90s atmosphere. Don't forget to serve some iconic 90s snacks and beverages, and encourage guests to dress up in 90s fashion. Party favors could include 90s-themed items such as butterfly clips, chokers, and mixtapes.
Summer Birthday Party
A 90s-themed summer birthday party can be a hit for both kids who grew up in the 90s and those who appreciate the vibrant and colorful pop culture of the decade. Give a nod to the classic Nickelodeon shows, such as incorporating slime and ooze inspired by various game shows. These can be used as fun DIY party activities or even as unique decorations.
Keep the summer vibes strong by incorporating outdoor games that were popular in the 90s, such as water balloon fights, and seek out 90s-themed inflatable pool toys. Don't forget about the music – create a playlist with all the top hits from the decade, making sure to mix in some great summer tunes to keep the party going.
By incorporating these 90s entertainment ideas, your bachelorette party or summer birthday celebration will surely be a memorable event for everyone involved.