Roller skating birthday parties provide a fun and engaging way to celebrate a special day. With a combination of physical activity, music, and a festive atmosphere, these events create lasting memories for children and adults alike. The concept of hosting a birthday party at a roller-skating rink has stood the test of time; it remains a popular choice for parents who want to create an energetic and enjoyable experience for their child and their friends.
As you plan your roller-skating birthday party, several key elements contribute to its success—from deciding on a theme to choosing the right venue. Roller Skate City suggests that a well-organized event should include a guest list, a set date, invitations, and arrangements for food, drinks, music, and decor. Additionally, booking a suitable location, such as The Castle Fun Center, allows for a smooth and hassle-free experience for all attendees.
Not only can roller-skating birthday parties cater to children, but they can also be a playful and entertaining option for adults. With neon lights, glow-in-the-dark decor, and nostalgic tunes, such events can deliver a unique twist to traditional celebrations. This versatile and timeless party idea ensures a lively atmosphere and endless fun for skaters of any age.
Overview of Roller Skating Birthday Party
A roller skating birthday party is a unique and energetic way to celebrate a special occasion. By choosing this type of event, guests can enjoy an active and engaging experience, creating long-lasting memories. Roller skating is suitable for people of all ages, making it an ideal choice for birthday parties catering to a variety of attendees.
One aspect that sets roller skating birthday parties apart from traditional celebrations is the social aspect. Skating rinks often serve as gathering places, fostering friendships and providing the perfect environment for meeting new people. In addition to having fun on the rink, there are also opportunities to enjoy roller skating party games, such as roller tag, musical "chairs", and limbo, which can add an extra element of fun to the event.
When planning a roller skating birthday party, there are several factors to consider, such as choosing a suitable venue and selecting a theme. A popular approach is to select a roller skating rink that offers party packages, which often include amenities such as private party rooms, skate rentals, admission, and refreshments. Themed parties can range from decades-inspired events to more whimsical concepts like unicorn or superhero celebrations.
One of the critical elements of a successful roller skating birthday party is ensuring that everyone has a great time. Providing a safe and inviting atmosphere for people to confidently skate, interact with others, and participate in games or activities is essential. For adults looking to plan a roller skating party, it is important to be mindful of the attendees' skill levels and preferences, ensuring an enjoyable experience for all.
In conclusion, a roller skating birthday party is a thrilling and memorable way to mark the special event. With careful planning, it can provide a perfect blend of physical activity, socialization, and entertainment, appealing to guests of all ages and skill levels.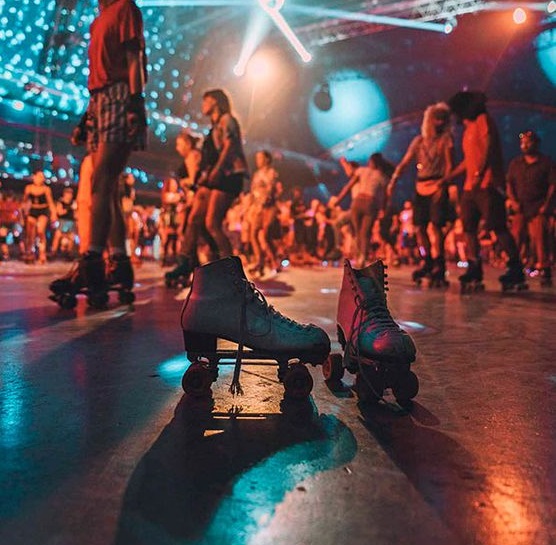 Party Planning Basics
Choose a Theme
A well-selected theme can add excitement and make your roller skating birthday party memorable. Choose a theme that reflects the guest of honor's interests or the time of the year. Ideas include a 70's disco skate, a neon skate night, or a superhero skate party. Once you've chosen a theme, incorporate it into the invitations, decorations, and even the dress code for your guests. This will create a cohesive and visually appealing event.
Set a Budget
It's essential to establish a budget early in the planning process, as it will help guide your decisions throughout. Consider the cost of booking the roller skating venue, food, drinks, decorations, and any additional entertainment or party favors you might want to provide. Remember to be realistic with your spending and look for cost-effective alternatives where possible, such as DIY decorations or a potluck-style meal.
Pick a Date
Selecting a date for your roller skating party should be done in advance, preferably one to two months before the event. Doing so will give you ample time to send out invitations, secure a venue, and make necessary arrangements. If planning around a holiday or busy time of the year, give your guests even more notice to ensure the best attendance. Choosing an off-peak day or time can also increase availability and potentially reduce costs at your chosen venue.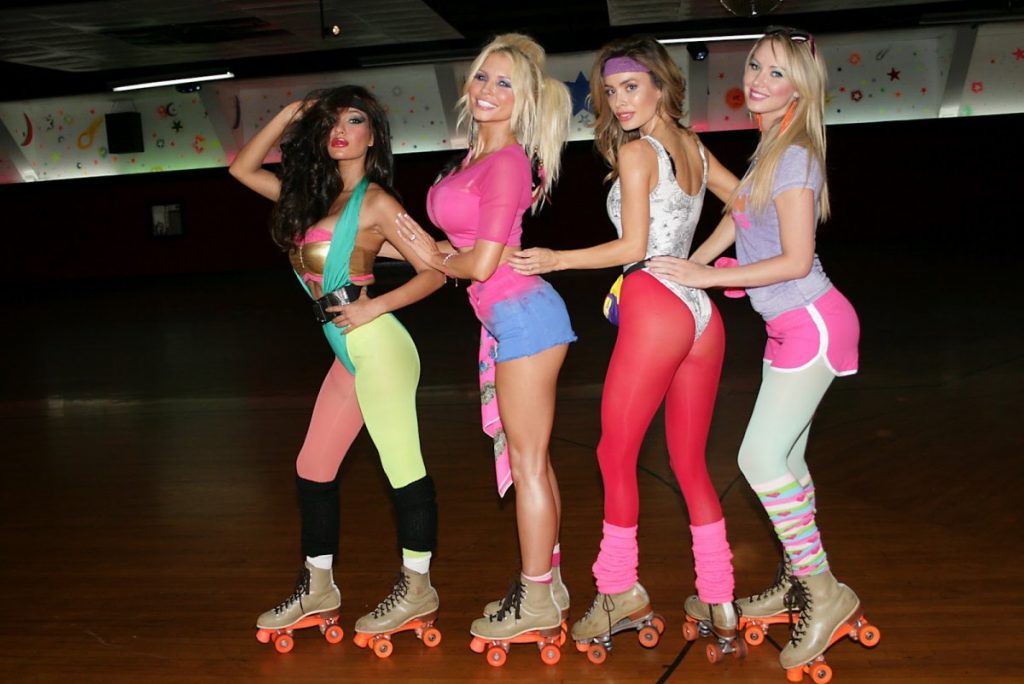 Booking and Pricing
When planning a roller skating birthday party, it's essential to consider booking and pricing details. This section will cover deposit information and package options to help you make an informed decision.
Deposit Information
To secure a roller skating birthday party, most venues require a non-refundable deposit upon booking. This deposit ensures your chosen date and time are reserved exclusively for your party. The deposit may vary in amount depending on the venue and package selected, so be sure to check with your chosen location for specific pricing details. Keep in mind that the deposit is usually non-refundable, which means that if plans change and the party is canceled, you may not be able to receive your money back.
Package Options
Roller skating party venues typically offer various party packages, each with its pricing structure and included features. Some common elements in these packages are:
Admission and skate rental for guests
Reserved party area for a specific duration
Food and beverages, such as pizza and soda
Party supplies, like plates, cups, and napkins
Special activities or games during the party
Discounted rates for larger groups or specific days and times
For instance, Roller World, Inc. offers party packages with prices starting at $15 per child, with a minimum of 10 guests. Another venue, Just For Fun Roller Rink, provides an all-inclusive package for $19 per person with a minimum of 10 guests.
To customize your party experience, some venues also offer additional add-ons like party bags, extra ice cream, or ticket vouchers for arcade games at an extra cost.
When choosing a package, be sure to consider the number of guests, preferred activities, and your budget. Compare pricing at different locations and inquire about any discounts or special offers that may be available to help you plan the perfect roller skating birthday party.
Invitation and Guest Management
Creating Invitations
When planning a roller skating birthday party, designing eye-catching invitations is the first step in creating excitement for the event. There are a variety of platforms where you can find customizable templates, such as Etsy and Greetings Island. Be sure to include the essential details such as the date, time, location, and RSVP deadline for the party.
You may choose to go for a retro theme, incorporating bright colors and groovy typography, or opt for a more modern design. Remember to consider the age and preferences of the birthday person while finalizing the design. Once completed, you can either print the invites, send them as e-invitations, or use a combination of both methods.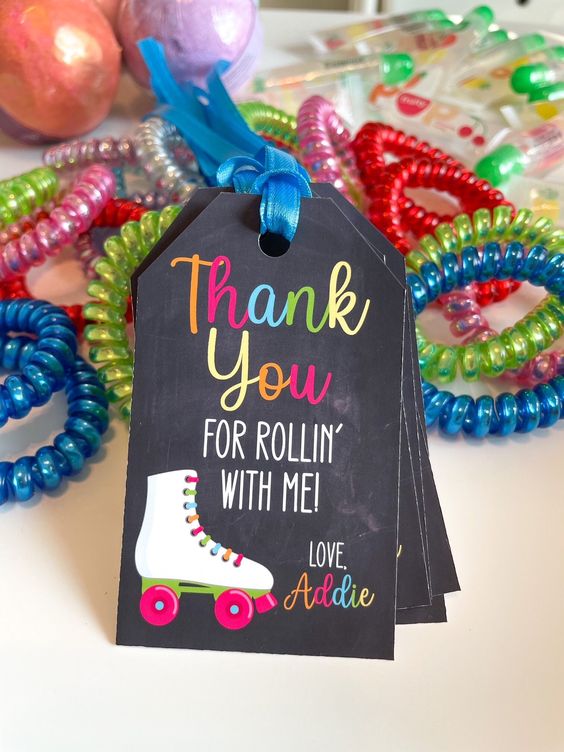 Managing Guest List
To ensure a well-organized roller skating party, it is crucial to manage the guest list effectively. Start by determining the desired number of guests based on the birthday person's preferences and the venue's capacity. Then, create a list of potential invitees, making sure it includes the birthday person's friends and close family members.
When sending out invitations, set an RSVP deadline so you can confirm the total number of guests attending. This information will help you plan for adequate food, seating, and party favors. You can use various online tools for tracking RSVPs, like Google Sheets or specialized event management websites.
Furthermore, be prepared to handle last-minute changes, such as unexpected guests or cancellations. Communicate with the venue to ensure they can accommodate minor fluctuations in attendance. With proper planning and management, hosting a fantastic roller skating birthday party can be a breeze.
Venue and Facility Details
Facility Overview
The roller skating venue offers an exciting and fun-filled atmosphere for hosting birthday parties. The spacious building ensures a comfortable experience for guests of all ages, including children and adult skate participants. The well-maintained facility provides a safe and inviting environment for everyone to enjoy the thrill of roller skating.
Roller Skate Rental
The venue offers a wide range of roller skate sizes and styles to accommodate all guests, so nobody needs to worry about bringing their own skates. The professional staff ensures that the skates are properly fitted and ensures the safety of every participant. Skate rental fees are typically included in the birthday party package to make the planning process as stress-free as possible.
Party Room
Private party rooms are available for each roller skating birthday party event. These rooms are comfortably furnished and designed to accommodate varying group sizes. The party rooms include colorful place settings for guests, and many venues even offer food options like pizza and drinks. Additionally, staff takes care of the setup and cleanup, allowing party hosts to focus on having fun and creating lasting memories.
Food and Beverage
Food Options
A roller skating birthday party can be a lot of fun, and the right food can make it even better. One popular choice for roller skating birthday parties is pizza. It's an easy option for feeding a large group and typically a crowd-pleaser. In addition to pizza, you can offer a range of delicious finger foods like sandwiches, chicken wings, and veggie platters.
For dessert, a birthday cake is a must-have. You can customize the cake with a roller skating theme to make it extra special. Cupcakes are another great option as they can be decorated with skate-themed toppers and make serving simpler. If you'd like to provide an additional sweet treat, an ice cream sundae bar can be lots of fun for guests to create their own delicious concoctions.
Some roller skating venues may allow outside food or beverage to be brought in for parties, while others may require you to purchase their catering options. It's essential to check with the venue beforehand to avoid any surprises.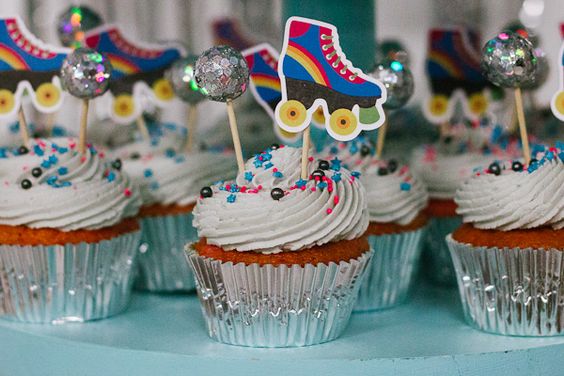 Drink Choices
It's essential to keep everyone well-hydrated during a roller skating party, as it's a physical activity. Offering a variety of beverages will cater to different preferences and ensure everyone has something to enjoy. Soda is a common choice for parties, but providing alternatives like water, juice, and lemonade can be a good idea.
For those wanting something more unique, you can serve a non-alcoholic punch or even create themed drinks like color-changing drinks or watermelon lemonade to match the roller-skating party atmosphere. If the venue allows, you may also bring in outside food or beverage options to meet everyone's needs.
Remember to check with your chosen roller-skating party location about their food and beverage policies to ensure a smooth and enjoyable celebration.
Activities and Extras
Arcade Games
Roller skating birthday parties are not just about skating; they also provide various exciting activities and extras to keep guests entertained. One popular addition to roller skating parties is arcade games. These video games are an excellent way to create a family fun environment where both kids and adults can have a fantastic time. Offering a wide variety of games, an arcade at a roller skating party can accommodate different age groups and interests, ensuring everyone has a blast.
Glow Party Option
For those looking to take their roller skating birthday party to the next level, a glow party option is the perfect choice. This option transforms the roller rink into a fun and vibrant atmosphere by using glow-in-the-dark decorations, neon lights, and blacklights. Guests can wear glow accessories and enjoy skating to upbeat music in a visually stunning environment. A glow party is a unique and exciting twist to the conventional roller skating party, providing an unforgettable experience for all attendees.
Birthday Gifts
Another crucial aspect of any roller skating birthday party is the exchange of gifts. Guests can surprise the birthday celebrant with thoughtful and often roller-skating themed presents that capture the essence of fun-filled gatherings. A great idea is to create themed party bags for all attendees to take away with them, filled with small gifts and treats like roller skate keychains, stickers, or even a voucher for their next visit to a roller skating rink. Providing party attendees with unique, personalized, and roller-skating-centric gifts adds to the overall experience and creates lasting memories for both the birthday person and their friends.
Party Decorations and Celebrations
Roller skating birthday parties are a fun and exciting way for children and adults alike to celebrate a special day. To make the event memorable and captivating, choosing the right party decorations is essential. Incorporating elements like confetti, party décor, and even themed t-shirts can create the ideal atmosphere that will impress your guests.
When planning a roller skating birthday party, the first thing to consider is the choice of colors and decorative accents to match the roller-skating theme. Bright neon colors, pastel hues, or even a retro vibe with 80s or 90s-inspired decorations could transform the party venue into a captivating space.
Confetti is an indispensable component of any birthday celebration. To seamlessly integrate confetti into a roller-skating party, consider using shapes and designs that cater to the theme. For instance, confetti in the form of roller skates, stars, or musical notes can be scattered on tables and surfaces in the party area.
Party décors such as banners, posters, and displays can bring the roller-skating theme to life. Creative ideas could include a wall of fame dedicated to skating legends, neon light signs that read "Roller Disco" or "Skate All Day," or even balloons shaped like roller skates to make the space more enchanting. You may find a variety of roller skating party decorations options on websites like Etsy.
Themed t-shirts can be an entertaining and memorable party favor for guests. Not only do they show off the festive theme, but they also create a sense of unity and camaraderie among attendees. Custom-made roller-skating shirts featuring birthday messages or illustrations of skates can be donned during the party and taken home as souvenirs.
Lastly, do not forget to pay attention to essential tableware and party supplies. Opting for roller-skate themed plates, napkins, and cups can seamlessly bind the event together and create a consistent visual experience for attendees. Websites like Amazon offer various options for roller skating party supplies.
By incorporating these suggestions into your roller skating birthday party, you can set the stage for an unforgettable celebration that cherishes the thrill of roller-skating and the joy of the occasion.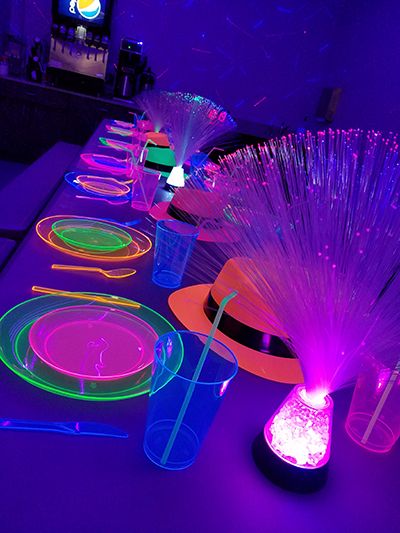 Party Policies
About Refunds
It is important to note that most roller skating birthday party packages are non-refundable. In case of unforeseen circumstances that force you to cancel the event, it is advisable to contact the venue as soon as possible. Some venues might offer a partial refund or credit for future use depending on the situation and their own policies. Always review the terms and conditions of the chosen venue before booking.
Outside Food Policy
When it comes to food and beverages at a roller skating birthday party, many venues have policies in place that prohibit or limit outside food. It is common for roller skating rinks to offer in-house catering options, such as party platters, snack bars, and pizza deals. If bringing outside food is necessary due to dietary restrictions or preferences, it's best to communicate with the venue beforehand to discuss potential accommodations.
Regarding alcohol, it's important to remember that many roller skating rinks are family-oriented, and therefore, may prohibit alcohol consumption on the premises. Always check with the specific venue about their alcohol policies before planning any roller skating party with adult beverages.
By adhering to the outlined party policies and working closely with the venue, you can ensure a smooth and enjoyable roller skating birthday party experience for everyone involved.