Disney's masterwork, Encanto, has won over countless hearts worldwide. Its vibrant colors, enchanting music, and captivating storytelling make it the perfect theme for your child's next birthday bash or any celebratory event. Here's a detailed guide with various Encanto party ideas, ranging from decorations to food, that will make your party as enchanting as the Madrigal family's vibrant home.
1. Setting the Tone with Invitations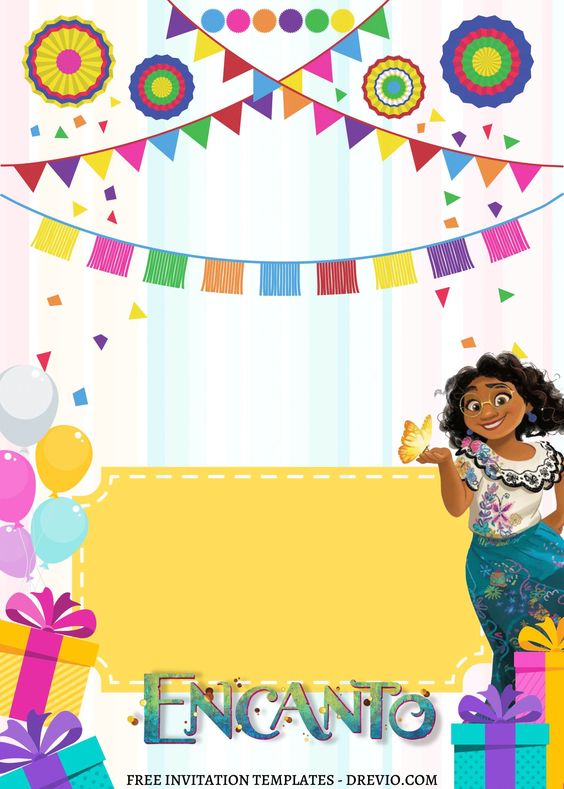 Let the magic begin right from the first step – the invitations. You can create your own personalized Encanto-themed party invitations or download printable ones from online platforms. Remember to include party details and a hint of the magical experience awaiting the attendee.
2. Selecting the Perfect Encanto Party Venue
Your choice of venue will play a significant role in creating the magical atmosphere of Encanto. Here are some suggestions: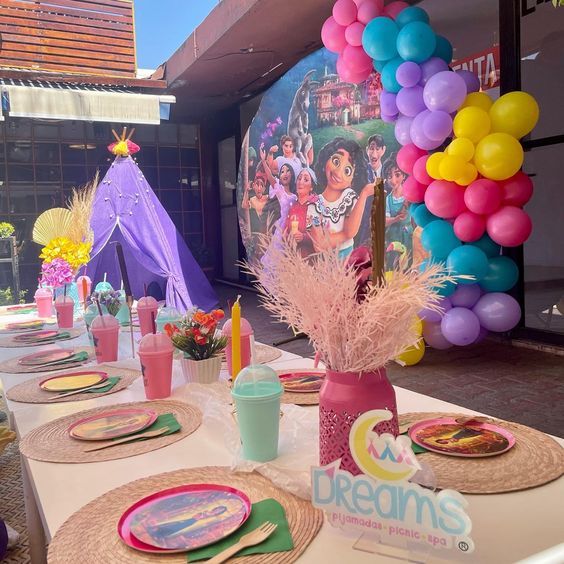 2.1. Home or Backyard
A home or backyard party can be transformed into a magical Encanto-themed venue with the right decorations and setups. Use vibrant colors, balloons, faux flowers, and other elements that reflect the essence of the movie.
2.2. Garden or Park
A garden or park brimming with natural beauty is an excellent venue choice. The outdoor setting can be adorned with colorful balloons, flower arrangements, and even a DIY Casita backdrop to recreate the movie's magical ambiance.
2.3. Restaurant
You can also consider hosting the party at a local Colombian restaurant. This will not only provide an authentic setting but also take care of the party's culinary needs with traditional Colombian dishes.
3. Encanto Party Decorations
The right decorations can transport your guests straight into the magical world of Encanto. Here are some essentials.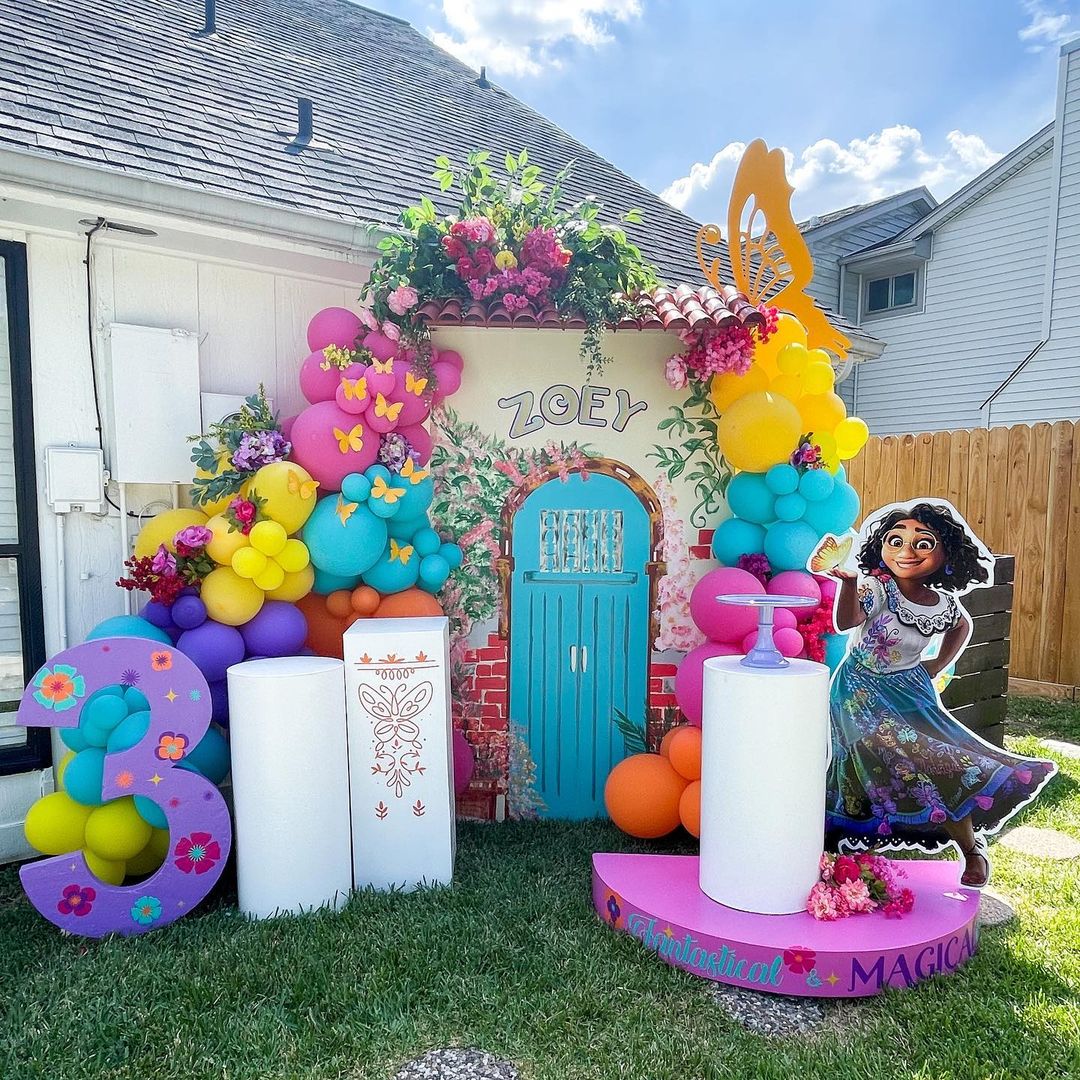 3.1. Balloon Arch or Garland
A balloon arch or garland is a must-have for any Encanto-themed party. Choose balloons of vibrant colors to match the movie's vivid animation. You can easily create a balloon garland at home or order a pre-assembled kit online.
3.2. Flowers and Butterflies
Incorporate plenty of flowers and butterflies into your party decor to reflect Isabela's magical gift. Use faux flowers for a long-lasting effect and sprinkle golden butterflies across the venue for a touch of enchantment.
3.3. Cardboard Casita Backdrop
Create a DIY cardboard Casita as a focal point of the party. Use cardboard, paint, faux flowers, and a little creativity to bring the enchanted Madrigal family home to life.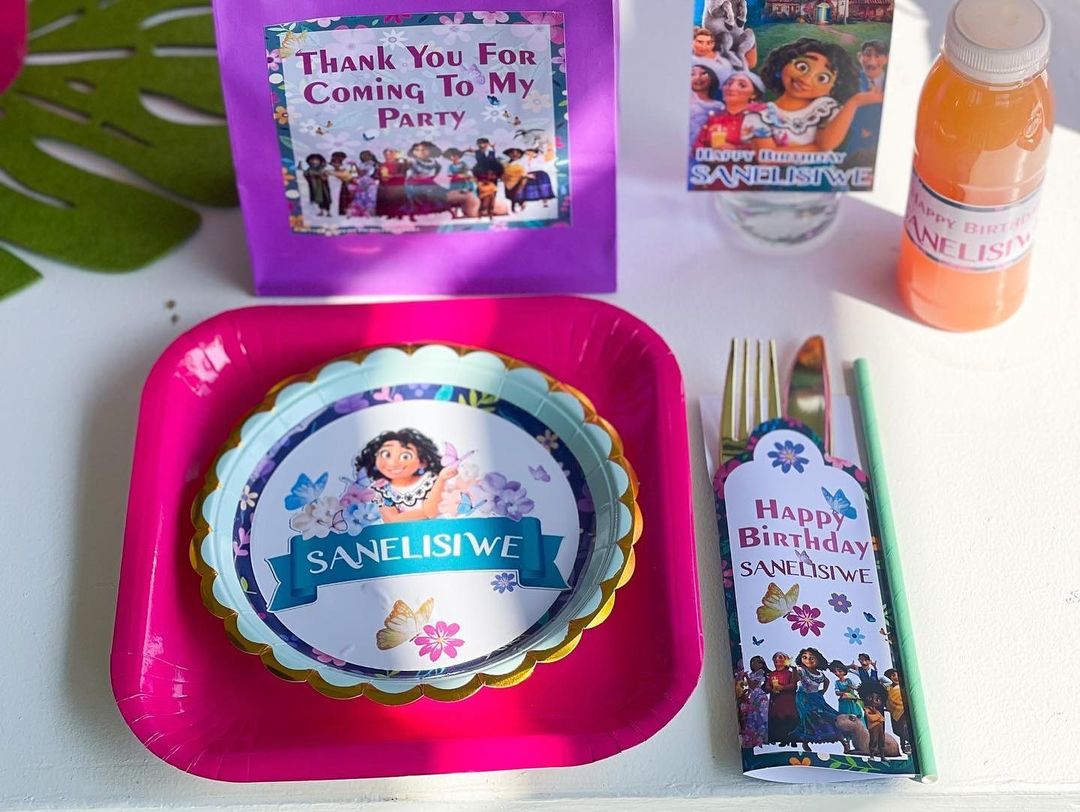 3.4. Themed Tableware
Opt for themed tableware, including plates, cups, napkins, and tablecloth, featuring Encanto characters. This will not only serve a practical purpose but also enhance the party's aesthetic.
3.5. Miracle Candle
A replica of the magical miracle candle can make an eye-catching centerpiece. Opt for an LED option for safety, and surround it with fairy lights for an enchanting glow.
4. Costumes and Outfits
Encourage guests to dress up as their favorite Encanto characters. You can also provide themed accessories like glasses or headbands for added fun.
5. Encanto Party Food and Drinks
An Encanto-themed party is incomplete without traditional Colombian food and drinks. Here are some ideas.
5.1. Empanadas and Arepas
Serve traditional Colombian snacks such as empanadas (stuffed pastries) and arepas (cornmeal cakes). These handheld treats are perfect for party munching.
5.2. Bunuelos
Bunuelos, or Colombian cheese fritters, are a delicious snack option. You can serve them hot or cold, depending on your preference.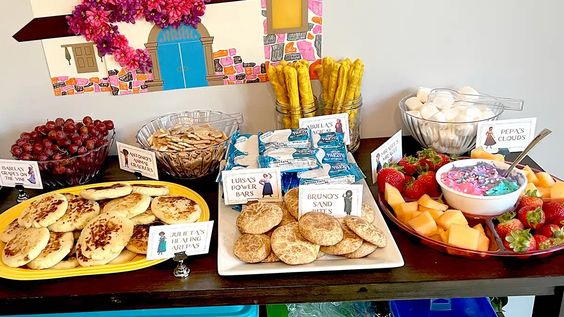 5.3. Tres Leches Cake
For the birthday cake or dessert, consider a Tres Leches cake, a popular Latin American sweet treat. You can top it with a custom Encanto-themed cake topper for a festive touch.
5.4. Colombian Drinks
Offer traditional Colombian drinks like Aguapanela (cane sugar drink), Limonada de Coco (lime and coconut beverage), and Salpicon de Frutas (fruit cocktail), adding a unique flavor to your party.
6. Entertainment and Activities
Keep guests entertained with a variety of activities inspired by the movie. Here are a few suggestions:
6.1. Encanto Dance Party
Host an Encanto dance party by playing the movie's soundtrack. This is not only fun but also a great way for the kids to burn off some energy.
6.2. Pin the Butterfly on Mirabel
This twist on the classic 'Pin the tail on the donkey' game is sure to be a hit. Provide each participant with a golden butterfly cut-out and have them try to pin it on a poster of Mirabel.
6.3. DIY Flower Planting Station
Set up a DIY station where guests can plant their own flowers, reminiscent of Isabela's magical gift. This activity doubles as a party favor, as guests can take their potted flowers home.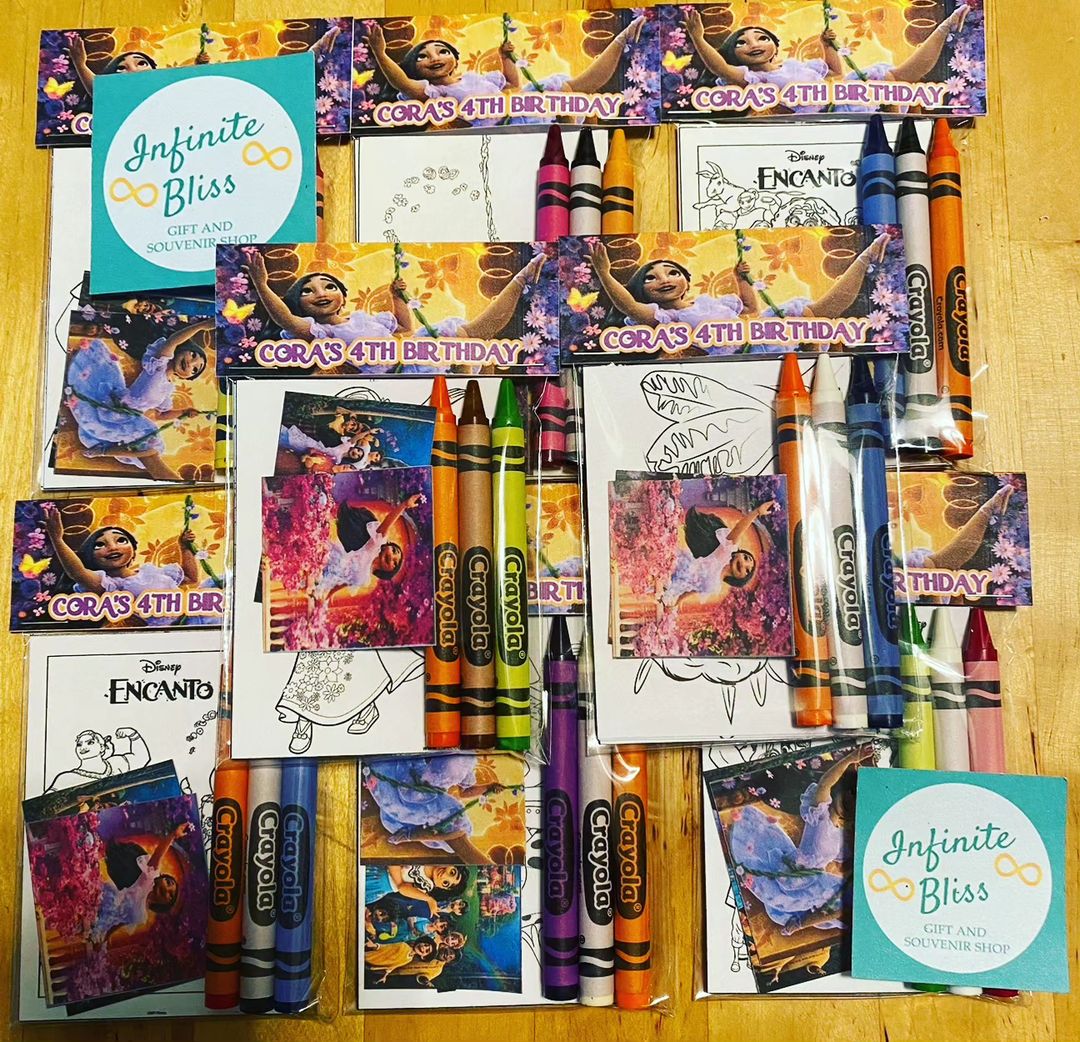 6.4. Trivia Game
Organize a trivia game based on the Encanto movie. This can be a fun activity that tests the guests' knowledge about the movie and its characters.
7. Encanto-themed Party Favors
Send your guests home with Encanto-themed party favors. You could opt for themed gift bags filled with small toys, coloring activities, temporary tattoos, or Encanto figurines. You can also consider DIY craft items like homemade butterfly cookies or flower crowns.
8. Encanto Music and Soundtrack
The Encanto soundtrack is a crucial part of the party. Have it playing in the background throughout the event to set the mood. You could also organize a sing-along session, where everyone gets to sing their favorite songs from the movie.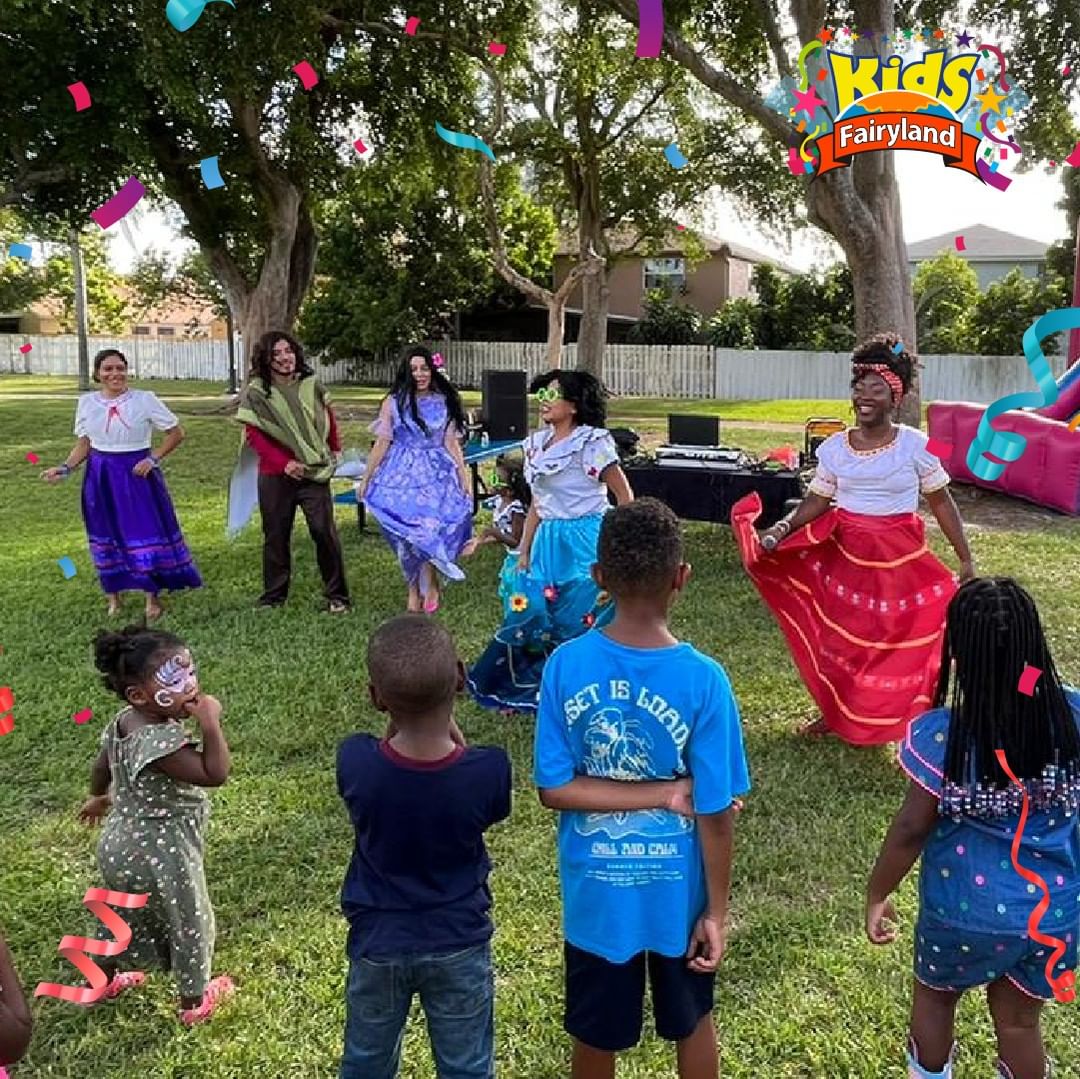 9. Encanto-Themed Photo Booth
Set up a photo booth with an Encanto-themed backdrop and props. This will not only provide entertainment but also create memorable keepsakes for the guests.
10. Hire Costumed Characters
For an immersive experience, consider hiring costumed characters to portray the Madrigal family members. These professional actors can interact with the guests, adding an extra layer of magic to your Encanto party.
In conclusion, planning an Encanto-themed party involves a perfect blend of vibrant decorations, lively music, delicious Colombian food, engaging activities, and magical details. With the right approach and these creative Encanto party ideas, you'll be well on your way to throwing a party as enchanting as the Madrigal family's vibrant home. Remember, the ultimate aim is to create an unforgettable experience filled with joy, laughter, and magic for everyone present.