Every little girl dreams of being a princess, and what better way to make that dream come true than by hosting a princess-themed birthday party? With the perfect balance of enchantment and excitement, a princess party is an excellent way to celebrate her special day. In this article, we will provide some inspiration and tips to ensure your little girl's princess extravaganza is both memorable and magical.
From essential elements like invitations and decorations, to creative ideas on activities and treats, this guide will help you navigate through the planning process. Creating a kingdom fit for your little princess takes some organizational skills and a bit of imagination, but the result is surely worth the effort. Bringing her fairytale to life will not only make her birthday unforgettable, but also provide her a golden memory that will last a lifetime.
No princess-themed birthday party would be complete without a touch of royal flair, so get ready to immerse yourself in a world of tiaras, gowns, and glitter. After all, it's not every day that we can treat our little ones like royalty, and this celebration is the perfect opportunity to turn dreams into reality. So, as the royal planner, let's dive into making your child's wishes come true on her special day.
Choosing a Princess Theme
When planning a princess-themed birthday party, selecting the right princess theme is crucial. Disney princesses are a popular choice, as they represent a variety of strong, confident, and inspirational characters. Several Disney princess movies offer a range of themes to choose from.
Snow White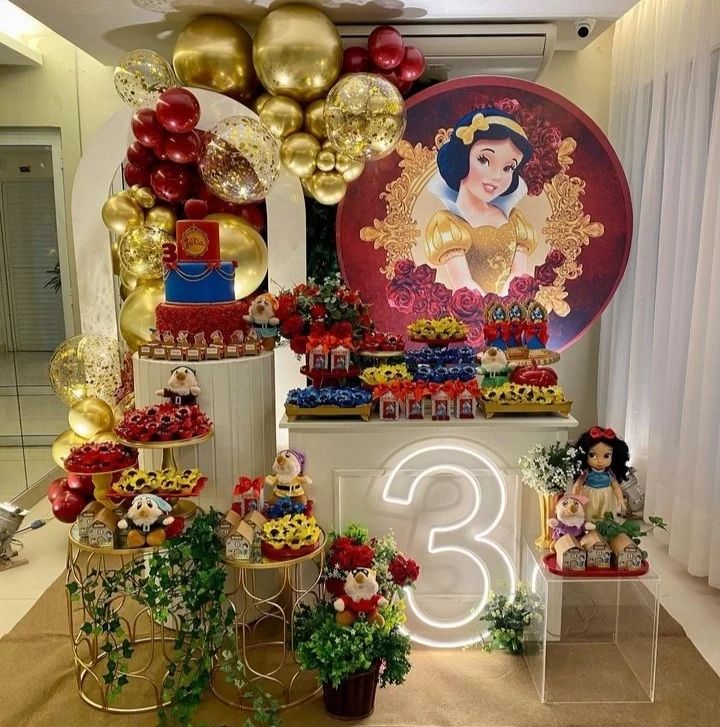 Snow White is the original Disney Princess and provides a classic theme. The party could include a red, blue, and yellow color scheme with apple decorations representing the iconic poisoned apple.
Cindarella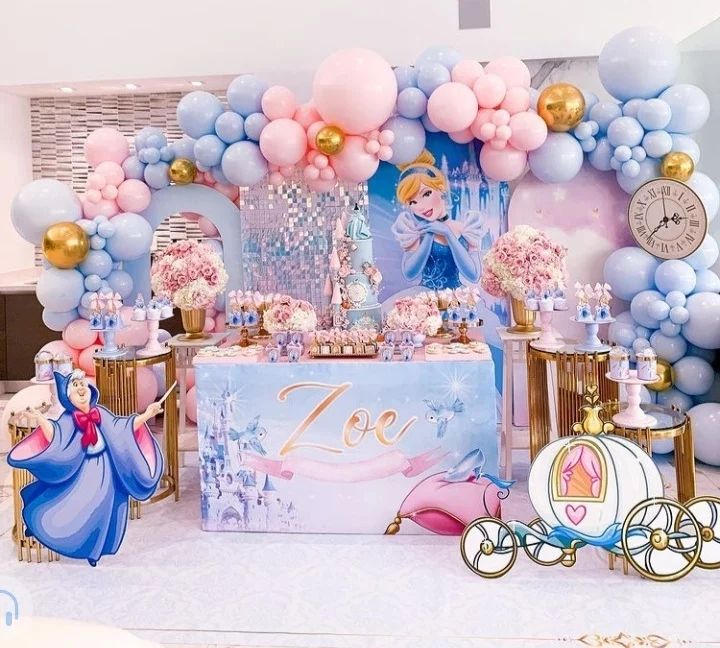 Cinderella is another classic princess, and a Cinderella-themed party allows for elegant decorations, including glass slippers, pumpkin carriages, and a touch of fairy godmother magic.
Beauty and the Beast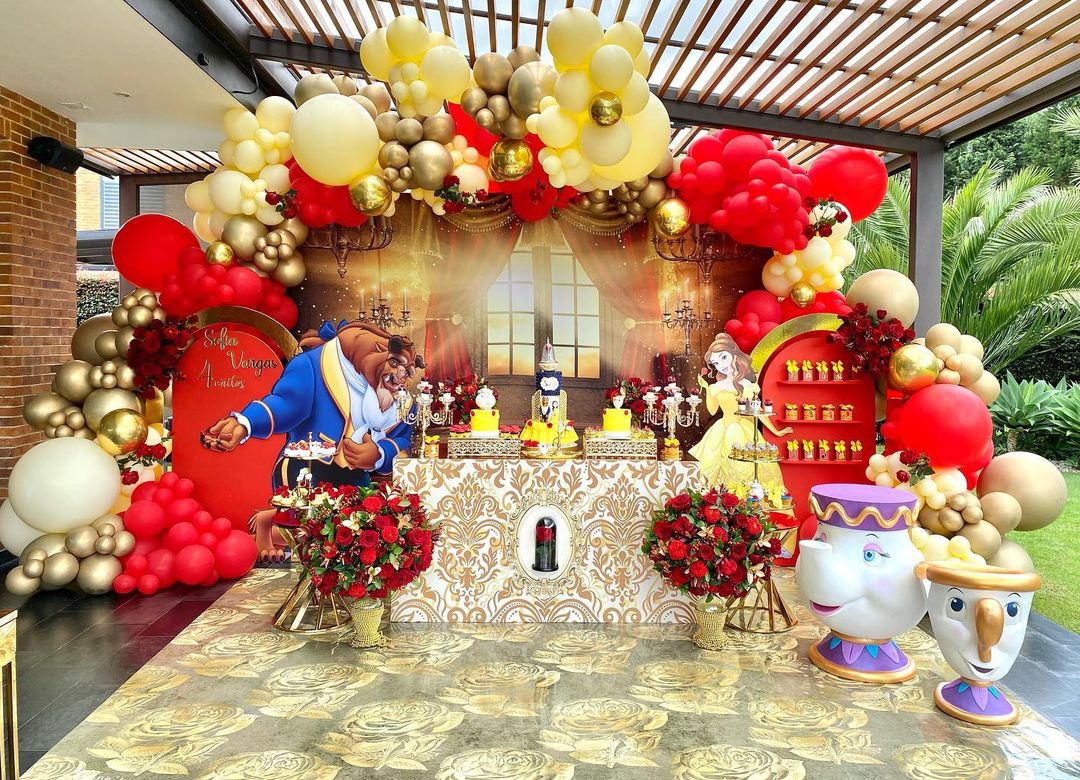 Beauty and the Beast provides a backdrop of romance and enchantment for a Belle-themed party. Imagine incorporating a yellow and red color scheme, along with roses, vintage books, and teapots as part of the decorations.
The Little Mermaid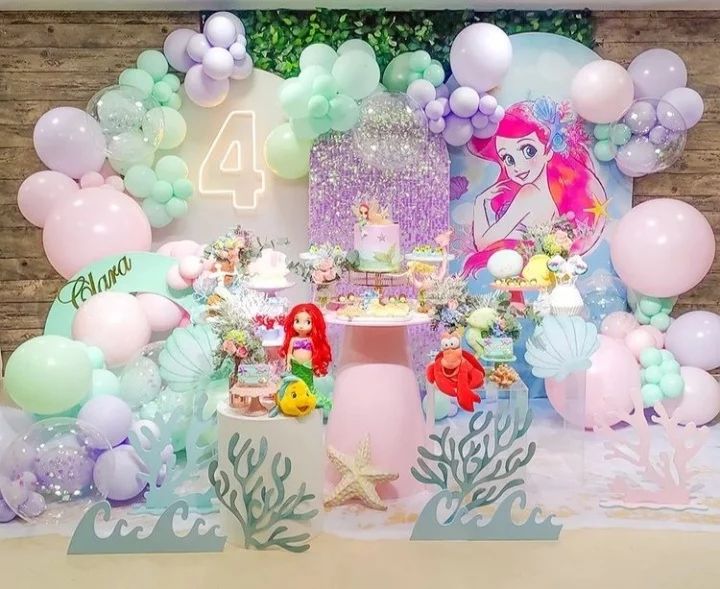 The Little Mermaid offers an underwater adventure for an Ariel-themed celebration. With shades of blues and greens, seashell decorations, and even a few ocean friends like Flounder and Sebastian, this theme is perfect for a young mermaid fan.
Jasmine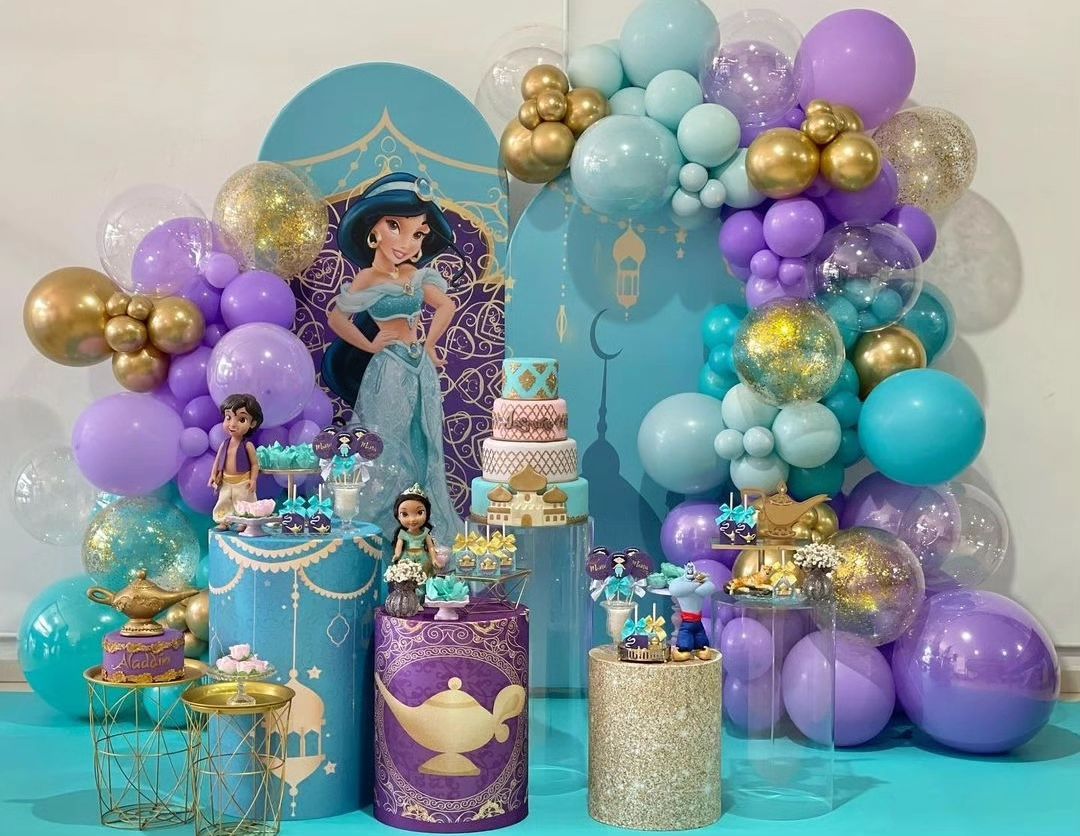 Jasmine from Aladdin provides a theme full of magic and Arabian inspiration. Rich fabrics, gold accents, and hints of jasmine flowers can transport guests to the world of Agrabah.
For fans of Tiana, a Princess and the Frog-themed party brings New Orleans charm with a blend of lily pad greens and Mardi Gras purples. Musical instruments and gumbo pots offer additional ways to incorporate the theme.
Frozen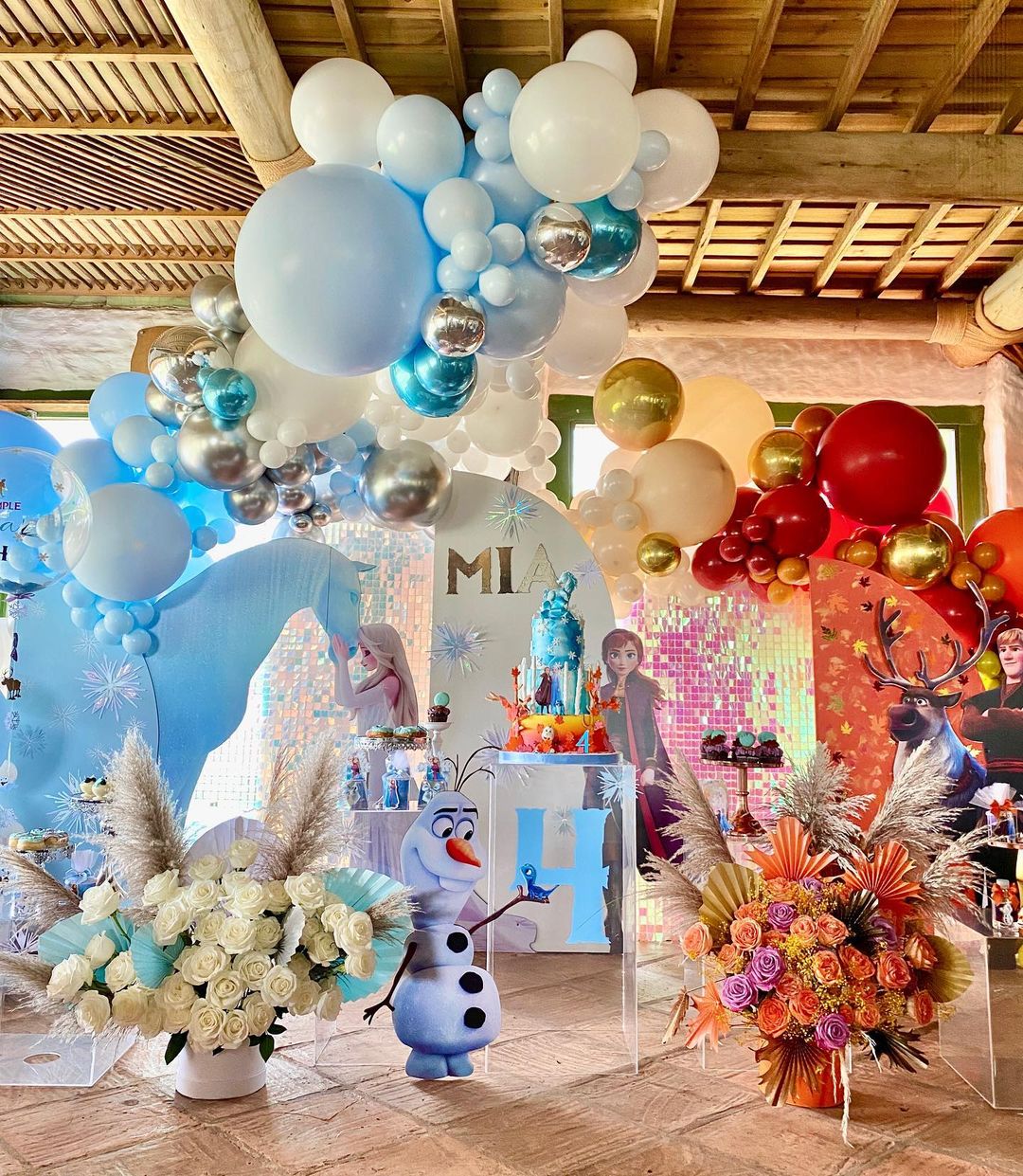 Movie themes such as Frozen are also in high demand, featuring the Snow Queen Elsa and her sister Anna. Cool blues, shimmering snowflakes, and hints of Scandinavian culture can create an icy wonderland to celebrate.
Rapunzel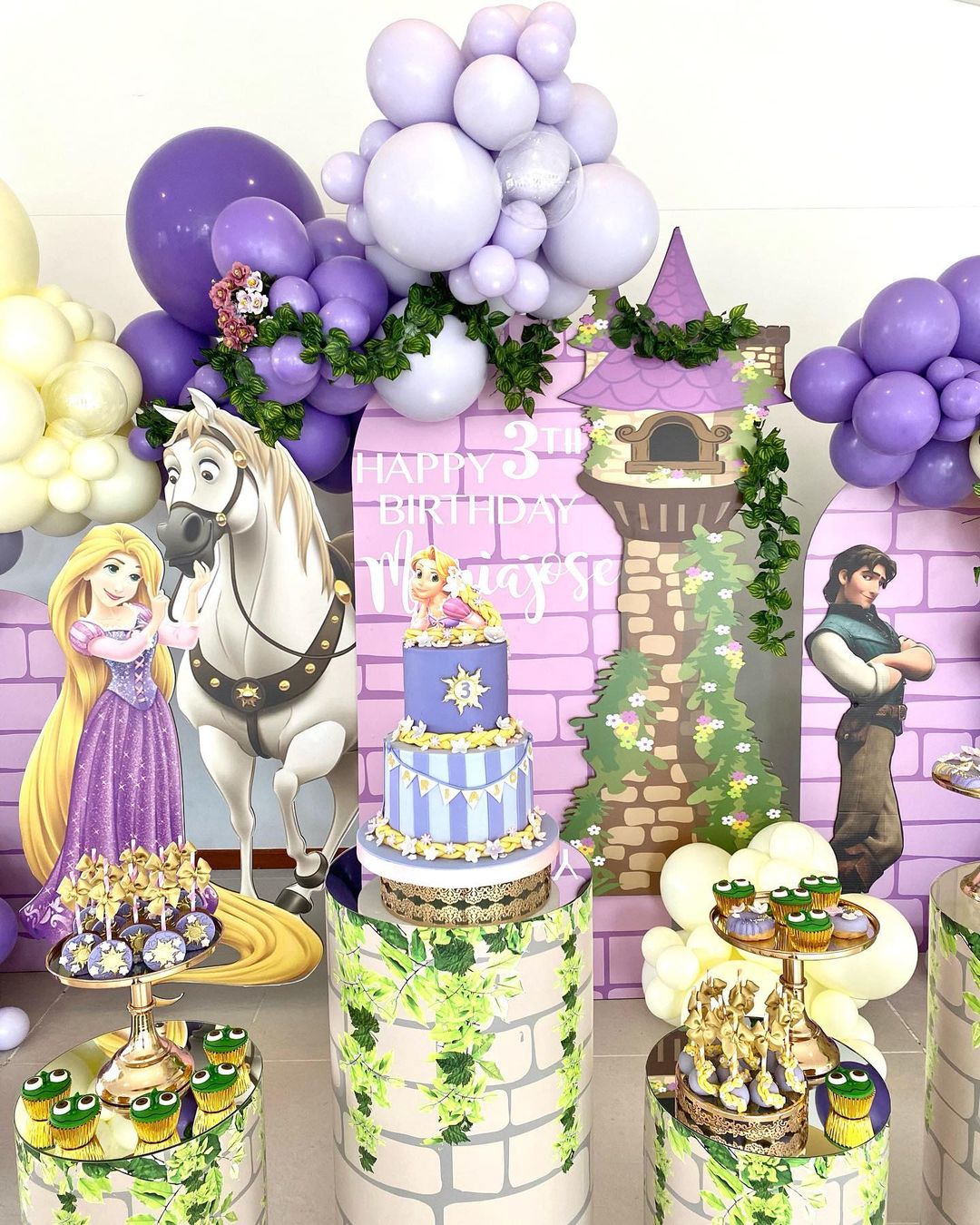 Rapunzel from Tangled offers an adventurous and artistic theme complete with golden locks, lanterns, and sun-inspired decorations. Consider using purple and gold as the party's color palette.
Similarly, more classic options like Aurora from Sleeping Beauty or less conventional choices such as Pocahontas or Mulan can provide unique and engaging themes for your little one's princess party.
Whether you choose a classic Disney princess theme or one from a more recent movie, each character's story offers unique elements that can inspire decorations, activities, and unforgettable memories for your child and their guests.
Invitations and Decorations
Invitations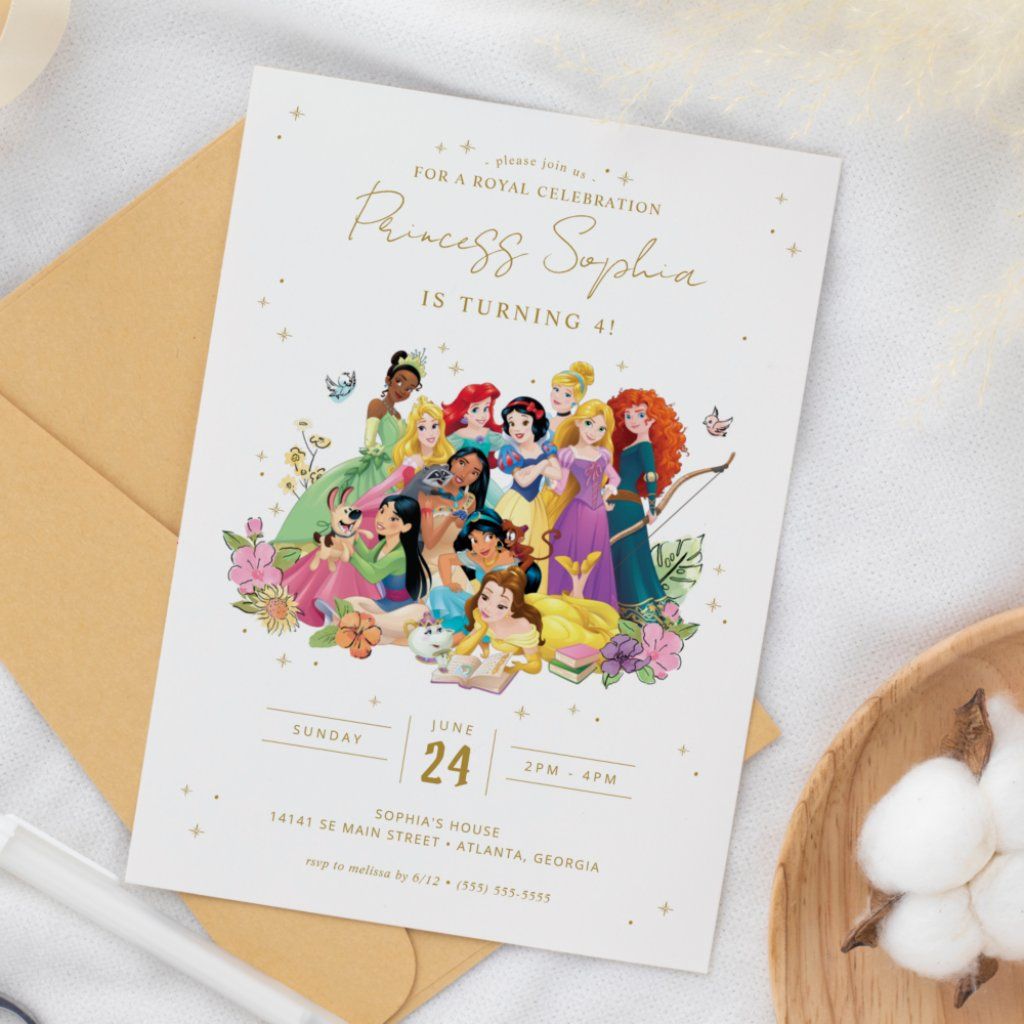 Designing the perfect princess-themed invitation is essential to set the tone for the magical celebration. Scroll invitations are unique and give guests a royal feel. You can also choose to create brightly colored, pastel, or regal cards to evoke the princess theme.
Decorations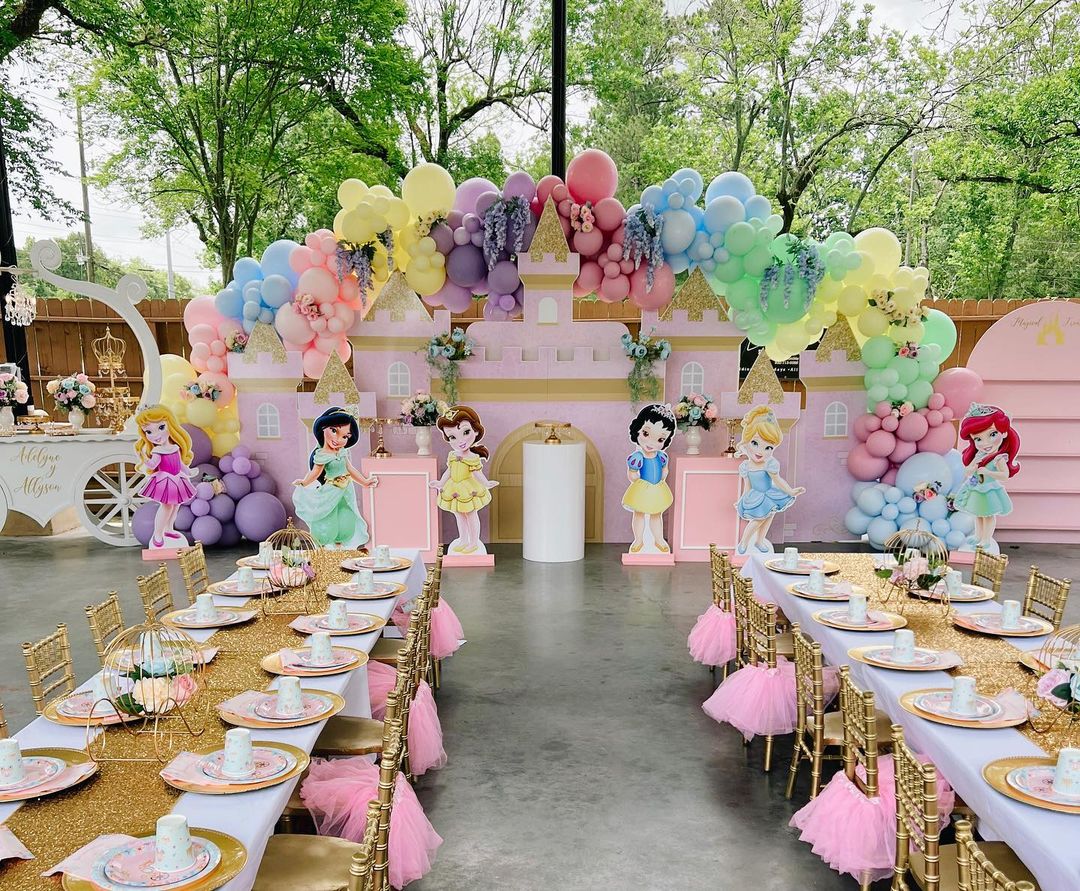 Transform your venue into a royal kingdom with enchanting decorations. Fairy lights, balloons, and confetti work wonders to glorify the atmosphere. Create a balloon garland using vibrant colors to draw attention. Incorporate princess crowns, magical woodland elements, and even Disney-themed decorations for an immersive experience.
Disney Princess Costumes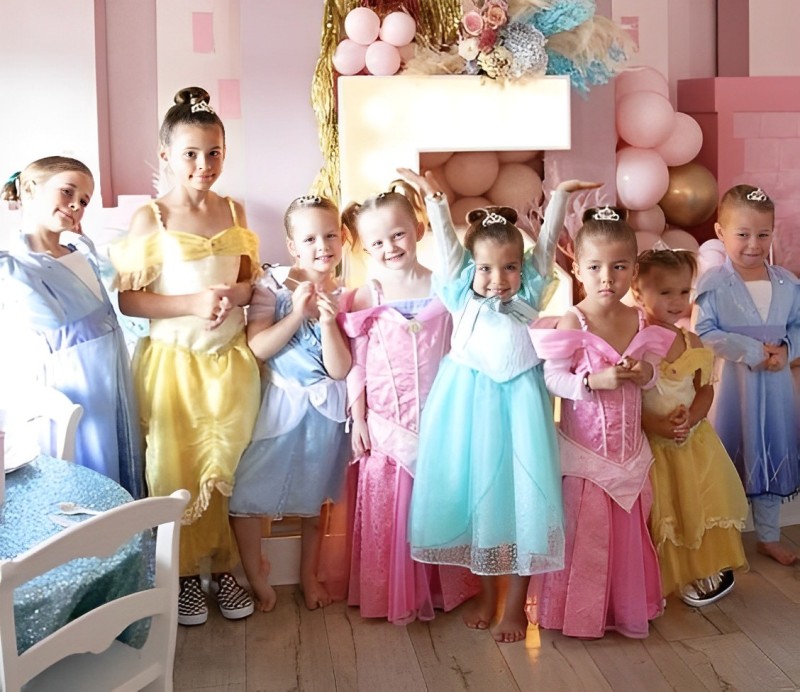 Invite the little guests to dress up in their favorite Disney princess costumes. Tiaras and wands are fun accessories that add charm to the party. You can also organize a princess fashion show, letting all the children walk the runway in their beautiful dresses and tutus.
Party Games and Activities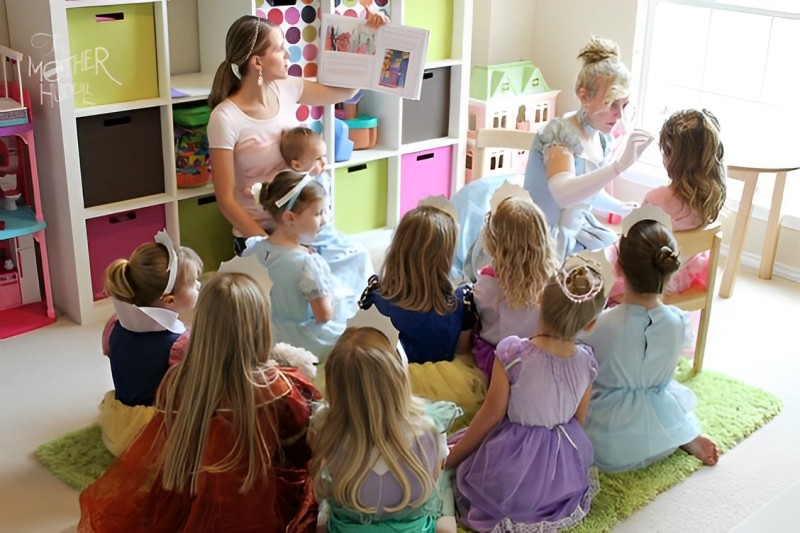 Engage your young princesses with exciting games and activities. Organize a treasure hunt or face painting for a memorable time. You can also bring a princess character or magician for a captivating show. A dance party will liven up the atmosphere and bring everyone together.
| Game/Activity | Description |
| --- | --- |
| Treasure Hunt | Hidden treasure search |
| Face Painting | Themed face art |
| Princess Character | Interactive storytelling |
| Dance Party | Everyone dances together |
Party Foods and Cakes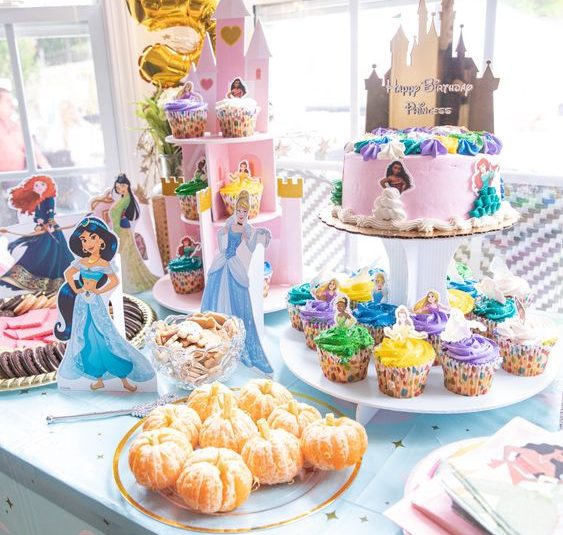 Prepare a delectable menu for your little princesses. Some food ideas include a candy buffet, kiddie crunch mix, and princess toast. A beautiful princess birthday cake or a unicorn cake adds a delightful touch. For an interactive experience, set up a cake decorating station where children can embellish their own desserts.
Party Favors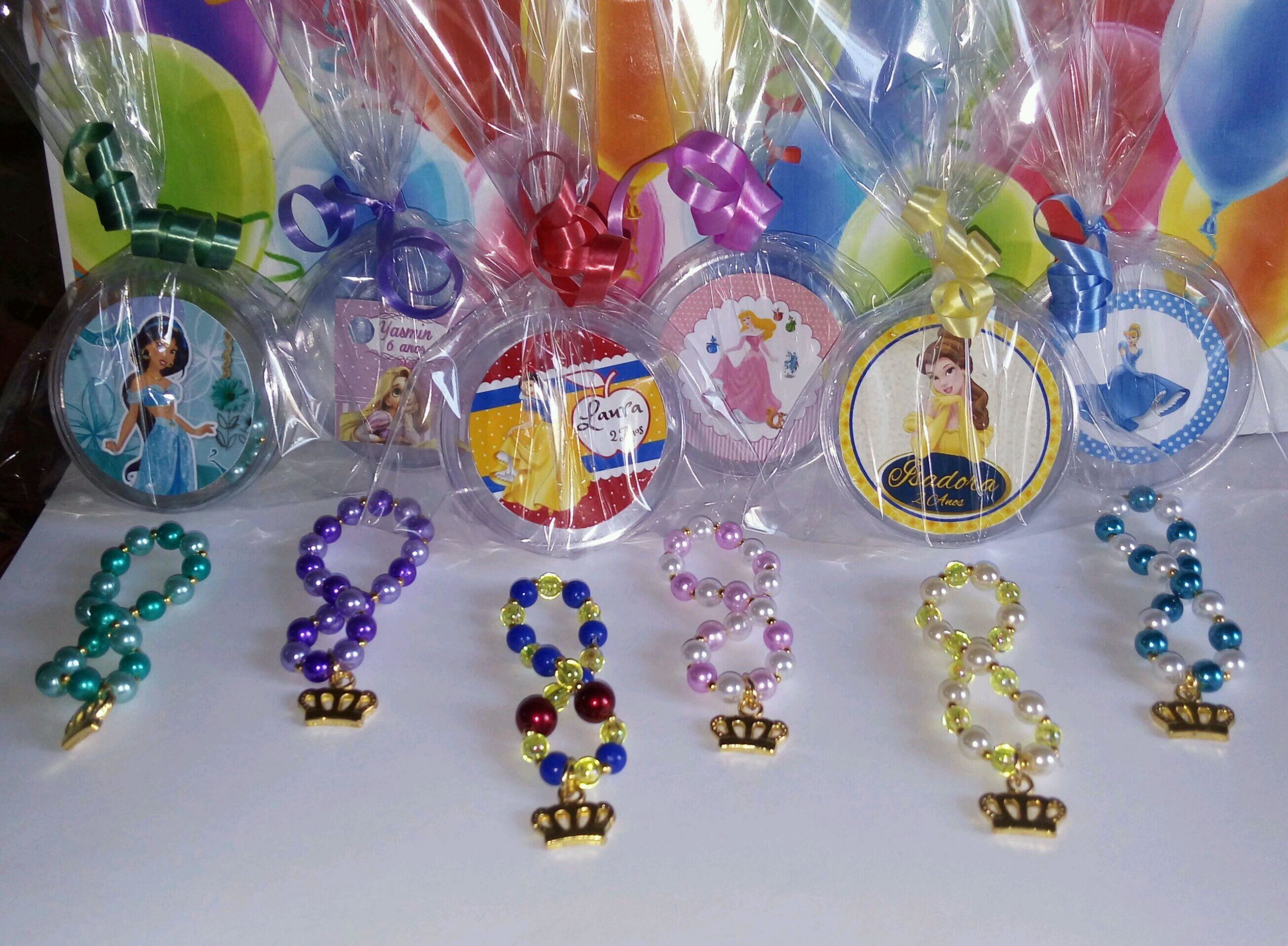 Thank your guests with charming princess party favors. You can offer stickers, pearls, or magic wands as mementos of an unforgettable celebration. Customize these gifts to match your princess theme and create a lasting memory for all the attendees.