Soccer-themed birthday parties are a fantastic way to celebrate your child's special day, especially if they are an enthusiastic soccer fan. With a creative blend of decorations, activities, and tasty treats, you can turn an ordinary gathering into an exciting event that will be remembered for years. By incorporating various aspects of the popular sport into your party planning, you'll create an immersive experience that leaves an impression on every guest.
To kick off your soccer-themed party, start by designing attention-grabbing invitations that set the stage for the exciting event. A well-organized party invitation brings anticipation for the exciting theme, making it more memorable to guests. Once the invitations are out, shift your focus to decorative elements that capture the spirit of soccer, such as customized signs and banners for both the indoors and outdoors.
With the right combination of activities, food, and décor, your soccer-themed birthday party is sure to score a goal in the heart of every attendee. From soccer ball-shaped treats to entertaining games that suit all ages, the possibilities for this sports-inspired event are endless, providing lasting enjoyment and memories.
Setting the Scene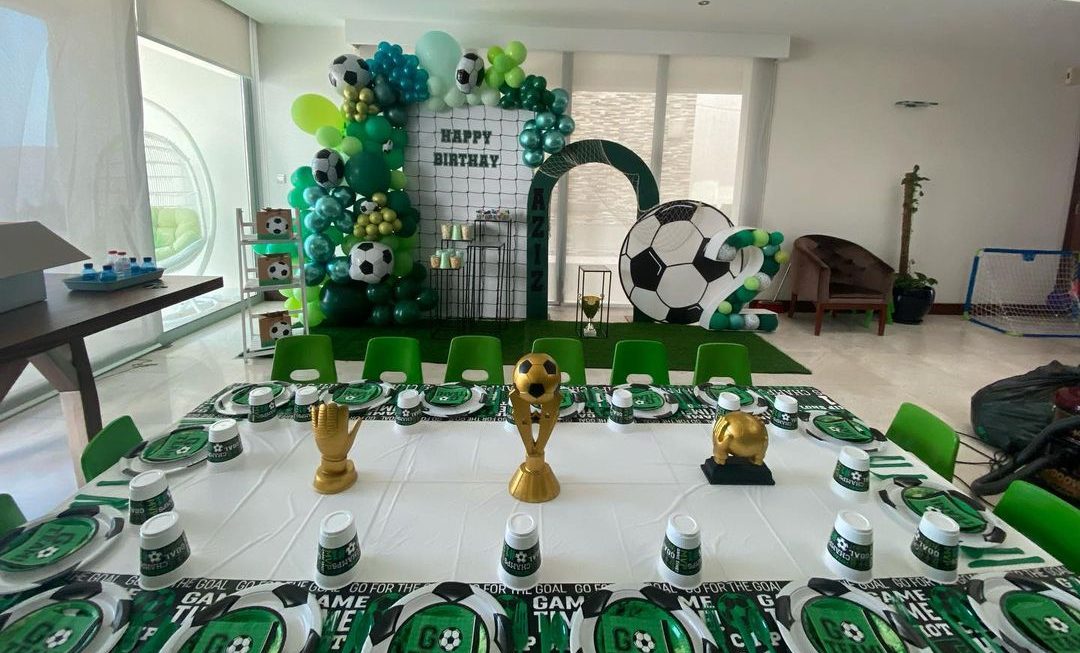 A soccer-themed birthday party is an excellent choice for children and adults who are passionate about the sport. To create the perfect atmosphere for such an event, you should consider incorporating various aspects of soccer, such as colors, the ground, and soccer fields.
Begin by selecting a color scheme that reflects the spirit of soccer. Popular choices include green, black, and white, which represent the colors of a soccer field and ball. Alternatively, you can choose colors that match the guest of honor's favorite team. Use these colors throughout the party, from invitations to decorations, to create a cohesive and visually appealing event.
Choosing an appropriate venue for your soccer party can make all the difference. If possible, rent a local soccer field or find a spacious park with enough room to set up a small game. This way, guests can take part in soccer activities and truly immerse themselves in the theme. However, if outdoor space is limited, consider creating a soccer-inspired atmosphere indoors by decorating with banners, posters of famous players, team flags, and balloons.
To enhance the soccer party experience even further, consider setting up a soccer stadium photo backdrop and providing soccer-themed photo booth props. This interactive activity allows your guests to have fun and create lasting memories by posing for pictures as professional soccer players.
Additionally, you can set up a snack table with soccer-themed treats, such as cupcakes decorated with miniature soccer balls, or offer a buffet of popular stadium foods. When planning the activities, be sure to include soccer-related games and challenges to keep guests entertained.
By carefully considering the various aspects of soccer and incorporating them into your soccer birthday party, you can create an exciting and memorable event for the guest of honor and all attendees.
Sending Invitations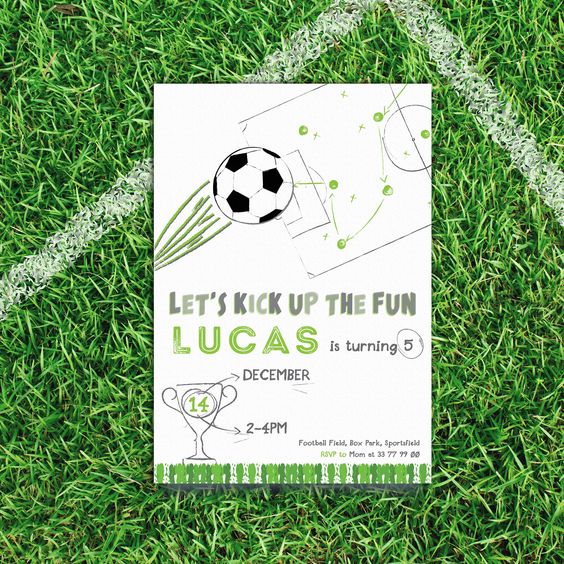 When planning a soccer-themed birthday party, one of the first steps is to design and send out the invitations. Choosing the right soccer party invitations sets the tone for the entire event and helps build excitement among the guests. There are several ways to create personalized invitations that are both eye-catching and informative.
One option is to utilize online services, such as Evite and Greetings Island, which offer a variety of soccer-themed designs. These platforms allow users to customize their invitations with text, photos, and even RSVP options. After personalization, digital copies can be sent via email to friends and family for a fast and eco-friendly delivery method.
If you're looking for physical invitations, consider browsing through Etsy's collection of unique soccer-themed templates crafted by various designers. These invitations can be customized with your party details before being downloaded, printed, and delivered to your guests. Sending physical invitations adds a personal touch and creates memorable keepsakes for the attendees.
When crafting personalized soccer party invitations, it's essential to provide essential information such as the date, time, and location of the event. Don't forget to include any special instructions, like dress code or soccer gear, if the celebration includes a match or soccer-related activities. Make sure to send the invitations well in advance to give guests enough time to RSVP and make necessary arrangements.
In conclusion, creating and delivering personalized soccer party invitations helps set the tone for an exciting and memorable soccer-themed birthday celebration. With the wide selection of online and physical templates, you can easily find the perfect invitation design to kick off your event in style.
Decorative Ideas
Table Settings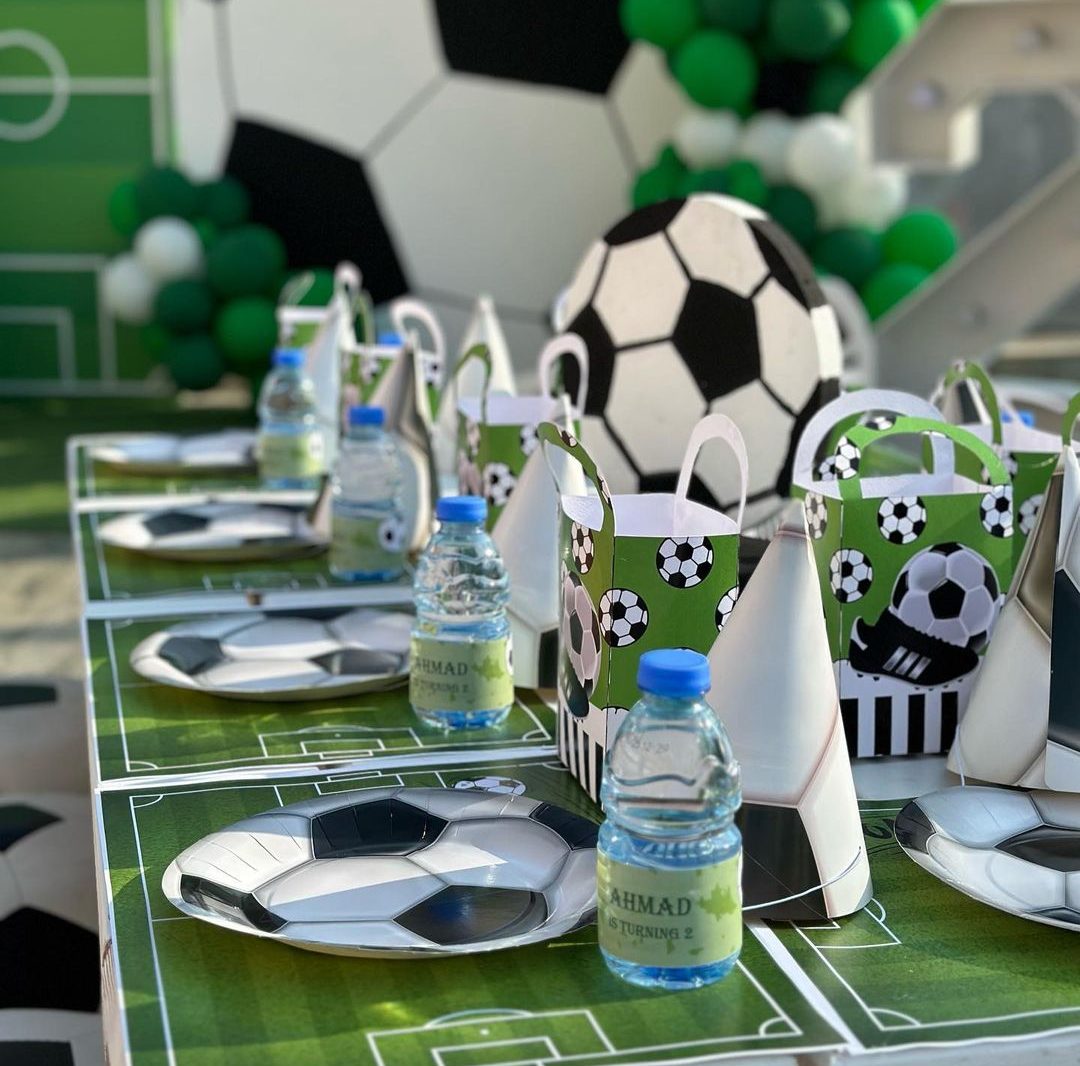 Setting the perfect table for a soccer-themed birthday party can be simple and exciting. Start with soccer-themed tableware, such as plates, napkins, and cutlery, featuring soccer balls and field designs. You can also incorporate green tablecloths to represent the playing field, and use cups that resemble trophy cups to add a fun element to the table. Don't forget to add coordinating centerpieces, which could include mini soccer ball bouquets or even small, personalized soccer-themed trophies.
Party Venue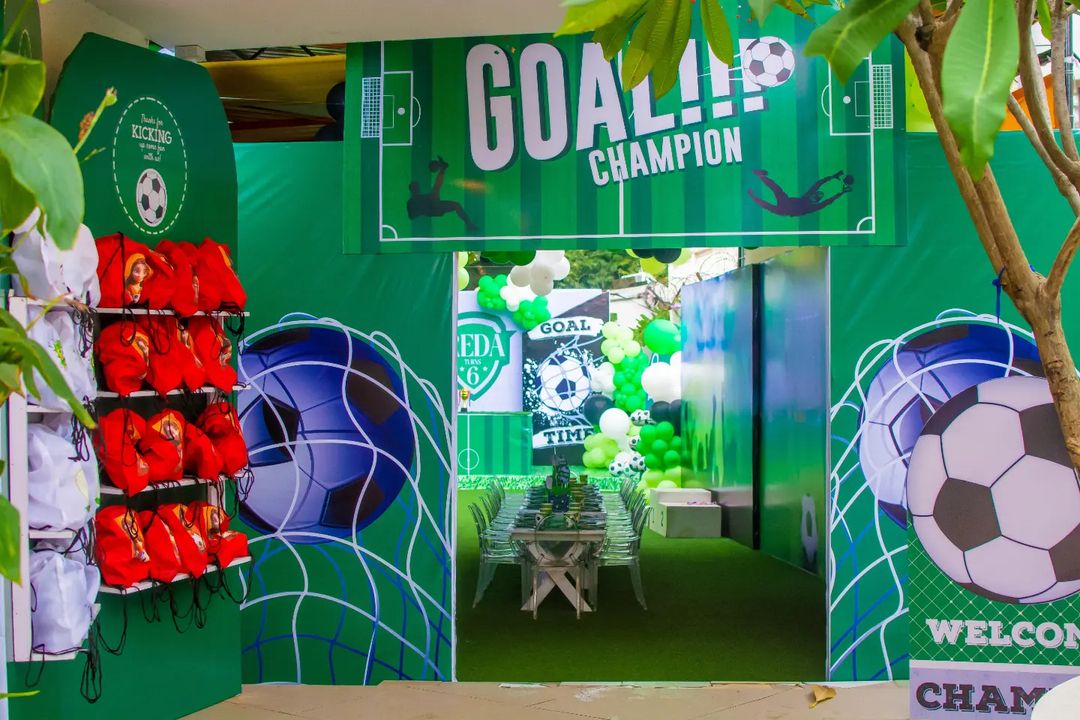 Transform the party venue into a mini soccer stadium by utilizing various soccer-themed decorations. Pinterest offers a plethora of inspiring ideas for soccer birthday party decorations, like hanging soccer ball paper lanterns and balloons shaped like soccer balls or soccer cleats. Incorporate banners that resemble soccer team flags or create a DIY pennant banner using printouts of soccer ball images. Additionally, hanging decorations such as personalized soccer jerseys or mini goalposts can make the party space even more immersive.
Themed Cake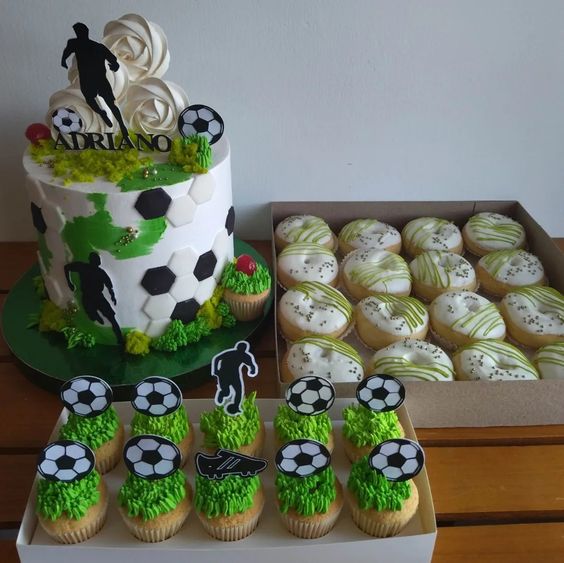 No soccer-themed birthday party is complete without a soccer-inspired cake. A themed cake featuring a 3D soccer ball or a cake designed to look like a soccer field is sure to impress guests. To make the cake even more special, consider adding themed cake toppers – from miniature soccer player figurines to edible soccer balls or goalposts. Alternatively, opt for soccer ball-shaped cupcakes or cookies as a delightful and delicious treat for the party guests. Keep the presentation cohesive by using a cake stand or display matching the overall soccer theme.
Game Planning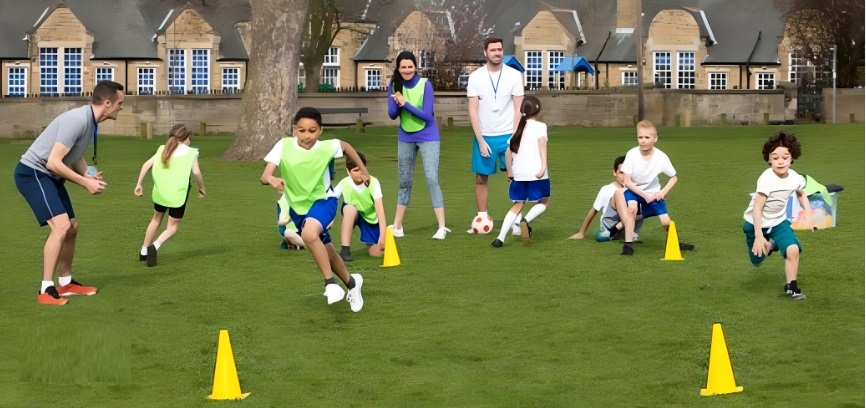 When planning a soccer-themed birthday party, it is crucial to incorporate a variety of games and activities to keep the guests entertained. Create a schedule that allows for enough time to participate in each activity while still leaving some room for spontaneous fun.
One popular activity is the classic game of soccer. Organize a small tournament for the party attendees, dividing them into teams and providing medals and trophies as rewards for their accomplishments. This not only promotes teamwork but also adds a competitive edge to the festivities.
Another engaging activity can be soccer-related drills, such as dribbling contests, shooting challenges, and relay races. These activities help to develop attendees' soccer skills while still keeping the party spirit alive. Additionally, consider putting a soccer spin on traditional party games like musical chairs, using a soccer ball instead of chairs and playing soccer-themed music during the game.
To make the party even more memorable, set up a crafts station where guests can create their own soccer-inspired decorations, such as team banners, pennants, or even personalized jerseys. Providing materials like markers, fabric paint, and soccer-themed stickers will encourage creativity and increase the excitement surrounding the party's theme.
At sports parties, it is essential to ensure that all guests feel included and engaged throughout the event. Planning age-appropriate games and activities that cater to various skill levels will help foster an enjoyable and inclusive atmosphere. Don't forget to provide sufficient prizes and awards, like medals and trophies, to make every participant feel like a winner.
Overall, a successful soccer-themed birthday party revolves around engaging games, activities, and decorations that emphasize the love for soccer. With thorough planning and a little bit of creativity, guests will be immersed in a fun-filled event that they will remember for years to come.
Food and Drinks
A soccer-themed birthday party is great fun for children and adults alike. To ensure everyone has a fantastic time, providing a variety of food and drink options is essential. This section discusses some tasty options to include in your menu.
Cater to party guests' preferences by offering a diverse range of food options. For instance, serving finger foods such as chips or nachos keeps the atmosphere informal and allows guests to snack throughout the event. Similarly, the inclusion of pigs in a blanket can also prove popular among guests.
Featuring themed foods is an excellent way to enhance the soccer ambience. Consider baking soccer-themed cupcakes, decorated with green icing and small soccer ball toppers. Adding soccer picks to fruit skewers can also be a fun and healthy addition to the menu. Additionally, offer a soccer ball fruit dip by mixing vanilla Greek yogurt with a tablespoon of honey. Top it with mini Oreos to achieve a soccer ball look.
Rice dishes can be an ideal choice for a more substantial meal at the party. Both adults and kids would appreciate dishes such as fried rice or a rice casserole. Make these dishes more appealing by incorporating a soccer theme through the use of cookie cutters for shaping the rice or arranging the ingredients in the form of soccer balls or other related symbols.
Don't forget to provide a variety of drinks for your guests. Options such as lemonade, fruit punch, and iced tea can be suitable for all ages. To add a special touch to the party, consider serving these drinks in soccer-themed cups or using soccer ball-shaped ice cubes.
By offering an assortment of food and drinks that cater to different tastes and incorporating soccer-themed elements, you'll create a memorable soccer-themed birthday party for everyone to enjoy.
Party Favors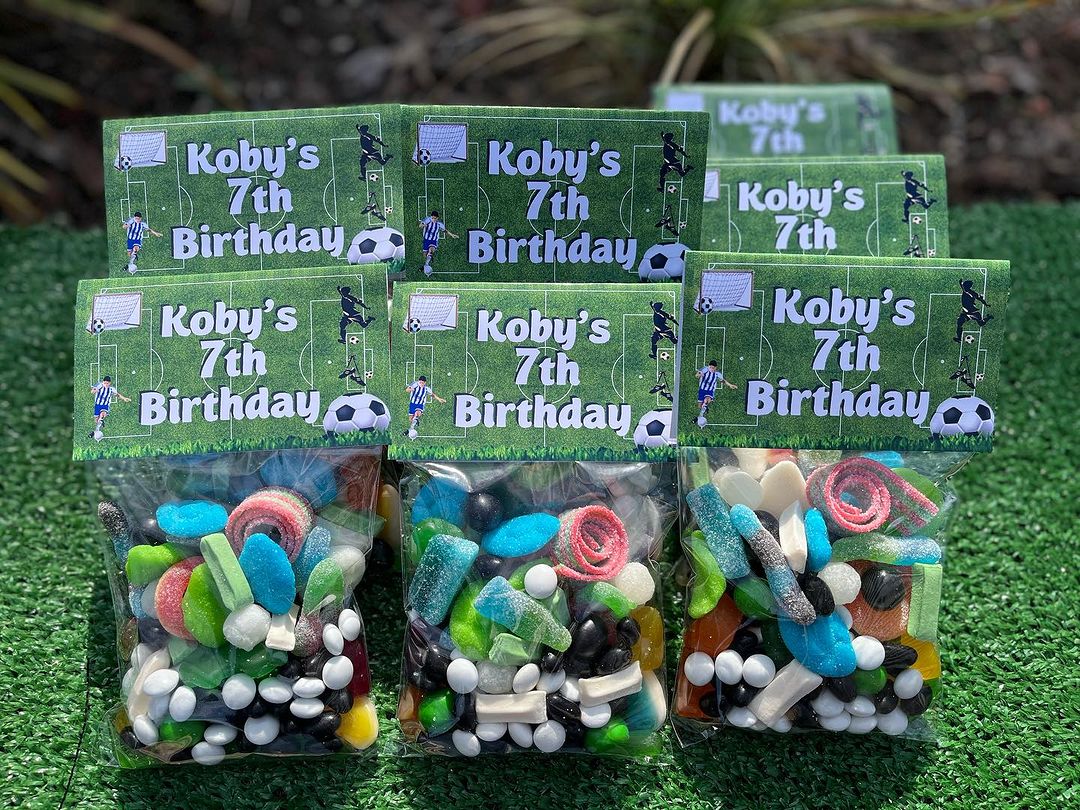 Goodie Bags
Goodie bags are essential for making a soccer-themed birthday party fun and memorable. Fill these bags with soccer-themed treats like whistles, stickers, and slap bracelets. Don't forget to include soccer-themed gift bags to keep everything organized and aligned with the party theme.
Personalize the goodie bags by adding a soccer tag with the guest's name and a thank you message. This extra detail will surely make the guests feel special and appreciated.
Special Touches
Besides goodie bags, adding special touches to the party can create a more exciting and engaging atmosphere. Consider sprinkling confetti featuring soccer ball designs on tables or around the party area. This simple yet effective decoration can enhance the soccer-themed ambiance.
Incorporate fun soccer photo booth props, such as soccer ball-shaped glasses, goalpost headbands, and various soccer-themed signs, allowing guests to take memorable photos during the party. By providing soccer party favors and props, guests will definitely enjoy engaging in soccer-themed activities, and the party will be remembered fondly for years to come.