Pajama parties are a timeless way to gather friends and family for a cozy and entertaining evening. These gatherings create an opportunity for people to bond with one another and indulge in fun activities while enjoying the comforts of home. With a little creativity and planning, a pajama party can be transformed from a simple sleepover into an unforgettable event that leaves lasting memories for everyone involved.
To host a successful pajama party, considering the age group and preferences of the attendees is key. This will help in selecting appropriate games, activities, and snacks that cater to the guests' interests. Exploring various themes is also recommended, ranging from nostalgic throwbacks to innovative ideas that incorporate the latest trends.
Understanding Pajama Parties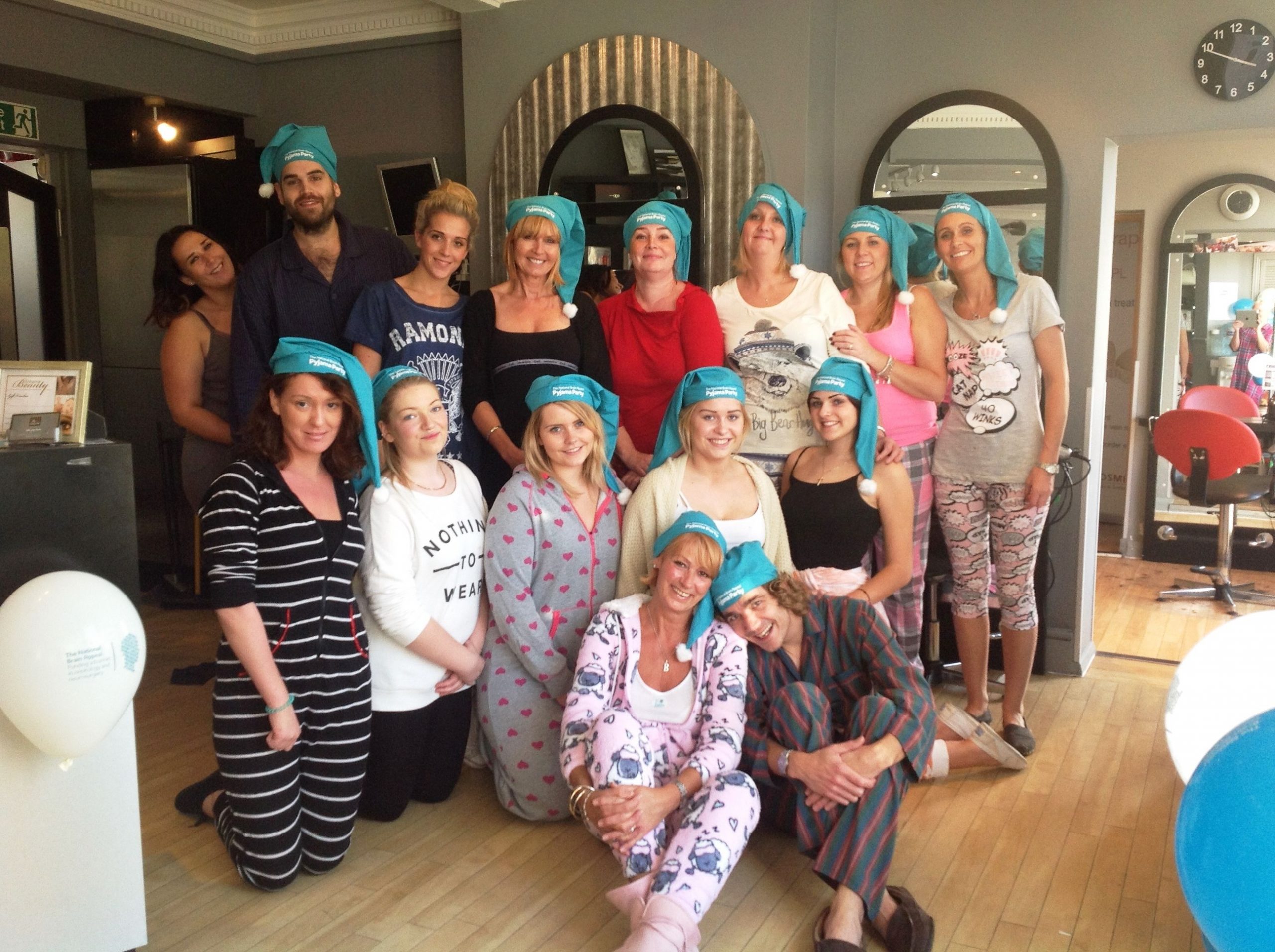 Pajama parties, also known as slumber parties or sleepovers, are a fun and memorable way to spend an evening with friends. These gatherings typically involve guests wearing their comfiest pajamas and staying up late into the night, engaging in various activities while enjoying each other's company.
One popular variation of the pajama party is the pajama dance party. Instead of simply lounging around and watching movies, guests can dance around to their favorite tunes in their PJs. This energetic twist adds a unique and lively element to the traditional sleepover.
Indoor camping is another creative idea for a pajama party. Transform the living room into a makeshift campsite with tents or fort-like structures built from blankets and pillows. Participants can roast marshmallows over a stovetop or an indoor fireplace, and share spooky stories or play flashlight games to complete the camping experience.
To throw the best pajama party, it's essential to plan activities that cater to the interests and preferences of the guests. Board games, video game tournaments, karaoke, or even DIY spa nights can keep the attendees entertained and excited for an all-nighter.
In conclusion, there's no one-size-fits-all solution when it comes to organizing a successful pajama party. Let your creativity and the interests of your guests dictate the course of the evening, and everyone will leave with a night to remember.
Planning the Party
When planning a pajama party, start by determining the guest list and selecting a date that works for everyone. Next, choose a pajama party theme to make the event more exciting. Consider popular themes like movies, superheroes, or even a specific decade.
Invitations play a crucial role in setting the tone for the event. Design the invitations to match the chosen theme, and make sure to include essential information such as date, time, location, and any special instructions related to attire or food.
A carefully planned menu adds to the overall guest experience. Plan a variety of snacks and drinks that cater to different tastes and dietary preferences. Finger foods, popcorn, and DIY food stations, such as a pizza or taco bar, are always popular choices. For beverages, offer both alcoholic and non-alcoholic options.
Incorporate engaging activities that will keep guests entertained throughout the night. Some ideas include:
Movie marathon: Select movies that align with the theme or are fan favorites among the guests.
Game night: Provide a range of board games, card games, and even video games to cater to everyone's interests.
Crafts corner: Set up a station where guests can create themed crafts or personalize their pajamas.
Photo booth: Create a fun backdrop and provide props for guests to take memorable pictures.
With proper planning and consideration of these elements, hosting a successful and enjoyable pajama party becomes a seamless process.
Who to Invite
Pajama Parties for Kids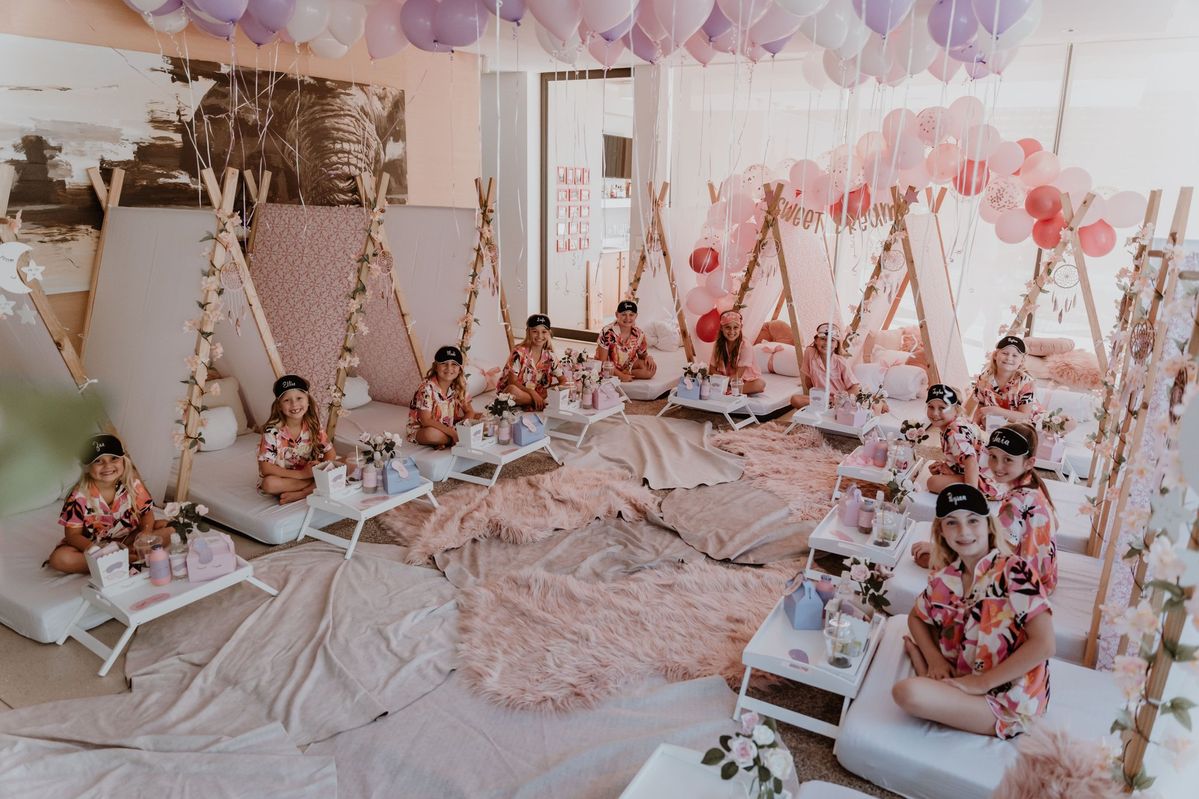 When planning a pajama party for kids, it's essential to consider the age group and interests of the children. Typically, it's best to invite friends who are in the same school class or share similar interests. Make sure to include both boys and girls if the party is co-ed, and be mindful of the number of guests, as too many children may become overwhelming.
Some popular kids' pajama party ideas that can be incorporated include themed parties like superheroes, princesses, or cartoons. Consider organizing fun games and activities like pillow fights, scavenger hunts, and movie marathons. Offer kid-friendly snacks and beverages to keep the energy high throughout the event.
Pajama Parties for Adults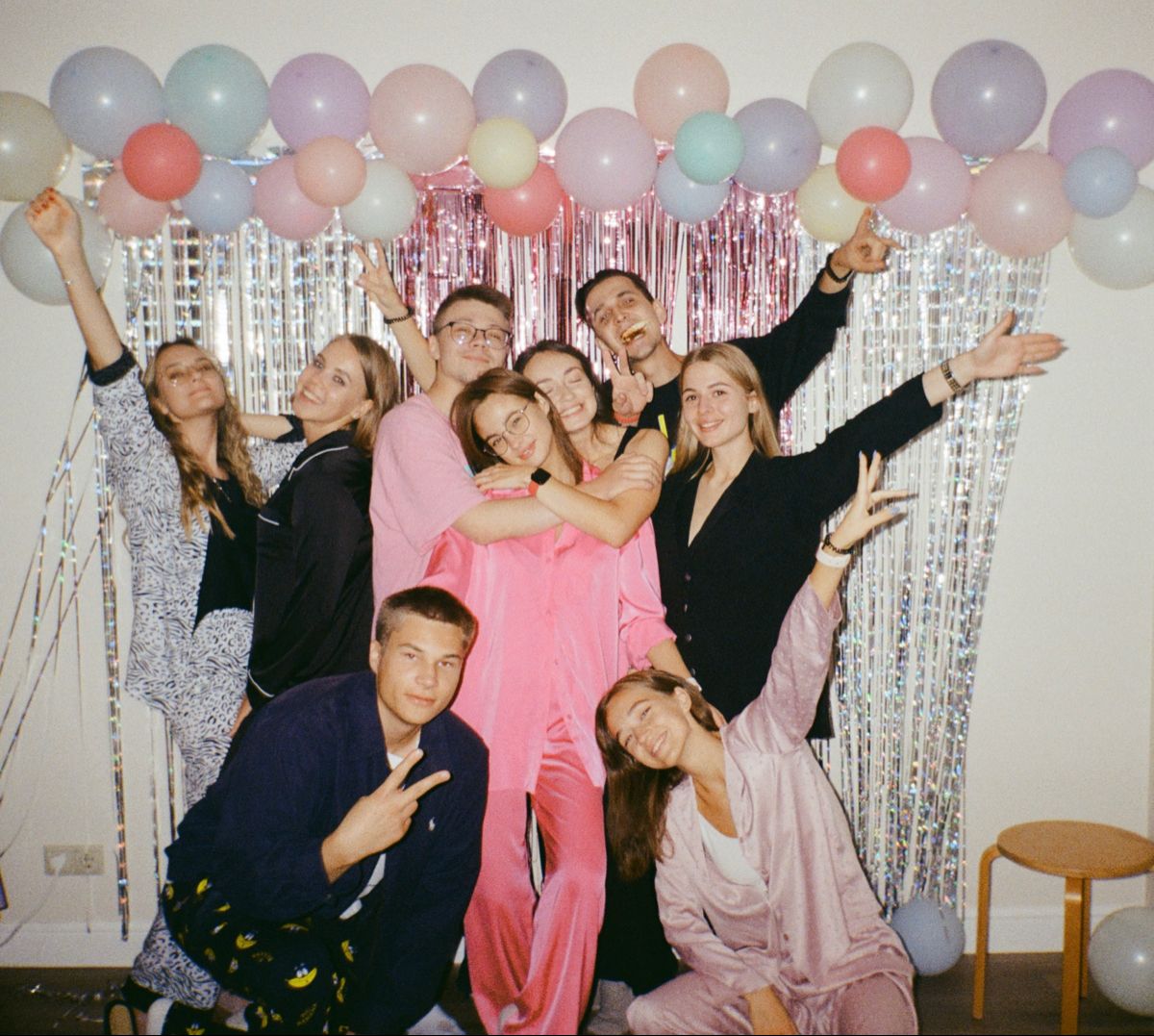 Adults can also enjoy pajama parties with a more sophisticated touch. For a successful adult pajama party, consider inviting close friends, neighbors, or coworkers who share common interests. Plan the guest list in advance to ensure a comfortable atmosphere, especially if you'd like to encourage mingling among guests who may not know one another well.
Some pajama party ideas for adults include:
Themed parties: Select a theme, such as 80s nostalgia, black tie, or a favorite TV show, and encourage guests to dress up accordingly in comfortable loungewear.
Fun activities: Engage guests with activities like board games, trivia, or a DIY spa night. You could also stream binge-worthy shows or movies together.
Pajama Parties for Families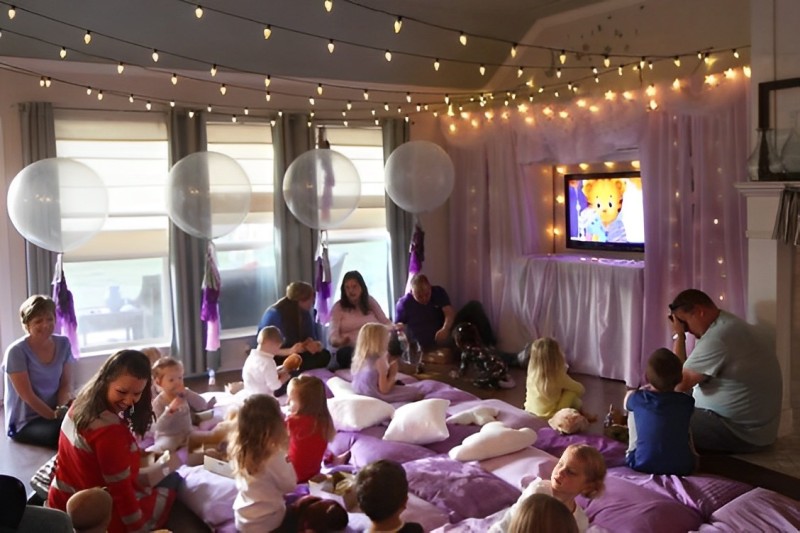 Family pajama parties offer an excellent opportunity for quality time with loved ones. These gatherings can include immediate or extended family members, and even close family friends. Make sure the event is enjoyable for all ages by choosing age-appropriate activities and entertainment options.
Some family pajama party ideas include:
Movie night: Choose family-friendly movies and enjoy a marathon together, complete with popcorn, candy, and soft drinks.
Themed pajama parties: Opt for a fun theme, like holiday motifs or favorite movie characters, and encourage everyone to dress up in coordinating outfits.
Food and games: Prepare a variety of finger foods, snacks, and desserts, and engage in bonding activities like playing board games, karaoke, or crafting projects.
Remember to keep the tone of the pajama party in line with the attendees' preferences and interests for a successful and memorable event.
Pajama Party Decorations
A pajama party is a perfect occasion to showcase one's creativity when it comes to decorations. Transforming the party space into a cozy and inviting atmosphere can be achieved through thoughtful decor choices.
To set the stage for a fantastic pajama party, start with incorporating lights. Soft, ambient lighting is essential for creating a relaxing environment. Consider using fairy lights draped around the perimeter of the room or placed in glass jars throughout the area. These delicate string lights evoke a magical feeling and can be found in various colors to match the party theme.
Balloons are a staple for any celebration, and pajama parties are no exception. Classic helium-filled balloons in an assortment of colors can be attached to furniture, floated on the ceiling, or even used as a centerpiece. Alternatively, explore unique options such as balloon garlands or balloons filled with confetti to add an extra touch of festivity to the event.
Make the most of your party's theme by incorporating pajama party-specific decorations. Fun ideas include fluffy throw pillows and cozy blankets scattered throughout the party area, encouraging guests to get comfortable and mingle with ease. For a more adventurous twist, set up an indoor campout area with pop-up tents and sleeping bags arranged around a pretend campfire, using battery-operated tea lights as a safe and easy way to create a camping atmosphere.
Don't forget about the importance of table settings and party accessories. Serve snacks and beverages on themed plates and cups or incorporate matching napkins and utensils. Party favors such as sleep masks, slippers, or personalized pillowcases can also double as themed accents for the space.
With a combination of inviting lights, playful balloons, and pajama party-specific decorations like cozy blankets and indoor campout setups, your party space will surely be transformed into a memorable and comfortable event.
Fun Pajama Party Themes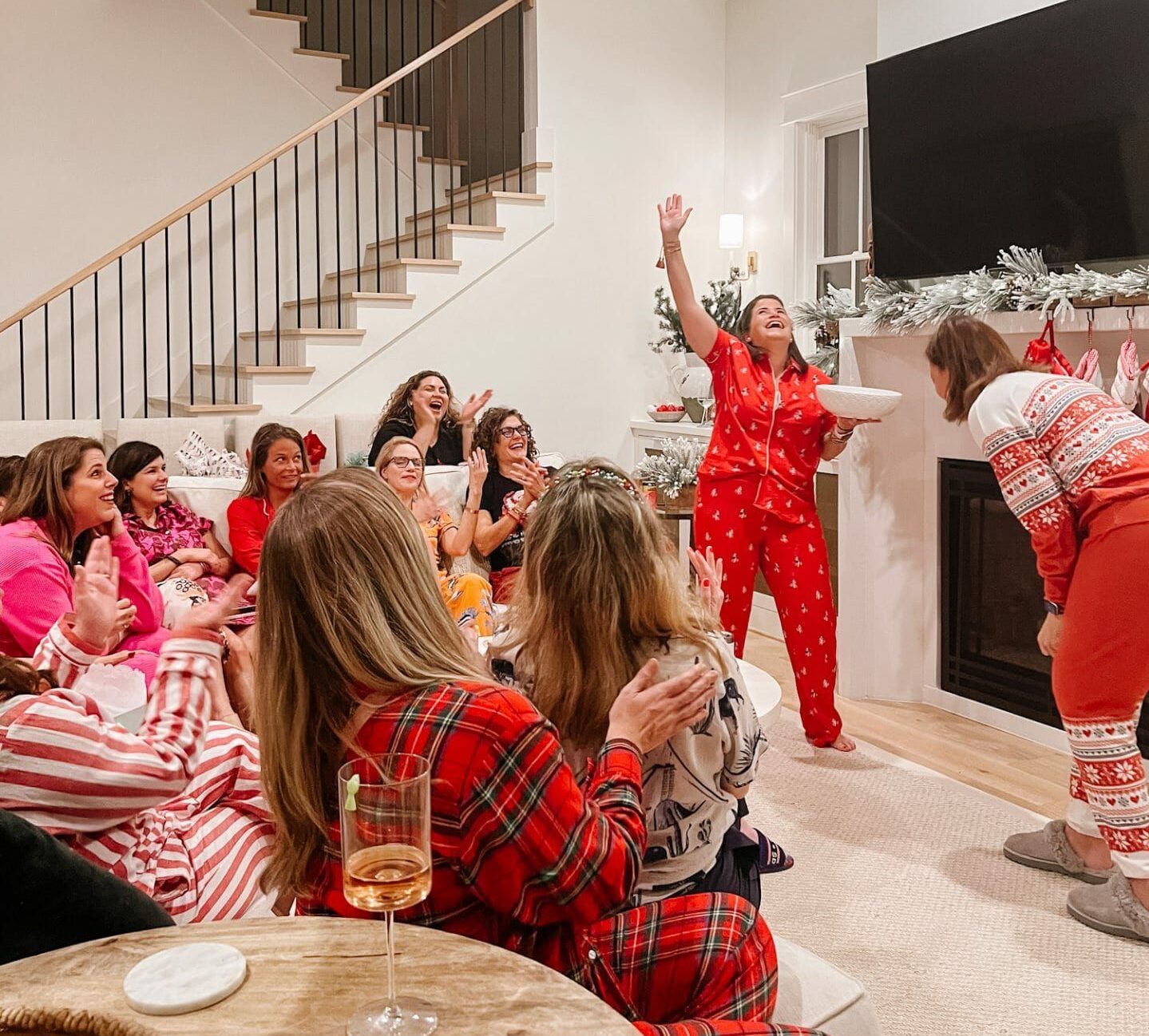 A pajama party is an exciting way to gather with friends. Choosing a fun theme can make the sleepover even more memorable. Here are some thrilling options to consider:
1. Movie marathon: Select a movie series or a collection of related films to watch throughout the night. Provide movie-themed snacks and drinks, and encourage guests to wear pajamas inspired by the films.
2. Spa night: Transform the space into a relaxing at-home spa. Offer face masks, manicures, and pedicures as party activities. Soft robes and comfy slippers can be the ideal pajama attire for this theme.
3. Breakfast for dinner: Host a breakfast-themed pajama party by serving pancakes, waffles, and other breakfast treats for dinner. Invite guests to wear their favorite PJs and provide a selection of cozy blankets for a comfortable atmosphere.
4. Decade party: Pick a decade for the sleepover theme and encourage guests to wear vintage pajamas. Play music and watch movies from the chosen era to create an immersive experience.
5. Superheroes vs. villains: Have guests choose between wearing superhero or villain-themed pajamas. Create a series of friendly challenges or games that pit the superheroes against the villains.
6. Karaoke night: Set up a karaoke machine and encourage guests to come dressed in the PJs of their favorite pop stars. Sing the night away and have mini performances throughout the event.
Each of these themes provides a unique and enjoyable way to make the most of a pajama party experience. The possibilities are endless, and with these themes as inspiration, every guest is sure to have a fantastic time.
Party Games and Activities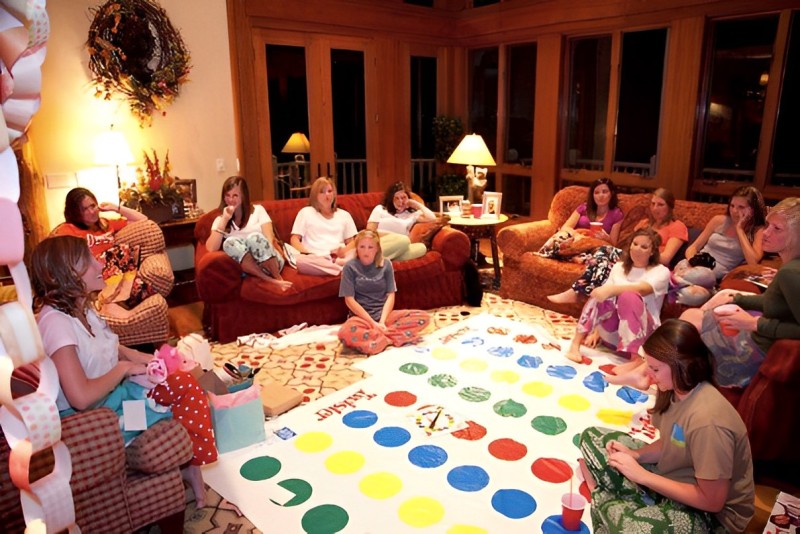 A pajama party is not complete without engaging games and activities. Here are some ideas to keep the entertainment going throughout the night.
Board Games: Classic board games like Monopoly, Scrabble, and Jenga can be a hit with guests of all ages. Set up a designated game area for those who wish to participate.
Pillow Fights: Pillow fights are a staple of slumber parties. Make sure there are plenty of pillows available for a friendly battle among friends.
Dance Party: Pump up the volume and have a dance party. Create a playlist with catchy songs and let everyone show off their moves.
Movie Marathon: Select a theme or genre, and have a movie marathon, complete with popcorn and comfortable seating.
Karaoke: Set up a karaoke machine and let guests sing their hearts out, either solo or in groups.
Bingo: Play a few rounds of bingo, with fun prizes for the winners.
Scavenger Hunt: Organize an indoor scavenger hunt, with clues and items hidden throughout the party space.
Charades: Divide guests into teams and have them act out words or phrases for their teammates to guess.
Game Night: Set up a game console for guests to enjoy multiplayer video games, like Mario Kart or Super Smash Bros.
Trivia: Test each other's knowledge with a game of trivia, tailored to the interests of your party attendees.
Pretend Fashion Show: Have guests dress up in their most stylish or silliest sleepwear and strut down an improvised runway.
Incorporate interactive games like truth or dare and freeze dance to keep the energy levels high. For those who prefer something more low-key, a round of Cards Against Humanity or a DIY craft project can provide a fun and calm experience.
No matter what activities you choose, offering a variety of options ensures that everyone has a great time at your pajama party.
Creating the Perfect Ambiance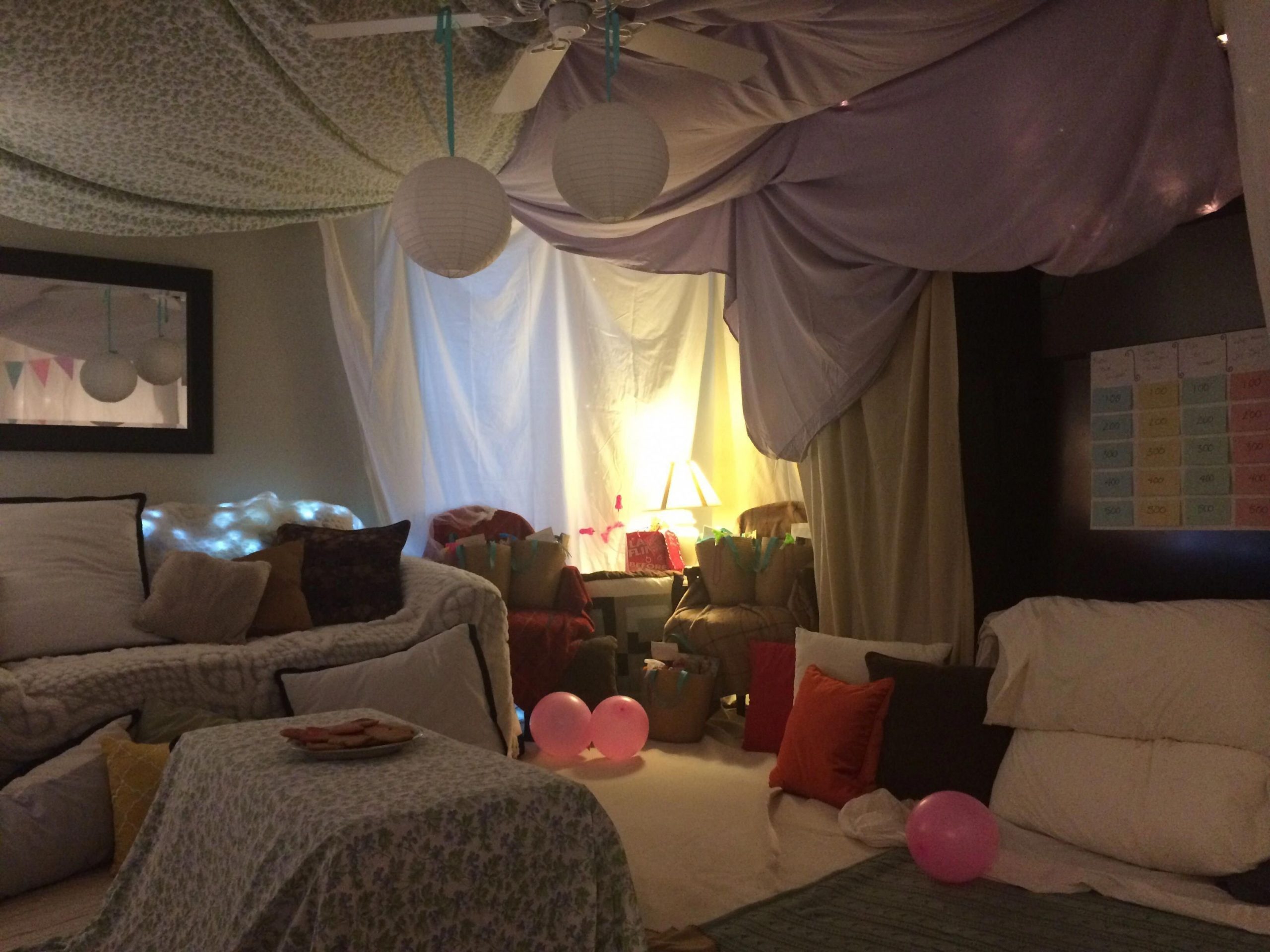 A pajama party's success largely depends on the atmosphere created. Begin by setting up a cozy area with pillows and tents to ensure guests are comfortable. Add a fun twist by incorporating glow in the dark decorations and a disco ball to keep the energy high.
Enhance the relaxation aspect of the evening with a spa night, offering guests the opportunity to indulge in makeovers and wear sleep masks. Offer arts and crafts activities, such as creating personalized pillows as keepsakes from the party.
To keep guests entertained, consider a movie night with a well-curated selection of films or an interactive murder mystery party. Create unforgettable memories with a photo booth and photo shoot setup for guests to capture their fashionable pajama ensembles.
Cater to varied tastes by organizing a make your own pizza station, allowing guests to customize their favorite toppings. This hands-on activity will not only keep guests engaged but also ensure everyone is satisfied with their culinary creations.
By combining an exciting mix of activities – from relaxation techniques to group events – the perfect ambiance is achieved, ensuring everyone has an enjoyable and unforgettable pajama party experience.
Food and Drink Ideas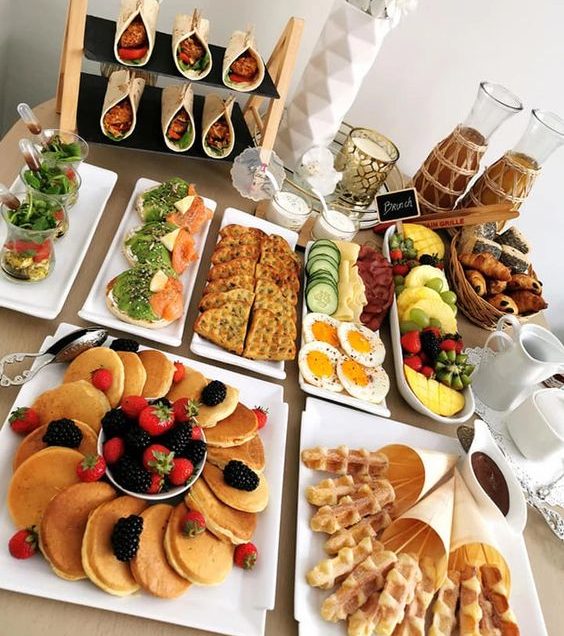 A successful pajama party should include a variety of delicious foods and drinks that will keep guests satisfied and entertained. Here are some food and drink ideas for your next pajama party.
Popcorn is always a big hit at any party, especially during movie marathons. Offer different flavors for guests to choose from, such as cheddar, caramel, and classic buttered. Pizza is another popular choice for party food, as it's satisfying and easy to customize. You can order from your favorite local pizzeria or prepare a pizza bar with pre-made crusts and different toppings for guests to build their own.
To satisfy those with a sweet tooth, consider offering a variety of cookies and cupcakes. Create a fun theme by matching the treats to the party's colors or characters for added excitement. Pancakes are a cozy option for a pajama party—set up a pancake bar with assorted toppings and fillings, so guests can create their own tasty combinations.
For more substantial fare, a taco bar is an enjoyable and interactive choice. Provide different protein bases, such as grilled chicken, seasoned beef, or black beans, as well as a variety of toppings like guacamole, salsa, and sour cream. Guests will love assembling their own tacos.
When planning your pajama party menu, don't forget the snacks. Classic party snacks include chips and dip, veggie platters, and cheese boards. Offer a variety of dips to cater to different palates, including salsa, queso, and spinach artichoke.
Finally, to quench your guests' thirst, provide a selection of beverages, such as juice and mocktails. Set up a drink station for self-service, and include a variety of flavored syrups, mixers, and garnishes for personalized creations.
By incorporating these food and drink ideas, you'll create a memorable pajama party that guests will enjoy.
Party Favors for Guests
Providing party favors for guests is a thoughtful way to thank them for joining the pajama party and making it memorable. There are numerous options to consider that will leave a lasting impression on everyone.
One popular and fun idea is creating custom sleep masks for everyone to take home. These masks can be personalized or have a funny design, allowing the guests to remember the night every time they wear them. To make it extra special, consider adding each guest's name or initials on the mask.
Another interesting party favor idea is giving away mini spa sets. These sets can include items like mini bottles of lotion, scented candles, or even small bath bombs. Not only will they appreciate the pampering, but these sets also encourage relaxation even after the party has ended.
Don't forget about photo booth props! They not only add an entertaining aspect to the event but also serve as a perfect keepsake. Personalize these props with the party theme and let the guests take them home. Options can include playful sleep-themed items like pillows or nightcaps, or perhaps even sleep-related phrases written on cardstock.
Lastly, create a snack and treat basket for the guests to take home. Fill it up with assorted goodies like popcorn, chocolates, or each guest's favorite snack. You can package these treats in a cute reusable container or tote, adding an eco-friendly element to your party favors.
Remember, the key factor when providing party favors is to make sure they are related to the theme and something the guests can genuinely enjoy. With these ideas in mind, your pajama party will be a hit and appreciated by everyone.