Planning a Paw Patrol party for your child's birthday can be a memorable and exciting experience for both you and the little attendees. This adventurous theme is inspired by the popular children's television show, Paw Patrol, which features a team of helpful and brave puppies, led by their human friend, Ryder. Combining a Paw Patrol birthday with creative ideas for decorations, games, and food will make your child's special day unforgettable.
To begin your Paw Patrol Party journey, focus on incorporating elements from the animated series into your party's decor, activities, and cuisine. Ideas like customized invitations, themed banners, and colorful Paw Patrol tableware can bring the spirit of Adventure Bay to your home. Additionally, engaging games and activities based on the show's characters will keep children entertained and excited throughout the celebration.
By thoughtfully incorporating various aspects of the Paw Patrol universe into your party planning, you'll create a unique and thrilling birthday experience that your child will cherish for years to come. Remember to take cues from the show and let your imagination run wild, creating a one-of-a-kind Paw Patrol adventure that's perfect for your little hero.
Paw Patrol Party Planning
Planning a Paw Patrol-themed party can be a delightful experience for both parents and children. Drawing inspiration from the popular Nickelodeon show, there are numerous ideas and resources available to aid you in creating a fun and memorable event. In this section, we'll discuss some key aspects of Paw Patrol party planning, including party supplies and setting up the perfect Paw Patrol party table.
A great way to start is by gathering Paw Patrol party supplies, which will give your party a cohesive and visually appealing look. You can find a wide range of products featuring Chase, Marshall, Skye, Rocky, Rubble, Everest, and Zuma – all popular characters from the show. Items like plates, cups, napkins, and tablecloths can be found with Paw Patrol graphics and colors.
Once you have all the necessary party supplies, it's time to set up your Paw Patrol party table. This centerpiece of your event can be customized to showcase various elements from the show. For instance, you could use bright red fire hydrants to accentuate the table for Marshall, the fire pup. Additionally, you can incorporate personalized stickers on items like water bottles or cotton candy tubs to add that extra touch.
Don't hesitate to be creative with the party food as well. Themed snacks like Chickaletta's Chicken Nuggets and Rubble's Puppy Chow can make the event even more special. Feel free to explore Fabeveryday for more food ideas and free printables, including food signs.
Incorporate some Paw Patrol games and activities to keep the little ones entertained. Ideas can include ruff-ruff rescue chairs, treasure hunts, or even obstacle courses. By combining these ideas and carefully planning each aspect of the party, you are sure to create a fantastic Paw Patrol-themed event that will be remembered for years to come.
Characters and Theme
Character Overview
Paw Patrol is a popular animated television series that features a group of heroic rescue pups led by a boy named Ryder. The main characters of the show are the pups themselves, which include: Chase, Marshall, Skye, Rocky, Rubble, Everest, and Zuma. Each pup has its own unique skillset, based on different professions such as firefighting, construction, aviation, and underwater rescue.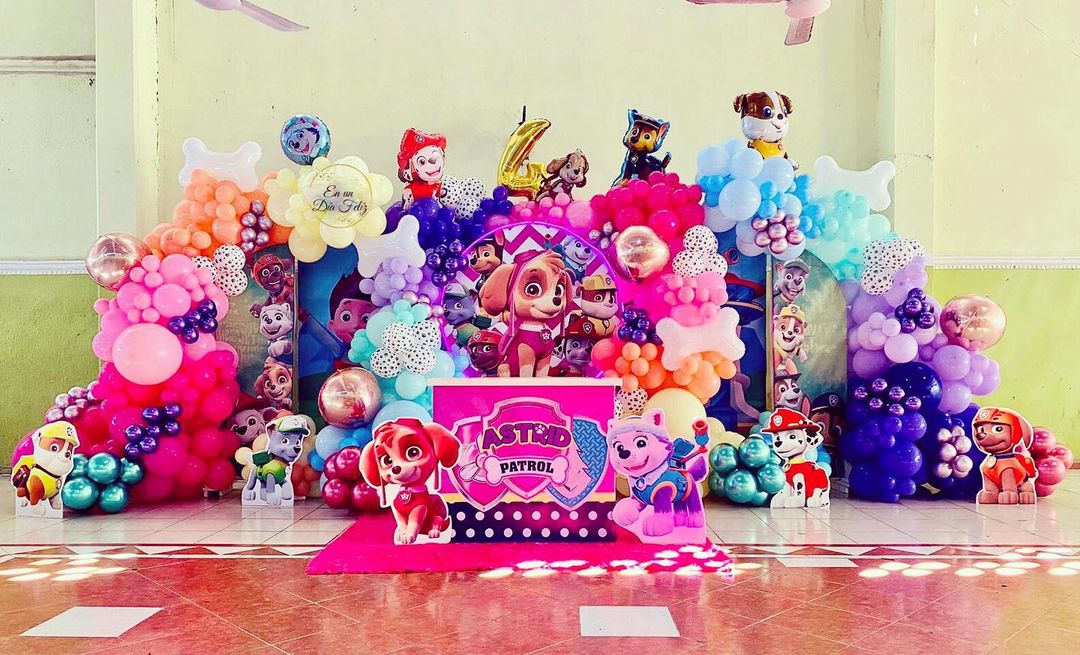 Paw Patrol Theme
When hosting a Paw Patrol-themed party, it's crucial to incorporate elements that represent the characters and their adventures. One idea is to use Paw Patrol decorations and items featuring the pups' signature colors and badges. These can include party banners, tablecloths, plates, cups, and other party supplies showcasing the characters and their emblems, like Marshall's fire badge or Skye's aviation badge.
For a more immersive experience, you may explore Paw Patrol decoration ideas such as creating a lookout tower centerpiece, designing a DIY rescue mission game, or setting up activity stations based on each pup's specialty. This could involve a "Put out the fire" game for Marshall, or a "Build a tower with Rubble" construction activity.
Another aspect to consider in a Paw Patrol party theme is incorporating elements from the show's special episodes or spin-offs, such as the Mighty Pups series. This can bring an exciting twist to the party and provide a fresh take on the classic characters.
By carefully planning the decorations, activities, and details that showcase the characters and the overall Paw Patrol theme, you can create a memorable and entertaining event that children of all ages will love.
Food and Cake Ideas
Paw Patrol Party Food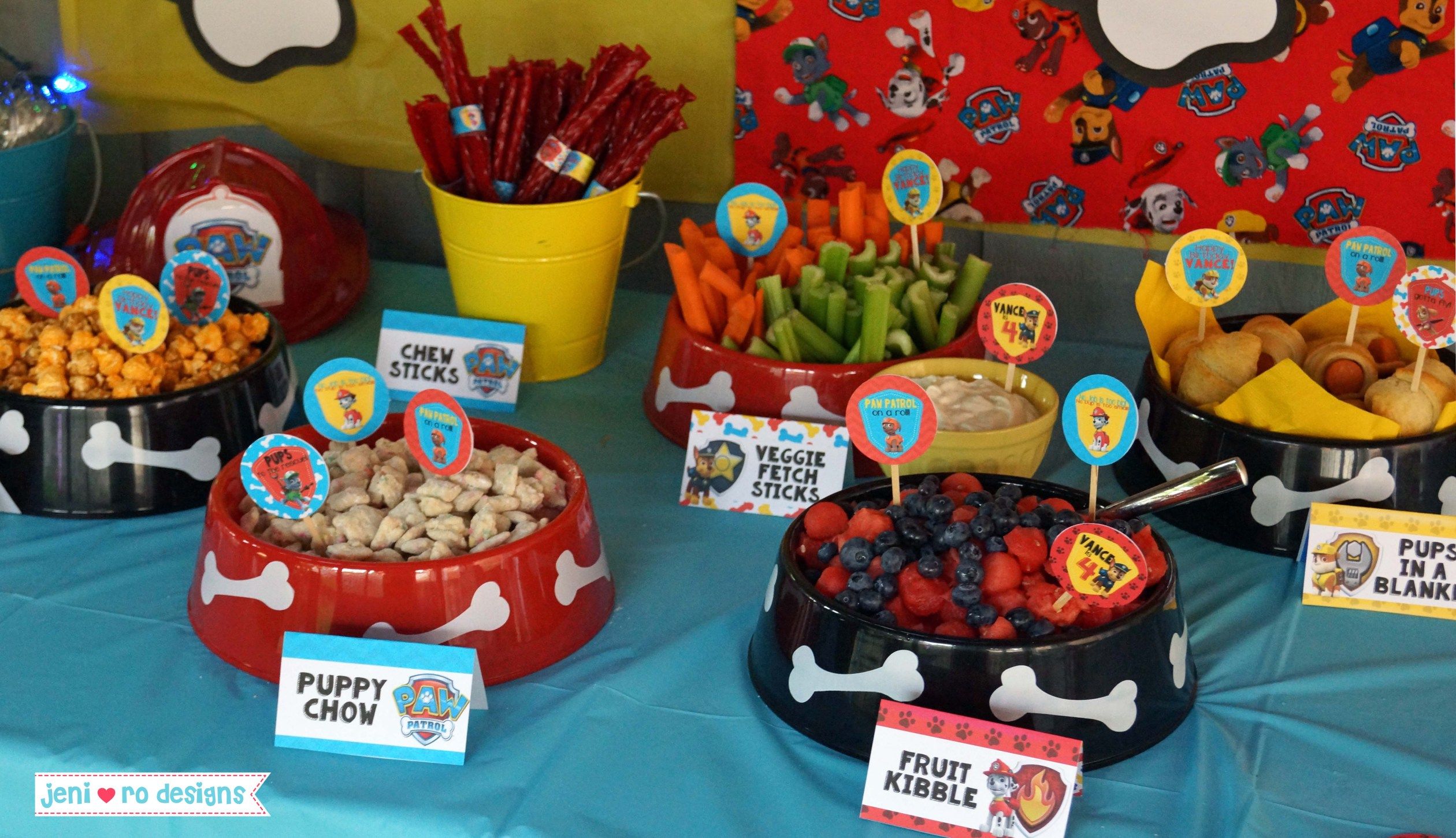 Planning a Paw Patrol-themed party? Your little guests will love these Paw Patrol party food ideas. Serve themed food like Zuma's Water Bowls, which are blue Jello cups, or create a fruit platter with various colorful fruits shaped like dog paws.
Don't forget to offer creative finger foods like Rice Krispie Treats shaped like fire hydrants and rubble's rocks, chocolate nuggets, or even cheddar sticks as Chase's cheddar sticks. Not to mention, using themed labels for the food can add a finishing touch to your party decor.
Sweet Treats
No Paw Patrol party is complete without a delicious Paw Patrol cake or Paw Patrol cupcakes. For a beginner-friendly option, consider a bone-shaped cake with a Paw Patrol fondant logo made from round and rectangle cake pans. If cupcakes are more your style, think about topping them with character-themed toppers, such as a shield with Skye's badge or Marshall's fire truck emblem.
Another quick and easy sweet treat idea to include in your Paw Patrol party is Rubble's Puppy Chow. Simply mix together Chex cereal, chocolate, peanut butter, and powdered sugar for a crowd-pleasing snack.
Creative Cookie Ideas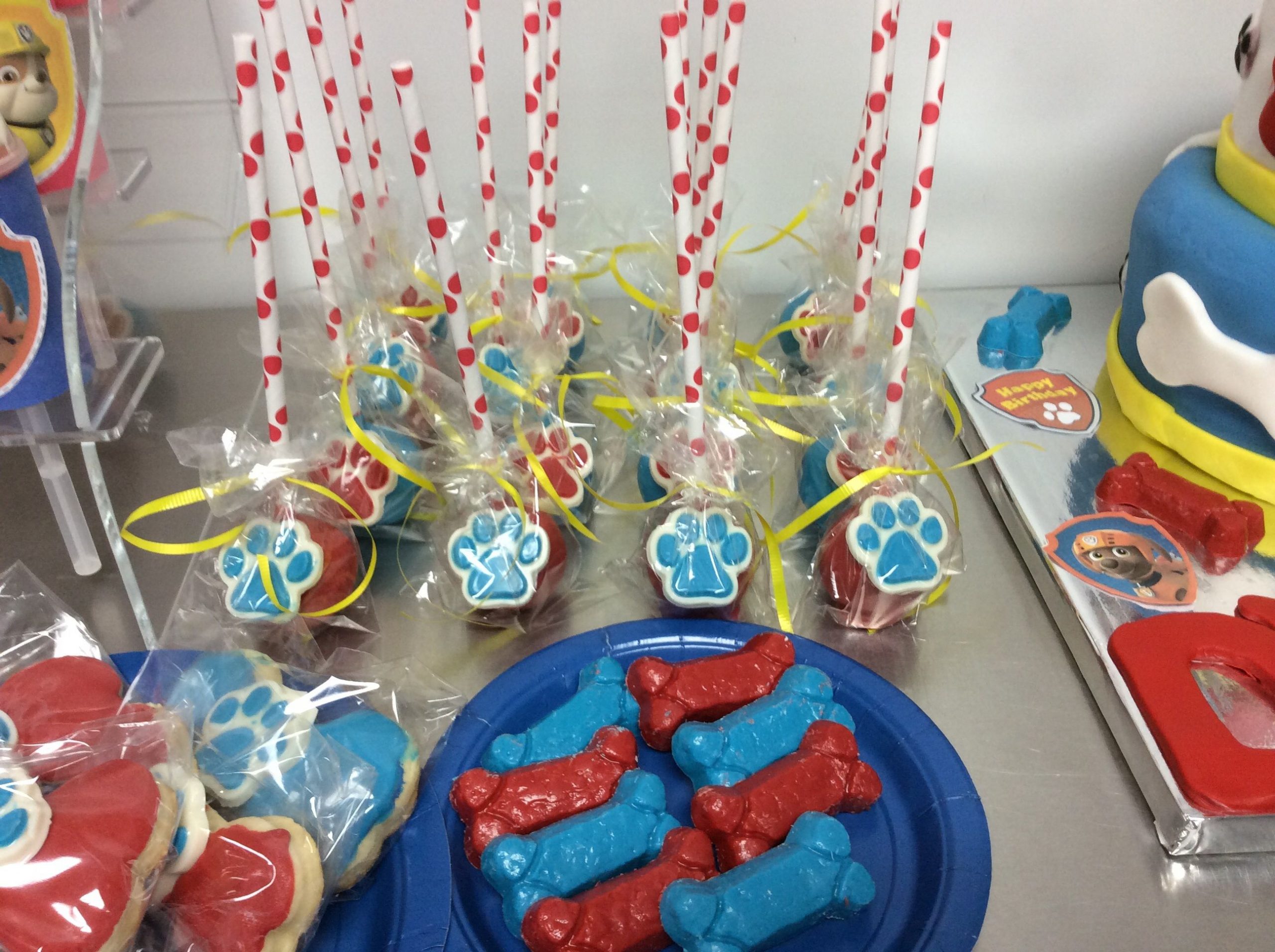 If you're looking to add some variety to your dessert menu, consider embarking on an adventure with Paw Patrol cookies. Utilizing a bone-shaped cookie cutter, you can easily create dog bone cookies to match the party's theme.
Adding a touch of detail, like a pup's name or a paw print, can really make these cookies stand out. These delicious themed cookies pair well with other sweet treats, like Jello or fruit, to round out your creative and Paw-some party spread.
Paw Patrol Party Games and Activities
Engaging Party Games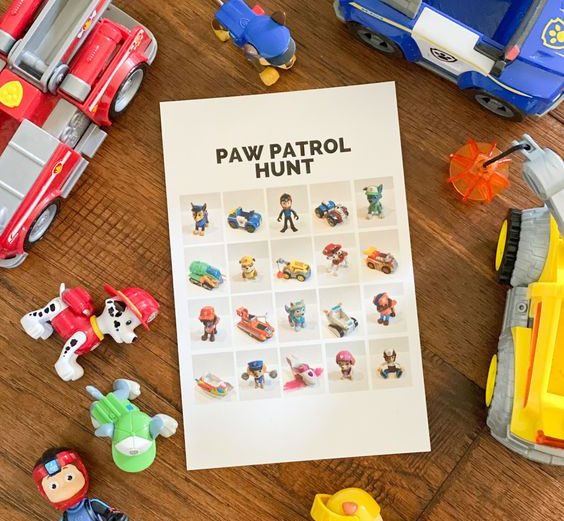 There are various Paw Patrol party games that can entertain kids of all ages. For instance, a Paw Patrol Scavenger Hunt can be set up by hiding character-themed objects around the party area and providing the children with a list of things to find. Another fun option is "Pin the Badge on Chase," which is a Paw Patrol twist on the classic game where blindfolded players try to pin a badge on a poster of Chase as accurately as possible1.
Additionally, you can set up indoor games like "Ryder Says", a Paw Patrol-inspired version of "Simon Says". Customize traditional party games to fit the theme, such as turning a relay race into "Zuma's Water Rescue Challenge" where kids carry water-filled balloons between two points, without dropping them.
Fun Activities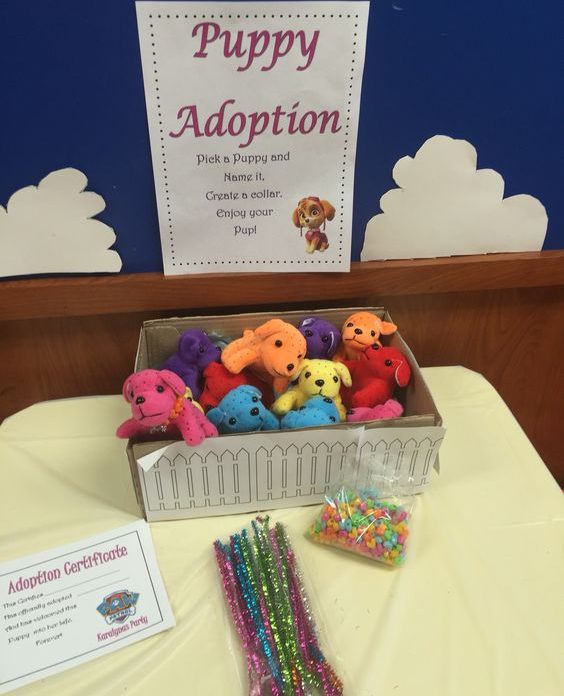 A Paw Patrol party wouldn't be complete without engaging activities. Set up a coloring pages station with printouts of the characters and provide a variety of age-appropriate coloring materials. This activity allows children to showcase their creativity while taking home a memorable piece of artwork from the party.
Another popular activity you can include is a dog adoption station or an "Adopt a Puppy" station. Provide plush dogs or inexpensive stuffed animals, and allow each child to choose their "puppy" to take home as a party favor. Enhance this activity by setting up a table with adoption certificates, collars, and other dog-themed accessories for the kids to customize their new pets.
Incorporating these Paw Patrol Party games and activities into your event will ensure the kids have a fun-filled and memorable experience. Remember to keep the activities age-appropriate, so all your party guests can enjoy the excitement.
Paw Patrol Party Favors and Printables
Memorable Party Favors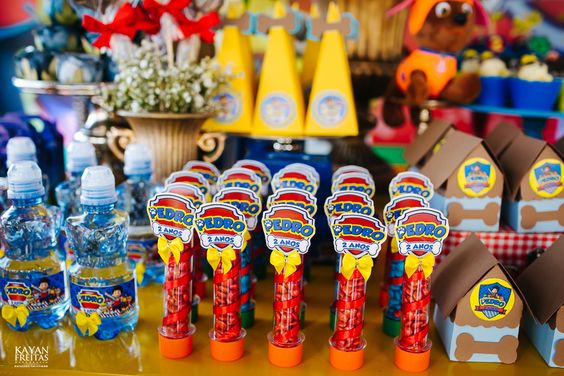 Paw Patrol birthday theme parties are popular among young children, and providing cute and memorable party favors is essential to keep the excitement going. Paw Patrol Party Favors such as stickers, mini toys, and themed candies are excellent choices to delight the little guests. Stickers featuring favorite characters like Chase, Marshall, Skye, and the rest of the crew make great additions to favor bags or as standalone gifts. Other items, such as M&M's Minis chocolate tubes with custom paw print design wraps, can treat the children to delicious sweets while keeping the theme intact.
Valuable Printables
Adding Paw Patrol Printables to the party can also make the experience more special and on-theme. There is an abundance of party printables available, such as coloring sheets, water bottle labels, and photo booth props which can enhance the party's atmosphere and keep the children engaged.
Coloring sheets featuring various Paw Patrol characters are a fun and cost-effective way to provide entertainment while letting kids showcase their creativity. Simply print the sheets and provide crayons or coloring pencils.
Additionally, customized water bottle labels can turn ordinary water bottles into themed refreshments. These are an easy way to add a touch of Paw Patrol magic to the party as they can be downloaded, printed, and wrapped around the bottles.
Finally, photo booth props with Paw Patrol characters and paw prints can make for a unique and engaging activity during the celebration. Capture memorable moments with these fun props, immortalizing the joy of the special day.
Incorporating these Paw Patrol party favors and printables is a surefire way to enhance the overall experience and ensure a memorable birthday celebration for everyone in attendance.
Decorative Elements
Eye-catching Decorations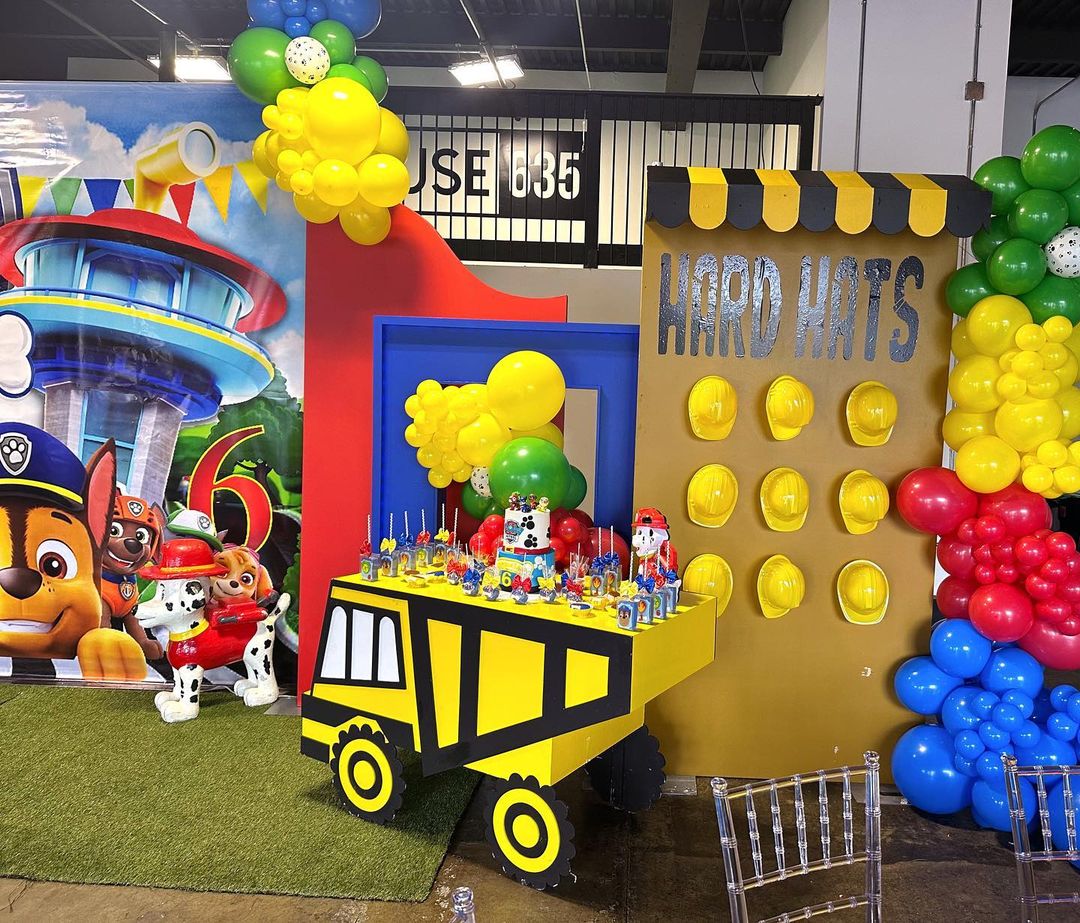 Transform your space into an exciting Paw Patrol universe with eye-catching decorations that resonate with Chase, Marshall, Skye, Rocky, Rubble, Everest, and Zuma. Incorporate themed elements such as fire hydrants and Paw Patrol party hats to make the children feel like part of the adventure. For added fun, you can include personalized stickers to enhance water bottles, candy tubs, or any other items you choose to use at the party.
Creating The Perfect Party Table
Design a captivating party table that matches the Paw Patrol theme. Start by using tablecloths, plates, and utensils with a distinct Paw Patrol design from popular items like those mentioned in All the Party Ideas' list of party supplies. Complete your table setup with a themed centerpiece featuring favorite characters from the show, or even a candy bar designed to look like the pups' headquarters.
Incorporate small details like dog bone water bottles and other items inspired by the Nick Jr. show, which can help create a polished look for your party table. Don't forget to include colorful and age-appropriate serving ware, such as cups and utensils adorned with Paw Patrol characters.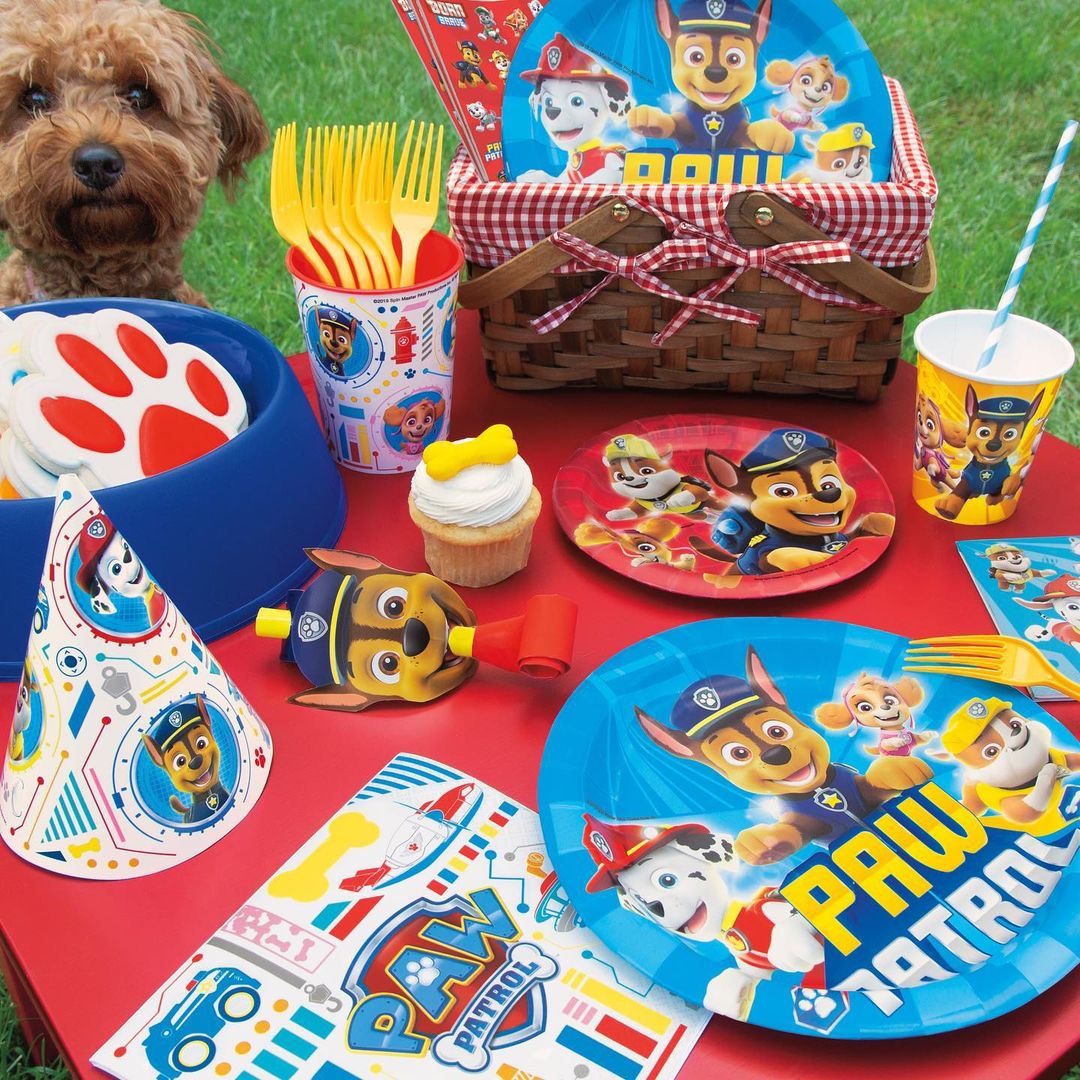 Festive Banners
Tie the whole room together by adding festive banners that highlight Paw Patrol's dynamic charm. A "Happy Birthday" banner featuring the young pups and exciting elements from the show will bring joy to the birthday child and their guests. Creative options are available, like printable banners or pre-made banners from your preferred party supply store.
Remember, the aim is to create an immersive atmosphere for the young Paw Patrol fans to enjoy their special day – the details make all the difference when crafting an unforgettable birthday experience.
Party Wrap-Up
Organizing a Paw Patrol Birthday Party can be a fun and memorable experience for your child and their friends. With careful planning and some creative ideas, you can pull off a fantastic event that will have everyone talking about it afterward.
For the invitations, think about creating custom cards featuring the child's favorite Paw Patrol characters. You can find printable templates online or order personalized invitations that include all the vital information – date, time, and location of the party.
When it comes to Paw Patrol Birthday Party Food, there are lots of creative options to delight your little guests. Consider serving PAWsome sandwiches shaped like dog bones or using cookie cutters to create paw print snacks. You could also set up a "Pup-Tastic Treats" bar where children can pick their favorite toppings for ice cream or cupcakes with colorful Paw Patrol-themed decorations.
A successful Paw Patrol party should also include engaging activities and games for the children to enjoy. Ideas like a "Pup-Peroni Pizza" decorating station, where kids can create their pizzas with various toppings or a Paw Patrol scavenger hunt to solve rescue missions will keep children entertained and fully immersed in the theme.
Lastly, don't forget about themed party favors to send home with the guests. Assemble goody bags filled with items like mini Paw Patrol figures, coloring books, or even Paw Patrol-themed snacks. This small token of appreciation will be a cherished memento of the fun day spent with friends at your child's Paw Patrol Birthday Party.
By following these suggestions, you'll create a memorable event that your child and their guests will surely enjoy. Happy party planning!