A pink-themed party is an enchanting way to celebrate special occasions, and choosing the perfect pink foods is crucial for creating that magical atmosphere. The color pink is often associated with love, playfulness, and charm, making it an ideal choice for various events such as birthdays, bridal showers, or even baby showers. With an exciting mix of sweet and savory dishes, the menu options for a pink party are endless and can cater to the varying tastes of guests.
To make your pink party a hit, it is essential to consider several delicious dishes that will impress both visually and in taste. Pink foods can range from fruity delights, such as strawberry ice cream and watermelon gazpacho, to novelty treats like pink doughnuts and hot pink beetroot hummus. These options ensure that there's a little something for everyone on the guest list, even those with dietary restrictions or preferences.
When curating your pink party menu, don't forget to include a balance of inviting appetizers and eye-catching main courses, as well as delightful desserts. Some tantalizing ideas include pink deviled eggs, pink pasta, and pink champagne cake, which are sure to leave a lasting impression on party-goers. With the right selection of pink foods, your event will be a memorable and visually stunning affair.
Berries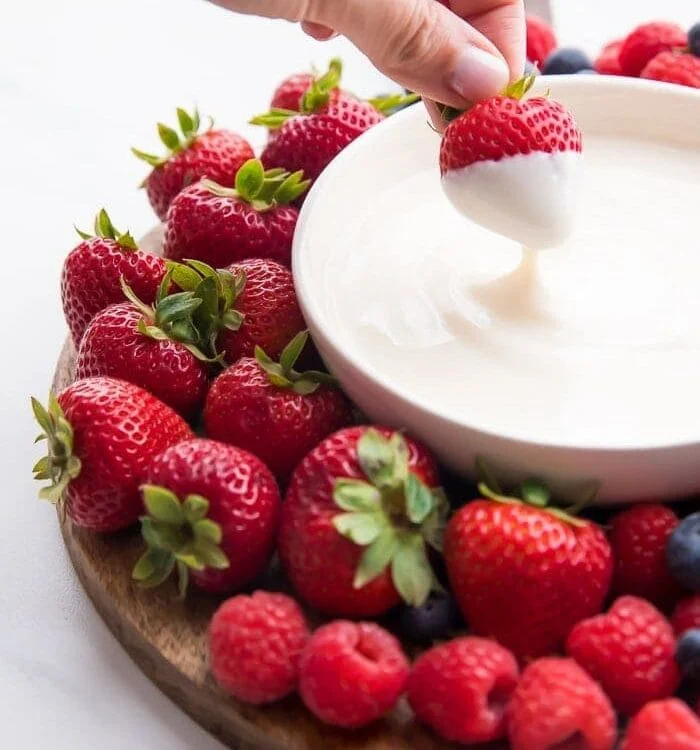 Among the many options for pink foods, berries stand out as a delicious and healthy choice for your party. Not only do they add a vibrant touch of color, but they also provide an array of vitamins and nutrients, making them an excellent choice for guests who prefer vegan-friendly, plant-based options.
Strawberries are undoubtedly one of the most popular pink fruits. These juicy, sweet berries are ideal for snacking, and can be served whole or sliced for a convenient finger food. When choosing fresh strawberries, be sure to pick fruits that have a rich, deep color; this indicates that they are ripe and bursting with flavor. Additionally, strawberries are packed with vitamin C, making them a nutritious addition to your party menu.
Raspberries are another delightful pink food option for a berry-themed party. These small, delicate fruits have a subtle sweetness, balanced by a slight tartness. They can be served on their own or paired with other fruits to create an eye-catching and flavorsome fruit platter. Like strawberries, raspberries are rich in antioxidants and vitamin C, contributing to their status as a healthy party food option.
To make your berry-themed party even more appealing, consider incorporating a variety of pink fruits into your menu. This not only ensures that your guests have a range of options to choose from, but it also allows you to cater to different dietary preferences. By offering an assortment of delicious, healthy, and aesthetically pleasing pink foods like strawberries and raspberries, your party is sure to be a memorable and enjoyable experience for everyone in attendance.
Pink Vegetable Dishes
Pink vegetable dishes are an excellent way to add a splash of color to your party menu. One of the main ingredients for creating pink dishes is beets, a vibrant and nutritious vegetable packed with vitamins and minerals.
Beet Hummus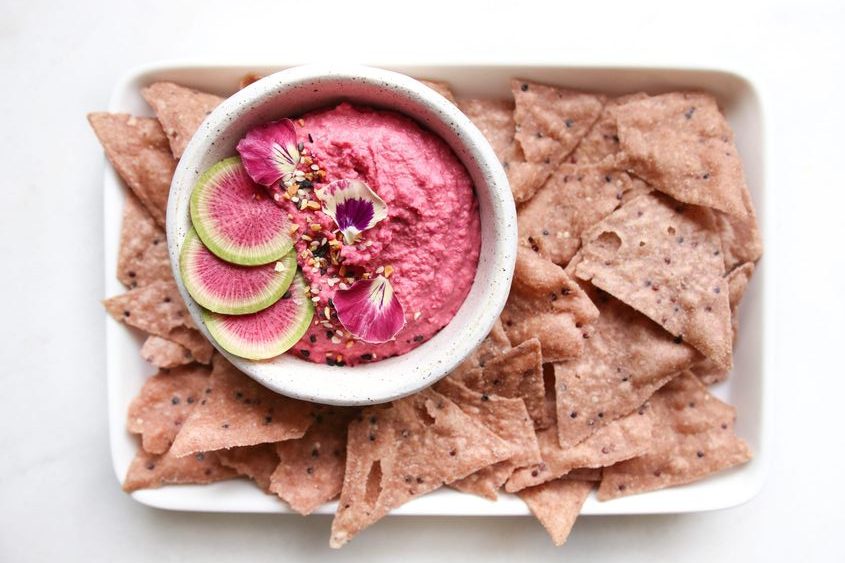 A popular appetizer choice is beet hummus. This spin on a classic dip incorporates roasted beets, giving the hummus an appealing pink hue. Roasted beet hummus is not only visually striking but also offers a subtly earthy flavor, making it a perfect pairing with fresh vegetables or pita chips.
Beetroot Soup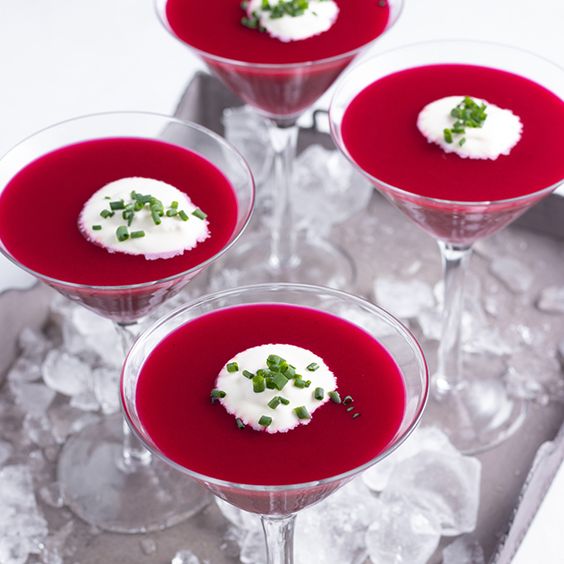 For a more substantial dish, consider serving beetroot soup as part of your party menu. This rich, velvety soup showcases the natural sweetness of beets and adds an elegant touch to your table. You can even garnish the soup with a drizzle of yogurt or cream for an added touch of sophistication.
Beetroot Crepes
Beetroot crepes are another way to incorporate pink vegetables into your menu. These delicate, naturally pink crepes can be filled with various sweet or savory ingredients, such as goat cheese and herbs, offering your guests a unique treat alongside more traditional options. Similarly, beetroot pasta is a visually stunning dish that pairs well with a variety of sauces and toppings.
Pink Beet Pancakes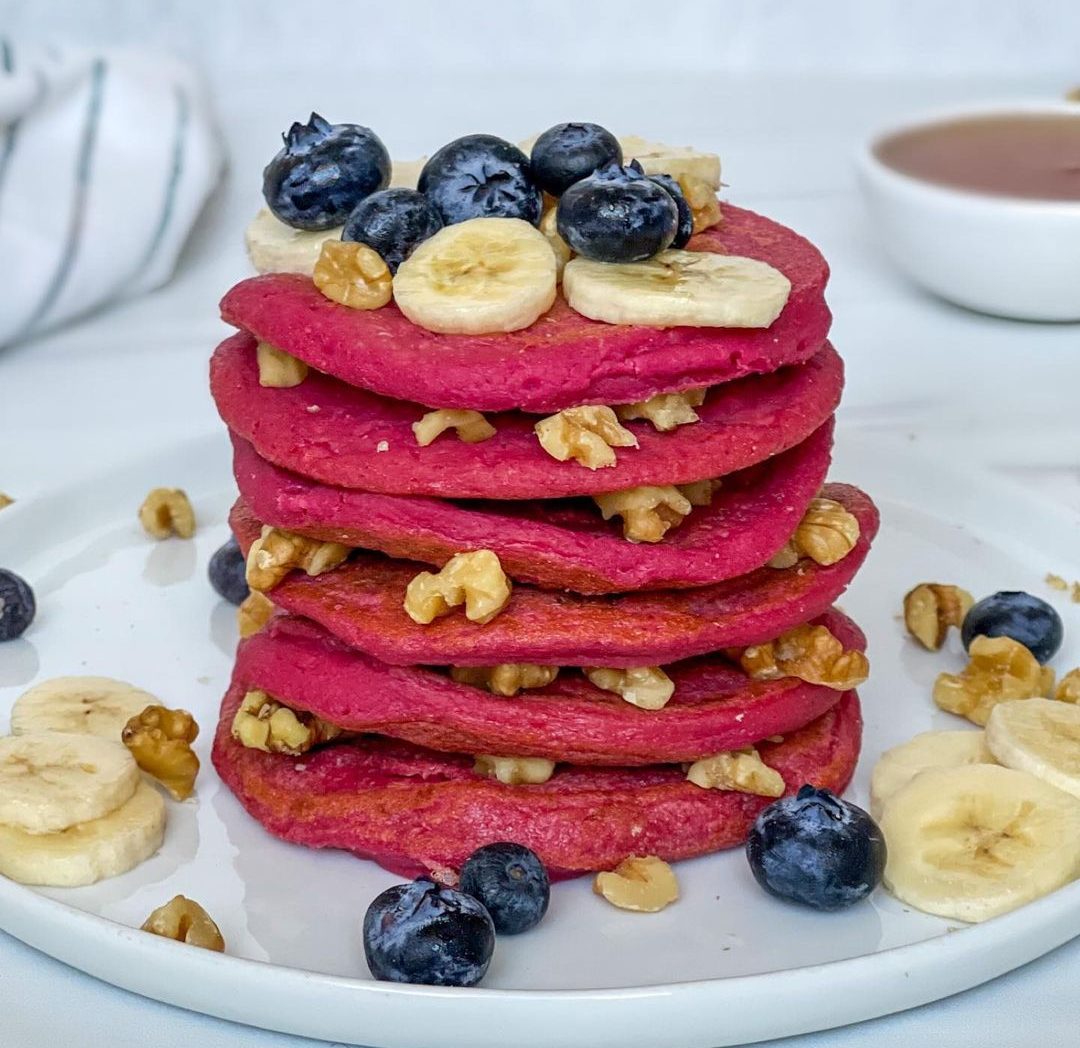 For a fun and creative twist on breakfast favorites, consider serving pink beet pancakes. Made by incorporating beet puree into a traditional pancake batter, these vibrant pancakes please both the eye and the palate, and you can top them with a savory accompaniment like smoked salmon or a dollop of sour cream.
Radicchio Salad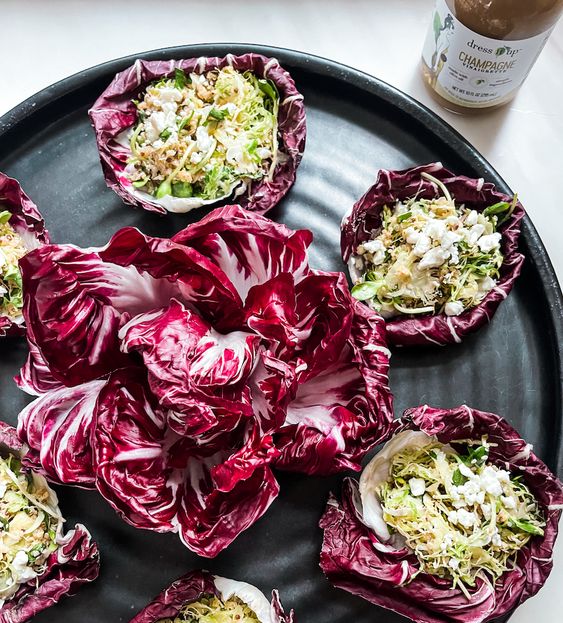 In addition to beets, pink vegetables such as radicchio can be used to create colorful salads. Radicchio, a type of chicory, has a slightly bitter taste that balances well with sweet and tangy ingredients.
In conclusion, incorporating pink vegetable dishes into your party menu not only adds visual interest but also showcases the delicious versatility of beets and other pink vegetables. With so many options to choose from, your party will be remembered for its unique and tasty culinary creations.
Pink Seafood and Meats
Salmon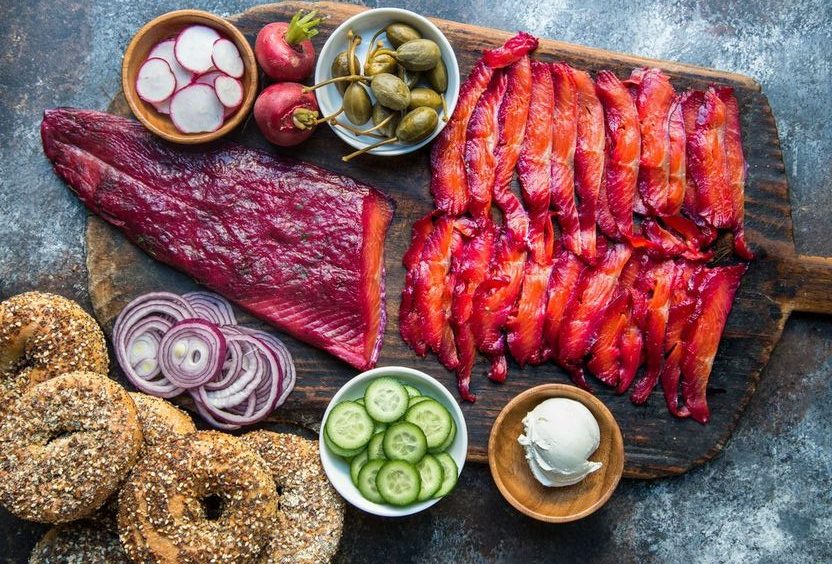 Pink seafood and meats can add a delightful splash of color to any party menu, while also offering a tasty and satisfying culinary experience. One of the most popular options in this category is salmon. Many enjoy this nutrient-rich, versatile fish, which can be prepared in various ways, such as grilled, baked, or even served as sushi.
Shrimp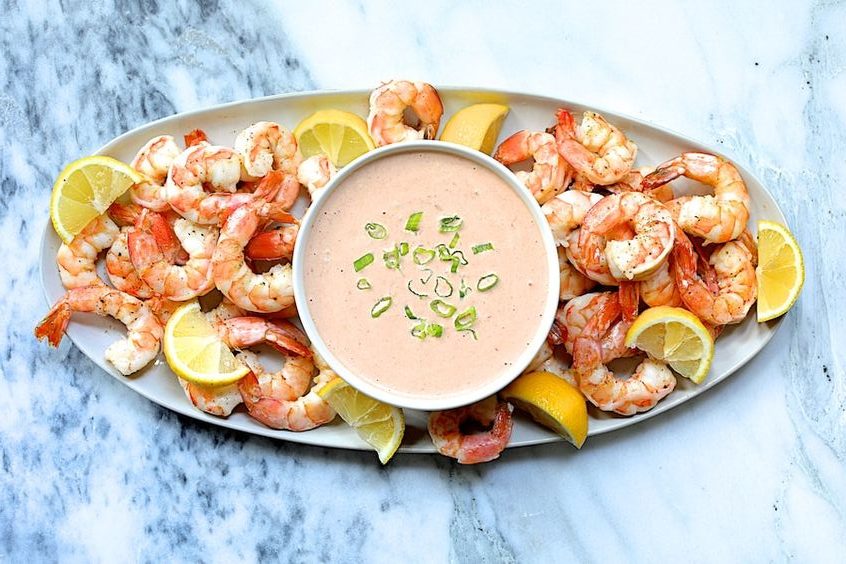 In addition to salmon, there are other seafood and meats that feature naturally pink hues. For example, shrimp offers a visually pleasing and appetizing choice for party guests. Shrimp can be served in a variety of ways, including shrimp cocktail, shrimp skewers, or mixed into a refreshing seafood salad.
Ham
Another great option is ham. This pink-hued meat can be enjoyed as thin, cold slices on a party platter, or cooked and served hot on small crostini. Combining ham with other complementary ingredients, such as cheese, fruit, or pickles, only adds to its appeal.
Scallops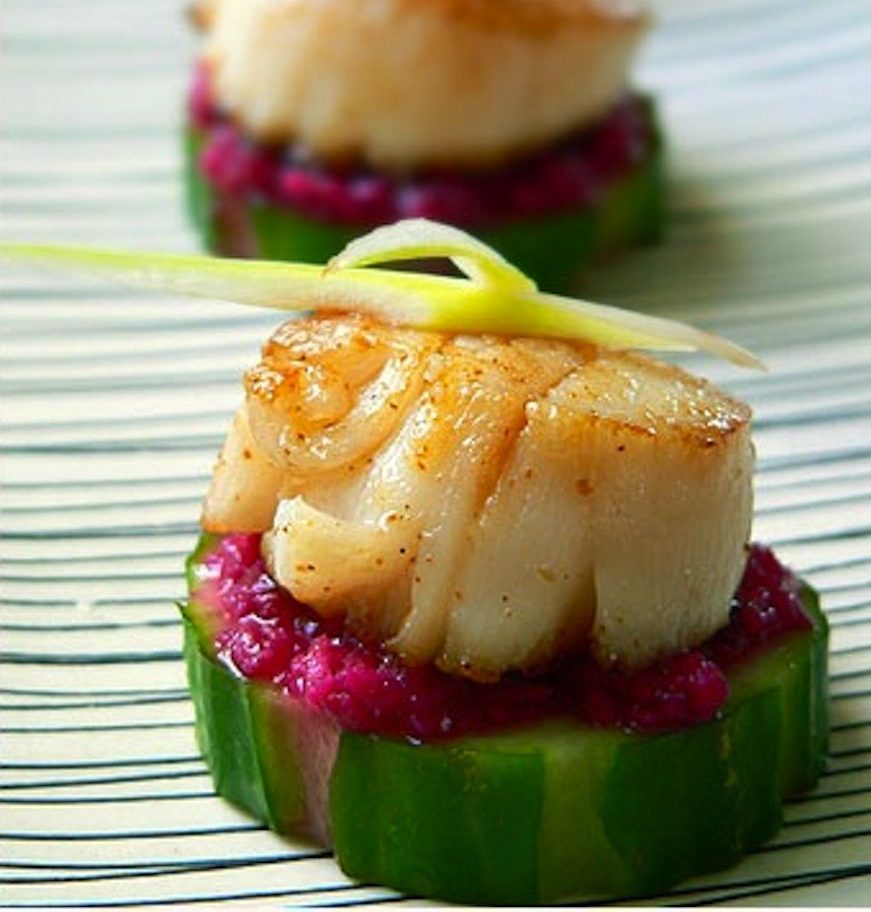 If you are looking for something more exotic, consider adding pink scallops to your party menu. These eye-catching seafood treats can be prepared by searing, baking, or grilling. Pairing pink scallops with light and fresh ingredients like lemon, herbs, or a crisp salad can enhance their natural flavors and colors.
With various options available, incorporating pink seafood and meats into a party menu adds both visual appeal and flavorful options for guests to enjoy. Whether you choose salmon, shrimp, ham, or pink scallops, these ingredients provide a unique and memorable dining experience.
Pink Fruits and Desserts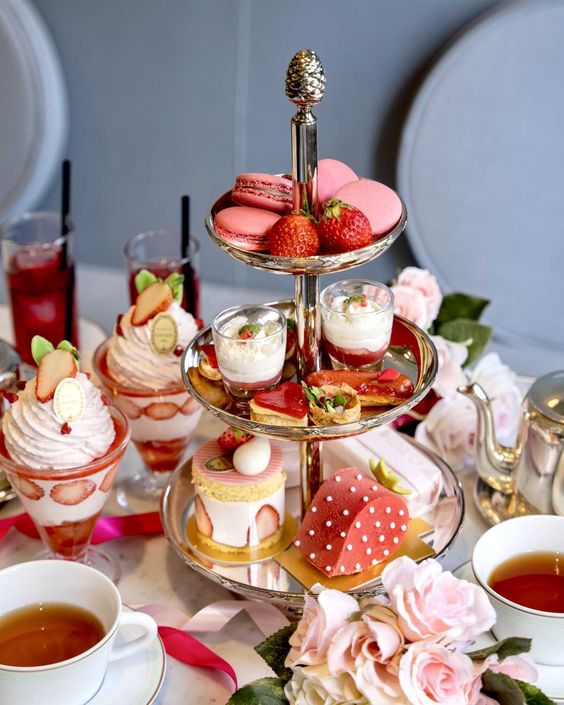 When planning a party with a pink theme, incorporating pink fruits and desserts is essential. Not only do these foods look visually appealing, but they also provide delicious treats for guests to enjoy.
One of the most popular pink fruits is watermelon. This refreshing fruit adds a sweet and juicy element to any party spread. Other pink fruits to consider include raspberries and pink grapefruits. These options make for beautiful and tasty party treats that guests will love.
For dessert, there is a wide range of pink options to choose from. Strawberry ice cream and watermelon gelato provide both delicious and visually appealing frozen treats. Guests will also appreciate the variety of pink baked goods such as strawberry cakes, strawberry brownies, and strawberry shortbread cookies. These desserts not only taste delicious, but their eye-catching pink color adds to the party's overall aesthetic.
Another great option for a pink dessert is strawberry mousse. This light and airy treat has a beautiful pink hue that makes it the perfect choice for a pink-themed party. Strawberry marshmallows are another excellent option, offering guests a soft and chewy snack that is undeniably delicious.
Pink macarons can also make a beautiful and elegant addition to your party's dessert table. These delicate French pastries are not only aesthetically appealing but also offer a delicious burst of flavor, often with fruit or cream fillings.
A dragon fruit smoothie makes for an excellent drink or dessert option at a pink-themed party. The vibrant, pink hue of the dragon fruit adds to the visual appeal of the smoothie, while the unique flavor is an exciting treat for guests to enjoy.
In summary, incorporating pink fruits and desserts in your party menu is a delightful way to add color and excitement to your overall theme. With so many delicious and visually appealing options to choose from, your guests will surely appreciate the effort put into creating a cohesive and enjoyable pink-themed experience.
Pink Baked Treats
Pink-themed parties are a great opportunity to showcase some scrumptious and eye-catching baked treats. These delicious and visually appealing desserts will delight your guests and complete the party ambiance. Among the myriad of pink desserts available, some of the most popular choices include pink velvet cupcakes, strawberry brownies, and pink lemonade cupcakes.
Pink Velvet Cupcakes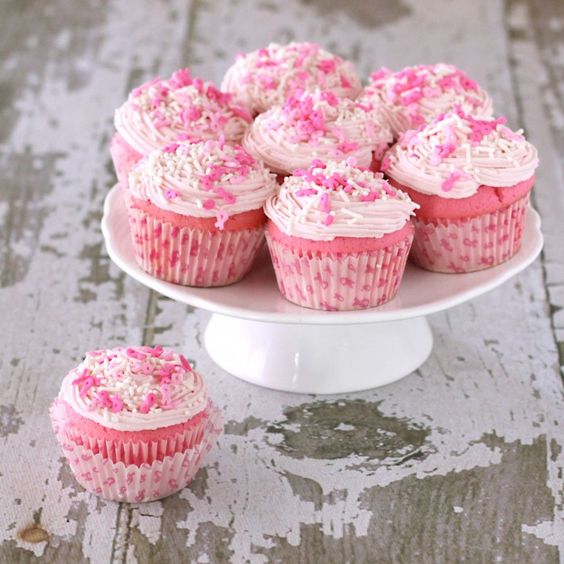 Pink velvet cupcakes, a twist on the classic red velvet cake, are made with a deliciously moist pink cake base and topped with a rich cream cheese frosting. This pink velvet cupcake is an elegant and delightful option for any pink-themed celebration.
Strawberry Brownies
Strawberry brownies are another delightful treat that combines the rich and fudgy texture of brownies with the irresistible flavor of strawberries. This unique combination creates a perfect harmony for those who enjoy chocolate and strawberry pairings.
Pink Lemonade Cupcakes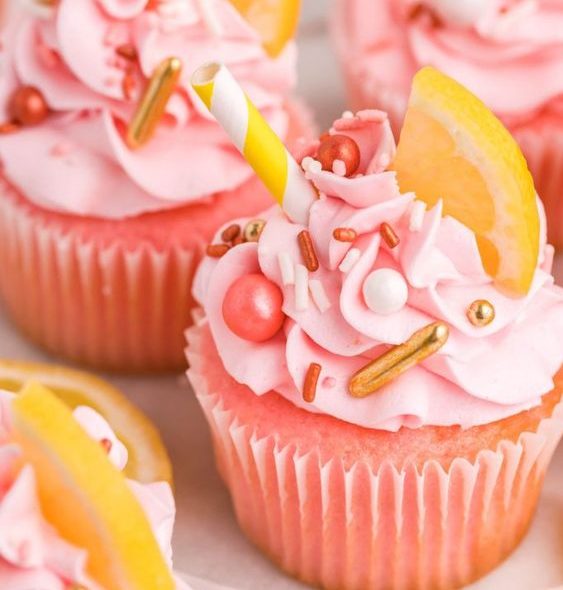 Pink lemonade cupcakes offer a burst of tangy and refreshing flavor. With their pink frosting and lemon-infused cake base, these cupcakes are a delightful way to incorporate a fun and zesty element into your pink-themed party foods.
For guests who prefer more delicate and bite-sized options, pink cake pops, pink sugar cookies, and strawberry marshmallows can all be easily prepared and creatively displayed for an aesthetically pleasing dessert spread. Furthermore, cream cheese heart mints offer a sweet and beautiful addition to the dessert table, providing a cute and creative touch.
In conclusion, the option for pink desserts is vast and filled with delicious treats that will surely satisfy party guests and create a memorable, fun experience. Incorporate these pink-baked treats to elevate your party and make it a truly delightful and memorable celebration.
Pink Drinks for Party
When planning a party with a pink theme, pink drinks are essential for creating a festive and vibrant atmosphere. From pink lemonade to cocktails, there are various options to choose from that will perfectly complement your pink party.
Pink Lemonade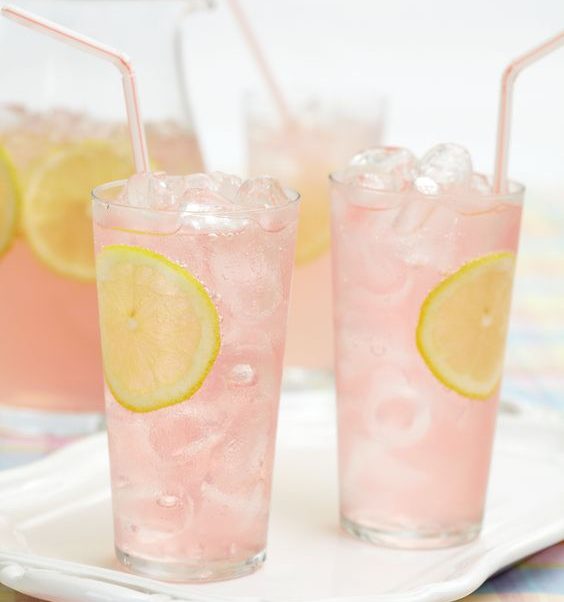 One classic option is pink lemonade, a refreshing and crowd-pleasing choice for guests of all ages. This non-alcoholic drink can be easily made by combining lemonade with cranberry juice or pink food coloring. For a rustic and fruity twist, you can add crushed raspberries to elevate the flavor profile.
Pink Cocktails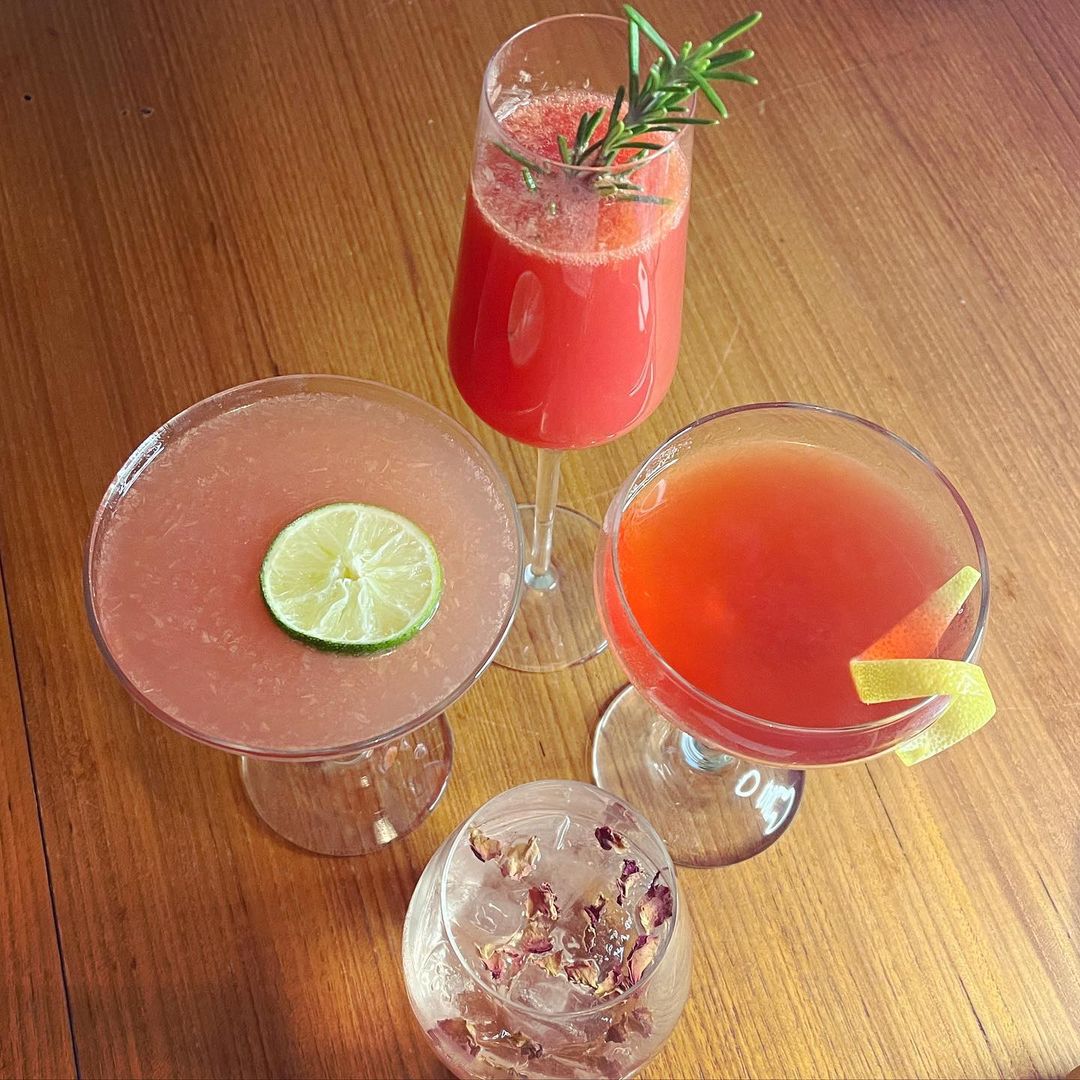 For those seeking a slightly grown-up twist, pink cocktails offer a delightful way to celebrate. One popular choice is the Butterfly Martini, with its pink hue and floral notes, making it the perfect drink for a get-together with friends. Prickly pear syrup can also be added to cocktails for a softly sweet and lightly tangy flavor, giving drinks a pink-purple hue that stands out at parties.
Raspberry Lemonade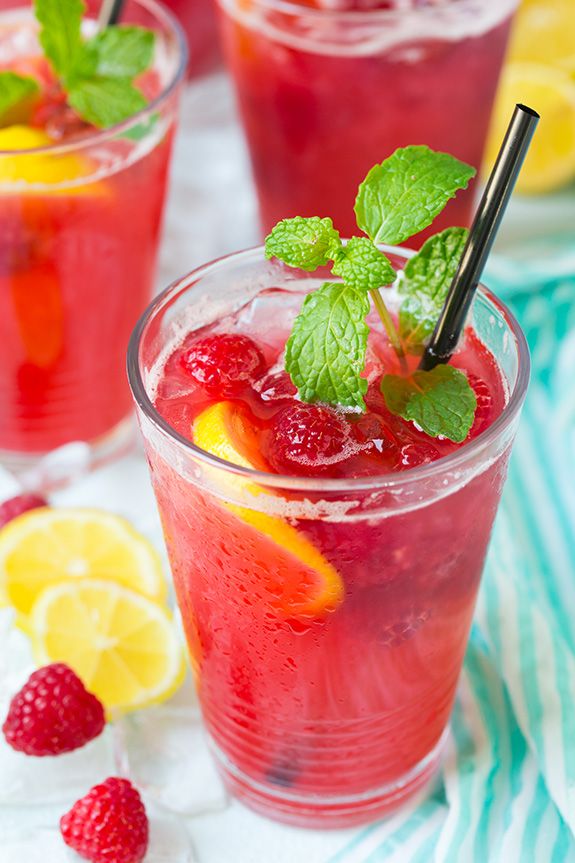 Raspberry lemonade is another fruity variation of traditional lemonade that will have your guests coming back for more. Made from crushed raspberries, lemon juice, sugar, and water, it is both tart and sweet, striking a perfect balance for a refreshing drink.
If you're looking for more variety, there's no shortage of pink drink recipes available to suit your party theme. From pink champagne and rosé wines to fruit-infused punches and iced teas, the possibilities are endless. To make things even more festive, consider adding edible flowers, fruits, or colorful straws as garnishes to your pink drinks.
With a selection of pink drinks that cater to everyone's taste buds, your pink party menu will bring cheer and a touch of elegance to any celebration. Just remember to have fun and let your creativity shine through the beverages you craft.
Pink-Themed Party Food Ideas
When it comes to planning a memorable celebration, whether it's a baby shower, bridal shower, or birthday party, choosing a color theme can elevate the festivities. Pink-themed parties add a touch of elegance and charm to the occasion. To delight your guests, let's dive into some scrumptious pink party food ideas that are perfect for special occasions.
Begin by treating your guests to savory pink dishes such as pink deviled eggs and pink pasta. You can achieve the desired color by incorporating ingredients like beetroots or pink-colored sauces. Offer a selection of pink dips, such as a beetroot hummus or a raspberry salsa, paired with pink vegetable chips or crackers.
Of course, no party is complete without a spread of sweet treats. Indulge your guests with delightful strawberry ice cream and pink doughnuts adorned with pink frosting or sprinkles. To add a touch of sophistication, serve delicate pink macarons or cupcakes topped with blush-colored buttercream icing.
For a lighter dessert option, opt for fruit-based fare like pink grapefruit, watermelon, and raspberries. You can also create a visually stunning fruit salad by combining various shades of pink fruits like dragon fruit and lychee.
In addition to food, you can amplify the pink theme through your choice of beverages. Offer pink lemonade, a refreshing rose wine, or fruity cocktails mixing cocktails like cosmopolitans or raspberry mojitos.
Finally, don't forget about party favors that follow the pink theme. Think about customized pink cookies, candy bags filled with pink candies, or small jars of rosy-hued jams or honey as lovely take-home treats for your guests.
By incorporating these pink party food ideas into your event, you'll create a cohesive and unforgettable experience for your guests. Remember to consider the tastes and dietary needs of your attendees when making your selections, so everyone can enjoy the pink-themed feast you've expertly put together.
Pink Appetizers and Snacks
Planning a pink-themed party? Delight your guests with some eye-catching and delicious pink appetizers and snacks. Here are a few ideas to get you started:
Pink Popcorn
For a fun and simple snack, try making pink popcorn. Drizzle white popcorn with pink melted candy coating and toss it together until evenly coated. Spread it out to dry before serving. This sweet, pink treat is perfect for guests to nibble on while they mingle.
Pink Deviled Eggs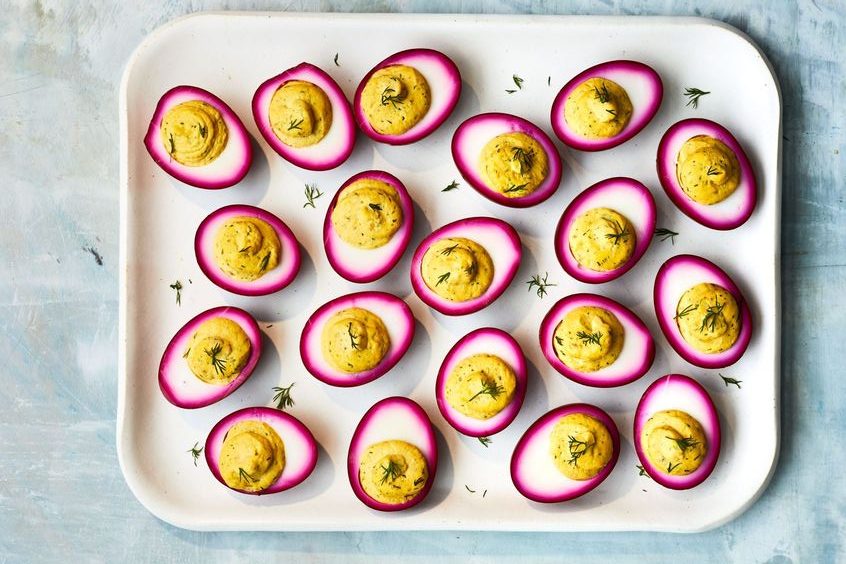 Add a twist to traditional deviled eggs by making pink deviled eggs. Boil eggs and then soak them in a mixture of beet juice and vinegar to achieve a beautiful, vibrant pink hue. Prepare your favorite deviled egg filling and pipe it into the dyed egg whites – creating a stunning and delicious appetizer.
For a slightly different take on pink deviled eggs, you can also make pink pickled deviled eggs . Follow the same process as above, but instead of beet juice, soak the boiled eggs in a pickling liquid with pink food coloring. This adds a slightly tangier flavor, making it a unique and memorable appetizer.
Consider serving these pink appetizers and snacks in a buffet-style setting, allowing guests to help themselves and sample each delightful treat. These colorful tidbits are sure to be the talk of your pink-themed party!
Seasonal and Holiday Pink Foods
When it comes to celebrating special occasions, pink foods can add a vibrant and fun touch to your party. For instance, during Valentine's Day, pink treats and dishes are a popular choice to express love and affection. One way to add some pink flair to your Valentine's Day dessert table is by making heart-shaped rice krispie treats with pink marshmallow or icing.
In spring, the sakura cherry blossom season is celebrated in various countries, and incorporating sakura cherry blossom syrup in your beverages or desserts can bring the beauty of these delicate blossoms to your table. This flavorful syrup adds a subtle pink hue and floral taste, perfect for capturing the essence of the season.
Breast Cancer Awareness Month, observed in October, is another occasion where pink foods can play a significant role. By incorporating pink dishes and drinks in your menu, you can show your support and raise awareness for this essential cause. Some ideas include making pink deviled eggs with beet juice or crafting a pink smoothie with strawberries and raspberries.
In addition to these seasonal and holiday-specific events, pink foods can be fitting for various parties or gatherings such as baby showers, gender reveal events, or even themed birthday celebrations. From strawberry ice cream to pink doughnuts, there are plenty of delicious and eye-catching options to choose from that will leave your guests impressed and delighted.
Miscellaneous Pink Foods
When planning a party, it's always fun to incorporate some pink-colored foods to make the event even more festive. However, not all pink foods need to come from artificial sources of color. Let's explore some naturally pink recipes that can elevate any party.
One popular option is using pink sauce pasta for your main course. A combination of tomato sauce and cream, this sauce creates a beautiful pink hue that makes any pasta dish eye-catching. You can find a variety of pink sauce pasta recipes to suit your preferences.
When it comes to fruits, there's nothing quite as delightful as the pink lady apples. These apples have a natural, bright pink blush on their skin and make for a great addition to fruit salads or as a snack on their own. You may also incorporate them into pink-colored dishes like smoothies, applesauce, or apple pies.
If you're looking for more vibrantly colored food options, be sure to consider red foods like strawberries, raspberries, and cherries, as they can add a touch of pink to your party spread. On the other hand, blue foods such as blueberries and purple cabbage can provide a nice complementary contrast to your pink party menu.
A unique way to add a touch of pink to your dishes is by using pink peppercorns. These peppercorns, which are actually berries, can add a mild, fruity flavor to your dishes while providing a pop of pink color. They can be used in a variety of recipes, from pink-hued sauces to spice blends.
To keep your party food simple to make, be sure to select dishes that call for minimal ingredients and preparation. Opt for recipes that don't require a lot of intricate steps or complicated techniques, ensuring you can easily whip up these pink treats in a short amount of time.
Lastly, if you prefer using natural food coloring, many ingredients can help you achieve the perfect pink shade. For instance, beet juice, raspberry juice, or even pomegranate juice can be great options to give your food a natural pink hue. This way, you can avoid artificial coloring while still adding a pop of pink to your party menu.
Incorporating these various naturally pink ingredients and recipes into your party's menu will create a fun, vibrant, and visually appealing spread, sure to impress your guests.