When it comes to throwing a memorable party, having a unique and enticing theme can make all the difference. One captivating theme to consider is "black snacks for a party." In this theme, the focus is on incorporating various foods that are naturally black or have been transformed into a darker hue. Not only does this theme add an element of intrigue to the event, but it also allows for a diverse range of snacks to satisfy everyone's taste buds.
Black-colored snacks can take on many forms, from black velvet cake to savory black walnuts. These distinctive treats can be used to create an immersive and visually engaging tablescape for your guests. With a bit of creativity and a willingness to explore unconventional flavors, a party featuring black snacks can be an entertaining and unforgettable experience for all involved.
What are Black Snacks?
Black snacks are a unique and intriguing addition to any party menu. They consist of various black foods that are not only visually striking but also offer numerous health benefits. Many of these foods derive their dark hue from the presence of pigments known as anthocyanins. These pigments are responsible for the vibrant colors found in many fruits and vegetables and possess powerful anti-inflammatory properties.
One popular black food is the black bean. This versatile ingredient can be incorporated into a diverse range of cooking preparations and is an excellent source of protein and fiber. Additionally, black sesame seeds are another delicious option that can be used to tint pastries, burger buns, or added to savory dishes for a toasty, nutty flavor.
Some fruits and vegetables are also rich in anthocyanins and can be used as black snacks. For instance, blueberries and blackberries are packed with these pigments, providing a sweet and healthy treat for party guests. Similarly, black rice, also known as the "forbidden rice," originates from China and is rich in anthocyanins and other beneficial nutrients. Popping it into creative party dishes can be both delicious and eye-catching.
Aside from their visual appeal, black foods offer an array of health benefits, thanks to their high concentrations of anthocyanins. These compounds have been shown to support a healthy immune system, reduce inflammation, and even exhibit potential cancer-fighting properties. Furthermore, many of these dark-hued foods are rich in essential vitamins and minerals, such as calcium, iron, and potassium.
In conclusion, black snacks are a unique way to add visual interest and nutrition to any party menu. With their rich anthocyanin content and numerous health benefits, these foods are as appealing to the palate as they are to the eye.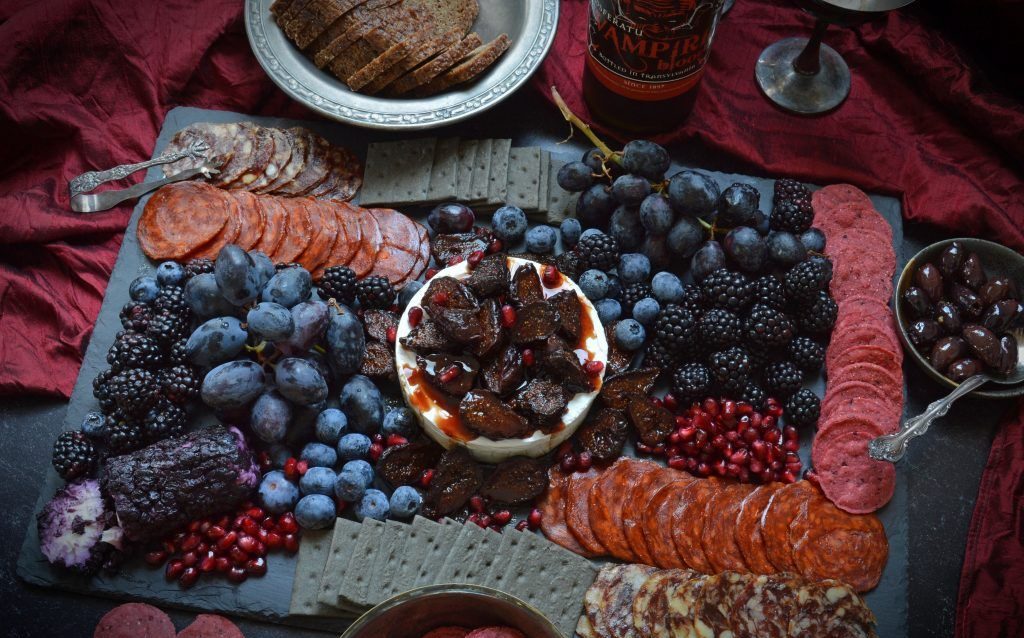 Making Black Snacks
Creating black snacks for a party can be a fun and unique way to impress your guests. One way to add a touch of darkness to your dishes is by incorporating naturally black ingredients.
Black rice, also known as forbidden rice, can be used as a base for various dishes like salads, sushi, or rice bowls. It's rich in antioxidants and has a nutty flavor, which complements other ingredients perfectly.
Squid ink is another option for adding a deep black color to your recipes. Try using it in pastas or risottos for an elegant twist on traditional dishes.
Black beans can serve as a delightful addition to different dishes like tacos, salads, or soups. These legumes are not only tasty but also rich in protein and fiber.
Blackberries, figs, and black olives bring a sweet or savory touch to your dishes. They can be used in salads, desserts, or as part of a charcuterie board for some variety.
Black sesame seeds add a slightly nutty flavor to various dishes, like encrusting fish or sprinkling on top of buns and pastries.
Black lentils are a delicious and nutritious option to include in your salads, soups, or main courses. They have a hearty texture and are a good source of plant-based protein.
Black garlic is an incredibly versatile ingredient that can be used to create deeply flavored dishes like sauces, marinades, or spreads. Its sweet, earthy flavor also makes it a great addition to various appetizers and main courses.
Black pepper is an essential, versatile spice that not only adds a kick to your dishes, but also some dark flecks for contrast.
For those with a sweet tooth, black licorice, black coffee, Oreo cookies, and black sapote are great options for desserts or as complementary flavors in various dishes.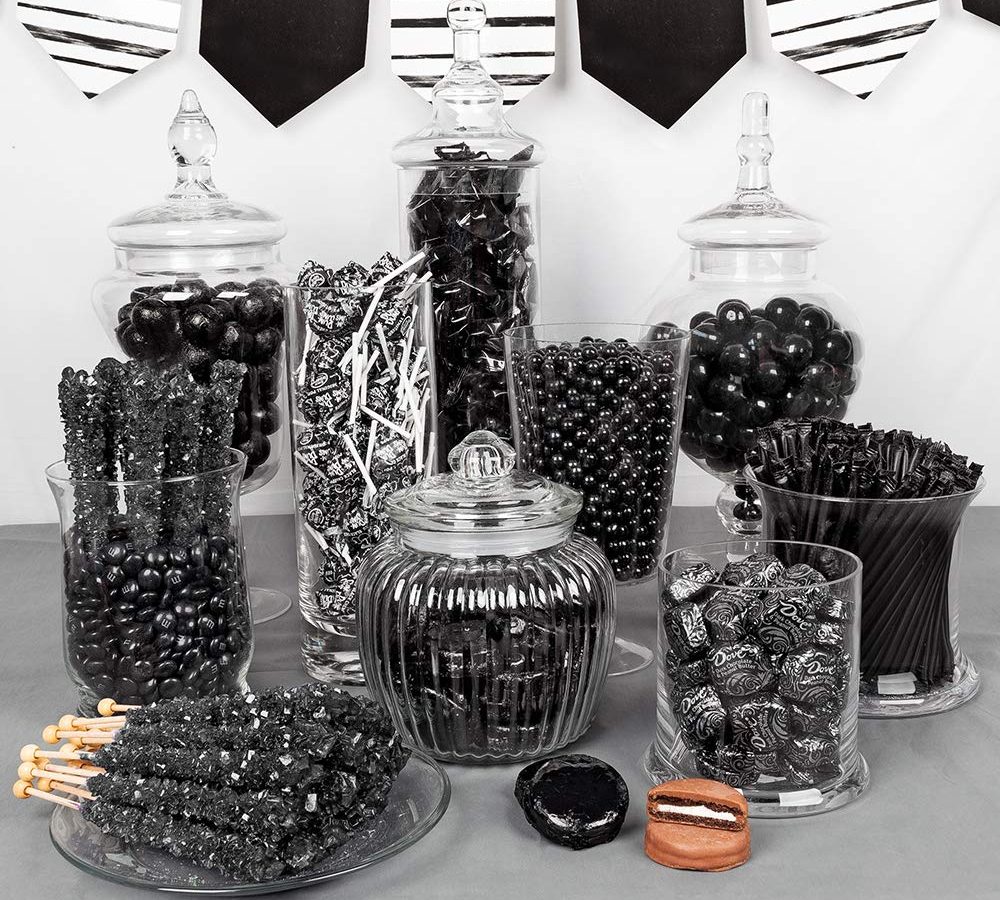 Black corn and black seaweed can also be included in your menu, either as a standalone snack or as part of a more complex dish.
Finally, don't forget to stop by your local Asian market for even more black snack options like soy sauce or seaweed snacks.
Incorporate these black ingredients into your party snacks, and you'll have a stylish and tantalizing selection of treats that will wow your guests.
Unusual Black Party Foods
Exotic Black Foods
When it comes to throwing a unique and memorable party, serving some exotic black foods is a surefire way to impress your guests. These foods not only stand out for their unusual color but also boast rich flavors and textures.
Caviar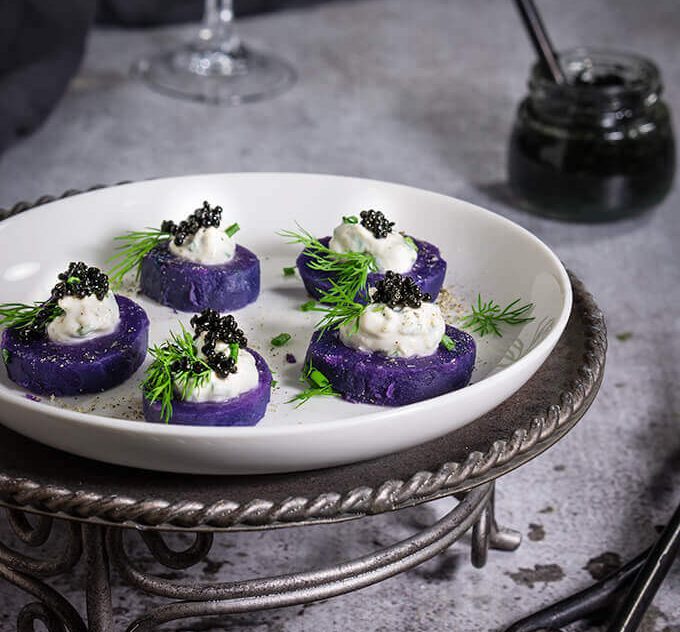 One such delicacy is caviar, a luxury food often associated with elegance and sophistication. Made from the eggs of sturgeon fish, caviar has a deep black color and a distinctive texture that adds an air of refinement to any event.
Black Truffles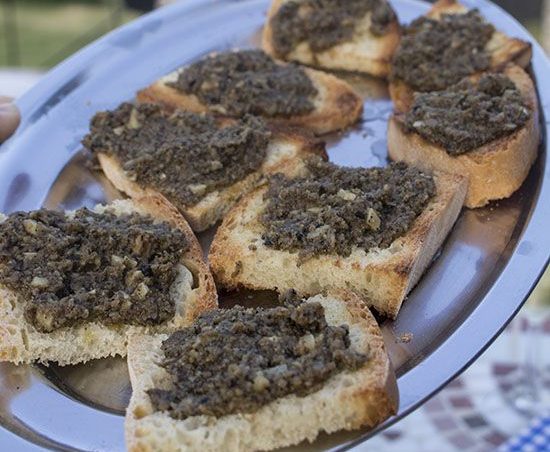 Black truffles are another intriguing option that can elevate your party menu. Prized for their bold aroma and earthy taste, black truffles can be shaved over pasta dishes or incorporated into butter for a lavish spread. Their rare and sought-after status makes them an excellent conversation starter.
Black Sesame Ice Cream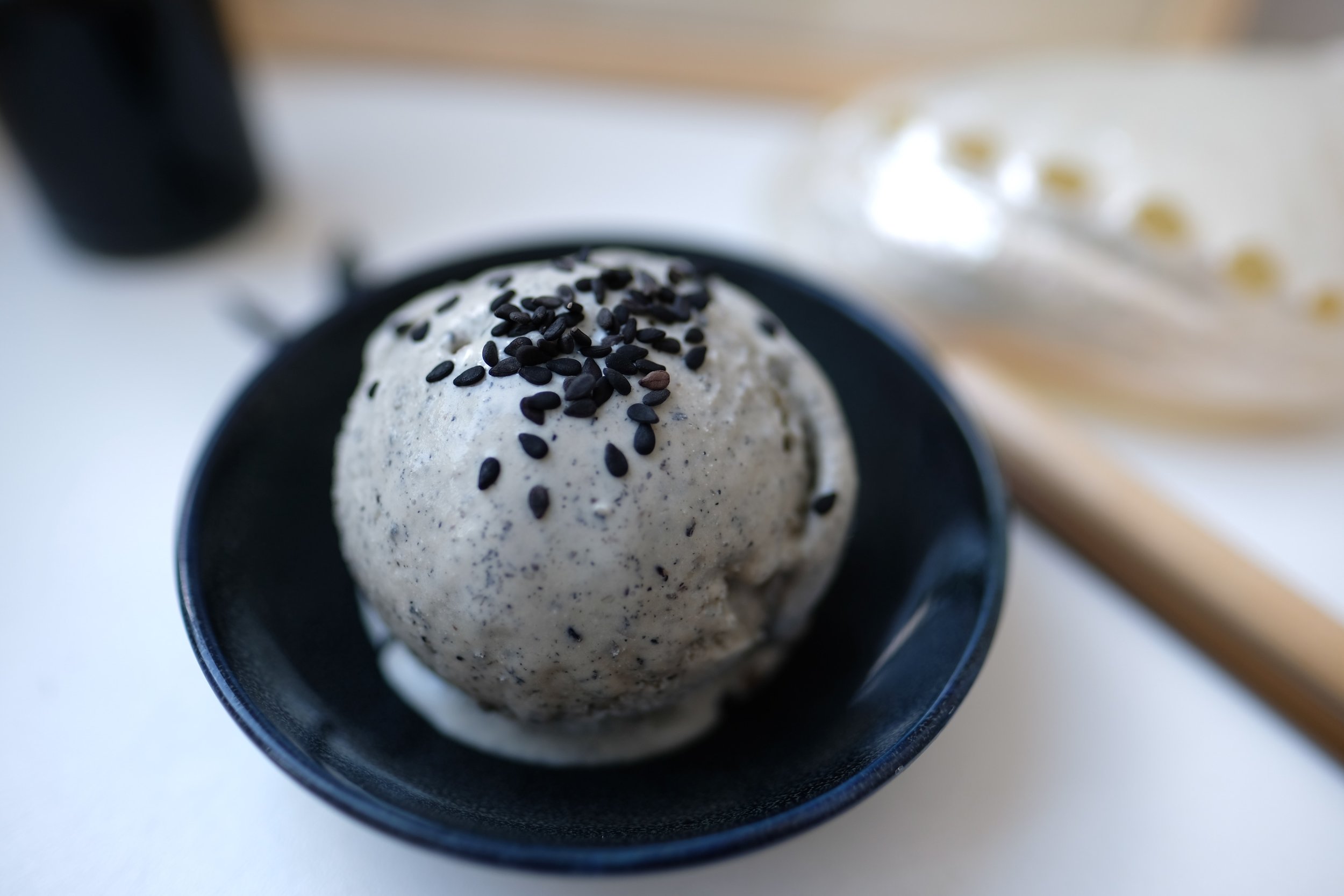 For a unique twist on dessert, consider serving black sesame ice cream. This Japanese-inspired treat combines the nutty, rich flavor of black sesame seeds with the creamy indulgence of ice cream, creating a truly one-of-a-kind dessert experience.
Squid Ink Pasta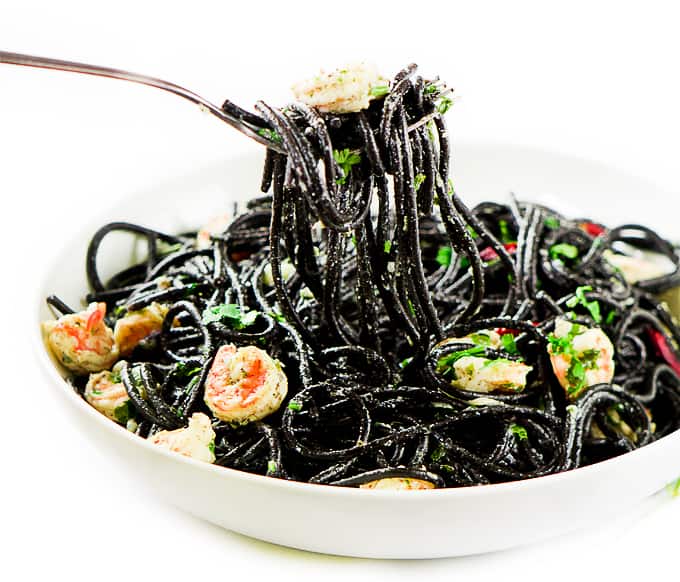 Squid ink pasta is an excellent choice for a savory exotic dish. This intriguing pasta gets its dark color from squid ink, which adds a subtle, briny flavor, making it ideal for seafood-based pasta dishes. It's not only visually striking but also delicious, bound to fascinate your guests.
Black Ice Cream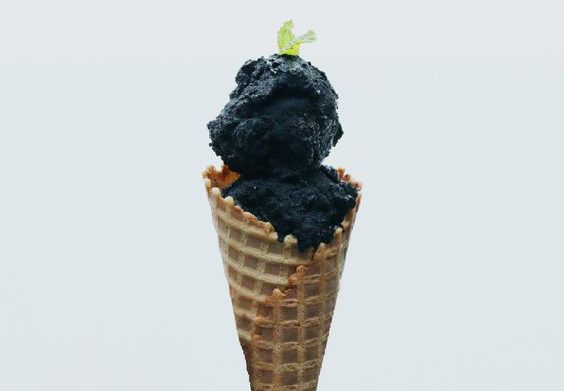 Black ice cream offers another intriguing dessert option. With a deep, jet-black color achieved through the use of activated charcoal or black cocoa powder, this distinctive treat adds a whimsical touch to any gathering.
By incorporating these unusual black foods into your party menu, you'll create an unforgettable experience for your guests, leaving them talking about your event long after it's over.
Tickling the Sweet Tooth
When it comes to throwing an unforgettable party, offering unique and eye-catching snacks is essential. For a party with a twist, consider incorporating black snacks into the menu. These dark delights are sure to impress your guests and satisfy their cravings for something sweet.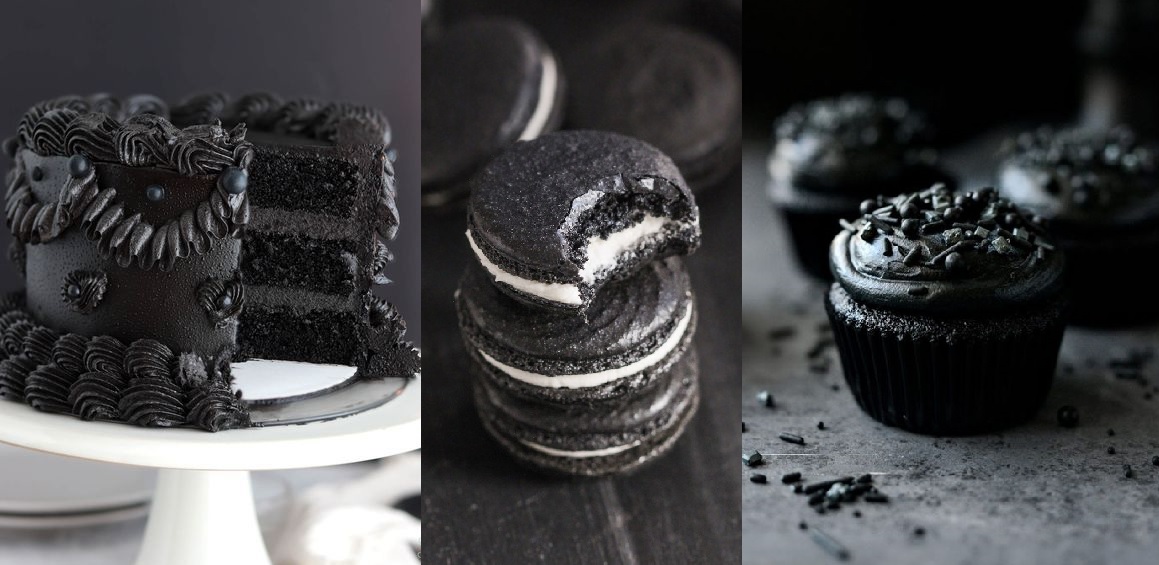 Dark Delights
There are numerous black-hued ingredients and treats you can consider, all adding a touch of drama to the party spread.
Black Mission Figs: Figs not only add a touch of elegance to any platter, but their deep, rich color is also perfect for a black-themed party. Black Mission Figs, in particular, have a lovely sweet flavor that pairs well with cheeses or as a topping on a dessert.
Black Cherries: Sweet and juicy, black cherries can be served fresh, or as a topping for ice cream, tarts, and other desserts.
Black Currants: Often found in jams and jellies, these tart berries can be used to create a stunning blackcurrant coulis, perfect for drizzling over ice cream or as a filling for black macarons.
Black Grapes: Serve these in a fruit salad, or freeze them for a cooling treat. Black grapes work well skewered with blackberries and served as fruit kebabs for a striking snack option.
Black Frosting: For cakes, cupcakes, and cookies, black frosting adds a bold pop of contrast to your sweet treats. Combine it with dark-hued desserts like blackout chocolate cupcakes or black velvet cake for an unforgettable indulgence.
Blackout Chocolate Cupcakes: These moist, rich cupcakes use dark cocoa powder to achieve their deep, black hue. A perfect bite-sized dessert that is sure to amaze your guests.
Black Velvet Cake: A striking dessert that looks great on the table, black velvet cake adds elegance to your party spread. With its dark color and rich taste, it's a sophisticated choice for your party menu.
Black Macarons: These delicate French pastries can be filled with blackcurrant jam or dark chocolate ganache, creating a fun and unique addition to your dessert table.
Black Bread: Black bread, such as pumpernickel or squid ink-infused varieties, provides a visually stunning and unexpected addition to your party fare. Serve with cheeses, meats, or dips for a delightful contrast.
Black Lemonade: A refreshing drink option, black lemonade is created using activated charcoal, which gives it a strikingly dark hue without altering the taste. This on-theme beverage will impress guests and quench their thirst in style.
Remember, incorporating black snacks into your party menu is a simple but effective way to create a memorable and visually stunning event. Enjoy exploring these dark sweet treats that will tickle your guests' taste buds and make your party stand out.
Finger Foods
When it comes to throwing a party with a focus on black snacks, finger foods are an essential component. They offer a variety of flavors and textures, and they can be enjoyed by guests of all ages. In this section, we will explore some popular options for finger foods that can elevate your party to the next level.
Dips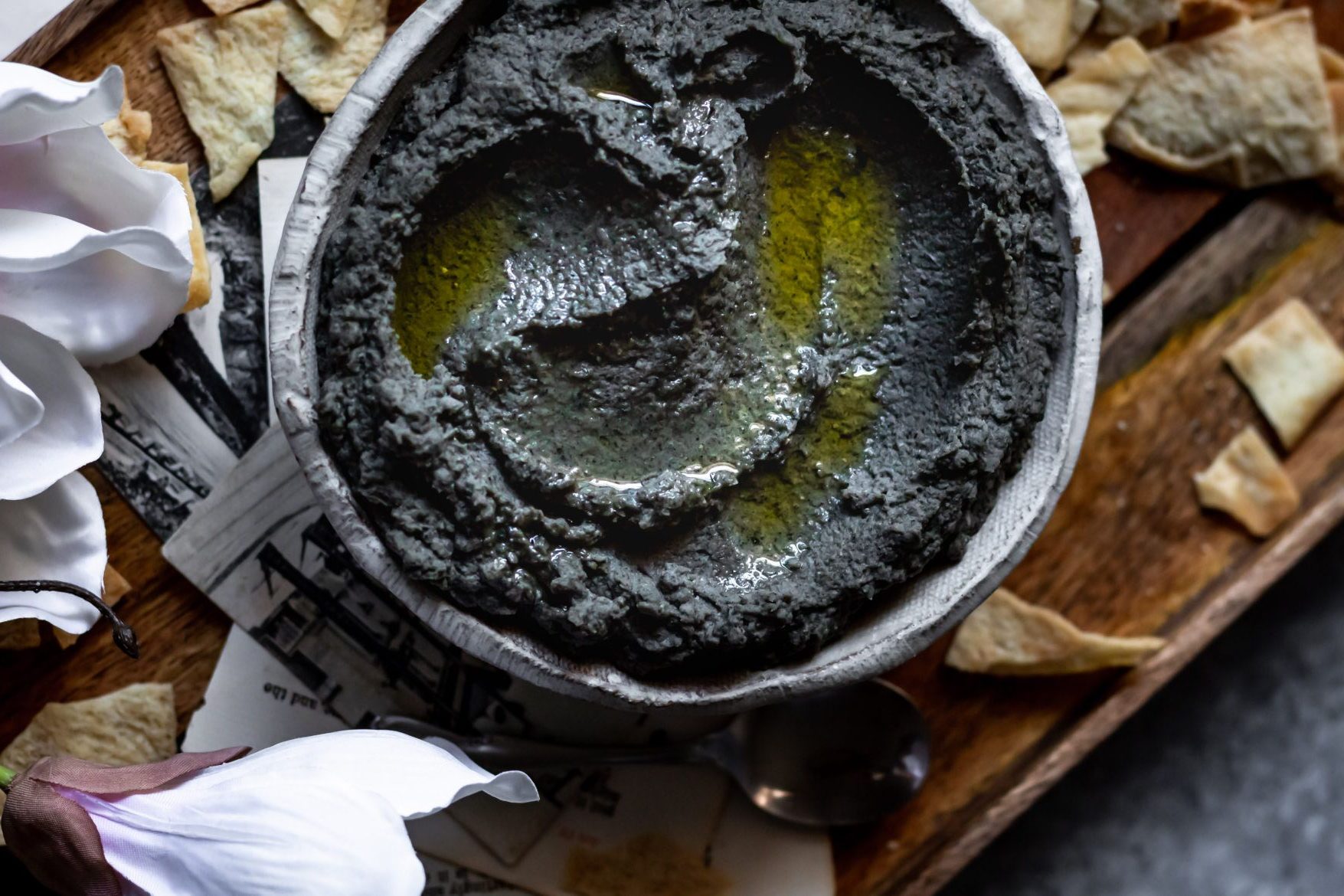 Dips are a staple at any party, that can be served alongside a variety of breads, crackers, or vegetable sticks. Black sesame humus or tahini is a great way to add some black color and flavor to your black color party dip.
"Bat" Wings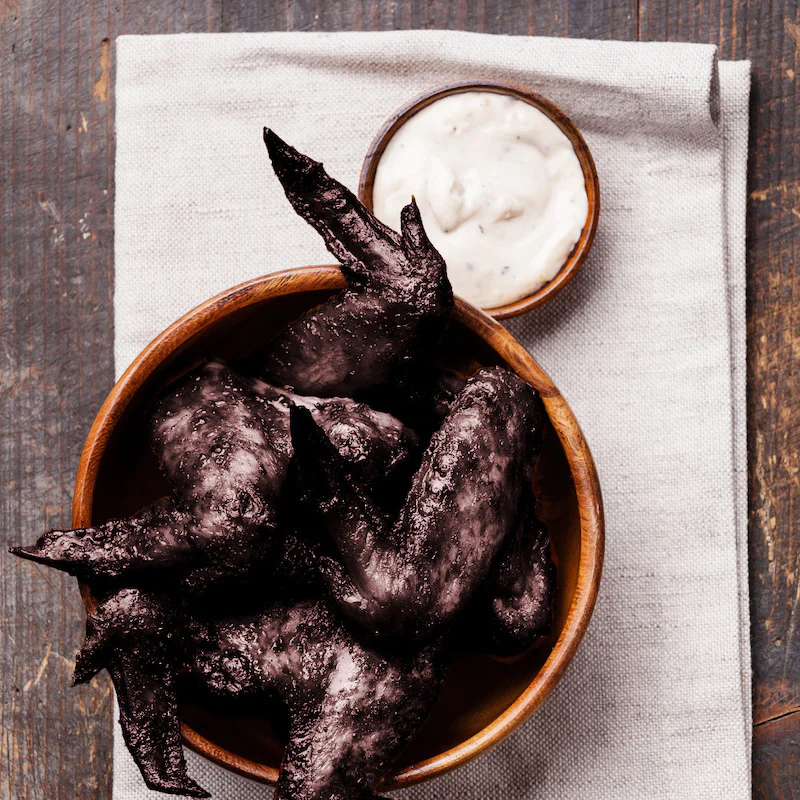 Wings are always a hit at parties, and they can be tossed in a variety of sauces to suit your guests' tastes, and these "bat" wings will surely be a hit. Consider incorporating traditional African spices and marinades to create a unique and memorable flavor experience.
Appetizers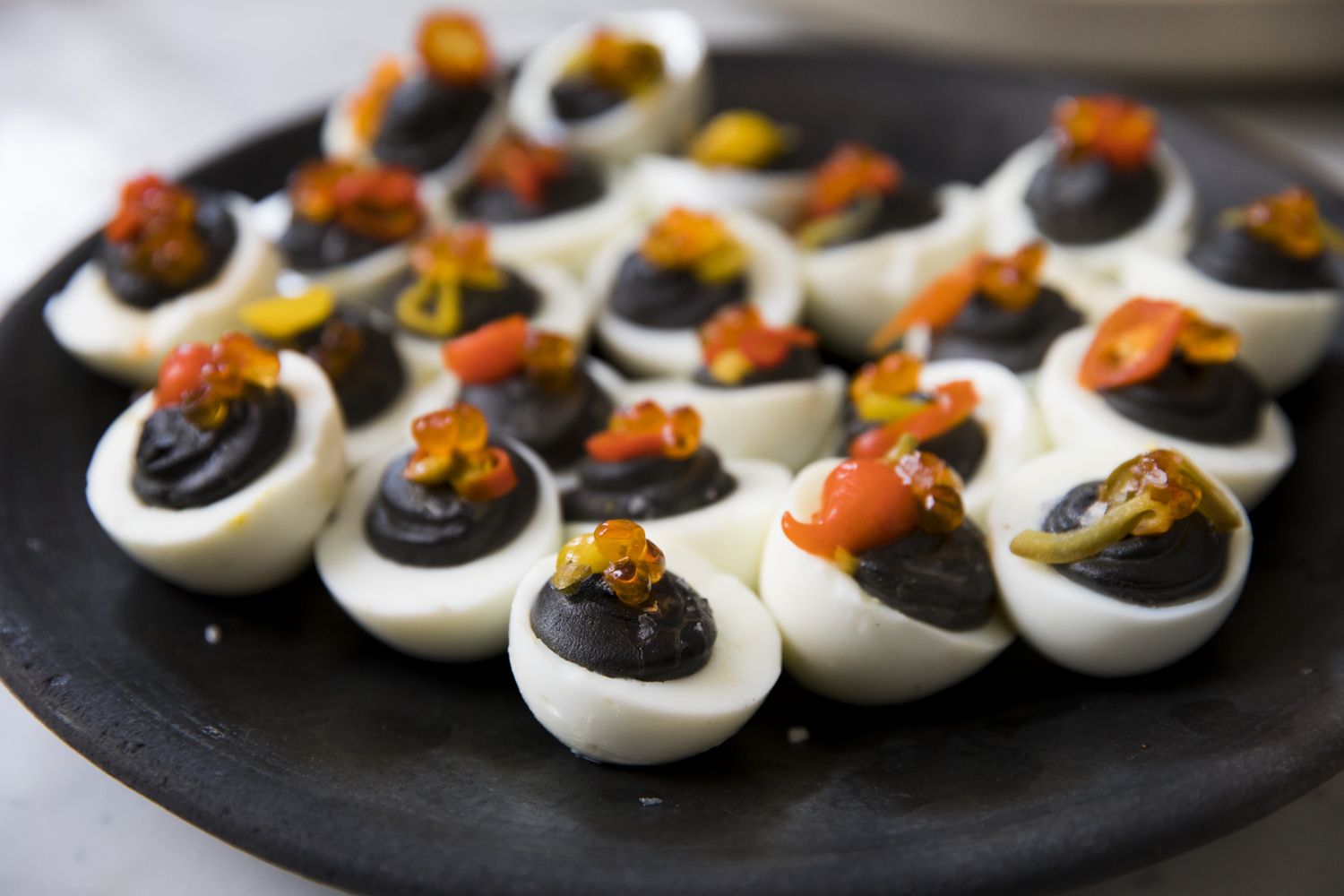 Be sure to have a good selection of appetizers for your guests to enjoy, such as whipped deviled eggs – a delicious and easy-to-make variation on the classic deviled egg. Other options to consider are garlic knots, fried pickles, and mini pizzas with unique toppings, like the African-inspired mummy pizza, topped with strips of cheese fashioned to resemble gauze, and canned black beans as the eyeballs.
By incorporating these finger foods into your menu, your party will be sure to satisfy your guests' cravings and showcase the diverse, rich flavors commonly found in black snacks and appetizers.
Conclusion
In conclusion, black snacks can add an elegant and unique touch to a party theme. When planning a party with a black color scheme, there are several snack options available that are not only visually appealing but also delicious and satisfying for the guests. From recipes incorporating ingredients like black lentils to ready-made snacks that can be found online, such as checkered snack trays, there is a wide variety to choose from.
Traditionally, some black foods originate from African-American culinary history and feature ingredients that have deep cultural significance. These dishes, often categorized as "soul food," can be an interesting addition to a party, allowing guests to experience the historical context of African-American cuisine.
When considering various black snack options, remember to prioritize the tastes and preferences of party guests. Offer a balanced selection of sweet and savory options to cater to different palates. By focusing on presentation and high-quality ingredients, a black-themed party can leave a lasting impression on guests, showcasing a creative and thoughtful approach to party planning.