Mexican-themed parties provide a vibrant and festive atmosphere that captures the essence of Mexican culture. These gatherings allow guests to indulge in the rich flavors, lively music, and colorful decorations that are characteristic of Mexico. With a variety of popular Mexican party themes to choose from, such as summer fiestas, Day of the Dead celebrations, and Frida Kahlo-inspired events, there are countless ways to design an unforgettable experience.
In order to truly immerse guests in the Mexican atmosphere, incorporating authentic cuisine is a must. Classic dishes like tacos, enchiladas, and chiles rellenos can be complemented by delicious appetizers like elote (Mexican street corn) and a variety of salsas. Additionally, traditional beverages such as margaritas and horchata can add a refreshing touch to the festivities.
To further enhance the ambiance, Mexican-themed parties should incorporate bold colors and intricate patterns in decorations, tableware, and attire. From vibrant papel picado banners to maracas and sombreros, creatively combining these elements will result in a genuine and memorable celebration of the diverse beauty of Mexican culture.
Party Decorations
Color Palette Choices
When planning a Mexican-themed party, focus on incorporating vibrant colors like red, green, white, black, purple, turquoise, and gold. These colors represent Mexican culture's liveliness and can be combined to create a festive atmosphere.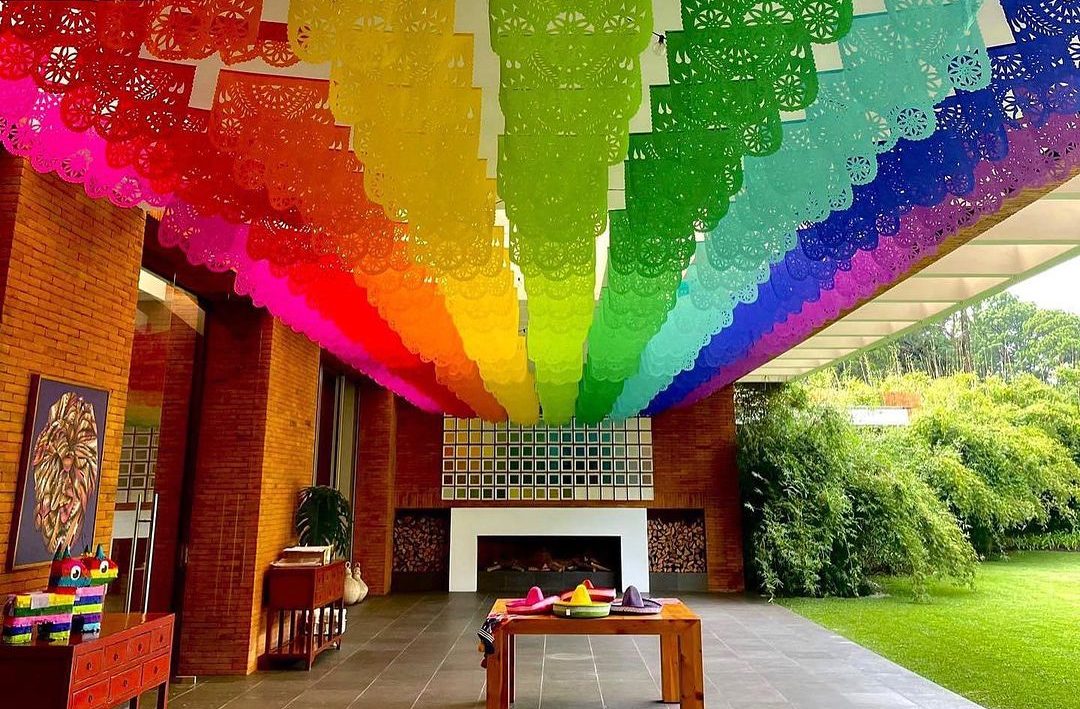 Entrance Decor
Start by decorating the entrance to your party with a colorful banner, such as a papel picado banner. You can also place sombreros and other Mexican flag-themed items near the entrance to set the festive tone.
Tablescape and Centerpieces
For a Mexican fiesta, consider laying a Mexican table runner with intricate embroidery or colorful fabric, and use glass vases filled with oranges or limes as centerpieces. Add festive touches like mini pinatas, maracas, and cacti to complete the look. Don't forget to include red, white, and green accents, the colors of the Mexican flag.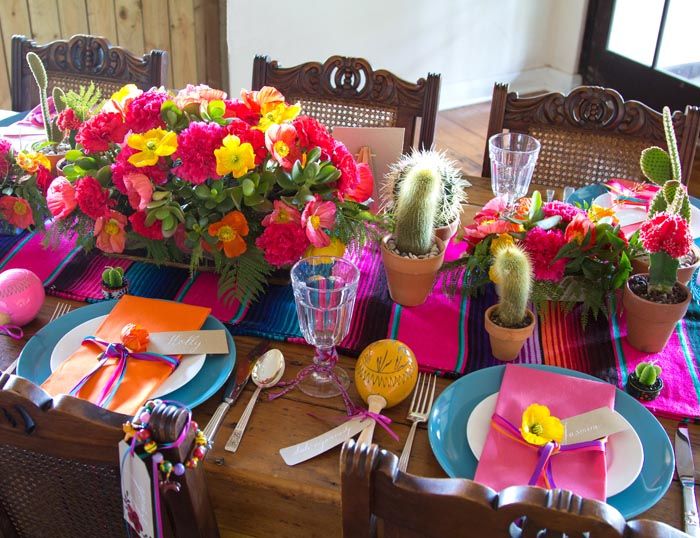 Other Decorations
Scatter sombreros, maracas, and colorful throw pillows in your party area to create a welcoming atmosphere. If you have glass vases or mason jars, fill them with bright flowers or coronas in colors that complement your color palette.
Mexican Fiesta Decor
Consider adding Mexican fiesta party elements, such as papel picado banners and a variety of pinatas. You can even create a festive atmosphere with inflatable cacti and string lights.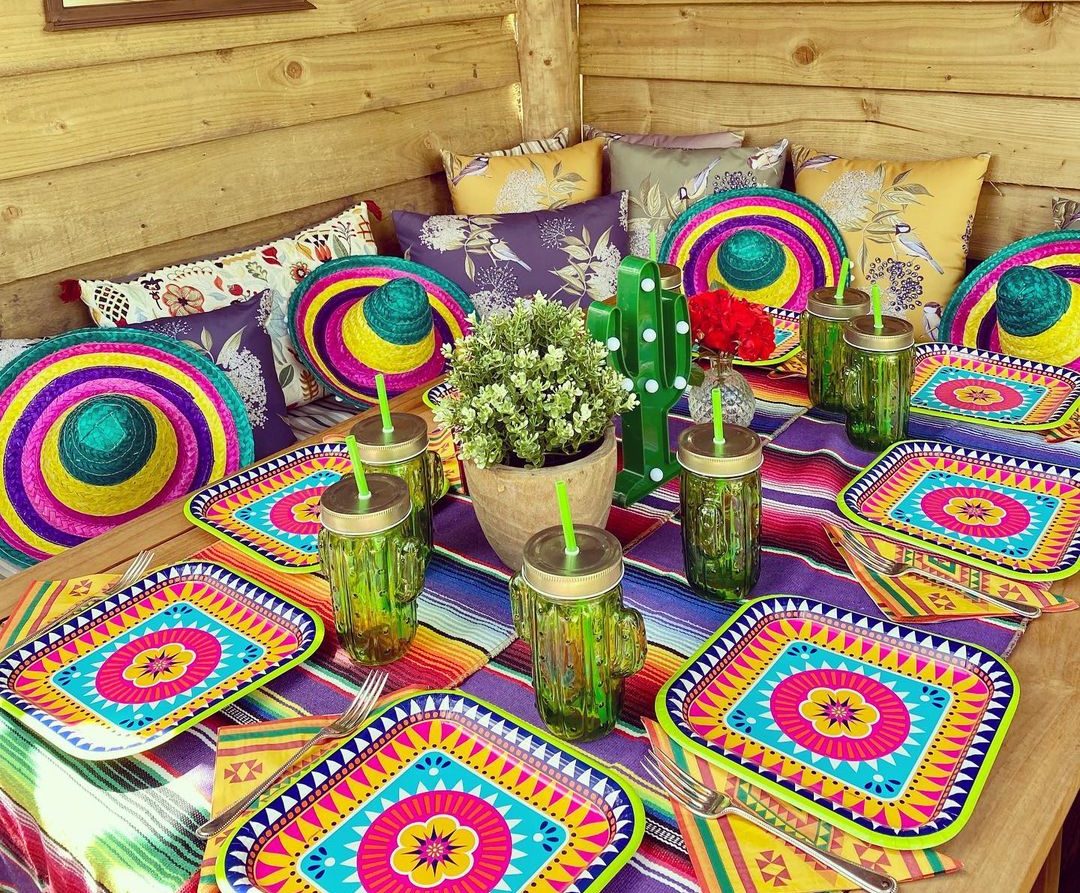 Backdrop and Ambiance
To create a festive ambiance, use vibrant decorations and bold fabrics, such as purple or turquoise, which are popular in Mexican culture. Consider creating a vibrant and colorful backdrop using an assortment of papel picado banners, oversized paper flowers, or even authentic Mexican textiles.
Mexican Fiesta Party
Accentuate your Mexican fiesta with a variety of decorations that highlight the traditional Mexican aspects of the celebration. Use maracas for both the tablescape and as fun party favors, and for extra excitement, include a pinata for guests of all ages to enjoy.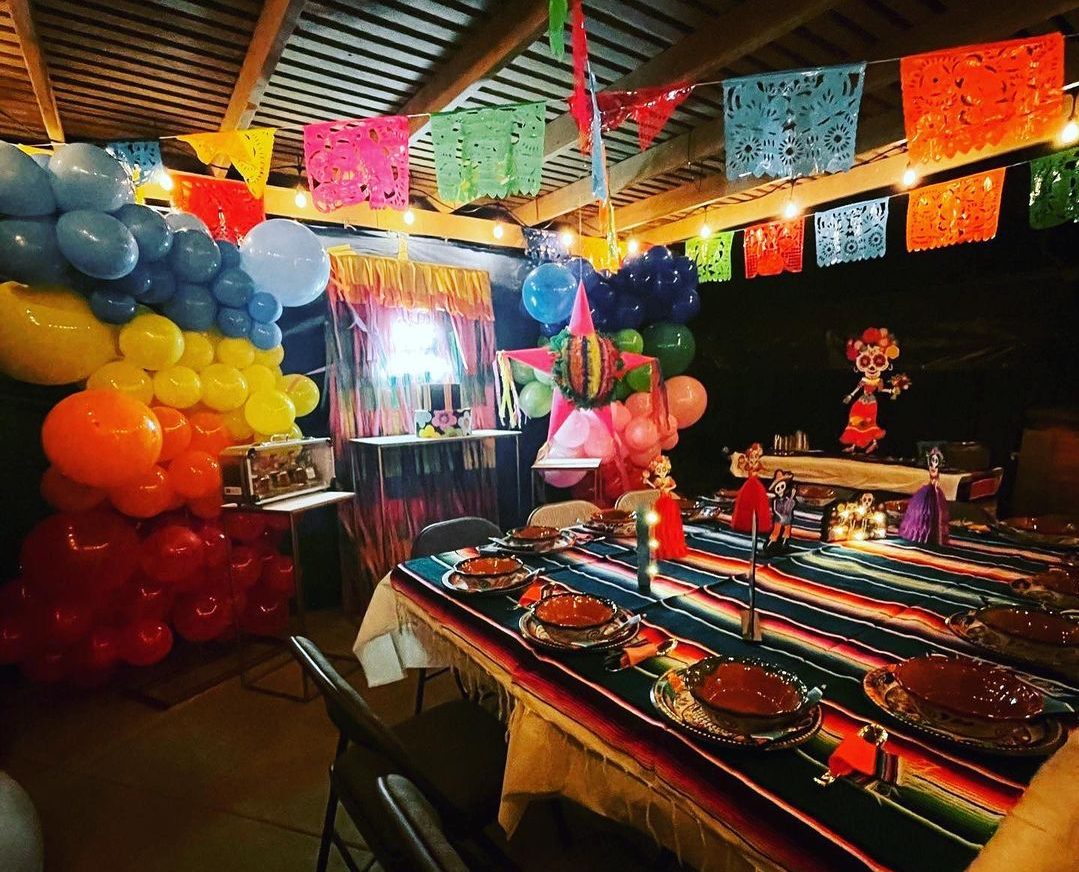 Mexican Themed Party Ideas
When planning a Mexican-themed party, consider incorporating traditional Mexican elements, such as Dia de Los Muertos skulls, Mayan symbols, or Aztec-inspired artwork. You can also create homemade decor pieces to give a personal touch to your celebration.
Homemade Decor
Creating your own Mexican party decorations can be both fun and cost-effective. Consider making your own papel picado banners or decorating your own sombreros and maracas for a unique and personalized touch.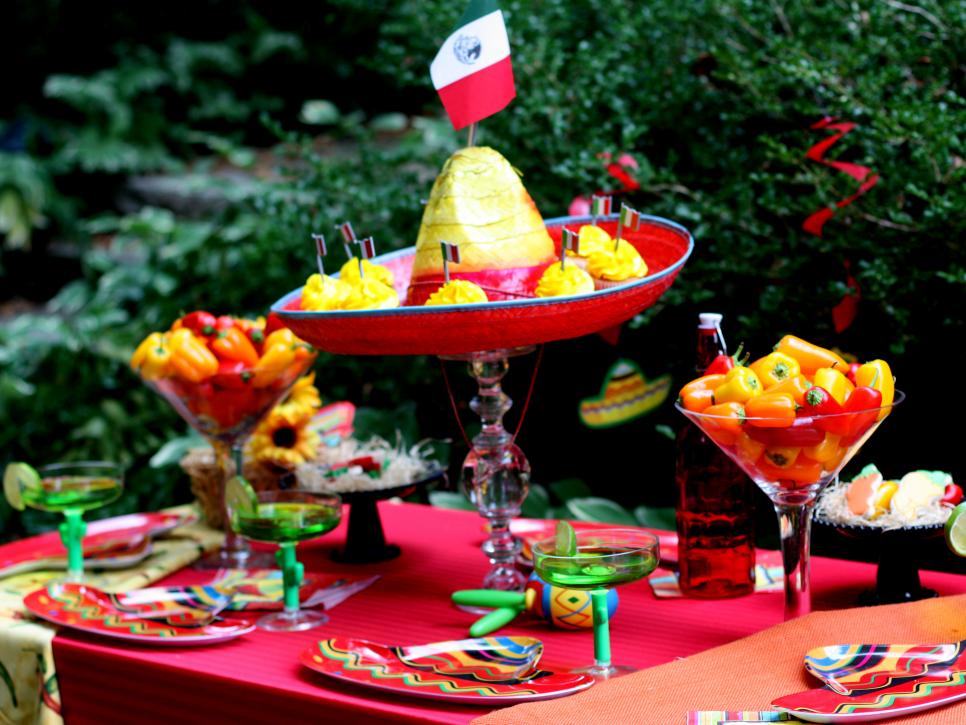 Cinco De Mayo
If your party falls on Cinco de Mayo, use the holiday as a focal point for decor inspiration. Along with your Mexican-themed decorations, incorporate elements specific to the celebration like Cinco de Mayo party invitations or exclusive food and drink offerings.
Mexican Food
Appetizers
Start your Mexican-themed party with a variety of appetizers to satisfy your guests' cravings. Serve traditional fare like Queso Fundido, a delicious melted cheese dish, alongside crispy Tortilla Chips, Refried Beans, and Salsa Fresca. You can also try a more unique option like a Mexican Caviar Recipe made with black beans, corn, and a tangy lime dressing.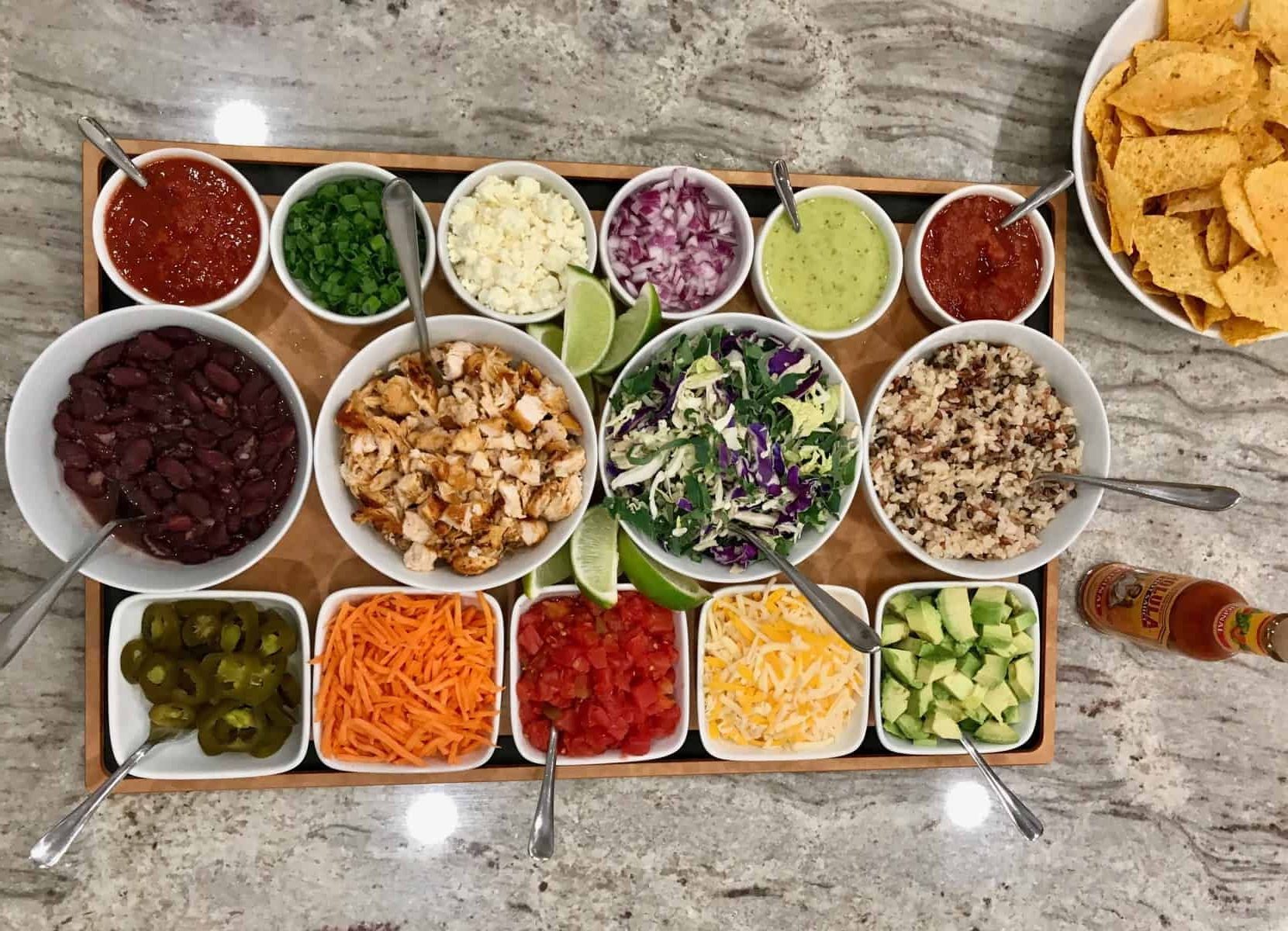 Main Dishes
Impress your guests by offering a diverse selection of main dishes, such as classic Tacos, Enchiladas, and juicy Carne Asada. For an interactive and fun experience, set up a build-your-own station for dishes like Fajitas and Quesadillas. Fan-favorite Tamales are another must-serve item, showcasing the authentic flavors of traditional Mexican cuisine.
Side Dishes
Complete your party spread with various side dishes that complement the main courses. Popular options include Mexican Rice and Mexican Street Corn, known as Elote. For a lighter alternative, serve the flavorful Mexican Street Corn Salad or a refreshing Spicy Mexican Street Corn Salad. Don't forget the classic Red Rice and a colorful Mexican Salad for a well-rounded spread.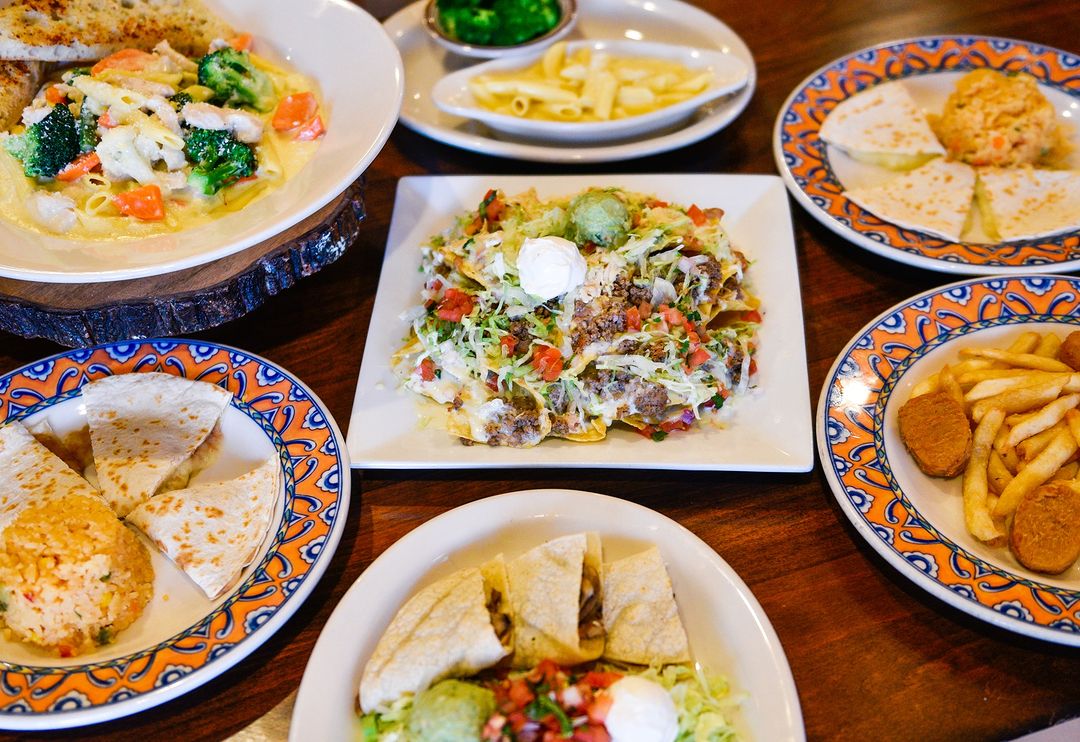 Mexican Recipes
Choose from a myriad of Mexican recipes that cater to different tastes, dietary restrictions, and spice tolerance levels. Make sure to provide a range of options, including milder dishes like Taco Bell inspired treats and bolder choices that pack a punch, such as Taco Recipes with extra jalapenos.
Desserts
Sweeten the deal with delectable Mexican desserts, such as crispy and sugary Churros or a delicious Corn and Vegan cake. These treats bring a balanced close to the bold and flavorful dinner experience, leaving your guests with a memorable taste of your Mexican themed party.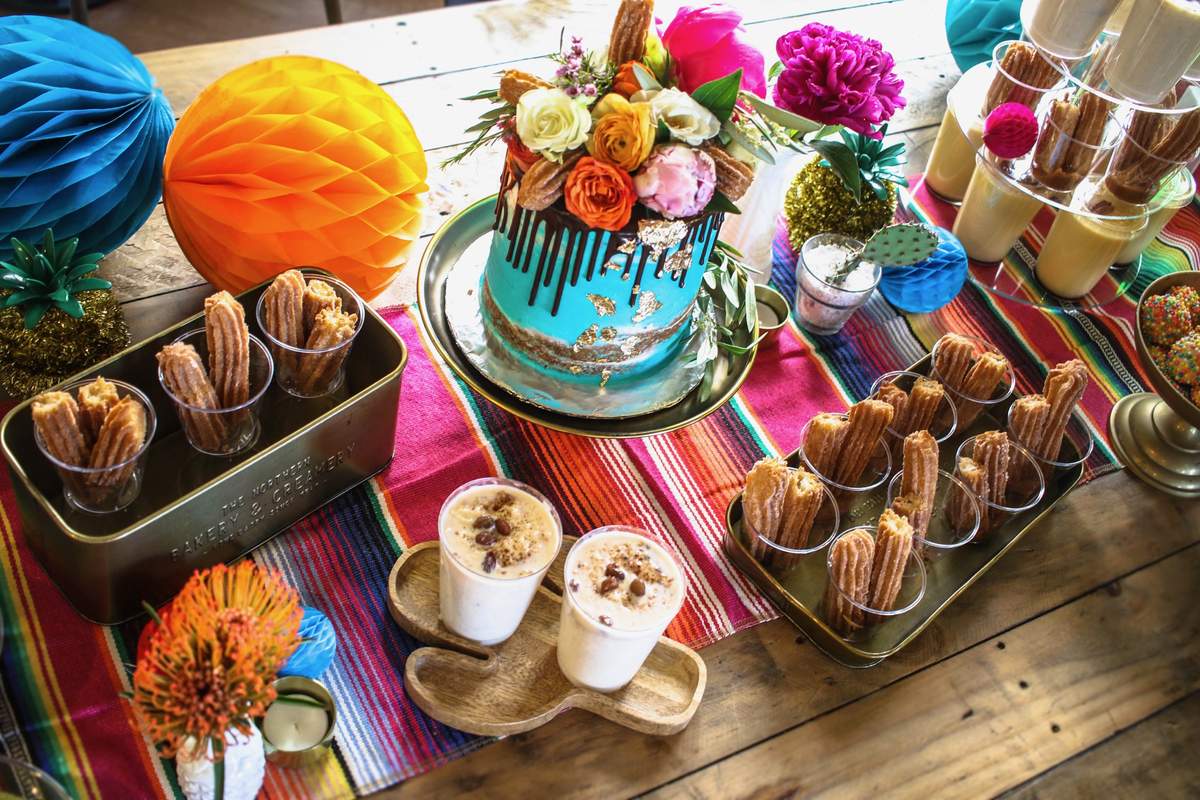 Vegetarian and Vegan Options
Ensure all guests have something to enjoy; incorporate Vegetarian and Vegan options into your menu. Spice up your party with Lime and Jalapeno marinated vegetable skewers or a hearty bean-based Pico De Gallo.
Toppings and Extras
Enhance your dishes with a variety of toppings and extras that let your guests customize their plates. Some popular choices include Cotija Cheese, various types of Salsa, and the always-loved Guacamole. Keep the flavor and texture options diverse for a truly satisfying dining experience.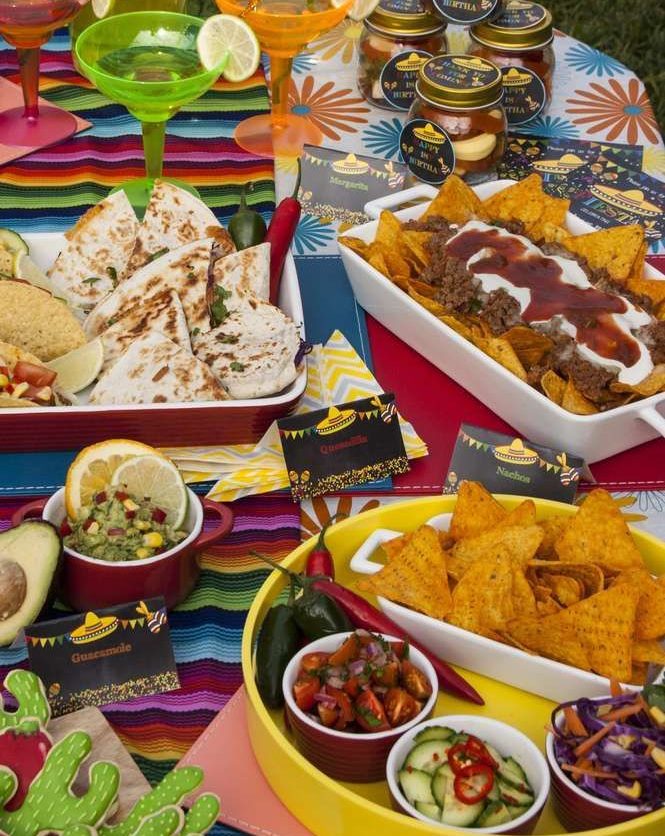 Mexican Foods
Let your guests dive into the rich world of Mexican Foods, from classics like Tacos and Enchiladas to mouthwatering street food, like Mexican Street Corn. Varying the menu with regional specialties, party food classics, and even some modern twists will take your fiesta to the next level.
Guacamole
No Mexican-themed party is complete without a bowl of delicious and creamy Guacamole. Made from mashed ripe avocados, tomato, onion, cilantro, and lime juice, it can be adjusted to personal preferences and goes great with chips, tacos, or as a topping for several dishes.
Elote
Elote, also known as Grilled Mexican Street Corn, is a beloved Mexican side dish made by grilling corn on the cob and brushing it with a tempting mix of mayonnaise, cotija cheese, chili powder, and lime. This flavorful delicacy is a must-have for a truly authentic Mexican party experience.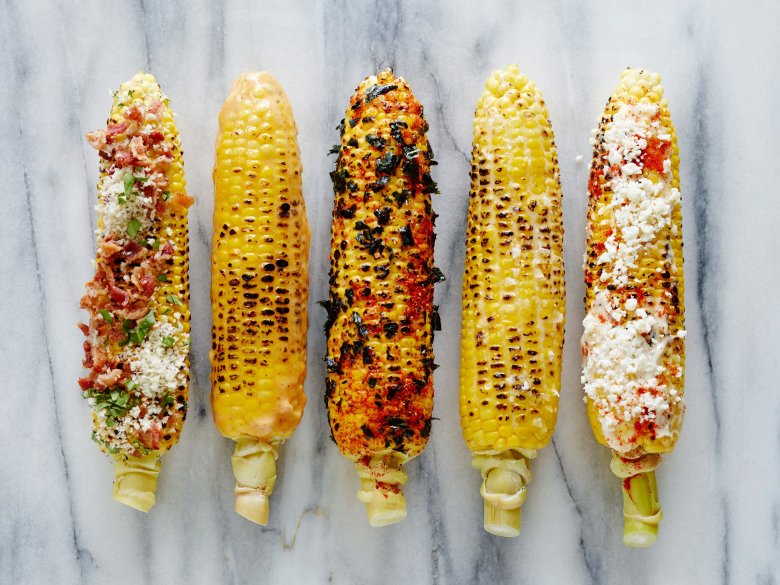 Mexican Drinks
Tequila Based Cocktails
Tequila is a key ingredient in various popular Mexican cocktails. A classic choice is the Margarita, which is available in traditional lime or other flavored options, such as the Jalapeno Margarita. Pre-mixing Margaritas in large batches before the party helps control costs, ensures consistency in taste, and frees up time during the party. Another tequila-based drink is the Mexican 75, which is a delightful twist on the classic French 75 cocktail. It combines tangy lime juice and tequila, then is finished off with a splash of sparkling wine for a refreshing kick.
Non-Alcoholic Options
Not all Mexican drinks need to have alcohol; there are exciting non-alcoholic options for guests to enjoy. Horchata, a traditional Mexican beverage, is made by blending white rice and almonds together. This thick, creamy drink is sweetened with sugar and cinnamon, creating a comforting finish. Atole is another option that offers a taste of vanilla, cinnamon, and sugar in a warm, creamy beverage, making it a perfect choice for guests who prefer non-alcoholic drinks.
Bar Setup
When it comes to setting up a bar for your Mexican-themed party, keep these essential components in mind:
Stock up on tequila, limes, and other cocktail ingredients.
Offer both alcoholic and non-alcoholic options, such as Margaritas, Mexican 75s, Horchata, and Atole.
Prepare garnishes, such as lime wedges, orange wedges, salt or sugar rims, and jalapeno slices.
Set out cocktail glasses, such as margaritas or hurricane glasses, as well as non-alcoholic drinkware.
Properly organizing your bar setup will ensure a smooth and enjoyable experience for your guests, allowing them to fully appreciate the delicious range of Mexican drinks and cocktails you have provided.
Fiesta Atmosphere
A fiesta atmosphere is essential for hosting a successful Mexican-themed party. One of the critical aspects of creating this ambiance is the selection of vibrant colors and lively decorations. Traditional colors for a Mexican party include bright reds, oranges, greens, and blues. Incorporate these colors into table settings, streamers, and balloons to set the festive tone.
An essential element for a Mexican-themed party is incorporating your chosen party theme, such as Taco Tuesday. Display your delicious taco spread using tiered serving trays or on a DIY taco bar. Opt for colorful, patterned plates to add flair to your table setting.
Mexican-themed parties also call for the presence of traditional decorations like papel picado (paper banners), sombreros, and piñatas. Hanging papel picado from the ceiling or walls can instantly add a touch of authentic charm. Use sombreros as centerpieces or encourage guests to wear them for a fun, interactive element. A piñata can serve as both an entertaining activity and a decorative feature, appealing to partygoers of all ages.
Music is another vital component in creating the perfect fiesta atmosphere. Curate a festive playlist that features popular Latin tunes, mariachi bands, and traditional Mexican folk music to keep your guests dancing and mingling throughout the event. The right combination of music, decorations, and food can set the stage for a memorable Mexican-themed party, ensuring that your guests will be talking about your fiesta for years to come.