Party buses have become increasingly popular for celebrating special occasions, offering a unique and entertaining experience for guests. The cost of renting a party bus can vary greatly depending on several factors, such as the size of the bus, the duration of the rental, and the location.
Typical party bus rentals can accommodate anywhere from 10 to 50 passengers or more, with prices starting at around $150 per hour and going up depending on a variety of factors. Smaller buses with a capacity of 10 to 20 passengers usually start from $170 to $300 per hour, while larger buses for 40 to 50 passengers can range from $250 to $500 per hour. It is essential to consider the specific needs and budget for the event when determining which type of party bus to rent.
The total cost of a party bus rental will also be influenced by other aspects like the time of year, the number of stops, additional services like drink packages, and insurance. To ensure a great experience at the best possible price, it's important to compare different options and gather quotes from local providers.
Understanding Party Bus Rental
Party bus rentals are a popular choice for various occasions like weddings, bachelor/bachelorette parties, proms, or just a fun weekend outing with friends. Choosing the right party bus company and understanding the factors that affect the cost can help you enjoy a memorable experience while staying within your budget.
The cost of a party bus rental can vary significantly depending on several factors, including the size of the bus, location, amenities offered, and duration of the rental. On average, party bus rental prices can range from $100 to $300 per hour, with larger and more luxurious buses commanding higher prices. Most companies have a minimum rental period, often starting at 4 hours.
One of the essential aspects to consider when renting a party bus is the size of the group and the bus. Buses are available in different capacities, like 40 to 50-passenger buses. It's crucial to choose a bus based on your exact group size, as overestimating or underestimating will either result in unnecessary expenses or leave people out. The cost per person can also be lowered by filling as many seats as possible and splitting the total cost among participants.
Location plays a significant role in determining the cost of a party bus rental. Prices may vary depending on the city or area where you plan to rent the vehicle. Some cities may have higher or lower rental fees due to factors like demand, local taxes, and other operational expenses.
Amenities offered on a party bus can influence the price as well. Some buses may have luxurious features like LED lighting, premium audio systems, wet bars, and lounge-like seating. Upgraded amenities may increase the cost of the rental. It's a good idea to carefully evaluate which party bus amenities are essential for your event, as opting for a less extravagant or smaller vehicle can save you money while still providing a fantastic experience.
Finally, before deciding on a party bus rental, it's essential to research and compare different party bus companies in your area. Ensure that the company you choose has a solid reputation, offers well-maintained vehicles, and provides excellent customer service. Reading reviews and comparing prices from multiple companies can help you make an informed decision and enjoy the celebration without worrying about transportation issues.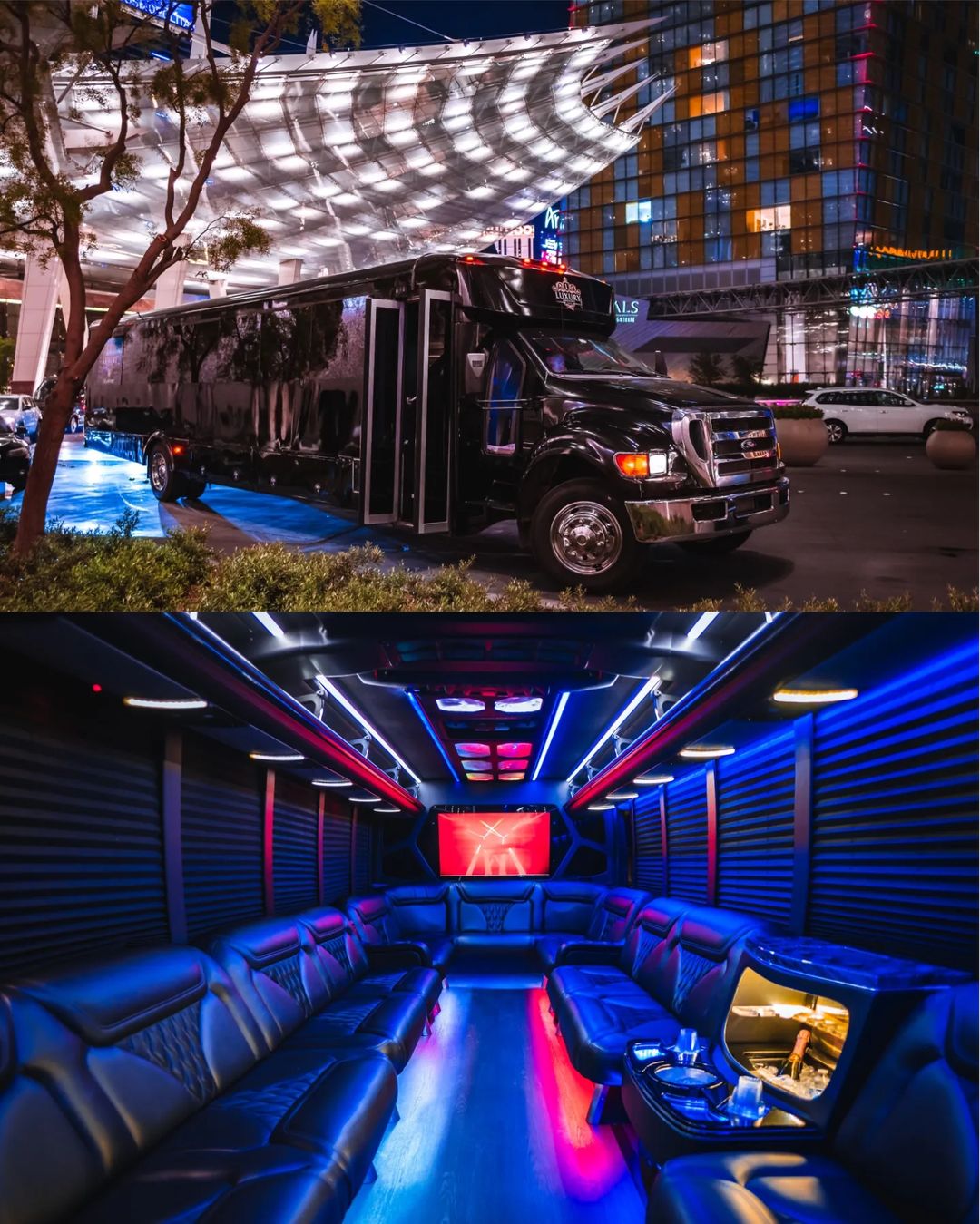 Types of Party Buses
Party buses come in various sizes and styles, catering to different group sizes and preferences. These vehicles can range from small limousines to large buses, offering unique features and comfortable interiors that make any event memorable.
One popular option is the 20-passenger party bus, which offers a more intimate experience for smaller groups. These buses are equipped with amenities such as flat-screen TVs, Bluetooth sound systems, and comfortable seating. They are perfect for events like intimate celebrations or group outings.
On the other hand, larger parties might opt for the 50-passenger party bus. These spacious vehicles have ample room for guests to dance, socialize, and enjoy various onboard amenities such as state-of-the-art sound systems, lighting, and even karaoke machines in some instances. With such capacity, a 50-passenger party bus makes an ideal choice for weddings, corporate events, and other large-scale gatherings.
Besides traditional party buses, other vehicle options include limo-buses, stretch limousines, and sprinter vans. Limo buses are similar to party buses but often boast a more luxurious interior and refined exterior design, making them suitable for upscale events and clients seeking a touch of class. Stretch limousines, such as the classic Lincoln Town Car or the stylish Hummer, offer an elegant experience with comfortable seating for smaller groups of 8 to 18 passengers. These vehicles are a popular choice for proms, weddings, and other special events.
Sprinter vans, like the Mercedes-Benz Sprinter, provide another versatile option for groups of up to 12 passengers. These vans can be customized with features like plush seating, entertainment systems, and even small bars, ensuring a comfortable and enjoyable ride for passengers. They are perfect for client transportation, airport transfers, or small group outings.
In conclusion, the type of party bus or transportation option one chooses depends on factors such as group size, event, and personal preferences. With a diverse array of vehicles to choose from – ranging from smaller limousines to massive 50-passenger party buses – there's sure to be a suitable option that meets the specific needs and tastes of any group.
Factors Determining Rental Cost
When renting a party bus, several key factors contribute to the overall cost. Understanding these factors can help you find the best deal for your event. The following variables are crucial to determining the rental cost of a party bus:
Hourly Rate: Party bus rental rates typically range from $100-$300 per hour, depending on the size and luxury level. Most companies have a minimum rental duration, often starting at four hours. The hourly rate will vary based on factors such as location, date, and bus amenities.
Time of Day and Week: Rental prices can fluctuate depending on the time of day, as well as the specific day of the week. Weekends, especially nights, tend to have higher demand and could result in higher prices. Booking during the day or on weekdays may lead to a more affordable rate.
Trip Duration: The overall cost of renting a party bus is influenced by the length of the trip. Longer events will naturally result in higher prices. It is essential to consider the trip duration when budgeting for a party bus rental.
Size of Bus and Number of Passengers: Party buses come in various sizes, accommodating different numbers of passengers. Rental costs may increase with larger buses due to their capacity and additional amenities. It is crucial to select a bus tailored to the size of your group to ensure both comfort and cost-effectiveness.
Time of Year: Rental prices can vary based on the season. For example, summer months have higher demand and may result in increased prices. Planning your event during less busy seasons may result in more attractive rates.
Gas and Other Expenses: Gas and other expenses, such as tolls, may also impact the overall cost of a party bus rental. These charges can vary by location and may or may not be included in the rental price. Be sure to inquire about any additional costs before booking a party bus.
In conclusion, evaluating these factors and understanding their influence on party bus rental prices is essential to finding the best deal for your event. By considering the hourly rate, time of day and week, trip duration, bus size, number of passengers, time of year, and any additional expenses, you can confidently and knowledgeably budget for your party bus rental.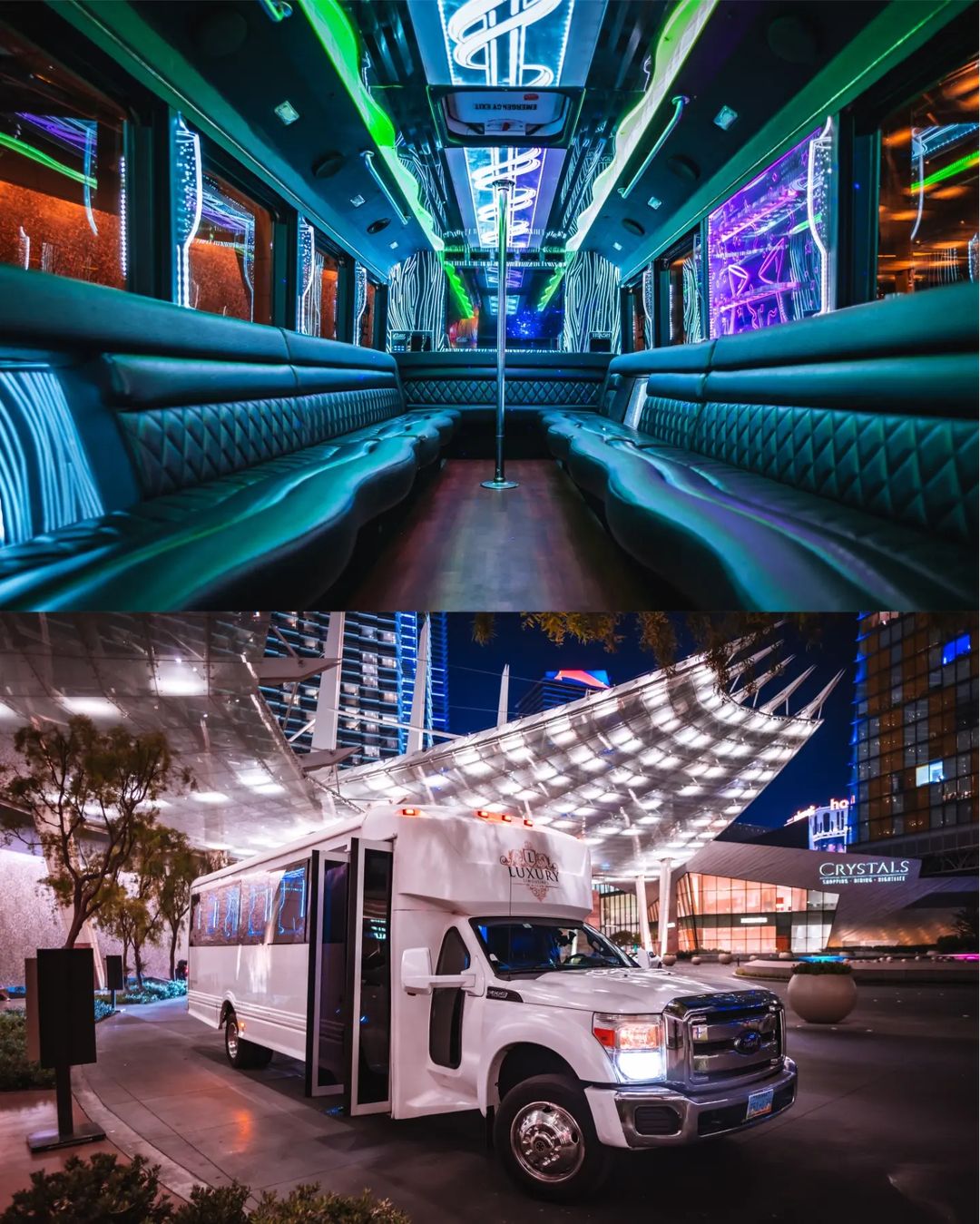 Amenities and Fun Factor
Party buses are known for offering a variety of amenities that help elevate the overall fun and excitement of any event. One such amenity is the inclusion of LED lighting, which adds a vibrant ambiance to the interior of the bus. These colorful lights can transform the atmosphere, making it perfect for dancing and socializing throughout the evening.
Another popular amenity found in many party buses is a karaoke system. Passengers can sing their favorite tunes, with speakers projecting their voices throughout the bus. This creates a lively and entertaining experience for guests to bond and enjoy.
Dancing is a common attraction on party buses, with some even offering removable dance poles for an added touch of excitement. Wraparound seating allows guests to socialize comfortably, while also providing ample space for dancing and mingling.
Privacy is often a priority for party bus renters, and many buses come equipped with tinted windows to ensure discretion. Additionally, some party buses even feature onboard restrooms, providing convenience and comfort for guests during longer journeys.
As for refreshments, party buses are typically equipped with a customized bar area where passengers can enjoy beverages, both alcoholic and non-alcoholic. It is important to remember that the legal drinking age must be observed, and passengers should drink responsibly.
In conclusion, the amenities found on party buses play a significant role in the overall fun factor of the experience. LED lighting, karaoke systems, dancing opportunities, privacy features, and onboard bars all contribute to an unforgettable event, making party buses a popular choice for celebrating special occasions.
Occasions for Renting Party Buses
Renting a party bus is a popular choice for a variety of events and special occasions. With their spacious interiors, fun amenities, and the convenience of transportation, they are ideal for creating memorable experiences. Below are some of the most common occasions when people choose to rent a party bus.
Weddings: Party buses are an excellent option for transporting the wedding party, family, and friends between ceremony and reception locations. This allows everyone to travel together, ensuring timely arrival and eliminating the need for individual transportation.
Proms and Homecomings: High school students often rent party buses for proms and homecomings to make a grand entrance and enjoy a fun-filled night with friends. A party bus provides a safe, reliable mode of transportation, while the teenagers enjoy a luxury experience with music, dancing, and entertainment on board.
Birthday Parties: From milestone birthdays to surprise celebrations, a party bus provides a unique and entertaining venue for individuals of all ages. Guests can enjoy music, dancing, and even games, as they travel to their destination or embark on a tour of local attractions.
Bachelor/Bachelorette Parties: Celebrating the soon-to-be bride or groom often involves a night out with friends. Renting a party bus ensures everyone can travel together, making stops at multiple locations throughout the night, while enjoying a fun and safe environment.
Brewery Tours: Party buses provide a convenient and enjoyable way for groups to tour local breweries and sample their offerings. With a professional driver at the wheel, guests can relax and enjoy the experience without worrying about transportation or designated drivers.
Sporting Events: Tailgating and attending sporting events are more enjoyable when a party bus is involved. Fans can travel together, enjoying refreshments and entertainment on the way, and avoid the hassle of parking and navigating crowded stadiums.
In conclusion, party buses are a versatile option for a wide range of events and occasions. They provide a unique and entertaining experience, creating memorable moments and ensuring a convenient and safe mode of transport for all attendees.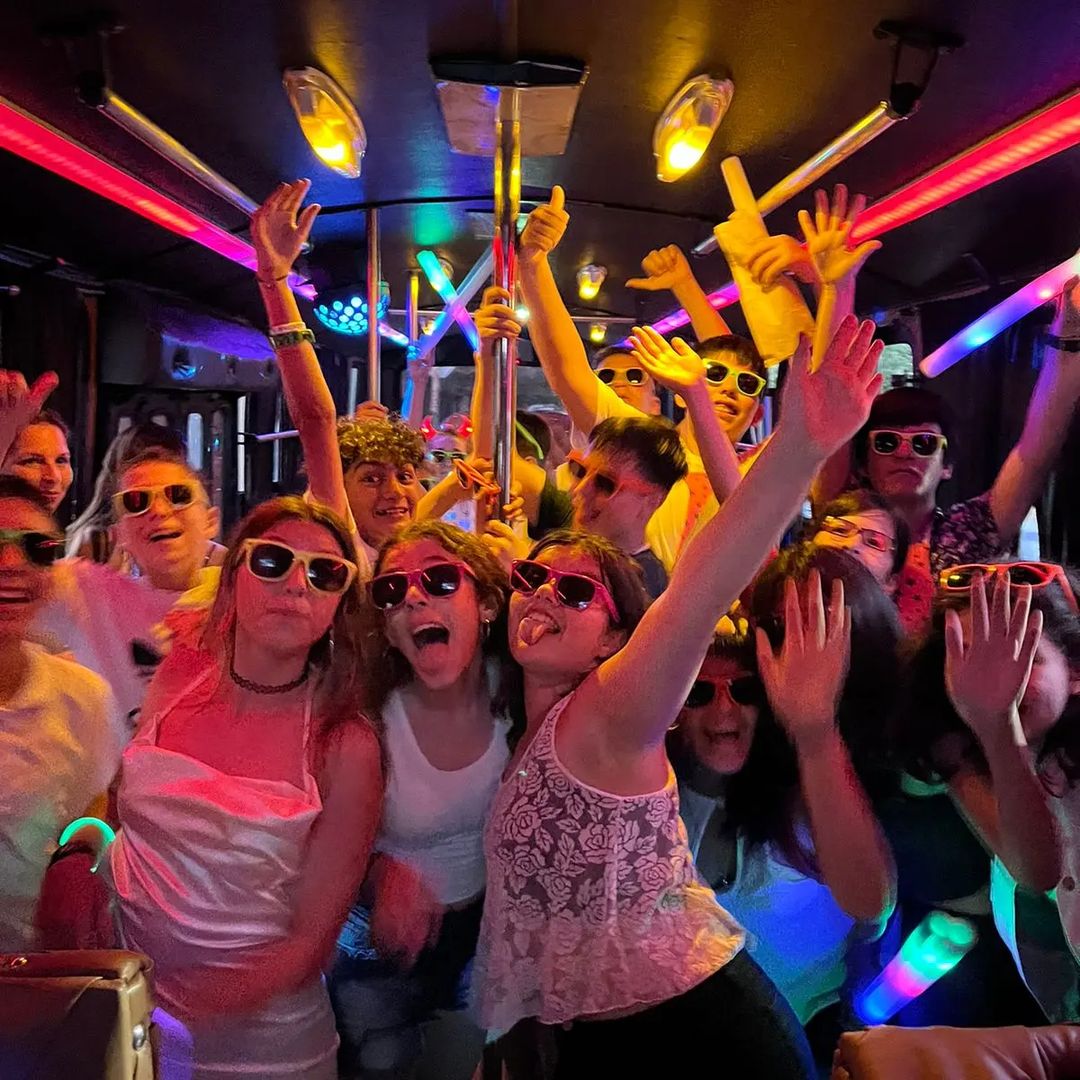 Benefits of Renting a Party Bus
Renting a party bus comes with several advantages that make it a popular choice for group events and celebrations. One of the primary benefits of party bus rentals is the safe transportation they provide. Traveling in large groups can be a concern, especially when alcohol is involved. Party buses enable passengers to enjoy themselves without worrying about driving or organizing separate vehicles.
Luxury and style come hand-in-hand with party bus rentals. Most buses are equipped with top-notch amenities, such as plush seating, LED lighting, and state-of-the-art sound systems. These features add a touch of elegance to your event, ensuring a memorable and enjoyable experience for everyone on board.
A party bus makes a grand entrance possible at any event. Arriving at a venue in a luxurious party bus increases the excitement and sets the tone for the rest of the evening. Moreover, party buses provide ample space for up to 27 passengers, depending on the specific vehicle. This allows you to include all your friends and family in the celebration, making the event even more special.
When considering the overall value, party buses are definitely worth the investment. On average, the price of renting a party bus ranges from $100 to $300 per hour. Although it might seem expensive initially, the combination of safety, luxury, and convenience makes a party bus rental an excellent choice for group transportation.
In conclusion, renting a party bus offers numerous benefits that contribute to a successful and enjoyable event. From safe transportation to stylish amenities and a grand entrance, a party bus rental provides an unforgettable experience for everyone involved.
Popular Party Bus Rental Locations
Party bus rentals are an increasingly popular choice for various events and celebrations across the nation. They offer a unique and fun way to transport groups of people to various locations while keeping the party going. Some of the most popular locations for renting party buses in the United States include major cities such as Miami, Las Vegas, and many other locations nationwide.
Miami is well-known for its vibrant nightlife and beautiful beaches, making it an ideal location for party bus rentals. Many people rent party buses in Miami for events like bachelor and bachelorette parties, proms, and even corporate events. The city offers a wide range of luxurious, high-end party buses that cater to diverse groups and party sizes. Moreover, Miami's party buses often feature impressive amenities like state-of-the-art audio systems, LED lighting, and spacious dance floors, which enhance the overall experience for their guests.
Las Vegas, the Entertainment Capital of the World, is another hotspot for party bus rentals. The city's lively atmosphere and countless entertainment options appeal to tourists and locals alike, making it a perfect backdrop for celebrations aboard a party bus. Common events for party bus rentals in Las Vegas include weddings, birthdays, and nights out on the town. Renters can choose from a wide array of party buses that cater to their specific needs while exploring the city's various attractions, such as casinos, shows, and clubs.
In addition to these popular cities, party bus rentals are also available nationwide. Many reputable companies offer party bus rental services in cities and regions across the country. Each location offers its unique attractions and scenic routes, allowing party-goers to enjoy a memorable and tailored experience. When renting a party bus, it is essential to compare prices and amenities to find a suitable option for your event and budget.
In conclusion, party bus rentals have become a popular choice for groups looking to celebrate in style. Whether it's to enjoy a night on the town in Miami or to indulge in the extravagant entertainment options in Las Vegas, party buses offer a unique and memorable experience tailored to various events and locations. With nationwide availability, party bus rentals can cater to any event, making it an increasingly popular transportation option for unforgettable celebrations.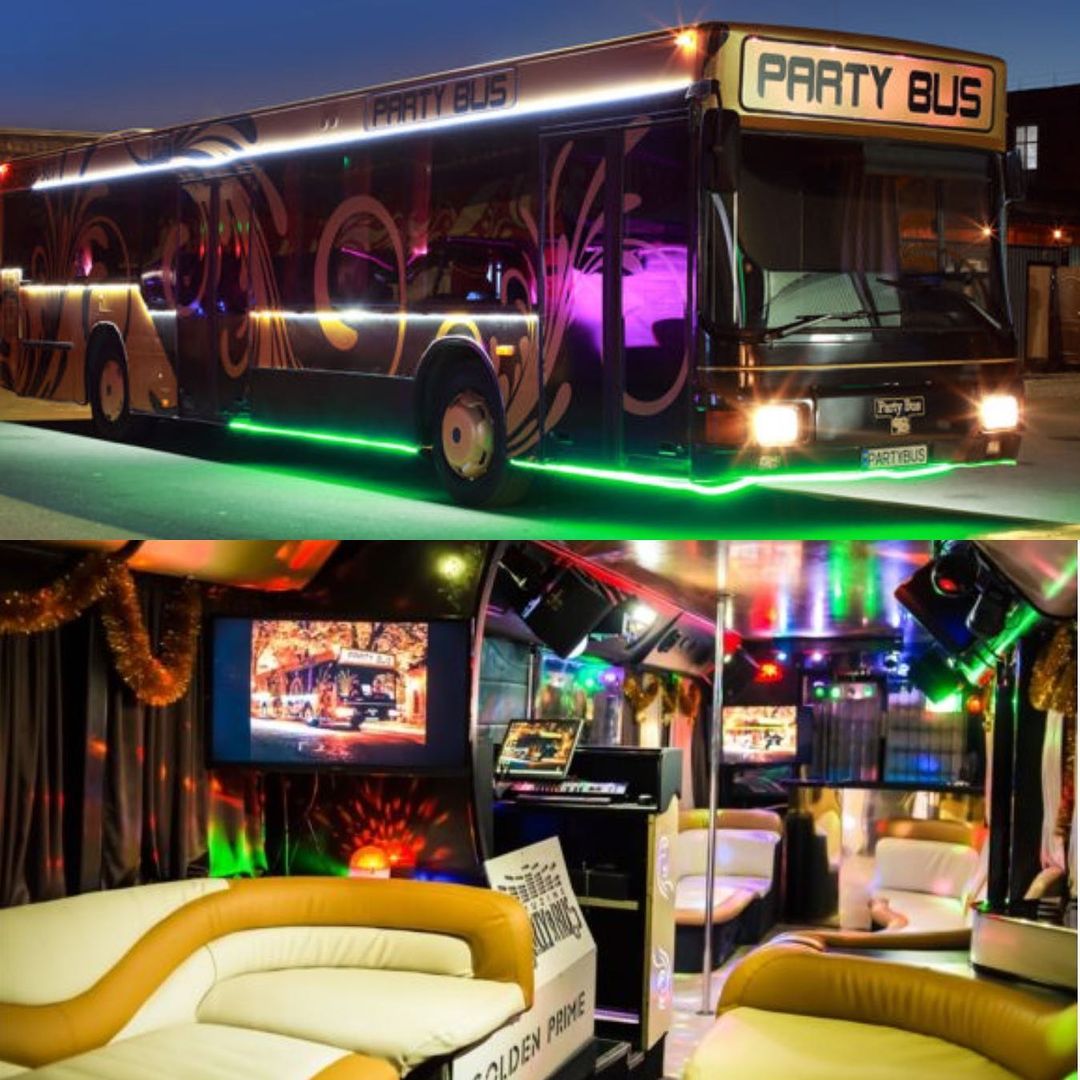 Starting a Party Bus Business
Starting a party bus business can be a profitable venture for entrepreneurs who have a knack for entertaining people and are skilled in marketing and logistics. The concept is relatively simple; a party bus provides a mobile venue for groups of individuals to celebrate and enjoy themselves, often for special occasions. In order to succeed in this industry, several factors need to be considered, including naming the business, understanding the target market, and building a fleet of party buses.
The first step in launching a party bus business is deciding on a fitting business name. This should be something memorable and catchy to attract potential clients. A good name not only creates a positive image but also helps in marketing the business and building a robust brand.
The next crucial aspect to consider is the target market. Identifying the demographics and preferences of potential clients helps in delivering a tailored experience. For instance, party buses can cater to a wide range of events, such as weddings, bachelor parties, and proms. By focusing on specific market segments, a business can stand out from the competition and optimize its marketing efforts.
Building a fleet of party buses is another significant aspect of the business. Begin by purchasing or renting a party bus and ensure that it is well-maintained and equipped with amenities like a state-of-the-art sound system, lighting, and comfortable seating. As the business grows, expand the fleet to include various sizes and styles of buses to accommodate a broader clientele.
Financing plays a significant role in the success of a party bus business. Startup costs are relatively high, with initial investments ranging from $62,550 to $137,100, depending on the size and quality of the fleet. These expenses include purchasing or leasing buses, obtaining licenses and permits, setting up maintenance and insurance contracts, and investing in marketing efforts.
In conclusion, starting a party bus business requires careful planning and execution. By selecting the right business name, targeting a suitable market segment, building a diverse fleet of party buses, and securing adequate financing, one can successfully enter this growing industry and create a profitable enterprise.
Conclusion
Renting a party bus can be an exciting and memorable experience for any event. The cost of renting a party bus varies depending on several factors, such as the size of the bus, duration of the rental, and location. On average, the cost of a party bus ranges from $100 to $300 per hour, with most companies requiring a minimum of four hours rental.
When planning your event, it's important to compare prices among different party bus companies, as the cost can differ greatly by region and rental service. Make sure to account for additional costs, such as gratuity for the driver and any extra amenities that may not be included in the initial quote.
Lastly, consider the day of the week and the time of the year, as these factors can also impact the overall rental price. By doing thorough research and comparing options, you can ensure that you find a party bus that fits your budget and provides an enjoyable ride for you and your guests.