The Jersey Shore, an iconic pop culture phenomenon from the early 2010s, is a perfect inspiration for unforgettable theme parties. With its beach settings, vibrant nightlife, and larger-than-life personalities, the show provides ample opportunity to create an engaging party environment. By incorporating some key elements, hosts can bring the spirit of the Jersey Shore to their event, making for a memorable and fun experience for all attendees.
A Jersey Shore theme party can take two main directions, depending on the desired atmosphere: a classic beach theme or a trendy nightclub theme. With the beach theme, hosts can transform their space with palm trees, sand, and beach chairs, taking guests to the heart of the Shore. Alternatively, the nightclub theme focuses on creating a lively and energetic atmosphere, with dance floors, music, and club-like decorations to mimic the show's popular party scenes.
To make the party come to life, incorporating aspects of the show's personalities, catchphrases, and memorable moments is key. From themed photo booth props and welcome signs to decorations and attire, hosts can choose elements that best suit their preferences and the interests of their guests. This way, the Jersey Shore theme party captures the essence of the show while still allowing for individual creativity and personal touches.
The Jersey Shore Theme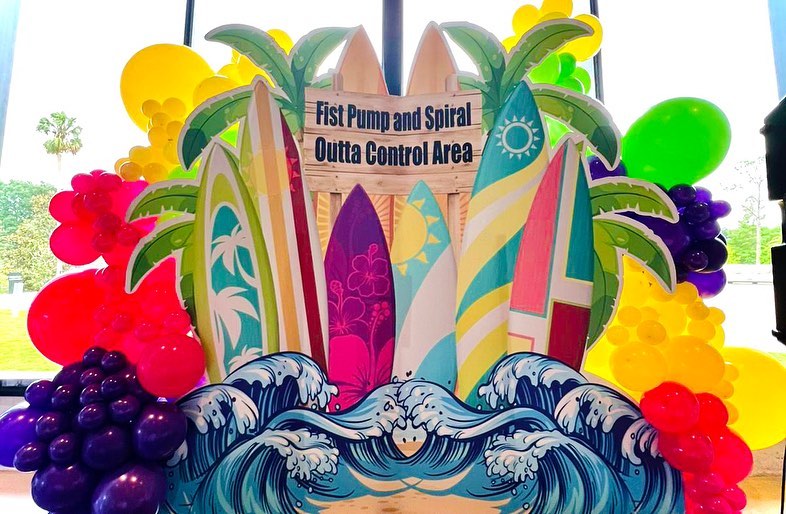 The Jersey Shore theme party is a fun and unique way to bring the iconic TV show and its vibrant atmosphere to life. This theme incorporates elements of the famous New Jersey shore and creates an engaging party atmosphere that guests will love.
One critical aspect of a Jersey Shore theme party is to set the appropriate ambiance. Decorations such as palm trees and beach chairs can transport guests to the picturesque Seaside Heights. Consider adding coastal details to create a true Jersey Shore experience, including seashell centerpieces, nautical accents, and coastal-themed tableware. The vibrant and energetic colors of the show, such as neon hues and animal prints, can also be used to match the aesthetics of the party.
To make the party more engaging and fun, encourage guests to dress in costumes inspired by the show's characters, following the Guido/Guidette dress code. This could include stylish and edgy clothing that represents the iconic cast members like Snooki or "The Situation." Accessorize with sunglasses, gold chains, and other trendy items to bring the look together.
A beach-themed photo booth can offer the perfect opportunity for partygoers to capture memories and fun moments, mimicking the quirky beachside photos taken on the show. Incorporate props, such as sunglasses, beach balls, and custom signs related to the series.
Creating a themed menu is another critical aspect of a successful Jersey Shore theme party. Offer popular boardwalk snacks like cotton candy, pretzels, and pizza, along with signature cocktails and mocktails inspired by the cast members or the shore's environment.
Incorporate activities and games to keep guests entertained and engaged throughout the party. Popular ideas include beach volleyball, a tanning station, and a "GTL" (Gym, Tan, Laundry) competition based on the show's famous motto.
With careful planning and attention to detail, a Jersey Shore theme party can transport guests to the lively boardwalks and beach scenes of the popular series, allowing them to experience the excitement and fun atmosphere of the iconic Jersey Shore.
The Ultimate Party Guide
To organize a memorable Jersey Shore theme party, focus on creating an atmosphere that replicates the iconic television show's vibes, fashion, and setting. Incorporate elements of the popular beach culture and the unforgettable personalities of the cast members to guarantee a fist-bumping good time for everyone involved.
Start by transforming your party space into the famous Seaside Heights with essential beach-themed decorations. Invest in inflatable or fake palm trees to set the tone and string up some lights for an authentic shore ambience. Arrange beach chairs and provide beach towels to let your guests lounge in style.
Next, create a Jersey Shore atmosphere with fun accessories and props for your guests. Encourage them to wear typical show-related outfits embracing the "Guido" and "Guidette" looks, such as tight dresses, graphic tees, and lots of hair gel. Supplement the attire with fist bumping accessories like sunglasses, spray tans, and even temporary tattoos.
Music plays a significant role in setting the mood for a Jersey Shore party. Compile a playlist filled with popular dance, EDM, and hip-hop tunes that will have your guests fist-pumping all night long. Don't forget to include tracks by DJ Pauly D, one of the show's cast members.
Food and drinks can enhance the theme as well. Stick to appetizers like sliders, hot dogs, and boardwalk-inspired treats such as funnel cakes and cotton candy. For cocktails, serve Ron Ron Juice—a must-have for any Jersey Shore party—by blending watermelon, cherries, cranberry juice, and copious amounts of Stolichnaya Vodka together.
Lastly, arrange some entertainment and games. Organize a dance-off, beach volleyball, or even a trivia competition inspired by the show. Let your creativity run wild and tailor these activities to fit the party's theme.
Following this guide will help you create the ultimate Jersey Shore experience, leaving your guests reminiscing about their unforgettable night on the shore.
Dress Code and Costumes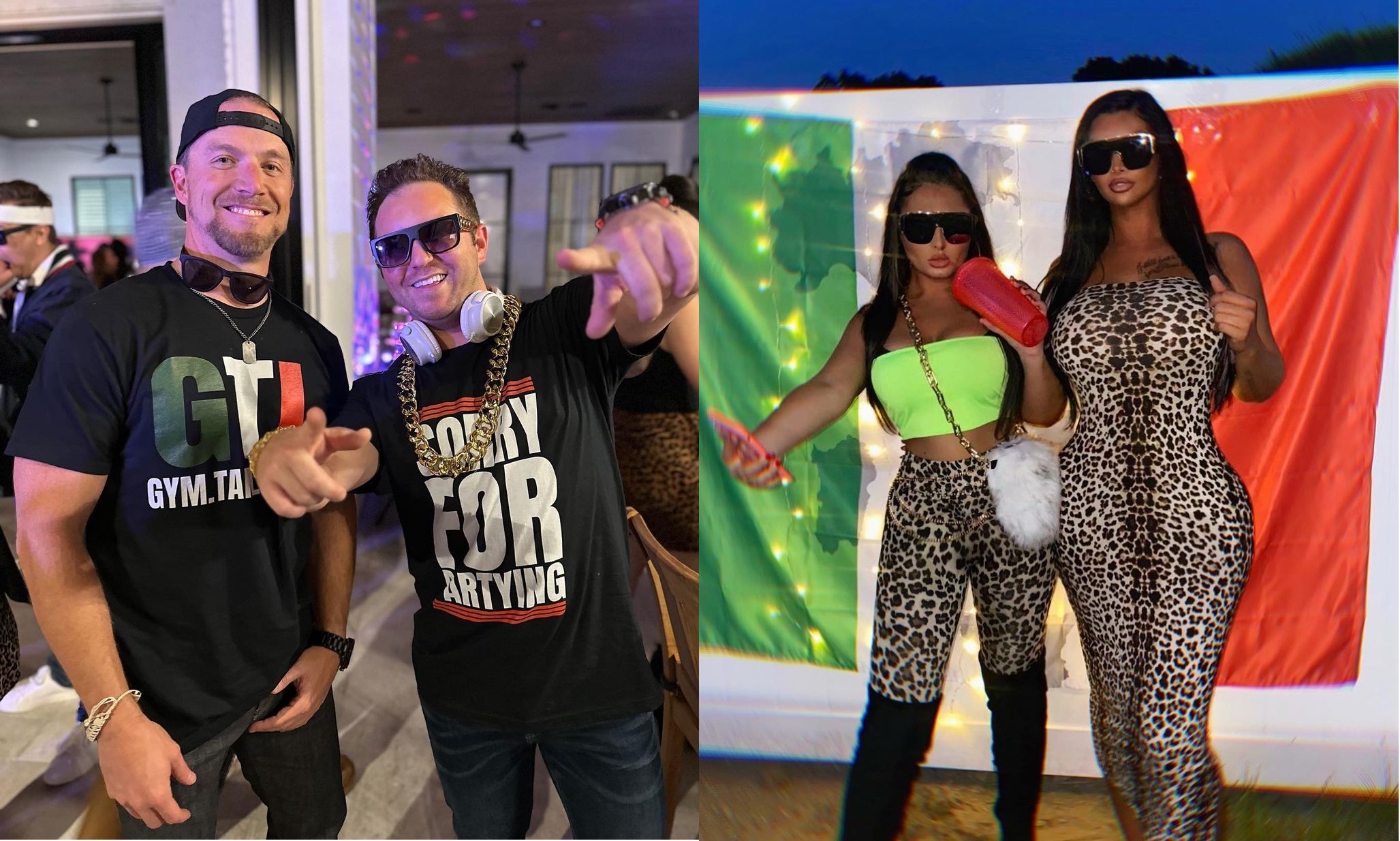 When planning a Jersey Shore theme party, dressing the part is crucial to capturing the spirit of the infamous reality show. To create a true Jersey Shore atmosphere, the dress code should include elements of the show's signature style, featuring Ed Hardy shirts, bold animal prints, and flashy costumes.
Guys attending the party should consider rocking tight muscle shirts or Ed Hardy shirts. Additionally, ripped jeans and an abundance of gold jewelry will complete the guido look. For the ultimate style statement, they can attempt to recreate Pauly D's iconic blowout hairstyle.
Ladies, on the other hand, can embody the guidette persona by sporting bold animal print clothes and accessories. Snooki's infamous poof hairstyle and oversized cat-eye sunglasses are key components for an authentic look. Implementing these elements in their outfits will make them stand out and bring the Jersey Shore vibe to life.
When choosing costumes, partygoers should not be afraid to go all out with flashy and attention-grabbing attire. Incorporating tanning lotion, gym, and laundry elements (GTL) into outfits and accessories can transform guests into their favorite Jersey Shore characters. Opting for clothes that make a statement, like leopard print dresses or tight mini skirts, will ensure that everyone in attendance embraces the essence of the theme.
In summary, the dress code for a Jersey Shore theme party should focus on capturing the distinct style of the reality show while incorporating key elements such as Ed Hardy shirts, animal prints, and striking costumes. By following these guidelines, guests will feel confident, knowledgeable, and fully immersed in the Jersey Shore experience.
Food and Drinks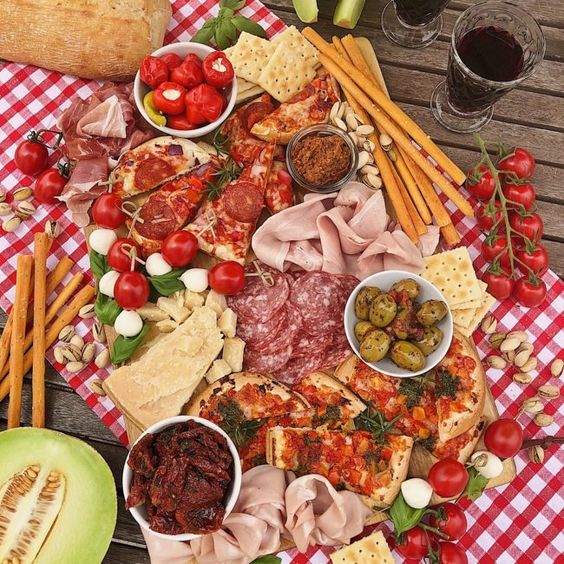 A Jersey Shore-themed party is incomplete without a mouthwatering spread of food and beverages that stay true to the essence of this unique and lively theme. This section will guide you through some of the must-have food and drinks for your party to be a hit.
To begin with, you can't go wrong with offering a selection of classic Italian food. A spread of pasta, pizza, and chicken parmesan is essential to recreate the atmosphere of a Jersey Shore gathering. Include a variety of sauces, accompaniments, and dips to please your guests' palates.
Next up, some scrumptious appetizers will add the perfect touch. Platters of meats, cheeses, and pickles can be arranged to create the ultimate Jersey Shore feast. Don't forget to offer fresh fruits like watermelon and cherries for a refreshing touch to the appetizer plate.
Now, let's talk about drinks. It's time to bring in the infamous Ron Ron Juice. To make this punch, combine cranberry juice, watermelon juice, vodka, and some sugar. You can also include fresh watermelon chunks for added flavor and presentation. Have plenty of Ron Ron Juice on hand to keep your guests coming back for more.
To kick the party up a notch, prepare a batch of Jello shots for your guests. These colorful, fun shots are synonymous with a night out at the Jersey Shore. Experiment with different flavors by using a variety of Jello mixtures and liquors.
Lastly, to balance out all the savory and flavorful dishes, offer funfetti cake as a dessert option. This sweet and festive treat will delight your guests and wrap up the dining experience on a high note.
By curating a menu filled with these enticing food and drink options, your Jersey Shore-themed party will transport your guests to the heart of the Seaside experience, making for a memorable night of celebration.
Grasping the Guido and Guidette Style
Embracing the Guido and Guidette style for your Jersey Shore theme party starts with mastering their iconic hairstyles. For the guido look, think of Pauly D's signature blowout, featuring high gel-styled hair that adds height and volume to the overall appearance. On the other hand, guidettes often opt for big, teased hair, sometimes combined with extensions or hair accessories.
Another essential aspect is clothing. Guidos typically prefer tight-fitting muscle shirts or graphic tees, paired with ripped jeans, and flashy gold jewelry. Genuine guidette outfits showcase tight dresses or mini skirts, often with animal prints. Don't forget your sunglasses, whether it's daytime or nighttime, for achieving that mystical Guido and Guidette attitude.
Spray tans are a defining factor for both guido and guidette styles. Achieving that sun-kissed glow is of utmost importance, even if it means using artificial methods to get it. Consider using a high-quality self-tanning lotion or visiting a salon for a professional spray tan in advance of the party.
Accessorizing is the final step to perfecting your Jersey Shore look. Guidos and guidettes are often found wearing oversized sunglasses and statement jewelry like prominent chains, necklaces, and bracelets. For guidettes, high heels are a must, while guidos can opt for sneakers or trendy shoes.
By paying attention to these elements – hair, clothing, tanning, and accessories – you can confidently pull off the Guido and Guidette style for your Jersey Shore theme party. Remember, it's all about having fun and embracing the boldness and extravagance epitomized by these unforgettable characters.
Setting Up the Venue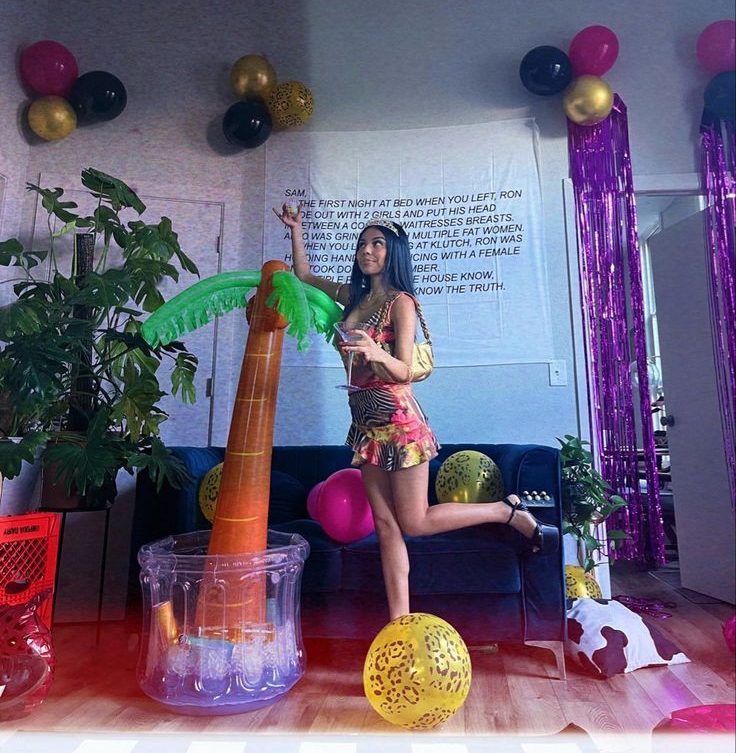 When planning a Jersey Shore theme party, transforming your venue into a festive, beach-inspired space is crucial. Start by choosing a location near water or with a view of the seaside, if possible, to create an authentic atmosphere. If that's not feasible, you can still create a beachy vibe indoors or in your backyard.
One way to establish a strong beach presence is by creating a striking backdrop. Design an area that resembles a cabana or lifeguard station, decorating it with surfboards, parasols, and other beach items. Make sure to incorporate Seaside Heights-inspired elements, such as inflatable or fake palm trees, beach chairs, and beach umbrellas, to further emphasize the theme. Adding string lights to the trees and around the venue can set the perfect party mood.
Include fun summer accessories for your guests, like oversized sunglasses, straw hats, and even cardboard cutouts of your favorite Jersey Shore characters. To keep the atmosphere upbeat, select beach-themed music, and serve popular summer drinks that remind people of their favorite beach trips.
Water activities can also elevate your Jersey Shore theme party. If your venue has a pool or is near the water, encourage guests to take a dip. You could also consider having water games and competitions, which can create laughter and bonding moments throughout the event. Don't forget to provide guests with towels and sun protection for their comfort.
Incorporating Seaside Heights-inspired elements, such as a sandy beach area, a boardwalk, or carnival games, can take your Jersey Shore theme party to the next level. These details will make your guests feel like they've stepped right onto the popular New Jersey shoreline.
By following these tips and staying true to the Jersey Shore theme, your venue will transport your guests to a memorable beach getaway that they'll be talking about long after the party is over.
Party Games and Entertainment
A Jersey Shore themed party is all about fun, excitement, and entertainment. To keep the energy high and your guests entertained, consider incorporating a mix of games, music, and activities inspired by the hit MTV reality show.
Start with a playlist that includes the pumping dance beats that were popular during the show's peak. Music is an essential aspect of any party, and selecting tracks that were staples at the Jersey Shore house will set the right atmosphere. Consider including some iconic Jersey Shore moments, like Snooki's famous "fist pump" dance move. Encourage your guests to show off their own fist-pumping skills on the dance floor.
For party games, introduce elements of the cast's daily routine like gym, tan, and laundry, often abbreviated as "GTL." You can set up challenges that revolve around those activities. For example, you might establish a mini-gym corner with lightweight dumbbells for guests to flex their muscles in a friendly competition. Additionally, create a "laundry" zone where guests can engage in amusing folding contests or a game of folding-basketball, tossing clothes into laundry baskets from a distance.
Drinking games are another popular source of entertainment at Jersey Shore parties. While remembering to drink responsibly, you can invent games inspired by different catchphrases or memorable moments from the show. For instance, players might take a sip of their beverage each time someone says "GTL," or whenever someone fist pumps in the air.
Lastly, don't forget about having a few classic party games on hand, like limbo or musical chairs. These games can be given a Jersey Shore twist by incorporating the show's catchphrases and visual references, like inflatable palm trees and beach chairs, as part of the setup.
By incorporating these entertaining elements into your Jersey Shore-themed party, your guests will be immersed in the unique atmosphere that the reality show is known for, leading to a memorable and lively occasion for all.
Lights, Camera, Pose!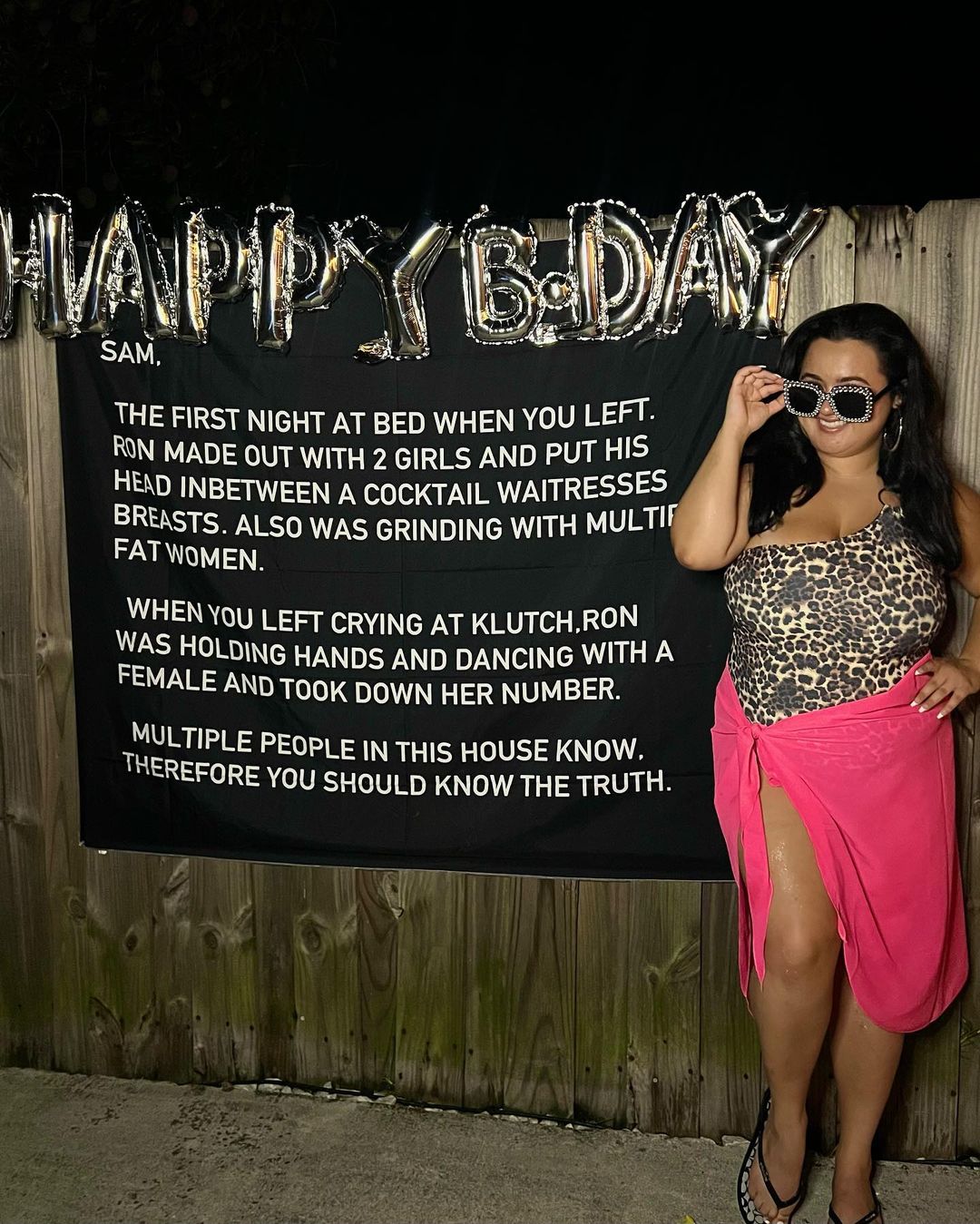 A Jersey Shore theme party is incomplete without capturing the fun moments with your friends. One of the best ways to achieve this is by setting up a photo booth at the party. A photo booth not only adds an element of excitement but also gives guests a memorable token of the night.
Creating the photo booth backdrop, you can choose a beach scene or incorporate elements from the famous TV show. Get creative with props like sunglasses, beach chairs, and inflatable palm trees. Make sure to include iconic symbols from the show, like Italian flags or a DJ booth, to keep the theme consistent.
Once the backdrop is ready, equip the photo booth with a camera or a smartphone on a tripod. Provide your guests with easy-to-use remote controls or selfie sticks, and let them have a blast taking pictures together. To enhance the guest experience, consider setting up a fun lighting system, like string lights or colorful LED lights, that complements the theme and creates flattering visuals.
For added amusement, involve your guests in a competition for the best photo pose. Encourage them to channel their inner "Snooki" or "The Situation" and strike fun, dramatic poses. You can even create a voting system where guests can choose their favorite photos at the end of the party.
A well-designed photo booth is a fantastic addition to any Jersey Shore theme party, as it encourages guests to engage with each other while having a great time. Remember to keep the decor consistent with the theme and provide your guests with enough props to ensure everyone can create unforgettable memories on a fun-filled night.
Signature Cocktails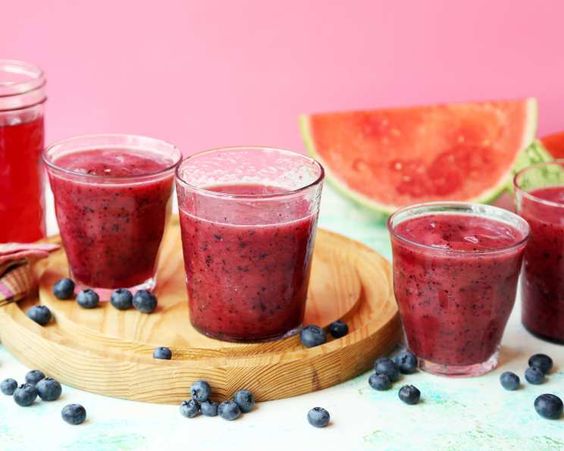 When it comes to a Jersey Shore theme party, signature cocktails play an essential role in recreating the iconic beach house vibes. One of the most famous drinks from the reality TV show is the Ron Ron Juice, a fruity concoction made popular by cast member Ronnie.
Preparing Ron Ron Juice for your party is simple. All you need is watermelon, cranberry juice, pineapple juice, and your choice of vodka or rum. Blend the watermelon and pineapple juice to create a refreshing base, then stir in cranberry juice and your choice of spirits. Serve over ice and garnish with a slice of watermelon or pineapple for a festive touch.
In addition to the Ron Ron Juice, consider offering other beach-themed cocktails that feature refreshing flavors like pineapple juice. One such drink is the Seaside Breeze, a tropical blend of pineapple juice, coconut rum, and a splash of blue curaçao.
To make a Seaside Breeze, mix equal parts pineapple juice and coconut rum in a shaker with ice. Add a dash of blue curaçao for color, shake well, and strain into a chilled glass. Like with the Ron Ron Juice, a garnish of pineapple or a tiny umbrella enhances the drink's presentation.
By crafting these signature cocktails, your Jersey Shore theme party will surely transport your guests to the beaches of Seaside Heights, creating an authentic and unforgettable experience. Some other drink options to consider include:
Shore Thing: A blend of citrus vodka, orange juice, and cranberry juice, topped with a splash of lemon-lime soda.
Boardwalk Breeze: A mix of light rum, pineapple juice, peach schnapps, and a dash of grenadine for a sunset-colored cocktail.
Remember, serving these delightful and refreshing beverages will be the perfect addition to your Jersey Shore theme party, keeping everyone dancing and celebrating all night long.
Party Favors and Supplies
Throwing an unforgettable Jersey Shore themed party requires the right selection of party favors and supplies to make your event stand out. To get started, consider these great ideas.
When it comes to party favors, think about incorporating elements from the popular TV show. One idea is to include Jersey Shore Photo Booth Printable Props. These props can be designed after popular items and phrases from the show to add a fun element to the party. Guests will love taking photos with these unique and clever props.
Another essential party supply, especially for adults, is a durable plastic cup. Personalize these cups with characters, popular quotes, or iconic Jersey Shore elements. These custom cups not only serve as a functional item for beverages but also act as a memorable party souvenir that guests can take home and use again.
In addition to props and cups, you can also opt for other party decorations like a Jersey Shore Party Welcome Sign. This sign can be personalized with a beach-inspired design and will immediately set the tone for your Jersey Shore themed event. Make it an instant download and print right away to invite all your friends and family.
Lastly, don't forget about incorporating other items inspired by the show, such as a replica of the iconic duck phone or a mini hot tub filled with ice and cold drinks. These unique party supplies will help bring your Jersey Shore themed party to life, creating a fun and exciting atmosphere that your guests will love.
Incorporating these ideas into your party planning will ensure you have a fun-filled Jersey Shore themed event complete with the perfect party favors and supplies.
Music and Playlist
When it comes to organizing a Jersey Shore theme party, the music and playlist play a crucial role in capturing the essence of the show. Building a playlist that features popular songs from the 2009-2013 period, along with some good EDM and house music, will transport your guests to the iconic nightclubs like Karma and Bamboo, clubbing with the cast as mentioned in this Reddit post.
It's essential to choose tracks that will energize the dance floor and make the party an unforgettable experience. Consider including tunes from artists like Katy Perry, Jay-Z, Flo Rida, and The Black Eyed Peas, as these artists were among the Jersey Shore favorites and were frequently played on the show as suggested by The Bash.
To enhance the atmosphere and provide a nightclub vibe, hiring a DJ from a local event company is a great idea. You can request a custom playlist, blending the aforementioned popular songs with a mix of sick beats from the EDM and house genres. If you want to go the extra mile, create a custom DJ booth with weathered wood, renting a turntable, mics, and a PA system to uplift the music experience as recommended by The Bash.
In addition to the music, incorporating elements like a "hot tub" filled with ice and cold drinks, and decorating the space to mimic the infamous nightclubs like Karma, will contribute to the overall Jersey Shore party atmosphere as noted by Easy Event Planning.
Remember to keep the music pumping and let the beats drop throughout the night, ensuring your guests leave with cherished memories of their night on the Jersey Shore.
Bringing it Down with Funfetti Cake
Funfetti cake is a delicious and festive dessert option that can add some excitement to any Jersey Shore-themed party. This colorful cake is made using a vanilla cake mix that includes vibrant sprinkles, contributing to the eye-catching appearance and playful vibe of the party. So let's dive into how you can bring the party down with a Funfetti cake.
To make a delicious Funfetti cake, you'll need the basic ingredients like eggs, oil, water, sour cream, and vanilla extract. Then, simply mix these ingredients together for about one minute on medium speed to create a moist and delicious cake batter. Don't forget to add the colorful sprinkles, as these are the key to achieving the festive appearance that makes the Funfetti cake stand out. Once your batter is ready, pour it into two greased and lightly floured 9-inch cake pans and bake at 350 degrees Fahrenheit until the cake is golden and firm to the touch.
For an added touch of Jersey Shore flair, consider using additional edible decorations to match the theme, such as topping the cake with miniature Italian flags, beach-themed decorations, or even custom cake toppers created in the likeness of the show's iconic cast members. This extra attention to detail will certainly impress your guests and make the dessert a memorable part of your themed party.
Serving a Funfetti cake to your guests is not only visually appealing but also a delightful treat that caters to both adults' and kids' taste buds. The cake's sweet and vibrant flavor perfectly complements other Jersey Shore-themed party elements, creating a fun and cohesive event. So go ahead and bring your party down in style by incorporating a Funfetti cake to your Jersey Shore-themed bash.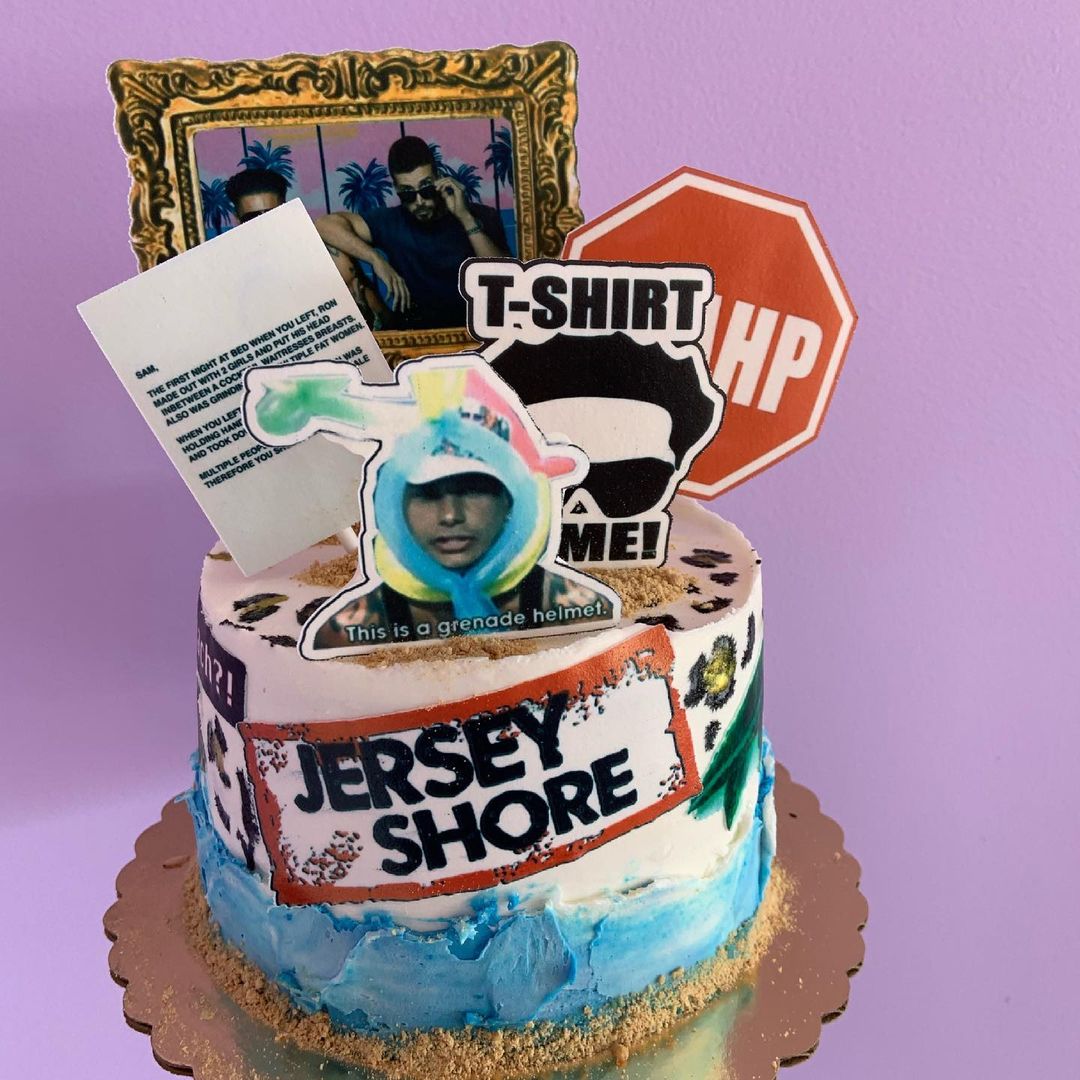 The Logo
A Jersey Shore theme party brings the fun and excitement of the iconic reality TV show to your event. One of the essential elements in setting the tone for your party is having a striking logo that captures the essence of the Jersey Shore. Let's explore some ideas for designing the perfect logo for your themed celebration.
The logo should incorporate elements that immediately remind guests of the Jersey Shore, such as beach vibes, tanned bodies, and a fun party atmosphere. A simple yet catchy design might include a sun, sunglasses, or even a palm tree. These visual cues will quickly evoke feelings of relaxation and enjoyment, setting the stage for a memorable party experience.
Next, consider colors that represent the essence of the Jersey Shore. Bright and bold colors like orange, pink, or neon shades will convey the high-energy atmosphere commonly associated with the show. These vibrant colors are perfect for creating a lively and inviting environment for your event.
Additionally, you can include typography that carries the party's theme, such as playful fonts or phrases popularized by the show. For example, incorporating catchphrases like "Gym, Tan, Laundry" or "Cabs are here!" into the logo will instantly remind guests of the TV series and create a sense of camaraderie among fans.
Lastly, don't be afraid to add a touch of humor to your logo. The show's lighthearted nature lends itself well to a comical design, and it will encourage your guests to let loose and have a good time. A clever illustration or a funny tagline can make all the difference in setting the right tone for your Jersey Shore theme party.
In conclusion, your Jersey Shore party logo should be a unique visual representation of the show's fun and lively spirit. Incorporating recognizable elements, bold colors, and playful typography will ensure that your party guests immediately know they're in for a memorable celebration with a distinct Jersey Shore flair.
The Italian Feast
A Jersey Shore theme party wouldn't be complete without an Italian feast. Embracing Italian cuisine is essential for an authentic atmosphere and offers an abundance of delicious options to satisfy your guests' appetites.
Start with antipasti to whet your guests' appetites. Go for a variety of items such as bruschetta, cured meats like prosciutto, and an assortment of cheese. You can also include marinated vegetables and olives to add substance and variety to your antipasti offerings.
Next comes the central component of your feast, the pasta bar. Offer a selection of different pasta dishes to ensure there's something for everyone. You can never go wrong with classics like spaghetti with marinara sauce, fettuccine with Alfredo sauce, and penne with pesto. Don't forget to provide gluten-free pasta options for any guests with dietary restrictions.
Of course, your Italian feast wouldn't be complete without pizza. Opt for both traditional and unique toppings so that all guests can find a slice that satisfies their taste buds. There's no need to stick to simple pepperoni or Margherita—get creative with toppings like buffalo chicken, spinach with ricotta, and even a dessert pizza with Nutella and strawberries.
To round off your delicious feast, provide some Italian desserts for your guests. Classic options like tiramisu, cannoli, and panna cotta are sure to be crowd-pleasers. You can also have a gelato bar with a selection of flavors and toppings to help everyone cool off and satisfy their sweet tooth with a cold and creamy treat.
A well-executed Italian feast is a crucial element of any successful Jersey Shore theme party. Offering a variety of dishes and ensuring there's something for everyone will keep your guests well-fed and happy throughout the event.