As Halloween approaches, Hocus Pocus enthusiasts eagerly prepare to celebrate this cult classic movie by hosting themed parties. One of the main highlights of a successful Hocus Pocus gathering is the variety and creativity of party foods inspired by the film's characters and magical elements. With many options available, hosting a spooky and enchanting Hocus Pocus party has never been easier.
A key component to captivating guests with the party's theme is incorporating an assortment of spellbinding snacks and treats. From Sanderson Sisters cupcakes to bewitching appetizers, there are plenty of Hocus Pocus food ideas to choose from. Ensuring guests are engaged and satisfied with delicious and on-theme food options sets the stage for an unforgettable event.
To help in planning the perfect Hocus Pocus party, explore various online resources and recipes for inspiration. In doing so, not only will you enhance the atmosphere of your gathering, but also create a memorable experience for your guests. Dive into the world of enchantments with captivating Hocus Pocus food ideas and immerse your guests in the festive spirit.
Hocus Pocus Party Basics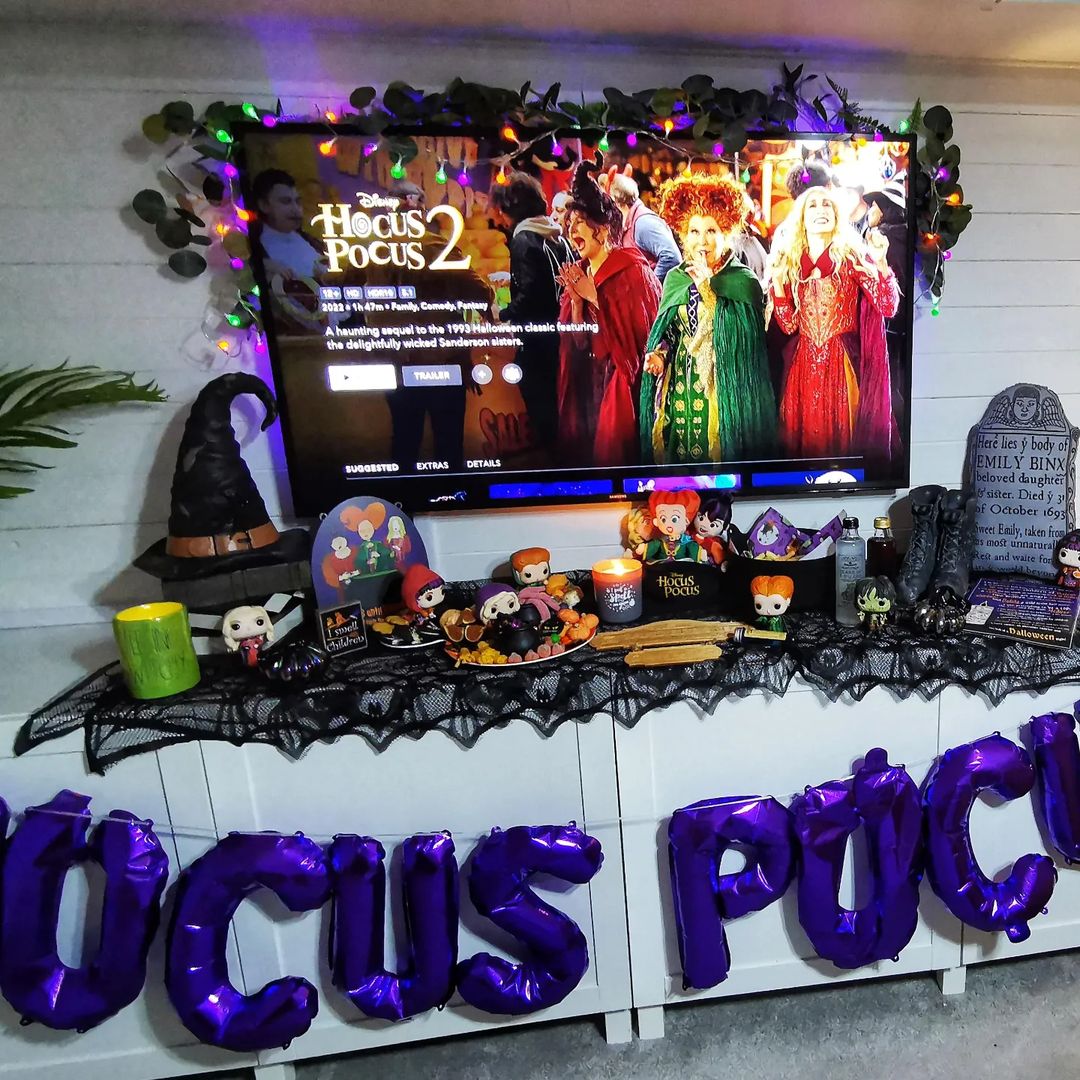 Planning a Hocus Pocus-themed party can be a magical experience for guests of all ages. Whether hosting a Halloween celebration or a Disney Hocus Pocus viewing party, there are many ways to incorporate elements from the iconic movie into the event's decorations, food, and drinks.
When creating a Hocus Pocus party menu, consider including Hocus Pocus Charcuterie Snack Boards with an assortment of cheeses, fruits, and deli meats. Fun desserts, such as Ghost Cupcakes or Hocus Pocus Marshmallow Pops, also make for festive treats that guests can enjoy. For a creative twist on classic appetizers, try making Billy Butcherson Graveyard Dip by turning any type of dip into a spooky Hocus Pocus-themed offering with crackers, breadsticks, or small plastic tombstones.
Incorporating elements from the movie, such as the Black Flame Candle, can also be an entertaining and enjoyable part of hosting a Hocus Pocus party. Black Flame Candle cocktails are a fun and thematic drink option for adult guests. For family-oriented parties, consider creating non-alcoholic Black Flame Candle mocktails.
As the much-anticipated Hocus Pocus 2 will be making its debut on Disney+, now is the perfect time to revisit the original classic or plan a watch party for the sequel. Creating an enchanting ambiance by using decorations inspired by Disney's Hocus Pocus, such as witch hat centerpieces and potion bottle displays, will immerse guests in the mystical world of the Sanderson Sisters.
By incorporating these ideas and thoughtful touches, any Hocus Pocus-themed party is sure to bewitch and delight attendees, making for a memorable Halloween or movie night event.
Characters and Symbols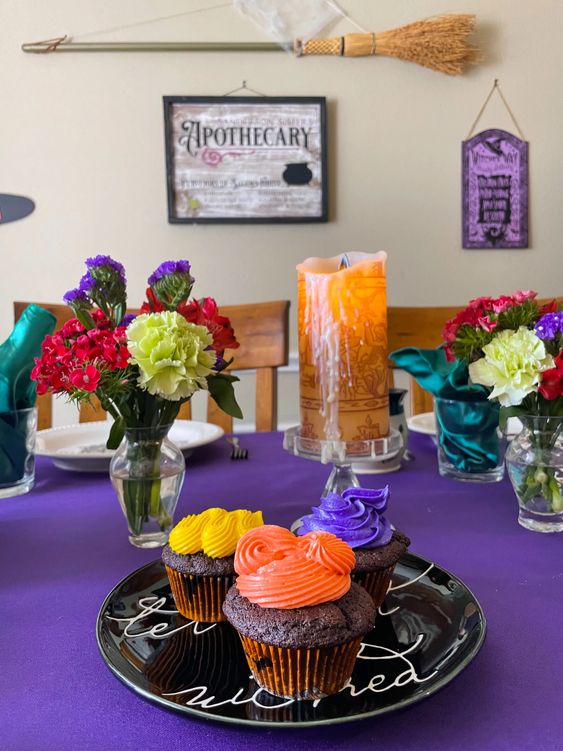 The Hocus Pocus movie is filled with memorable characters and symbols that can inspire a variety of party foods. One of the most iconic trios in the film is the Sanderson Sisters, played by Bette Midler, Sarah Jessica Parker, and Kathy Najimy. Incorporating these three witches into your party food can be as simple as creating cupcakes or cookies decorated with their unique hairstyles and costumes.
Another symbol from the movie is the Black Flame Candle, which plays a crucial role in the story. Consider creating a cocktail inspired by this magical item, using dark-colored ingredients and garnishes to evoke its mysterious power. Alternatively, design a cake or dessert that features a glowing black flame as its centerpiece.
Billy Butcherson, the lovable, yet eerie, character can inspire some spooky treats too. Think about developing a dish with bony or skeletal elements to represent his undead nature. For example, you could create a dip or appetizer shaped like a skeleton with strategically placed ingredients, such as pretzel sticks for bones and olives for eyes.
As for the human characters like Max, focus on a more witch-themed approach to the food. For example, you can craft a charcuterie board adorned with witch-themed snacks like witch hat crackers and broomstick-shaped pretzels.
The setting of the film, Salem, offers a rich history of witch trials and folklore that can add to your Hocus Pocus party food theme. Perhaps create dishes inspired by traditional New England recipes or named after historical figures from the Salem witch trials.
With the upcoming Hocus Pocus 2 movie, fans are excited to see what new characters or symbols might be introduced to the story. Keep an eye on the movie's developments and be ready to incorporate new ideas into your party menu when it premieres.
By incorporating these characters and symbols from Hocus Pocus, your party food will not only be delicious but also pay tribute to this beloved movie, making it a magical experience for guests.
Party Decorations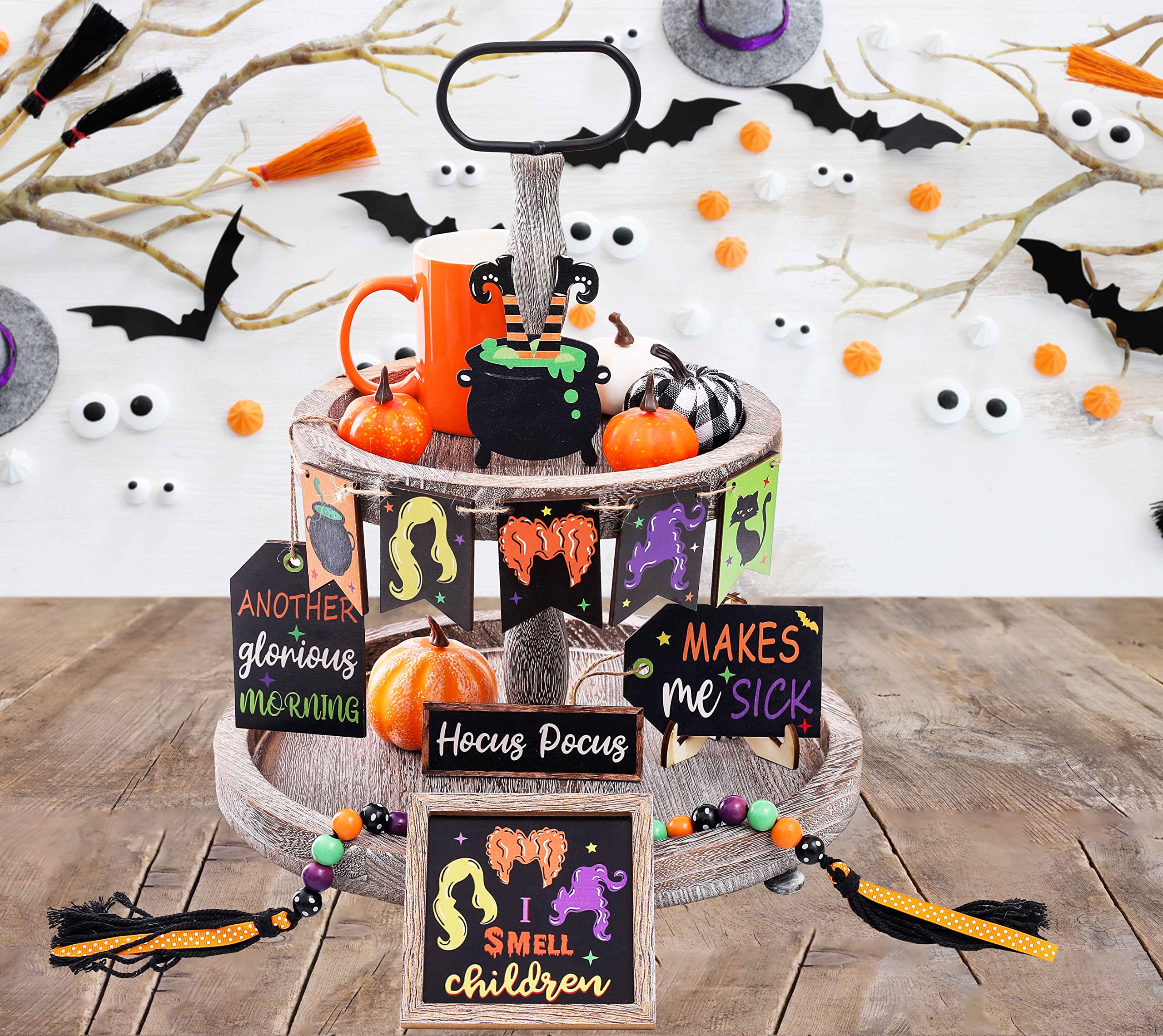 When planning a Hocus Pocus-themed party, it's essential to incorporate various decorations that reflect the movie's magical and spooky atmosphere. Salem, where the film takes place, should be the inspiration for the overall party decor.
One cannot miss adding elements of Halloween to the set-up, and it's a great idea to mix and match typical Halloween decor elements with customized Hocus Pocus decorations. To start with, consider using a Halloween witch balloon garland to greet your guests. This garland is easy to put together, and it adds an enchanting touch to the entrance.
When it comes to the table decor, there are plenty of items to choose from. Hocus Pocus printable banners can be an affordable option to add a personalized touch to your party. Make sure to use colors that complement the theme, such as shades of orange, black, and purple.
To make the party more immersive, incorporate uniquely designed Hocus Pocus menu items, such as Rice Krispies Treats and other themed food ideas. Well-placed candles also help in setting a mysterious tone while hosting the event.
Finally, you can't have a complete Hocus Pocus event without featuring the iconic black flame candle. This prop associated with the Sanderson sisters will surely be the talk of the party. Also, place Halloween skeleton string lights around the venue to add an element of spookiness to the environment.
Remember, when it comes to organizing a Hocus Pocus party, the key is to blend in Salem's eerie vibes with the fun elements of Halloween decor. A well-decorated space will undoubtedly put a spell on your guests and ensure a memorable experience.
Themed Food and Beverage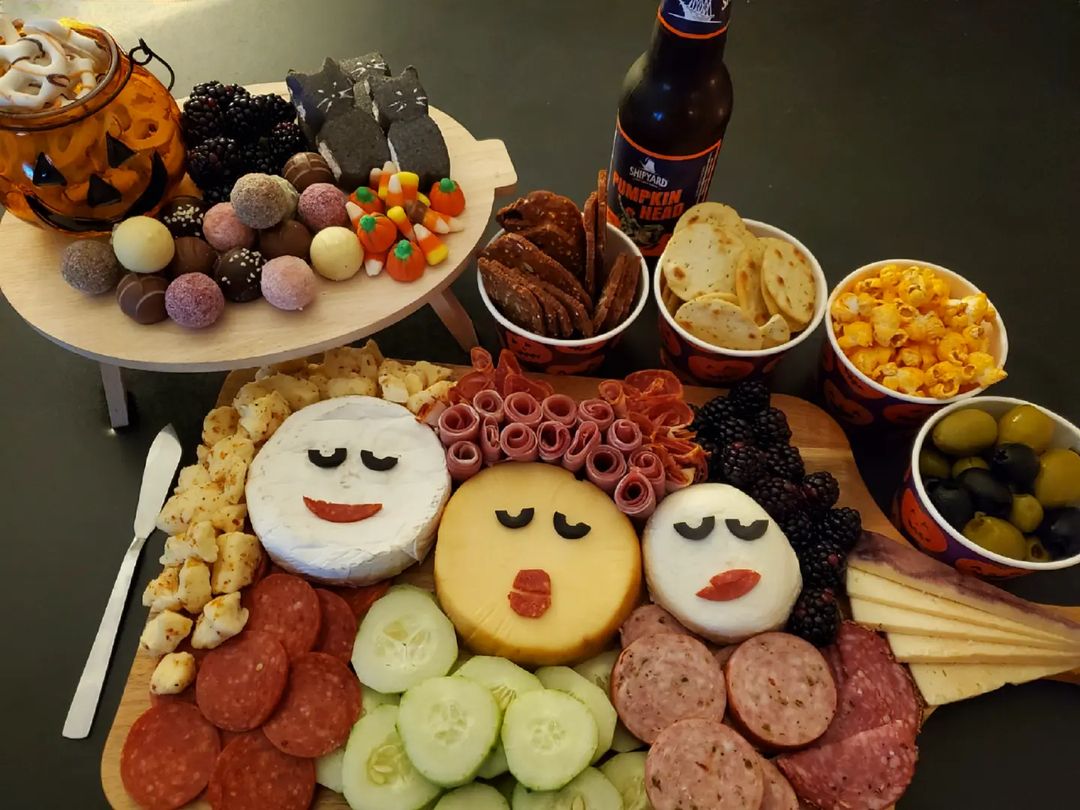 For a Hocus Pocus-themed party, it's essential to incorporate a variety of themed foods and beverages that creatively represent key elements from the iconic movie. Start by preparing some delicious Sanderson Sister cupcakes, which can be made by designing unique Hocus Pocus cupcakes in the likeness of the three infamous witches.
Next, you can't go wrong with Witch Hat Cookies. These adorable treats can be crafted using your favorite cookie recipe, shaped into witch hats, and coated with dark chocolate candy melts. Add a touch of candy corn around a wide brim for an extra festive touch.
Hocus Pocus brownies are another must-have on your party menu. Make your favorite brownie recipe, then add spooky details such as candy eyes, licorice ropes, and marshmallow ghosts. You can even try making a special batch of Hocus Pocus sugar cookies to match.
To keep your guests engaged, set up a Hocus Pocus charcuterie board complete with an assortment of cheeses, fruits, deli meats, pretzels, Oreos, and candy eyes for a fun, interactive food experience. Don't forget to include Dead Man's toes – think sausages wrapped in pastry to resemble toes – and mini sandwiches shaped like broomsticks.
For beverages, mix up a batch of Black Flame Candle cocktails to represent the film's iconic magical item. This concoction can be made using rum or vodka, mixed with a dark fruit juice to achieve the deep hue. To create the illusion of a burning flame, add a glow stick to the glass before serving. Pair this cocktail with a delicious Salem Spiced Cider, made from warm apple cider infused with spices such as cinnamon, cloves, and nutmeg.
Incorporating these themed food and beverage ideas into your Hocus Pocus party is sure to make it a bewitching and unforgettable experience.
Drinks and Cocktails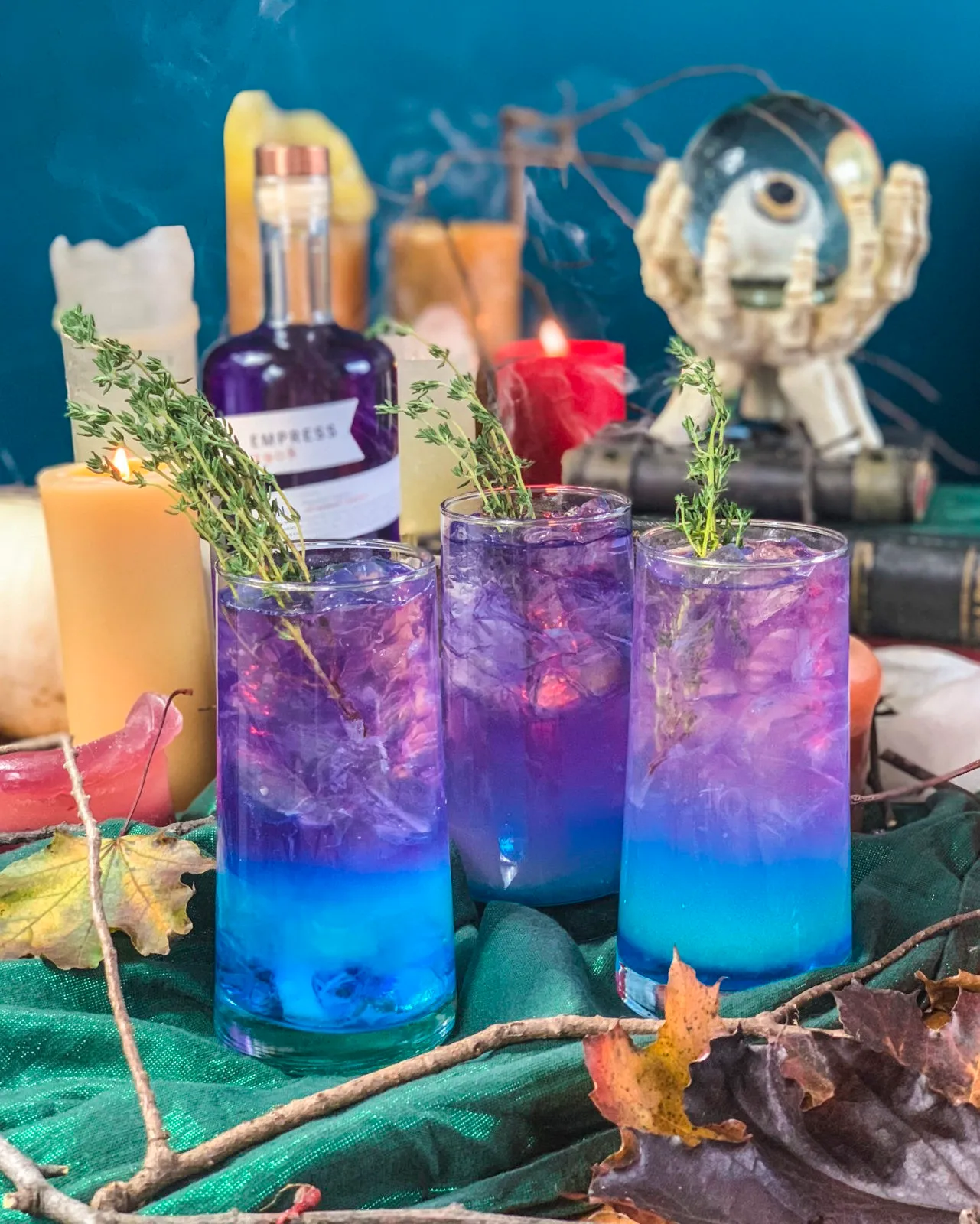 For a Hocus Pocus-themed party, the drink menu should be as magical and enchanting as the movie itself. Start by serving a spooky Halloween punch that will delight your guests and set the tone for the evening. A popular option is a Hocus Pocus cocktail, which is a twist on the classic Hanky Panky cocktail and perfect for Halloween parties.
When planning your punch recipes, it's essential to include a mix of alcoholic and non-alcoholic options. For a bewitching touch, add dead man's toes to your punch bowls. This can be easily done by freezing grapes and adding them to the punch just before serving—giving the illusion of creepy toes floating in the drink.
Rum and vodka-based cocktails are a popular choice for Halloween parties. Consider concoctions like a dark and stormy, zombie, or a black magic martini. Using black vodka or dark rum will add an eerie touch to your drinks, making them perfect for your Hocus Pocus party.
Another great addition to your drink menu is Salem spiced cider, which pays homage to the movie's setting. Serve it warm or cold, depending on your preference, but don't forget to add the cinnamon sticks for extra flavor and style.
Moreover, don't limit yourself to just these recommendations. Feel free to get creative with your drink recipes, naming them after your favorite Hocus Pocus characters or memorable scenes from the film. Remember to stay true to the theme and provide a variety of options to cater to your guests' preferences. Cheers to a magical evening!
Party Games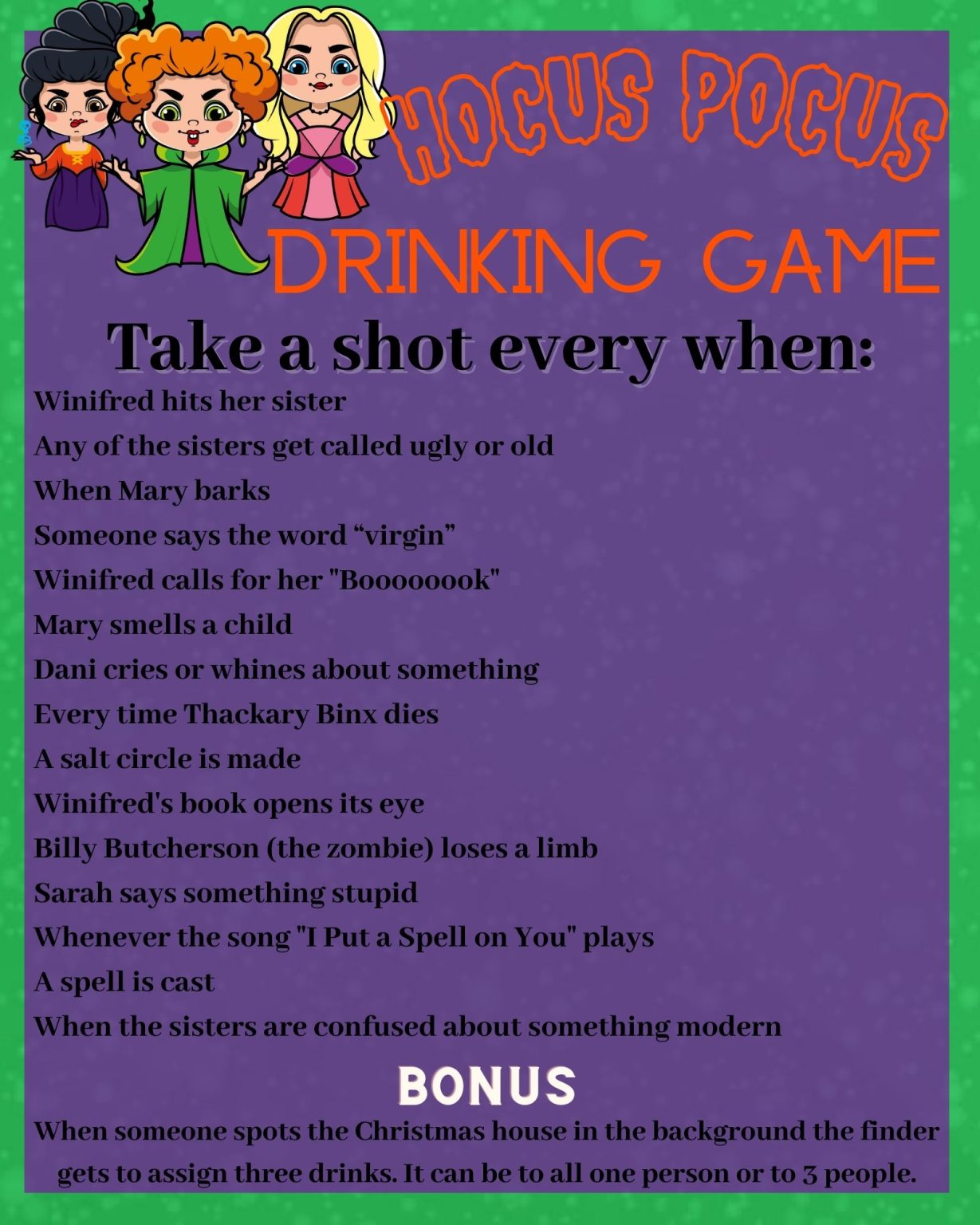 One popular Hocus Pocus party game is the Hocus Pocus drinking game, which adds an exciting twist to watching the beloved movie. Guests can take a sip of their drink whenever certain events or catchphrases occur on-screen. Make sure to set the rules and provide a variety of beverages so that everyone can participate, whether it's alcoholic or non-alcoholic drinks.
Another enjoyable activity at a Hocus Pocus-themed party is Hocus Pocus Bingo. You can create custom bingo cards with images or phrases from the movie. Guests can mark off the corresponding events or catchphrases as they unfold during the film. This game can be played simultaneously with the drinking game, making sure everyone stays engaged and entertained throughout the movie.
For those looking for more interactive party games, consider setting up a witches' scavenger hunt. Hide themed items around your party venue and provide guests with riddles or clues to find them. This game adds a fun, magical touch to the party and encourages guests to explore and mingle with each other.
In summary, incorporating games like the Hocus Pocus drinking game, Hocus Pocus Bingo, and a witches' scavenger hunt can create a lively and interactive atmosphere at your Hocus Pocus-themed party.
Halloween Party Tips and Ideas
Hosting a Hocus Pocus-themed Halloween party can be magical and exciting for both the host and the guests. With a few simple tips and ideas, you can create a memorable, witchy atmosphere that will make everyone feel spellbound.
When planning your Hocus Pocus party, start by selecting an appropriate venue. Your own home or a cozy room with dim lighting will do perfectly. Decorating with Hocus Pocus-themed party decorations such as witch hats, broomsticks, cauldrons, and black cats will help create the immersive atmosphere that makes the event feel magical.
For the ultimate Hocus Pocus party food experience, serve an array of themed food like Sanderson Sisters cupcakes, eyeball truffles, and cauldron monster apples. A charcuterie snack board with various finger foods is another crowd-pleasing option. Don't forget to include some spooky Hocus Pocus-inspired drinks such as Black Flame Candle cocktails for the grown-ups and Witch Party Punch for everyone.
Offering party favors to your guests will leave a lasting impression. Ideas include small witch brooms, candy, and themed trinkets, all tied together in a goody bag. These small tokens not only make the attendees feel special but also give them a keepsake to remember the event.
Incorporate a movie night into the party, screening the classic "Hocus Pocus" film for all to enjoy. Encourage your guests to get comfortable with blankets and popcorn while they watch the beloved Halloween movie. To give a fun twist to the movie night, consider setting up a popcorner reviews section where guests can rate and review the film for laughs.
By following these quick and easy tips, you'll have an enchanting Hocus Pocus-themed Halloween party that will leave your guests spellbound and entertained, creating lasting memories for all in attendance.
Hocus Pocus Treats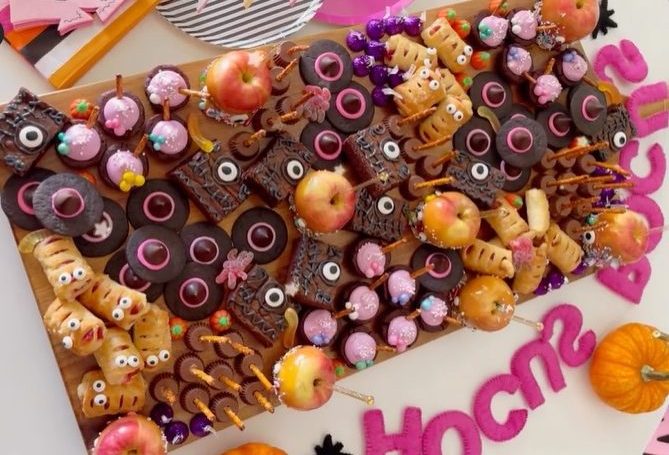 These Hocus Pocus inspired treats will leave your guests enchanted and delighted. With a variety of sweet and savory options, there's something bewitching for everyone.
Sanderson Sisters Caramel Apples are a delightful twist on a classic Halloween treat that pay homage to the movie's main characters- Winifred, Mary, and Sarah. With green, purple, and red caramel coatings, these apples are as magical as the sisters themselves.
Lucky Rat Tails provide a fun, savory experience. Cheese sticks wrapped in thin strips of deli meat resemble the tails, making them perfect for a spooky-themed offering. You can also serve these alongside a tasty dipping sauce to enhance the flavors.
Next up are Brownie Bites, which can be easily transformed into charming Hocus Pocus-inspired morsels. Simply decorate them with an edible glitter or sugar dust to give your brownies a mystical aura that will captivate your guests.
Make your party more spirited with bewitching Jell-O Shots. Craft these shots by using different flavors and colors, like green apple and grape, to connect to Hocus Pocus's enchanting world. Serve them in mini cauldrons or small plastic cups for a touch of magic.
Elevate the thematic display of your desserts with Cupcake Toppers. Featuring iconic imagery from the movie, like the Sanderson Sisters, Black Flame Candle, and Binx the Cat, these toppers can be easily added to freshly baked cupcakes for a spellbinding presentation.
Finally, impress your guests with homemade Hocus Pocus Cookies. Cut your cookie dough into shapes inspired by the film, such as witch hats, broomsticks, and cauldrons. Decorate the cookies with colorful icings, edible glitter, or even themed sprinkles to enchant your party guests.
With these bewitching Hocus Pocus treats, you're sure to cast a delightful spell on everyone who tastes them.