A mermaid party is a popular and enchanting theme for celebrations, especially for those who love the magic and whimsy of under-the-sea adventures. With creative ideas and a touch of imagination, hosting a mermaid-themed birthday party can be an unforgettable experience for children and adults alike. From decorations to games, there are numerous ways to immerse guests in a mystical world beneath the ocean waves.
In planning a mermaid party, one can choose from a wide array of ideas that bring the sea's wonders into the celebration. Elegant decorations such as seashell crowns, mermaid tail cakes, and under-the-sea banners can transform any living room or backyard into a magical underwater kingdom. To add more excitement to the event, guests might participate in themed games and activities that involve crafting their own mermaid treasures or learning about the rich mythology of these mythical sea creatures.
As hosts explore different mermaid party ideas, they should remember to prioritize the preferences and interests of the guest of honor, ensuring a truly memorable and captivating celebration for everyone involved. With thoughtful planning and attention to detail, a mermaid-themed birthday party can be an enchanting and unforgettable event that guests will cherish for years to come.
How to Plan A Mermaid Party
Mermaid Party Invitations
Start your mermaid-themed party planning by creating and sending out mermaid-inspired invitations. They should showcase the enchanting underwater world with colors like teal, purple, and turquoise. Incorporate elements such as seashells, starfish, and of course, mermaids in the design. Don't forget to mention any special mermaid party activities, pool arrangements, or dress codes in the invitation.
Choosing a Location
Selecting the perfect location for your mermaid theme party is crucial for setting the right tone. A summer party by the poolside is an ideal choice, as it allows for fun water activities and provides an authentic feel for the enchanting theme. However, if a pool location isn't available or suitable, you can still host a mermaid party indoors. Transform your living room or backyard into an under-the-sea paradise by decorating with ocean-inspired colors and décor.
When planning your mermaid party, consider incorporating the following elements:
Color scheme: Stick to a color palette that reflects the ocean and its mysterious creatures. Turquoise, teal, lavender, and purple are excellent choices for a mermaid-themed celebration.
Decorations: Bring your mermaid theme party to life with decorations such as paper lanterns, shimmering tablecloths, and tulle-draped chairs. Delight your guests with whimsical centerpieces like seashell-filled glass jars, floating candles, and pearl garlands.
Mermaid party activities: Keep your guests entertained with a variety of mermaid party activities. Some ideas include a treasure hunt for hidden pearls, a mermaid makeover station, or even booking a mermaid character to take photos with guests and lead party activities.
Food and refreshments: Serve up a variety of sea-inspired treats and drinks at the party. For example, the menu can include a cake decorated with mermaid tails, clam sandwiches, and mermaid tail marshmallows. Additionally, get creative with drinks by offering a fruity ocean punch or mermaid-inspired mocktails.
By incorporating these elements and following the tips outlined in this section, you will be well on your way to creating a magical and memorable mermaid party for guests of all ages.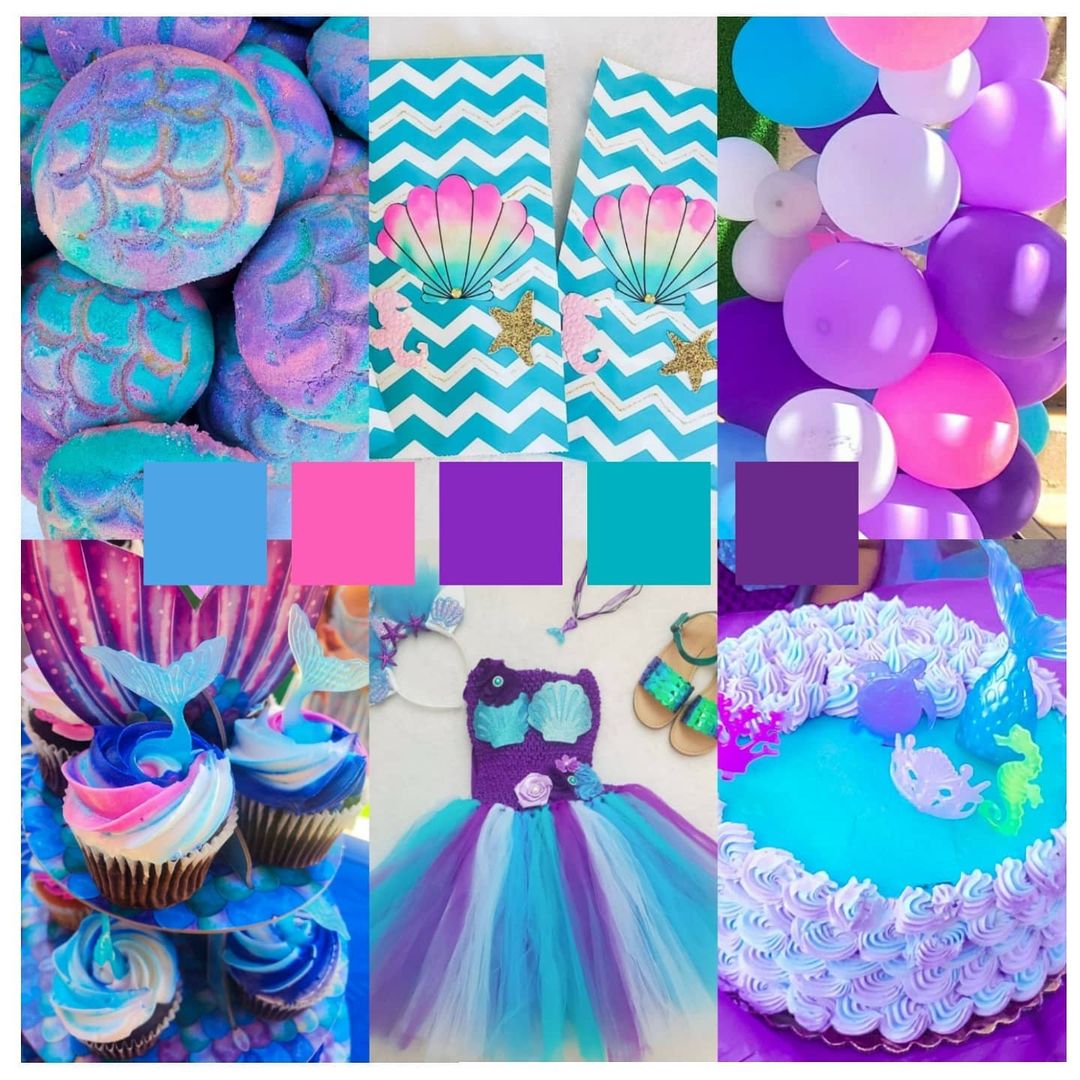 Mermaid Theme Decoration Ideas
Creating an Under-the-Sea Atmosphere
Transform any party space into a magical underwater world with the right decorations. Start by using various shades of blue and green to create the illusion of ocean water. Hang streamers, tulle, and ribbon from the ceiling to mimic waves. Add fish cutouts, seashells, and ocean-dwelling creatures such as jellyfish lanterns and octopuses. Finish the look with a treasure chest, pearls, and shimmering glitter for that enchanting under-the-sea ambiance.
Handmade Mermaid Decor
A DIY approach to mermaid party decorations allows you to add a personal touch to the celebration. Craft seashell garlands out of strings, shells, and ribbons for a charming, beachy atmosphere. Use fishnets, seashells, and starfish as table decorations, while incorporating shells, pearls, and bubbles as centerpiece materials. Design your mermaid party invitations with matching underwater creature illustrations. Feel free to get creative and make jellyfish lanterns or DIY bubble wands for guests to enjoy.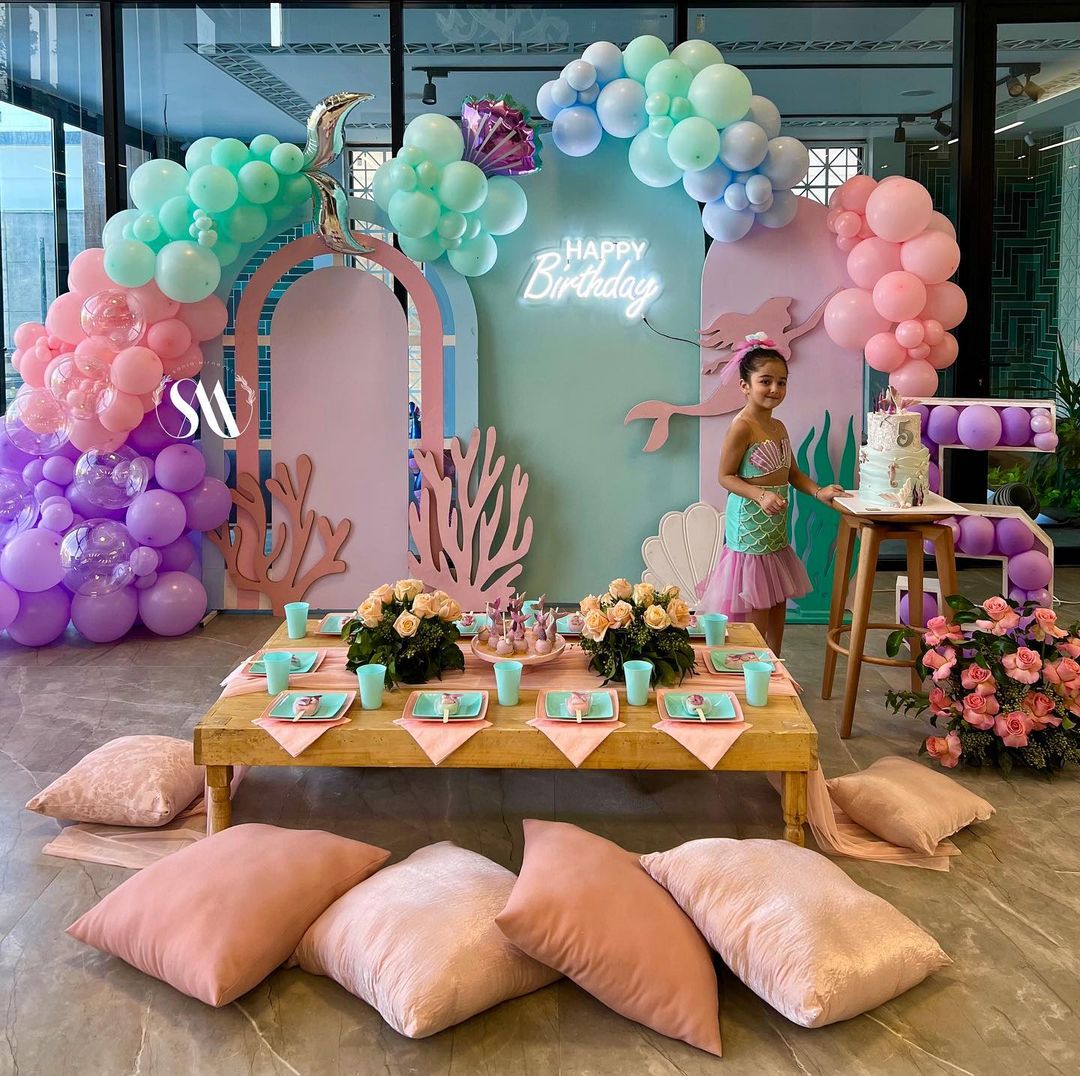 Mermaid-Inspired Balloon Arrangements
Balloon arrangements play a significant role in transforming the party venue into an enchanting underwater paradise. Opt for a balloon garland in blue, green, and purple hues, with metallic accents to symbolize the shimmering scales of a mermaid's tail. Incorporate seashell-shaped balloons to emphasize the theme further. Scatter loose balloons across the floor or fill them with confetti and glitter for an extra touch of magic.
Creating a Photo Backdrop
Capture the memories of your mermaid theme party with a beautiful photo backdrop. Use a large piece of fabric or tulle to create an underwater scene, complete with fish, seashells, seaweed, and glitter. Add a mermaid backdrop with an image of a mystical mermaid or incorporate beautiful underwater scenery. Encourage guests to wear temporary tattoos, hold bubble wands, or don fun props like pirate hats and treasure chest cutouts for a truly immersive photo experience.
Mermaid Party Games and Activities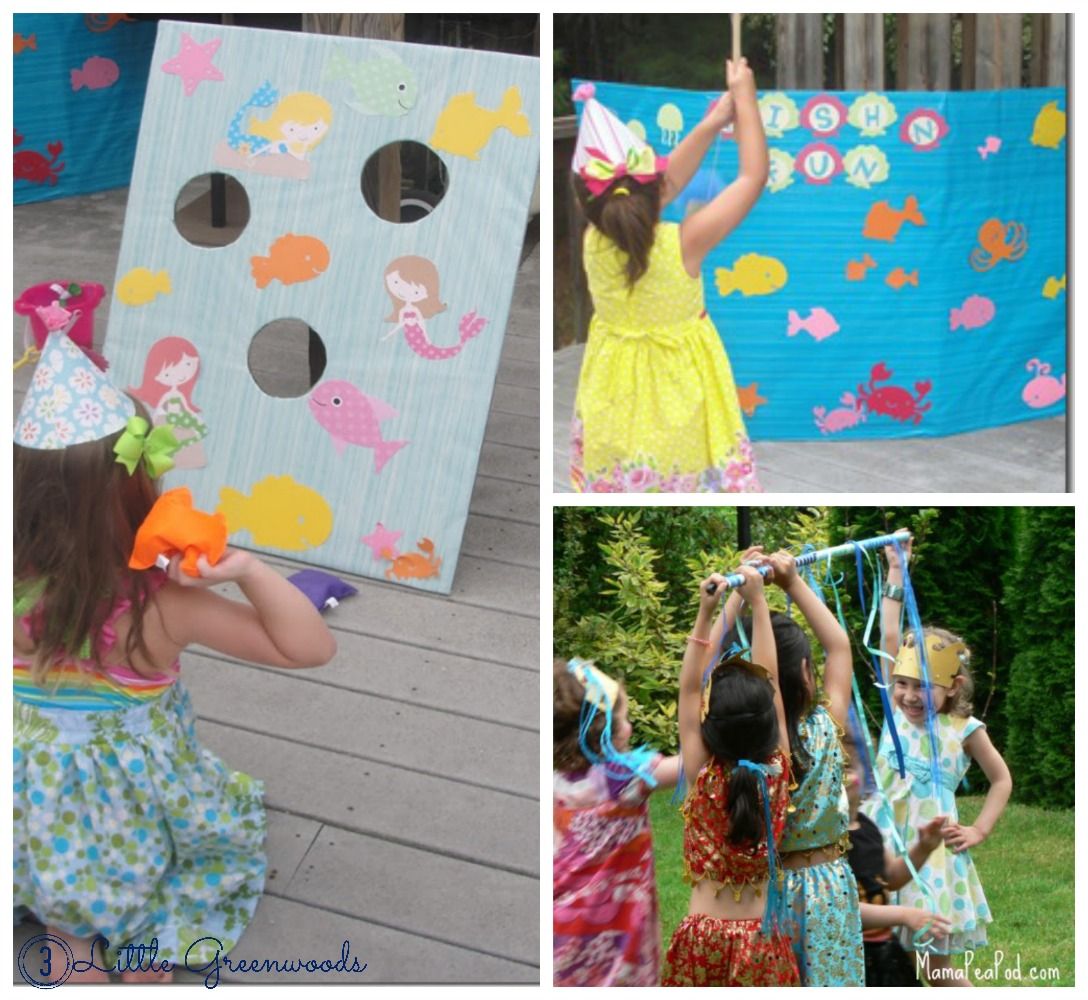 Pin the Tail on the Mermaid
A creative twist on the classic "Pin the Tail on the Donkey" game, "Pin the Tail on the Mermaid" is perfect for a mermaid-themed party. To set up, print or draw a large mermaid without a tail on a poster. Then, create multiple tails using craft paper or purchase pre-made tails. Blindfold each child, spin them around, and see who can pin the tail closest to where it should be!
Mermaid Treasure Hunt
A Mermaid Treasure Hunt is a fun activity for kids of all ages. Hide some "mermaid treasures" such as seashells, fake pearls, and small toys throughout the party area. You can provide a list of treasures for younger kids or create a more challenging scavenger hunt with clues for older partygoers. Once the hunt is over, gather the children around to show off their findings and give each child a small reward for their efforts.
Mermaid Crafts
Unleash the creativity of your guests with DIY mermaid crafts. A popular craft idea is to create mermaid slime using a simple glue, water, and borax solution. Add glitter and food coloring to make it look truly magical. Another option is to have supplies for kids to make their own mermaid crowns using seashells, beads, and ribbon. Don't forget to set up a mermaid photo booth so that the kids can show off their creations!
Face Painting Activities
Hiring a face painter for your mermaid party can be a hit with the children. Kids can get creative and request their favorite mermaid-inspired designs. Popular choices include mermaid scales, seashells, and starfish motifs. If hiring a professional face painter isn't an option for your party, consider setting up a DIY face painting station with paint, brushes, stencils, and inspiration pictures. Guests can take turns helping each other get into the mermaid spirit.
To elevate the entire party experience, consider decorating the party area with a balloon arch and serving popcorn in themed containers. By incorporating these engaging games and activities in your mermaid party, your guests will surely have a good time!
Mermaid Themed Party Food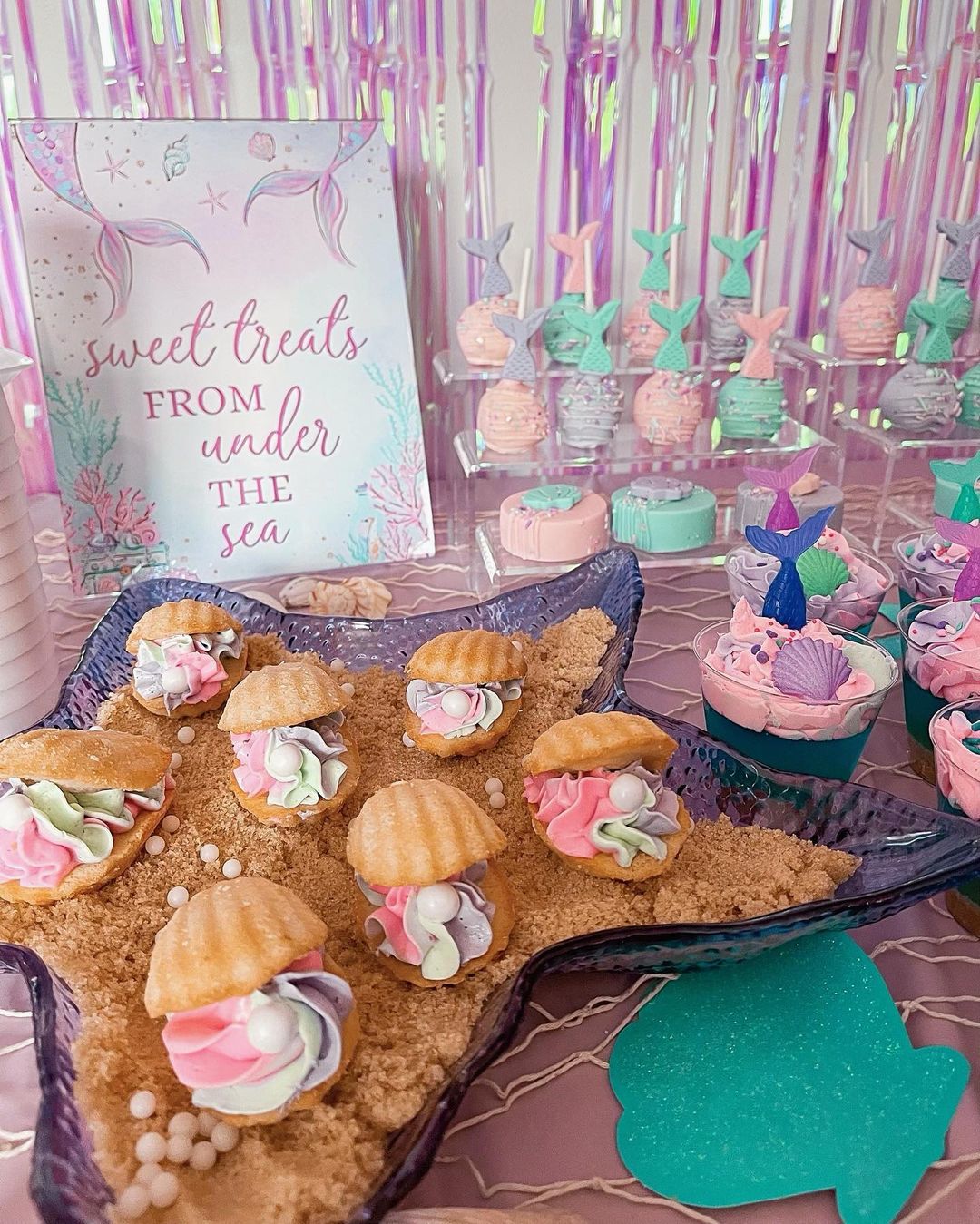 Under the Sea Dessert Table
An enchanting mermaid dessert table should not only be visually appealing but also offer a variety of sweet treats. You can create an irresistible underwater paradise by including items such as mermaid tail cake pops, mermaid party donuts, and under-the-sea cupcakes. Display these delightful confections on mermaid plates and incorporate candy inspired by sea life, such as chocolate coins or gummy fish, to add to the fun.
Mermaid-Inspired Main Dishes
To complement the dessert offerings, create mermaid-inspired main dishes that both tantalize the taste buds and convey the magical theme. Consider serving items like spinach dip with a seaweed dip twist, adding food coloring for a more oceanic look, or crafting sandwiches in the shape of sea creatures. Mermaid tail cupcakes can also make a splash, featuring colorful frosting and decorative fondant to mimic the look of real mermaid tails.
Making Clam Shell Cookies
One standout treat for a mermaid party is clam shell cookies, which can be easily made and customized to suit any taste or color scheme. To make them, simply bake or purchase round cookies, and use a dollop of frosting to sandwich two cookies together, emulating a clam's shape. Use fondant or edible pearl sprinkles for added decoration and to create a realistic appearance.
Besides clam shell cookies, other unique under-the-sea desserts can elevate your party food experience. Some options are mermaid tail cakes and mermaid cookie pizza, which can wow guests and satisfy their sweet tooth. By providing a variety of mermaid party food, you can create an unforgettable and magical celebration for all attendees.
Mermaid Party Favors Ideas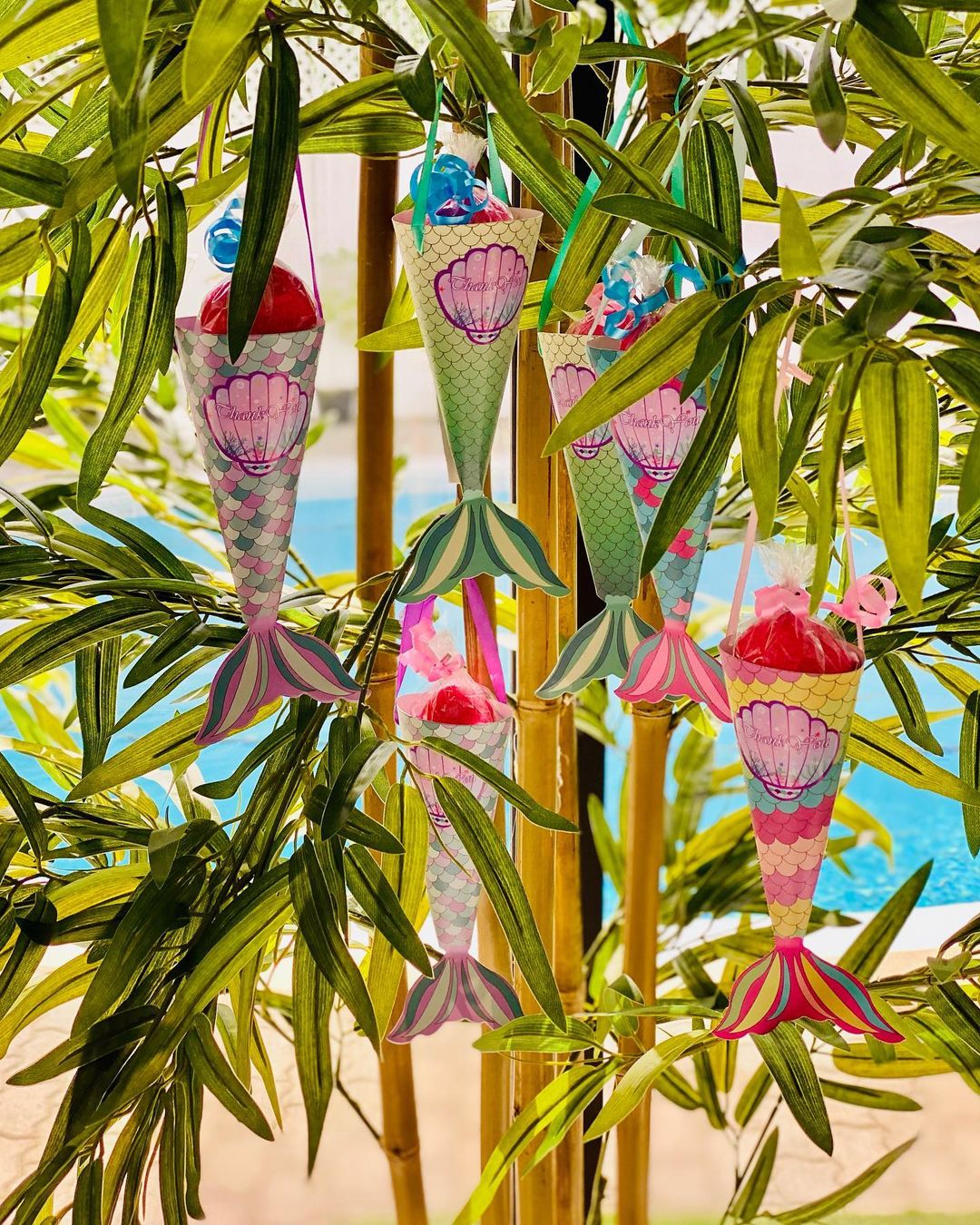 Creating Mermaid Tails
One popular idea for mermaid party favors is to create mermaid tails for the guests. These can be made out of various materials, such as fabric, felt, or even colorful paper. To make these party favors more interactive, consider including a mermaid tail decorating activity during the party, where children can decorate their own tails with glitter, sequins, and other embellishments.
Making Mermaid Bath Bombs
Mermaid bath bombs are a wonderful, usable gift for guests of a mermaid-themed party. You can either purchase pre-made mermaid bath bombs or create your own using a variety of materials including baking soda, cornstarch, citric acid, and food coloring. Adding fragrant essential oils and colorful shimmer dust can enhance the mermaid bath bomb experience. Package these bath bombs in organza bags or small treasure chests for a beautiful presentation.
DIY Mermaid Sugar Scrub
Another great option for mermaid party favors is a DIY mermaid sugar scrub. A simple sugar scrub can be made by combining granulated sugar, coconut oil, and food coloring. To make it more mermaid-themed, add an ocean-inspired scent like coconut or sea salt and a touch of glitter. You can package the sugar scrub in small jars and tie a ribbon around the top for a charming gift. Don't forget to provide free mermaid party printables, such as labels or tags, for guests to personalize their sugar scrub jars.
Mermaid Jewelry Favors
Young girls attending a mermaid birthday party may love receiving mermaid jewelry as party favors. Create or purchase mermaid-themed jewelry pieces like seashell necklaces, mermaid tail bracelets, or starfish earrings. You could also organize a fun mermaid jewelry-making activity during the party, allowing kids to create their own seashell jewelry using strings, beads, and various trinkets. Package these mermaid jewelry favors in little organza bags, seashell-shaped boxes, or small treasure chests to complement the mermaid party activities and games.
Picturesque Mermaid Character Appearance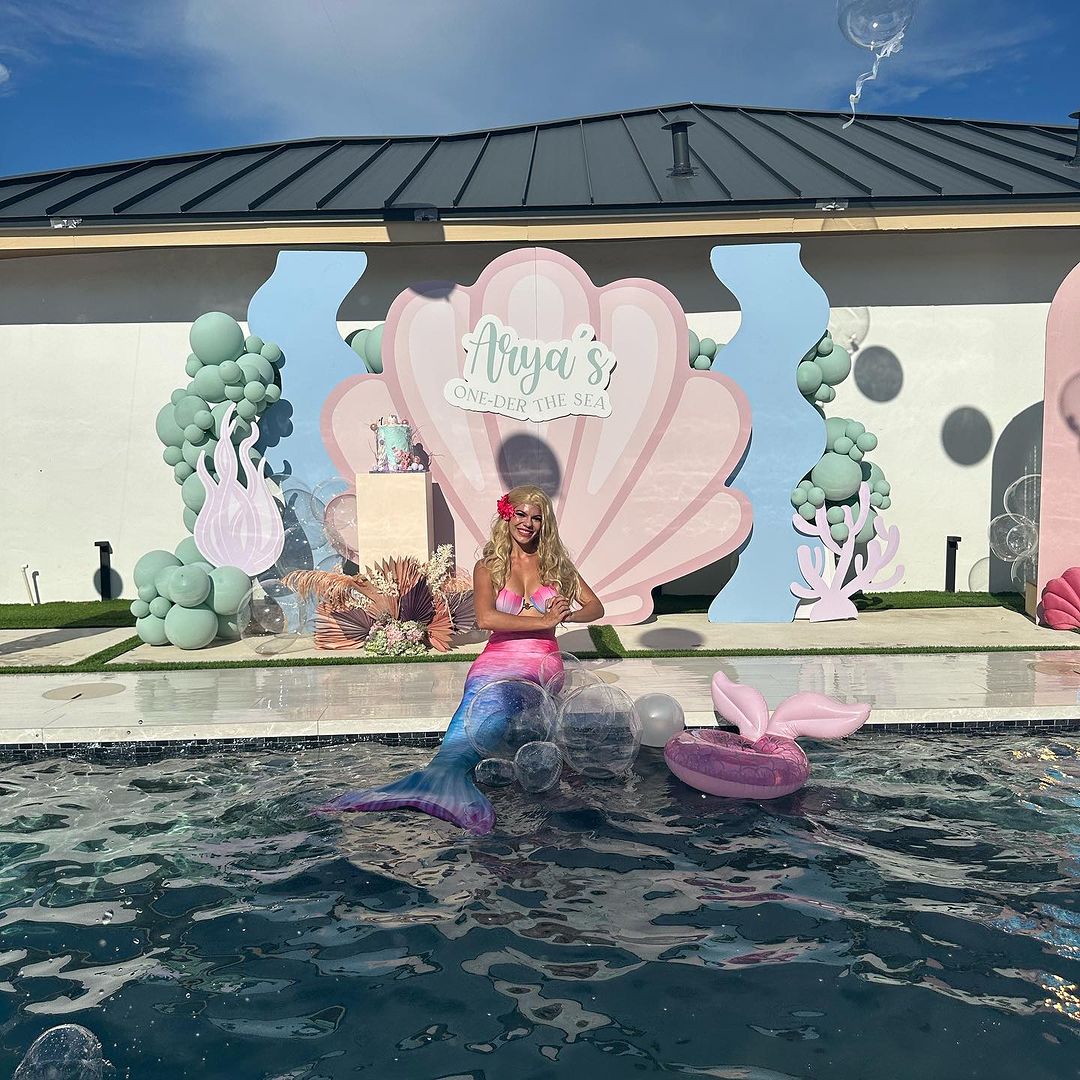 A mermaid party is incomplete without a picturesque mermaid character appearance. Having a talented actor dressed as a beautiful mermaid can captivate the children and create a magical atmosphere at the event. The Little Mermaid, a classic Disney character, is a popular choice for mermaid-themed parties, and she could be a wonderful addition as the central figure.
The mermaid character can engage the guests in various activities and games, making the celebration even more exciting. Photo opportunities are a must, and the mermaid character should be ready to pose with guests, resulting in memorable keepsakes for everyone attending.
A well-prepared mermaid character can also lead the guests into group games and activities such as treasure hunts, mermaid musical chairs, or sea-themed storytelling sessions. The mermaid actor's performance should be engaging, yet maintain a neutral tone, exuding confidence in their knowledge of mermaid lore and oceanic facts.
Performing underwater-themed songs or dances can allow the mermaid character to bond with the children, adding another layer of interaction and cultural depth. A perfect balance of clear instructions, lighthearted humor, and a touch of mystery is key for a successful mermaid character appearance.
It's essential to book a reliable and experienced mermaid actor to ensure the party's success. To secure the perfect entertainer, consult with professional talent agencies, browse online platforms, or gather recommendations from friends who have previously hosted mermaid-themed events. Don't hesitate to invest some time and effort into selecting the right mermaid character, as they can help make an unforgettable experience for your child and their guests.
Specific Occasions for a Mermaid Party
Mermaid Birthday Party
A mermaid-themed birthday party is a fantastic option for children who are fascinated by these enchanting creatures. You can transform your party space into an underwater wonderland with decorations like balloons, lanterns, and jellyfish lanterns. Serve aquatic-themed foods such as turkey and provolone "clam" sandwiches and mermaid tail marshmallows. Don't forget a magical mermaid party cake or unique mermaid cupcakes for dessert.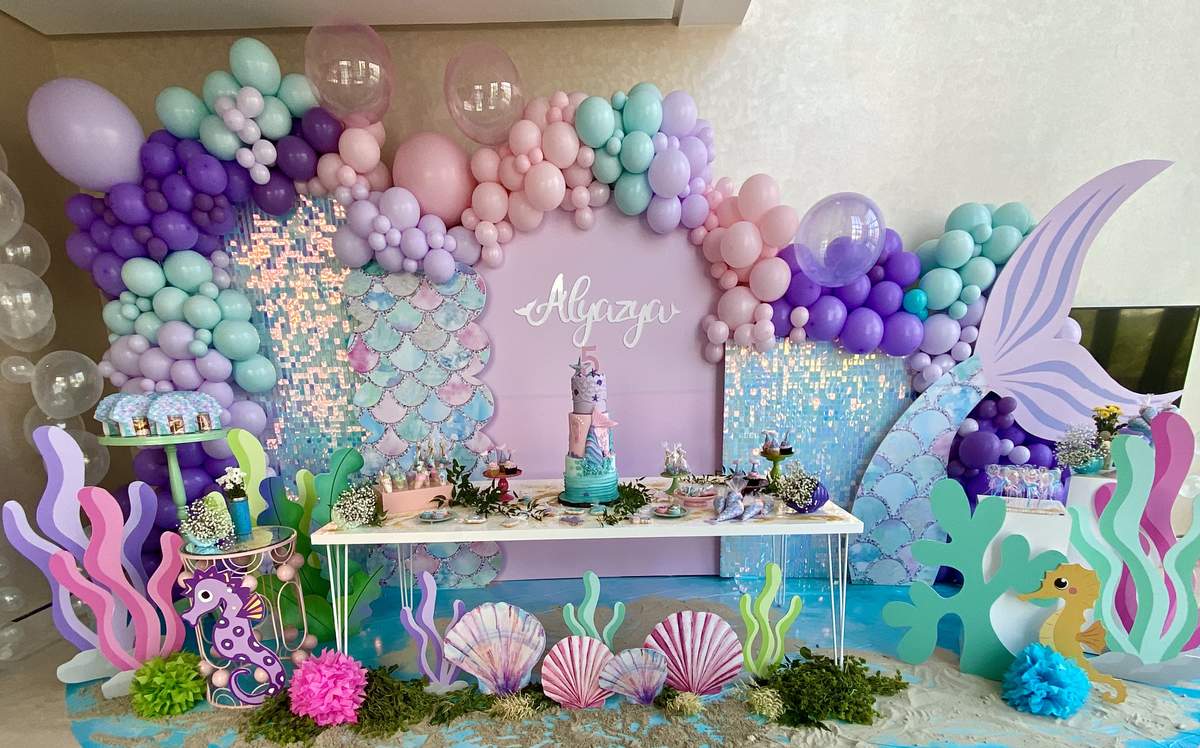 Mermaid Themed Baby Shower
A mermaid-themed baby shower is another perfect occasion to celebrate the mother-to-be and her little one. Create a magical atmosphere with a mermaid scales photography backdrop and incorporate related elements, such as seashell decorations and a pastel color palette. Offer guests under-the-sea-inspired appetizers and desserts like mermaid bow cookies and mermaid cookie cups.
No matter the occasion, a mermaid party is an imaginative and enchanting way to celebrate any special event, be it a birthday party or a baby shower. Embrace the mystical theme with carefully chosen decorations, food, and activities to create an unforgettable under-the-sea experience.