Color party baskets offer a unique and exciting way to celebrate special occasions while incorporating a specific color scheme. These fun, themed gift baskets are perfect for birthdays, baby showers, and other events where color plays a central role in the celebration. By carefully selecting items in your chosen hue, you can create a memorable and personalized basket that will delight both the giver and the receiver.
Etsy is a popular online marketplace where you can find a wide range of color-theme party basket ideas, including snacks, gifts, favors, invitations, and more. The key to a successful color party is the careful coordination of all the details in your chosen color scheme. From the selection of food and drinks to the decorative elements, every aspect of the party should come together in a harmonious and visually appealing manner.
The Kitchen offers tips on how to throw a color party that can help you plan a color-centric gathering. By selecting a central color or having guests represent various hues through their attire and food contributions, you can create an unforgettable and visually stunning event.
Color Party Basics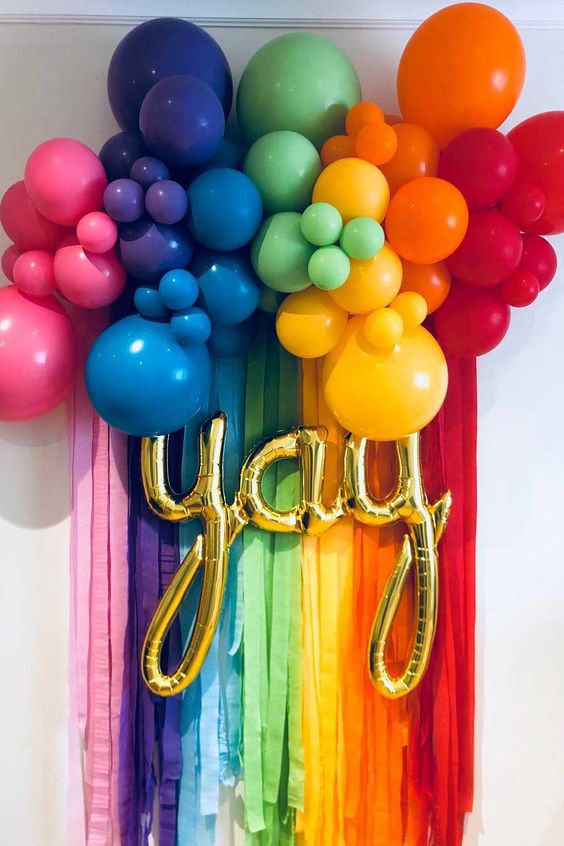 A color party is a unique and creative way to celebrate any occasion, adding a special touch of joy and excitement to the event. By focusing on a specific color or a combination of colors, you can create an unforgettable party atmosphere that appeals to both kids and adults.
When planning a color-themed party, first choose the color or colors that will be the stars of the show. This decision will influence your decor, activities, and even the food served at the party. It is helpful to select colors that have a personal significance or are seasonally appropriate to make the theme more meaningful and fitting for the occasion.
Once you have chosen your color theme, you can begin to gather decorations that reflect the party's vibrant spirit. This might include tableware by color and balloons by color, as well as color-coordinated banners, streamers, and other assorted decorations. Be sure to use a variety of materials and textures to create visual interest and add a touch of sophistication to the party setup.
Activities are an important aspect of any party, and at a color-themed event, they can be both entertaining and visually stunning. Consider organizing games and crafts that involve the chosen color(s), such as a scavenger hunt for color-coded clues, or a painting station where guests can create their own color-inspired masterpieces. This will not only help to immerse guests in the party's theme but also provide them with a memorable keepsake from the event.
Incorporating your color theme into the menu is another way to enhance the overall party experience. From colorful appetizers and desserts to drinks and main courses, infusing your chosen hue into the food and beverages served at the party will add an extra dimension to the celebration. For example, beet hummus and blue corn chips or blueberry cocktails featuring blueberry syrup can be a great addition to the menu.
Remember, a successful color party is all about consistency, creativity, and attention to detail. By making thoughtful decisions about the theme, decorations, activities, and refreshments, you can create a truly special event characterized by color and joy.
The Palette
Red Theme
A red theme party basket can symbolize fiery passion and boldness. Consider filling this basket with delicious and visually striking treats like red velvet cupcakes, red wine, and red chocolate-covered strawberries. Other red items to consider can be small red candles or even red-hued face masks. Use red tissue paper or a red basket to tie the theme together.
Yellow Theme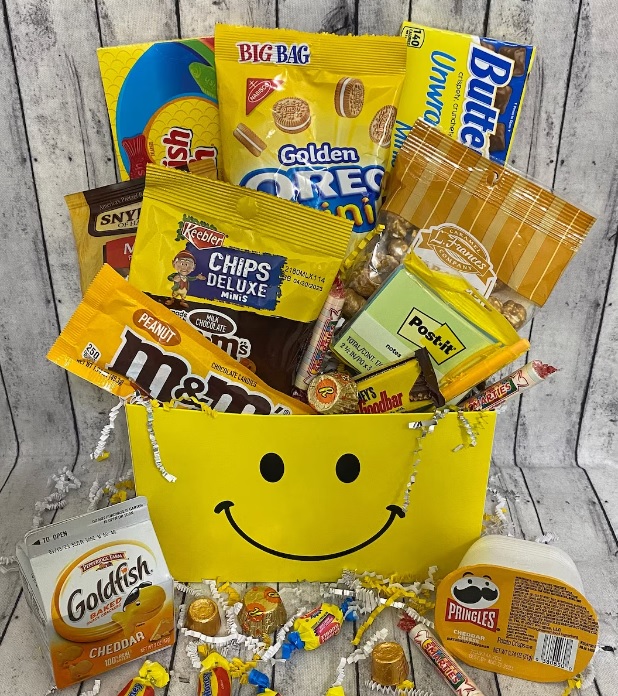 Brighten someone's day with a yellow theme party basket designed to evoke memories of sunshine and happiness. Fill this basket with treats such as lemon-flavored candies, sunflowers, and yellow popcorn kernels. To add a touch of creativity, consider placing a small, yellow-painted canvas or a yellow-themed art piece in the basket. Don't forget to use yellow wrap or ribbon to exemplify the vibrant theme.
Green Theme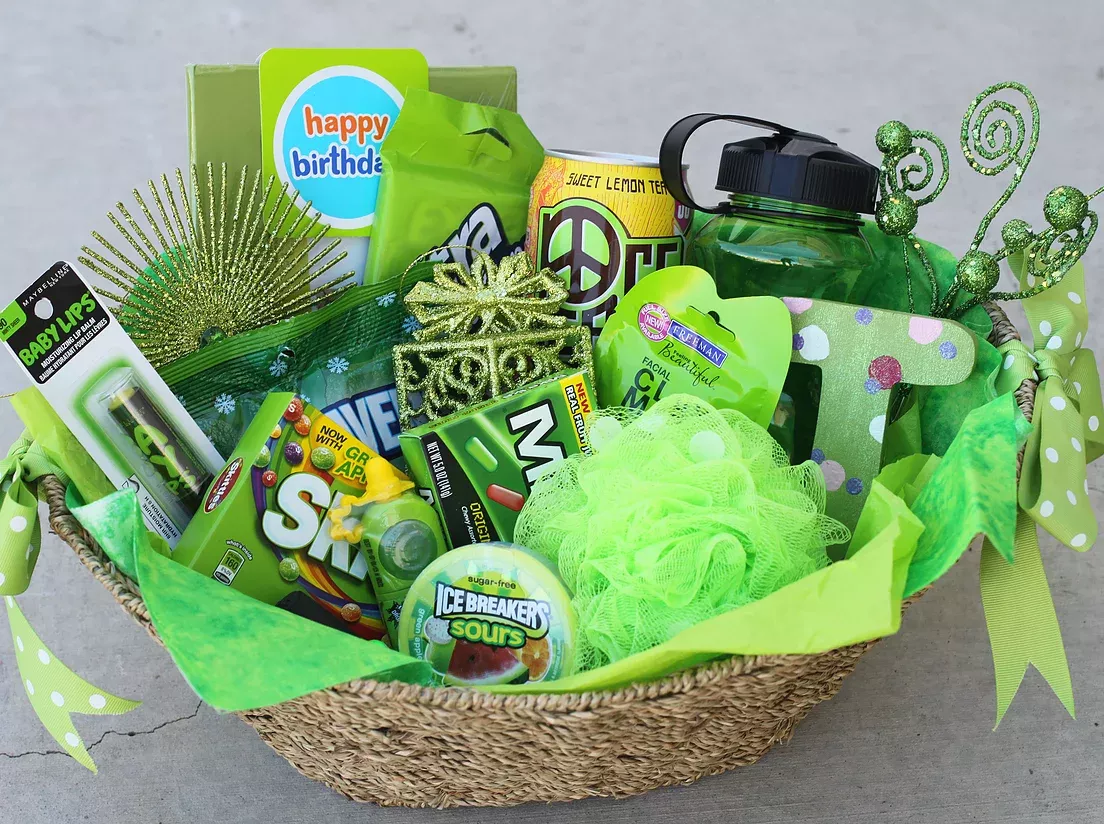 A green party basket embodies nature and revitalization. Combine fresh, green fruits like apples and grapes with healthy snacks such as green tea or organic granola bars. To make the basket more unique, include eco-friendly and sustainable products like bamboo straws or reusable grocery bags. Use green packaging materials to emphasize the environmentally-conscious theme.
Blue Theme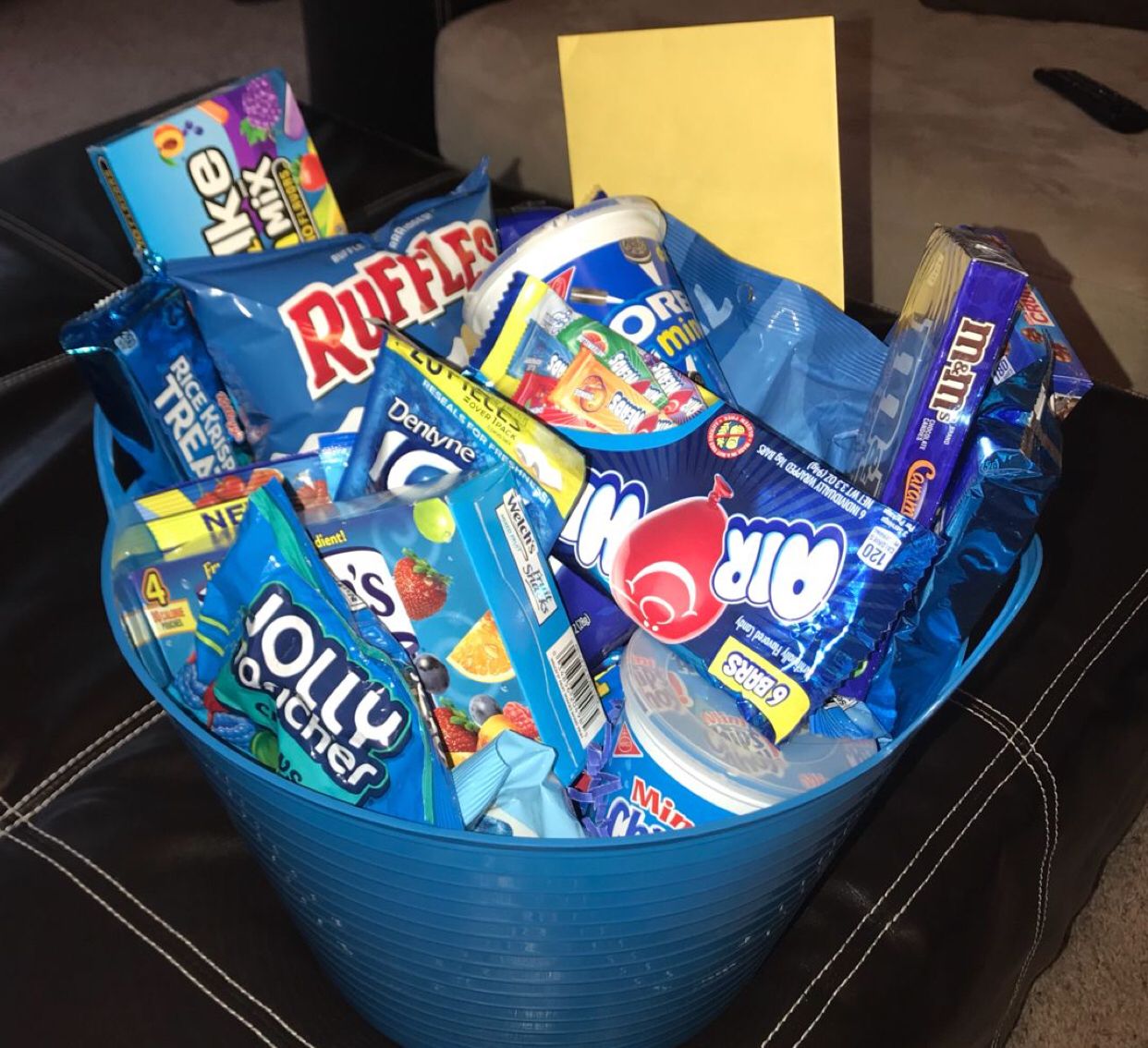 Bring serenity and calmness to someone's life with a blue theme party basket. Fill it with blueberries, cookies made with blue curaçao, and refreshing beverages like iced tea with blueberry syrup. To add a touch of comfort, consider including a cozy blue blanket or blue-scented candles as well. Present the items in a blue woven basket or wrap them in blue tissue or fabric.
Orange Theme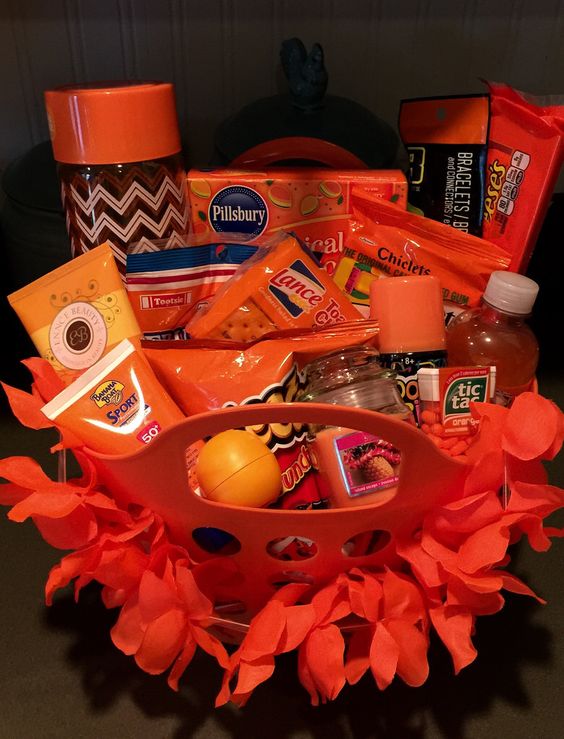 An orange theme party basket conveys energy and enthusiasm. Fill it with tangy and citrusy treats like orange slices, apricot preserves, and orange-flavored sparkling water. For an extra pop of color and creativity, add custom-made orange coasters or an orange-themed wall art print. Use a fun, patterned orange fabric or paper to wrap the items together.
Pink Theme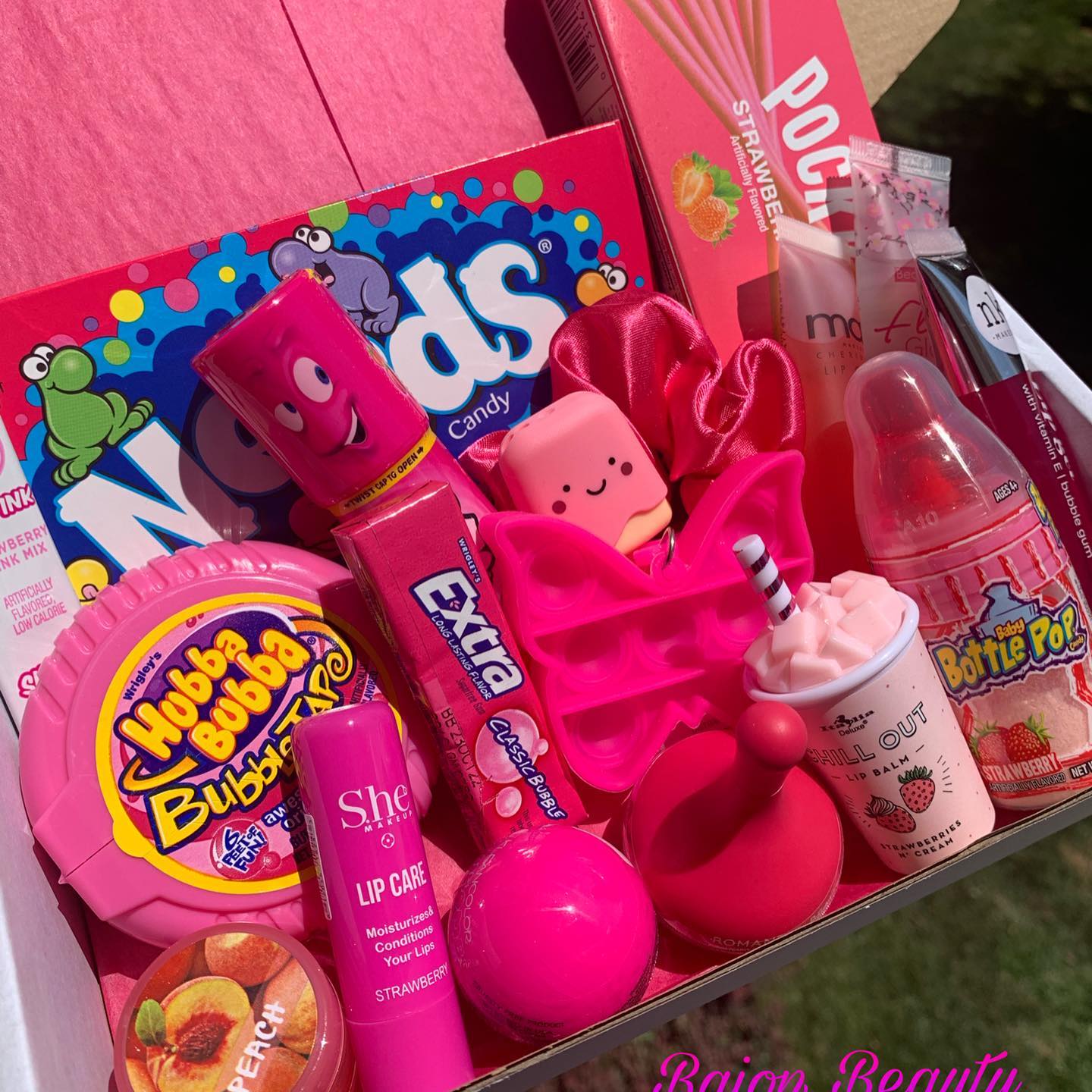 A pink theme party basket exudes love, compassion, and joy. Include romantic and playful treats such as pink champagne, pink-frosted cupcakes, and heart-shaped chocolates. You can also incorporate pampering items like a pink bath bomb or organic rosewater facial mist. Present the items in a cute, pink basket or use pink tissue paper or ribbon to complete the theme.
White Theme
A white theme party basket represents elegance and sophistication. Fill this basket with items like luxurious white chocolate truffles, fine white wine, and gourmet white tea. Additionally, include elegant accessories such as a small, white ceramic vase or silk ribbon. Be sure to use white tissue paper or a white box to make the theme feel cohesive.
Black Theme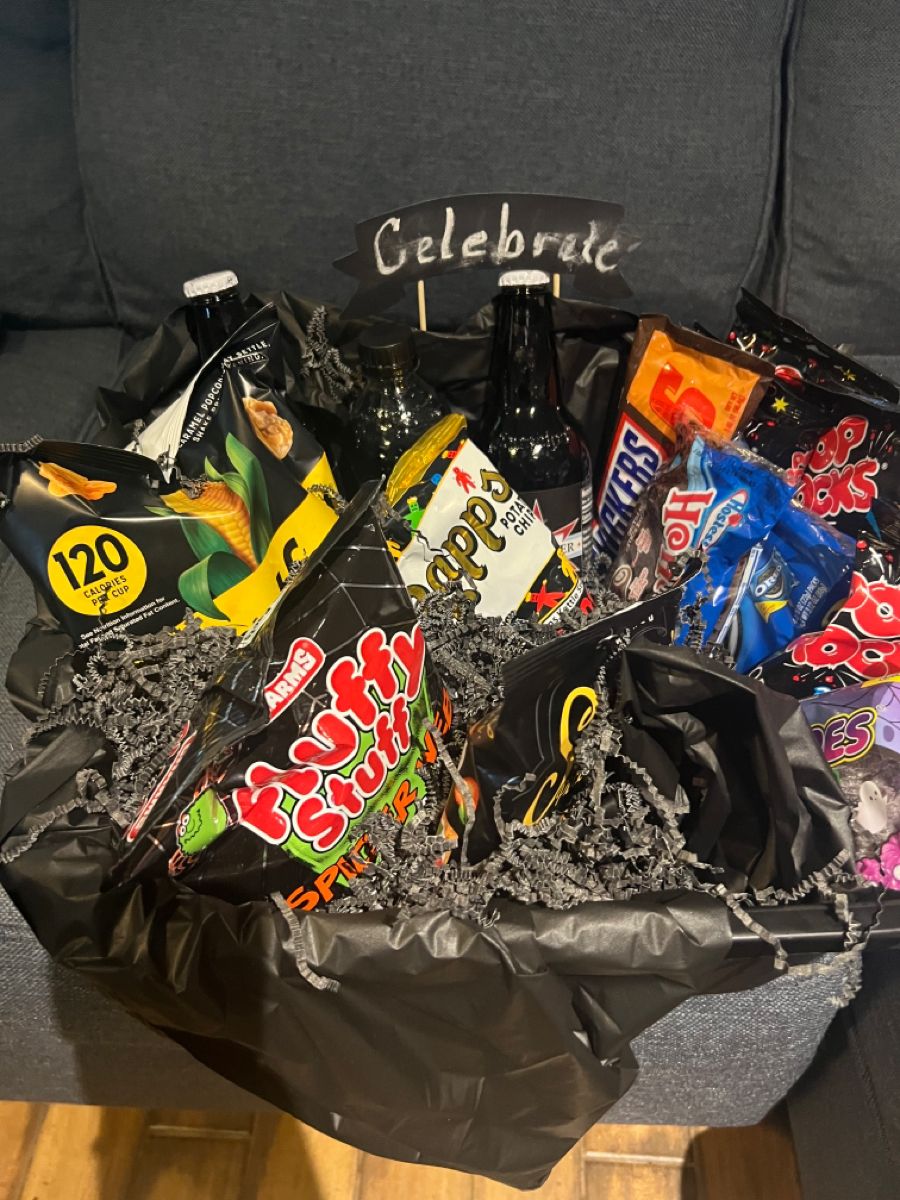 A black theme party basket can convey both mystery and class. Consider including black licorice, dark chocolate, and a bottle of rich, opulent red wine. Additionally, small black candles or a black silk sleep mask can add an extra touch of indulgence. Package the items in a black basket or use black tissue paper or fabric to tie everything together.
Rainbow Theme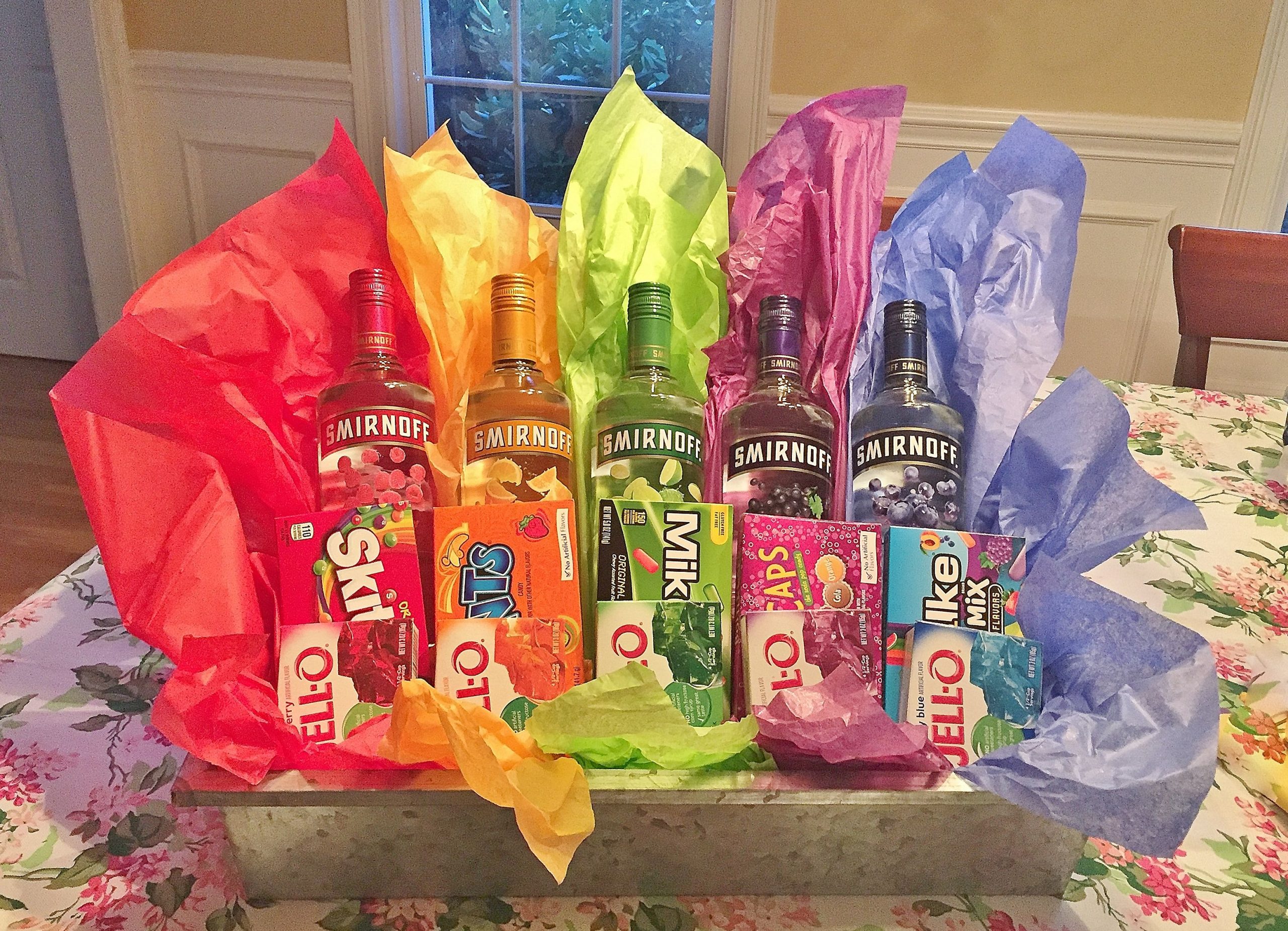 Celebrate diversity and fun with a rainbow theme party basket. Fill this colorful basket with assorted candies, fruit skewers showcasing the colors of the rainbow, and funky multicolored popcorn. Include party supplies like rainbow-striped napkins, plates, and balloons to create a fully coordinated and cheerful experience. Make sure to use an array of colorful packaging materials for the presentation.
Purple Theme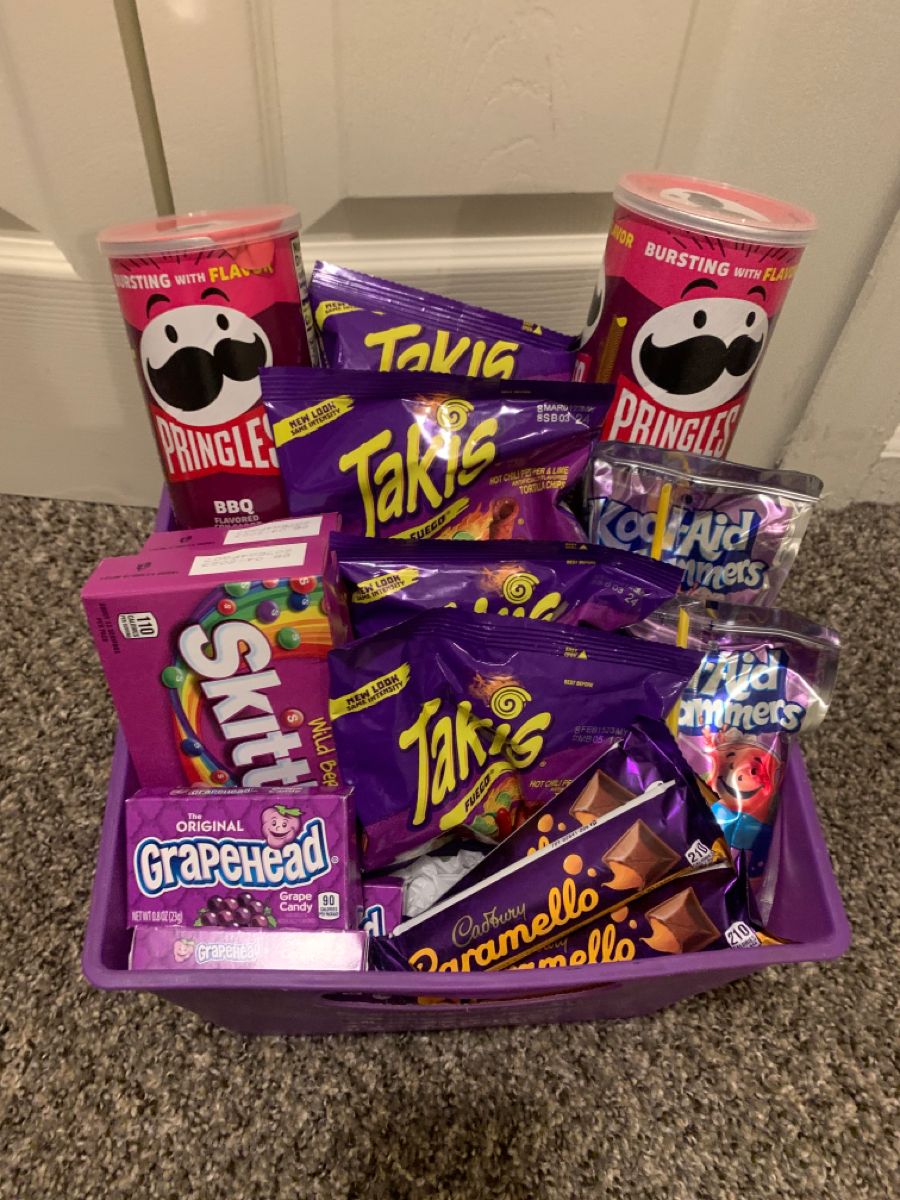 A purple theme party basket exudes both creativity and luxury. Fill it with treats like blackberry jam, grape-flavored candies, and violet-infused tea. To elevate the experience, consider adding a purple velvet pouch containing a gift card for an artisanal crafts workshop or a small booklet of creative writing prompts. Present the items in a purple woven basket or wrap them in purple tissue or fabric.
Decorations and Outfits
Decors and Banners
When planning a color party, selecting the appropriate decors and banners is essential in creating a vibrant and lively atmosphere. Keep in mind that the color theme should be consistent throughout the decorations.
Choose banners in the chosen color theme, and combine them with matching paper garlands, pom poms, and balloons for a stunning visual effect. Feel free to mix and match solid colors with patterns, as long as they stay within the color scheme. You can also use colored tablecloths, plates, cups, and napkins to enhance the ambiance. A fun idea is to create a colorful candy buffet with sweets and treats matching the party theme.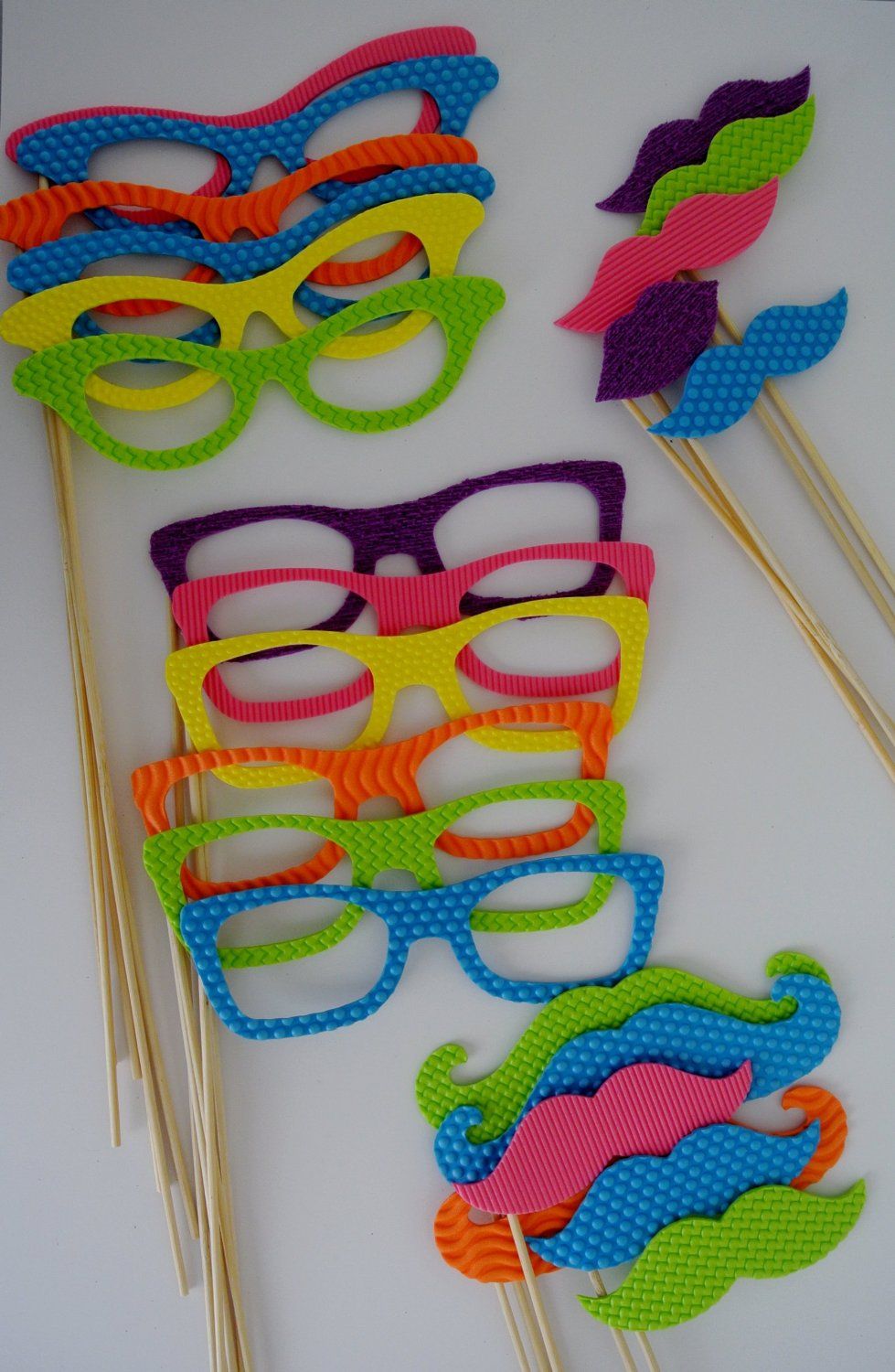 Colorful Outfit Ideas
Outfits are an integral part of any color party, as they add to the overall visual appeal and excitement. Encourage guests to dress according to the chosen color or offer them costume accessories that complement the theme.
T-shirts: One simple idea for outfits is to provide guests with monochromatic t-shirts that match the party's color theme. You can even customize these shirts with fun quotes or graphics for added personalization.
Hats: Hats can be a fun accessory to include in your color party outfit. Whether it is a simple baseball cap, a stylish fedora, or a playful top hat, ensuring that it matches the color scheme will help amplify the theme.
Accessories: To complete the look, include various accessories in your party wardrobe. Necklaces, bracelets, sunglasses, and other small items can bring the color scheme together and make guests feel more engaged in the theme.
In conclusion, when planning a color-themed party, both decorations and outfits play important roles in creating a lively and visually appealing atmosphere. Keeping a consistent color scheme in your decors, banners, and outfits will make your party a memorable experience for all who attend.
Food and Drinks
Colorful Food Ideas
When planning a color party, it's important to serve food that complements the theme. Start by offering lettuce wraps as a healthy, green option for appetizers. Choose vibrant fillings such as shredded carrots, red bell peppers, and purple cabbage to add a pop of color. Pair these with corn salsa and tortilla chips for a delicious and visually appealing snack. For a splash of yellow, consider adding corn to your salsa and serving with yellow tortilla chips.
Another great option for your color party basket is a selection of colorful fruits and vegetables. Create a rainbow-themed fruit salad with strawberries, oranges, pineapple, green grapes, blueberries, and purple grapes. You can also prepare a vibrant vegetable platter with cherry tomatoes, baby carrots, yellow bell peppers, green snap peas, and purple cauliflower.
Color Themed Drinks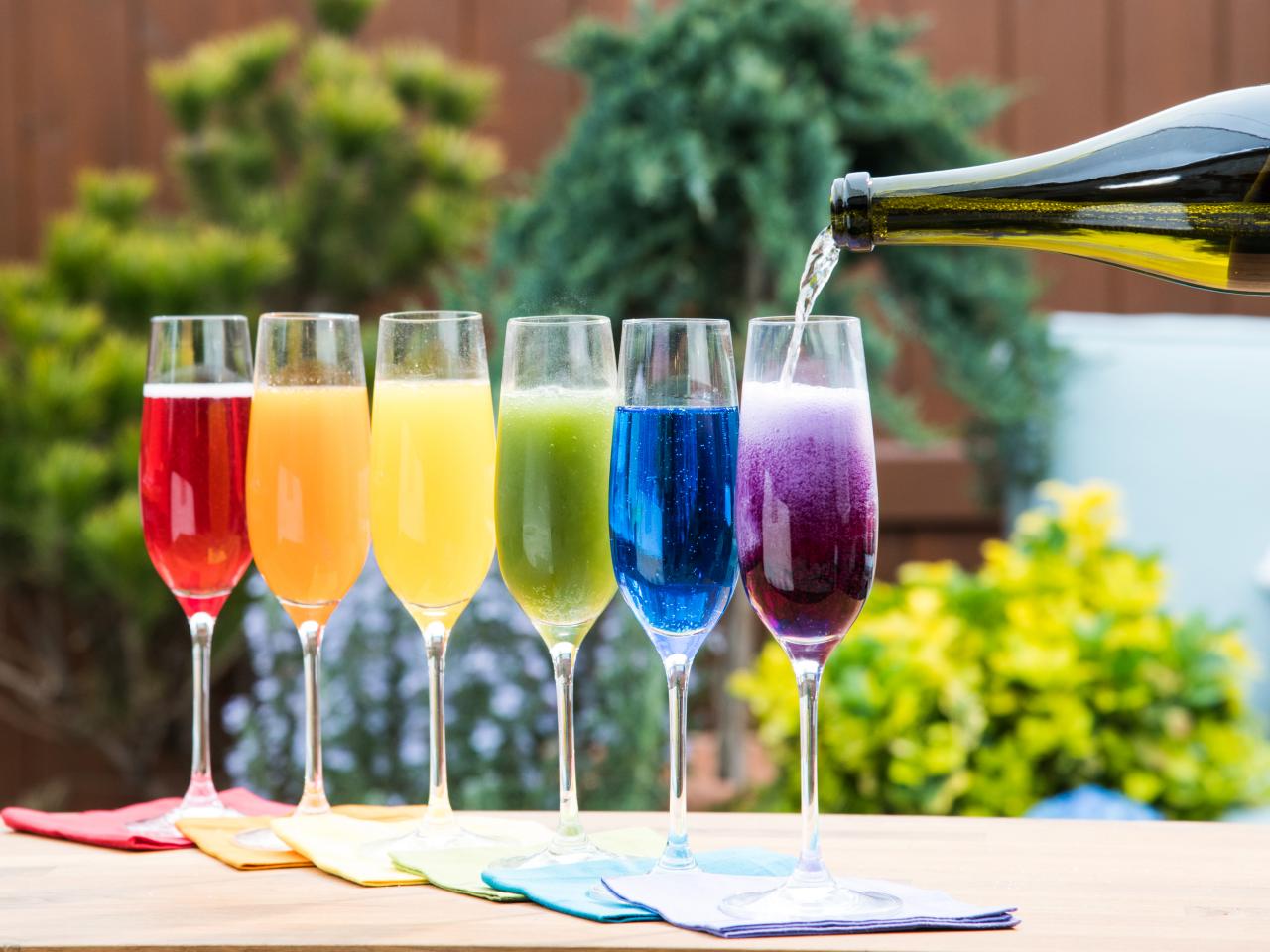 Refreshing beverages are essential for any party, and with the right ingredients, you can create drinks that match your color theme. For a non-alcoholic option, serve a Shirley Temple as a bright red drink that appeals to both children and adults. Made with ginger ale, grenadine, and a maraschino cherry garnish, it's the perfect addition to your color party drink selection.
Lemonade is another fantastic option for all ages, and its cheerful yellow hue adds a sunny vibe to your party. You can create a homemade lemonade recipe or buy premade versions to save time. To make your lemonade even more visually stunning, offer colorful drink stirrers or add some fruit slices for a more festive touch.
For a blue-themed beverage, consider adding blue curaçao to your cocktail options. While it's not a naturally occurring blue drink, the addition of blue curaçao can transform regular cocktails into vibrant, azure concoctions that are sure to impress your guests. Combine it with other ingredients like Hawaiian punch, lemon-lime soda, or even sparkling water for a unique and delicious blue drink.
By incorporating these colorful food and drink ideas into your color party basket, you can create a memorable and visually striking event that will leave your guests talking for years to come.
Supplies and Activities
Party Supplies
When planning a color party, it's important to gather the right supplies to create a vibrant and engaging atmosphere. Key items to consider include color powders, which are often used in color runs and Holi festival celebrations. Ensure the powders are non-toxic and made of natural products, to avoid any health concerns related to heavy metals.
In addition to color powders, consider acquiring other supplies like handmade pieces, vintage treasures, and craft supplies from creative entrepreneurs and small businesses. These unique items can add a personal touch to your party and support local artists.
Party Activities
Providing exciting and engaging activities for guests is essential for a memorable color party. One popular option is a color-themed trivia game, scavenger hunt, or even incorporating elements of the Holi festival into the event. You can also arrange for a painting project, where attendees can create their own masterpieces using digital items or traditional art supplies.
Another fun activity is to design custom t-shirts at the party. Provide blank t-shirts and fabric markers or paint, and allow your guests to be creative and make their own personalized keepsakes.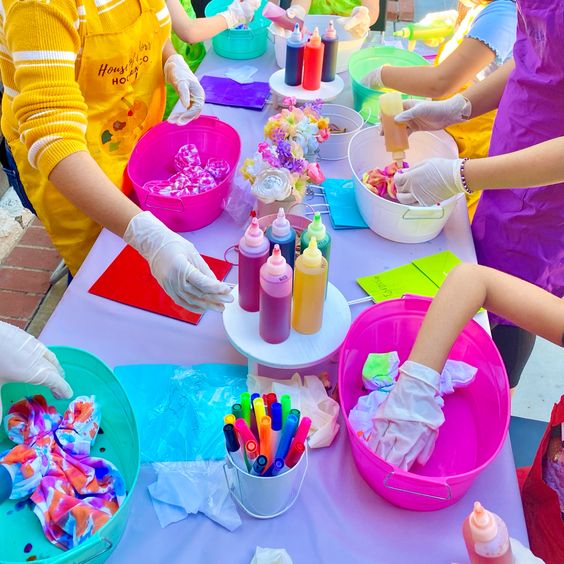 Gift Basket Ideas
Gift baskets add a thoughtful touch to any color party, and can be easily personalized according to the event theme. Consider made-to-order gift baskets that incorporate supplies and items relevant to your color theme, such as colorful snacks, art supplies, or even party favors.
When creating your gift basket, work with small businesses or add your personalization to make the items more unique and meaningful. Aim to include handmade pieces, vintage treasures, and craft supplies that reflect the event's colorful theme, and leave a lasting impression on your guests.
Where to Buy
Etsy Shopping
Etsy is a global marketplace where you can find unique and creative color party basket ideas. You can browse the listings of various handmade pieces, vintage treasures, and craft supplies created by real people and small businesses. Many Etsy sellers also offer customization options, allowing you to add your personalization to make your party basket extra special.
One of the benefits of shopping on Etsy is the variety of shipping policies offered by different sellers. Some sellers may even offer free shipping. Be sure to check the shipping policies of each seller before making your purchase. Etsy also provides expert support and educational resources for both buyers and creative entrepreneurs to help you make informed decisions.
Amazon Shopping
Amazon is another option for shopping color party baskets and related supplies. With a vast listing page of products, it is easy to navigate and find many party basket ideas. They offer powerful tools, expert support, and education to make your shopping experience simple and efficient.
Shipping on Amazon is generally fast and convenient, with various shipping policies depending on the seller. Many products also come with free shipping, especially for Amazon Prime members. In addition, returns and customer service are typically straightforward and hassle-free.
When purchasing color party baskets on Amazon, make sure to read the product descriptions carefully to ensure you are getting precisely what you want. The platform offers a vast selection of items from various sellers, including handmade and customized options, so you can find the perfect item for your party.
In conclusion, both Etsy and Amazon provide excellent platforms to purchase your color party baskets or supplies, each with unique offerings and benefits. By browsing through their respective marketplaces, you will undoubtedly find ideas and inspiration to make your event a memorable success.