Fire truck birthday parties are an exciting and memorable way to celebrate a child's special day. With their love for all things firefighting-related, children of all ages are sure to enjoy the thrilling experience of a fire truck-themed celebration. This engaging birthday party theme not only entertains young guests, but also teaches them about the important role firefighters play in keeping their community safe.
Planning a fire truck birthday party can be simple and fun with the right decorations and supplies. From firefighter-themed tableware to customizable invitations, there are countless options available to create a truly immersive atmosphere for the special day. Incorporating elements such as fire engine red balloons, hanging firetruck banners, and adorable fire station-inspired treats can transform any space into the ultimate fire station play area.
In addition to decorations and supplies, incorporating fun activities and games into the party itinerary will keep guests entertained. Guests can participate in firefighter-themed games such as a "put out the fire" relay race or enjoy trying on toy fire helmets and learning about fire safety tips. Ultimately, a well-planned fire truck birthday party will leave lasting memories and inspire a deep appreciation for the everyday heroes who risk their lives to keep others safe.
Fire Truck Birthday Party Theme
Understanding The Theme
A fire truck birthday party is an exciting and engaging theme for kids who love fire trucks, sirens, and firefighters. This party theme includes decorations, activities, and games that center around fire trucks and firefighting. By choosing the fire truck theme for your child's birthday party, you're guaranteed to provide an entertaining and memorable experience for the little ones.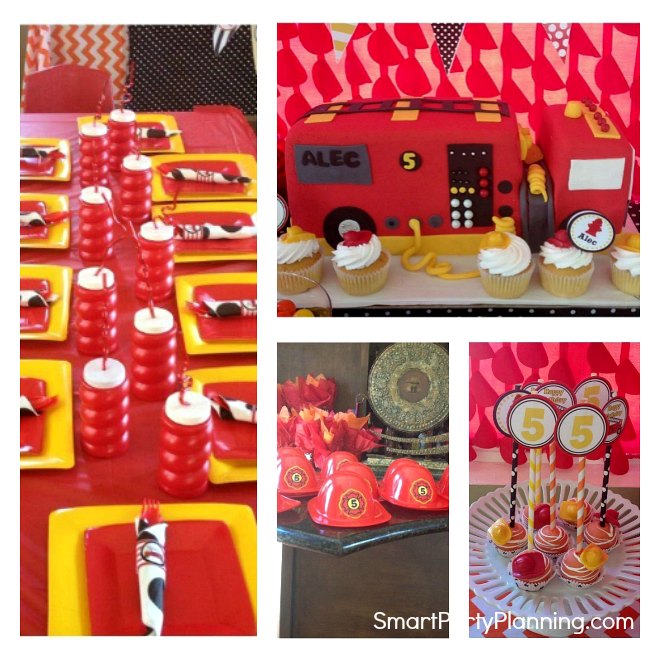 Choosing The Right Decorations
To create an immersive fire truck birthday party atmosphere, you will need the right decorations. Some popular items to consider include fire truck-themed cake toppers, banners, balloons, and tableware. You can also find fire truck and firefighter-themed cupcake toppers or party favors that will appeal to children and help create a cohesive theme throughout your party.
Decorating tips:
Use red and yellow as the primary colors to mimic the appearance of fire trucks and flames.
Incorporate fire truck and firefighting images, such as fire hydrants and firefighting equipment, into the decoration.
Set up a designated "firehouse" play area where kids can pretend to be firefighters.
Involving The Neighborhood
One unique aspect of the fire truck birthday party theme is the opportunity to involve your local neighborhood fire department. Many fire departments are open to conducting fire safety presentations for children and giving tours of their fire station or fire trucks. Reach out to your local fire department to inquire about their availability and willingness to take part in your fire truck-themed party. This not only adds an educational component to the celebration but also provides children with a memorable hands-on experience.
Setting Up The Party
Decorating With Balloons
To create a vibrant atmosphere, use red, yellow, and orange balloons in various shades, representing fire colors. Arrange the balloons around the party area to make the place look exciting and inviting.
Setting Up The Centerpiece
Choose a centerpiece that showcases the fire truck theme. An easy idea is to use a toy fire truck or a fire truck-shaped cake as the centerpiece. Place it on the main table to draw the guests' attention.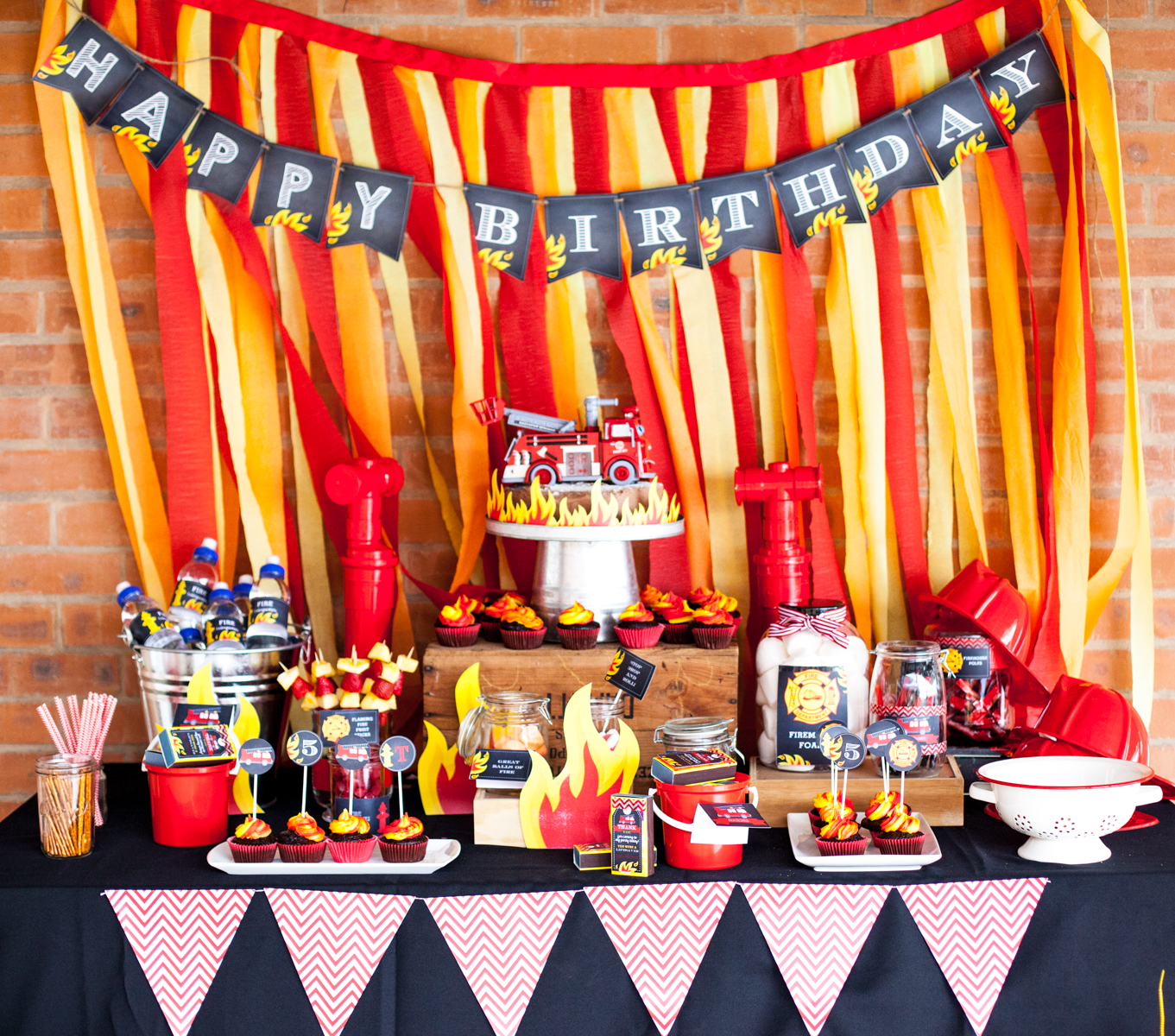 Creating A Banner
Create a personalized banner for the birthday party. It can say "Fire Chief [Child's Name] Birthday" or "Fire Truck Party." Hang the banner in a prominent location, like above the main table or near the entrance.
Choosing The Right Supplies
Opt for party plates, cups, and napkins with a fire truck theme. Red tablecloths and yellow cutlery will complement the decorations. You can also use fireman-themed printables to enhance the overall look.
Using Fire Extinguishers And Hoses
Incorporate fire extinguishers and hoses into your decorations. Mini toy fire extinguishers can be placed on tables, while plastic toy hoses can be draped around the party area. Just make sure they are safe and age-appropriate for the children attending.
Arranging A Fire Truck Ride
Add some excitement to the party by arranging a fire truck ride for the kids. Contact your local fire department to see if they can send a fire truck and friendly crew members to the party. This will provide an unforgettable experience for the birthday child and their friends.
Setting The Place
Place settings should follow the fire truck theme. Use red placemats or table runners along with yellow plates, cups, and napkins. For an added touch, consider using fire-themed name cards to help guests find their seats.
Organizing Party Favors
Prepare party favors that stay true to the fire truck theme. Consider giving away small firefighter toys, fire truck-themed stickers, or mini fire extinguishers. You can also add a custom label with a thank you message from the birthday child.
Food and Cake Ideas
Choosing The Cake
When planning a fire truck-themed birthday party, a creative and eye-catching cake is essential. You can opt for a Fire Truck Birthday Cake that represents an actual fire truck or choose an alternative design like a fireman sheet cake featuring miniature fire-related items such as boots, a hat, a hydrant, and even a fireman's dog.
Planning The Food
To create an exciting fire truck party atmosphere, consider incorporating fire-themed food ideas into the menu. For instance, you can serve "flaming" hot Cheetos, "fire-roasted" vegetables, and "blazing" buffalo chicken wings. Additionally, incorporating red foods like red apples, bell peppers, and cherry tomatoes can also help maintain the fire truck theme.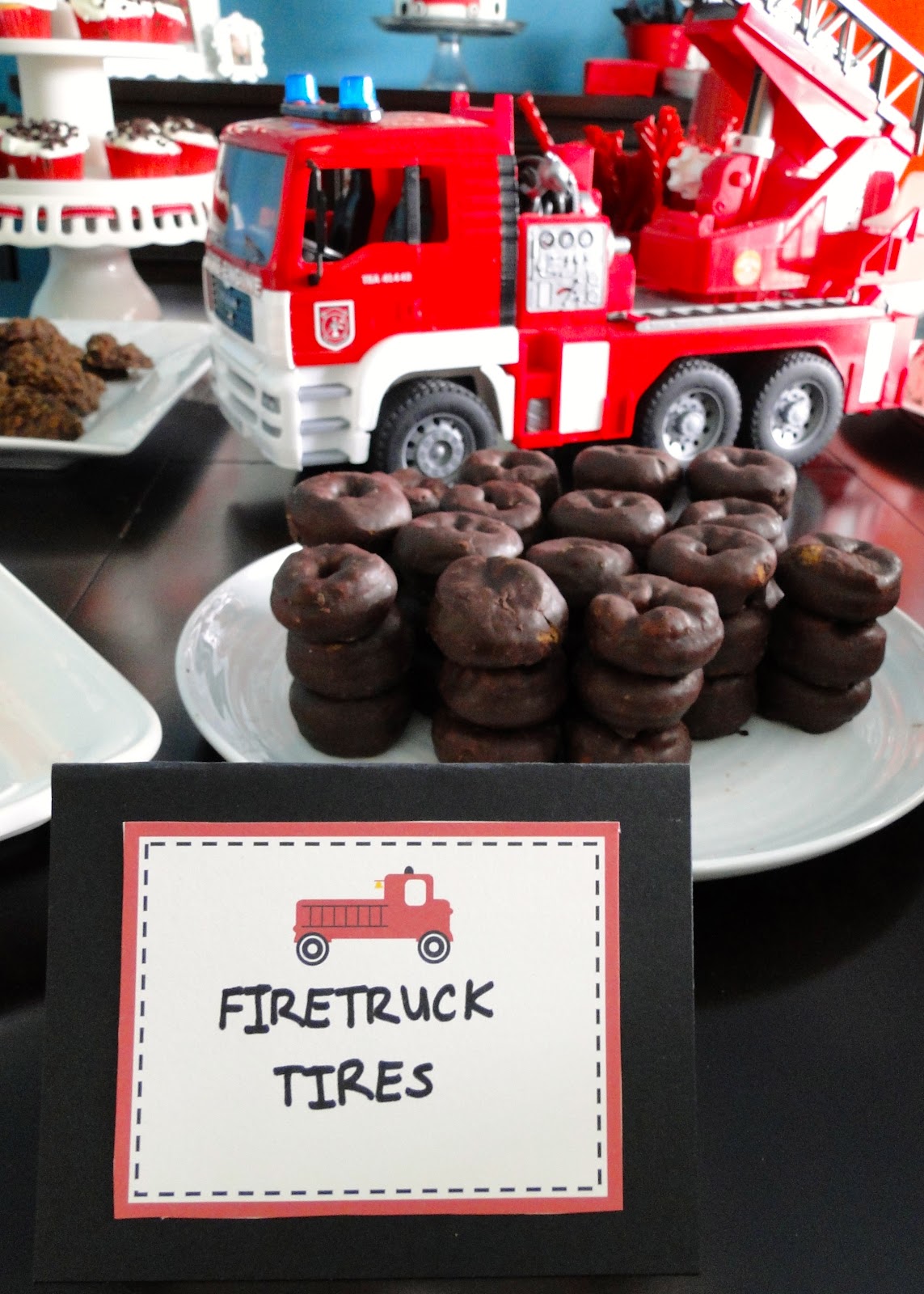 Organizing Sweets and Cupcakes
Sweets and cupcakes are always popular at children's birthday parties. To keep these treats in line with the fire truck theme, consider fire truck suckers or custom-made fire engine cupcakes. Another creative idea is a clever cupcake arrangement that looks like a fire truck, driven by a Dalmatian fire chief. These will not only satisfy the sweet tooth but also add more visual appeal to the party.
Using Fireman Hat and Flames For Decorations
Decorations can elevate a fire truck-themed party to the next level. One way to achieve this is by adorning the food table with fireman hats, flame-shaped confetti, and other fire-related props. Also, try incorporating fiery elements in the food presentation, like using red, orange, and yellow icing on cupcakes to resemble flames. Placing a fireman hat on top of the cake or using small plastic fire trucks as additional centerpieces can also enhance the overall look of the food and cake table.
Using Printables
Choosing The Right Printables
When planning a fire truck birthday party, it's essential to select the appropriate printables for the event. Begin by browsing through various available designs that feature fire truck illustrations and match the party's theme. Consider factors such as the age of the birthday child and their preferences, the overall color scheme, and the level of customizability of the chosen printables.
Using Party Printables
Party printables provide an easy and cost-effective way to personalize a fire truck birthday party. They include elements like invitations, banners, labels, and signs. Start by downloading and customizing the chosen fire truck party printables, ensuring that they align with the event's theme and color scheme. Once customized, print the items on high-quality paper or cardstock, and cut them out as needed. Remember to double-check the customization process to avoid any errors in the final printouts.
Using Printable Decorations
Using printable decorations for a fire truck birthday party enhances the visual appeal of the venue. These decorations may consist of banners, cupcake toppers, and centerpieces. To effectively use printable decorations:
Download the desired fire truck-themed printables, such as those found on Lamberts Lately.
Customize the printables with the birthday child's name, age, or any relevant information.
Print the decorations on high-quality paper or cardstock.
Cut out the printables and assemble the decorations as needed.
Strategically place the decorations around the party venue, ensuring that they enhance the fire truck theme.

Using Printable Favors
Adding printable favors to your fire truck birthday party gives guests a unique memento to remember the occasion. Printable favors can include items such as thank you cards, stickers, and coloring pages featuring fire truck illustrations. To use printable favors:
Download and customize the desired fire truck-themed printables.
Print the favors on appropriate materials – for example, use sticker paper for stickers.
Cut out and prepare the favors, ensuring they are ready for guests to take home at the end of the event.
Incorporating fire truck-themed printables effectively ties together the various aspects of the party, while also offering budget-friendly options to create an unforgettable event.
Involving The Firefighters
Understanding The Role Of Firefighters
Incorporating firefighters and their heroic profession into a fire truck birthday party can create a memorable experience for children. It is essential to educate kids on the significant role that firefighters play in our society. By discussing the importance of their daily responsibilities, such as responding to emergencies and saving lives, children will gain an appreciation and respect for these heroic figures.
Using Fire Hose and Cab for Decorations
Creative decorations can enhance a fire truck birthday party's theme and atmosphere. Utilize items like fire hoses, cabs and other firefighting equipment as part of your event's décor. You can transform a fire hose into a table runner or fashion it into a unique garland. In addition, placing toy fire trucks, fireman hats, and firefighter-related items on tables and around the party area will set the mood for an exciting and authentic fire truck birthday celebration.
Using Real Full Size Fire Truck
A thrilling addition to your fire truck birthday party would be inviting a real full size fire truck for guests to explore and enjoy. Many local fire departments are open to participating in community events, such as birthday parties, to engage with the public and educate them on fire safety. Arrange a visit from your local fire department, allowing children to sit in the truck, use the siren, and interact with firefighters on a personal level. This activity not only sparks excitement among the children but also leaves a lasting impression on them.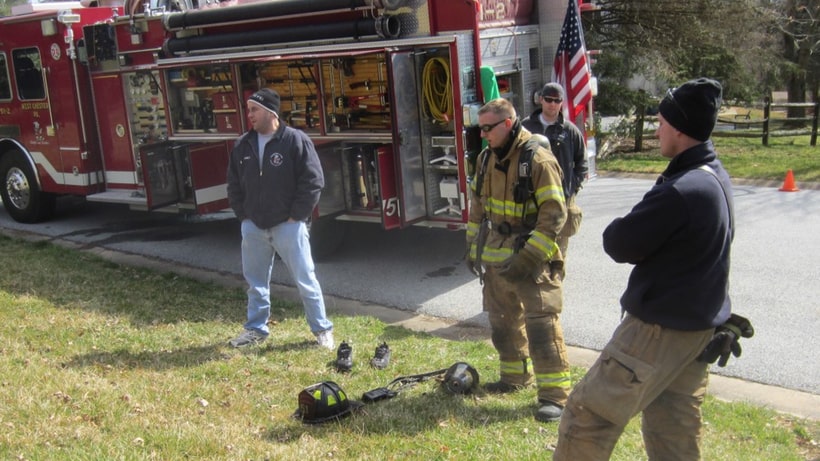 Using Fireman Hat and Horns for Decorations
Incorporating fireman hats and horns into your fire truck birthday party decorations adds a fun and interactive element to the celebration. Children can enjoy wearing the hats and blowing the horns, feeling like little heroes themselves. Additionally, these items can be given as party favors, allowing guests to take a piece of the experience home with them. Fireman hat centerpieces or a collection of horns displayed in a decorative manner can also contribute to the visual appeal of your event.
By implementing these ideas into your fire truck birthday party, you can create a memorable and educational experience for your child and their guests, while instilling an appreciation for the incredible work firefighters do in our communities.
Finding Supplies Online
Buying from Amazon
Amazon carries a wide selection of fire truck party supplies suitable for any budget. Begin by searching for banners, balloons, and tableware in a variety of fire truck themes. Amazon often offers free shipping for orders over a certain amount, and Prime members may be eligible for even faster delivery options.
Getting Ideas from Pinterest
Pinterest can be a helpful resource for gathering inspiration and discovering creative DIY projects related to fire truck birthday parties. Seek out board collections dedicated to fire truck themes to find unique ideas for decorations, games, and crafts.
Using Global Marketplace
By exploring global marketplaces like eBay and Alibaba, shoppers can find fire truck party supplies with different designs and styles. Moreover, these platforms often provide access to a wide range of international sellers, which might yield exclusive items not available on other websites.
Finding Handmade Pieces
Etsy is an ideal platform to discover handmade fire truck party supplies ranging from invitations to decorations. Many Etsy sellers offer customizable options, allowing you to support small businesses while making your event truly unique. Browse the fire truck birthday party section on Etsy for more details.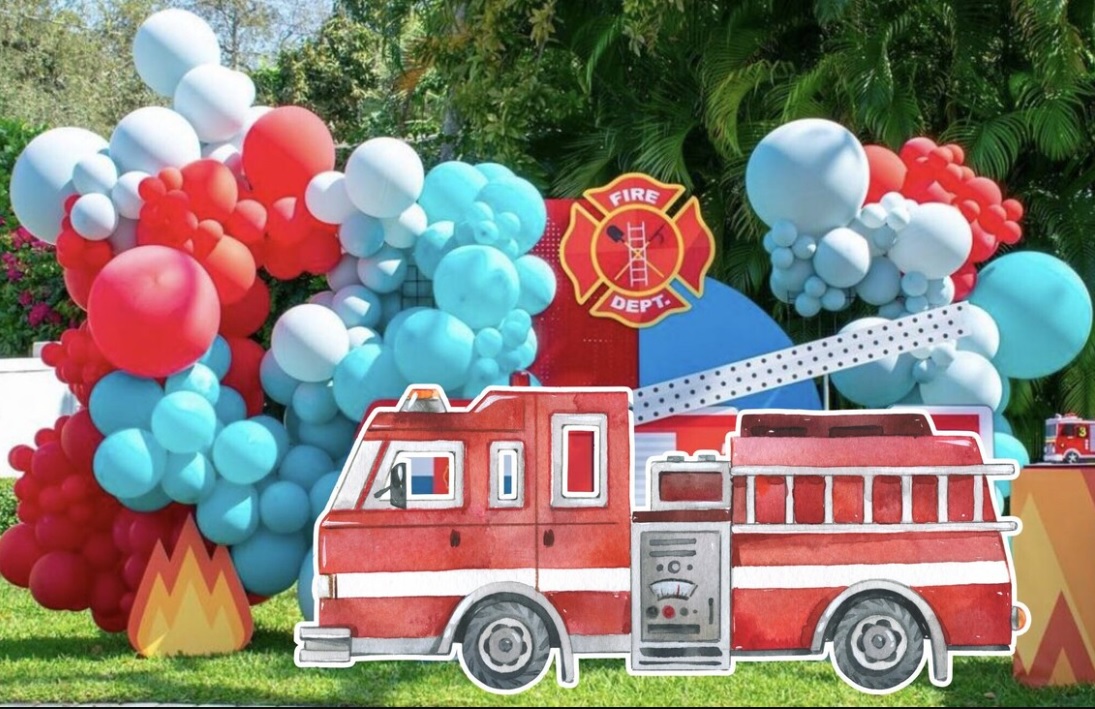 Finding Vintage Treasures
If you're searching for vintage fire truck party supplies, consider visiting flea markets or local antique shops. Alternatively, you can conduct your search online using platforms like eBay or online vintage stores to find unique, one-of-a-kind decorations.
Buying Digital Items
Digital items, such as fire truck-themed printables and invitations, can be purchased quickly and conveniently from platforms like Etsy. Many sellers offer downloadable files that you can customize and print at home, saving both time and money.
Getting Supplies from Small Businesses
In addition to Etsy, small businesses specializing in party supplies might offer unique fire truck-themed items. Shopping local is a great way to support your community while finding exclusive pieces for your celebration.
Finding Craft Supplies
For those who want to create their own fire truck party decorations and activities, consider browsing craft stores or online retailers. Look for fire truck-themed materials, such as stickers, stamps, or fabric, to incorporate into your creations. This approach can add a personal touch to your event while potentially lowering the overall cost.
Remember to do your research and shop around to find the best deals and supplies to create a memorable fire truck birthday party.
Easy Party Ideas
Implementing Fire Truck-Themed Birthday Party Ideas
A fire truck-themed birthday party can be great fun for kids who are fascinated by these big red trucks. Start with decorations that capture the excitement of a fire station, such as fire truck-shaped balloons, firefighter-themed tableware, and a backdrop featuring a fire station or fire trucks in action. For extra fun, consider arranging a visit from a real fire truck and firefighters if your local fire department offers such services. You can find inspiration for more creative ideas from websites like Smart Party Planning.
Implementing Fireman Birthday Party Ideas
For a fireman birthday party, incorporate elements related to the heroic work of firefighters. This can include dressing up the birthday child and their friends in firefighter costumes, organizing games and activities like "putting out fires" with spray bottles, or even setting up a fireman's training obstacle course for kids to explore. As part of the party favor bags, consider giving attendees fireman-themed items like toy badges, firefighter-themed stickers, or small water squirters.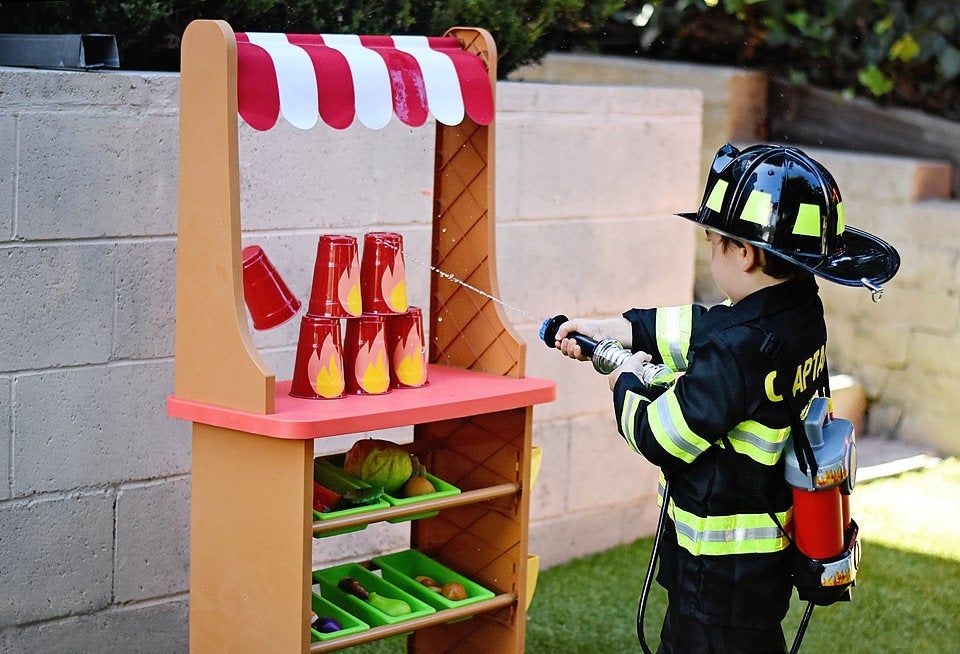 Finding Vendors
Selecting the right vendors for your party supplies can greatly impact the success of the event. Reliable vendors offering quality products are essential for a memorable celebration. Research local party supply stores and online retailers, comparing prices and product offerings. Be sure to check customer reviews and ask for recommendations from friends or family who have hosted similar events. Websites like Catch My Party can also provide ideas and vendor suggestions.
Using Recipes For Food and Cake
To keep the fire truck theme going, create food and cake options that are inspired by fire stations and firefighting. This can include making sandwiches shaped like fire trucks, serving red and yellow fruit skewers to represent flames, and preparing a fire hydrant-shaped punch dispenser. For the cake, consider a design featuring a fire truck, fire hose, or fireman's hat.
Choosing the Right Sirens and Lights
Incorporating sirens and lights into your fire truck birthday party can enhance the atmosphere and mimic the excitement of a real fire station. Ensure that any lights and sound effects are suitable for the children attending the party and not too overwhelming. Tea lights can be used to make DIY faux fires in various corners of the party area for a safe yet exciting touch. Alternatively, small, battery-operated strobe lights can add an emergency vibe while still being child-friendly.
By following these tips and suggestions, you can create an unforgettable fire truck-themed birthday party for your child and their friends. The combination of decorations, games, and themed food will make the day memorable and enjoyable for everyone involved.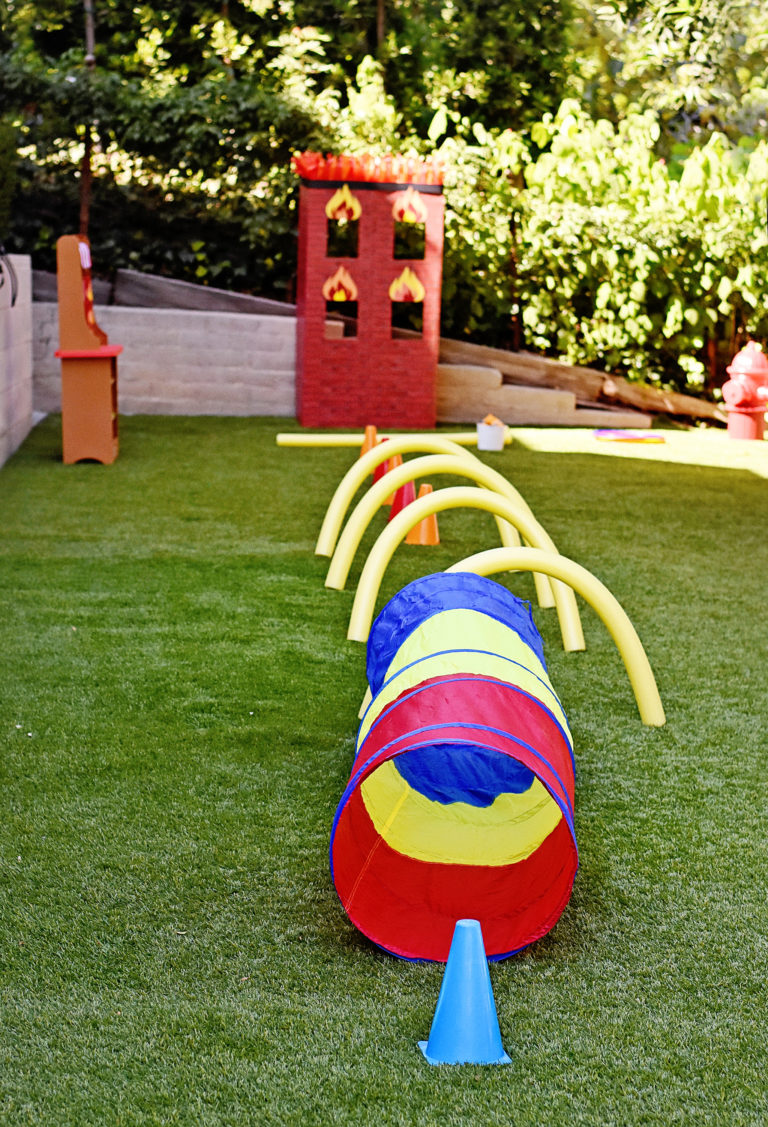 Conclusion
A fire truck birthday party is an exciting and unique way to celebrate a child's special day. Planning a well-thought-out event can leave lasting memories for both the child and the guests. The key to a successful fire truck themed celebration lies in the thoughtful selection of decorations, party ideas, and activities that cater to the interests of the birthday child.
Incorporating fire truck-themed elements into the party décor sets the tone for the celebration. Using a combination of red, yellow, and black colors in table settings, balloons, and banners helps create an eye-catching and festive atmosphere. Including items such as mini fire trucks, firefighter helmets, and water hoses as props adds an extra layer of excitement and authenticity to the event.
For a memorable experience, consider renting a real fire truck for the celebration, as seen in this party suggestion. This not only delights the birthday child but also provides an unforgettable interactive experience for the guests. Partygoers can tour the fire truck, try on firefighter gear, and perhaps even witness a water hose demonstration.
Party ideas and activities should aim to entertain and engage the guests while staying true to the fire truck theme. For example, you might organize a fire safety workshop or a firefighter obstacle course, as recommended in these party ideas. Additionally, including themed crafts and games, such as fire hat decorating or a fireman-themed scavenger hunt, can keep the young guests entertained throughout the event.
In conclusion, a fire truck birthday party offers an exciting and unforgettable experience for children who dream of becoming firefighters or simply love fire trucks. Carefully considering decoration, party ideas, and activities tailored to the birthday child's interests ensures that the celebration will be a great success.