Celebrating a child's 10th birthday is a significant milestone, as they transition from single digits to the exciting world of double digits. It's essential to plan a memorable and fun-filled party to mark this special occasion. With a myriad of 10th birthday party ideas available, parents can easily find the perfect theme and activities that best suit their child's interests and personality.
One popular idea is to use the child's favorite movie as the party theme, creating a magical atmosphere with decorations, games, and treats inspired by movies like Trolls, Star Wars, or Harry Potter. Video game-inspired parties are also trendy, allowing kids to bond with friends over their favorite games while enjoying themed snacks and decor. Backyard movie nights offer a budget-friendly option, where guests can watch a chosen film dressed as their favorite characters and enjoy classic movie theater treats.
When picking a venue for the 10th birthday celebration, consider indoor and outdoor spaces that can accommodate the chosen theme, such as a local park for a picnic party or hosting a backyard bash. Regardless of the venue, the focus should be on creating a memorable experience filled with laughter, good food, and engaging activities for the birthday child and their friends to enjoy together.
Choosing the Perfect Party Theme
Gender-Specific Themes
While some 10th birthday party themes work well for both boys and girls, you may opt for a gender-specific theme. For girls, a popular choice is a pink party where everything is decorated in different shades of pink and guests dress in pink attire. Fairytales, princesses, and unicorns are also popular 10th birthday party ideas for girls.
On the other hand, boys often enjoy themes related to superheroes, pirates, and outer space. A superhero theme provides an opportunity for guests to dress as their favorite comic book characters. Likewise, a pirate-themed party will excite young adventurers, while a space-themed celebration can elevate their imaginations.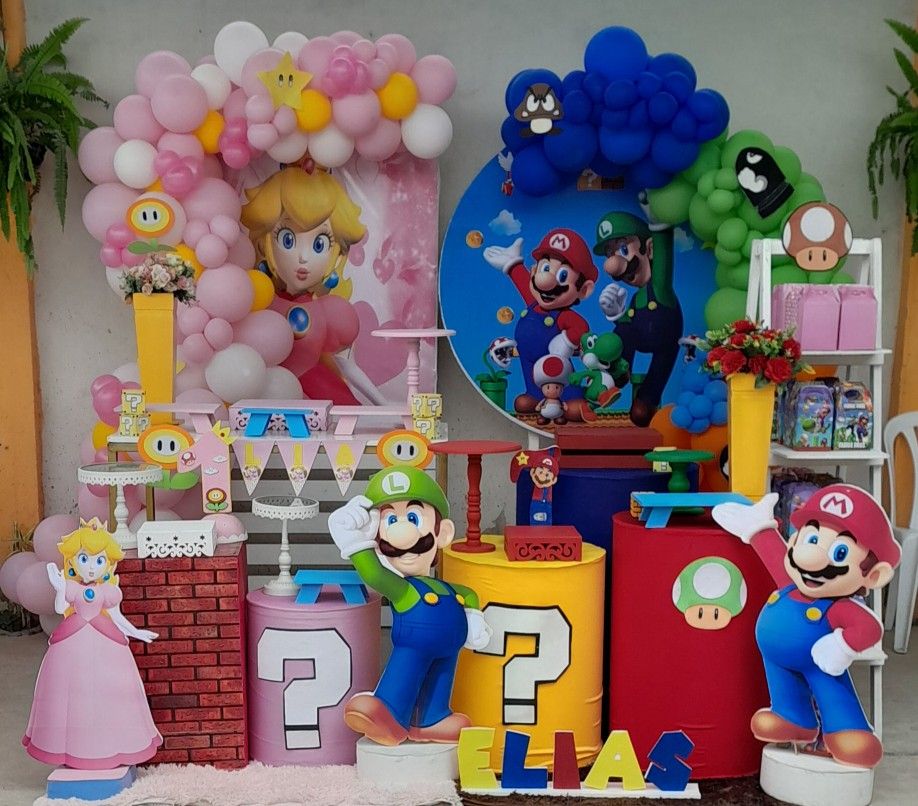 Interest-Based Themes
Interest-based themes allow you to tailor the party to the birthday child's passions and hobbies. These themes work for both boys and girls, ensuring a memorable 10th birthday experience for all. Here are some interest-based themes to choose from:
Magic: Kids love magic tricks and a magic-themed party is a surefire winner. Hire a professional magician or have the children create their own magic show.
Animals: If your child is an animal lover, consider a zoo or aquarium-themed party. Guests can learn about different animals while having fun.
Sports: Organize a party around your child's favorite sport, such as soccer, basketball, or swimming. This encourages physical activity and engagement.
Luau: Throw a Hawaiian-inspired luau for a tropical escape. Provide leis, play beach games, and serve tropical food.
Video Games: Have a video game theme and organize gaming tournaments or gaming-related activities.
Legos: Plan a Lego-themed party where guests can build and create things together.
Around the World: Take your guests on an international adventure with an around-the-world party. Incorporate food, games, and crafts from different cultures.
Carnival Theme: Set up a mini carnival in your backyard with games, face painting, and treats like cotton candy and popcorn.
Art Party: Arrange for an art instructor to teach the kids how to paint or create their own masterpieces. This fosters creativity and self-expression.
With careful consideration of your child's interests and preferences, you can choose the perfect 10th birthday party theme to make the celebration unforgettable.
Planning Fun Activities
A 10th birthday is an important milestone, and planning fun activities that cater to your child's interests can make the celebration memorable. This section will provide you with a variety of activity options to engage guests and create an enjoyable atmosphere.
Physical Games
Games that encourage physical activity are an excellent option for energetic 10-year-olds. Organizing a scavenger hunt or a Nerf war in the backyard or a nearby park will keep them entertained and active. You can also try kickball, paintballing or laser tag at a local venue. If your child loves sports, a trip to the skating rink, bowling alley, horseback riding, or ice skating can be a great way to celebrate. If your child enjoys jumping, a visit to a trampoline park or a water park would make an exciting and memorable party activity.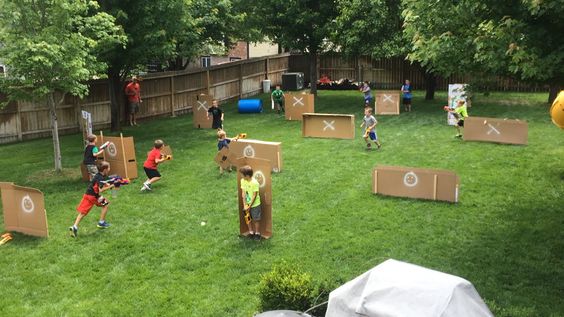 Home-Based Activities
If you prefer to celebrate at home, there are many engaging activities to consider. A slumber party or pajama party can create a cozy atmosphere for playing board games or hosting a movie night in the living room. Creating a backyard movie experience using a projector is another fun option. For a more pampered celebration, try a spa at home complete with face masks and nail painting or organize a craft party with age-appropriate art projects. Other entertaining ideas include a game night, a cake-decorating party, or a hotel sleepover.
Venue Activities
Many venues offer unique experiences perfect for a 10th birthday party. Visiting a zoo or arcade can engage kids with a variety of interests. For children who enjoy a challenge, an escape room can test their problem-solving skills and teamwork. You might also consider a campout at a nearby campsite, complete with marshmallow roasting and stargazing.
By considering your child's interests and preferences, you can create a memorable 10th birthday party with tons of fun activities to engage all the guests.
Creating Delicious Food and Cake
Theme-Specific Foods
When planning a 10th birthday party, it's important to consider incorporating theme-specific foods to create a memorable and exciting experience. For a pizza party, allow the kids to create their own personalized mini pizzas. This interactive activity will keep them engaged and provide delicious party food.
If you're hosting a Candyland-themed party, create a candy buffet with a variety of sweets that match the colors and theme. Incorporate gummy bears, lollipops, jelly beans, and more to create a visually appealing and delicious party treat.
For a backyard picnic, offer a selection of easy-to-eat options such as ham and turkey sandwiches cut into fun shapes using cookie cutters, chips, pickles, olives, fresh vegetables, and dips. Don't forget drinks like punch or soda to keep everyone refreshed.
Birthday Cake Ideas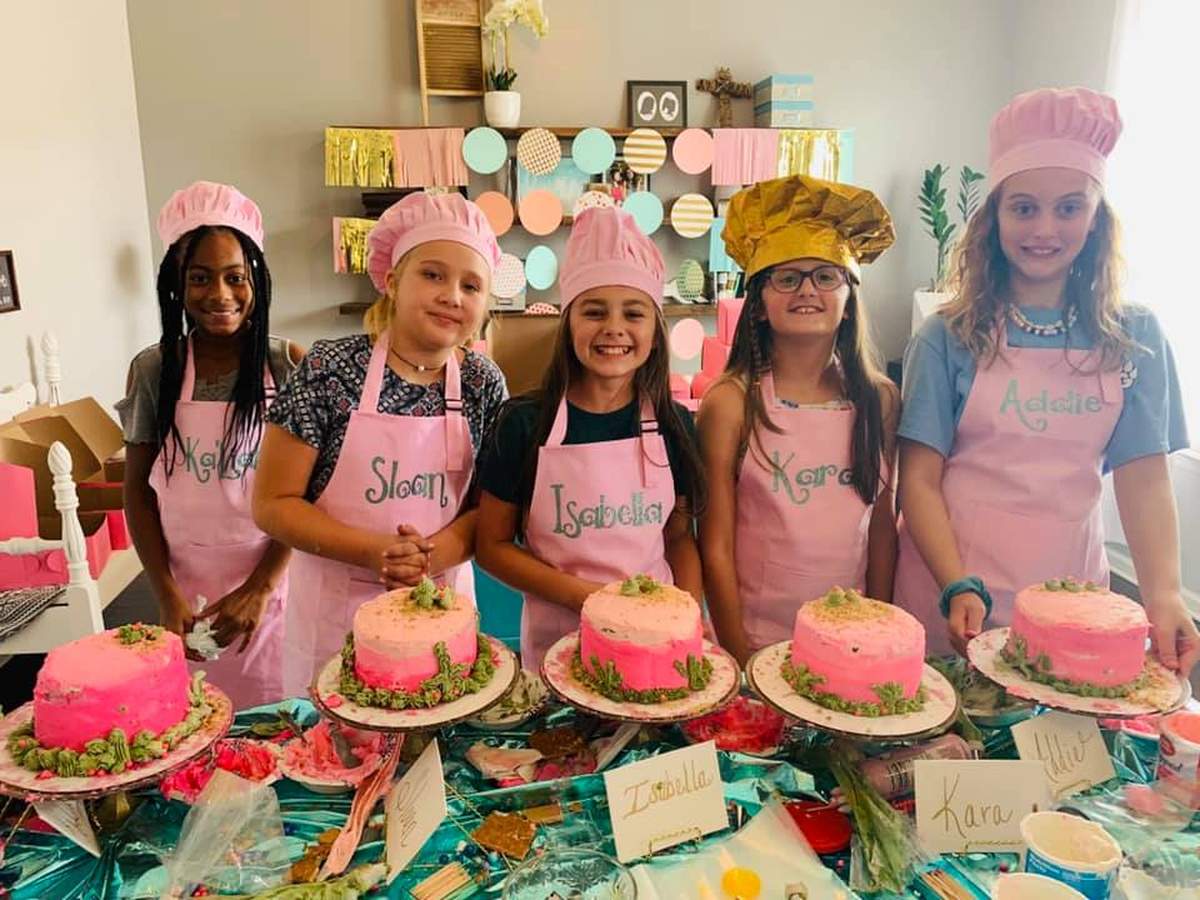 A birthday party wouldn't be complete without a delectable birthday cake. For a unique twist on the traditional cake, consider hosting a cake decorating party. Provide plain cupcakes or undecorated cakes and various decorating tools and ingredients, such as frosting, sprinkles, and edible decorations. Allow the birthday girl or boy and their friends to unleash their creativity and create their own cake masterpieces.
For a more traditional approach, let the party theme inspire the cake design. Magic-themed parties could have a cake adorned with a magician's hat, wand, and glitter, while a pirate-themed party could feature a treasure chest or ship-shaped cake. Whatever idea you choose, the birthday cake should be the centerpiece of the celebration, reflecting the personality and interests of your little one.
Choosing The Right Venue
Outdoor Venues
When planning a 10th birthday party, consider exciting outdoor venues for a memorable celebration. A popular option is a skating rink, which provides kids with a fun activity and the opportunity to socialize. Another great idea is a day trip to a nearby zoo, where children can learn about animals while enjoying a unique party experience.
For those seeking a more adventurous outdoor party, consider a visit to a water park or organizing a surf lesson for your child and their friends. Both of these activities offer thrilling experiences and are perfect for a summer birthday. If you prefer a more relaxed setting, plan a backyard movie night or a backyard camping adventure, complete with tents, campfire stories, and marshmallow roasting.
Indoor Venues
If you'd prefer an indoor celebration, there are plenty of venues that cater to birthday parties. One popular option is a bowling alley, where kids can enjoy friendly competition while celebrating the birthday kid. Alternatively, an arcade offers a variety of games and activities that keep guests entertained for hours.
For a more unique and engaging experience, consider booking an escape room. This interactive activity challenges participants to solve puzzles and decipher clues while working together as a team. Another high-energy option is a trampoline park, perfect for kids who love to bounce and play.
If you're willing to splurge on a special birthday experience, consider organizing a hotel sleepover. This allows the birthday child and a few close friends to enjoy a luxurious night away, complete with swimming, room service, and plenty of fun.
Sending Invitations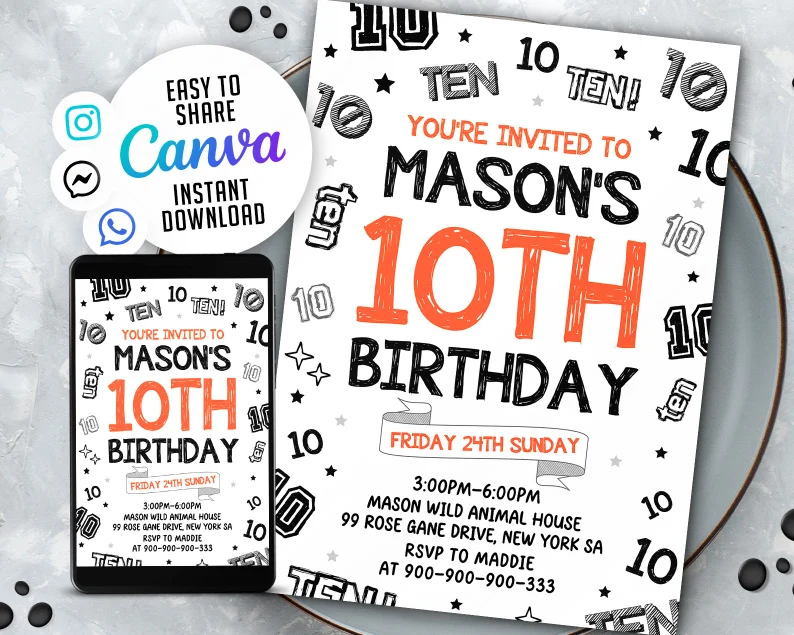 When it comes to planning a 10th birthday party, one of the first steps is sending out invitations to your child's friends and family. Choosing the right invitation design can set the theme and create excitement for the upcoming celebration. There are many options available for 10th birthday party invitations, and this section will provide some guidance on finding the perfect one.
Etsy offers a wide variety of 10th birthday invitation designs, from rose gold glitter to rainbow glitter and more. These invitations often come as editable templates that can be easily customized with your child's name, party details, and other information specific to the event.
If you prefer a digital approach, consider using an online platform like Paperless Post to create and send your invitations. Paperless Post has a vast selection of designs, including cupcake themes, fairy friends, and color-blocked stripes. Online invitations are not only eco-friendly but also provide easy RSVP tracking for your convenience.
When sending invitations, be sure to include essential details, such as the date, time, and location of the event. It's also helpful to mention any specific theme or dress code if your child's party has one. Don't forget to provide a clear RSVP deadline so you can adequately prepare for the number of guests attending.
In the end, choosing the right 10th birthday party invitations will help set the tone for a memorable and enjoyable celebration. Explore various options, and select the design that best reflects your child's personality and interests. This attention to detail will make your child feel special while ensuring guests are excited for the upcoming festivities.
Setting Up Decorations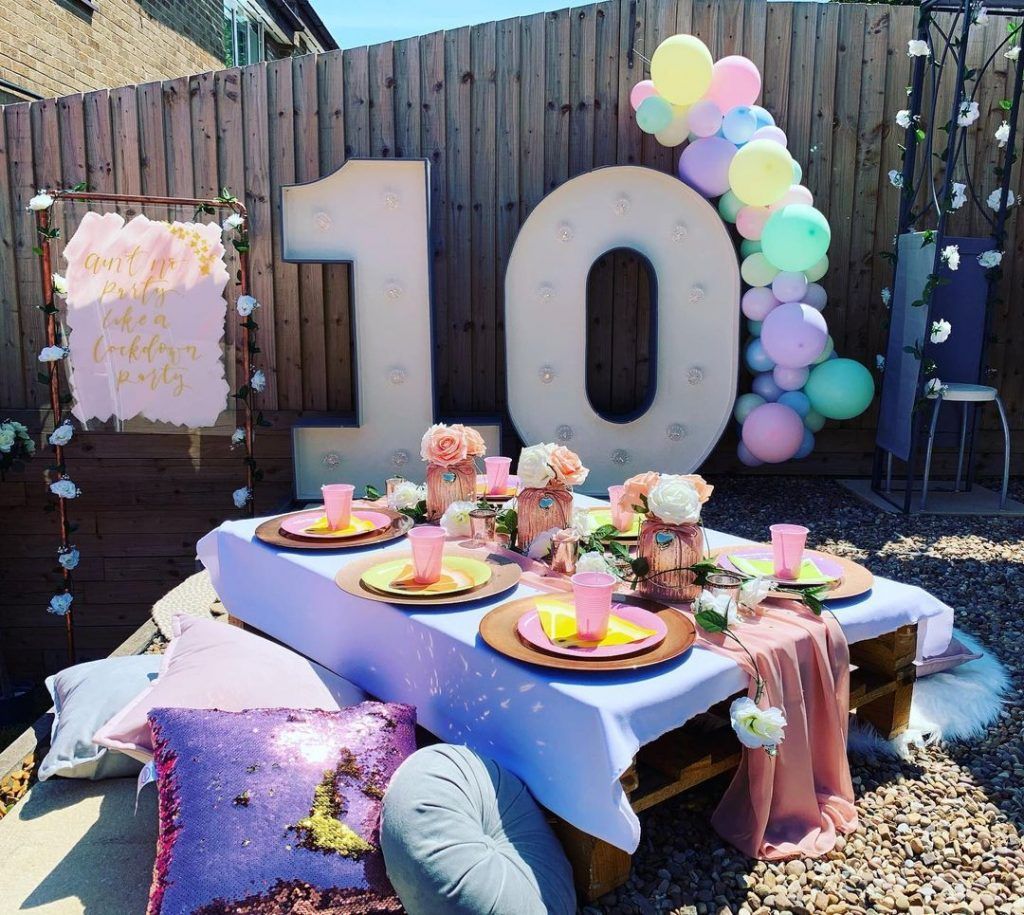 When planning a 10th birthday party, the decorations play a significant role in setting the atmosphere and making the event feel special. To create an unforgettable celebration, consider the following ideas for sprucing up the party area with birthday party decorations.
Start with a theme that resonates with the birthday child's interests or hobbies. For instance, if they love superheroes, use superhero-themed party decorations like balloons, banners, and tableware. On the other hand, a tropical theme can include tropical leaf garlands, pineapple accents, and yellow hibiscus flowers.
Balloons add a festive touch to any birthday party. Make the occasion extra special by investing in a giant foil balloon in the shape of the number 10. You can also create a colorful balloon garland, which is a popular party decoration trend. Incorporate a variety of balloon colors, shapes, and sizes to match the chosen theme.
Banners are another impactful decoration that can convey the birthday message and theme. Personalized banners with the child's name or even the age, like "Happy 10th Birthday," make for a great focal point in the party space. Match the banner's design and color to the theme for a cohesive look.
Table decorations are an essential aspect of the party setup. Festive tablecloth, coordinating plates, cups, and napkins, as well as fun and unique centerpieces, can enhance the overall party ambiance. For a magical party theme, consider using a glitter and balloons centerpiece that complements the other party decorations.
Remember to pay attention to smaller details, like party favors and goodie bags, as they can add to the overall party décor. Ensure the goodie bags align with the theme to create a cohesive look and feel.
In conclusion, setting up decorations for a 10th birthday party is all about considering the interests of the birthday child, focusing on a creative and enjoyable theme, and utilizing various party supplies to create a visually appealing and festive atmosphere.
Planning Favors and Gifts
When organizing a 10th birthday party, it's important to consider both favors and gifts to make the event memorable for the birthday bash attendees. In this section, we'll discuss some favor and gift ideas to complement the chosen 10th birthday party themes.
Favor Ideas
For party favors, you can create personalized goodie bags that match the selected theme of the 10th birthday party. Here are some suggestions based on popular themes:
Art or Craft Party: Provide small kits with art materials like colored pencils, paints, sketchpads, or craft supplies like glue, scissors, and colorful papers.
Fairytale Party: Offer small wands, tiaras, or toy swords, depending on the chosen fairytale, along with themed stickers and coloring books.
Sports Party: Give out mini balls, whistles, or sweatbands branded with the particular sport the party is based on.
Always try to include age-appropriate and gender-neutral items in the goodie bags so that everyone feels included.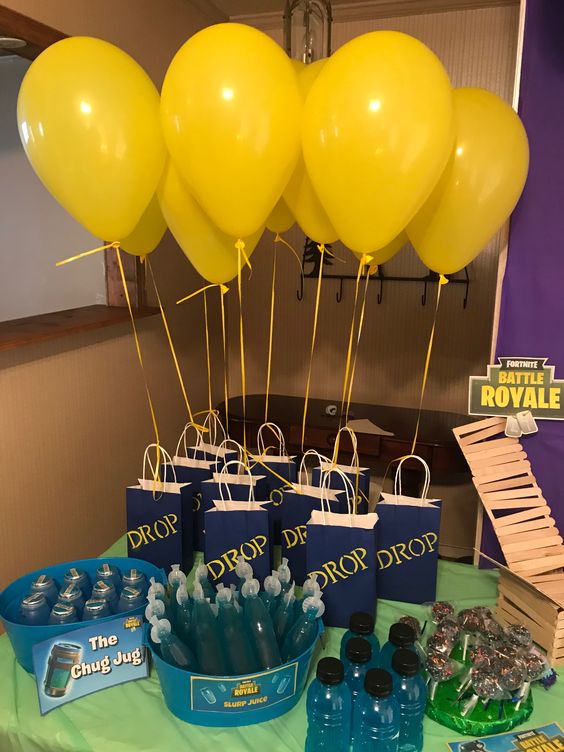 Gift Ideas
When it comes to gifts for the birthday child, consider their interests and hobbies to select something they'll truly appreciate. With a wide array of options available, here are a few ideas based on popular trends:
Books: Choose engaging and age-appropriate books that match their current interests, such as mystery novels, adventure stories, or educational non-fiction titles.
Board Games and Puzzles: Opt for games that promote creativity, problem-solving, strategic thinking, and social interaction among the 10-year-olds.
Experiences: Gift experiences like tickets to a local attraction, a music or dance class, or a family outing to create lasting memories.
Remember to coordinate with other party attendees as well when it comes to larger or more expensive gifts. This ensures that the birthday child will have a diverse and enjoyable set of gifts to explore as they embark on their double-digit journey.
Exploring Additional Party Ideas
A 10th birthday marks an important milestone for a child, as they transition from being a little kid to a preteen. To make this occasion special, there are various unique and enjoyable party ideas to consider.
A dance party is an excellent way to get the kids moving and grooving while celebrating the birthday. Hire a DJ, create a playlist of popular songs, and let the children dance their hearts out. You can also incorporate dance games to keep everyone engaged. A similar idea that's equally entertaining for both kids and adults is a karaoke party, where everyone can sing their favorite tunes.
A superhero party, can let children live their wildest superhero dreams. Encourage the guests to dress in their favorite superhero outfits, and arrange activities related to the theme, such as decorating masks and capes. Themes with animals like butterflies or puppies can also be considered for kids who love nature or pets.
For thrill-seekers, a paintball party or a lasertag party can provide loads of excitement. Many entertainment centers offer party packages that include equipment, game time, and food.
A fairytale-themed party can be a magical experience for younger children. Decorate the venue with items related to popular fairytales, like Cinderella or The Little Mermaid. Hire a magician for a magic show, turning this celebration into a mesmerizing event.
A more laid-back celebration can be facilitated with a bowling party or a backyard movie night. For a bowling party, book a local bowling alley and let the children enjoy the game while snacking on food. A backyard movie night can be arranged by setting up a projector and screen and arranging seating with comfortable chairs or bean bags.
A spa party can provide a delightful experience with relaxation and pampering. Set up a mini spa station with materials like foot baths, face masks, and nail polish for the guests to enjoy. Alternatively, a sleepover party, complete with games, movies, and popcorn, can offer endless fun for the birthday child and their friends.
These are just a handful of the best 10th birthday party ideas available, ensuring a memorable and enjoyable experience for every 10-year-old.