A basketball theme party is the perfect way to celebrate your child's birthday, a sports event, or a team's achievements. With a myriad of sport-themed décor and activities, this party is perfect for fans of all ages and guarantees to leave a lasting impression on attendees. The key to orchestrating a successful event lies in finding the right combination of decorations, food, and entertainment that showcases the spirit of the game.
Attention to detail can make or break a basketball-themed celebration. Start by selecting appropriate color schemes, such as team colors or the traditional orange and black associated with basketballs. Incorporate these colors throughout the party's decorations, tableware, and even invitations. Opt for DIY decorations or purchase ready-made supplies from retailers like Etsy and Amazon to give your event a polished and cohesive look.
Once you have your decorations and color schemes sorted, it's time to devise engaging activities that will keep guests entertained throughout the event. From basketball-themed games to unique party favors, there are endless ways to make your basketball-themed party a memorable experience. Keep your guest list in mind when selecting activities, catering to different age groups and levels of enthusiasm for the sport. Ultimately, a well-executed basketball theme party will be a slam dunk for everyone in attendance.
Choosing the Right Decorations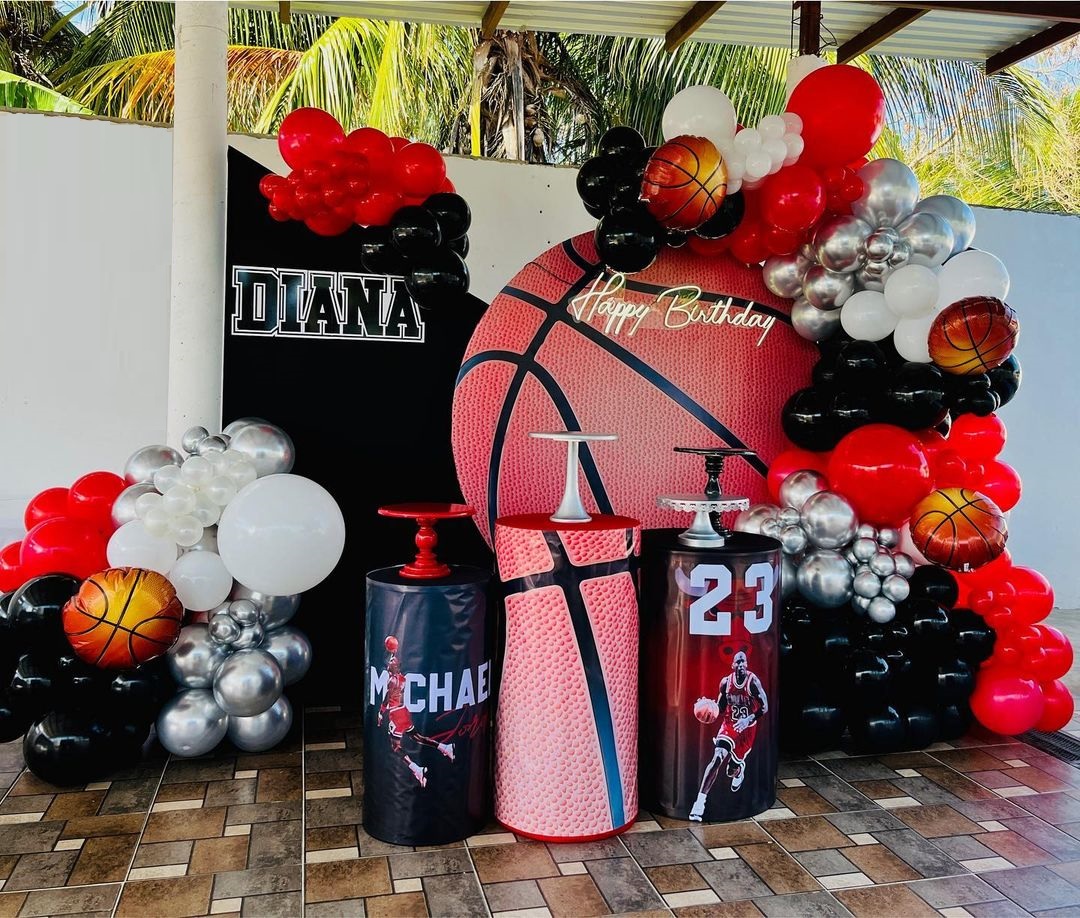 When planning a basketball-themed party, it's essential to choose the right decorations to create a festive atmosphere. Basketball party decorations are widely available and can be personalized to match your favorite NBA team or add a unique touch with handmade items from small businesses.
One popular source for basketball party decorations is Etsy, which offers a variety of handmade and vintage treasures crafted by creative entrepreneurs. Banners and signs showcasing basketball themes can be found on their platform, adding a special touch to your party.
To create a well-rounded ambiance, consider including basketball-inspired centerpieces. These can be made easily using items such as basketballs, nets, and team-colored accessories. Another option is to purchase themed tableware like basketball-shaped plates, napkins, and cups.
Incorporating balloons is a sure way to add a fun element to the party. Opt for basketball-themed balloons that are shaped like basketballs or come printed with NBA team logos. You can also tie in the color scheme by combining these with solid-colored balloons that match your preferred team's colors.
Don't forget to include small signs and labels to emphasize the basketball theme throughout the party area. These can be placed next to the food, on doors and windows, or attached to centerpieces to make a greater impact.
By carefully selecting basketball-themed decorations and incorporating various creative elements, you can transform your party space into a fun and exciting environment for all guests to enjoy.
Invitations and Personalization
Creating a memorable basketball theme party starts with the perfect invitations. A well-crafted invite not only sets the tone for your event, but it can also showcase your creativity and personality. In this section, we will discuss invitation ideas and DIY personalization tips.
Invitation Ideas
When it comes to basketball theme party invitations, there are many options available to make your party stand out. One popular choice is to explore Etsy sellers who offer a wide variety of unique, made-to-order designs. These talented artists can provide you with distinctive, personalized invites that are sure to impress your guests.
Another option is to go for a more traditional, pre-printed option, such as a basketball-themed card or postcard. Keep an eye out for design elements like bold colors, basketball court backgrounds, or basketball icons to make your invitation truly fit the theme.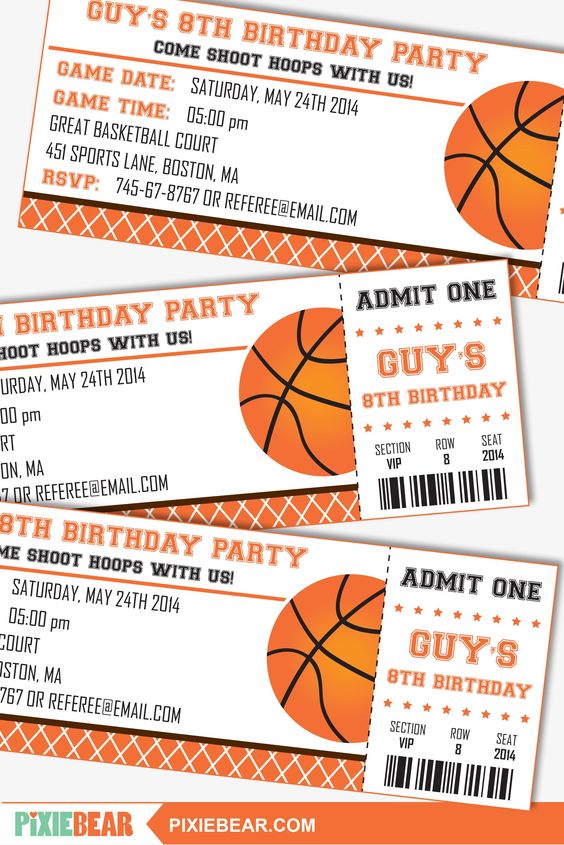 DIY Personalization Tips
If you're feeling crafty and want to add a personal touch to your basketball theme party invitations, consider these DIY personalization tips:
Fonts and Colors: Choose basketball-themed fonts and team colors to make your invitations visually appealing and engaging. You can find a variety of free fonts online or use software like Adobe Illustrator to create a custom design.
Images: Add basketball-related images or symbols to your invitation, such as a basketball, hoop, or court. This can make your invite more visually interesting and unique.
Messages: Personalize the text by including the guest of honor's name, age, or favorite team. You can also include a friendly competition or challenge, like asking guests to wear their favorite basketball team's gear.
Envelopes: Customize the envelopes by adding themed stickers or stamps. You can also handwrite the guest's address using a basketball-themed font.
By incorporating these suggestions, you can make your basketball theme party invitations distinctive and memorable. Remember, pairing unique invitation ideas with personalized touches will add flair to your event and leave a lasting impression on your guests.
Organizing Fun Party Activities
When planning a basketball-themed party, one of the main aspects to consider is the entertainment. Including unique and engaging activities will make your event memorable for your guests. This section will provide ideas for basketball-themed games and a fun DIY basketball piñata activity.
Basketball Themed Games
Integrating basketball with traditional party games can create an enjoyable atmosphere for your guests. Some popular options include:
Basketball Shootout: Set up a hoop and have guests compete to see who can score the most points in a given time. Provide small prizes for the winners.
Basketball Relay Race: Divide guests into teams and have them race while dribbling a basketball. Incorporate obstacles like cones to increase the challenge.
Basketball Trivia: Test your guests' knowledge on basketball history, rules, and famous players. Prepare a list of questions and keep track of participants' scores.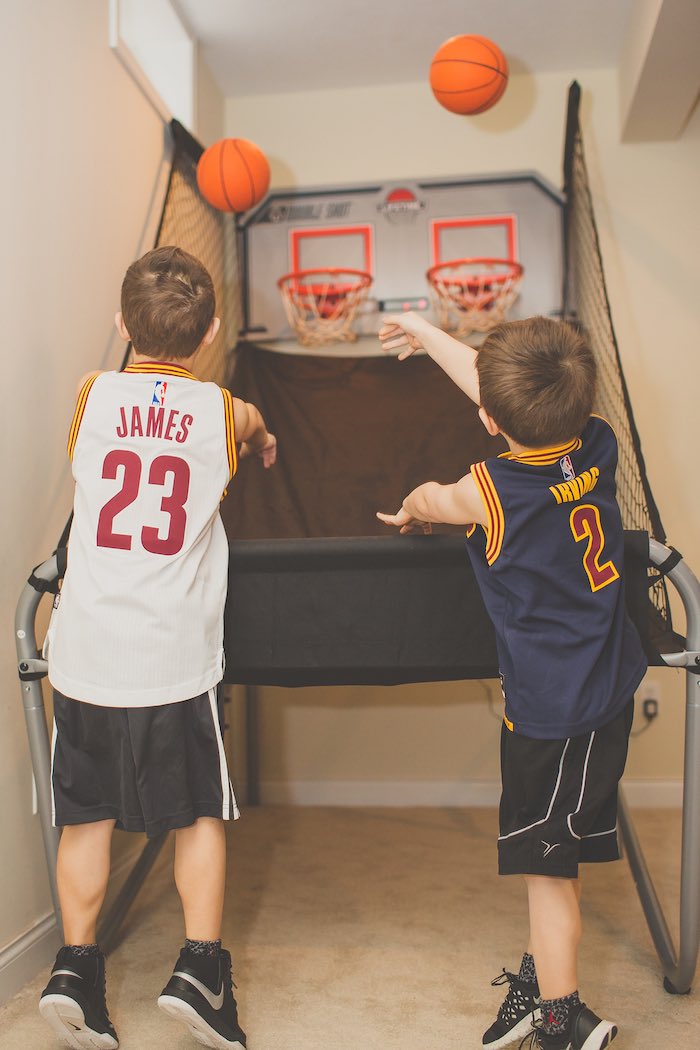 DIY Basketball Pinata
A basketball piñata can add a fun twist to the party and engage both kids and adults. Here's how to create your own basketball piñata:
Gather materials: You'll need a round balloon, newspaper, glue, water, orange and black tissue paper, string for hanging, and candy or small toys to fill the piñata.
Create the base: Inflate the balloon and prepare a mixture of glue and water. Cut newspaper into strips and dip them in the glue mixture. Cover the entire balloon with the newspaper strips, layering them until you get a solid structure. Allow it to dry completely.
Decorate the piñata: Once the base is dry, cut orange tissue paper into squares and cover the surface, overlapping each piece to create a textured appearance. Next, cut black tissue paper into thin strips and arrange them to resemble basketball lines.
Fill and hang: Make a small opening on the piñata, fill it with the desired treats or toys, and close the opening. Secure string around the piñata using a double knot, and hang it in a suitable location for guests to take turns hitting it.
With these activities planned, your basketball-themed party is sure to be a hit. Enjoy creating lasting memories with your guests!
Party Favors and Goodies
When it comes to throwing a basketball-themed party, having the right party favors and goodies is essential. In this section, we will explore various options for both basketball party favors as well as food and drink accessories that can enhance the overall party experience.
Basketball Party Favors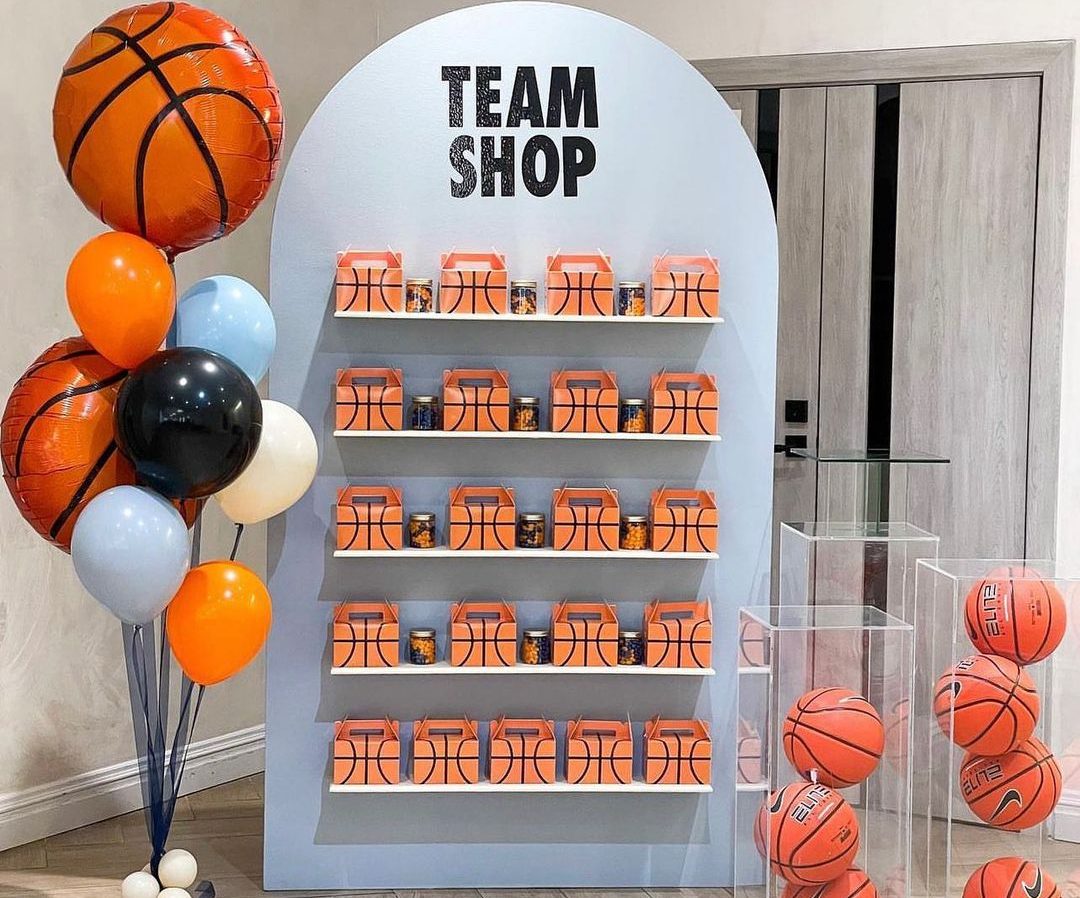 Basketball party favors are a fun way to thank your guests for attending the party. Some of the popular options include:
Basketball Lollipop Rings: These sports ball-shaped candy are perfect goodie bag fillers, with a tasty fruit flavor that everyone will enjoy.
Favor Bags: Customized basketball-themed favor bags from Etsy can be filled with treats, toys, or other small items as a keepsake for your guests.
Basketball Balloons: Add excitement to your party decorations with basketball-themed balloons from Party City. These balloons come in various sizes, shapes, and colors to fit any party's theme.
Food and Drink Accessories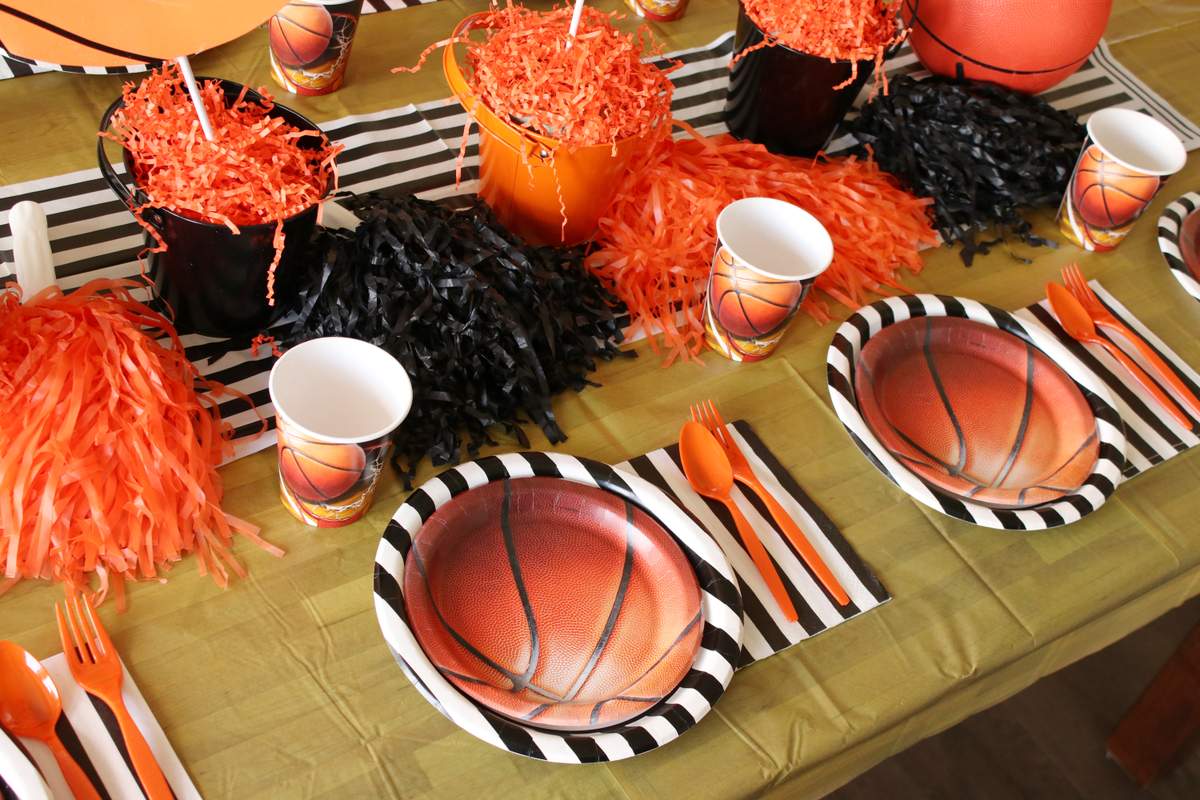 To keep the basketball theme going throughout the party, consider using food and drink accessories adorned with basketball motifs. Some ideas include:
Bowls and Cups: Serve snacks and drinks in basketball-themed bowls and cups, which can be found on websites like Etsy.
Cutlery: Add a touch of sporty fun to your dining table with basketball-themed cutlery, such as forks, spoons, and knives.
Water Bottle Labels: Customize water bottles with basketball-themed labels, offering a unique touch to your party while keeping guests hydrated.
Straws: Make drinking more enjoyable with basketball-themed straws, which can be found on various online retailers.
By incorporating these basketball party favors and food and drink accessories, you can create a fun, basketball-themed atmosphere that your guests will remember and enjoy.
The Basketball Theme Birthday Cake
Hosting a basketball-themed party for your sports enthusiast is a slam dunk! A well-designed basketball birthday cake can make the celebration a whole lot of fun. This section will give you some ideas on creating an amazing basketball cake and crafting DIY cake toppers.
Basketball Cake Ideas
Basketball cakes come in various designs and styles. One popular choice is to have a round cake decorated like a basketball itself, with orange frosting and black lines to replicate the ball's pattern. You can also consider a cake shaped as a basketball court, complete with a playing field and basketball hoop. Another option is to design a layered cake with basketball decorations like jerseys, shoes, and team logos. For more inspiration on basketball cake ideas, check out these 120+ Best Basketball Cakes Ideas for 2023.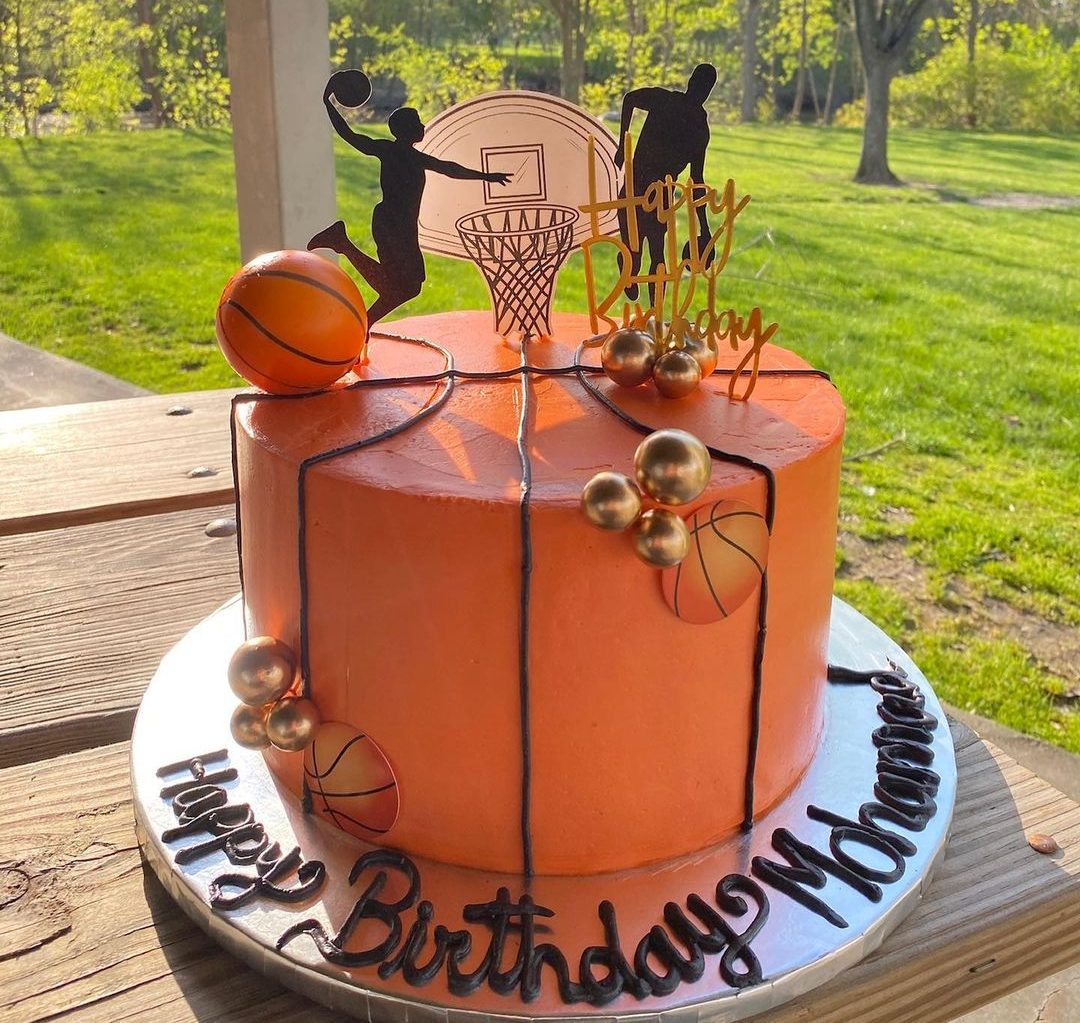 DIY Cake Toppers
Adding personalized cake toppers can elevate the look of your basketball-themed cake. There are many options for DIY cake toppers, such as:
Ready-made toppers: You can purchase pre-made basketball-themed toppers online, like on Etsy, where you'll find assortments of basketball figurines, basketball hoops, and player designs.
Edible toppers: Another option is creating edible basketball cake toppers using marshmallows, candies, or cookies. For instance, you can mold basketball shapes out of fondant or shape sugar cookies to resemble your favorite team's logo.
Paper cutouts: Use cardstock or heavy paper to create your own basketball-themed cutouts to decorate your cake. Design the player's jersey or create a mini pennant with their favorite basketball team's logo.
A basketball-themed cake can be as simple or elaborate as you want it to be. By exploring various cake designs and adding the right DIY cake toppers, you can create a memorable centerpiece for a basketball-themed birthday party.
Shopping for Basketball Theme Party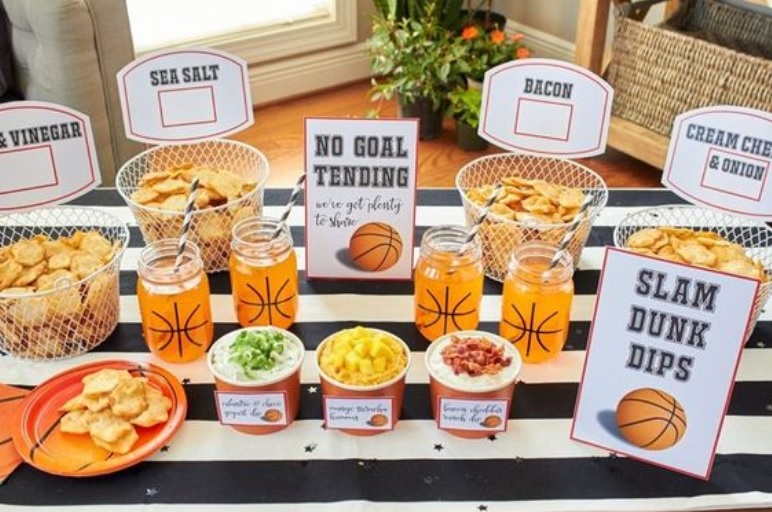 When planning a basketball theme party, it's important to find the right supplies and decorations to create an atmosphere that will thrill both the young and the young at heart. Basketball party supplies can be found in various online stores such as Party City, Amazon, and Etsy, which cater to different preferences, budgets, and shipping requirements.
Party City offers a comprehensive selection of basketball party supplies, ranging from birthday banners and table decorating kits to themed favors for basketball fans. This store provides both online and in-store shopping options, allowing customers to choose the most convenient way of purchasing their party essentials.
Amazon has an extensive collection of basketball-themed party favors and decorations, including plates, napkins, cups, cutlery, tablecloths, and banners. By browsing through their collection, customers can find items that suit their budget and style. Additionally, Amazon offers free shipping on orders over $25, allowing party planners to save on delivery costs.
To find unique and handmade basketball-themed party items, one can visit Etsy, where small business brands showcase their creativity and artistry. This global marketplace offers special goods such as custom-made basketball invitations and party favors for basketball lovers.
To make the shopping experience easier and more convenient, consider the following tips:
Compare prices and product quality across different stores to find the best deals.
Look for free shipping and other promotional offers to save on expenses.
Check customer reviews and ratings to ensure the quality and relevance of the products.
Consider shopping from small business brands for unique and personalized party supplies.
By exploring different shopping avenues, one can easily find a variety of basketball theme party supplies that cater to their preferences and budget, ensuring a memorable and enjoyable celebration for everyone.
Planning Themed Costumes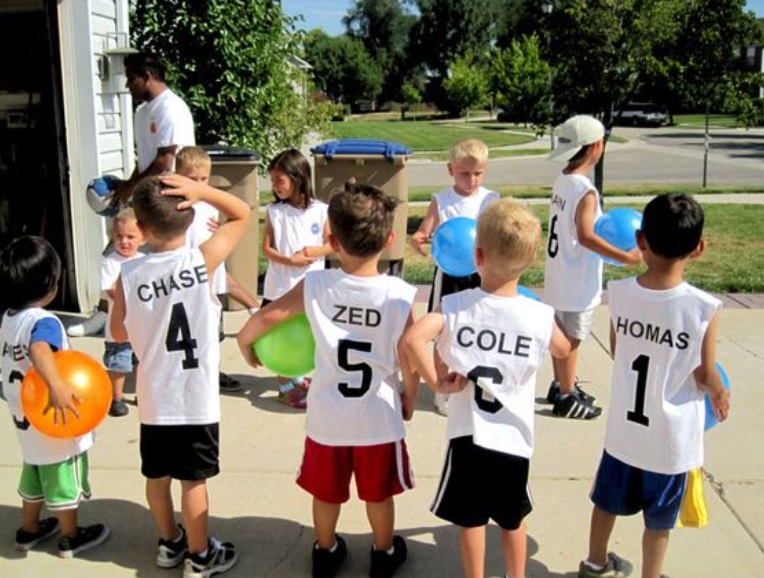 Planning basketball-themed costumes for your party can help create an energetic and fun atmosphere. Start by considering different costume options related to basketball itself, such as dressing up as a basketball player or even an NBA mascot. Incorporating official team colors and logos in your costumes can add authenticity and make your attire more recognizable.
You may also find inspiration from popular basketball movies and characters. For example, guests can dress up as players from the movie "Space Jam", like Michael Jordan or even the Looney Tunes team members. Some might choose to go for a retro look, sporting outfits from basketball legends such as Magic Johnson or Larry Bird.
When planning themed costumes, it's essential to bear in mind the different age groups attending your party. Costumes for children can be less elaborate and more focused on fun elements, like wearing a basketball jersey with their favorite team or player's name. On the other hand, adults can opt for more creative options, such as dressing up as a human-sized rock, paper, and scissors trio with a basketball twist.
In addition to individual costumes, you can also encourage guests to form small groups and collaborate on costumes based on a specific team, era, or even basketball position. For instance, a group could dress up as the starting lineup from a championship-winning team or represent iconic players from different NBA eras.
In conclusion, planning themed costumes for your basketball party can boost the excitement and camaraderie among guests. By considering different basketball-related options and keeping the preferences of various age groups in mind, you can ensure that everyone has a great time and revels in the shared spirit of the game.
Basketball Theme Party on Etsy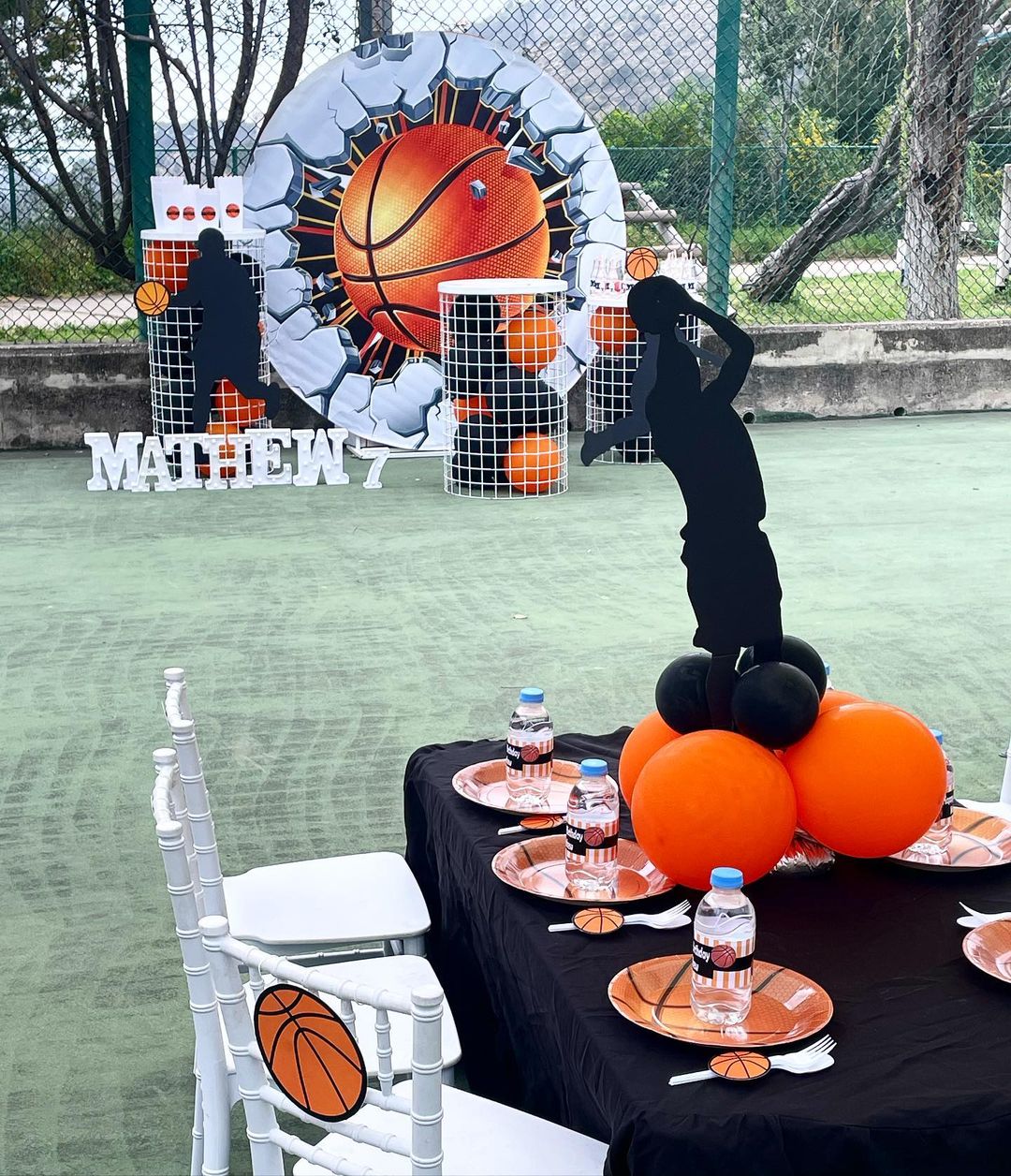 Etsy is a popular online marketplace where creative sellers showcase their artistic products and handmade crafts. For sports enthusiasts, there are many basketball theme party supplies and decorations available on this platform. The offerings on Etsy cover a wide range of items catering to every aspect of hosting a successful basketball theme party.
Etsy sellers are known for their unique and attractive party supplies, such as basketball-theme party invitations and basketball-themed birthday party decorations. These products not only set the tone for the party but ensure that all guests are excited for the event. The customized and digital items available make it easy for customers to print their invitations and other party materials on demand.
Additionally, many sellers on Etsy offer exclusive offers and discounts, ensuring that customers get great value for their money. For instance, some sellers are currently offering 20% off on selected basketball-themed party items. These discounts not only help customers save money but also boost sales for Etsy sellers.
Basketball theme party supplies on Etsy also include personalized items such as party favors, placemats, and other unique party decorations. These items make a party more memorable, and Etsy sellers earn income by crafting and selling these personalized party supplies.
The craft supplies, digital items, and other basketball theme party materials sold on Etsy make it a convenient one-stop destination for party planners who want to put together an unforgettable experience. The wide array of offerings caters to different preferences, budgets, and style requirements.
Overall, Etsy is a fantastic platform for both sellers and buyers when it comes to organizing a basketball-themed party. The vast selection of basketball-related items, exclusive offers, and personalized products make it the go-to option for those planning a unique and memorable event.
Party Wrap-up
As the basketball-themed party comes to an end, it's essential to leave a lasting impression on guests. To keep everyone connected and looking forward to future events, offering exclusive offers and providing newsletters is a great strategy. Guests can subscribe to newsletters to stay informed about upcoming parties, receive special deals, and exclusive content.
Although a well-organized subscription process is crucial, there could be instances where guests face issues like a failed captcha or have trouble subscribing. In such cases, providing clear instructions and seamless troubleshooting options can make the experience more user-friendly.
Remember that some users might have ad blockers enabled, which can create a problem when subscribing to the newsletter. To avoid losing potential subscribers, make the subscription process accessible despite ad-blockers or provide alternative ways to stay connected.
By implementing these strategies, party organizers can ensure an enjoyable wrap-up for the basketball-theme party, keeping guests engaged and excited for future events. Remember to maintain a confident, knowledgeable, neutral, and clear tone in your communications to foster trust and credibility.