Backyard birthday parties offer a fun and relaxed atmosphere for people of all ages to come together and celebrate. With ample space, fresh air, and the comfort of being at home, hosting a birthday party in your backyard creates an intimate environment where guests can freely mingle and enjoy various activities.
One of the essential aspects of throwing a successful backyard birthday party is ensuring that there are engaging games and activities that cater to the guests' interests. Additionally, setting up the right ambiance with creative decorations, delicious food, and refreshing beverages can all contribute to a memorable experience. By exploring various ideas and themes for the party, the host can customize the event to suit the birthday person's taste and preferences.
In the following article, we will discuss a variety of backyard birthday party ideas to inspire and guide you in creating a memorable celebration for your loved ones. From choosing aesthetically pleasing decorations to selecting crowd-pleasing food and drink options, these ideas will elevate any backyard birthday party and leave a lasting impression on all attendees.
The Concept of a Backyard Birthday Party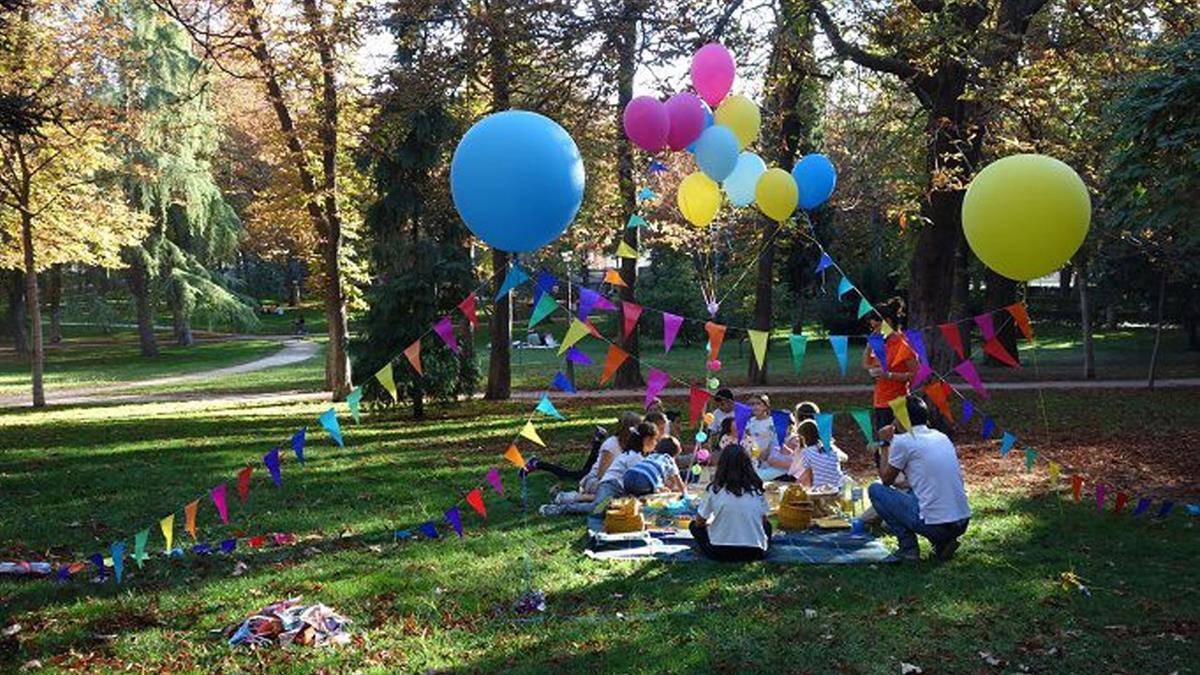 A backyard birthday party is an ideal way to celebrate a special day while enjoying the outdoors and creating a relaxed, laid-back atmosphere. It allows the host to take full advantage of their outdoor space, offering a memorable experience for guests of all ages. The concept of a backyard birthday party typically includes a variety of activities, decorations, and food options that can easily be tailored to suit any theme or age group.
One of the key elements of a successful backyard birthday party is the use of space. Whether it is a small, cozy garden or a large, expansive yard, it is essential to arrange different areas for activities, dining, and relaxation. This can be achieved by setting up seating areas with comfortable cushions, creating activity stations, and designating specific zones for games or entertainment.
When it comes to choosing backyard birthday party ideas, the options are almost endless. Some popular themes include enchanted forest, beach-inspired, and classic picnic-style parties, each offering unique ways to decorate and entertain guests. Personal touches like customized banners, balloons, and centerpieces can also be used to enhance the overall ambiance and make the party truly special.
Another major aspect of a successful backyard birthday party is the menu. Offering a variety of tasty, easy-to-eat finger foods and snacks is a great way to ensure that guests remain satisfied throughout the event. Classic favorites like burgers, hot dogs, sandwiches, and fruit platters are always a hit, alongside more unique options like a DIY taco or pizza bar, catering to various dietary preferences and tastes.
Activities play a significant role in keeping guests entertained at a backyard party. Traditional games like a treasure hunt, sack race, or tug of war can be easily adapted to suit the theme and age group of the party. For a more relaxed approach, setting up an outdoor movie night or a cozy reading nook can provide a more laid-back entertainment option.
In summary, the concept of a backyard birthday party brings together various elements to create a memorable and enjoyable outdoor celebration. By utilizing the available space, choosing a fitting theme, providing a satisfying menu, and offering exciting activities, hosts can ensure a successful event that is both fun and unforgettable.
Creating the Perfect Atmosphere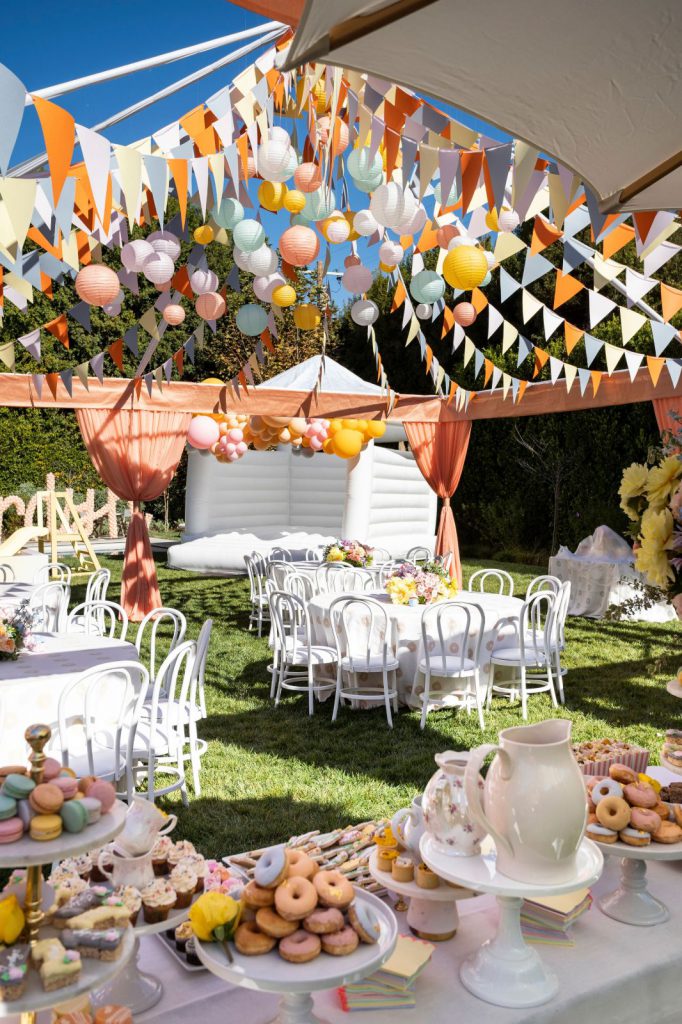 Outdoor Lighting
One of the best ways to create a pleasant atmosphere for a backyard birthday party is by paying attention to the outdoor lighting. String lights, lanterns, and fairy lights are all great options to illuminate your party area. These can be hung from trees, fences, or even patio umbrellas to create a magical and festive ambiance. Be creative with your lighting choices to make the night feel truly special.
Seating and Furniture Arrangement
Another essential aspect of setting up the perfect atmosphere is the seating and furniture arrangement. Make your backyard feel like an outdoor living room by incorporating comfortable chairs, benches, and lounge furniture. Consider having a variety of seating options, such as cozy sofas, patio chairs, and even some floor cushions or picnic blankets. This will allow guests to mingle and enjoy the party in a relaxed and informal manner.
Choosing the Right Decor
For a memorable backyard birthday party, the right decor can make all the difference. Start with choosing a suitable garden party theme that complements the occasion and your outdoor space. Incorporate floral decorations and greenery throughout the setting to emphasize the garden atmosphere. Be creative with table decor, such as personalized centerpieces, table runners, and other outdoor decorations that enhance the overall theme and atmosphere.
Music and Entertainment
To keep the mood lively and enjoyable, plan for music and entertainment at your backyard birthday gathering. Create a playlist with a mix of genres that caters to your guests' tastes and complements the chosen theme. Remember to have some outdoor speakers on hand to ensure the music can be heard throughout the party area. Additionally, consider incorporating outdoor games and activities to keep guests entertained and engaged. This could include lawn games like bocce ball or croquet, or even a themed activity that ties in with the garden party theme.
By paying close attention to these aspects of your backyard birthday party, you can create an unforgettable atmosphere that your guests will cherish for years to come.
Food and Drink Considerations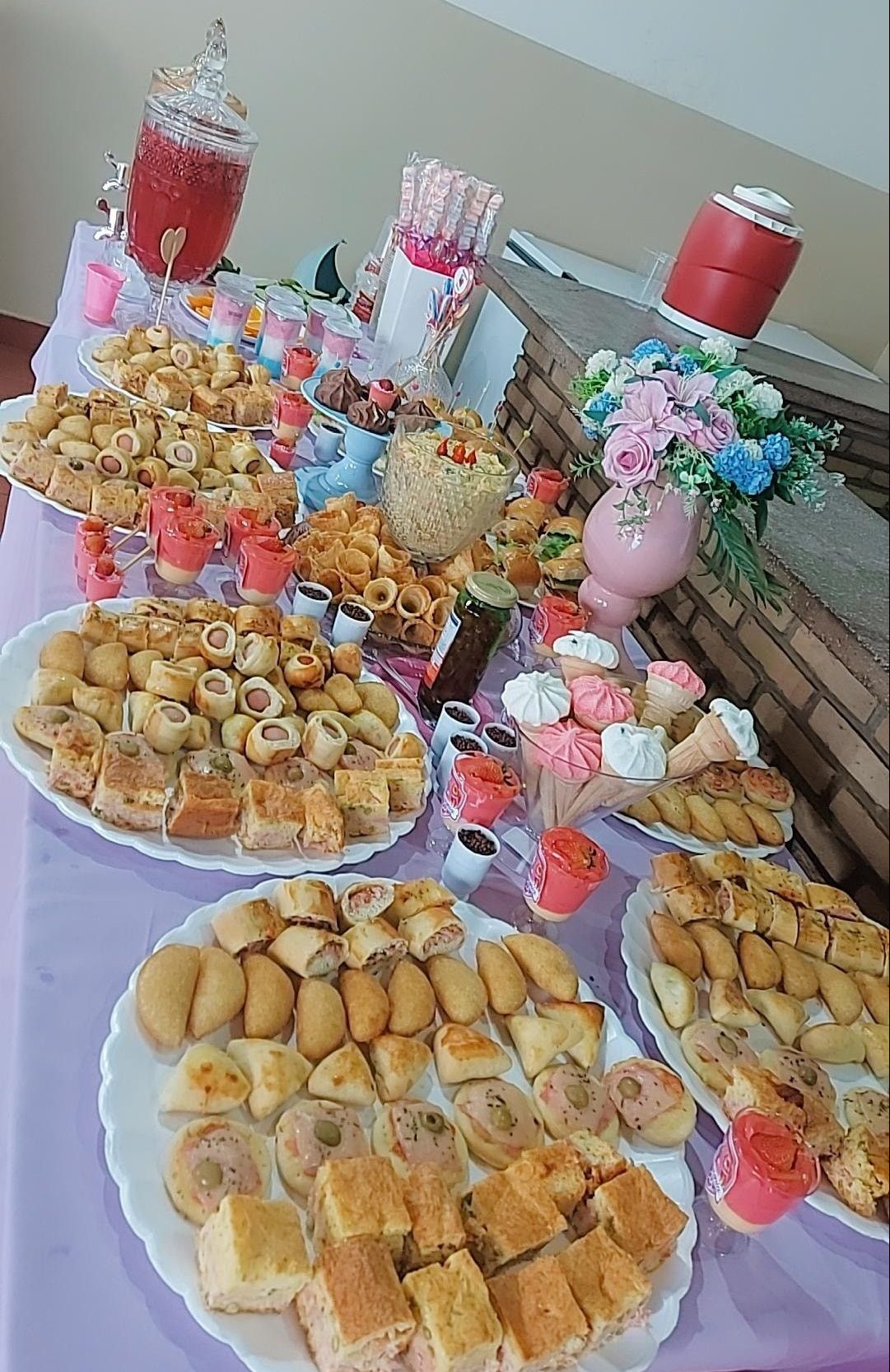 Meal Planning and Dietary Restrictions
When planning a backyard birthday party, it's essential to consider the guest's preferences and dietary restrictions. A popular food choice for these events is barbecue, which offers a versatile menu and can include various meats and plant-based alternatives. Remember to offer grilled vegetable options and creative toppings for a more inclusive experience.
It's also a good idea to have a charcuterie board with a selection of cheeses, fruits, and crackers to cater to guests with dietary restrictions and different tastes. Additionally, provide accompaniments like pickles, olives, and dips to complement the board.
Creating a Beverage Station
Having a beverage station at a backyard party is a fantastic way to keep guests hydrated and entertained. Offer a mix of alcoholic and non-alcoholic drinks, such as cocktails, lemonade, and wine. For kids or non-drinkers, create a separate section with fun and colorful mocktails and soft drinks.
Ensure you provide enough ice to keep the drinks chilled, especially on hot summer days. Display the beverages in an organized manner, using waterproof storage cubes or containers for easy access.
Dessert Ideas
No birthday party is complete without a dessert. An ice cream sundae bar is an excellent choice for a backyard birthday party, as it allows guests to customize their treats with various toppings and sauces. This interactive dessert option adds an element of fun to the party.
Another idea is to have a selection of individual desserts, such as cupcakes, cookies, or fruit skewers, that guests can easily grab and enjoy. These small treats can be displayed on a dessert table, allowing for easy access and an attractive presentation.
By considering guests' preferences, and dietary restrictions, and providing a variety of food and drink options, your backyard birthday party is sure to be a success.
Party Extras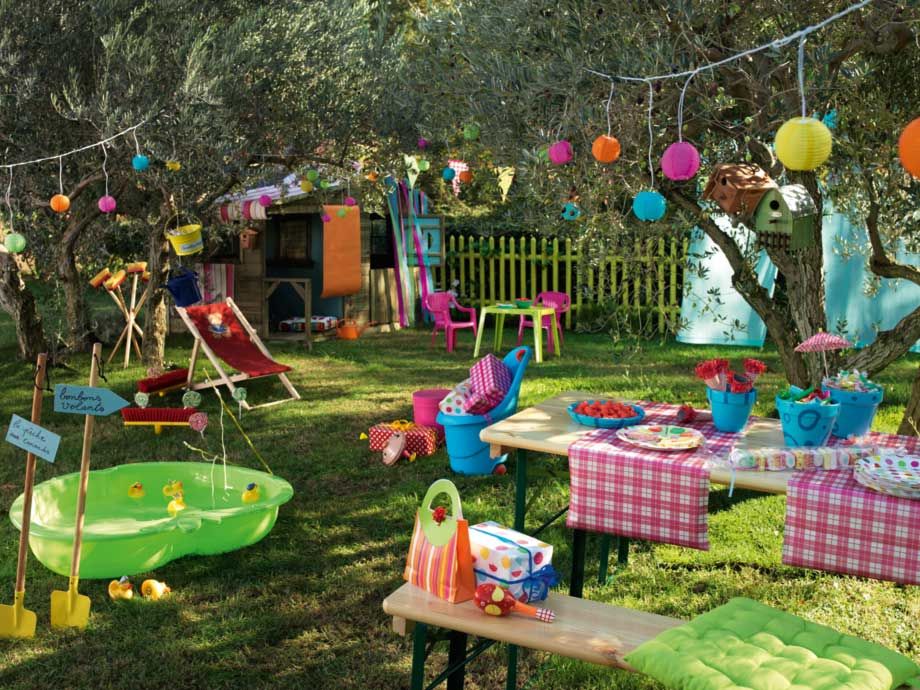 Setting Up a DIY Craft Corner
A DIY craft corner can be a fantastic addition to any backyard birthday party. It offers guests an opportunity to showcase their creativity and enjoy a hands-on experience. Start by setting up a dedicated area with tables and chairs for the crafts. Be sure to cover the tables with disposable or easy-to-clean materials, as things may get messy.
Stock the craft corner with a variety of supplies, such as coloring books, beads, stickers, and string for making friendship bracelets. You can also include materials for personalized party favors like custom-designed t-shirts or decorated tote bags. Offering guests the opportunity to create their own masterpieces allows for endless entertainment and unique keepsakes from the party.
Incorporating Fun Elements
In addition to the DIY craft corner, consider adding some unique and entertaining elements to the backyard birthday party. A piñata is always a crowd-pleaser and an engaging activity for guests of all ages. Choose a piñata design that matches the party theme or interests of the birthday person.
For a cozy touch, consider setting up a fire pit in the backyard. This can serve as a gathering spot for guests to roast marshmallows, make s'mores, and enjoy the warmth of the fire. Be sure to provide chairs or blankets around the fire pit to encourage relaxation and conversation.
If the party is expected to continue into the evening, think about setting up a tent to keep guests comfortable and protected from the elements. The tent can also provide a space for additional activities, such as a cozy seating area or an impromptu dance floor.
To round out the fun, offer a variety of interactive outdoor birthday party ideas like lawn games, water activities, or a scavenger hunt. Provide small prizes as incentives for the winners to encourage friendly competition and engagement. These engaging elements are sure to make the backyard birthday party a memorable event for everyone involved.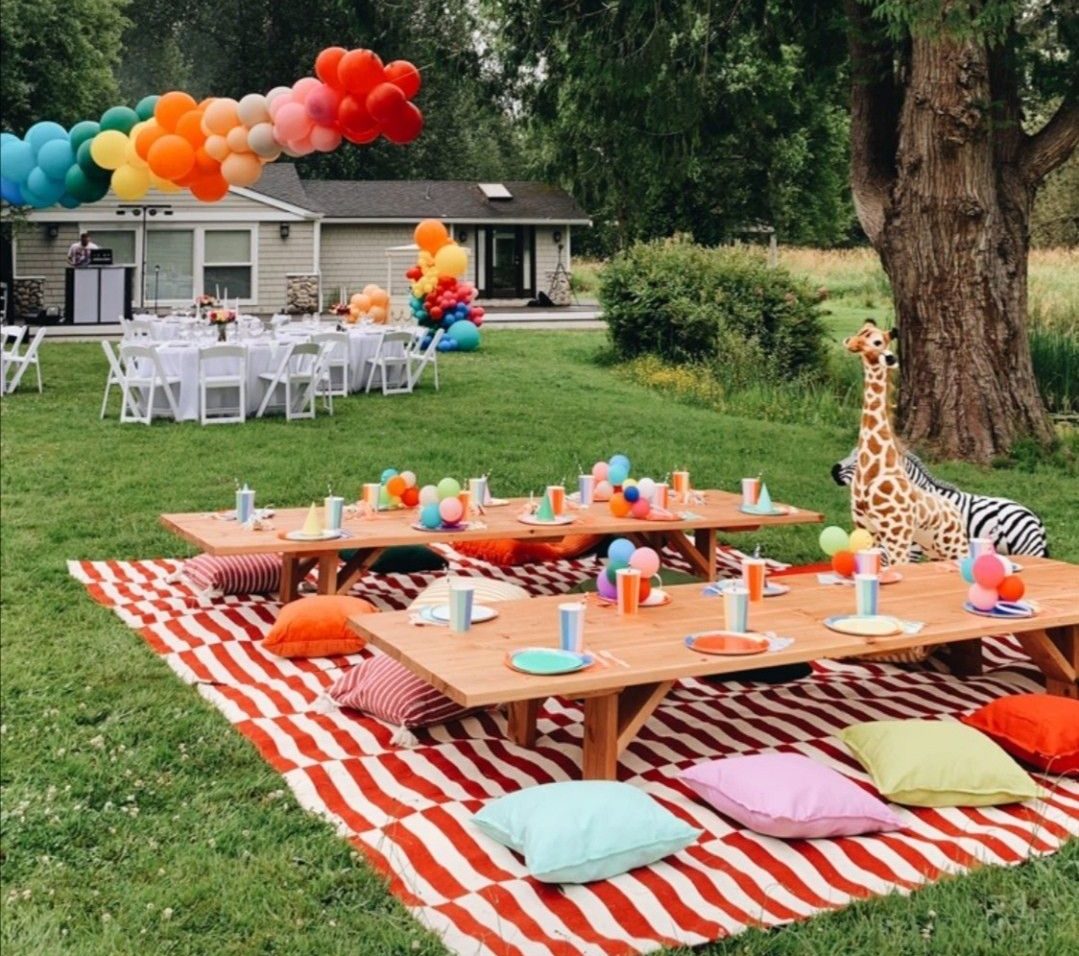 Party Essentials
When planning a backyard birthday party, several key essentials will help make the event memorable and enjoyable for every guest. First and foremost, ensure that you have enough tableware for all your guests. This includes napkins, plates, cutlery, and cups. Consider selecting eco-friendly tableware options, such as biodegradable or reusable materials, to minimize the environmental impact of your party.
Proper attire is essential for an outdoor gathering. Remind guests of the party theme, if applicable, and any dress code requirements in the invitations. This will help attendees feel comfortable and prepared for any activities or weather conditions they may encounter.
Temperature control is vital for a comfortable outdoor event, especially during the summer months. Keep your guests cool by providing fans or strategically placing electric fans around the area. Alternatively, consider renting tents or umbrellas to offer shade and respite from the sun.
To ensure your guests stay hydrated throughout the celebration, have plenty of coolers filled with ice and a variety of beverages. Keep the drinks easily accessible by placing them near high-traffic areas, and consider labeling the coolers to help guests find their preferred beverage quickly.
Additional seating, such as blankets or chairs, can make your backyard party more inviting and comfortable. Use wire hangers to create a DIY blanket rack for guests to grab a blanket when needed. Encourage attendees to bring their seating arrangements by mentioning it in the invitation.
Consider hosting a potluck-style party and requesting guests contribute a dish to share. This not only reduces the host's workload but also promotes a sense of community among the attendees. Don't forget to account for any dietary restrictions when coordinating the menu.
Finally, capture the memories and the beauty of your backyard party with photographs. Enlist a friend with a good eye or hire a professional photographer. Photos can serve as cherished keepsakes and may even provide inspiration for future celebrations.
By addressing these party essentials, your backyard birthday party will come together seamlessly, ensuring an enjoyable experience for everyone involved.
Budgeting for a Backyard Birthday Party
Planning a backyard birthday party can be a fun and cost-effective way to celebrate a special occasion. With some careful planning and smart decisions, it's possible to create a memorable event without breaking the bank.
First and foremost, set a clear budget for the party and stick to it. Make sure to include expenses for food, drinks, decorations, activities, and any rental equipment that may be needed.
Shop around for the best deals on food and party supplies. Don't be afraid to compare prices at different stores or consider buying in bulk to save on costs. Consider preparing simple, homemade dishes to further cut down on expenses.
When it comes to decorations, think creatively and opt for DIY solutions. For example, you can create your own table settings by dipping white cotton napkins into different dye solutions for a colorful and unique look.
For entertainment, consider using a playlist of popular songs to set the mood, and plan affordable activities like lawn games, scavenger hunts, or DIY craft stations. These options are not only budget-friendly but tend to be a hit among guests.
Take advantage of your outdoor setting to create a comfortable and enjoyable atmosphere. Arrange seating areas with cushions and blankets, and place insect-repellant incense sticks around the yard to keep pests at bay.
Lastly, remember to be flexible and open to change. Sometimes, unforeseen expenses or challenges may arise, but with a little creativity and adaptability, it's still possible to throw a fantastic backyard birthday party within your budget.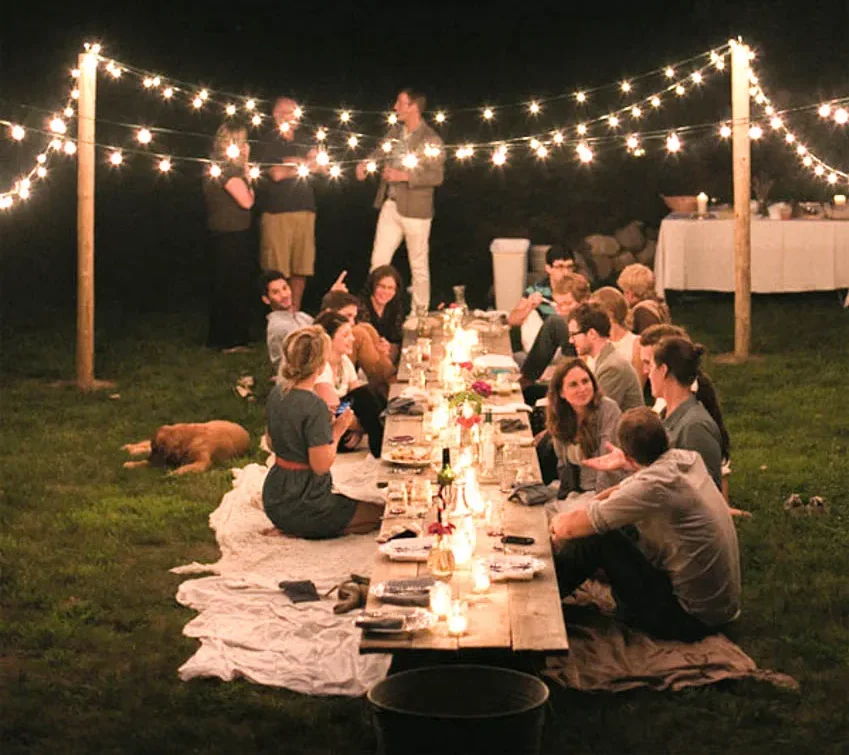 Conclusion
Backyard birthday parties provide a versatile and enjoyable option for people of all ages. With a myriad of creative ideas, one can easily transform their outdoor space into an unforgettable celebration venue.
Incorporating elements like string lights helps set a warm and inviting atmosphere, while themes like Enchanted Forests and outdoor cinemas can transport guests into a magical environment. Adults can also enjoy sophisticated activities such as wine tastings or garden tea parties, proving that backyard parties are not exclusive to children.
Overall, the key to a successful backyard birthday party is to strike a balance between creativity, practicality, and entertainment. With proper planning and a focus on guest experience, a memorable event can be achieved within the comforts of one's personal outdoor space.