Graduation is a momentous occasion, marking the end of one chapter and the beginning of another in a person's life. As family and friends gather to celebrate this achievement, hosting a backyard graduation party is an excellent way to provide a warm, inviting atmosphere, while remaining budget-friendly. There are countless ideas to transform an ordinary outdoor space into the perfect venue for this memorable event.
Backyard graduation parties offer ample opportunities for personalization, enabling the host to incorporate the graduate's school colors, interests, and accomplishments into various aspects of the event. Creative decorations, DIY projects, and smart planning can help make the party stand out without breaking the bank. From setting up a photo booth to crafting unique centerpieces, utilizing outdoor areas allows for versatile and unforgettable party ideas.
In addition to being a cost-effective solution, outdoor graduation parties provide a relaxed environment for guests to mingle, enjoy the food and festivities, and celebrate the graduate's achievements. With thoughtful planning and a touch of creativity, it is possible to throw a backyard graduation party that is both visually stunning and enjoyable for all attendees.
Outdoor Graduation Party Essentials

Setting the Date
Choosing the perfect date for your outdoor graduation party is crucial. Find a date that works best for close friends and family, as it is essential that they can share in this memorable celebration. Keep in mind that many people might have multiple graduation events to attend, so be mindful of potential conflicts when selecting the date.
Planning for Weather
Outdoor celebrations are great, but weather can be unpredictable. Be sure to, not only check the weather forecast leading up to the event but also be prepared for sudden changes. It can be helpful to have a tent available to create shelter for guests in case of rain. Likewise, having sunscreen and bug spray on hand will ensure everyone's comfort during a sunny day in the backyard.
Outdoor Grad Party Setup
Choosing a theme for your outdoor celebration will set the tone and make the event even more special. Once you have a theme in mind, you can plan your decorations accordingly. Decorate with banners, balloons, and tablecloths that match the theme, incorporating the school colors wherever possible. Don't forget about setting up a space for taking photos, as this will provide guests with lasting memories of the event.
When planning the setup, consider the layout of your outdoor space. Plan for enough seating to accommodate all guests and think about the flow of foot traffic during the event. Setting up designated areas for mingling, eating, and celebrating can help keep things organized and easy to navigate.
Guest Comfort
Guest comfort should be a top priority when planning an outdoor graduation party. Make sure there are enough seating options and shaded areas for guests to sit and relax. Provide sufficient water and refreshments to keep everyone hydrated, especially during warm weather. Additionally, ensure that restroom facilities are clean and conveniently located.
Having outdoor essentials, like sunscreen and bug spray, easily accessible will help guests feel at ease and allow them to fully enjoy the backyard celebration. With thoughtful planning, your outdoor graduation party will be a memorable event for everyone involved.
Theme and Decor Ideas
Choosing a Theme
One of the essential parts of a backyard graduation party is selecting an appropriate theme. Graduation party themes can vary from favorite colors, movies, hobbies, or sports teams. By choosing a unique theme, the entire party will have a cohesive and engaging ambiance. To make the celebration even more special, consider selecting a theme that reflects the graduate's personality and interests.
Decorations
After deciding on the theme, it's time to focus on decorations to enhance the party atmosphere. Some popular decoration choices for a graduation party include balloons, string lights, lanterns, and centerpieces. For instance, consider creating a balloon arch filled with the graduate's school colors, or arrange streamers and paper lanterns around the backyard for an aesthetically pleasing touch. To create an elegant feel, you can also use flowers and tassels as decor pieces.
Make your tables stand out with eye-catching table decorations. Use themed plates, napkins, cups, and tablecloths that complement your chosen theme. You can find affordable options at Dollar Tree and elevate them by adding a creative flair for graduation-themed celebrations. String lights can also be added to the edges of tables or wrapped around their legs to create a warm and inviting atmosphere.
Signage and Display
Signage plays a crucial role in guiding guests and celebrating the graduate's accomplishments. Yard signs and photo banners showcasing the graduate's journey from kindergarten through 12th grade can be a memorable addition to the party. Chalkboard welcome signs and table signs can also enhance the overall look and feel of the event.
Another way to create a captivating display is by using garage door decor. This could include banners, flags, or even a creative photo collage of the graduate's achievements. Remember, the goal is to make the event memorable and enjoyable for both the graduate and the attendees, so don't hesitate to think outside the box while planning your party decor.
Food and Drinks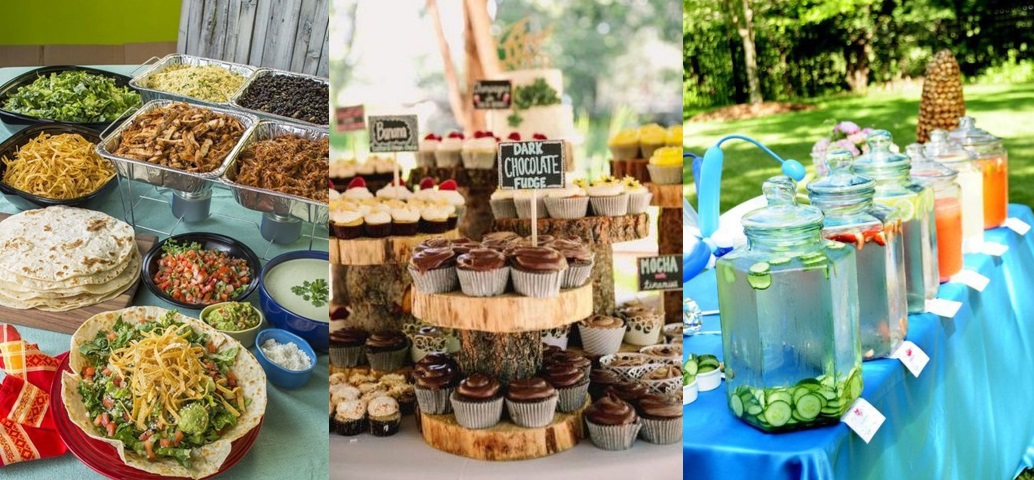 Main Course
A backyard graduation party should offer a variety of main course options to satisfy all tastes. Consider including classic favorites such as hot dogs and hamburgers alongside more creative options like a pasta bar or taco bar. For a customizable choice, set up a hot dog bar with various toppings and condiments, allowing guests to create their perfect hot dog.
Don't forget to cater to different dietary preferences and restrictions by offering vegetarian options like charcuterie boards or a nacho bar. Finger foods like wings can also be a crowd-pleaser, especially when served with a variety of dipping sauces.
Dessert Ideas
No graduation party is complete without sweet treats. For an eye-catching centerpiece, consider a beautifully decorated cake with the graduate's name or a congratulatory message. Alternatively, you can offer individual cupcakes for easier serving.
Keep the dessert table exciting by including a popcorn bar with different seasonings, toppings, and mix-ins, or a candy bar filled with the graduate's favorite sweets. For a refreshing option on a warm day, provide popsicles in different flavors.
Drink Station
Setting up a drink station is essential for keeping guests hydrated and refreshed throughout the party. Offer a selection of beverages like lemonade, punch, iced tea, and water. You can also get creative by providing fruit-infused water or a DIY soda bar.
For an adult touch, consider adding a signature cocktail or mocktail that matches your party theme or the graduate's favorite flavors. This will not only be a fun conversation starter but also add something unique to the celebration.
Remember to provide enough drinkware and ice to keep the beverages cool and accessible to all your guests.
Entertainment
Music
To set the mood for an enjoyable backyard graduation party, choosing the right music is essential. Consider hiring a DJ if you want a professional touch, or you can create a playlist with your graduate's favorite songs. Make sure to include a mix of upbeat and mellow tunes to cater to different preferences and moments during the celebration.
Games and Activities
Incorporate fun games and activities to keep guests entertained throughout the party. Here are some popular options:
Party Games: Classic options like charades or Pictionary can be entertaining for guests of all ages.
Lawn Games: Encourage guests to engage in friendly competition with various yard games. Consider setting up cornhole, bocce, or croquet stations.
Giant Jenga: Create an exciting atmosphere by arranging an oversized version of the beloved stacking game, Giant Jenga, for everyone to enjoy.
Lawn Twister: For a more active and visually appealing activity, create a lawn twister game using spray paint on grass or an old bedsheet. It's both amusing to play and watch.
In conclusion, offering a variety of entertaining options can help create memorable moments for your graduate and their guests at a backyard graduation party. From lively music to engaging games and activities, a well-planned entertainment section will ensure a fantastic celebration.
Momentous Additions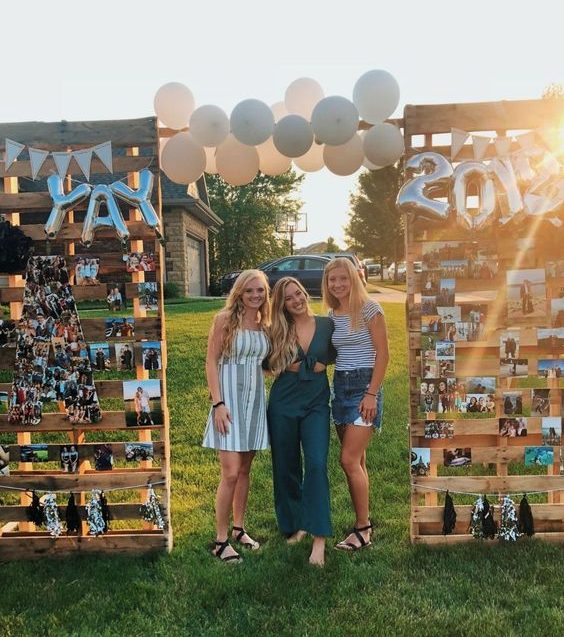 Photobooth
A photobooth is an excellent addition to your backyard graduation party, providing guests with a chance to capture memories and have fun. Set up a designated area with a backdrop, props, and a camera on a tripod. You can also add a photo display near the booth, using clothespins to hang up pictures taken at the party. This will not only entertain guests but also create a visual memory board of their experiences.
Memory Lane
Creating a "Memory Lane" is a thoughtful way to showcase the graduate's journey through school and celebrate their achievements. To set up this area, collect photos, report cards, artwork, awards, and other memorabilia from the graduate's academic journey. You can then use a memory board or a series of decorative frames to display these items in chronological order. Guests will enjoy walking down memory lane and reminiscing about the graduate's accomplishments.
Graduation Caps
Incorporating graduation caps into the party decor is a fun way to celebrate the graduate's achievement. Consider providing guests with blank graduation caps that they can decorate during the party. Provide markers, stickers, and other embellishments to encourage creativity. Guests can leave inspiring messages, share memories, or draw pictures on their caps. These custom caps will serve as keepsakes for the graduate and a reminder of their momentous day.