Planning a Toy Story-themed party can be an exciting and memorable experience for both children and adults alike. With the beloved characters from this iconic franchise, such as Woody, Buzz Lightyear, and the rest of the gang, it's no wonder that Toy Story parties continue to be a popular choice for celebrations. In order to create a successful event, it's essential to explore a variety of party ideas that encompass the essence of Toy Story while adding personal touches to make it uniquely your own.
One key aspect to consider when planning a Toy Story party is the incorporation of fun and engaging activities for guests. From games inspired by the movie to creative decorations featuring well-known characters, there are plenty of options to choose from. By incorporating a blend of these elements, guests will be transported to a world of imagination, adventure, and excitement, echoing the spirit of the Toy Story universe.
In addition to activities, the food and desserts offered at the party should also reflect the theme. Cleverly named dishes and snacks, such as "Woody's Rootin' Tootin' Nachos" or "Buzz Lightyear's Space Punch," will not only tantalize taste buds but also enhance the overall atmosphere of the event. No matter the size or scale of the party, it's crucial to carefully plan and execute each element to ensure a fun and memorable experience for all attendees.
Choosing the Perfect Theme
A Toy Story-themed party can transport your guests to infinity and beyond as they immerse themselves in the world of Woody, Buzz Lightyear, Jessie, and other beloved characters. With the release of Toy Story 4, new characters like Forky have also joined the mix, offering even more possibilities for creating a memorable event.
Selecting a specific theme within the Toy Story universe can help focus your party planning efforts. You might choose to go with a classic Toy Story theme featuring all of the main characters or narrow it down to a specific focus, such as Woody's Roundup Wild West games or Buzz's Space Command for intergalactic activities. Incorporating the theme in your invitations, decorations, and games will set the stage for a fun-filled event.
When planning your event, consider the age of the attendees and their preferences in terms of characters. Younger guests might be more drawn to the playful antics of Woody and Jessie, while older kids may appreciate the space adventures of Buzz Lightyear. Toy Story 4 fans will love the inclusion of Forky-themed activities and decorations, reflecting the most recent installment of the iconic film series.
To make your party stand out, incorporate creative and outside-the-box ideas such as Toy Story Alien Deviled Eggs or a themed dessert table complete with a magnificent birthday cake. Interactive elements, like crafting your guests' own Forky figures, can also keep everyone engaged and entertained.
In conclusion, choosing the perfect theme for your Toy Story party can help create a unique and unforgettable experience for your guests. By keeping their interests and favorite characters in mind, you'll provide an entertaining event that will leave them talking about their adventure to infinity and beyond.
Invitations and Decorations
Creating Invitations
Designing creative and captivating invitations is an important element of a successful Toy Story party. One option is to use personalized Toy Story party invitations featuring your child's photo. Alternatively, explore a variety of ready-made Toy Story party invitations for a quick and convenient option. Some of these designs come as free printables, while others require purchase. Ensure that your chosen design aligns with the overall theme of your event, whether it is focused on Woody, Buzz Lightyear, or the entire gang.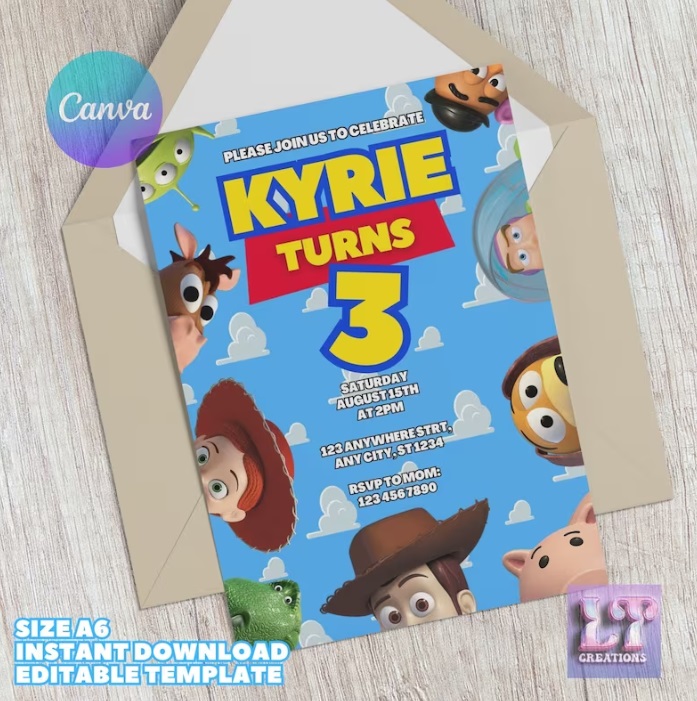 Setting Up Decorations
To create an immersive and memorable Toy Story celebration, the appropriate decorations are essential to setting the scene. Begin with a vibrant banner featuring the iconic characters of the film series. This focal point will unmistakably establish the theme and excite guests as they enter the party space. Additionally, pepper the area with themed decorative items such as:
Toy Story party printables: These can include character posters, food labels, and various other decorative elements.
Army men: Strategically place these recognizable figures throughout the venue to tie in with the movie theme.
Glow in the dark alien slime: As a nod to the little green aliens from the film, provide this interactive decoration for guests to enjoy.
For an even more engaging atmosphere, consider incorporating Toy Story goodie bags and banners as part of the decor. By attending to the details and harnessing your creativity, you can successfully immerse your young guests in the vibrant world of Toy Story throughout the entire party experience.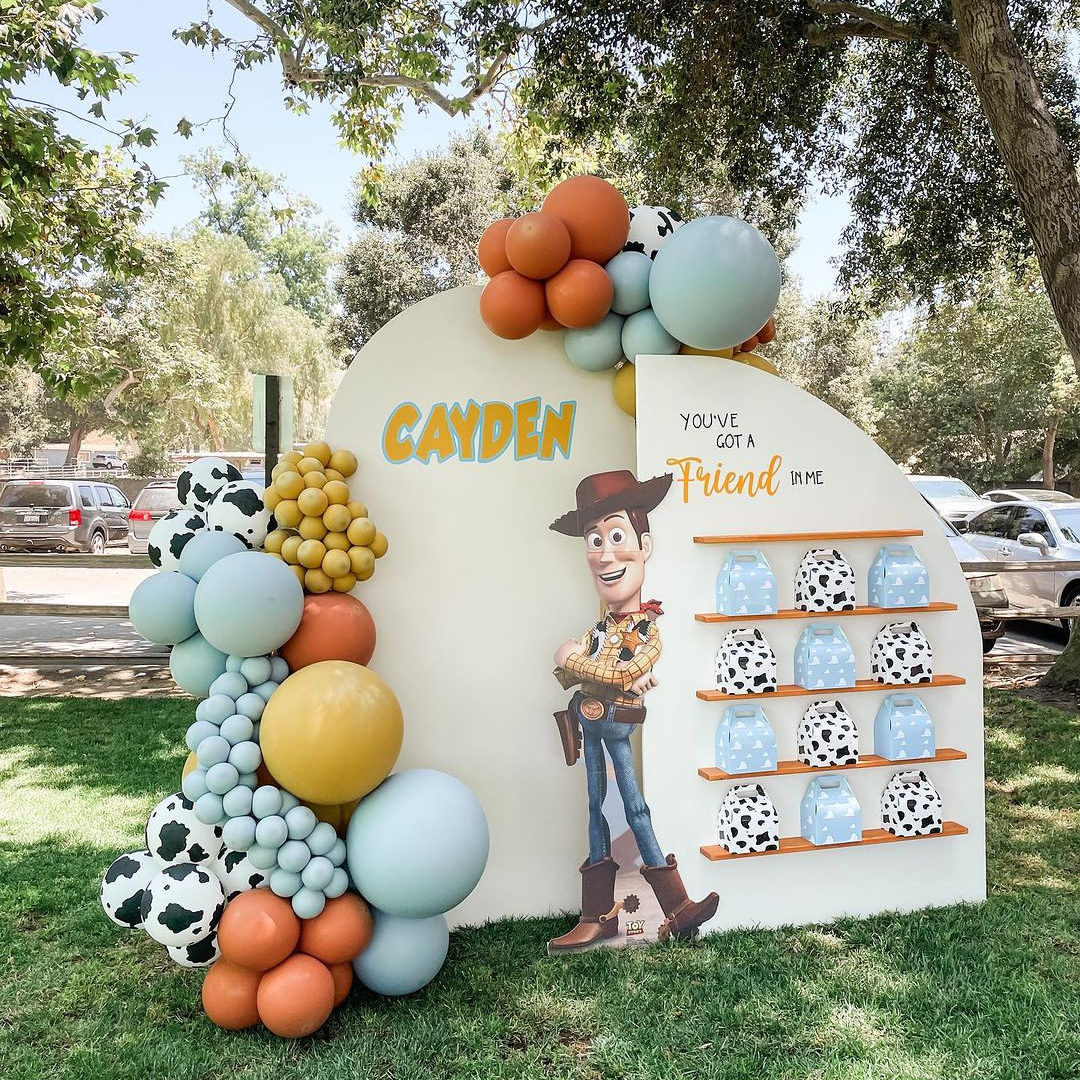 Party Food Ideas
Pizza and Main Courses
One of the most iconic aspects of Toy Story is the Pizza Planet, so including Pizza Planet pizza is just perfect for your party. You can either order pizzas from your favorite pizza place or make them at home, experimenting with various toppings to suit different tastes. Another fun main course option is Hamm and cheese sandwiches or Hamm's pigs in a blanket, which appeal to both kids and adults alike. For side dishes, consider serving a creative Slinky pasta salad or Slinky hot dogs.
To properly set up your food table, place the pizzas, main courses, and side dishes in different sections, ensuring they're easily accessible for your guests.
Desserts and Sweet Treats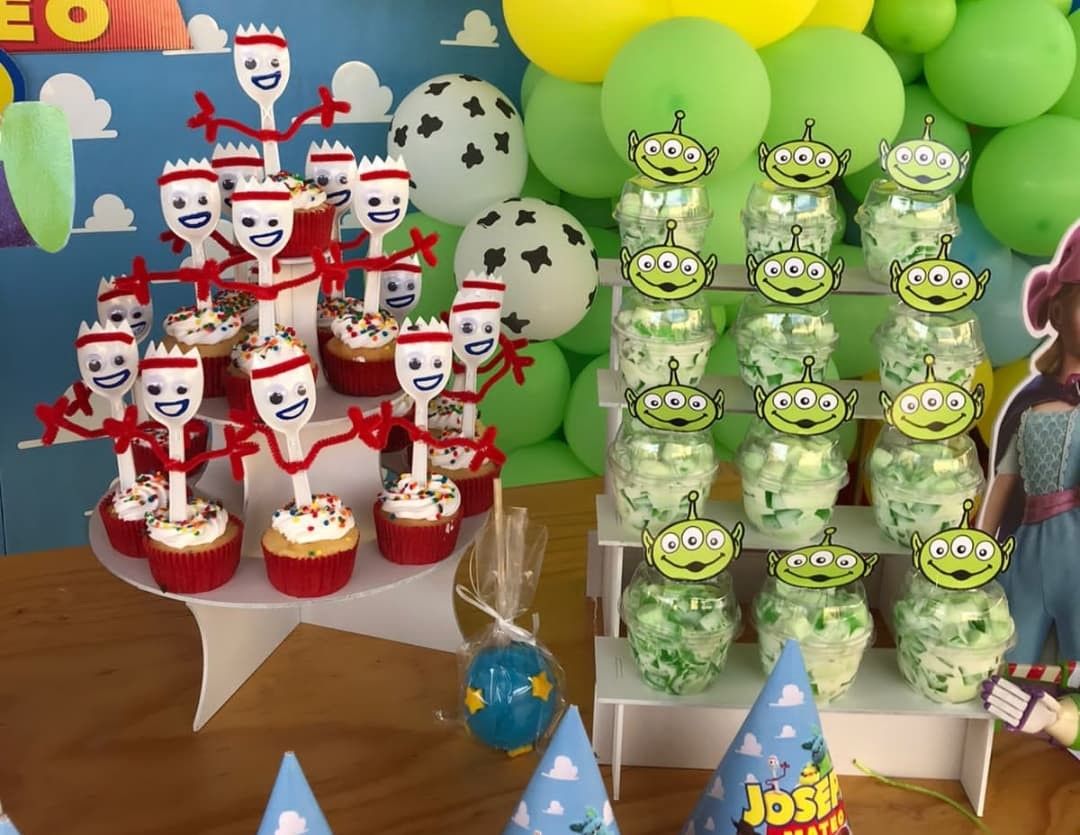 No Toy Story party would be complete without a range of delightful desserts, and there's no shortage of themed treats to choose from. Little green alien cupcakes are simple to make and instantly recognizable, bringing a fun element to the party. Mr. and Mrs. Potato Head cookies are another adorable dessert option that will have your guests smiling.
For something unique and eye-catching, try creating Forky Toy Story Cupcakes that are not only cute but also delicious. Last but not least, Toy Story Alien Marshmallow Pops are a quick and easy dessert idea that will add a splash of color to your food table.
Display the desserts on the food table in an attractive manner, using tiered stands or platters. Make sure to include a proper balance of sweet and savory options for all your guests to enjoy.
Toy Story-Themed Cakes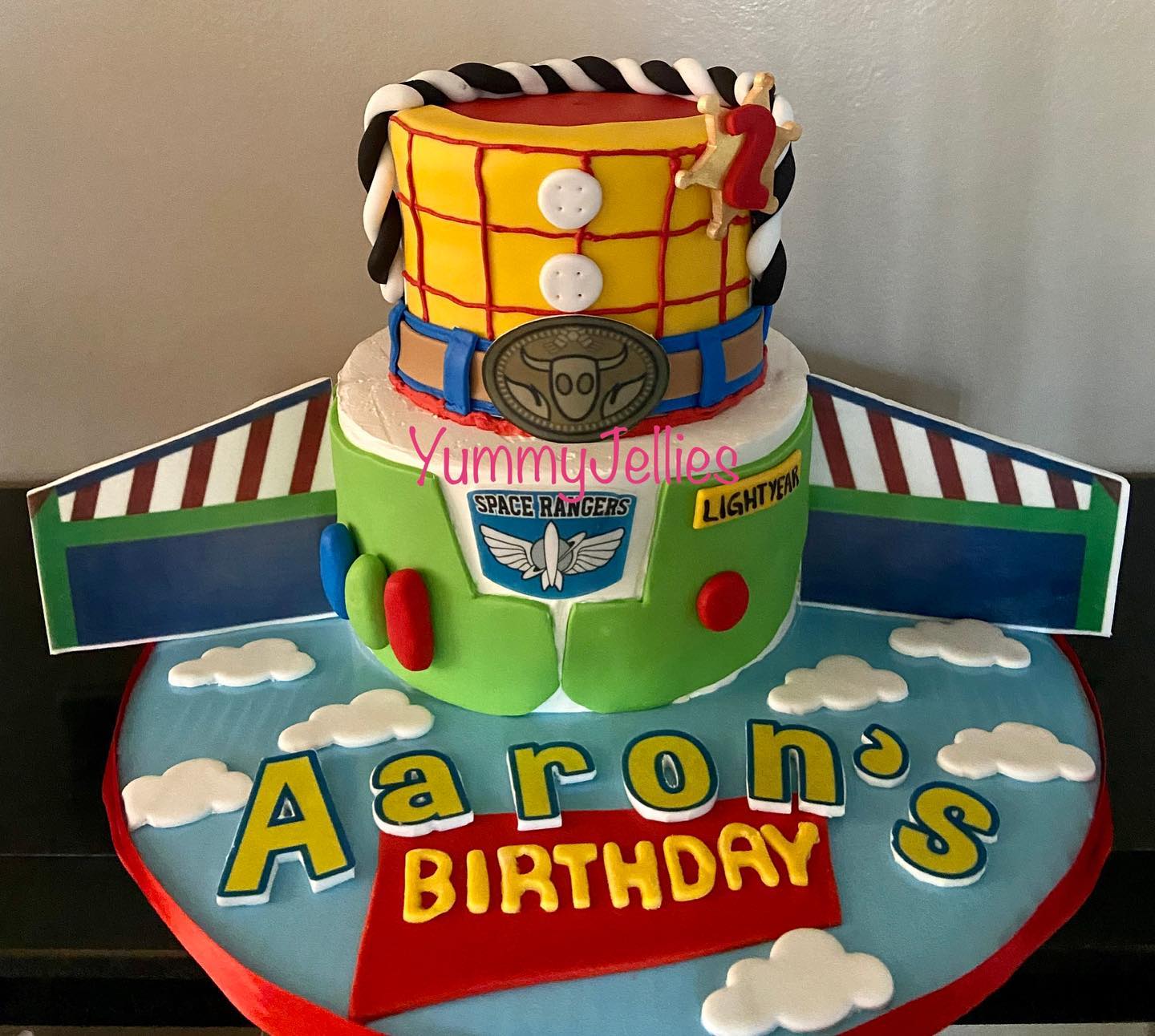 Toy Story cakes are an excellent choice for birthday parties, baby showers, and other special occasions. They are visually impressive and taste delicious, making them popular among kids and adults alike. Featuring iconic characters such as Woody, Buzz Lightyear, Jessie, and Slinky Dog, there are numerous design options to make your Toy Story cake the highlight of the event.
There are Toy Story cake ideas available, ranging from simple designs for small gatherings to more elaborate creations for larger events. It's possible to have multiple characters or a single character-based design, depending on personal preferences and the party's theme.
For those looking for inspiration,  eye-catching Toy Story cake ideas and designs have been compiled to help you decide on the perfect cake for your event. These ideas showcase various styles and techniques, such as fondant art, buttercream, or tiered cakes, ensuring there's a suitable option for any skill level and budget.
Pinterest is another valuable resource for exploring a hand-picked collection of cake ideas. Additionally, Toy Story Cakes & Birthday Ideas on Pinterest offer even more party-related inspiration to help you create the ultimate celebration.
Remember, when choosing your Toy Story-themed cake, consider the party's overall theme, the number of guests, and the techniques utilized in creating the cake. With the abundance of ideas and inspirations available, the perfect Toy Story cake is surely within reach.
Fun Party Games
Indoor Games
Toy Story party games are both enjoyable and memorable. One favorite is the classic "Pin the Tail on Bullseye." To play this game, print or draw a large image of Bullseye, the horse from Toy Story, and use a cut-out tail or paper cut into the shape of a tail. Blindfold the children, give each a tail, and have them take turns trying to pin the tail on Bullseye.
Another great game is a Toy Story-themed "carnival." Create a mini midway mania in your home. Some ideas for games are:
Bullseye's Ring Toss: Use a small stuffed Bullseye toy and some rings, and let the kids try to toss the rings onto Bullseye.
Slinky Dog Race: Give each child a Slinky Dog toy or a small Slinky, and have them race to pass the Slinky from one end of a table to the other.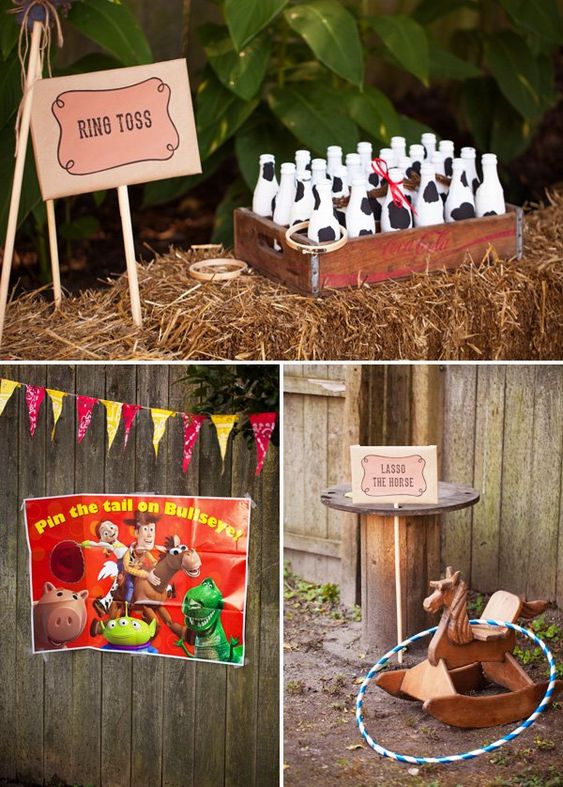 Outdoor Games
Outdoor party games are also a blast, and they allow guests to burn off excess energy. A themed obstacle course can provide endless entertainment. Transform your backyard into a Toy Story adventure with stations such as:
Buzz Lightyear's Space Hop: Set up a hopscotch grid, and have children jump through it dressed as astronauts.
Woody's Lasso Challenge: Provide hula hoops as "lassos," and have the kids aim to hoop different Toy Story character toys, like Woody, Buzz, and Jessie.
Another fun outdoor game is "Bullseye's Target Practice," where you can use a cardboard cutout or picture of a target with Bullseye in the center. Give the kids soft darts or foam balls to toss at the target, and award points based on the accuracy of their throw. This game is not only fun but also helps develop children's coordination and motor skills.
Craft Making Ideas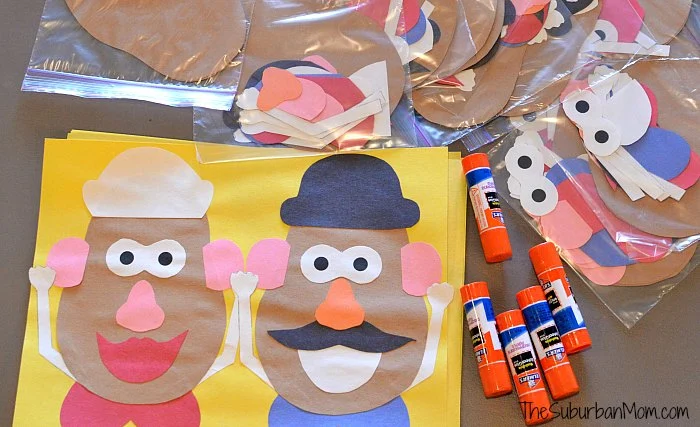 Throwing a Toy Story-themed party is a great way to bring out the creativity in both kids and adults. One way to make the celebration more exciting is by incorporating fun and engaging craft activities. Here are some craft-making ideas that are perfect for a Toy Story-themed party:
Toy Story Paper Bag Crafts: This simple activity can be easily executed with just a few materials. Provide guests with colored paper bags, markers, scissors, and glue so they can create their favorite Toy Story characters. For example, they can make a green alien, Woody, or Buzz Lightyear. Encourage participants to personalize their creations with fun stickers or glitter paper bag craft.
DIY Green Alien Cupcakes: These adorable cupcakes are not only a delicious treat but also a fun crafting activity. Simply bake or purchase plain cupcakes and provide your guests with green frosting, edible googly eyes, and purple sugar sprinkles. Have everyone decorate their cupcakes to resemble the iconic green aliens from Toy Story alien cupcakes.
Customizable Toy Story Masks: Allow your guests to immerse themselves into the Toy Story world with personalized masks. Print out various Toy Story character templates and have participants color and decorate them using markers, stickers, or glitter. Attach a string or elastic band to each mask to complete the playful accessory.
Buzz Lightyear Rockets: Encourage budding astronauts to create their own Buzz Lightyear-inspired rockets using toilet paper rolls, construction paper, and markers. Provide instructions on how to assemble the rocket and let each guest personalize their creation with unique colors and designs.
Incorporating these crafts and activities into your Toy Story-themed party adds an interactive element and keeps everyone entertained. Providing a variety of Toy Story crafts for guests to choose from allows everyone to participate in a craft that suits their interests and skill levels, ensuring a memorable experience for all attendees.
Costumes and Dress Code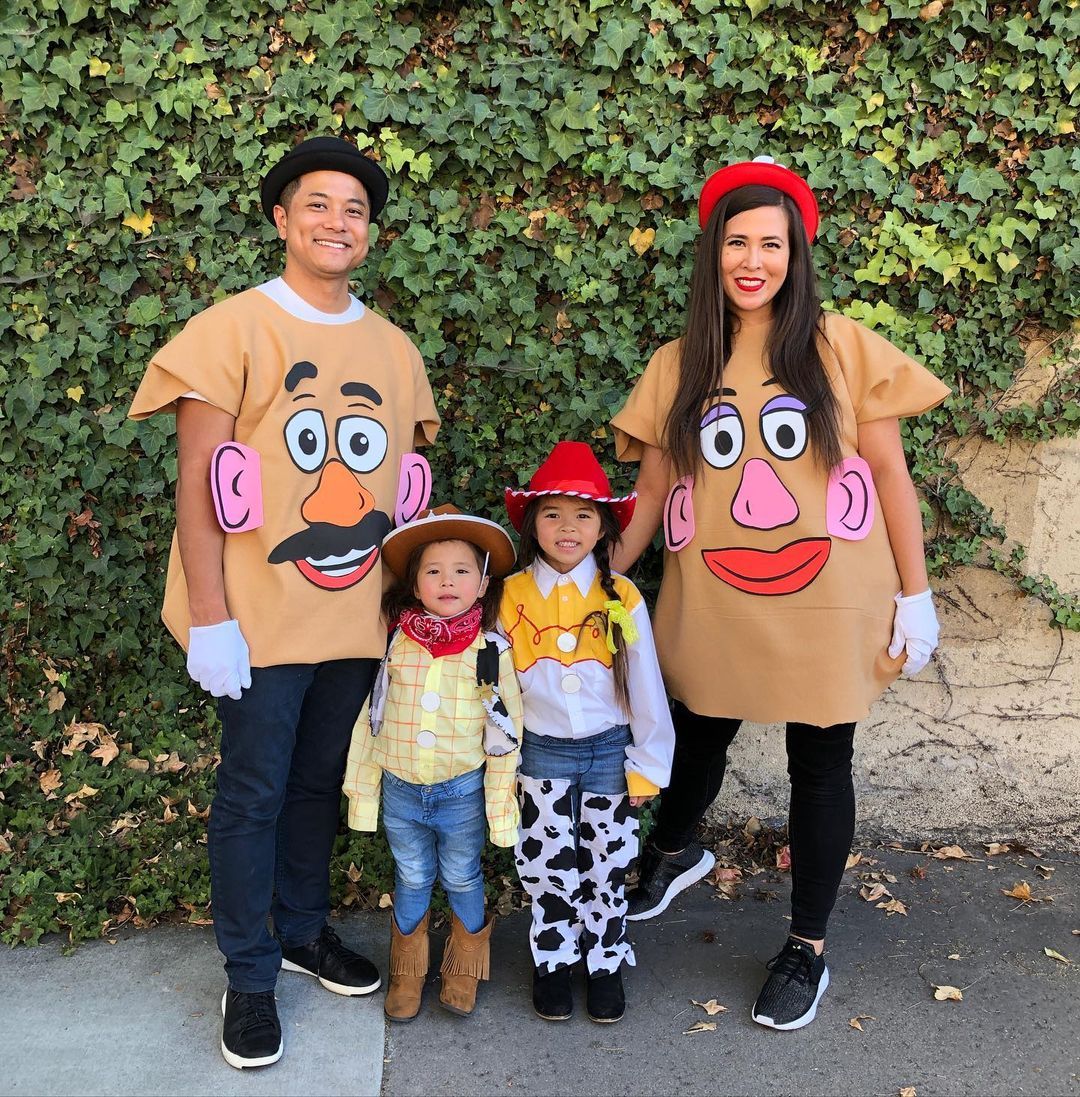 A key aspect of any Toy Story-themed party is having the right costumes for attendees to showcase their favorite characters. One popular choice for both adults and kids is the iconic Mr. and Mrs. Potato Head costumes. These fun and recognizable outfits can be easily assembled using various clothing items and accessories.
Creating Mr. and Mrs. Potato Head Costumes
To create a Mr. Potato Head costume, you will need a brown base outfit such as a brown shirt and pants, along with some essential facial features like a red nose, felt mustache, and plastic eyes. For Mrs. Potato Head, a brown dress or shirt and pants combination works well, while the facial features can include red lips, plastic eyes, and a pair of glasses.
To give the costumes an authentic touch, participants can use Velcro fasteners to attach the facial features and other accessories onto their clothing. This will allow them to switch up their look throughout the party, adding a fun and interactive element to the costume experience.
Other Toy Story Character Costumes
Aside from the beloved Mr. and Mrs. Potato Head, there are numerous other Toy Story characters that can inspire creative costumes. Guests can dress as Woody, Buzz Lightyear, or Jessie by using some DIY skills or by purchasing ready-made costumes online or in stores.
For those looking to embrace their creative side, simple DIY Toy Story costumes can be a fun project to undertake. This often requires common household items and clothing pieces that can be repurposed to resemble the well-known Toy Story characters.
A well-thought-out dress code can truly enhance the overall experience of the Toy Story party, providing the perfect opportunity for guests to show off their creativity, pay tribute to their favorite characters, and immerse themselves in the lively atmosphere.
Party Extras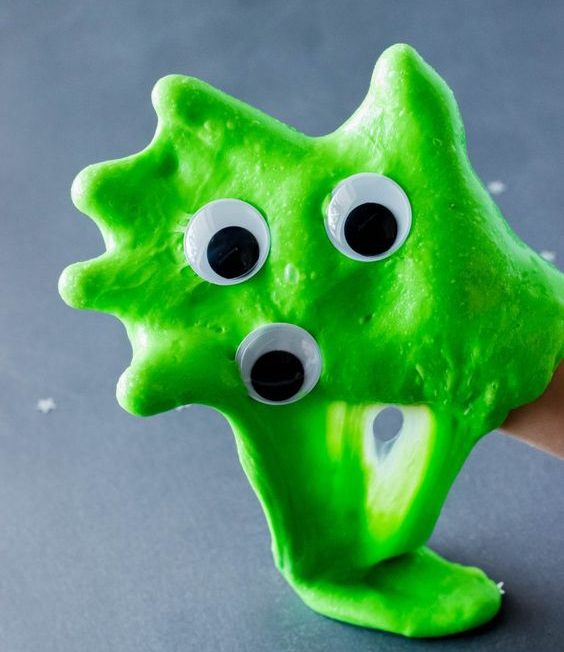 Add excitement to your Toy Story-themed party with these creative party extras that guests of all ages will enjoy. Transform the atmosphere from a simple gathering to an unforgettable adventure with a few extra touches.
One idea is to create an alien slime station, allowing children to make their own gooey, green concoctions while channeling their inner Toy Story alien. With just a few ingredients and some supervision, this activity becomes a fun, hands-on experience kids won't forget.
Another great party extra is setting up a home-made claw machine for guests to try their luck at winning themed prizes. Small toys or candies can be used as rewards, and the game can be adapted to suit different age groups.
For some memorable and shareable photos, consider setting up a photoshoot area with themed backdrops and props, such as Woody's cowboy hat, Buzz's helmet, or even a "There's a snake in my boot!" sign. Guests can have fun posing with their favorite Toy Story characters, and you can even hire a photographer to capture these special moments professionally.
Lastly, an amusing game to include is the "Snake in my Boot" activity. Hide a toy snake in a boot-shaped container and encourage guests to find it. This game adds excitement and promotes a lively atmosphere among attendees.
With these party extras, your guests will be immersed in a truly memorable Toy Story experience that brings their favorite characters to life.
Thank You Favors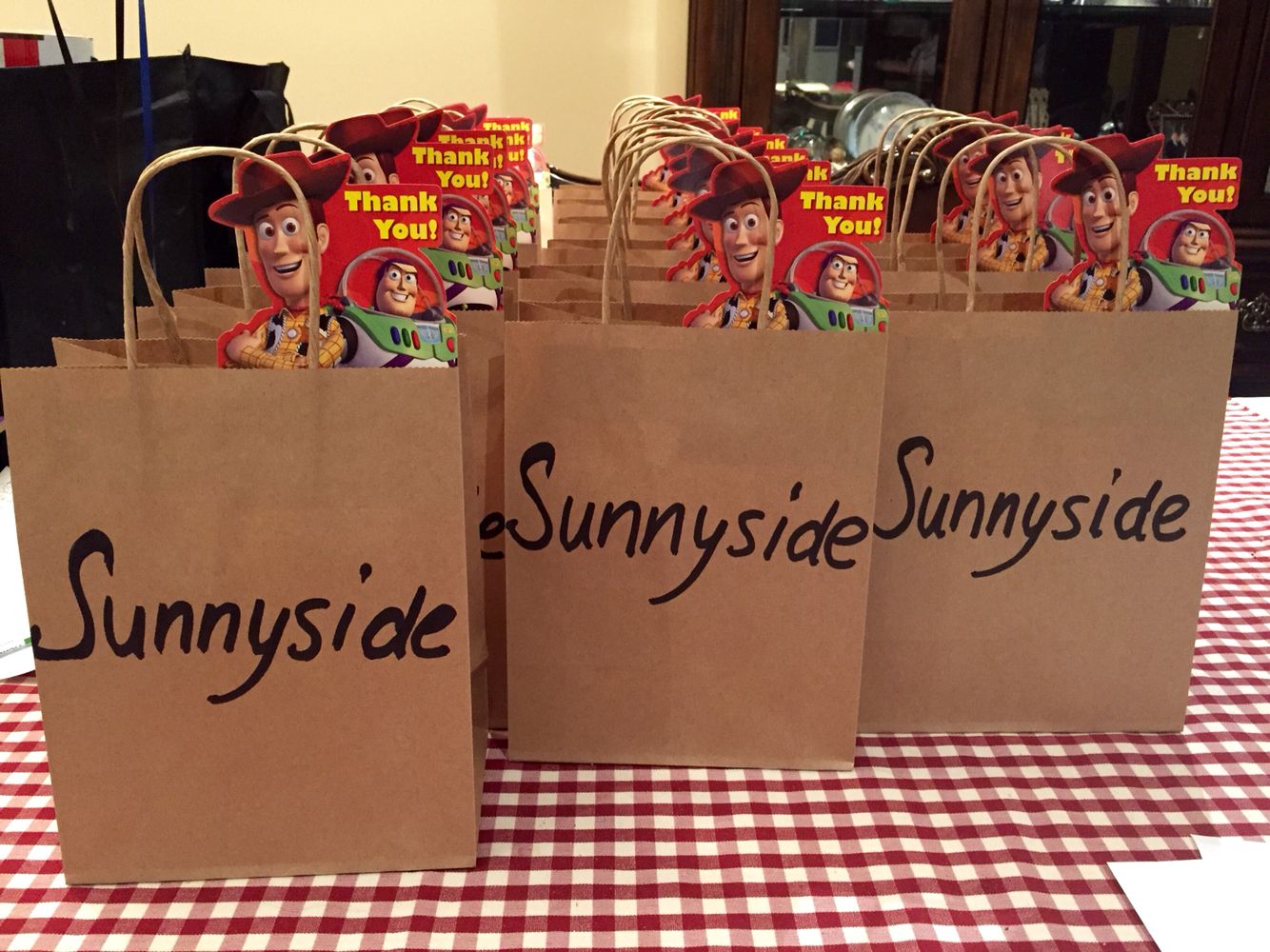 One great way to show appreciation to your guests at a Toy Story-themed birthday party is to offer unique and creative thank you favors. These small gifts can range from cute Toy Story-inspired items to practical and reusable favors that the kids can continue to enjoy beyond the party.
Some popular Toy Story party favors include lollipop stickers featuring the franchise's beloved characters like Woody and Buzz Lightyear. These lollipops can become memorable souvenirs for your party guests and can be enjoyed on-site or brought home.
Another engaging party favor idea is a printable Toy Story Bingo game with up to 30 cards. The instantly downloadable game allows children to interact and have fun during the party and can also be printed out so they can continue playing at home with their family and friends.
Personalized thank you cards provide a thoughtful touch and show your gratitude for the guests' attendance. Choose from various Toy Story-themed designs, and consider adding a photo for an extra meaningful keepsake.
Don't forget the power of toy story themed favor tags, which are easily editable and add a personalized finishing touch to any party favor bag. Incorporating elements like Woody, Buzz, Jessie, and Potato Head can bring cohesion to your event, while also giving your guests a memento to cherish.
By giving the children practical and exciting favors, you can be confident that your Toy Story party is a memorable and enjoyable experience.
Organizing your Toy Story Party
Planning Ahead
Organizing a Toy Story-themed summer party can be a fun and exciting experience for you and the kids. To ensure everything goes smoothly, plan the event at least a few weeks in advance. Start by creating a guest list and sending out Toy Story-themed invitations. You can use ready-made invites or make them yourself using printable templates.
Decide on the location, whether it's at home or a rented venue. Make sure there's enough space for all guests to enjoy themselves. Since it's a summer party, consider hosting it outdoors if the weather permits.
Prepare a list of fun activities and games inspired by Toy Story characters. You can include games like Woody's Roundup Wild West games, Buzz Lightyear's Space Command activities, or a Buzz Lightyear spaceship pinata. Don't forget to include age-appropriate activities to cater to children of different ages attending the party.
Decorations are crucial for setting the right atmosphere. Choose Toy Story-themed party supplies such as tableware, balloons, and banners. You can incorporate the characters, colors, and themes from the movie into the party's decorations, ensuring a cohesive look.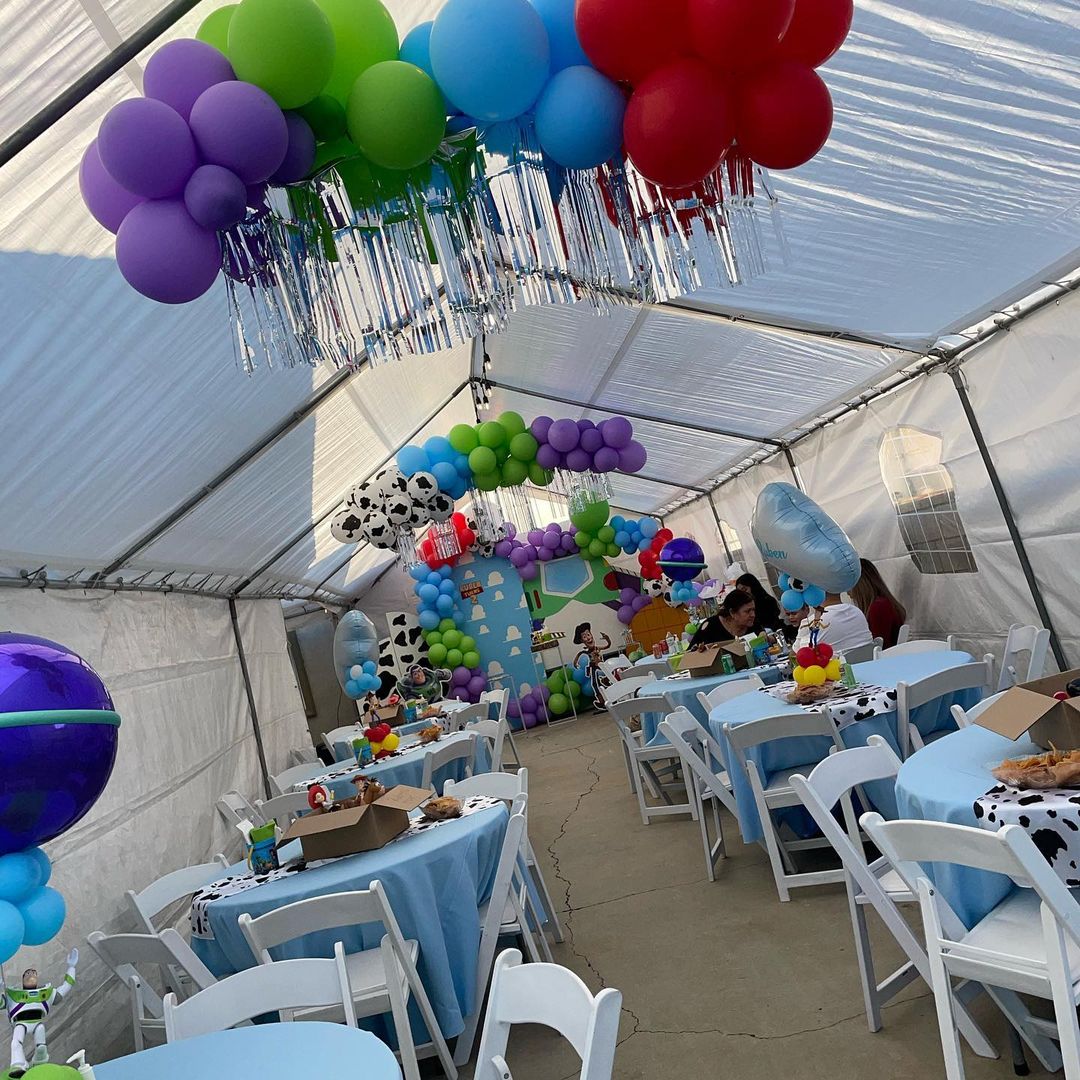 On the Day
The day of the party will likely be hectic, so it's essential to have everything organized and prepared. Before guests arrive, set up the decorations and game stations, making sure each activity is adequately supplied with all necessary materials.
Food and drink are essential components of any party. When it comes to a Toy Story party, consider offering themed snacks like Toy Story Alien Deviled Eggs or Alien FreakShakes.
As guests arrive, enthusiastically welcome them to your Toy Story-themed world and encourage them to explore and participate in the various games and activities. During the party, take plenty of photos to capture the fun and memorable moments.
At the end of the party, thank your guests for attending and present them with Toy Story-themed party favors to remember the day by. With careful planning and organization, your Toy Story party will be a memorable event that both kids and adults will enjoy.