Celebrating a Moana-themed birthday party can be a magical way to transport your guests to the adventurous world of the Polynesian islands. Filled with beautiful landscapes, catchy songs, and inspiring characters, Disney's Moana has captured the hearts of both kids and adults alike. A Moana birthday party allows the birthday child and their friends to embark on an enchanting journey filled with fun, laughter, and unforgettable memories.
To create an amazing Moana-themed birthday celebration, plan activities, decorations, and delectable treats that embody the spirit of the movie. Starting with the invitation cards to set the tone for the party, move on to designing the food table with tropical fruits, themed snacks, and a Moana-inspired birthday cake to cater to the young explorer's tastes. Decorations can be inexpensively achieved using colorful plants and handmade flowers to create a lush island atmosphere.
Additionally, fun and interactive games, inspired by Moana and her friends, will keep the little ones entertained and immersed in the fantasy world of the movie. A combination of creative ideas and attention to detail will surely make your Moana birthday party an unforgettable experience for the birthday child and their guests.
Party Invitations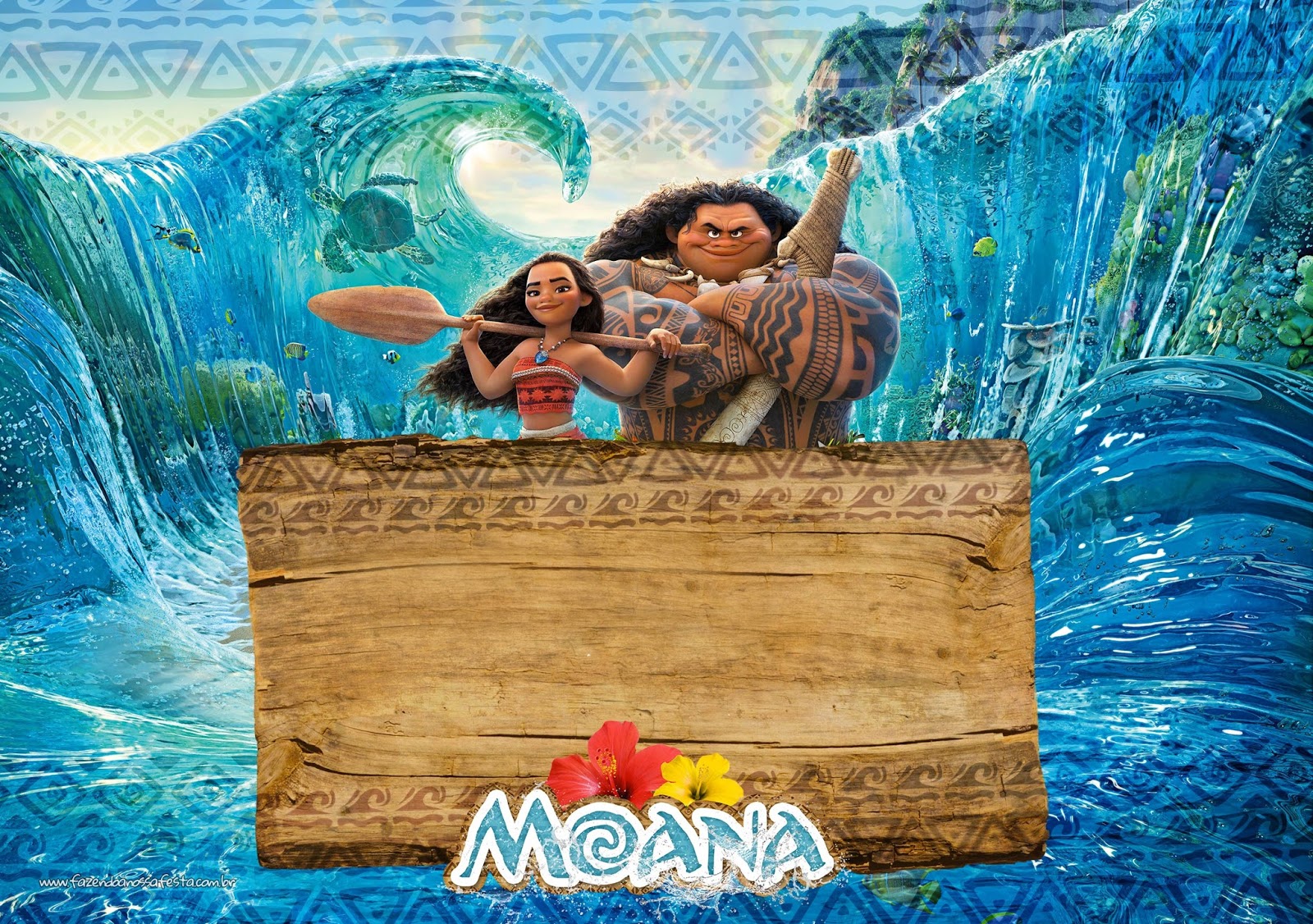 When planning a Moana-themed birthday party, one of the key elements to consider is the party invitations. With a variety of options available to suit your needs, selecting the perfect Moana invitation will set the tone for a memorable celebration.
One option for creating personalized Moana invitations is by using online services. On websites like Perfect Party Prints and Etsy, you'll find numerous editable templates featuring Disney Moana characters and tropical designs. These customizable invitations can match any age and style preferences while providing an easy, affordable way to announce your child's special day.
If you're feeling a bit more creative, you can design the Moana birthday invitation yourself. Drawing inspiration from the vibrant colors and tropical scenery of the film, incorporate elements such as Moana, Maui, and other characters, along with flowers, palm fronds, and ocean waves. This will not only showcase your artistic abilities but also add a personal touch to the party theme.
Regardless of the route you choose, it's essential to include pertinent information on your invitation. This includes the date, time, location, RSVP details, and any additional notes such as dress code or party activities. By ensuring that all essential details are present, you will keep your guests informed and excited about the upcoming Moana birthday party.
In conclusion, Moana invitations play a significant role in setting the stage for a fun and engaging birthday party. By selecting a design that embodies the spirit of Disney Moana and includes all the necessary details, you are sure to create a memorable experience for your child and their guests.
Decorations and Supplies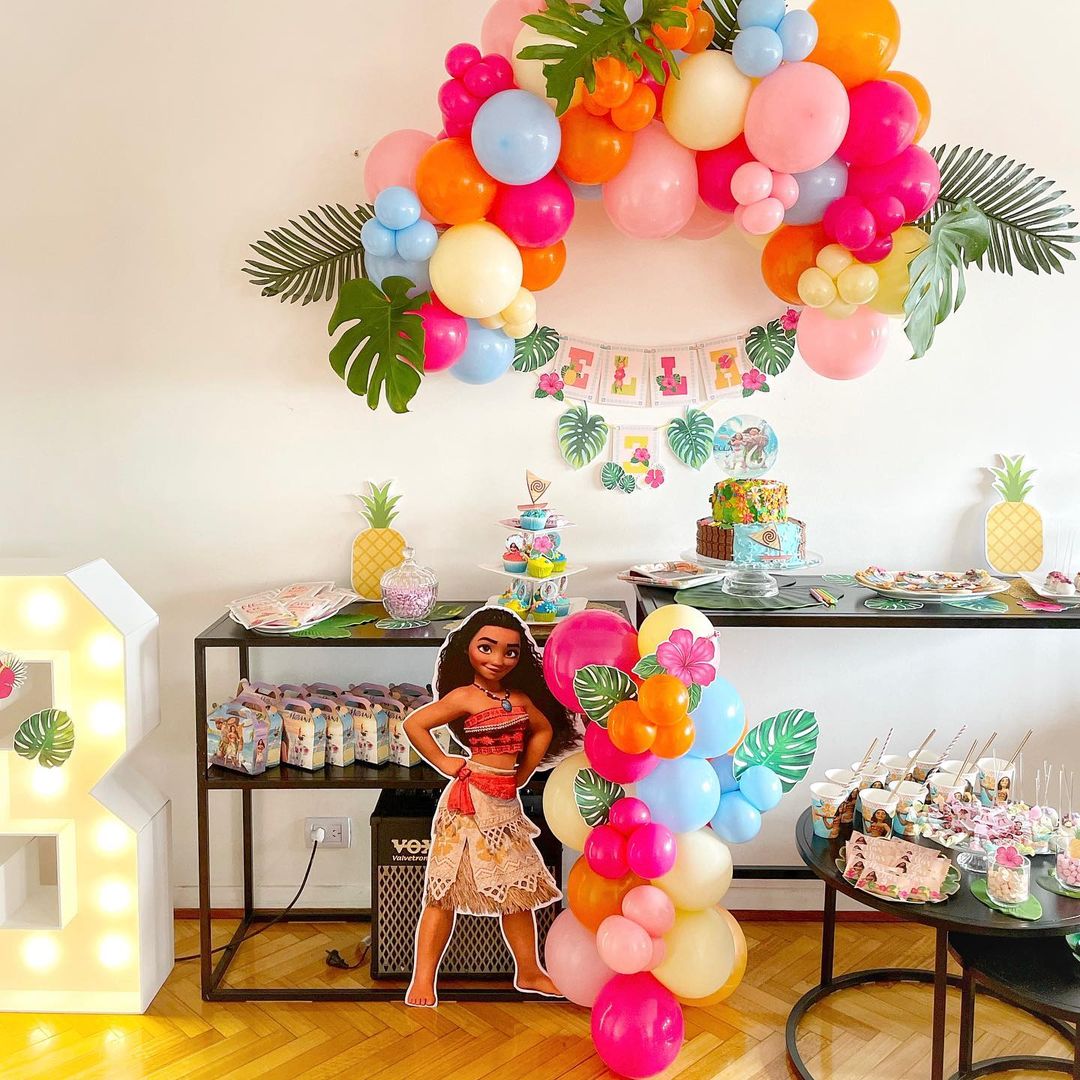 Decorating for a Moana birthday party is a fun and festive way to bring the island spirit to your celebration. Start with the essentials like Moana party supplies and Moana party decorations. From tableware to invitations, these themed items will set the perfect tone for your event.
To create an even more immersive experience, consider incorporating a tropical theme throughout the party space. Set the mood with tiki torches placed around the perimeter of the party area, while strategically placed hibiscus flowers add a touch of island flair. A pineapple palm tree fruit display makes for a delicious and visually stunning centerpiece, showcasing the vibrant colors and flavors of the tropics.
One cannot overlook the importance of a stunning birthday cake at any celebration. A hibiscus flower birthday cake with Moana-inspired decorations and characters will surely impress guests and serve as a highlight of the party. In addition to the cake, serve up island-themed refreshments in tiki cups for a more authentic tropical experience.
A floral balloon arch makes for a fabulous entrance or backdrop for photos, lending a whimsical and enchanting quality to the event. This addition is sure to be a hit with both children and adults alike, making your Moana birthday party a memorable occasion for all.
To tie everything together, a happy birthday banner featuring Moana and her friends will let everyone know that they have arrived at the perfect island paradise. Keep in mind that the placement of decorations should be deliberate to ensure the best possible flow and ambiance throughout the party space.
With all these elements combined, your Moana-themed birthday party will transport guests to an island retreat where they can feel the sand between their toes and the warmth of the sun on their faces, all while celebrating the birthday girl or boy in style.
DIY Ideas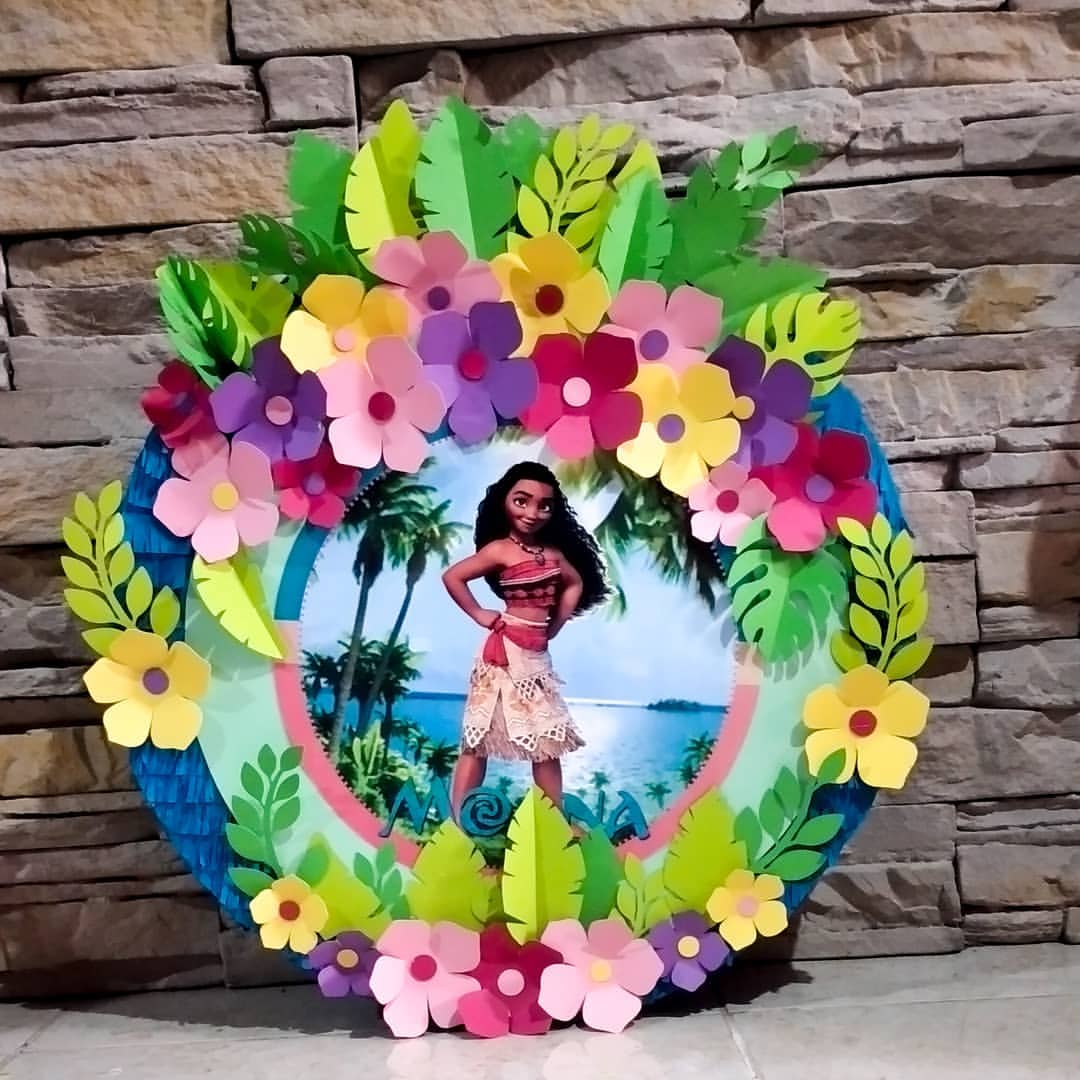 Creating a memorable Moana birthday party can be a fun and rewarding experience. There are several DIY projects you can undertake to bring the magic of Moana to life. From backdrops to edible treats and decorations, you can customize your party and make it an unforgettable event.
One of the key elements to set the scene for a Moana birthday party is a beautiful backdrop. You can create a tropical scene using craft or butcher paper, drawing or painting palm trees, the ocean, and mountains to represent the iconic landscape of Moana's world. Alternatively, you can use fabric or even premade tropical party decoration sets to achieve the desired effect. Adding natural elements such as flowers and foliage will also enhance the ambiance.
Edible treats can also be a fun DIY project for your Moana party. Creating edible sea glass is a unique idea that adds a touch of the ocean to your party. You can make this by breaking hard candy into irregular pieces and dusting them with powdered sugar. This creates the illusion of sea glass, adding a whimsical touch to your party table.
To complete the atmosphere, you can create tropical decorations using paper or fabric. Crafting palm trees, flowers, and leaves will give your party a true Polynesian feel. You can also make a Moana-inspired centerpiece using a coconut, some twigs, and paper flowers, or you can arrange fresh tropical fruits as decor.
A Moana birthday party wouldn't be complete without a Moana necklace for the guest of honor. You can craft your own using a seashell, leather cord, and beads. This necklace not only serves as an accessory for the birthday child but can also be a cherished keepsake for years to come.
In conclusion, by incorporating these DIY ideas into your Moana birthday party, you will confidently create a magical and memorable event for your child and their guests, while showcasing your knowledge and creativity.
Dessert Table Arrangement
A Moana-themed party is incomplete without a stunning dessert table arrangement. Start with a Moana cake as the centerpiece, designed with elements like Moana, Maui, Hei Hei, and Pua to captivate the guests. You can explore some fantastic Moana cake ideas that'll truly highlight the central theme of the party.
In addition to the cake, include delicious cookies shaped like Moana characters or elements, such as sea shells, palm trees, or tropical flowers. These cookies not only add a visually appealing element to the table but also serve as a delightful treat for the guests.
Cupcakes are always a great addition to any dessert table. Use Moana cupcake toppers to seamlessly incorporate them into your party theme. These toppers can be easily found, or you can create your own custom designs featuring Moana characters.
For a touch of creativity, serve sand pudding parfaits, which are perfect for a Moana-themed party. They consist of a delicious mix of layers resembling beach sand and the ocean, made by alternating layers of crushed cookies, pudding, and blue-tinted whipped cream.
Don't forget to include some candy options, such as tropical fruit-flavored candies or chocolate seashells to further emphasize the Moana ambiance. Arrange them in jars or small bowls, allowing guests easy access to these sweet treats.
For the overall look of your dessert table, be sure to use a mixture of bright, tropical colors along with decorations like floral balloon arches and bamboo backdrops to truly make the table stand out. With a well-thought-out dessert table arrangement, your guests will undoubtedly be transported to the magical world of Moana at your party.
Party Food Ideas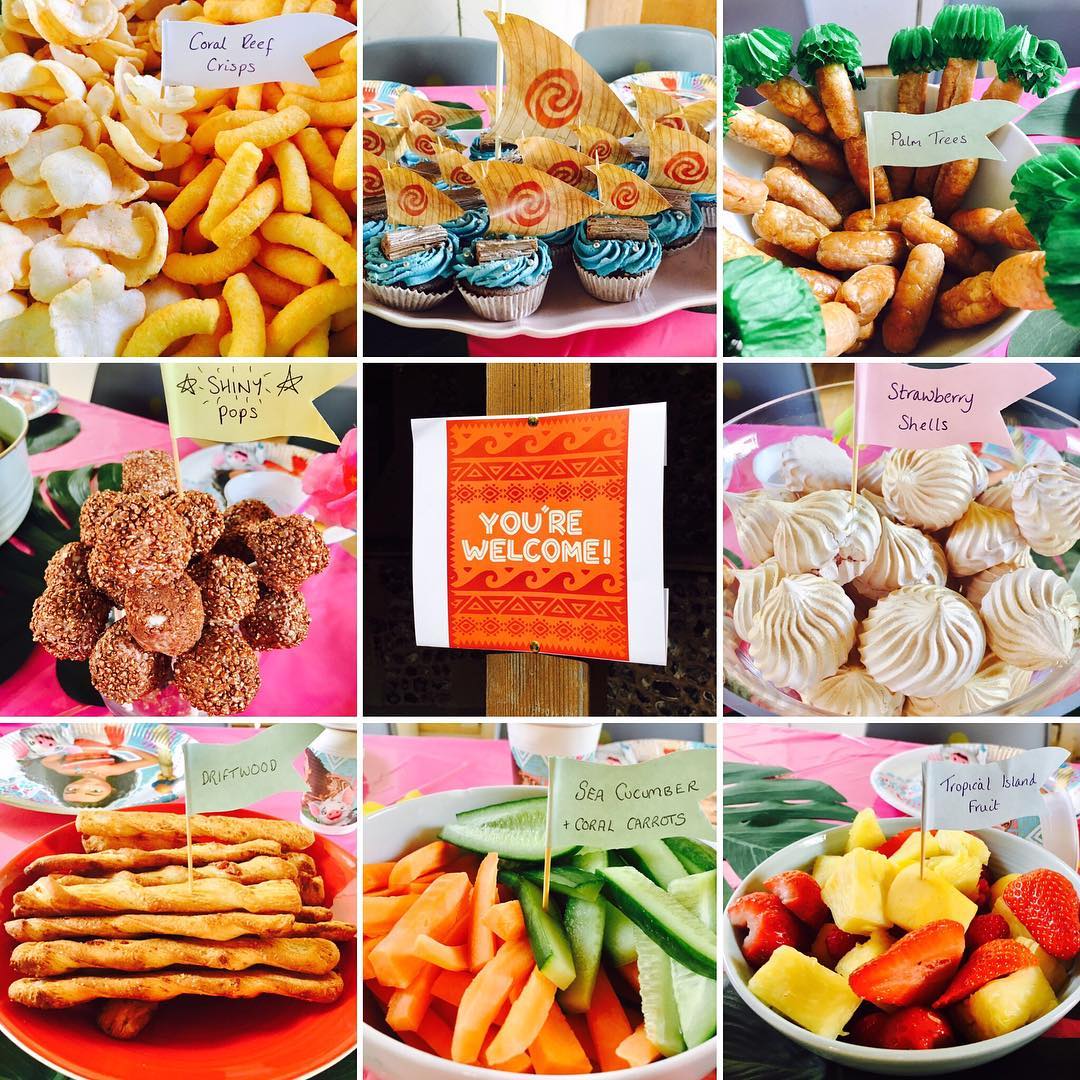 When planning a Moana-themed birthday party, it's essential to prepare party food that complements the theme and delights guests. Here are some Moana party food ideas to make your party even more special:
Begin by offering fruity appetizers such as pineapple skewers, coconut bites, and tropical fruit salad. Pineapples and coconuts are not only delicious and refreshing but also represent the tropical vibe of the movie. For a fun twist, serve the fruit salad in hollowed-out pineapples to create a visually appealing centerpiece for your buffet table.
Next, incorporate savory dishes using Moana-inspired names. For instance, serve "Hei Hei" chicken tenders or "Pua" pulled pork on Hawaiian rolls. Don't forget to add some "Driftwood" pretzel sticks as a crunchy accompaniment. A popular Moana party beverage is "Ocean Water," a refreshing mix of pineapple juice, Sprite, and Hawaiian Punch.
As for dessert options, consider creating Moana Jello Boats, a delightful treat featuring Jell-O made in the shape of little boats. You can also offer Moana Chocolate-Covered Oreos, which are designed to look like they came straight from the movie. Pair these sweet treats with a Moana-themed cake, adorned with vibrant edible flowers or an ocean-inspired cake topper.
Lastly, remember to include some creative decorative elements to your party food display. For instance, serve the "Fish and Chips" (Goldfish crackers and chips and salsa) in a seashell-shaped bowl and use palm tree pretzels or tissue paper flower garlands to elevate the tropical ambiance.
By incorporating these Moana party food ideas into your celebration, you will create an enchanting and memorable experience for your guests and make your birthday party truly unforgettable.
Moana Themed Drinks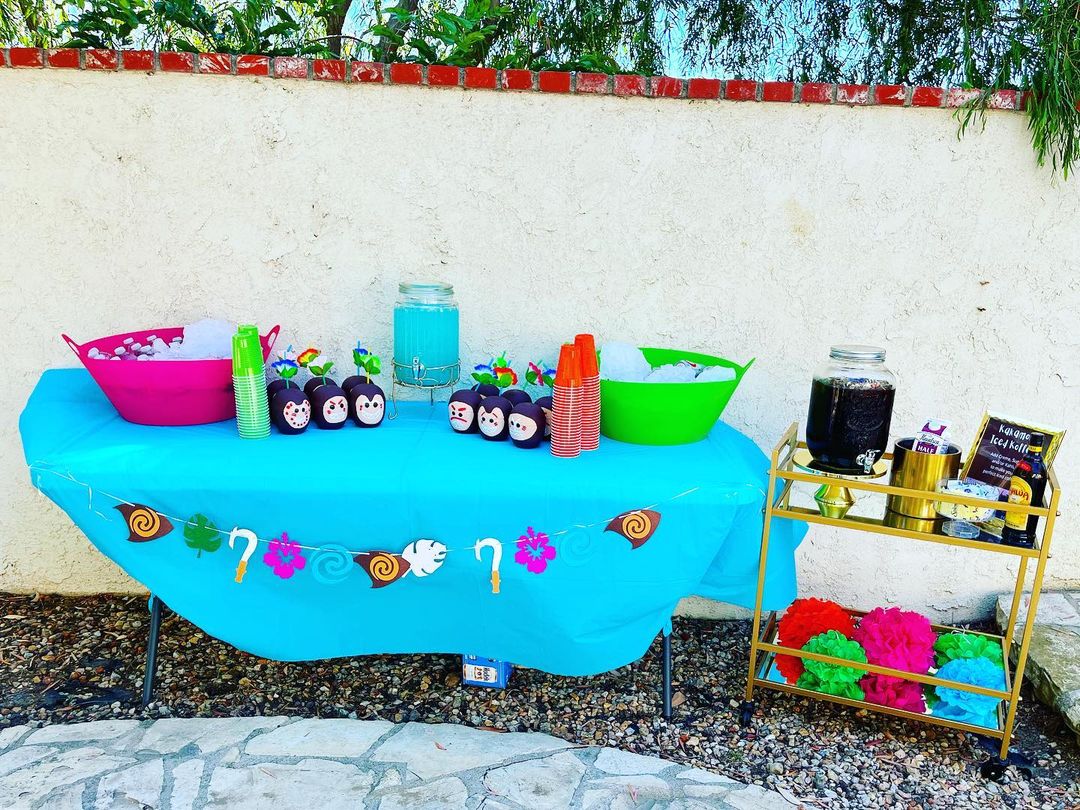 To quench the thirst of little adventurers, Moana-themed drinks will be a hit at your party. Start by creating a refreshing Moana punch – a blend of tropical juices and lemon-lime soda that will transport guests to the islands. This vibrant drink, featuring orange, pineapple, and guava juices, can be easily made by combining equal parts of each juice and topping them off with a splash of lemon-lime soda. For an extra twist, consider adding a scoop of sherbet to make it frothy.
As guests discover their inner voyagers, serve up drinks in fun plastic coconut cups. These cups not only add a touch of authenticity to the celebration, but also serve as excellent party souvenirs. Fill them with Moana punch, water, or any other drink your little guests might love.
Consider garnishing your Moana-themed drinks with tropical fruit like pineapple wedges and cherries for added color and flair. Don't forget to include colorful straws or fun Moana-themed swizzle sticks to complete the presentation.
By offering these Moana-inspired drinks at your party, guests will stay refreshed on their journey towards the heart of Te Fiti. So, follow these simple tips to create the most delightful Moana-themed drink station that every little wayfinder will cherish.
Fun Activities and Games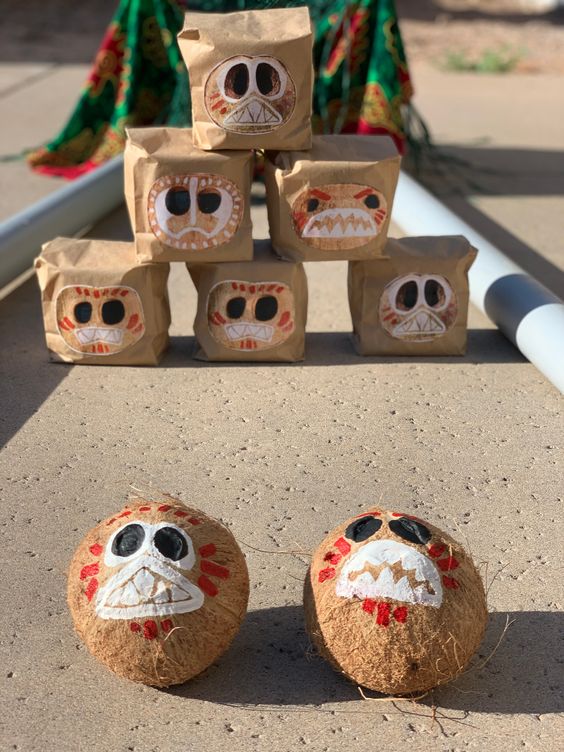 Organizing a Moana birthday party is filled with endless possibilities for entertainment. Engaging activities and games can keep the children entertained and make the event memorable. Here are some creative ideas to include in your party planning.
A thrilling boat race is an excellent way to bring the spirit of Moana's ocean adventures to life. Divide the party guests into teams and provide each with a small, inflatable boat. Create a pool or use a designated area of a body of water as the racing course. The excitement of competing across the water will immerse the children in the world of Moana.
A scavenger hunt based on Moana's journey takes kids on an adventure to find hidden treasures, just like Moana and Maui. Personalize the scavenger hunt with clues and objects that connect to the film's characters and storyline. This activity allows party-goers to work together, encourages critical thinking, and creates a fun group dynamic.
Providing Moana coloring pages is a more relaxed, yet engaging activity for the artistic guests. Offer a selection of scenes and characters from the movie to color using crayons, colored pencils, or markers. This creative outlet allows children to express their artistic side and take home a keepsake from the party.
A Kakamora pinata is an interactive choice for party entertainment. Kids can take turns trying to break open the pinata, which looks like one of the movie's coconut-clad adversaries. Filling it with candy or small toys adds excitement as they anticipate the reward of their victory.
Lastly, Kakamora bowling is a unique twist on a classic game suitable for all age groups. Replace traditional bowling pins with handmade or store-bought Kakamora figures, and use a toy or soft rubber ball for the kids to take turns knocking them down. This tropical-themed pastime will keep the guests engaged throughout the event and provide a fun keepsake for them to remember their adventures at the Moana birthday party.
Party Favor Ideas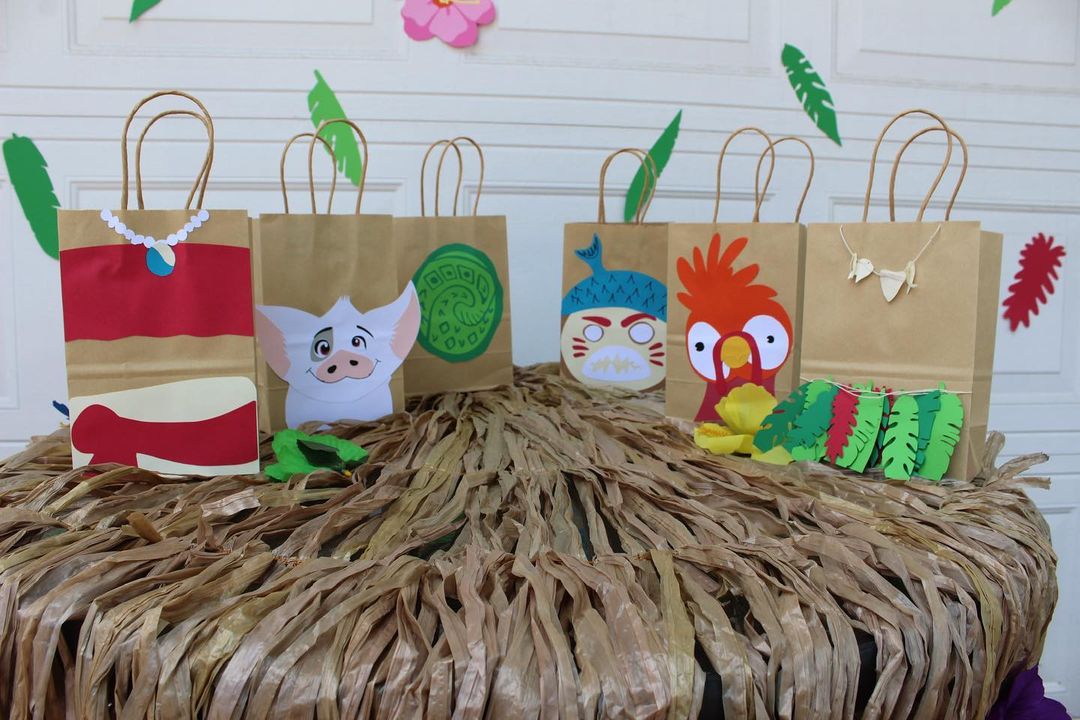 One fun element of a Moana birthday party is the party favors that guests receive as they leave the celebration. Your goal is to provide memorable keepsakes that embody the spirit and theme of the party.
For starters, consider personalized Moana goodie bags that include items such as Moana-themed stickers, temporary tattoos, and candy. Customizing the bags with each guest's name adds a special touch to the favors.
Another fun idea is to include Moana-themed cupcakes toppers. These printable toppers are available for instant download and add the perfect touch to the party's treats. Placing these toppers on cupcakes or other small desserts can add a sense of unity to the party's theme.
Be sure to include some practical favors to keep the Moana theme alive at home. Items such as Moana-themed playdough jars are unique and functional gifts that the kids will enjoy playing with long after the party is over.
Lastly, tie the party favors together by embedding other elements of the movie like Maui, Te Fiti, and ocean-inspired decorations in the favors. In addition, your Moana birthday party can feature tropical floral designs to create a cohesive look for the event. Remember, it's important to balance creativity and practicality when planning your party favors to ensure guests leave with a memorable souvenir.
Themed Party Outfits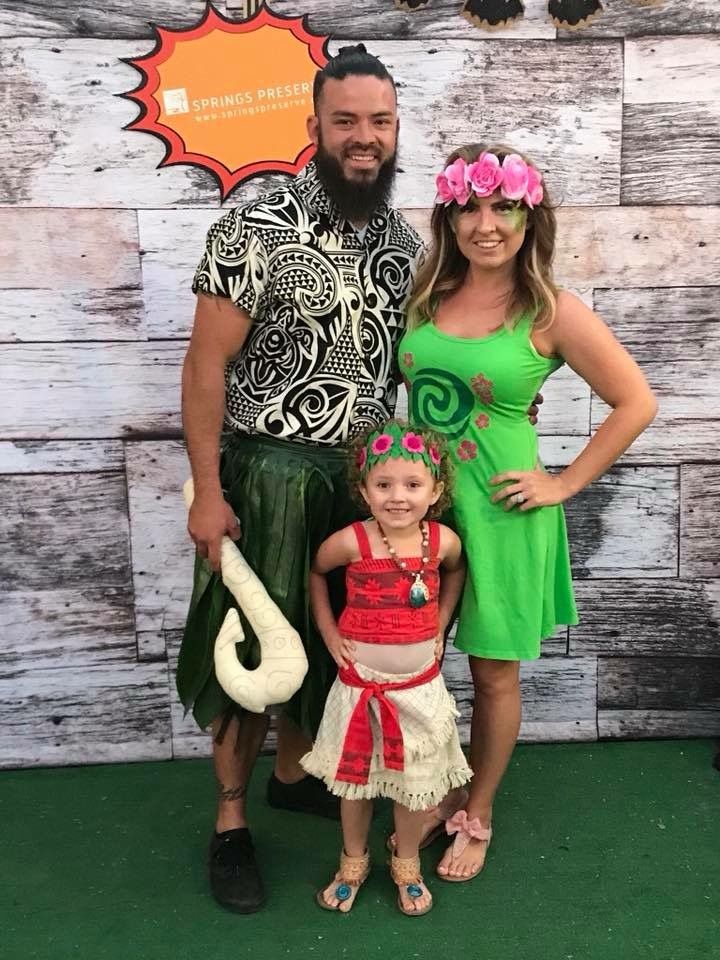 When planning a Moana birthday party, themed outfits play a significant role in creating an immersive experience for the guests. One essential attire for the little guest of honor is the Moana birthday outfit, which can be found in unique handmade pieces or custom outfits on online shops such as Etsy.
Flower Crown: To embrace the tropical island vibe, consider incorporating flower crowns for the birthday girl and her friends. These crowns can be as simple or elaborate as the party planner desires, using real or artificial flowers like hibiscus, orchids, or plumerias. Creating DIY flower crowns can be a fun activity for the guests, or the organizers can purchase pre-made ones.
When selecting party outfits, remember to choose attire that is comfortable for the children to wear and play in throughout the event. Consider materials that are lightweight, breathable, and easy to move around in, such as cotton or linen. These Moana-themed outfits and flower crowns will not only create memorable photo opportunities but also add to the overall festive atmosphere of the party.
Shopping Guide and Budgeting
When planning a Moana birthday party, it's essential to create a shopping list and set a budget to ensure a stress-free experience. In this guide, you'll find the tools to help you organize the perfect celebration without breaking the bank.
A smart approach to party planning is to divide your shopping list into categories such as decorations, food, and craft supplies. First, for decorations, consider searching for Moana party supplies and DIY ideas such as easy decor on a budget. Make sure you include themed items like table covers, plates, cups, and banners.
As for food, be creative with the menu by offering themed dishes inspired by the movie like Hawaiian-style pizza, coconut shrimp, and tropical fruit platters. Don't forget to include a Moana-themed cake for the birthday kid!
Craft supplies are another essential element for a Moana party and can help you create cost-effective decorations. You can use materials such as cardboard, colored paper, and paint to make your Moana-themed centerpieces or photo backdrops. Additionally, craft supplies can be used for party activities such as homemade hibiscus flower hair clips or designing custom party hats.
To keep your budget in check, shop at discount stores, and online retailers, and compare prices before purchasing. Allocate a portion of your budget for each category and consider cutting costs in some areas by opting for DIY projects or repurposing items you have at home. Try to find deals and discounts on party items leading up to the event, and remember, it's possible to create an unforgettable Moana birthday party without overspending.