A James Bond theme party offers the perfect opportunity to bring elegance, sophistication, and a touch of mystery to any event. Whether hosting a birthday celebration, corporate event, or even a bachelor party, the 007 theme promises an unforgettable experience filled with style, luxury, and excitement. Drawing inspiration from the timeless world of James Bond, party planners can incorporate elements of glamour, action, and espionage to create a truly immersive experience for their guests.
Transforming an ordinary space into a scene worthy of MI6 can be achieved through the use of carefully selected decorations, costumes, and entertainment options. Opting for a black and silver color scheme, guests can be encouraged to dress in casino attire, embodying the fashion and allure of the Bond universe. Casino games, secret missions, and even specialty cocktails can be added to the mix, elevating the atmosphere and keeping guests engaged throughout the evening.
When planning a James Bond theme party, meticulous attention to detail is key in capturing the essence of the iconic secret agent. From designing custom invitations to selecting the perfect soundtrack, every aspect of the event should be curated to transport guests into the world of 007. As hosts create an environment filled with intrigue and glamour, they can ensure that their celebration will be one that leaves guests both shaken and stirred.
James Bond History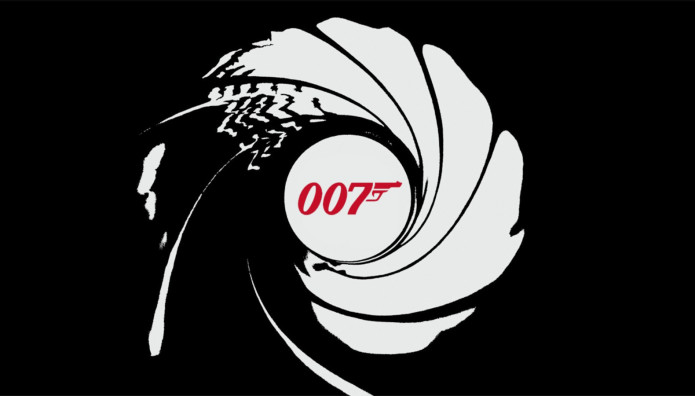 007 Legacy
James Bond, also known as 007, is a fictional British secret service agent created by author Ian Fleming in 1953. Over the years, the character has become synonymous with suave, sophistication, and espionage. The 007 franchise has spawned a total of 27 films, with the most recent one being "No Time to Die." These films showcase Bond's exceptional intelligence, fighting skills, and ability to tackle dangerous and complex situations.
Villains
One of the key aspects of the Bond franchise is its iconic villains. From Goldfinger, a master criminal with a penchant for gold, to Raoul Silva in "Skyfall," a cyberterrorist bent on revenge, James Bond faces a diverse array of adversaries. These villains often have grand schemes and unique characteristics that make them memorable and formidable opponents for 007.
Casino Royale
Casino Royale is one of the most famous James Bond stories, both as a novel and a film. It marked Ian Fleming's debut as 007's creator and was adapted into a successful movie in 2006, with Daniel Craig as the titular character. Casino Royale set the tone for the entire franchise, featuring high-stakes poker games and a thrilling plot centered around Bond's pursuit of a dangerous financier. The story's setting at a luxurious casino helped establish the elegant and glamorous world of James Bond, which continues to enthrall audiences today.
Party Planning
Setting the Scene
A successful James Bond party starts with creating the right atmosphere. Focus on a sophisticated, elegant ambiance to transport your guests into the world of 007. Stick to a classy, sophisticated color palette, such as black, silver, and red, to set the tone for your event. Be sure to include casino elements, like card tables and roulette, to give your party that iconic Bond touch. Sophisticated lighting, such as dimmed chandeliers or floor lamps, can add an air of intrigue to the space.
Dress Code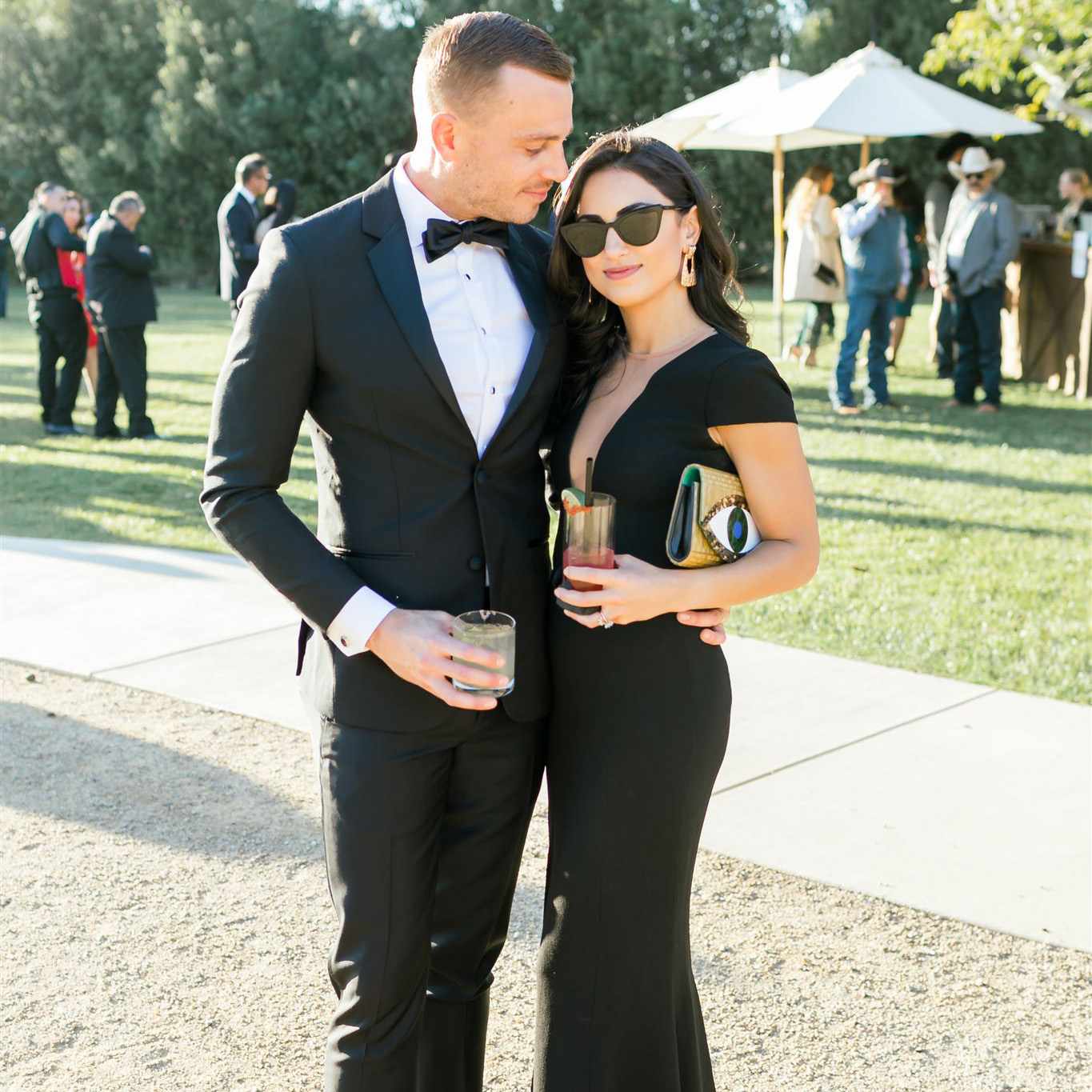 No James Bond party would be complete without a casino attire dress code. Invite guests to dress as their favorite Bond character or don elegant evening wear, such as tuxedos for men and stylish cocktail dresses for ladies. Encourage accessories like bow ties, pocket squares, and evening gloves to complete the look. This will not only add to the atmosphere but also provide excellent photo opportunities for your guests to remember the event.
Invitation Ideas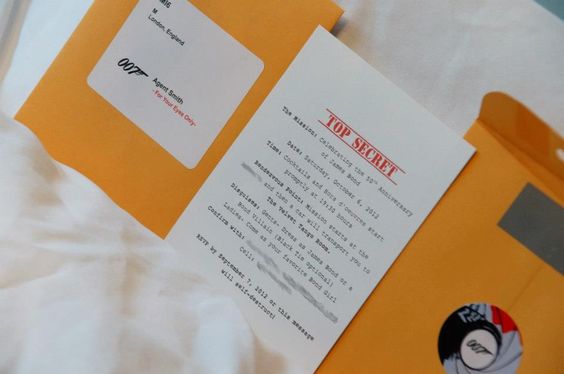 As the first point of contact with your guests, the invitations are an essential aspect of your James Bond party planning. Create a sense of mystery and elegance in your invitations by using the iconic gun barrel design, a martini glass, or even a mock-up of a top-secret dossier. Stick to the same color scheme mentioned earlier, such as black, silver, and red, to maintain consistency with your other party elements.
Celebratory Aesthetics
Bond Style
A James Bond theme party calls for a sophisticated and luxurious atmosphere. To achieve this, encourage your guests to dress the part by adopting a black tie dress code. Men should opt for tuxedos or smart black or grey suits, while women can grace the occasion in elegant cocktail dresses. Vintage treasures, such as antique cufflinks or classic timepieces, will add an extra touch of Bond-style flair.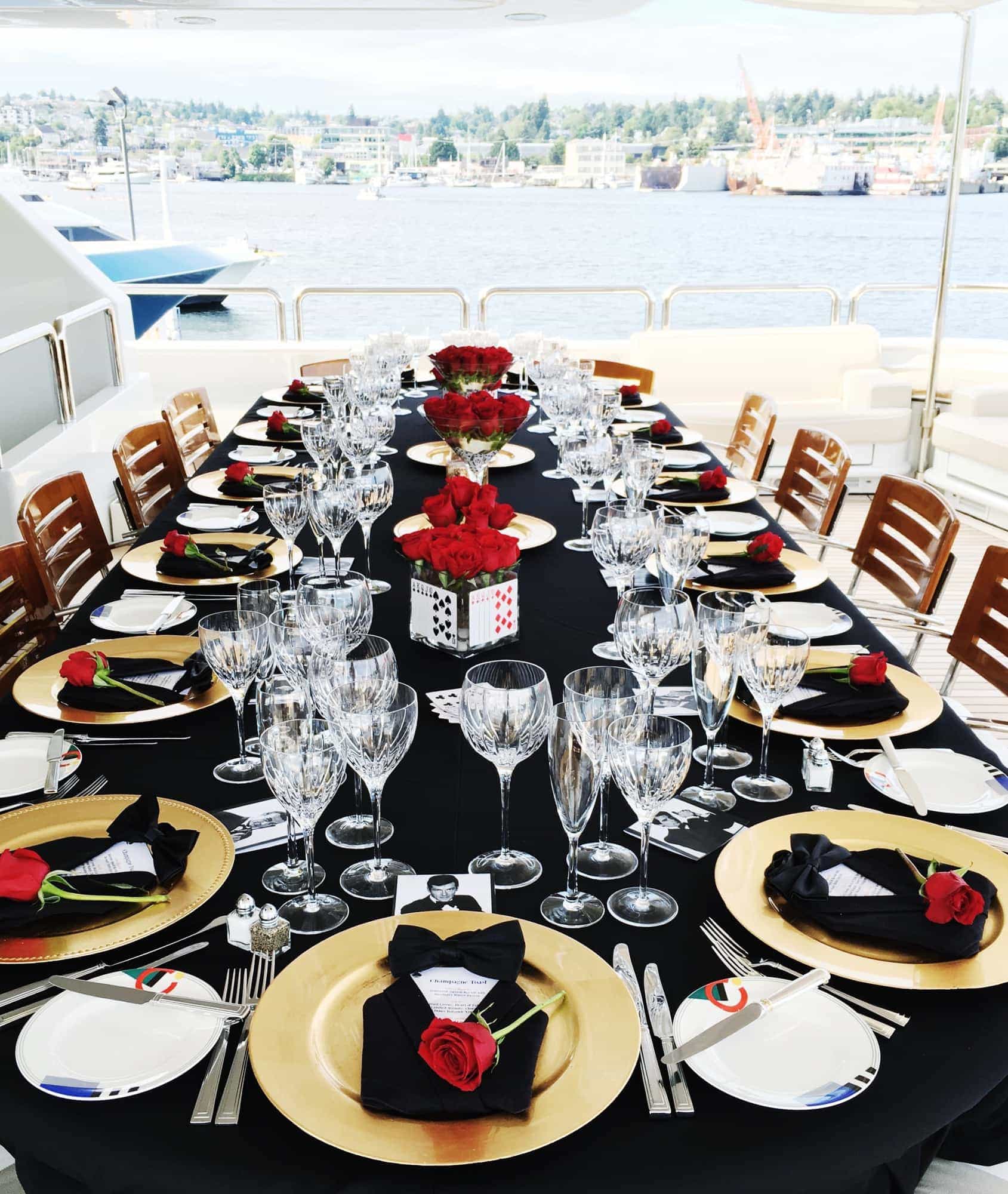 Luxury Decorations
When decorating for a James Bond theme party, think opulence and grandeur. Colors like gold, black, and silver should dominate the party décor. Some suggestions to create a luxurious ambiance include:
Table settings: Use gold chargers beneath black or white dinnerware, accompanied by gold flatware and crystal glassware. For a centerpiece, consider tall candelabras or elegant floral arrangements.
Ambient lighting: Set the mood with dimmed lights, and use LED candles or fairy lights for a warm and inviting atmosphere. Consider projecting scenes from Bond films on a wall or screen for added ambiance.
Casino elements: Incorporate casino-themed elements like poker tables, roulette wheels, and dice for guests to enjoy. This adds a touch of Bond's world without detracting from the overall lavish and refined environment.
Wall décor: Adorn the walls with framed Bond movie posters, silhouettes of Bond, or subtle hints of high-tech spy gadgets. Keep it tasteful and avoid cluttering the space.
By implementing these celebratory aesthetics, your James Bond theme party will exude sophistication and luxury, making it an unforgettable experience.
Food and Drinks
Culinary Delights
Your James Bond theme party will not be complete without a selection of scrumptious dishes that reflect the famous spy's sophisticated taste. Start with a luxurious appetizer like oysters or caviar to set the tone for your guests. For the main course, you can serve grilled sole or a juicy steak alongside crispy French fries. Remember, quality is key, as Bond himself has a penchant for the finer things in life.
For breakfast foods, consider incorporating a flavorful twist to classic dishes, such as scrambled eggs and toast. Serve them in an elegant manner to tie in with the Bond theme. Pair the food with a strong cup of coffee, as the legendary spy appreciates a good caffeine kick to get his day started.
When it comes to desserts, a stylish cake is a must-have at your party. You can opt for a design inspired by Bond's adventurous spirit, such as a casino or a spy tool theme. Guests will surely appreciate your attention to detail in every aspect of the menu.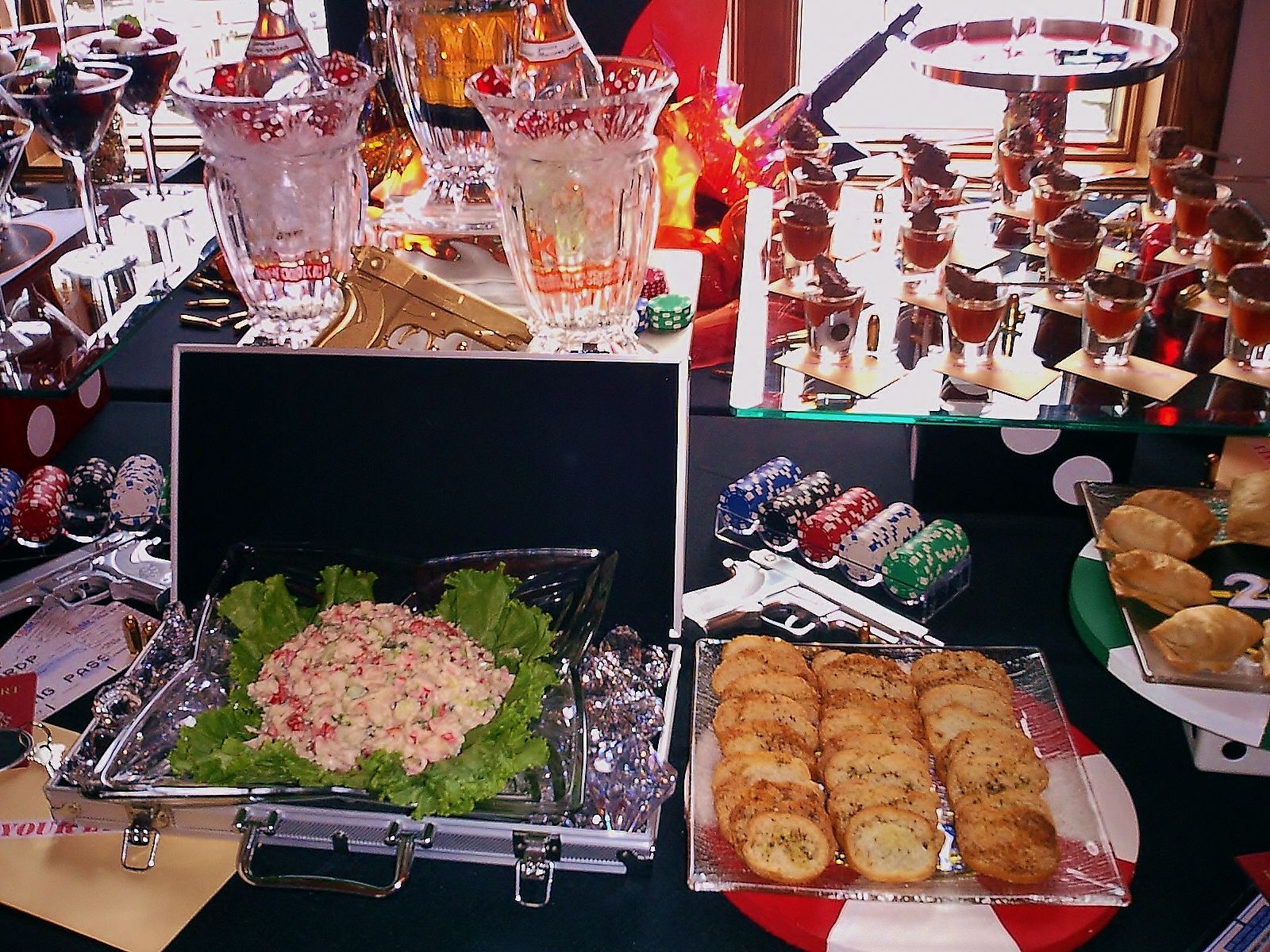 Bond's Drinks
The most iconic element of a James Bond theme party lies in the selection of drinks served. No Bond-themed event is complete without his signature Vesper cocktail, boasting a mix of gin, vodka, and Kina Lillet. To make it extra special, remember Bond's preference: it should be "shaken, not stirred."
Aside from the Vesper, you can also offer a range of other Bond-inspired cocktails and beverages. For instance, fine Champagne is a classic addition, given 007's partiality towards this luxurious drink. Make sure to serve it chilled, and in elegant glasses to keep with your stylish theme.
For vodka aficionados, curate a selection of premium brands that Bond has enjoyed throughout his adventures. This will allow your guests to truly appreciate the wide variety of flavors available, and make their own cocktails if they please.
Remember, at a James Bond theme party, it's all about creating an atmosphere of luxury and sophistication. By offering a refined selection of both food and drinks, you will transport your guests into the world of the enigmatic British spy.
Casino Elements
Casino Games
One of the key aspects of a James Bond theme party is incorporating casino games. Set up tables for classic casino games such as roulette, poker, and blackjack. Don't forget to provide ample casino chips for guests to play with.
For an authentic feel, hire professional dealers to run the games and teach guests the rules. Alternatively, you can use 'fun money' so that guests can enjoy playing without the worry of losing real cash. Both seasoned players and novices will be able to immerse themselves in the Bond-inspired gambling experience.
In-Theme Elements
To create a truly immersive James Bond casino atmosphere, incorporate in-theme elements throughout the party space. Place 007 signs and Bond silhouette posters around the venue as decorative touches and photo backdrops .
Designate an area for baccarat, another of Bond's favorite games, and feature casino-themed props and decorations such as playing cards, dice, and green felt table covers.
For added excitement, set up a Casino Royale-themed section, complete with high-stakes games and sophisticated decor. Encourage guests to dress in their best Bond-inspired attire to further enhance the atmosphere of the party.
Etsy and The Marketplace
Etsy Sellers
Etsy is a popular platform for small businesses to sell their unique, custom, and handmade items. In the context of a James Bond theme party, many sellers offer a variety of party-related goods such as decorations, invitations, and backdrops. These items cater to different aspects of a James Bond-themed event, including casino-style elements or depictions of famous 007 scenes.
The platform allows shoppers to easily find and purchase the items they need for their parties. They can even filter their searches based on factors such as price or location, accommodating various budgets and delivery preferences. Etsy sellers often have detailed descriptions and shipping policies listed on their product pages, providing a transparent and efficient shopping experience for customers.
Craft Supplies and Digital Items
Etsy provides a remarkable variety of craft supplies and digital items for shoppers looking to customize their James Bond theme party. Craft supplies may include things like banners, cake toppers, and centerpieces, while digital items can range from editable invitations to downloadable backdrops for photo booths. Many of the items found on Etsy are easily customizable, allowing party planners to adjust the design, color, or text to suit their specific needs.
Creative Entrepreneurs and the Global Marketplace
A key feature of Etsy is its vibrant community of creative entrepreneurs who produce and sell a diverse range of products. The platform supports these entrepreneurs with powerful tools, services, and educational resources to help them grow their businesses. This, in turn, has fostered a global marketplace that connects people through their shared appreciation for the unique and special goods that Etsy offers.
For James Bond theme party planners, Etsy is an invaluable resource, providing access to a network of creative sellers who can help bring your event to life. Whether you're searching for decorations, invitations, or other party essentials, the Etsy marketplace has something to offer for every aspect of planning a unique and memorable James Bond-themed celebration.
Party Entertainment
Music and Dance
A James Bond theme party is incomplete without the right music to set the mood. Live music, particularly a jazz band or an orchestra, can create the perfect atmosphere for guests to enjoy themselves in style. The playlist should include iconic James Bond theme songs such as Billie Eilish's No Time to Die and other classic hits from the franchise.
In addition to live music, ensure there's adequate space for guests to dance and mingle. Having a designated dance floor with professional lighting creates an immersive experience for everyone. Incorporating games into the party, such as a casino-style setup with a poker or blackjack table, can also provide entertainment while staying true to the James Bond theme.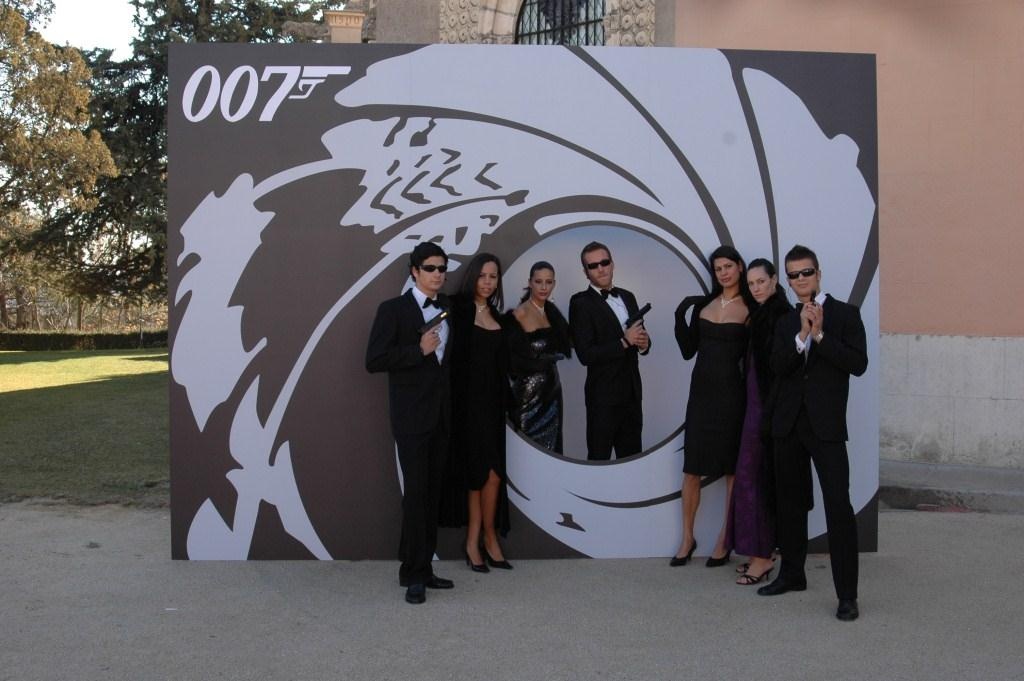 Photo Booths
Setting up a photo booth at your James Bond theme party is an excellent way to keep guests entertained while capturing memorable moments. A themed photo booth, complete with backdrops and props inspired by iconic Bond films, will engage your guests and have them lining up to strike a pose as their favorite spy. From tuxedos to martini glasses, the props should complement the theme and offer a variety of options for guests to get creative with their photos. This interactive experience encourages guests to let loose and have fun while preserving the memories of a fantastic and stylish Bond-themed celebration.
The Bond Drinks
Martini Creation
When it comes to a James Bond theme party, one simply cannot forget the iconic drink: the Martini, specifically the Vodka Martini. This sophisticated cocktail is a quintessential part of any Bond experience. To make a classic Vodka Martini, follow these steps:
Fill a mixing glass with ice
Pour in 2 ounces of vodka and 1/2 ounce of dry vermouth
Stir well until cold and properly diluted
Strain into a chilled martini glass
Garnish with a lemon twist or olive
While Bond famously prefers his Martinis "shaken, not stirred", most mixologists would recommend stirring this drink to prevent dilution and maintain a clear appearance.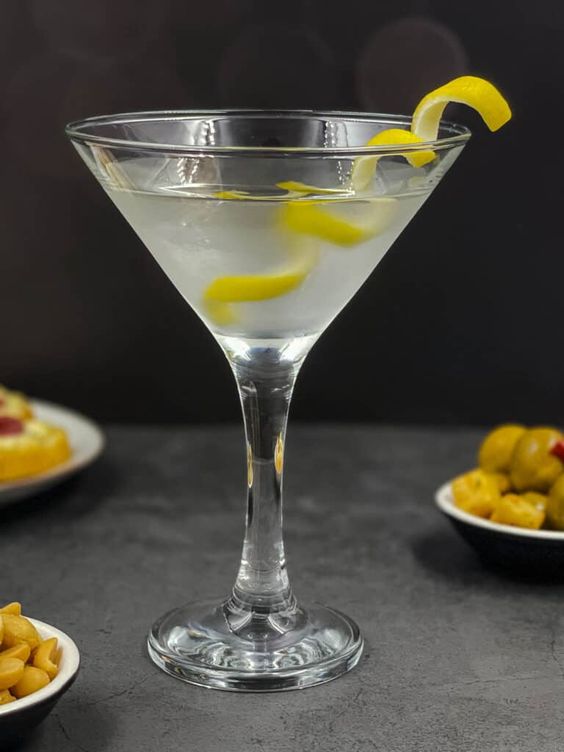 Mixologist Tips
When organizing a James Bond theme party, it's essential to provide a variety of cocktails for guests to enjoy. A skilled mixologist or bartender can elevate the party atmosphere and help bring the Bond experience to life. Here are some tips for mastering Bond-approved cocktails:
Quality ingredients: Invest in high-quality spirits, mixers, and garnishes to ensure that your cocktails are top-notch.
Proper mixing techniques: Understanding the difference between stirring, shaking, and building a cocktail is crucial for perfecting each drink.
Presentation: Just as Bond exudes style and sophistication, so should your cocktails. Use elegant glassware, garnishes, and accessories.
Experiment: Don't be afraid to create variations of classic Bond cocktails, such as the Negroni or Old Fashioned, tailoring them to your guests' preferences.
Remember, a James Bond theme party is all about style, sophistication, and adventure. By offering a variety of expertly crafted cocktails and adhering to these mixologist tips, you'll ensure that your guests feel immersed in the world of the iconic secret agent.
James Bond Gadgets and Cars
Classic Gadgets
James Bond, the legendary spy, has been known for using numerous innovative gadgets throughout his missions. Some of these classic gadgets include the infamous Walther PPK, the compact and easily concealed firearm used as Bond's primary weapon, and the attache case, which could hide various gadgets and weapons inside. One remarkable gadget is Bond's Rolex Submariner watch, which has been outfitted with various features, such as a cutting laser or a powerful magnet.
Other recognizable gadgets include the explosive pen, cigarette lighter case, and even sunglasses equipped with a built-in camera. These tools have helped Bond dispatch villains and escape countless near-death situations with ease and style.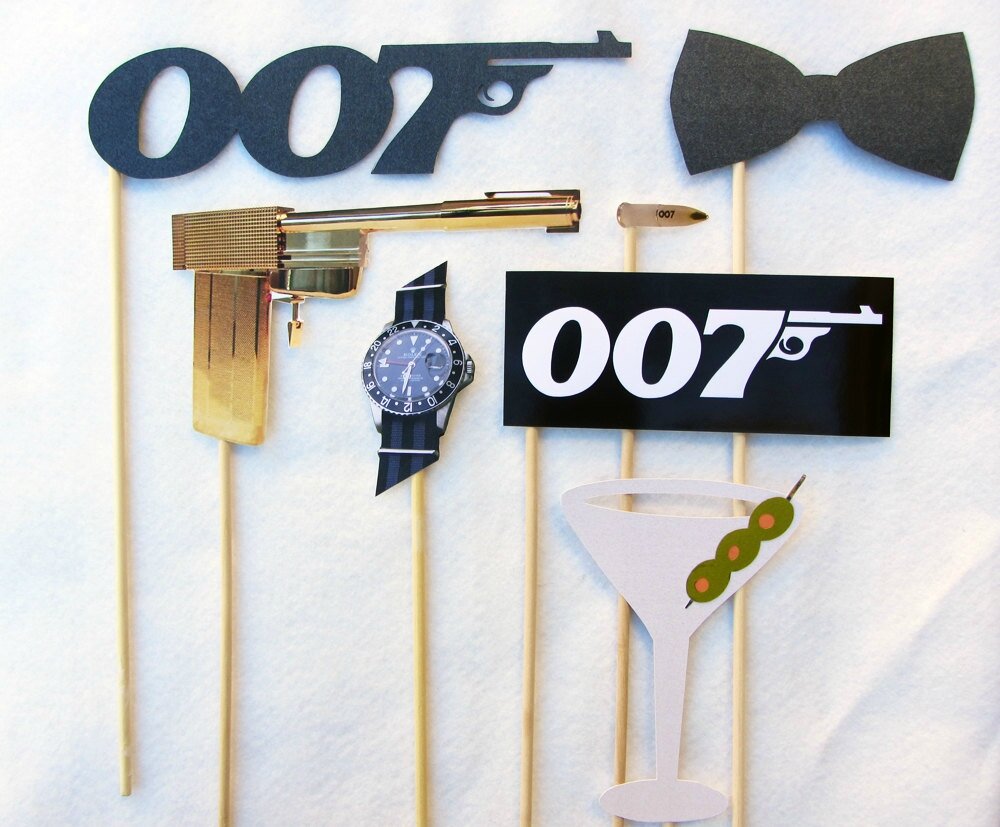 007 Vehicles
When it comes to vehicles, Bond is synonymous with luxury and performance. The most iconic car associated with the spy is the Aston Martin DB5, making its first appearance in the 1964 film "Goldfinger." This classic British sports car was equipped with various gadgets, such as oil slicks, ejector seats, machine guns, and even a tracking system hidden within the vehicle's dashboard.
Other notable vehicles Bond has driven include the powerful Lotus Esprit, known for its ability to transform into a miniature submarine in "The Spy Who Loved Me," and the sleek BMW Z8, which also came with an arsenal of gadgets and weapons.
One can't discuss Bond vehicles without mentioning the silhouette of the cars. Their distinct shapes, such as the graceful curves of the Aston Martin DB5 or the sharp, aggressive lines of the Lotus Esprit, have become unmistakable symbols of the sophisticated and powerful image that Bond emanates.
By incorporating such classic gadgets and car silhouettes into a James Bond-themed party, the essence of the iconic character's world can be brought to life, providing a unique experience for all attendees.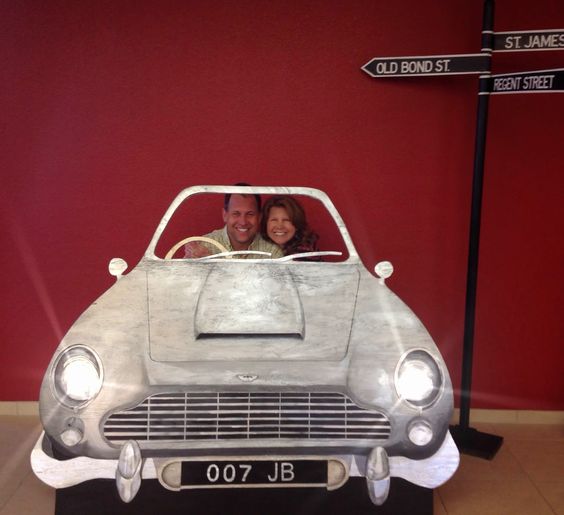 Conclusion
A James Bond-themed party is a sophisticated and stylish choice for those looking to host an unforgettable event. Embracing the iconic elements of the James Bond franchise, this theme is an excellent option for anyone who wants to create a memorable atmosphere.
When planning a James Bond-themed party, it is essential to focus on the key aspects that define this popular theme. Among these aspects, black and silver decorations and casino attire can set the stage and create an instant appeal. In addition, incorporating the iconic soundtrack, featuring sweeping and thundering theme music, can instantly transport guests into the world of 007.
To make the party theme unique and engaging, hosts may consider incorporating clever activities and entertainment inspired by the British super-spy's adventures. From casino games to themed cocktails, there are numerous creative ways to keep guests entertained and delighted throughout the event.
In summary, a James Bond-themed party is an excellent choice for those looking to add a touch of elegance and excitement to their event. By paying attention to the details and incorporating unique elements, hosts can ensure that their party will leave a lasting impression on all attendees.