Planning a party involves numerous elements, from choosing a theme and assembling a guest list to arranging the essential components such as food, decor, and entertainment. One key aspect that can enhance the comfort and accessibility of your event is renting chairs and tables. Providing ample and comfortable seating options is crucial to the success of any party, and this is where rental services come in handy.
Renting chairs and tables for your party is a practical option, as it frees up time and resources while ensuring the availability of high-quality furniture to accommodate your guests. Rental services usually offer a wide variety of styles and designs to match your party's theme and preferred aesthetic. By opting for a rental service, you can eliminate the hassle of sourcing, transporting, and setting up chairs and tables yourself.
Moreover, renting chairs and tables can be cost-effective, especially when compared to purchasing numerous pieces solely for the occasion. Rental companies often provide package deals based on the number of guests or the type of event, making it both convenient and budget-friendly. Selecting the right rental company and furniture options can elevate the overall party experience, leaving you and your guests with fond memories to cherish.
Understanding Chair and Table Rentals
When planning a party or event, it is essential to consider the seating arrangements. Renting chairs and tables is a popular option for providing adequate seating and creating a comfortable space for guests. This short section aims to provide a brief understanding of chair and table rentals.
Various rental options are available for chairs and tables to accommodate different types of events. These options can include versatile folding chairs, formal chiavari chairs, as well as round or rectangular banquet tables. Selecting the appropriate chair and table type is crucial in creating the desired atmosphere at any event.
In order to rent chairs and tables, it is essential to determine the number of guests attending the event. This will help in making an accurate estimation of the required seating and ensure that there are enough tables and chairs to comfortably accommodate everyone.
Another important aspect of chair and table rentals is the cost. Pricing can vary based on factors such as location, duration of the event, and the type and number of chairs and tables being rented. It's crucial to research and compare rental companies to find the best value and a reliable service provider.
Once the rental items have been chosen, coordinating with the rental company is key. This communication should include the event date, delivery and pickup times, and any specific setup requirements. Most rental companies will work closely with the event organizers to ensure a smooth experience.
By understanding the various aspects of chair and table rentals, event organizers can make informed decisions and create a comfortable and visually appealing space for their guests.
Event Types Needing Chair and Table Rentals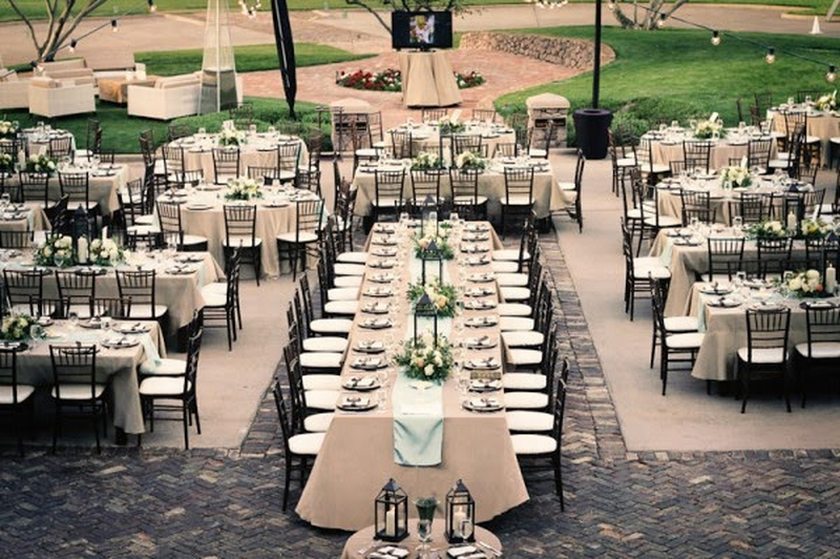 Weddings and Receptions
One of the most common events requiring chair and table rentals is weddings and receptions. These special events often demand a comfortable seating arrangement for the guests to enjoy the ceremonial proceedings and later, the festivities. Chair and table rentals provide a convenient and customizable solution to accommodate diverse guest lists, themes, and venue settings.
Corporate Events
Businesses also rely on chair and table rentals to host various corporate events, such as conferences, meetings, product launches, and award ceremonies. The right seating and table arrangements in such events showcase professionalism and enhance networking opportunities. Table rentals can be customized to fit varying room sizes, and chair rentals can be chosen to align with the company's brand image.
Intimate Gatherings and Parties
Smaller, more personal events, such as baby showers, birthday parties, and intimate gatherings, also benefit from chair and table rentals. From setting up cozy dining spaces to arranging seated conversations, table and chair rentals help create a welcoming and comfortable atmosphere. With various styles and designs, rentals can be tailored to suit the event's theme, offering guests a unique and memorable experience.
Outdoor Events
Outdoor events like picnics, garden parties, and open-air concerts often require chair and table rentals. These events necessitate furniture that can withstand the elements and suit the outdoor setting. With a variety of designs and materials available, rental services cater to various outdoor event needs, from foldable chairs and tables for easy setup to more elaborate options for stylish gatherings.
Styles and Options for Party Rentals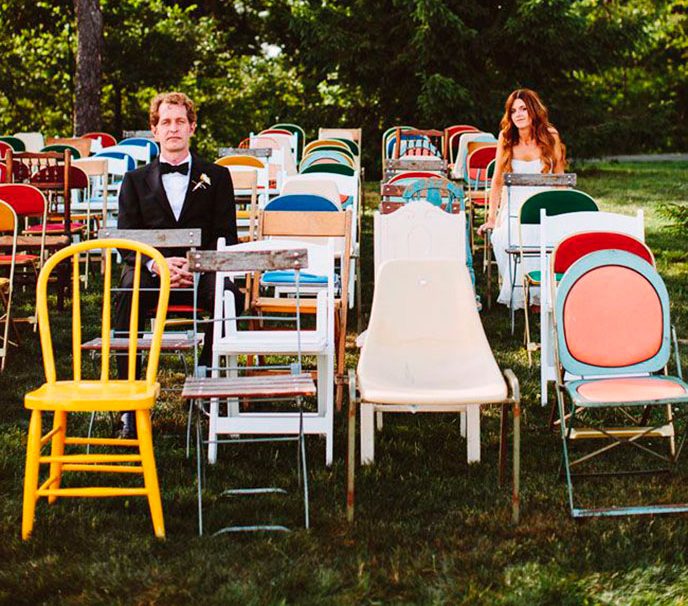 When it comes to choosing the perfect furniture for your party, there are numerous styles and options for party rentals to fit your event's theme and overall ambiance.
Chair Styles
There are a variety of chair styles available for rent, each providing a unique aesthetic for your event. Some popular options include:
Chiavari chairs – an elegant and timeless design that is perfect for formal events like weddings.
Ghost chairs – these clear chairs can add a modern touch to your setup.
Plastic folding chairs – a cost-effective option suitable for casual outdoor events.
Padded folding chairs – similar to plastic folding chairs, but with added comfort for guests.
Specialty chairs – eclectic options such as farm tables, benches, and bar stools can enhance the ambiance of your party.
Table Options
The type of tables you choose can also impact the look and feel of your event. Some popular choices for party rentals are:
Round tables – provide a classic and elegant dining experience, ideal for formal events and socialization.
Rectangular tables – allow efficient use of space and encourage a more intimate dining experience.
Cocktail tables – suitable for standing receptions and informal gatherings, providing a place for guests to set drinks and snacks.
Add-ons and Accessories
To complete your party rental setup, consider adding complementary accessories, such as:
Sashes – can add a pop of color and coordinate with your party's color scheme.
Tablecloths – available in various sizes and materials to match your chosen tables and chairs.
Chair covers – can transform basic chairs into stylish seating that aligns with your event's theme.
Linen – a luxurious option for tablecloths and napkins, available in a wide array of colors and patterns.
With these various styles and options in mind, you can confidently select the perfect party rentals to create a memorable and visually stunning event for your guests.
The Importance of Quality Rentals for Events
When hosting an event, the vision and mood are key factors to consider. High-quality chair and table rentals can significantly enhance the experience for all attendees. It is vital to choose a party rental company with a range of options and a focus on customer satisfaction.
The selection of the appropriate rentals can truly influence the atmosphere of an event. A professional party rental company will work closely with the host to understand their event needs. They will provide a variety of chairs and tables, ensuring that every guest feels comfortable and attended to.
Quality: It is essential to prioritize quality over cost when searching for the perfect rentals. High-quality furniture will be not only visually appealing but also sturdy and reliable. This attention to detail will contribute to a successful event.
Versatility: A reputable rental company will offer a wide range of styles, colors, and materials to choose from. This will allow the host to select the best options for their specific event, whether it's a wedding, corporate gathering, or a private party.
Timeliness: Punctual delivery and set-up of the rentals are crucial. The party rental company should be dependable and efficient, ensuring that the event starts on time and runs seamlessly.
Choosing the right chair and table rentals is a vital aspect in creating the perfect ambiance for any event. By carefully selecting a reliable party rental company, hosts can ensure that their event will be a memorable and enjoyable experience for all in attendance.
Choosing the Right Rental Company
Credibility and Experience
When planning an event, it's crucial to choose a rental company that has a strong reputation for quality and experience. Research different companies and look for testimonials or referrals from satisfied customers to ensure their credibility. Make sure they understand your party rental needs and have a proven track record in the event rental industry. A knowledgeable event planner working with a credible rental company can help guide you through the process.
Pricing Transparency
It's essential to choose a rental company that provides clear and transparent pricing. Look for companies that offer detailed quotes, inclusive of any additional fees or charges for delivery, setup, and breakdown. Comparing prices among various rental companies can give you a better sense of what to expect for your event rental needs.
Ask for a comprehensive quote: Ensure that all costs are clearly outlined in the quote provided by the rental company.
Compare quotes: Gather and compare quotes from different companies to make an informed decision.
Customer Service Quality
Finally, pay close attention to the quality of customer service the rental company provides. The right company will not only have excellent communication but also be responsive to your needs and concerns. They should be willing to collaborate with you and your event planner to make your party a success. Some ways to gauge customer service quality include:
Responsiveness: Does the company reply promptly to your inquiries and requests?
Flexibility: Are they willing to accommodate changes in your rental needs as your event planning evolves?
Problem-solving: Can they help find solutions to any potential issues that may arise during the planning process?
By focusing on credibility, experience, pricing transparency, and customer service quality, you can confidently select the right company for your party rental and event rental needs.
Additional Rental Options for Parties
Aside from the essential tables and chairs for rent, party hosts should also consider other items that can elevate the atmosphere of their event. Two popular options include tent rentals and linen and accessory rentals, which contribute to enhancing the overall look and comfort of the party.
Tent Rentals
Tent rentals can provide much-needed shelter for outdoor events. They protect guests from strong sunlight, rain, or other weather conditions while still giving them the freedom to enjoy the party. Tents come in various sizes, and finding the right type depends on the number of guests, available space, and desired ambience. Some popular styles include:
Pole tents: These are supported by poles in the center and at the perimeter, providing a spacious area for guests to mingle.
Frame tents: With metal frames instead of poles, these tents offer a completely open interior, leaving more room for seating arrangements and décor.
Be sure to consult with the event rental company for recommendations on which tent style best suits the party's specific needs.
Linen and Accessory Rentals
Linens and accessories play a significant role in the overall presentation of a party. They can add color, elegance, and visual interest to the event without much effort. Rental options include:
Tablecloths: Available in various materials, colors, and patterns, tablecloths give the party a cohesive look while hiding plain or weathered tables.
Chair covers and sashes: Chair covers can transform standard chairs for rent into stylish pieces that match the event theme, while sashes bring an extra touch of elegance.
Napkins and table runners: Coordinating napkins and table runners can elevate the party's design and make it appear upscale.
By considering tents, linens, and accessories, hosts can ensure that their party rental needs are covered, making the event more enjoyable for themselves and their guests. This attention to detail can help create lasting memories for families and friends.
Conclusion
Renting chairs and tables for a party can be a convenient and cost-effective way to accommodate guests. It allows hosts to focus on other aspects of the event, ensuring a memorable experience for all attendees.
When selecting a rental company, it is essential to consider factors such as pricing, quality of items, and customer service. Comparing multiple options can help in making an informed decision. Additionally, reserving rentals in advance is highly recommended to avoid last-minute stress.
In summary, renting chairs and tables can significantly enhance the overall experience of a party. With careful planning and consideration, hosts can create an inviting atmosphere for their guests to enjoy.