Paint parties have become increasingly popular as a fun and creative way to spend time with friends and family. These events provide a relaxed environment for people of all ages and skill levels to explore their artistic talents while socializing and collaborating on unique works of art. Whether it's a casual gathering at home or a more organized event at an arts and crafts venue, paint parties offer a variety of themes and ideas to cater to everyone's interests and preferences.
One popular format for paint parties is the "paint and sip" event, where attendees enjoy beverages, typically wine, while following a guided painting tutorial. This type of gathering encourages attendees to let loose and express themselves while learning new painting techniques and creating something they can take home as a keepsake. Paint and sip events can be tailored to suit any group, from a group of friends to a corporate team-building activity.
In addition to the paint and sip concept, there is a myriad of creative paint party ideas that cater to different age groups, skill levels, and interests. Hosting themed events, such as fundraisers, holiday parties, or DIY canvas paint parties, can provide attendees with a unique opportunity to explore their creativity while enjoying a memorable experience with friends and loved ones. The versatility and endless possibilities for customization make paint parties an appealing option for a wide range of celebrations and occasions.
Knowing The Basics
Organizing a successful paint party requires a clear understanding of the essential components. This includes the selection of art materials, the choice of canvas, and the arrangement of a comfortable space for your guests to unleash their creativity.
First and foremost, choose the right painting supplies for your event. Acrylic paint is a popular choice for paint parties due to its versatility and ease of use. Provide a variety of colors for your guests to mix and match, along with palettes for blending shades.
In addition to acrylic paint, it's crucial to have an ample supply of paint brushes. Offer a range of brush sizes and types, so participants can experiment with different strokes and techniques. Don't forget to provide cups for water, used for cleaning brushes and diluting colors.
Canvases serve as the foundation of your guests' masterpieces. Opt for pre-stretched and primed canvases for hassle-free setup. You may also want to consider smaller canvas panels if space is limited.
Easels are an essential element of a paint party, as they provide support for the canvases. Ensure you have enough easels for each guest, and set them up in a spacious area for easy movement and interaction. Place a large protective covering or tarp on the floor to catch any paint spills, ensuring easy cleanup.
To host a successful paint party at home, make certain to create a comfortable and inviting environment for all participants. Provide ample seating and lighting, along with snacks and refreshments to boost the creative atmosphere. Consider adding background music or other forms of entertainment to make the event more enjoyable for everyone.
By paying close attention to the basics of a paint party, like art materials, canvas, brushes, and palettes, along with the setup and ambiance, you can ensure a successful and memorable event for all attendees.
Planning Your Paint Party
Organizing a paint party can be a fun and creative way to get people together, whether it's for a birthday, baby shower, corporate event, or just a casual gathering. Start by creating a guest list and sending out invitations to your friends, family, or coworkers. Decide whether the party will be for adults only or if it will accommodate all ages.
The first step in planning your paint party is to choose a location. If you're hosting at home, make sure you have enough space for everyone to work on their arts and crafts comfortably. Alternatively, you can book a community center or even hold a virtual event if you prefer. Regardless of the location, ensure that the area has good lighting and plenty of table space, as each participant will need about two feet of personal space.
Next, select a theme or inspiration for your painting project. You can find numerous online tutorials and ideas, including Youtube tutorials and step-by-step guides like Painting to Gogh. Some popular paint party ideas include:
Ombre Butterfly Art
Starry Night (inspired by Van Gogh)
Wreath Painting (for all seasons)
It's essential to gather all the necessary supplies beforehand so that guests can fully enjoy the paint party experience. This includes canvases or painting surfaces, paints, brushes, aprons or old clothes for participants, water cups, and palettes. Don't forget to prepare additional materials such as paper towels, table covers, and waste bins since painting can get messy.
Finally, if you're planning a paint and sip party, provide guests with refreshments, snacks, or encourage them to bring their favorite drinks. This can add a fun and social aspect to the event, enhancing the overall experience.
Remember to maintain a confident, knowledgeable, and clear tone throughout the planning process, making sure that guests feel included and prepared for a fun and creative paint party.
How-To Guides and Tutorials
Planning a DIY paint party or a virtual paint and sip event can be fun and engaging with a variety of online resources at your disposal. Whether it's in-person paint parties or virtual ones, having access to step-by-step painting tutorials and guides can help both beginners and experienced artists to create their masterpieces with ease.
One popular platform to find painting tutorials is YouTube. With a plethora of videos available, you can discover a wide range of techniques, styles, and subject matter to choose from for your paint party. These videos often come with clear, easy-to-follow instructions, making the learning process enjoyable for everyone.
When hosting a DIY paint party, it's essential to be well-prepared for the event. Alongside the painting tutorial, you'll need to set up a paint station with all the necessary supplies, such as paints, brushes, and paper towels. It's also helpful to designate a person who can assist with passing out paints and extra supplies throughout the event. If required, you can pre-trace designs on the canvas using graphite paper for a more comfortable painting experience.
Apart from the painting instructions, you must also consider the logistics of your paint party. This includes determining the number of attendees, sending out invitations, and managing the supplies. It's useful to know how much paint you should get and have extra brushes on hand to cater to the needs of your guests.
In addition to video tutorials, several websites offer comprehensive painting tutorials and art lessons that can cater to various skill levels and styles. Exploring these resources can open up a world of creative possibilities for your paint party and art experience.
In conclusion, by leveraging the power of how-to guides and tutorials, you can make your paint party a memorable and enjoyable experience for all attendees. With proper preparation and the right resources, you can create an engaging and educational event for artists of all skill levels.
Choosing Your Painting Theme
When hosting a paint party, selecting the right painting theme is crucial to ensure all guests will enjoy the activity and unleash their creativity. With a vast array of themes to choose from, focusing on a few popular subjects can help you make the best decision.
One popular theme is abstract painting, which allows participants to express their emotions and thoughts through color, shape, and texture. This type of painting is an excellent choice for those who appreciate a more freeform and open-ended approach.
Starry Night is another popular theme inspired by Van Gogh's famous masterpiece. Painters can learn to recreate the swirling night sky, or put their own twist, using a variety of colors and brushstrokes.
Landscape themes are always a hit, as they enable guests to depict their favorite natural scenes, be it a serene waterfront or a bustling cityscape. Within landscapes, some popular sub-themes include mountains, forests, and seascapes.
Flowers are another timeless theme that appeals to a vast audience. This subject offers endless possibilities, from delicate roses and vibrant sunflowers to abstract floral designs.
Trees and sunsets are also popular choices for painting parties, especially when combined. Participants can capture a picturesque scene of a setting sun behind an imposing tree, experimenting with colors and shading.
For those seeking a more unique theme, cars can be an exciting subject. Vintage cars, powerful sports cars, or even sleek electric vehicles can inspire painters to create detailed and dynamic artwork.
Lastly, still life themes are also suitable options, as they allow participants to focus on capturing everyday objects in a new light. This subject encourages painters to pay attention to details, such as lighting, shading, and composition.
By considering these painting themes, you can create a memorable paint party experience that caters to the preferences and skill levels of all your guests.
Essential Supplies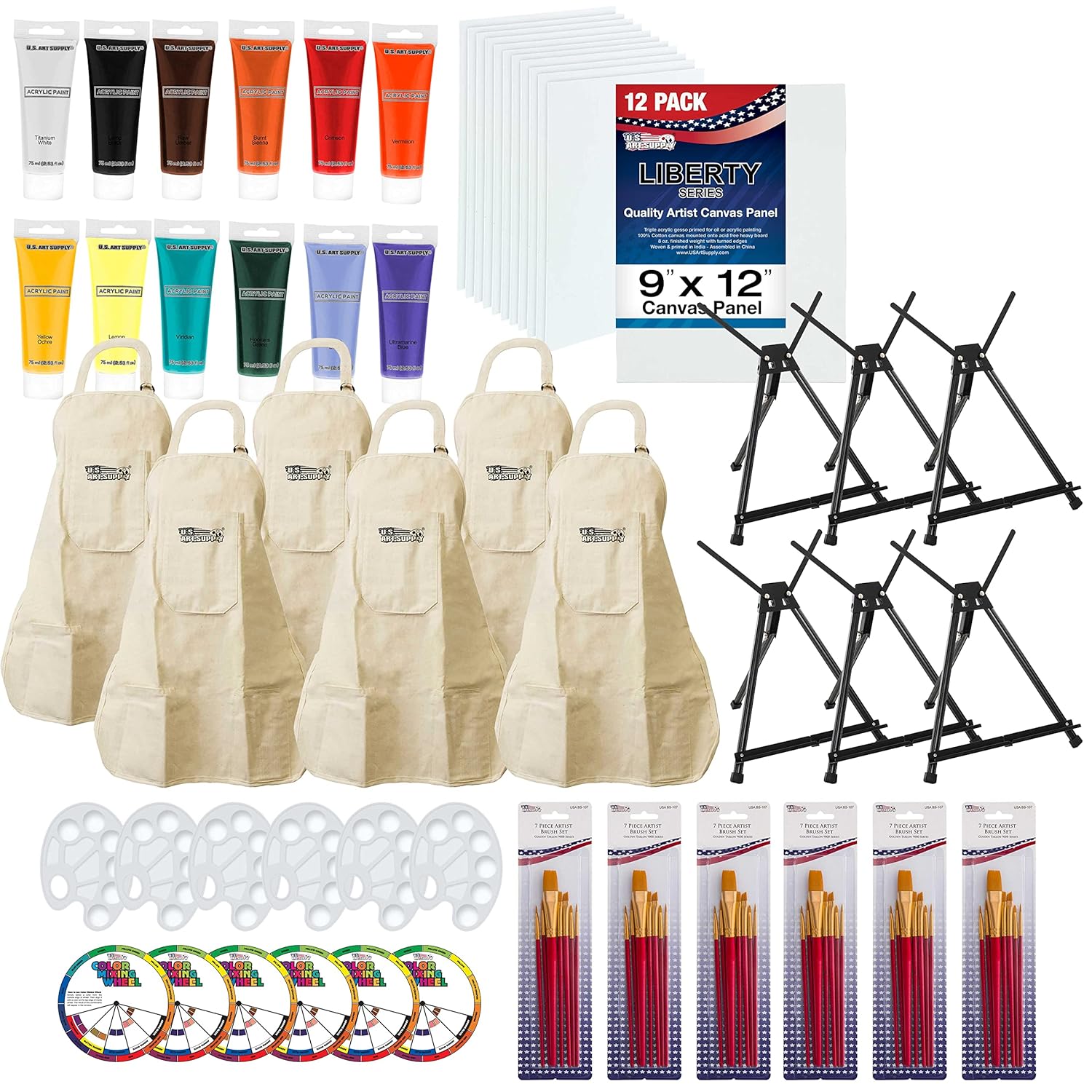 When planning a paint party, it is crucial to gather all the necessary supplies to ensure a fun and enjoyable experience for everyone. Let's go over the essential items to make your paint party a success.
First and foremost, the right canvas size is a key element for any paint party. A standard 16×20 inch canvas is a popular choice, as it provides ample space for creativity without being too overwhelming. If you're looking for a more budget-friendly option, 11×14 inch canvases are also a great choice.
Having an assortment of brush sets on hand is important in accommodating different artistic styles and techniques. The basic brush set should include round, flat, and filbert brushes in various sizes, ensuring versatility for every painter.
Keeping the work area clean is essential, so be sure to have an ample supply of paper towels available. These can be used for wiping brushes, absorbing excess water, and cleaning any spills.
Proper water cups for rinsing brushes are vital to maintain an organized and efficient setup. Small disposable cups or reusable plastic cups work well for this purpose.
To minimize mess and protect clothing, providing aprons for guests is a practical and thoughtful touch for any paint party.
When it comes to paint, craft paint is an excellent, affordable option for paint parties. Brands like Apple Barrel paints and Liquitex Basics offer a wide variety of colors suitable for any artistic vision.
If you want an all-in-one solution, consider purchasing painting kits that include canvases, brushes, paint, and other necessary tools. These can be a convenient and cost-effective choice for hosts.
For a unique and festive touch, consider creating a DIY paintbrush garland to decorate your party space. This can be easily made by tying paintbrushes to a string or ribbon and hanging it around the room.
In conclusion, providing these essential supplies ensures a smooth and enjoyable paint party experience for all attendees. Remember to prioritize canvas size, brush sets, paper towels, water cups, aprons, craft paint, and consider painting kits and DIY paintbrush garlands for an unforgettable event.
Decor and Setting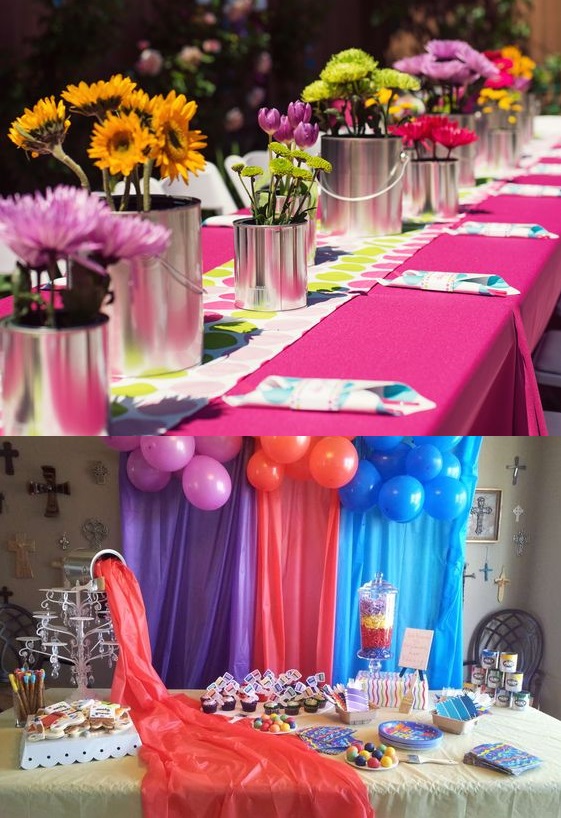 One of the most important aspects of hosting a paint party is creating a visually appealing and functional space for your guests. To set the stage for a memorable event, a well-thought-out decor and setting plan is essential. This can be easily achieved with a few simple items, such as tablecloths, design accents, and a hair dryer for quick drying.
Start by choosing the right tablecloth. Protecting your tables from paint spills is essential, and a waterproof tablecloth serves this purpose. You can choose a solid color or a pattern to match the theme of your event. Ensure you have enough tablecloths to accommodate all the guest tables, and consider adding coordinating napkins for an extra touch of elegance.
Next, think about the decor elements that will elevate the ambiance of your paint party. Art-related decorations can inspire creativity and set the tone for the event. Some ideas include:
Hanging colorfully framed prints of famous paintings
Arranging easels with blank canvases as focal points
Using palette-shaped serving trays for snacks
Placing clusters of paintbrushes in vases or jars as centerpieces
Displaying art-themed balloons throughout the room
Don't forget about the practical side of your paint party setting. Make sure you have enough seating and table space for your guests to comfortably create their masterpieces. Provide ample lighting, so everyone can see their work clearly and accurately mix colors.
Another essential tool for a successful paint party is a hair dryer. It might seem unusual, but a hair dryer can significantly speed up the drying process between layers of paint. This will allow your guests to work more efficiently and with less frustration. Make sure you have at least one hair dryer on hand, with an extension cord if needed, to ensure your painters have an enjoyable experience.
By carefully considering the decor and setting, you can create an inviting atmosphere that encourages creativity and enjoyment at your paint party event. With the right tablecloths, decorations, and practical tools like hair dryers, you'll be well on your way to hosting a memorable and fun-filled gathering.
Food and Drinks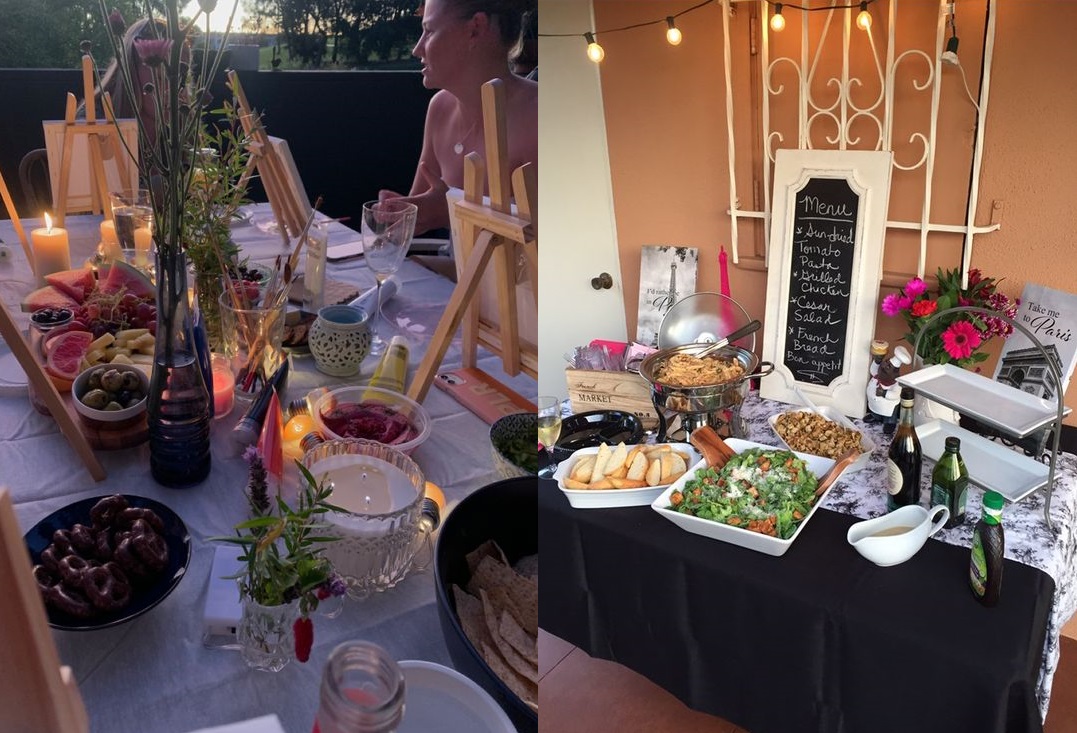 When hosting a paint party, it's essential to provide a variety of food and drinks to keep guests satisfied and engaged during the event. It's crucial to consider light and easy-to-eat finger foods, as guests will likely be holding brushes and engaging in the creative process.
Finger Foods: Offer an assortment of finger foods that require minimal preparation and utensils. Some popular options include cheese balls, crackers, bite-sized veggies like tomatoes and carrots, and various dips like hummus and guacamole. These snacks can be further enhanced by presenting them on skewers or as fun kebabs.
Sips: Providing a selection of refreshing beverages is critical to keep your guests hydrated and comfortable during the paint party. Options can include wine, both alcoholic and non-alcoholic, flavored sodas, sparkling water, and a variety of juices. For a delightful touch, consider creating a custom cocktail or mocktail that complements the color scheme or theme of your paint party.
Treats: Indulge your guests' sweet tooth by offering a variety of candy and other sweet treats. Bite-sized candies, small dessert cabobs, and chocolate-covered pretzels make for delicious and mess-free options that can be easily enjoyed while painting.
Remember to cater to any dietary restrictions among your guest list by including options such as gluten-free crackers, vegan dips, and sugar-free sweets. A thoughtful and diverse array of food and drinks will undoubtedly enhance the overall experience and leave a lasting impression on your guests.
Selling Tickets for the Party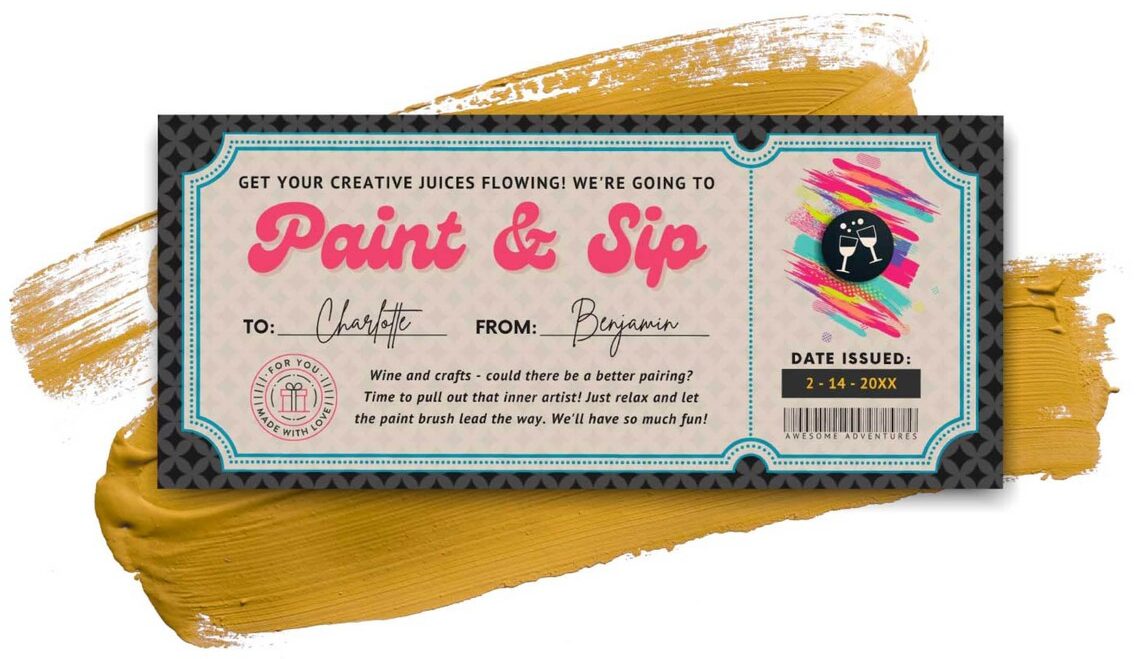 Organizing a successful paint party involves several aspects, one of which is selling tickets. To appeal to your target audience, consider offering different ticket types such as early bird, group discounts, and special promotions. Ensure that the ticketing process is accessible, user-friendly, and efficient to encourage ticket purchases.
Leveraging online platforms for ticket sales is crucial. Utilize popular ticketing websites or even create an Etsy store to sell tickets, where customers can also purchase paint party supplies. Online sales tools make the process seamless for both the organizer and the attendee.
Promote your event by using multiple marketing strategies. Start with a well-designed website to showcase your event details and ticketing information. Leverage social media platforms such as Facebook, Instagram, and Twitter to reach a larger audience. Creative promotional materials like flyers, posters, and digital advertisements play a significant role in attracting potential attendees.
To set your paint party apart from others, collaborate with local artists and businesses as sponsors or partners, offering valuable incentives such as free art supplies to attendees. By forming partnerships, you create a network of supporters who can help promote the event and extend your reach.
Email marketing is an effective tool to directly engage with your potential audience. Build an email list and consistently communicate with subscribers, notifying them about upcoming events, ticket availability, and any special promotions.
Remember to maintain a confident, knowledgeable, and clear tone when promoting your paint party, showcasing your expertise within the industry. Keep your communication and marketing efforts in line with your target audience's preferences, and you will successfully sell tickets for your paint party event.
Corporate Events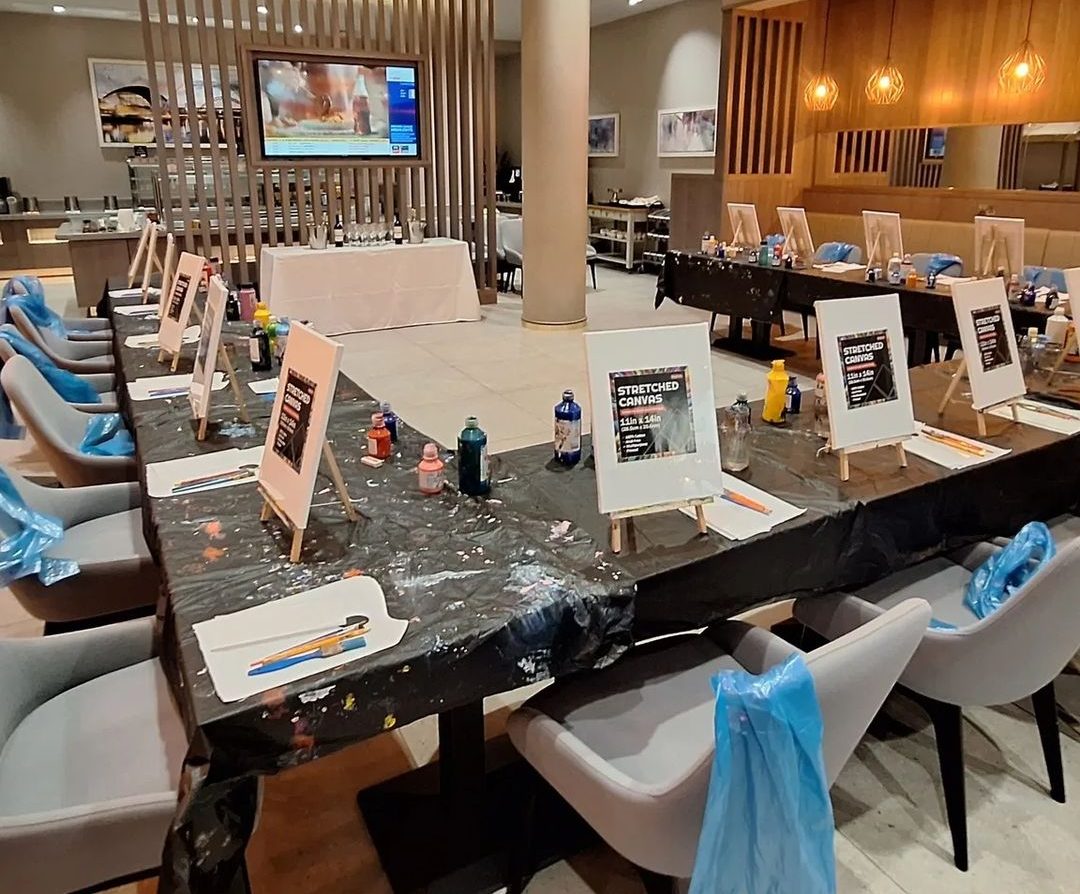 Corporate events are an excellent opportunity to encourage team bonding and improve communication among employees. One great idea to consider for your next corporate event is a paint and sip party. This type of event combines the joy of painting with the relaxation of enjoying a drink, creating a fun and engaging atmosphere for team members to get to know each other better.
For in-person paint and sip parties, you can design various themes to suit your team's preferences. From painting a company logo to creating a mural for your break room, team members can contribute their unique artistic perspectives. Alternatively, you can encourage individual creativity by allowing employees to choose their design.
For remote teams or virtual events, sip and paint packages can be sent to participating employees' homes, complete with art supplies, a canvas, paintbrushes, and even a bottle of their favorite wine. Another option is to offer employees a gift card to purchase art supplies, allowing them to select their preferred materials.
Organizing these events can be more accessible and hassle-free with online platforms and services like Painting to Gogh, which specializes in hosting virtual painting events. This platform provides step-by-step video tutorials and allows your team to chat and interact during the event as they create their masterpieces.
Regardless of whether you choose an in-person or virtual paint party, the key to a successful corporate event lies in promoting creativity, collaboration, and camaraderie. By giving your employees a chance to unwind and express themselves artistically, a paint and sip party can foster a positive work environment and strengthen team dynamics.
Housewarming and Community Gathering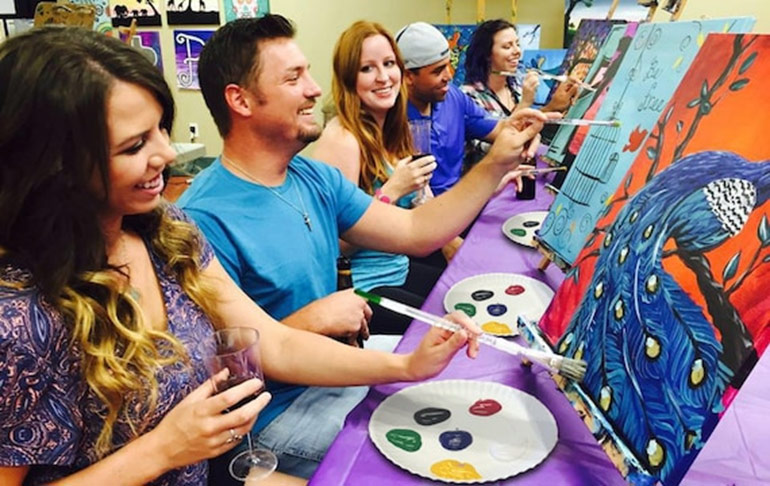 Paint parties are not only for birthdays or ladies' night, but they can also be an ideal way to celebrate a housewarming party or gather the community at your local community center. These fun-filled events can liven up any gathering, combining art, entertainment, and socialization in the comfort of your new home or community space.
Housewarming paint parties are an excellent way to make a new space feel like home. Inviting friends and family to create personalized artworks can add warmth and personal touches to the new home. It's a twist on traditional housewarming parties where participants can bond over their creative pursuits while discovering the features of the new living space. Furthermore, guests may leave their finished pieces as a unique and memorable gift for the homeowners to cherish.
In a community center setting, paint parties provide a fantastic opportunity to bring together neighbors and members of the local community. Everyone, regardless of artistic ability, can enjoy a creative and inclusive atmosphere. Hosting paint parties in community spaces can enhance social interaction among diverse participants while fostering a sense of belonging and interconnectedness. This approach is particularly valuable in allowing residents to develop stronger relationships within their community, encouraging a vibrant and supportive neighborhood.
To ensure a seamless housewarming or community gathering paint party, plan the event with necessary supplies such as easels, paintbrushes, canvases, and acrylic paints. Additionally, consider providing comfortable seating, adequate lighting, and refreshments. Incorporating background music and establishing a welcoming environment will help create an engaging experience for all attendees.
Overall, paint parties offer a unique and enjoyable option to celebrate a housewarming or community gathering. Combining creativity and entertainment, they can help individuals feel more connected in their new home or within their local neighborhood, all while having a blast.