Bad Bunny, a popular Puerto Rican singer and rapper, has garnered a massive fanbase who are not only captivated by his music but also dedicated to celebrating his artistry in various aspects, including party decorations. With the release of his latest album "Un Verano Sin Ti," the demand for themed party supplies has surged, providing fans an opportunity to showcase their love for the artist and his music. From birthdays to album release parties, Bad Bunny party decorations bring a unique and vibrant atmosphere to any event.
Etsy and Amazon are among the popular platforms where creative and custom-made Bad Bunny party decorations can be found. Ranging from photo props, cake toppers, balloons, and banners, to waterproof stickers for laptops and water bottles, there are numerous options available for fans to incorporate their favorite artist into their celebrations. Personalized and digital party packages provide even more ways to customize decorations and truly capture the essence of Bad Bunny's persona and world tour.
Choosing the right Bad Bunny party decorations can help create an unforgettable and lively event that reflects the enthusiasm and dedication of the artists' fans. Regardless of the occasion, incorporating Bad Bunny-inspired elements will undoubtedly transform any gathering into a fun and exciting experience for everyone involved.
Understanding Bad Bunny Influence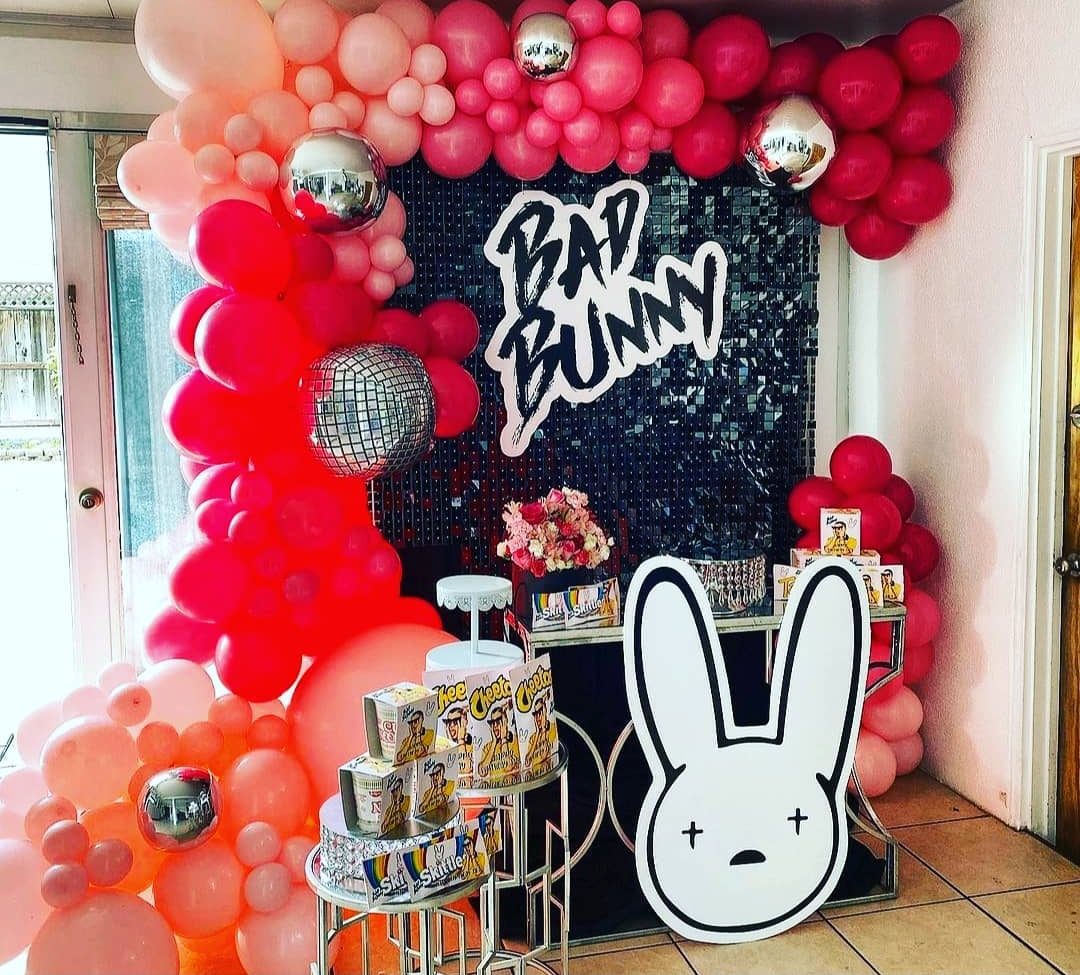 Bad Bunny is a Puerto Rican singer, rapper, and songwriter who has significantly influenced the Latin trap and reggaeton music genres. Born Benito Antonio Martinez Ocasio, Bad Bunny first gained fame after the release of his single "Soy Peor" in 2017, which reached the top 20 on Billboard's Hot Latin Songs chart.
As an influential artist, Bad Bunny's unique style has also impacted party decorations, bringing the vibrant energy of Latin trap and reggaeton music to life.
Here are some popular elements for Bad Bunny party decorations:
Themed balloons: Incorporating Bad Bunny-themed balloons will add a lively touch and a sense of celebration to the party atmosphere.
Wall decor: Choosing posters or wall art featuring Bad Bunny, reggaeton, or Latin trap themes will set the mood and showcase your passion for the music genre.
Tableware: Opt for custom-made Bad Bunny cups, plates, and napkins to match the theme of the party.
In addition to the decorations, a playlist featuring Bad Bunny's music, as well as other popular Latin trap and reggaeton artists, will create an immersive experience for guests. This can include hits like "MIA," "Callaita," and "La Canción."
It is essential to consider the target audience when planning a Bad Bunny-themed party. Age-appropriate decorations and activities will ensure an enjoyable experience for all attendees. For example, adults may appreciate a lively dance floor and signature cocktails, while a kids' party might require age-appropriate activities like games and face painting.
In conclusion, a well-planned Bad Bunny party that includes thematic decorations and music will provide an unforgettable experience for guests and showcase the Latin trap and reggaeton culture in a lively and entertaining way. Using elements, like themed balloons, wall decor, and tableware, along with a carefully curated playlist, will ensure a vibrant and engaging experience for all attendees.
Planning a Bad Bunny-Themed Party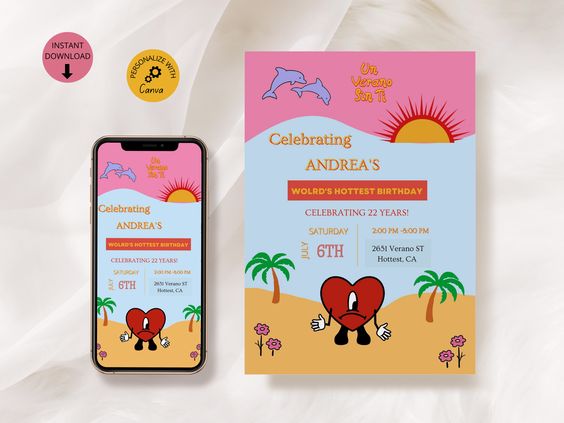 Planning a Bad Bunny themed party requires creativity and attention to detail to capture the essence of this popular artist. Incorporating elements related to Bad Bunny's music, style, and personality is essential for curating a memorable event.
Start by choosing party decorations that represent the iconic Bad Bunny style. From Etsy shops, you can find a variety of items, such as balloons and wall decor that feature the artist's logo or images. These decorations will help you create a vibrant and lively atmosphere. Additionally, consider incorporating Bad Bunny themed cupcake toppers, loteria games, and sticker packs to elevate the experience for your guests.
Next, strategize your invitations. Design Bad Bunny inspired invitations with eye-catching colors, graphics, and fonts. Etsy offers a selection of customizable invitation templates to suit your needs. Make sure to include essential information such as date, time, location, dress code (if applicable), and RSVP details.
Consider adding some entertainment options to keep the party lively. You may organize a Bad Bunny trivia game, a karaoke session featuring the artist's songs, or even a dance-off to showcase their love for Bad Bunny's music. Incorporate a playlist of the artist's hit songs to keep the party atmosphere energetic and authentic.
Lastly, plan party favors that your guests will love. Options may include Bad Bunny inspired gift bags, personalized Bad Bunny stickers, or thematic accessories that resonate with the artist's style. Visit Etsy to explore various selections tailored for your themed party.
By following these tips and incorporating your unique touch to the party planning, you'll create an event that captures the essence of Bad Bunny, leaving your guests with unforgettable memories.
Choosing the Perfect Party Decor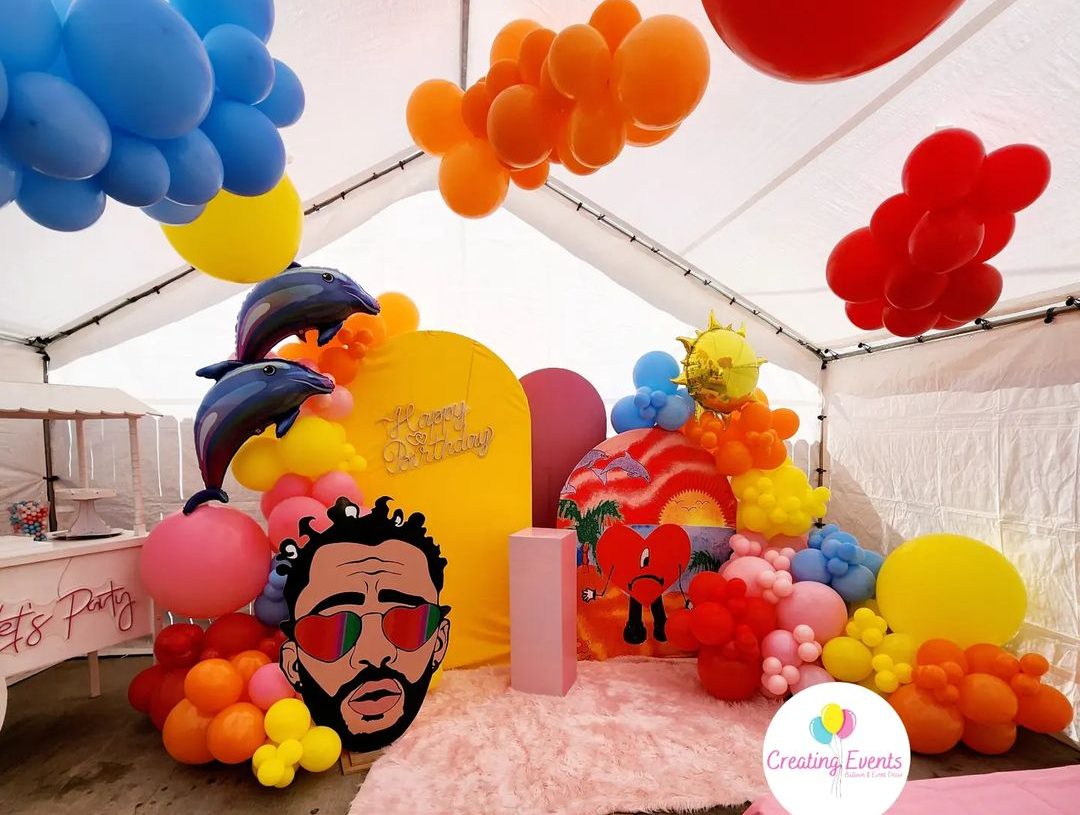 Planning a Bad Bunny-themed party requires attention to detail and a confident, knowledgeable approach to selecting decorations. The first step in setting the mood is balloons. Choose Bad Bunny-themed balloons or select colors that represent the artist's vibrant personality. These will add life and energy to the party atmosphere.
Creating a stunning backdrop for your party can make a lasting impression on guests. Look for unique, custom-made Bad Bunny backdrops on platforms like Etsy. You may even consider using street art-style posters to evoke the artist's urban aesthetic. Alternatively, DIY enthusiasts can design their own backdrop by combining several posters or printed images to create a collage.
A well-thought-out centerpiece can draw the eye of your attendees and serve as a conversation starter. Customize your centerpiece to incorporate Bad Bunny-inspired elements, such as 3D letters and personalization options to showcase the name of the person celebrating their special day. Be sure to look for original and eye-catching designs to enhance the overall party theme.
Incorporate posters to emphasize the Bad Bunny theme. Large, high-quality posters depicting the artist can be placed throughout the party area. Consider supplying party attendees with markers or pens to leave their own messages on the posters as an interactive element.
To sum up the perfect Bad Bunny-themed party decor, focus on these key components:
Balloons: Choose Bad Bunny-themed or vibrant-colored balloons.
Backdrop: Opt for unique, custom-made Bad Bunny backdrops or create a DIY collage.
Centerpiece: Seek out original designs that incorporate 3D letters and personalization options.
Posters: Include large, high-quality posters of the artist for added visual interest.
By carefully selecting and thoughtfully arranging these decorative elements, you can create an unforgettable atmosphere that reflects the energetic and distinctive spirit of Bad Bunny.
Bad Bunny Party Essentials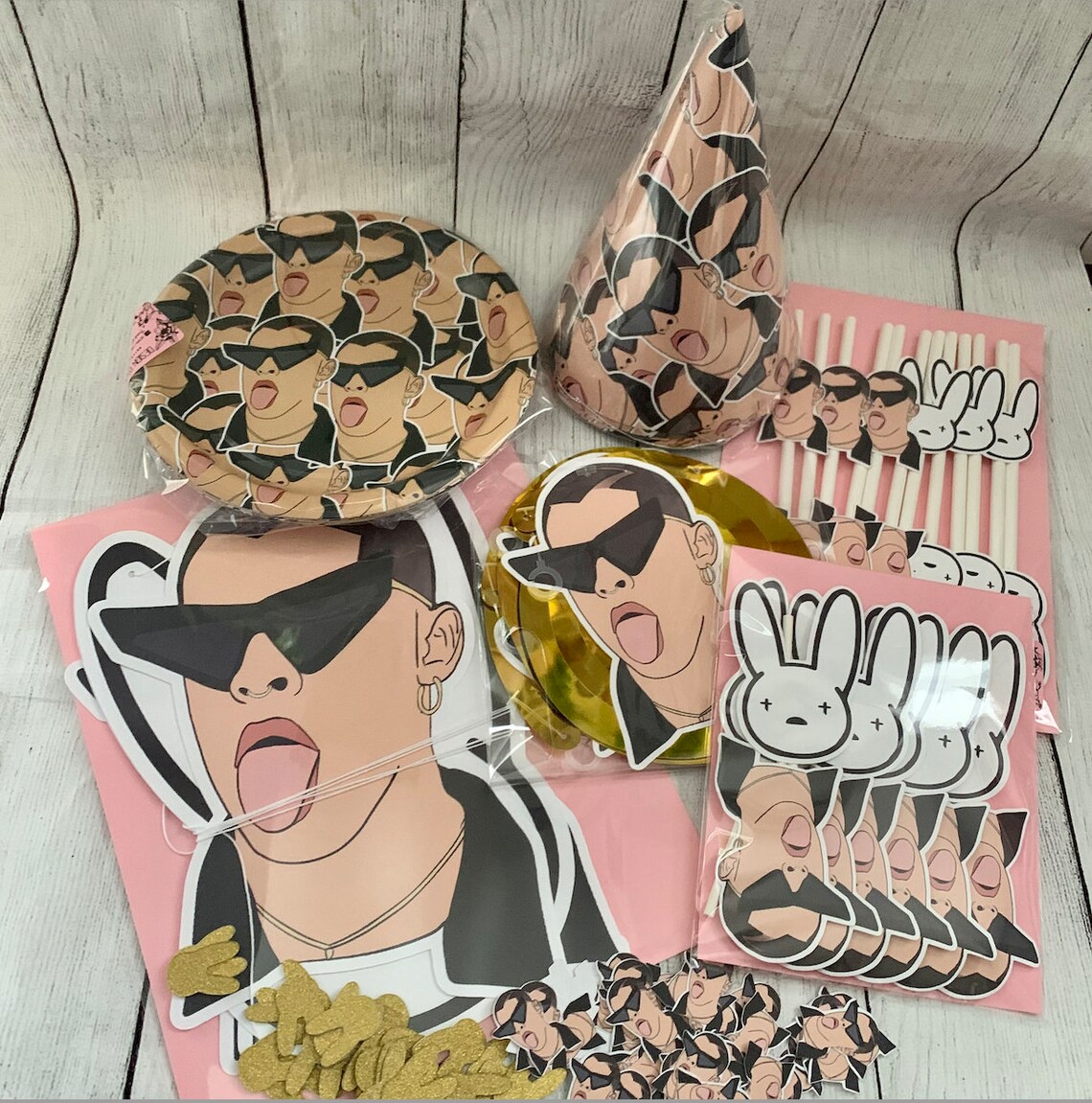 For a memorable Bad Bunny-themed celebration, incorporating a variety of party essentials is key. From decor pieces to tableware, each element should reflect the distinctive style of this popular artist. All elements ought to work together to set the right ambiance and ensure everyone has a great time celebrating.
The fundamental basis of any theme party is, of course, the table setting. Plates featuring Bad Bunny designs are the perfect way to showcase your chosen theme. For instance, some available options include plates adorned with the famed rabbit image and modern design patterns. These themed plates can be found on Etsy and Amazon.
Another essential component of the party spread is cupcakes. To step it up a notch, customize Bad Bunny cupcakes! To achieve this, you can either bake them from scratch or order from a local bakery. Enhancement options include bunny-shaped toppers, edible Bad Bunny images, or simply incorporating the artist's iconic colors.
To truly delight your guests, don't forget about the party favors. Give them away as tokens of gratitude for attending the celebration. Etsy offers a wide variety of Bad Bunny-inspired confetti, stickers, and other themed items perfect for party favors. Additionally, create your own personalized gift bags and fill them with Bad Bunny merchandise like keychains or small toys.
In summary, to create a successful Bad Bunny party experience, focus on utilizing themed essentials such as plates, cupcakes, and party favors. By doing so, you will ensure a harmonious balance in your decor and leave a lasting impression on your guests.
Interactive Activities for Guests
A Bad Bunny-themed party can present a multitude of interactive activities for guests. From trivia and games to fun and engaging music experiences, there's an array of options to choose from.
One popular game for attendees is a Bad Bunny playlist challenge. In this game, several short clips of Bad Bunny songs are played, and guests must correctly guess the song title. The person with the most correct answers at the end is declared the winner. This activity not only tests fans' knowledge of the artist's music, but it also brings out the competitive spirit and creates a lively atmosphere.
Another engaging activity is to set up a station for guests to create their own DIY Bad Bunny party props. Provide materials such as cardstock, markers, and craft supplies to allow attendees to design their personalized take on iconic accessories like Bad Bunny sunglasses or eye-catching balloon arrangements. This encourages creativity and collaboration among guests, while also offering unique souvenirs of the event.
A themed trivia contest can also provide an enjoyable way for guests to demonstrate their prowess of Bad Bunny-related knowledge. The questions can range from fun facts about the musician's life to details on his discography. Consider distributing the trivia questions in the form of creatively designed cards or as part of a digital display. Additionally, having a scoreboard where guests can keep track of their progress can elevate the competitiveness and excitement.
To foster socializing, incorporate games such as Bad Bunny bingo or loteria, which is based on the popular Mexican game similar to bingo. Customize the game cards with images, symbols, or quotes representing various aspects of Bad Bunny's career or music. This activity offers an enjoyable and interactive way to bond with fellow fans while also embracing the theme of the party.
In summary, infusing interactive activities like trivia and games into a Bad Bunny-themed party will create a memorable and exhilarating experience for guests. These activities not only stimulate conversation but also provide opportunities for participants to express their affinity for the artist in a fun and engaging manner.
Summing Up the Perfect Bad Bunny Party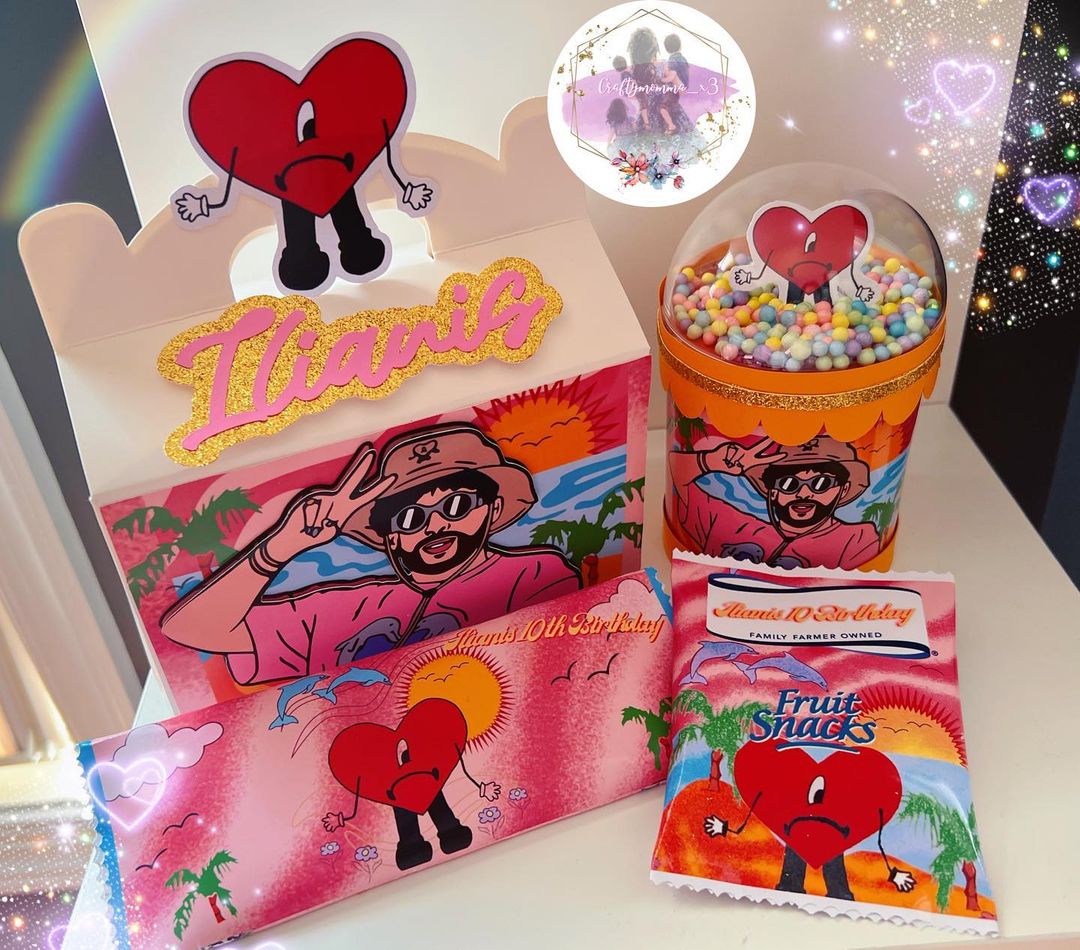 When planning a memorable Bad Bunny party, it's essential to incorporate decorations and elements inspired by the popular artist's style. To create an unforgettable atmosphere, focus on key aspects such as tableware, backdrops, and party favors.
Tableware: Get your hands on some Bad Bunny-themed plates, napkins, and tablecloths to set the scene. With a variety of options available online, incorporating the artist's unique style and color palette will be a breeze. Keep an eye out for sets featuring the artist's logo, song lyrics, or even custom 3D letter decorations for added appeal.
Backdrops: Set the stage for unforgettable photos at your party with a themed backdrop. Opt for one that captures the essence of Bad Bunny's music and style, or even go for something more subtle with a nod to his persona.
Party favors: No party is complete without souvenirs for the guests. Consider giving away Bad Bunny-themed party bags containing stickers, party cards, or Bad Bunny-inspired treats. Alternatively, custom-made cupcake toppers are a neat way to sweeten up the party further.
Here are some additional decoration ideas to complete the look:
Balloons: Add some color to the room with balloons featuring Bad Bunny's signature designs or colors to match the theme.
Centerpiece: Incorporate a creative centerpiece on each table, designed to reflect the fun and energy of a Bad Bunny concert5.
Music: Last but not least, ensure you have a playlist of Bad Bunny's most popular tracks to set the perfect ambiance.
By incorporating these ideas, your Bad Bunny party is sure to be the talk of the town. Stay true to the artist's unique style and energy, and your guests will undoubtedly have an unforgettable experience.