Graduation is a significant milestone in a person's life, and it deserves a special celebration. One fantastic way to commemorate this achievement and bring friends and family together is by hosting an outdoor graduation party. With fresh air, open spaces, and natural scenery, the outdoors provides an ideal setting for creating unforgettable memories.
There are numerous outdoor graduation party ideas to consider, ranging from creative themes and decorations to delicious food and engaging activities. By thoughtfully planning the event, hosts can create a memorable experience for the graduate and their guests. Incorporating elements such as DIY photo booths, personalized welcome signs, and self-serve food stations can enhance the overall experience and keep guests entertained throughout the celebration.
From rustic and casual to elegant and sophisticated, outdoor graduation parties cater to various styles and preferences. Whether incorporating string lights, s'mores bars, or trendy balloon arches, hosts can tailor the party's atmosphere to the graduate's taste and create a unique event that celebrates this momentous occasion.
Planning An Outdoor Graduation Party
Themes For Graduation Party
Selecting an appropriate theme for an outdoor graduation party can make the event more memorable and enjoyable for everyone. There are plenty of graduation party themes that can be chosen, ranging from simple to elaborate, and they can also cater to different interests and personalities.
For an outdoor high school graduation party, consider using one's school colors or mascot as the basis for decorations and party favors. This helps to make the event feel personal and allows people to show their school pride. Backyard graduation party ideas that can be tailored to individual tastes include favorite sports, hobbies, or college major. No matter the theme, coordinating outdoor graduation decorations with the theme can help create a cohesive look. For example, if the theme is college-oriented, consider using college flags and banners.
When it comes to gender-specific ideas, there are numerous graduation party ideas for girls and boys, ranging from elegant to playful. Girls might appreciate a glamorous, sparkly, or boho-inspired theme. On the other hand, guys might prefer something more rustic or athletic-inspired.
Season-Specific Ideas
For outdoor graduation parties, considering the season is essential to ensure a comfortable and enjoyable atmosphere for guests. Use these seasonal considerations to shape the backyard graduation party ideas and decorations.
Spring: Spring often signifies new beginnings, so it's a fitting season for a graduation celebration. Utilize the natural beauty of blooming flowers by creating a floral-themed party. Add vibrant signs, table linens, and cushions to incorporate the celebratory mood further. Be sure to have tents or umbrellas handy in case of rain showers.
Summer: Summer graduation parties are an opportunity to enjoy the warm weather with great food and company. Plan games like lawn volleyball, cornhole, or frisbee to keep everyone entertained. Set up a refreshing drink station to keep the guests hydrated. To enhance the atmosphere, consider adding string lights and tiki torches.
Fall: Celebrate the cooler temperatures and changing colors of fall with a cozy outdoor backyard party. Incorporate warm colors like reds, oranges, and yellows into the decorations. Serve comfort food, hot cider, and pumpkin-spiced treats. For lighting, consider using lanterns for a warmer glow.
Winter: If hosting an outdoor winter graduation party, a heated tent is essential. Use decorations in cool colors like silver, blue, or winter white, and add twinkling lights for a festive touch. Consider serving warm drinks like hot chocolate, and supply blankets to keep guests cozy.
Remember to always keep an eye on the weather forecast and have contingency plans in place for any sudden changes such as a rainstorm or an unexpected temperature drop.
Decorative Ideas for Graduation Party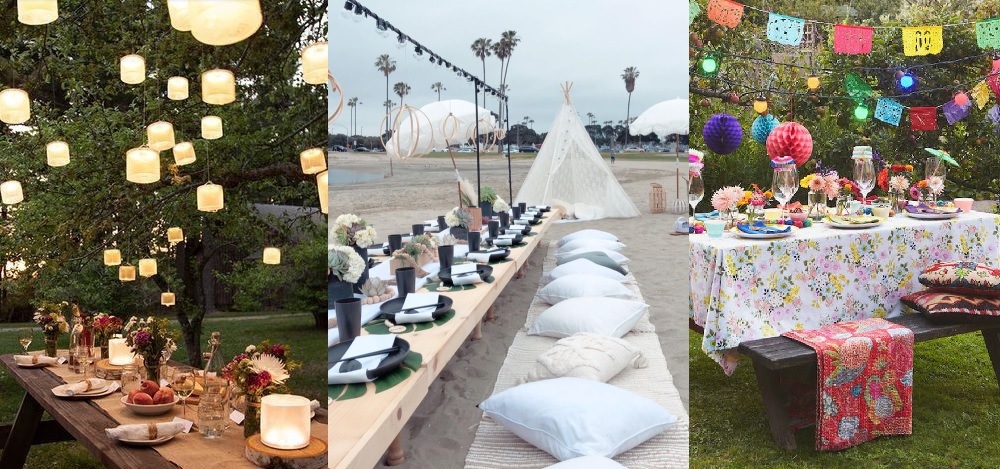 DIY Outdoor Decorations
One of the best ways to create a memorable outdoor graduation party is through unique and creative decorations. Make your event stand out with these easy DIY decorative ideas:
Christmas lights: Even though it's not the holiday season, you can repurpose Christmas lights to add a touch of sparkle and warmth to your outdoor space. String them along fences, trees, or above the seating area for a cozy ambiance.
Streamers: Streamers are a versatile and affordable option to add color to your party. Hang them from trees, and across fences, or drape them around tables to create a festive atmosphere.
Outdoor graduation party decorations: Deck out your party with graduation-themed items like table signs, chalkboard signs, and number balloons to represent the graduate's achievements and school colors.
Balloon arch: Create a balloon arch as a stunning focal point or entrance to your party. Use balloons in the graduate's school colors or a variety of vibrant colors to make it pop.
Paper lanterns: Hang paper lanterns from tree branches or string them together for an elegant touch. Mix and match with tassels to bring movement and texture to your outdoor space.
Photo booth: Set up a DIY photo booth for guests to capture memories of the special day. Use a simple backdrop and provide props like graduation caps, oversized glasses, and themed signs for added fun.
By utilizing these DIY outdoor decoration ideas, you can create a memorable and personalized graduation party that the graduate and guests will cherish.
Graduation Party Games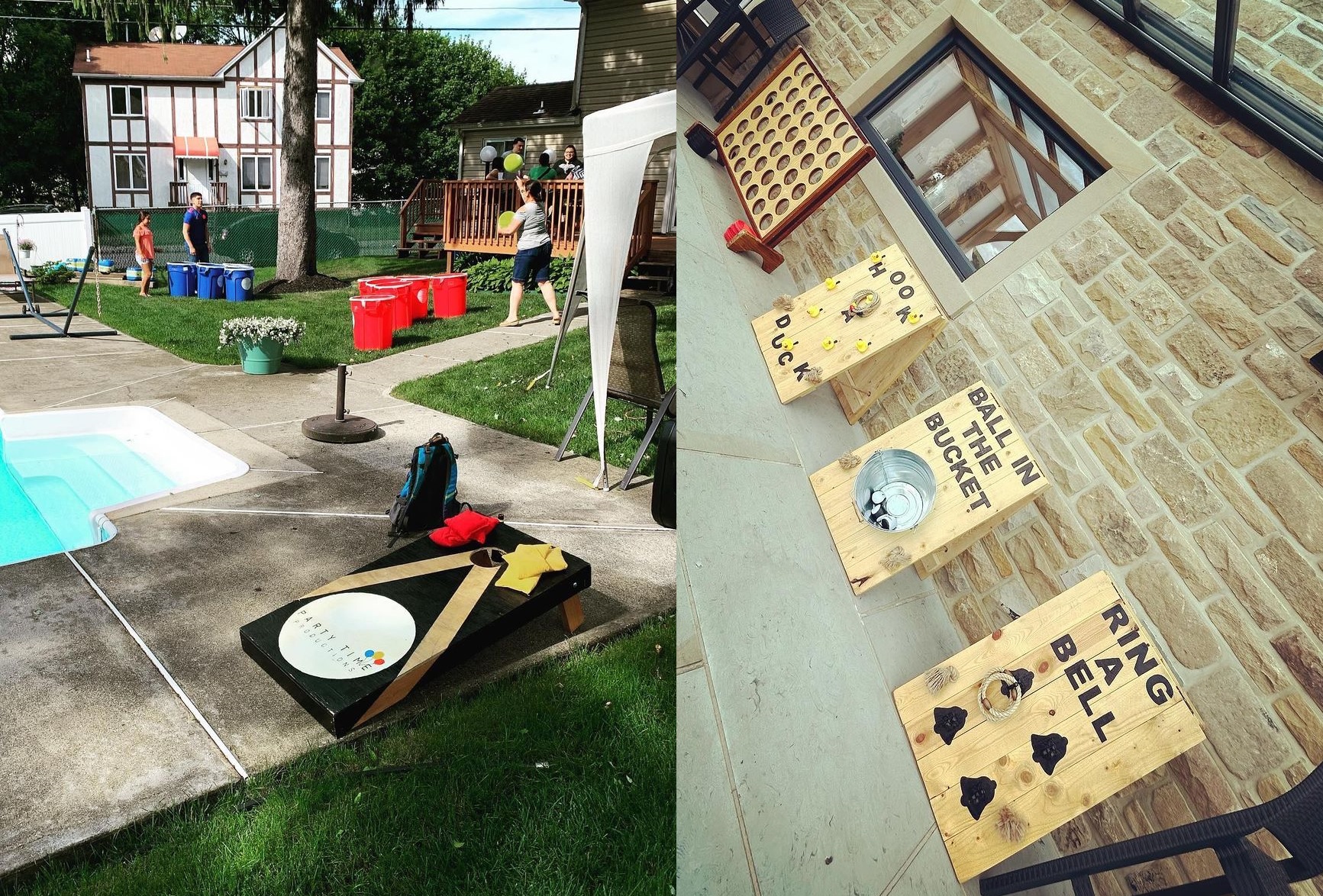 A successful outdoor graduation party relies on fun and engaging activities to keep the guests entertained. Incorporate exciting graduation party games that cater to guests of all ages. Here are some popular options:
Spikeball: Inspired by volleyball, Spikeball is an action-packed game that encourages friendly competition among party guests. It's an excellent choice for those with active friends and family.
Giant Connect Four: A childhood favorite, Giant Connect Four is suitable for all ages, creating a nostalgic and interactive experience for everyone. Guests will love the thrill of connecting four giant discs in a row.
Steal The Grad Cap: Adding a graduation-themed twist to the classic game "Steal the Bacon," Steal The Grad Cap requires agility, quick thinking, and some amusing props. Guests will be engaged in trying to capture a "graduation cap" without getting caught by the opposing team.
Bean Bag Toss: A popular choice for outdoor parties, a simple bean bag toss provides endless fun for guests. With minimal setup and customizable targets, bean bag toss fits seamlessly into any themed party.
Integrating these party games into your graduation celebration ensures an entertaining atmosphere that captures the spirit of the event in a fun, engaging way.
Welcome And Directions
A warm and inviting atmosphere is essential for any outdoor graduation party. Start by setting up a welcome sign at the entrance of the party area. This sign can be as simple or elaborate as desired, but it should be easy to read and include the graduate's name and the words "Graduation Party."
In addition to the welcome sign, it's a good idea to provide clear directions for guests. If the party is taking place in a large outdoor space, consider placing signs or markers at key points to guide guests to different areas, such as the food and drink stations, seating areas, and restroom facilities. This will make it easier for guests to navigate the party area and find what they need without confusion.
For a personal touch, incorporate the graduate's school colors or mascot into the signs and decorations. This can be achieved by using colored materials for the sign lettering or adding small touches, such as ribbon or balloons, that match the school's colors.
To ensure that all attendees feel welcomed and included, also consider providing accessibility options for guests with mobility challenges, such as wheelchair ramps or designated seating areas. Communicate these accommodations through directional signs or by informing guests ahead of the event.
By carefully planning the welcome and direction components of your outdoor graduation party, you can create a welcoming atmosphere that sets the tone for a memorable celebration in honor of the graduate's accomplishments.
Food And Drink Ideas
Sweet Treats
When planning outdoor graduation party food ideas, a diverse menu with tasty and refreshing options is essential. A great way to satisfy your guests' sweet tooth is by incorporating a variety of delicious desserts.
A popcorn bar is a fun, easy, and affordable way to cater to everyone's tastes. Offer different flavored powder cheeses and toppings like caramel, chocolate drizzle, and sprinkles to elevate this popular treat. Guests, young and old, will enjoy customizing their snack bags.
For an interactive dessert table, consider setting up a hot dog bar alongside a fruit platter. Provide an assortment of fresh fruits such as watermelon, strawberries, and blueberries for a vibrant and nutritious option. This can balance out the heavier items like hot dogs and their fixings.
Cupcakes are a must-have for graduation party desserts. Create an eye-catching cupcake display with various flavors and colors to suit everyone's preferences. One popular idea is to include chocolate chip cookie dough cupcakes, which have garnered glowing reviews for their fun and unique combination.
In addition to these sweet treats, don't forget to provide a range of beverage options, such as lemonade, iced tea, and soft drinks, to keep your guests refreshed and hydrated throughout the outdoor celebration. With these food and drink ideas in mind, your graduation party is sure to be a memorable and enjoyable event for all.
Drink Station Design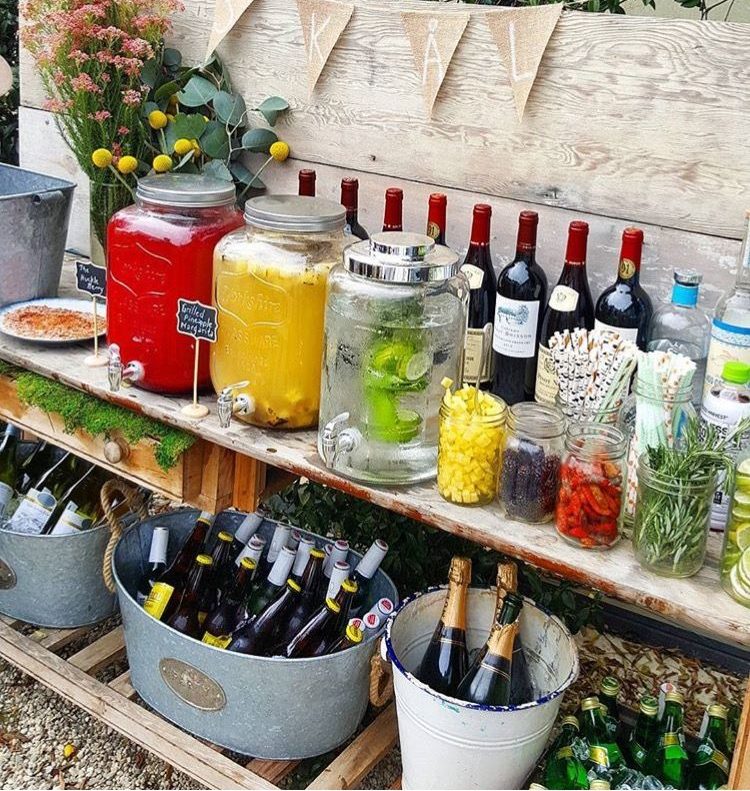 Creating a drink station for an outdoor graduation party can elevate the overall ambiance, and provide guests with a convenient and chic way to enjoy their beverages. Designing a successful drink station involves a combination of functional and aesthetic elements that should complement the theme of the party and be inviting for guests.
To start, consider the location of the drink station within the outdoor space. It should be easily accessible and visible, but not obstructive to other areas of the party. It can be helpful to place it near a source of shade or adjacent to the main sitting area, where mingling and conversation often occur.
When it comes to selecting the furniture and display items for the drink station, think cohesively with the party's décor and theme. Choose a sturdy table, bar cart, or even a lemonade stand to house the drinks and any accompanying items. Adding planters or flower arrangements can lend a touch of natural beauty to the drink station.
Keep functionality in mind and provide a variety of drink options such as water, soda, and age-appropriate options like alcoholic beverages or a Prosecco bar. Glassware should be selected based on the beverages being offered and consider using disposable options for easy cleanup. Accessories like beverage dispensers, ice buckets, and napkins can add an extra touch of convenience for guests.
Lighting is an important aspect, especially if the outdoor graduation party takes place during the evening. Incorporate string lights near the drink station to ensure visibility and create an inviting atmosphere.
Lastly, be sure to add a few personalized touches to the drink station to make it memorable for the graduate. This can include a custom sign with the graduate's name, school colors, mascot, or even a photo display to commemorate their academic achievements. With careful planning and attention to detail, the drink station will not only serve its purpose but become a memorable and enjoyable part of the outdoor graduation party experience.
Graduation Party Keepsakes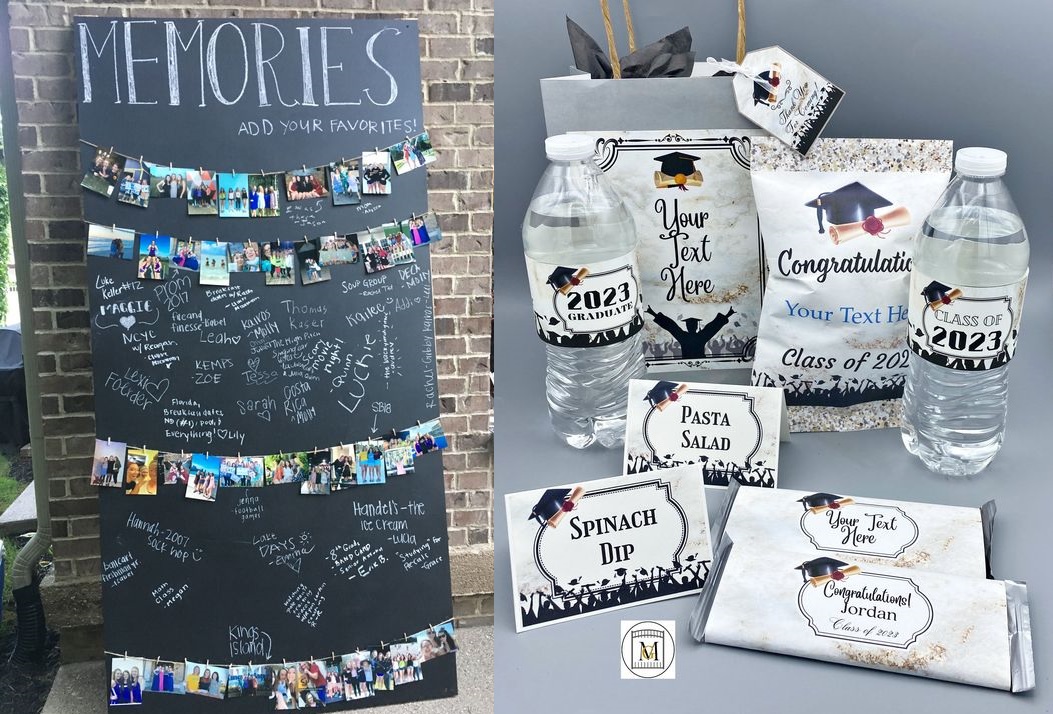 A graduation party is a memorable occasion, and adding keepsakes to the celebration can make it even more special. One way to create a lasting memory for your graduate and their guests is by setting up a photo backdrop. Choose a location in your outdoor party area with good lighting and a visually appealing background. You can use simple materials like a fabric backdrop, colorful balloons, or DIY banners with the graduate's name and class year.
Graduation party printables are another excellent option for keepsakes. These are affordable and easy to customize. Graduation party printables can include items such as invitations, banners, labels, signs, and thank-you cards. By incorporating a consistent theme or color scheme, you can create a cohesive look for your outdoor celebration.
For a fun twist, consider using fun graduation party printables that incorporate games, interactive elements, or unique designs. Examples of these printables may include a custom mad lib activity for guests to fill out, a trivia quiz based on the graduate's high school or college years, or even a photo scavenger hunt to encourage guest engagement during the party. These enjoyable keepsake ideas are not only entertaining, but they also serve as lasting mementos of the milestone event.
Incorporating graduation party keepsakes such as a photo backdrop, customizable printables, and fun interactive elements will enhance your outdoor celebration and create lasting memories for the graduate and their guests.
Conclusion
Outdoor graduation parties are memorable events that showcase the achievements of the graduate while providing a fun and engaging atmosphere for guests. By incorporating some of the best outdoor graduation party ideas, hosts can create an unforgettable experience for all attendees.
One key factor in creating an outstanding outdoor graduation party is the ambiance. Utilizing string lighting and other decorative elements can transform any outdoor area into an enchanting, festive space for celebrations. Thinking creatively with decorations such as a balloon arch adds visual interest and can serve as a beautiful backdrop for photos with friends and family.
Furthermore, offering a diverse array of food and beverage options is essential in catering to the tastes of all guests. Including a sangria bar or other unique drink stations can elevate the party experience and encourage socialization among guests.
In conclusion, planning an outdoor graduation party takes careful consideration and creativity. By employing a variety of ideas that focus on the ambiance, decorations, and refreshments, hosts can create a celebration that truly honors the graduate's achievements and provides lasting memories for all.